We're just four races into the 2015 Formula 1 season and it's interesting to see that many drivers are now starting to search through the well-used book of excuses to explain why they are slower than their team-mates.
I fully understand that small problems can play a part, but qualifying is where you normally see who has the edge on pure speed when it comes to wringing a laptime out of a car.

That is, for me, the most interesting and revealing part of a grand prix weekend.

No matter what a driver tells you, beating your team-mate is everything. If you qualify 19th out of 20, as long as the guy behind you is your team-mate you will feel OK.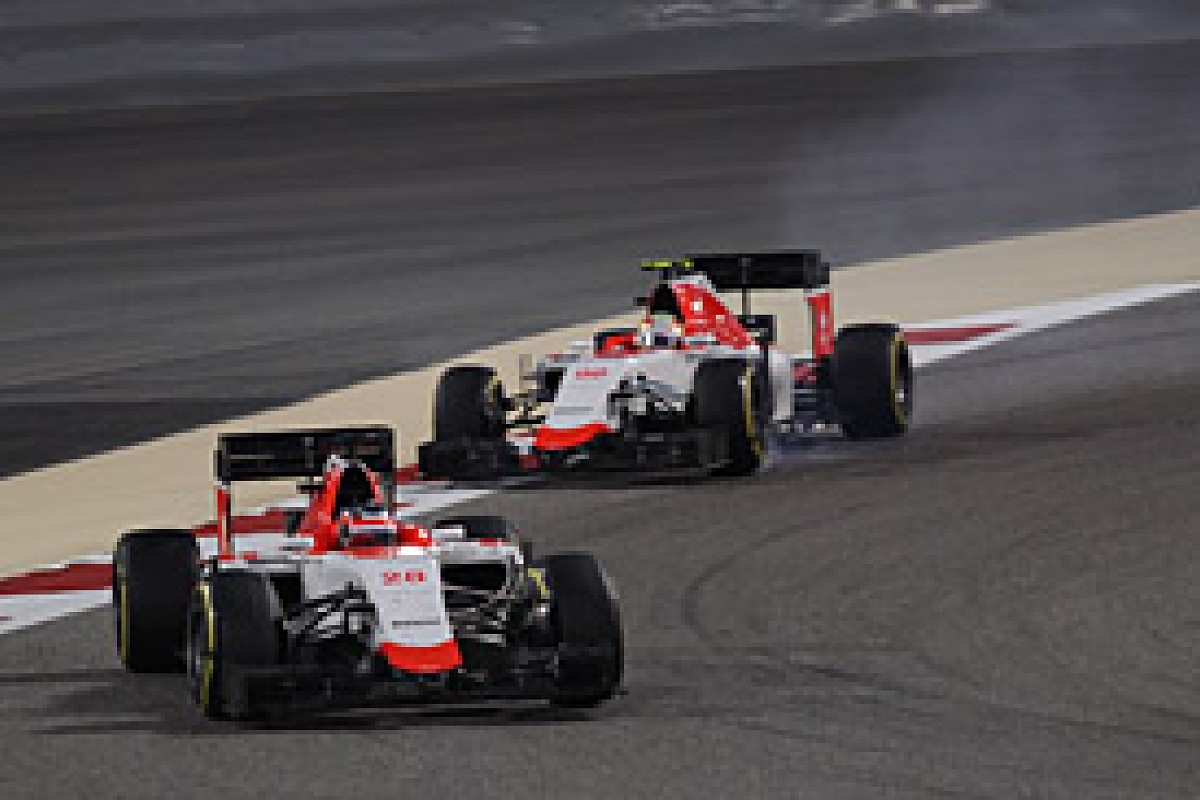 Stevens has had the edge on Merhi so far at the back of the grid © XPB
That's why Manor driver Will Stevens will have felt pretty good about his Saturday performance in Bahrain.

But if you qualify third when your team-mate is on pole position, it's a different matter even if you are at the right end of the grid.

If you are always slower than your team-mate in qualifying, then in the race you will more often than not be behind them. That then brings another set of disadvantages.

You will never be the team's priority and you will usually get the second-best strategy - although in Nico Rosberg's case last weekend, he was allowed to make his first pitstop before Mercedes team-mate Lewis Hamilton to avoid giving Sebastian Vettel a two-lap undercut.

But worst of all, the team will start to follow the lead driver and suddenly you will find yourself as a good number two. At that point, your side of the garage has a lot fewer people in it than your team-mate's.

Let's look at a couple of examples. In China, we heard Rosberg ranting about how Hamilton was potentially compromising his race.

But he was behind Lewis on the grid and he was running second, so what was that bleating all about? He was being used as a good number two.

Then, in Bahrain qualifying it was all about tyre strategy, so his side of the garage decided to try something different because they (and this includes him) decided it was the best thing to do to potentially get one over Lewis.

It didn't work and Rosberg reckoned his careful lap in Q2 (designed to protect the set of soft-compound Pirellis he would start the race on), and then conservative first lap on used rubber in Q3, meant he wasn't at his best on his proper run. Live with it...

Kimi Raikkonen had a good race in Bahrain, finishing second, but his qualifying performance wasn't perfect, ending up 0.245s behind Ferrari team-mate Vettel. He admitted that he underestimated the grip available.

Kimi keeps saying he must eliminate qualifying mistakes, and in Bahrain he says he should have pushed harder. But if he had pushed harder would the mistakes have reappeared?