There is something of a revolution going on in Formula 1 at the moment. The young talents are rising up. They are going to run the world some day.
Daniel Ricciardo and Valtteri Bottas are part of this shift, challenging establishment thinking with consistently brilliant performances and results over the first half of this season.
Kevin Magnussen is also making waves of his own this year, but in a much quieter way. His journey, while no less important, has also been rockier.
It all began so well. Magnussen bowled into F1 as a fresh-faced rookie and came away from his first grand prix with a podium finish. Instant fame, instant glory, but instant pressure...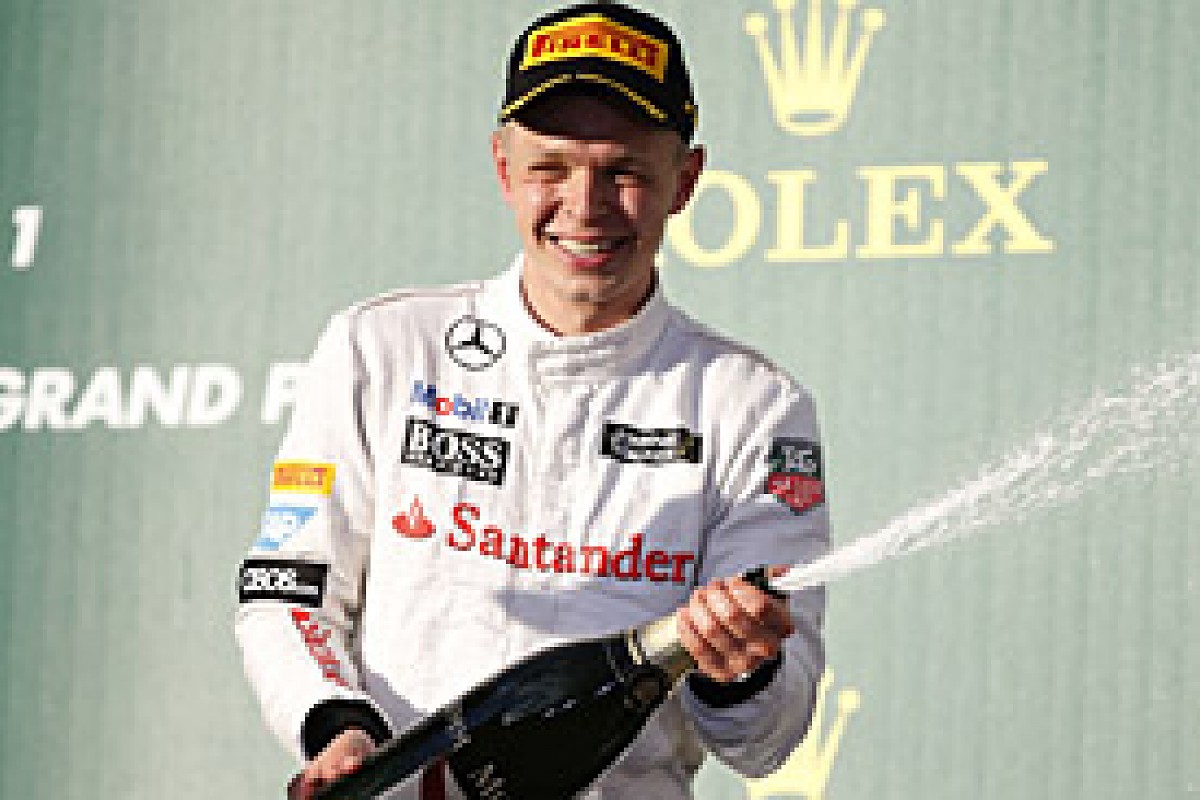 Magnussen kicked off his F1 career with a debut podium in Australia © LAT
Things change very quickly in sport and they immediately took a turn for the worse for the Dane, who spent the next six races (Monaco aside) generally being overshadowed by his McLaren team-mate Jenson Button.
Gradually, it began to look as though that stunning first race might be a flash in the pan; that maybe Magnussen wasn't the future superstar McLaren thought it had nurtured.
But the young Dane has turned things around in the last few races, and his dramatic crash at Turn 1 in the rain in Q3 at the Hungaroring hasn't changed McLaren's increasing belief that Magnussen is on the right path.
He's scored points in three of the last four GPs, and his qualifying performances in Austria and Germany - in a difficult car - were genuinely impressive.
The future for McLaren's current driver line-up is unclear. Negotiations over extending Button's stint at the team have stalled, and the Woking squad is known to be courting Ferrari's Fernando Alonso while maintaining a non-committal stance on Magnussen.
But the Dane has started to make a strong case for cementing his own F1 future with McLaren recently, and a change in mentality has been key to this turnaround.
BEATING THE ROOKIE SYNDROME
Following May's Monaco Grand Prix, McLaren racing director Eric Boullier suggested Magnussen was suffering from "rookie syndrome", whereby a young driver with a lot of success behind him comes into F1 and struggles to adjust to working with an uncompetitive car.
As reigning champion in Formula Renault 3.5, Magnussen admits frustration at not being in a winning car this year has hurt him at times.
"To be honest I'm still frustrated not to be winning," Magnussen tells AUTOSPORT. "I'm used to winning in my junior career. It's not that I've won every championship I've done, but I've always won races and I've always been at the top knowing that I was fighting for victories.
"I'm not anymore, so that's an unusual situation, but it's something I need to accept. It's part of F1 - you're not winning every year and there's no way you can win in all your years in F1; no one's ever done that, or ever will do that."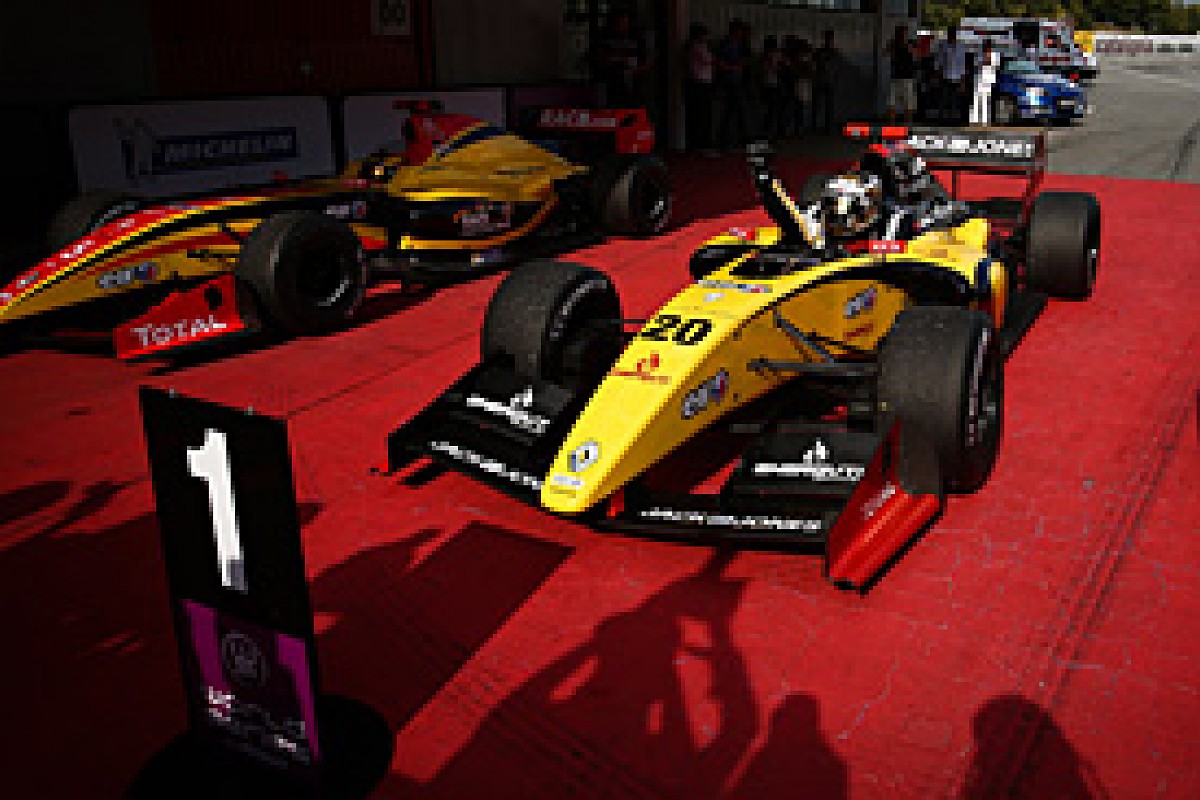 The 2013 FR3.5 champion was used to success in his junior career © LAT
Boullier has a track record in nurturing young drivers - famously helping Romain Grosjean get his career back on track after a difficult F1 debut with Renault in 2009. He says Magnussen has made excellent progress since accepting the need to alter his attitude.
"It's true Kevin did some mistakes and went through exactly the same stages [as Grosjean]," Boullier explains. "We've talked about this many times and I've explained where he needs to go. You have to take the pain.
"I've tried to be as close as possible to him and monitor very carefully across the weekends what is going on for him, which means data, body language, stress level, environment, and the people around him.
"We've talked often, but in the end he really came back and rebuilt himself. Now it's very interesting because he has enough experience and knows the tricks to run in F1 - to manage tyres or fuel and still be fast.
"Since Germany we told him 'now be yourself' because you have all the tools in your hands, and you can feel he is starting to enjoy it and deliver more speed."
TURNING THINGS AROUND
Magnussen credits June's Austrian GP (where he qualified sixth and finished seventh - at the time his best result since Australia) as the point at which F1 started to "click" for him, though he still feels there is more potential to realise.
"The balance of the car, my driving, how we managed the qualifying, everything kind of clicked there," Magnussen explains. "It's taken time, and when you get to F1 you don't want to mess up, so I find myself a little under the limit sometimes.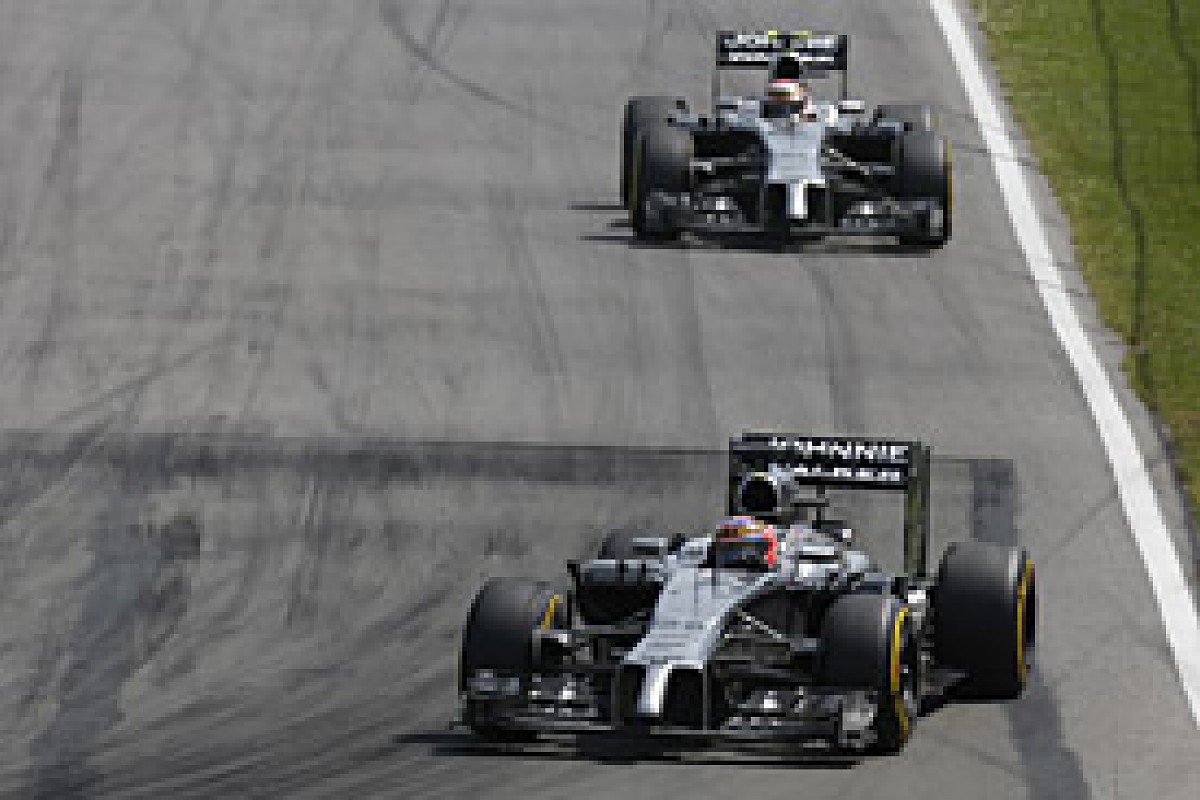 Button appearred to have the edge at McLaren earlier in the season © LAT
"I've come into other things earlier in my career where I just expected to win straight away, expected too much of myself, messed up and just got into a bad rhythm of crashing. I don't want that to happen in F1 so I've taken a small step back.
"At the moment, because I'm learning so many things, there is a lot of stuff in my head and I'm thinking a lot. It's not natural, and I need to get over that. Then I think it will be much better."
CONVINCING McLAREN
This suggests there is even more to come from Magnussen, and the key now is convincing McLaren he's the right driver to help lead the team into its future engine partnership with Honda.
Boullier won't be drawn on McLaren's plans for its driver line-up, but he reckons Magnussen's future is very much in his own hands.
"Kevin has started to really blossom and that will help Jenson keep his own level as high as possible," Boullier says. "The apprenticeship is finished for Kevin now and, even if we can allow him a couple of mistakes, now I need to understand the potential.
"He will be strong enough to have a good future in F1. We tell him to do your job the best you can and we'll see. It is up to him."