Armchair strategists are ten-a-penny in motorsport. The advantage of hindsight, not to mention the fact that these wise sages are never tested in the real world, means they always win, are always right.
The German Grand Prix was an ideal opportunity for such experts to claim that of course Lotus should have won at the Nurburgring rather than finishing second and third.
Unquestionably, Lotus was very much in the race for the win. So where exactly, if anywhere, did it fail to press its advantage?
Both Lotus drivers felt qualifying could have gone a little better. Raikkonen reckoned beating Mark Webber to third place was possible and if you add up his three best sectors in qualifying, he would have been close to three-tenths of a second faster.
It was a similar story for Grosjean. Having spoken to both shortly after qualifying, their reasons for this apparent underachievement were consistent - the tyres simply weren't up to temperature in the first sector. Maybe a better job could have been done on the out-lap, but given the front row appears out of the question, at worst this cost the Lotus drivers one grid position apiece.
Positions after qualifying:
1 Sebastian Vettel, 1m28.398s
4 Kimi Raikkonen, +0.494s
5 Romain Grosjean, +0.561s
Raikkonen and Grosjean had regulation first laps, coming round in the same positions they had started in. Raikkonen was unable to do anything about Hamilton ahead, while Grosjean had complained he was being held up by his team-mate.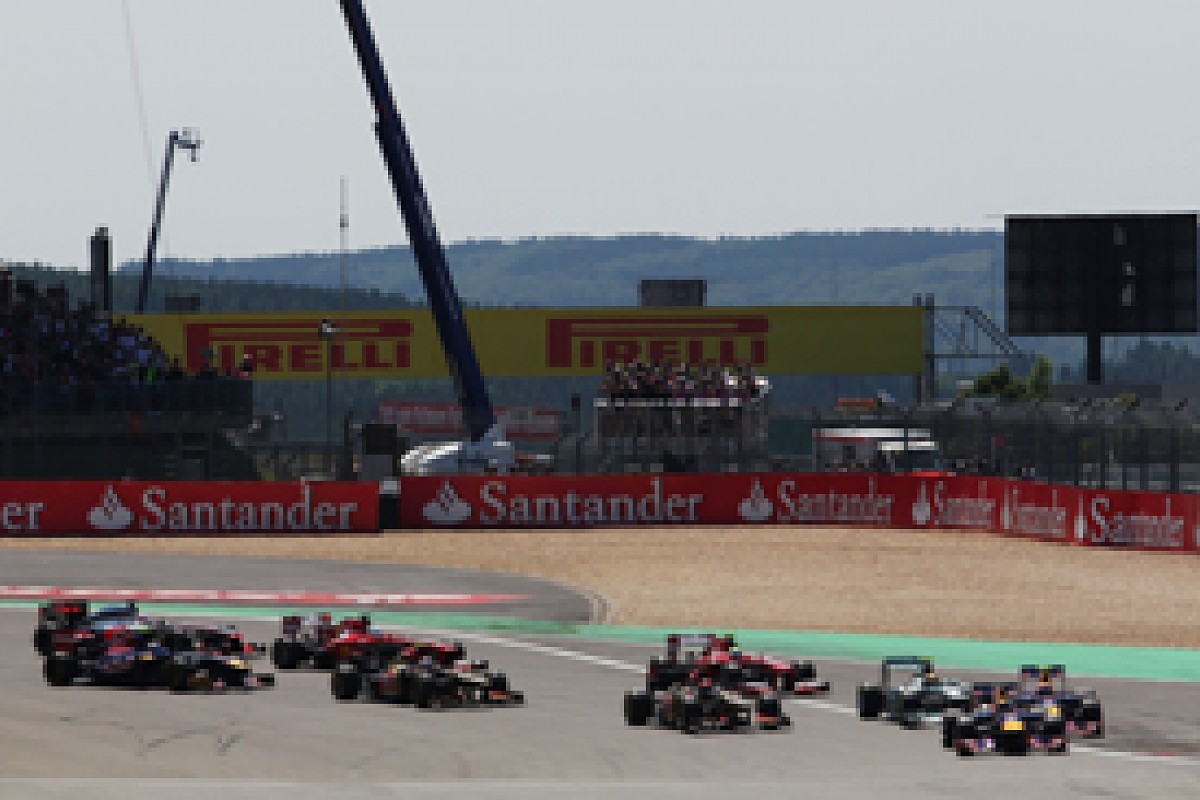 The Lotus pair had to come from behind as the Red Bulls took the early initiative © XPB
Positions at end of lap one:
1 Sebastian Vettel
4 Kimi Raikkonen, +0.494s
5 Romain Grosjean, +0.561s
With all three starting on the same soft compound Pirellis, the first stint was all about going as long as you could before performance dropped off.
Vettel was the first to blink. Having lapped in the mid 1m37s on laps three and four, he gravitated towards the high 1m37s bracket and pitted at the end of the seventh lap.
Positions at start of lap seven:
1 Vettel
3 Raikkonen, +3.568s
4 Grosjean, +4.294s
Vettel rejoined behind Sauber driver Nico Hulkenberg, with Raikkonen heading to the pits at the end of the following lap. This released Grosjean, who had been telling his team he was faster than his team-mate and proceeded to up his lap time from 1m37.743s on his final lap behind Raikkonen to 1m37.276s once released.
Some have argued Raikkonen should have been left out longer, but he was struggling and chances are, by doing so, would have lost more time to Vettel by the time he did stop, as well as robbing Grosjean of time.
Much to everyone's surprise, Grosjean was quicker or on the same pace as Vettel from laps 8-11 before losing just over six tenths on lap 12 and then pitting a lap later after an in-lap around half-a-second slower.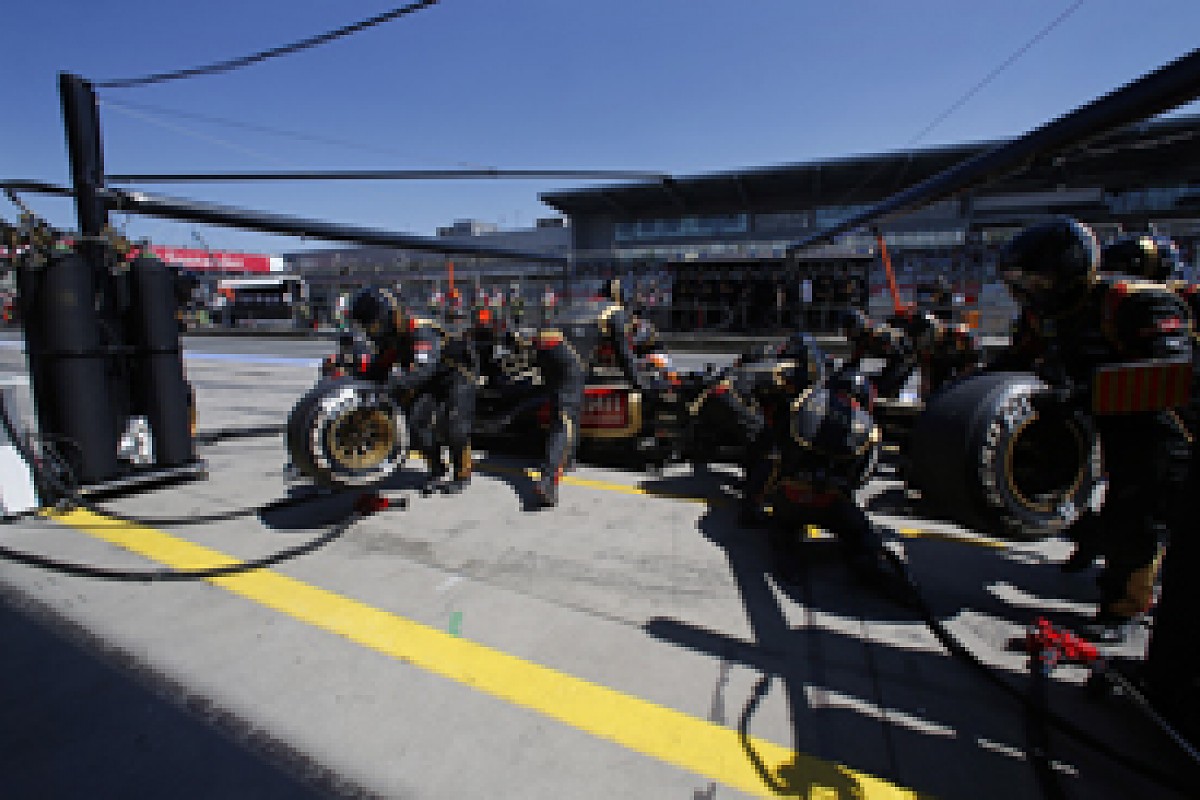 Grosjean's super-long first stint caught rivals off guard © LAT
Add a slower stop than Vettel (his total pitlane time was 1.294s slower than Vettel and nine-tenths off Raikkonen's) and Grosjean emerged from the pits a similar distance behind Vettel to where he was before the stop cycle.
With Mark Webber, second early on, out of the picture after his pitlane disaster and Hamilton also no longer a top three contender, the stage was set for the rest of the race.
At this point, it was Grosjean who was the better-placed of the Lotus drivers as Raikkonen's earlier pitstop had led to him being separated from Vettel by the two Mercedes drivers when he came out.
Positions at end of lap 14:
1 Vettel
2 Grosjean, +4.333s
6 Raikkonen, +5.217s
In this phase, Lotus looked odds-on to win. Grosjean closed the gap to under two seconds and had a significant range advantage that could easily have put him in a two-stop window.
Positions at end of lap 23:
1 Vettel
2 Grosjean, +2.613s
3 Raikkonen, +12.318s
The safety car, deployed when Jules Bianchi's expired Marussia rolled onto the track, changed everything and evened things up. All three drivers rightly pitted at the end of the 24th lap.
There is no question this was the right decision for Lotus, but as well as potentially costing Grosjean, who had a significant advantage in terms of range thanks to his later pitstop and fresh rubber, it also ensured Raikkonen had to three-stop.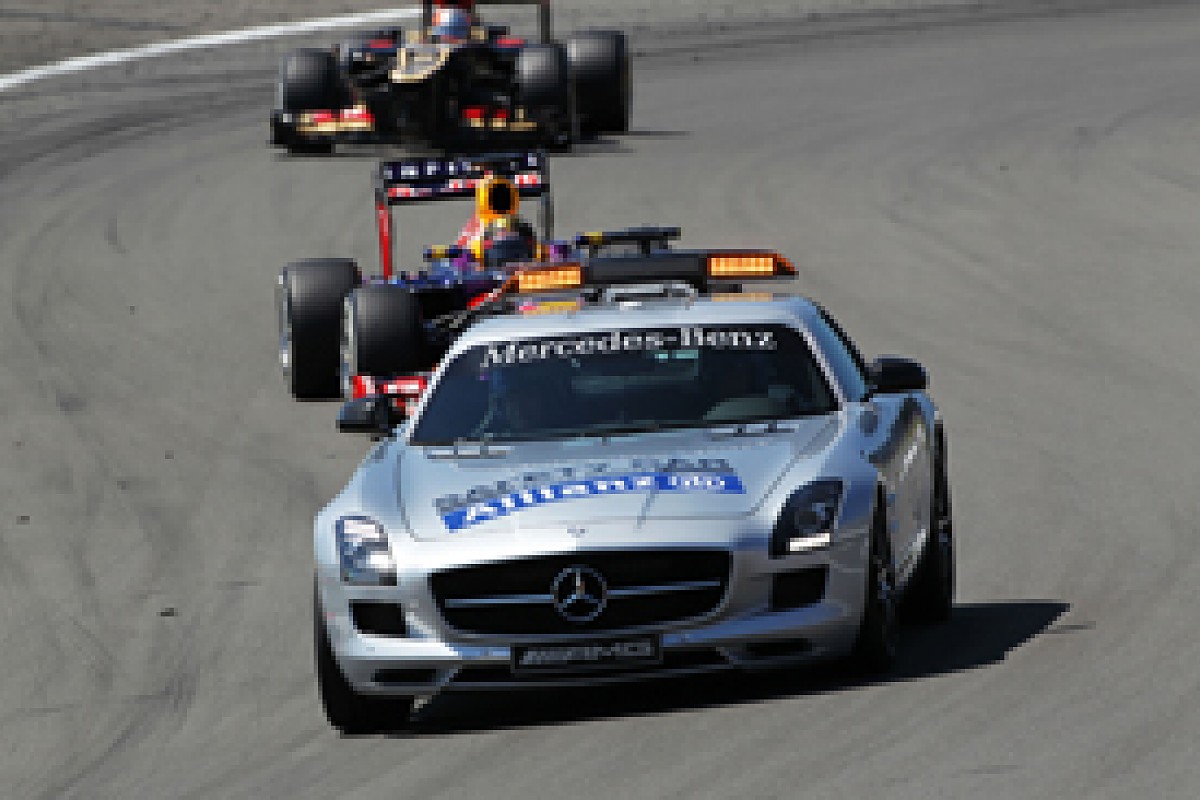 The safety car cost Grosjean and gave Raikkonen another chance © XPB
"Before the safety car, we were thinking of converting Kimi to a two-stop because he looked like he was going well on his primes," explained Lotus trackside operations director Alan Permane after the race.
"We thought we would run long and maybe go to a two-stop with him. But the safety car forced our hand and we had to stop. At that point, we were back on a three-stop."
But while it did narrow the strategic options for Raikkonen, it did allow him to pick up a good 10 seconds of free time. In the case of Grosjean, it perhaps denied France its first grand prix-winning driver since Olivier Panis's victory in Monaco in 1996.
"It [the safety car] cost us [the range advantage for Romain]," said Permane. "It played into Kimi's hands a little but because it helped him claw back some time. But without it, Romain would have had a better chance at Sebastian."
Things were a little more even in the third stint of the race. Grosjean was never able to get close enough to mount an attack and the decision was made to try and force the issue, stopping on lap 40.
Positions before final pitstops:
1 Vettel
2 Grosjean, +1.143s
3 Raikkonen, +1.951s
Vettel had to cover Grosjean, heading to the pits a lap later and rejoining just ahead of the Lotus driver.
"We tried to undercut Vettel with Grosjean but that didn't work," said Permane. "Kimi was already behind them, so that wouldn't have worked for him. The only option left was to go a little bit longer, stick the options on and see if that worked, which it didn't. We just didn't seem to have the pace."
Inevitably, given Raikkonen lost a couple of seconds to Vettel during the period when he was still completing his third stint, some have argued he should have pitted earlier.
"We were nervous about stopping earlier and worried about doing more than 12 laps on the options in case they fell apart," said Permane. "That's why we went out that far.
"I don't know what the maximum [stint on softs] was but on Friday we saw them disappearing after that. We know they are a fragile tyre and that's why we weren't too risky. As it happened, they didn't have the pace we thought they would have, I thought they would have been quicker than that."
Positions after final pitstops:
1 Vettel
2 Grosjean, +1.598s
3 Raikkonen, +3.993s
And so it played out as expected. Raikkonen got his head down, passing his team-mate, who didn't look a serious threat in the final stint, on lap 55 and then closing to within DRS range of Vettel on the final lap.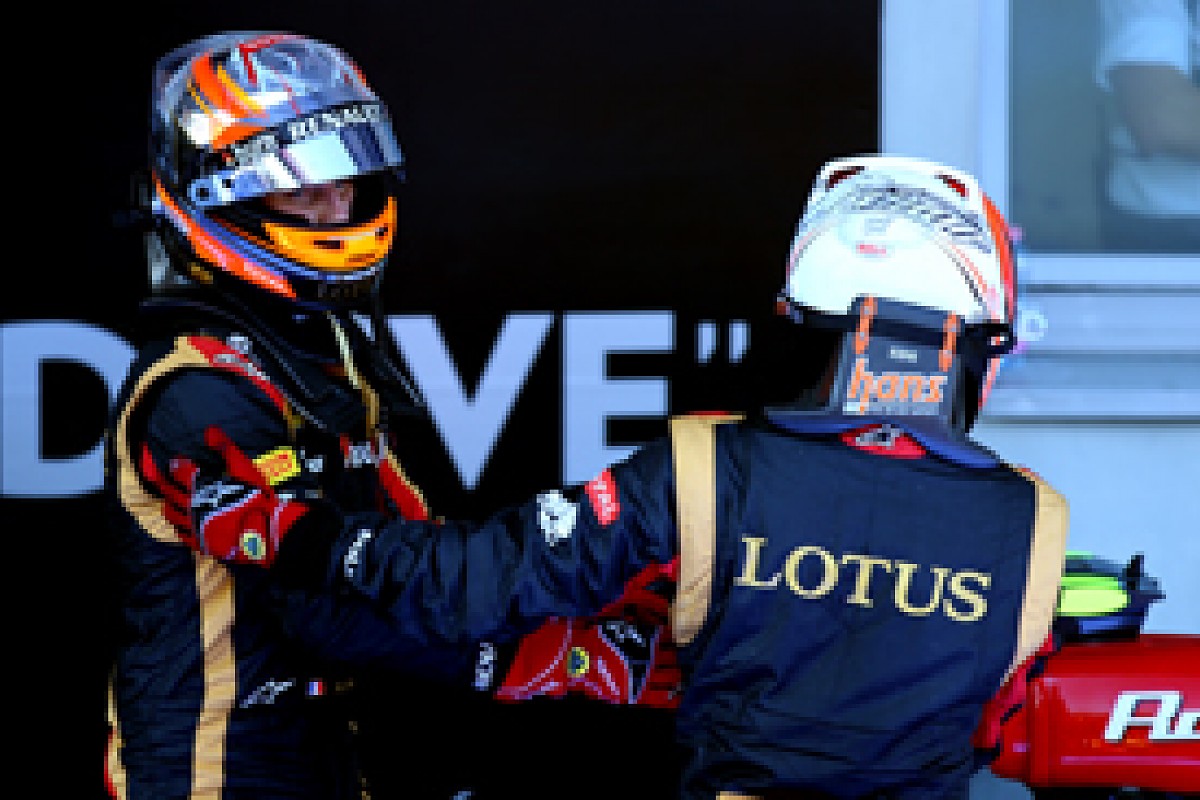 Grosjean and Raikkonen head to the podium, but neither to the top step © XPB
Finishing positions:
1 Vettel
2 Raikkonen, +1.008s
3 Grosjean, +5.830s
After the race, Raikkonen hinted that perhaps it would have been possible to complete the final stint without the third pitstop. This would have meant his tyres lasting 35 laps, albeit with some help from the safety car.
"We had problems with the radio and had to revert to getting him to answer yes or no," said Permane. "[We asked] do you think you could go to the end on these tyres and he didn't think he could."
Hypothetically, had Raikkonen stayed out, he would have had an advantage of around 16 seconds and 19 laps to protect it. Vettel did have a little traffic to deal with, which would have helped. Lotus had last year's Chinese Grand Prix, where the Finn plummeted from second out of the points in just two laps, in mind when it decided against this.
It's hard to say which way it would have gone. Several drivers did run to the finish on mediums after pitting under the safety car - notably Sergio Perez and Paul di Resta.
Perhaps the image of Perez being passed for seventh place by Webber on the final lap would have been repeated with Raikkonen's Lotus instead of the McLaren? It's very possible, especially as a Raikkonen with low levels of rear grip would not have been able to keep a DRS-assisted Vettel behind him for any significant period of time.
Then there's the possibility that Raikkonen could have switched to softs earlier. Again, it's possible. The other McLaren driver, Button, went onto softs two laps earlier. But he was passed by medium-shod Hamilton on the final lap for fifth place.
Admittedly, both of those alternatives could well have led to Raikkonen finishing in the top three anyway, arguably creating a win/win scenario with Lotus gambling without a downside, but the charging Fernando Alonso might have been a problem. Even if he had tried and lost the lead late on, many would be asking why Lotus didn't pit with 12 laps to go and bolt on softs.
Add to the mix the value of a double podium for Lotus and the foolhardiness of going all or nothing in pursuit of a win becomes clear.
These are the narrow margins on which strategy calls are judged to be inspired or idiotic. The bottom line is that the combination of Vettel having track position and the Lotus not being clearly faster was decisive.
Permane summarised it well: "we tried pretty much everything we had and it didn't work. Without the safety car, you never know. Both of our drivers might have been in front of him."