He's smarter than your average bear is Nico Rosberg. Bright, engaged, quintilingual. So it's no great surprise that he questions both the questions - and the questioner - when we sit down for an interrogation-by-reader session in the Bahrain paddock.
"How do you get these?" he asks, friendly but direct.
"We invite our readers to send them in."
"OK. So how many did you get?"
"Almost 1000 - more than usual in fact."
"Cool. So how do you select them?"
F1 Racing is feeling ever so slightly on the spot by now, as 'You Ask The Questions' interviewees normally accept our question cards, well... unquestioningly. So we explain: "In the office we look at what we've been sent, filter some out for repetition, pick the best, throw out the worst and try not to keep any stupid ones."
"Really? That's a shame. I'd like some stupid questions. They deserve to be asked, too. Have you got some?"
We hate to disappoint, Nico, but don't worry - we've got some pretty, er, unusual enquiries...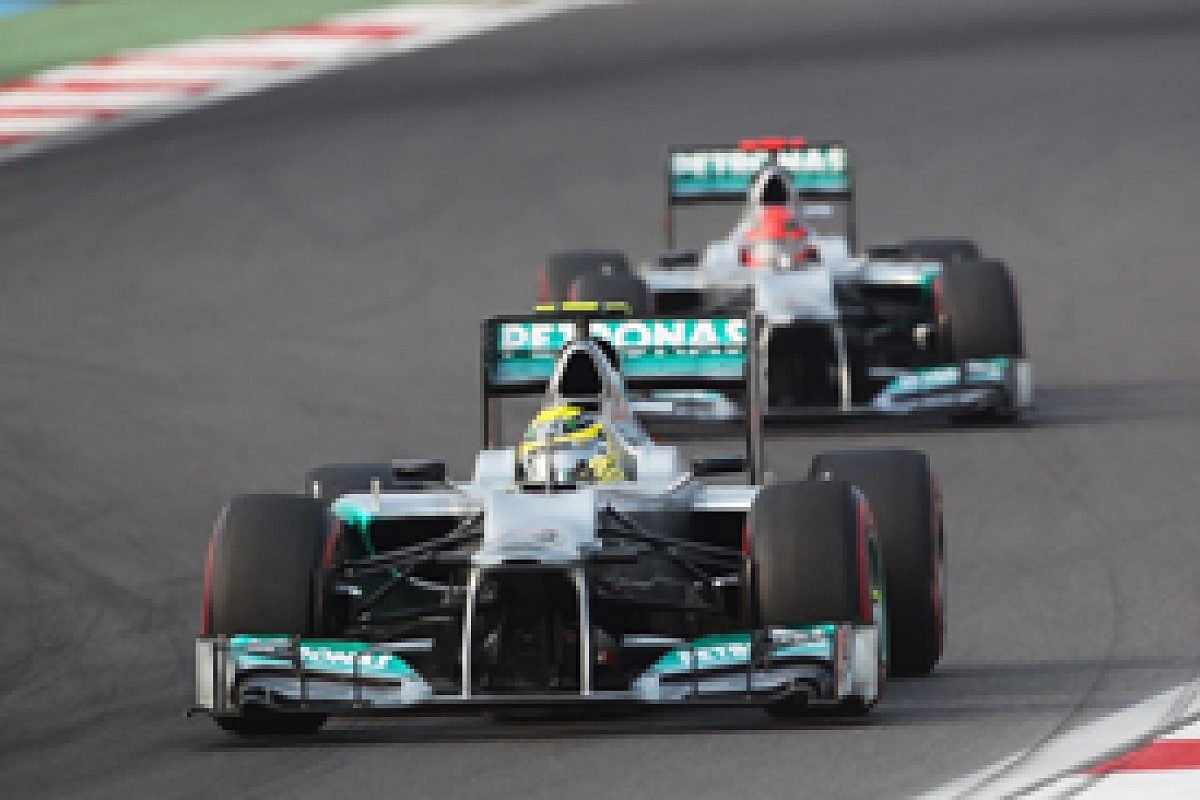 Rosberg ahead of Schumacher was the norm during their three years as team-mates © XPB
Does Lewis Hamilton push you harder than Michael Schumacher did?
Liam Higgs, UK
It's different. They both have strengths and weaknesses and it's an interesting experience for me to have them as team-mates. The push came in different ways and in different circumstances. There's so much... like setup, wanting to be one step ahead all the time, or qualifying pace or race pace. Or team status and position - all these things. There are a lot of different aspects, but I don't want to go into any more detail.
Where do you keep your winner's trophy from the 2012 Chinese GP?
Raymund Aguilar, Philippines
I don't know... probably in the office I share with my father [1982 world champion Keke Rosberg, in case you didn't know...] in Monaco.
If you could dine with any four people from history, who would it be and why?
Martin Caviel, UK
Muhammad Ali [immediate answer]... Cleopatra. [Long pause... ] Gandhi... [another long pause...] and Buddha. With Ali, I loved his attitude and it would be great to have a conversation with him and talk about some of his fights. And Cleopatra, well, she's just a good-looking girl! [Laughs]
Of all the languages you speak, which one do you most enjoy swearing in?
Gareth Roberts, UK
Italian. Vaffanculo! It's the language I grew up with, speaking it with friends - and English, too. But there are some really cool swear words in Italian and some great gestures to go with them.
What do you think has changed in Lewis's behaviour since the last time you were team-mates?
Brandon Tomasi, France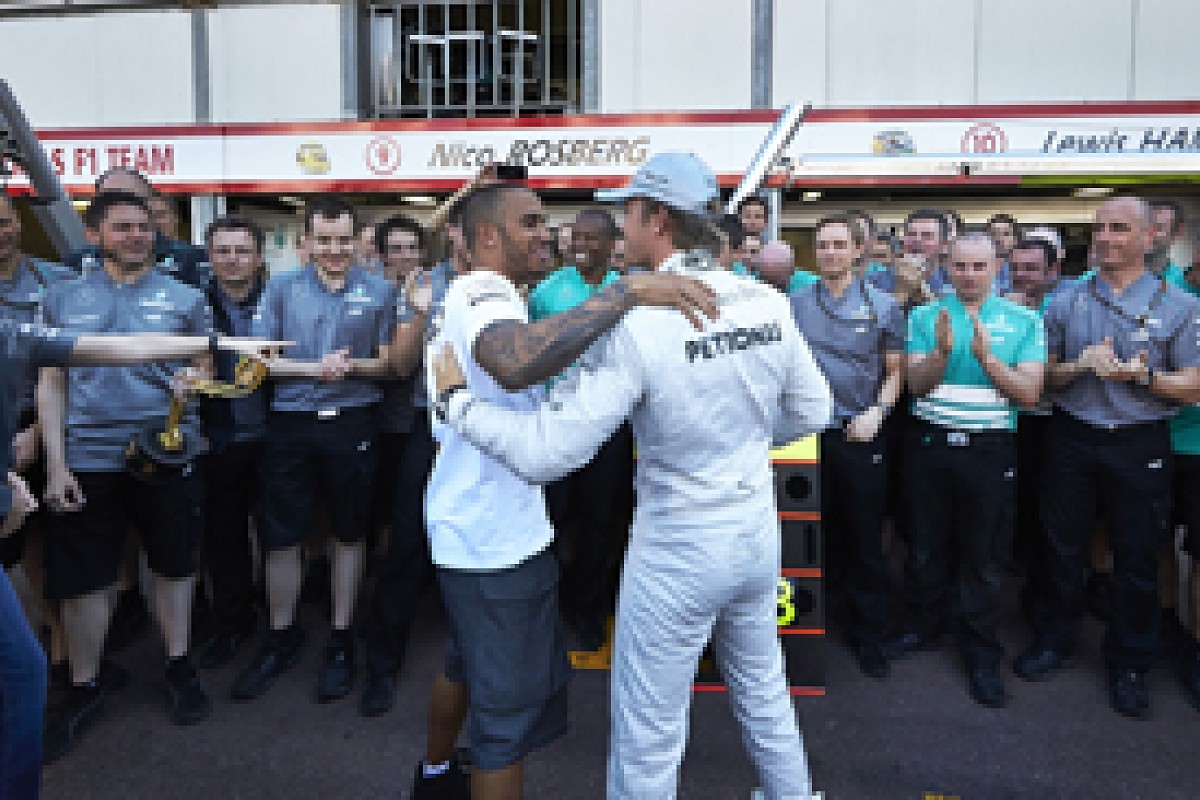 Hamilton congratulates Rosberg on his Monaco win © LAT
It's more mature between us now, y'know. We were kids at the time [in 2000 at the MBM.com karting team], just 14. Other than that, it's very similar. We still have the same relationship.
Tell us about the time your dad caused a crash, with Lewis, Lewis's dad Anthony, and you on board...
Christian Roethel, Austria
Ha! I remember Anthony was driving and my dad was a passenger up front - and I think Dad pulled the handbrake. We ended up in a field and Anthony was so shocked. He'd obviously never experienced something like that. He didn't know that people do that kind of thing for fun sometimes! He was the only non-racing driver in the car and he had no idea what was going on.
You're young, good-looking, wealthy and an international sporting hero. So for all of us who are none of the above, what's it really like to get any girl you want?
Richard Hughes, USA
[A long pause is accompanied by facial contortions] First of all it's not the case that I can get any girl I want. And obviously I don't think too much about that because I've been happy in a relationship for many, many years. But I'm sure it's a useless little ego boost from time to time.
Last year I read that you said one of the current drivers smokes, but you wouldn't say who. Spill! Is it Kimi?
Anna Hunt, UK
I can't talk about that. No. Not at all.
Do you think Mercedes will have an advantage in the new turbo era?
Alice Starzyk, Poland
Hmm... I think we have the possibility to do well and make a difference. We should grab it with both hands and make the most of it. I'm in the right place at the right time, for sure.
Before 2010 began, did you honestly believe you would dominate Michael Schumacher the way you did?
Jack Jeffreys, UK
No, of course not. I was convinced I would do well, but I had no idea how I would fare against the best of all time as my team-mate - but I'm very happy with the way it went. It hasn't necessarily made me more confident. It's just another stepping stone in my career. May I ask... are you planning to go through all those cards?
F1R: Yes.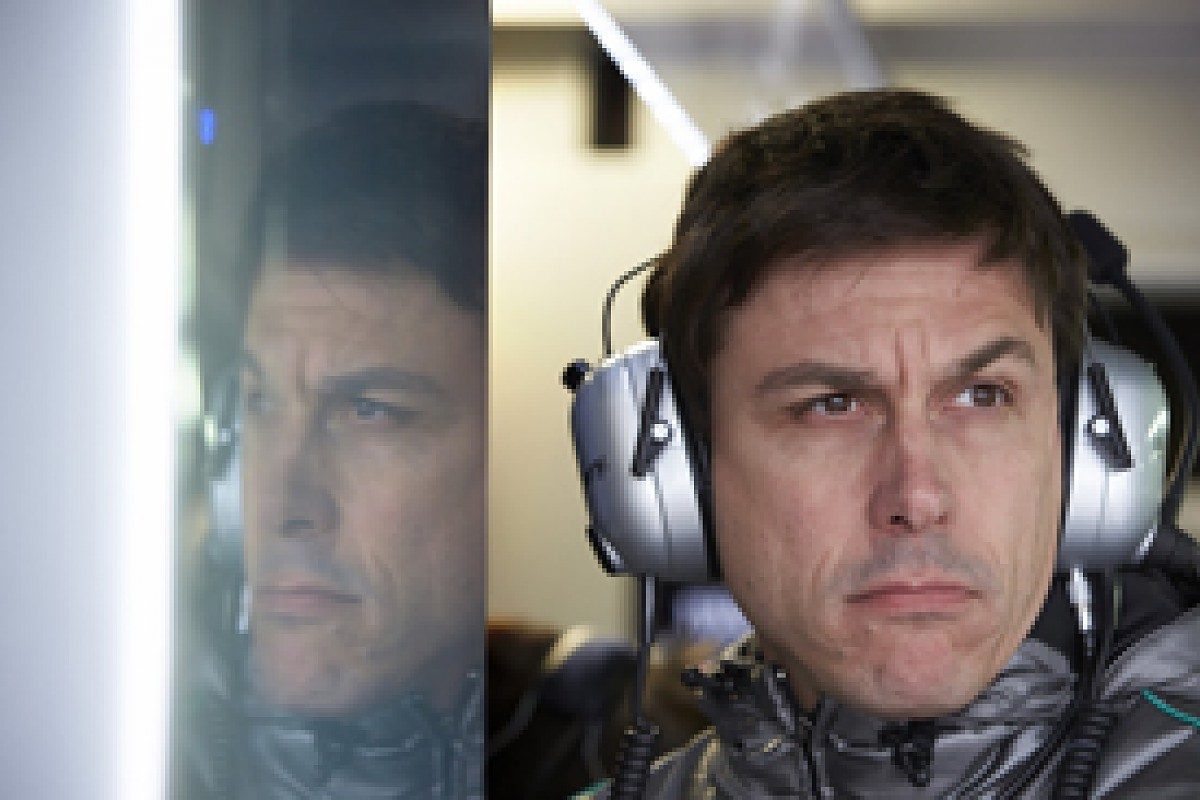 Toto Wolff has taken charge at Mercedes © LAT
Do you think that all the management changes within Mercedes have had a positive or a negative impact?
Danielle McKee, UK
Positive, for sure. We have great people who are going to strengthen the team. We've seen that already. I've seen a lot of impact and it's all going in the right direction. I'm very happy and very pleased with what I've seen.
What's the meaning of the 'WIM' logo on the back of your helmet?
Gerbrand Van Der Vooren, Holland
Ooh, I can't say that! It's personal. You don't want to know. But it's between me and my best friends. And it's a good thing. But I can't even give a little hint. Definitely not.
What's the best practical joke you played on Lewis when you were karting team-mates?
Daryl Chaffey, UK
Oh there were various things. I remember him doing one to me in fact: the old 'Tiger Balm in the underwear' trick. That was a bit uncomfortable. And it went back and forth from there. There's nothing I specifically remember doing to Lewis, but there was loads going on.
What is your opinion of the 2013 Pirellis?
Ronald Ochse, USA
I understand why there's discussion about them, and I think China was a bit extreme and the softs went a bit too far. But, in general, it's all good. It's a great technical challenge for the drivers and it creates great racing with a lot of overtaking.
I understand you can juggle while sitting on a unicycle. Can you do other tricks?
Victoria Dawson, UK
It's true. I can do the coils, too. Juggle with the coils. That's it. Just three balls... and ride a unicycle at the same time, yes.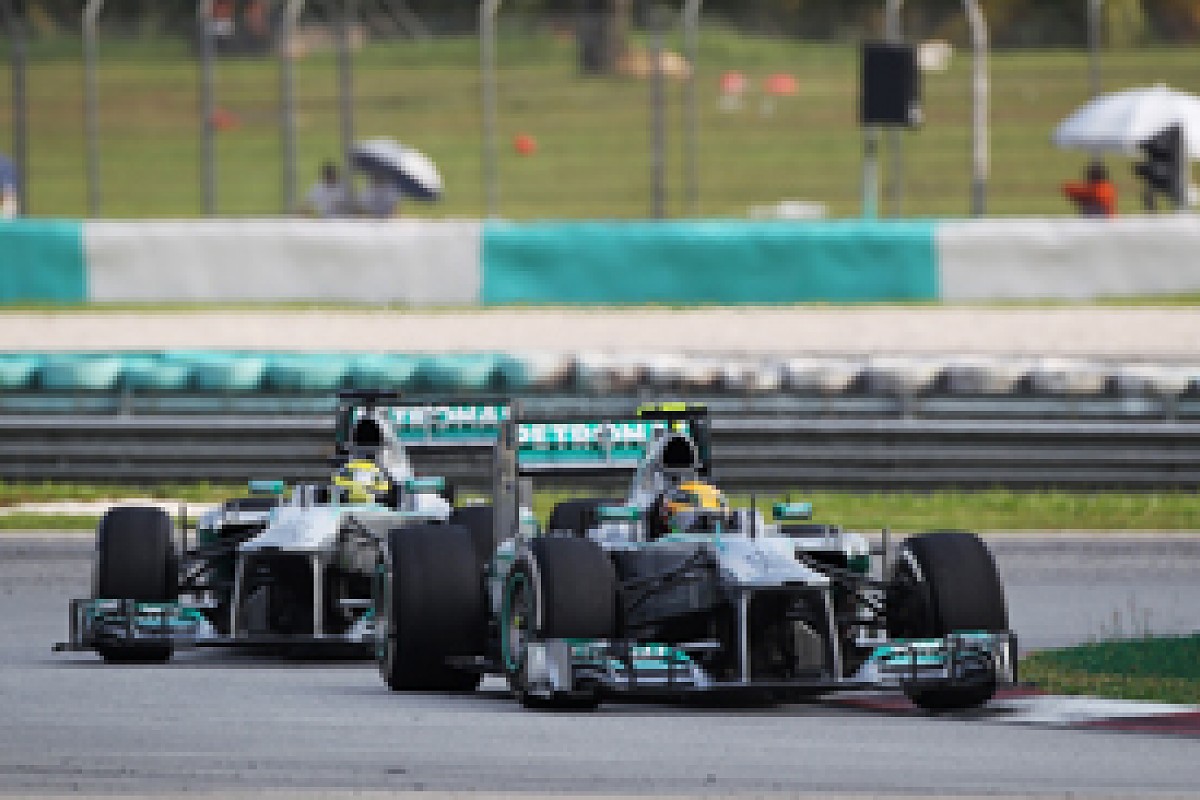 Rosberg was asked to stay behind Hamilton in Malaysia © XPB
How did you feel when you were told not to overtake Lewis Hamilton in Malaysia and what do you think about what Vettel did to Webber?
Matthew Reek, UK
I didn't like it [laughs]. I wasn't very pleased. I don't know what Seb did to Mark. I wasn't in their situation. I haven't listened to the radio... so I'm not in a position to comment at all.
Sir Jackie Stewart has said he considers you to be Hamilton's number two now. How does that make you feel?
S. Pearson, UK
It doesn't really make me feel anything. I respect Jackie's opinion, but Lewis and I are very clearly equal number ones.
Do you feel that Lewis Hamilton has been made team leader over your head?
Andrew Wilkins, UK
Not at all. We have the same opportunities, the same chances. The situation is the same as it was with Michael for the past three years. This is the way the team wants to operate and that's great.
Why didn't you overtake Lewis in Malaysia? You had the speed and you should have gone for it.
Colin Morgan, UK
I respected the instruction from my boss. Even though I didn't agree with it at the time.
Do you think Ross Brawn is being slowly forced out of Mercedes?
Lloyd Phillips, USA
No, I don't think so. No he isn't, full stop. So it's not that I don't think so, it's: 'No he's not.'
In how many different languages can you order a beer?
Steve Bather, UK
Five: Spanish, Italian, French, English and German. And no, not in Finnish - I don't even know what the word for 'beer' is in Finnish. [it's 'olut', in case you were wondering...]
Do you miss Michael?
Helen Penman, UK
I wouldn't want to answer that in any way. What I can say, for sure, is that he was a great challenge for me; an interesting situation, a great experience. We could have carried on like that. It was good. But at the same time we have Lewis now and that's also good.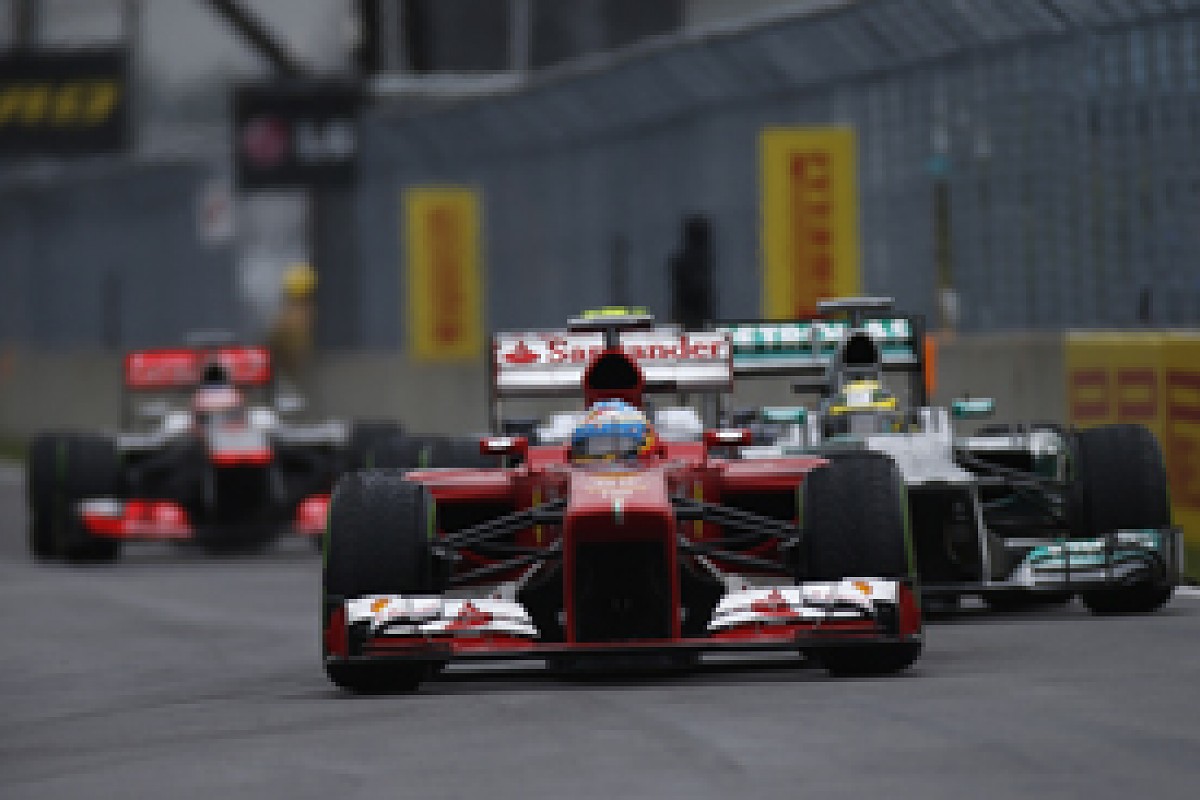 Getting in a Ferrari is not a priority for Rosberg © LAT
Do you dream of moving to Ferrari at some point in your career?
Andres Blanco, USA
At the moment I'm in the best possible position. Driving for the Silver Arrows as a German is fantastic and a big motivator for me and I'm really enjoying it. Obviously I really hope to be on the top step again with the Silver Arrows. That's my target. For sure, there's a sense of national pride, too. I mean, the Silver Arrows, being German is very special. All the racing history... and representing Daimler. That's 'Wow - awesome!' Daimler are such an incredible brand and company and to represent them on the race track is really cool.
Do the other drivers still call you Britney?
Timothy Skeavington, UK
Ha! No, thankfully not.
Have you ever thought about growing a moustache like your dad?
Dario Fioravanti, UK
Well I'm pretty close at the moment [Nico is currently sporting designer stubble]. But I definitely wouldn't consider the full one. I have tried it just as a joke for Movember, but that didn't work. I had to take it off. It was horrible. It lasted three minutes.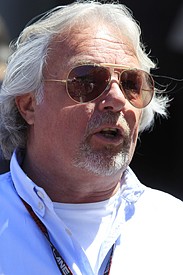 Father Keke is a valuable source of advice and support © LAT
Does your dad give you any advice or criticism about your driving?
Andrew Creed, UK
Yeah, lots of advice. And he's always giving me constructive criticism about life in general, how I handle things... everything... and it's always very valuable. He's a very wise person. For example, he tells me to organise my life, focus my energies on what's important, don't get distracted by what's not important. That's a good example.
It's obvious from the first couple of races that you have upped your game this year. Is that down to Lewis's arrival, or increased confidence in the performance of this year's car - or both?
Kevin Friday, UK
I don't agree with that. I've been driving similarly all these years, it's just that we have a better car. That's why it looks better now. It's always like this when you have a better car. You can produce better results. That's the main reason.
Do you think you can win the world championship this year, and how much satisfaction will you feel if you beat Lewis?
Luke Barry, UK
It's too early to speak about that. We have a good car and I want to make the most of it, so we'll see what happens. We must remember that last year our big weakness was development through the season. It's something we've been working on, but how far have we come? The car is capable of winning, but can we compete with the best?
With your cars having a highly developed 'FRIC' suspension system, does this mean we're going to see Mercedes win a lot of races this year?
Richard Forth, UK
What's 'FRIC'?
How did you use the 50mm lens I lent you - and how's the photography going?
Lorenzo Bellanca, UK
Mainly for portraits and things. I shot [PR aide] Georg's baby with that lens in Ibiza and it's a nice picture. That's the one memory I have of it.
You and Lewis were friends growing up as kids. How does having a good friend as a team-mate change your relationship? Can you still be friends when you're competing for the podium?
Andrew Ballantine, UK
Yeah, you can of course. It's a compromise you need to find. On track you need to fight and off the track just respect each other and be friends. It is possible and it's been OK so far.