"Hey, there's a grand prix going on getting in the way of this tyre story," said one paddock wag on Friday in Montreal in reference to the continuing controversy around the Pirelli/Mercedes test at Barcelona a few weeks ago.
However, even out on track the round black rubber was dominating everything. With race day expected to be overcast but dry, all the useful Friday running was compressed into the afternoon session, with the morning track having been wet until near the very end.
What was clear from a comparison of long run pace was that Mercedes is expecting tyre struggles again here. As in the previous two events, it devoted most of its programme to a longer duration run on the option tyre than most others.
The pace both Lewis Hamilton and Nico Rosberg set during those runs was significantly gentler than that of, for example, Fernando Alonso's Ferrari. It enabled them to lap consistently - and for long enough to make a two rather than three-stop feasible - but not at a pace that suggests they are potential race winners.
After the one-off challenges of Monaco, in other words, it appears that the underlying tyre management problem remains. Hamilton and Alonso each completed 14-lap runs, but the Mercedes began over 1s slower.
Alonso's average over those 14 laps was 1m18.6s, compared to Hamilton's 1m20.4s. Is it possible that the realistic Mercedes race pace, without overheating the rears, is 2s slower than Ferrari's? Quite possibly, yes. That is a similar deficit to that suffered at Barcelona.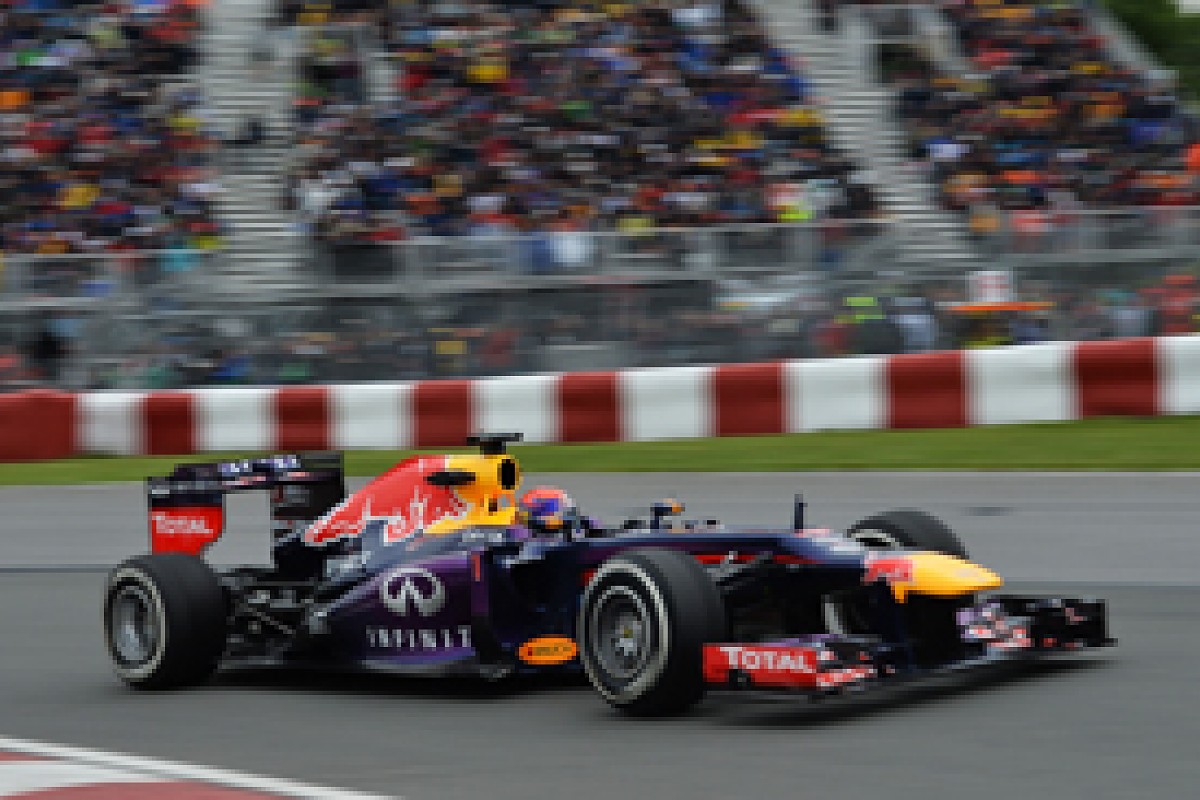 Red Bull is also in the mix © XPB
Over one lap of qualifying pace, there appeared to be little in it, with both Alonso and Hamilton recording 1m14.8s.
Red Bull's long run pace appeared not quite as good as Ferrari's, with Sebastian Vettel averaging slightly slower than Alonso on the super-soft despite a run of only six laps.
At Lotus, Kimi Raikkonen's super-soft long run was actually slightly slower than Hamilton's, but taking a couple of apparently anomalous slow laps out, it's around 0.5s quicker - still way slower than Ferrari.
While this was almost certainly with more fuel in than the Ferrari, the extent of the time difference is a little puzzling, especially given how quick Lotus was here on race day last year with a car that fundamentally seems to carry the same characteristics. On one lap pace Romain Grosjean was third quickest. With Friday track temperatures hovering at a low 20-deg C, the Lotus did not appear to be in its sweet spot.
A ramping up of temperature normally plays more to Lotus's advantage than anyone else - so Raikkonen and Grosjean remain dark horses.
The early indicators suggest a possible pole battle between the Mercedes and Alonso's Ferrari, with the Red Bull pair as outsiders. If he starts from anywhere in the first couple of rows Alonso would then appear to be the heavy race favourite.