It's a circuit where qualifying king Sebastian Vettel has never taken pole, where Lewis Hamilton has never won or started from the front row, and where it's hard to win if you start lower than second.
More on those and a wealth of quirky stats from Barcelona's Spanish Grand Prix...
DRIVERS
• Sebastian Vettel is a former winner of the Spanish Grand Prix, triumphing in 2011. He also finished on the podium in 2010, despite a brake problem.
However, the three-time world champion has never started the race from pole position. He's taken the top spot at 20 circuits, but the Circuit de Catalunya remains one of two tracks on the current calendar, along with the Nurburgring, at which a pole remains elusive. The other circuits at which he has raced but never started from pole are Fuji ('07-'08), Indianapolis ('07) and Magny-Cours ('08).
• This year, Vettel is close to matching Nick Heidfeld's 56-race record for not crashing out. Heidfeld's marker was set between the 2006 French GP and the 2009 Italian GP.
• Mark Webber dominated the Barcelona race three years ago with a lights-to-flag victory from pole. Last year a dismal race left him out of the top-10 both in qualifying and in the race - he eventually finished a lapped 11th. He has scored points and qualified in the top-10 here only six times in 11 attempts.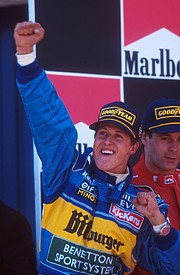 Schumacher led all the way in 1995 © LAT
His highs and lows here include being one of four drivers who have led the whole race ('10) after Nigel Mansell ('92), Michael Schumacher ('95, 2002) and Kimi Raikkonen ('05), but also the only driver who hasn't won after starting on pole in Barcelona in the past 12 years ('11).
• Fernando Alonso won his home race in 2006, but has also finished second four times, the most recent occasion being last year. He can equal the record for second places in a single race, which is five, set by Schumacher in Canada and San Marino. His qualifying score here is excellent: he has missed a top-10 grid spot only in his Minardi year ('01) and he is 10-1 up against his team-mates. He was outqualified only by Jarno Trulli, in '04.
• Felipe Massa posted a pole/win/fastest lap hat-trick in '07 and finished second in '08, in both cases after passing Alonso at the first corner. In the past two Barcelona races, he has missed out on a points finish (broken gearbox two years ago and 15th last year, lapped by his team-mate Alonso).
• Jenson Button has been on the podium twice here - he won from pole in '09 and finished third in '11. Last year he was ninth from 10th on the grid, behind then team-mate Lewis Hamilton, who started 24th.
• Sergio Perez scored his maiden points finish here two years ago; last year he retired with transmission failure.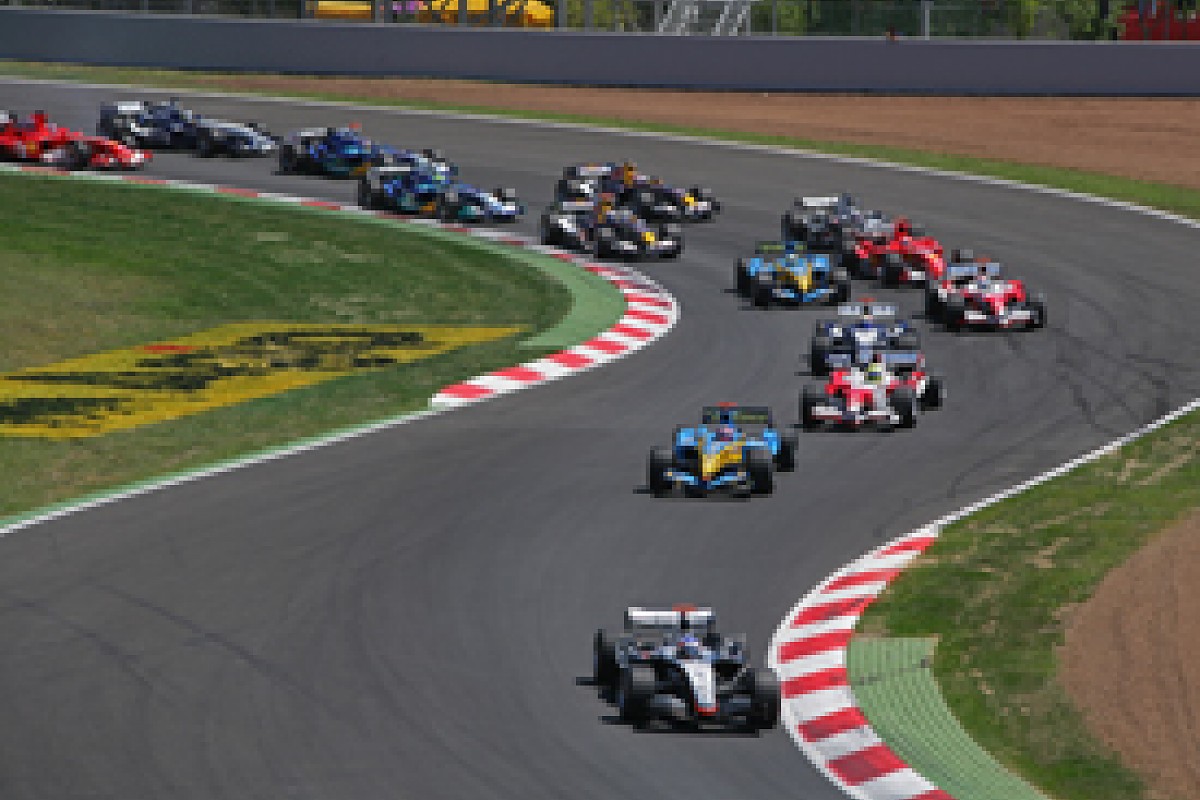 Raikkonen's 2005 victory is the last time McLaren won at Barcelona © LAT
• Kimi Raikkonen is the only active driver who has won twice at Barcelona - in '05 and '08. These are the most recent McLaren and Ferrari wins respectively.
• Romain Grosjean recorded his maiden and, to date, only fastest race lap in last year's GP.
• Lewis Hamilton has never won at Barcelona (in F1 or GP2) or started from pole or from the front row. There are only three tracks at which he hasn't started on the front row: Barcelona, Suzuka and Buddh.
He has previously qualified on the front row at Barcelona (pole last year) and Buddh (second two years ago), but in both cases he was demoted due to penalties.
TEAMS
• The golden years for Red Bull at Barcelona were 2010 and '11, when it locked out the front row twice and scored three podiums out of four starts, winning with Webber in '10 and Vettel in '11.
Last year, the team had a dismal race, with neither car ever in contention for a podium finish. Vettel eventually finished sixth, Webber 11th.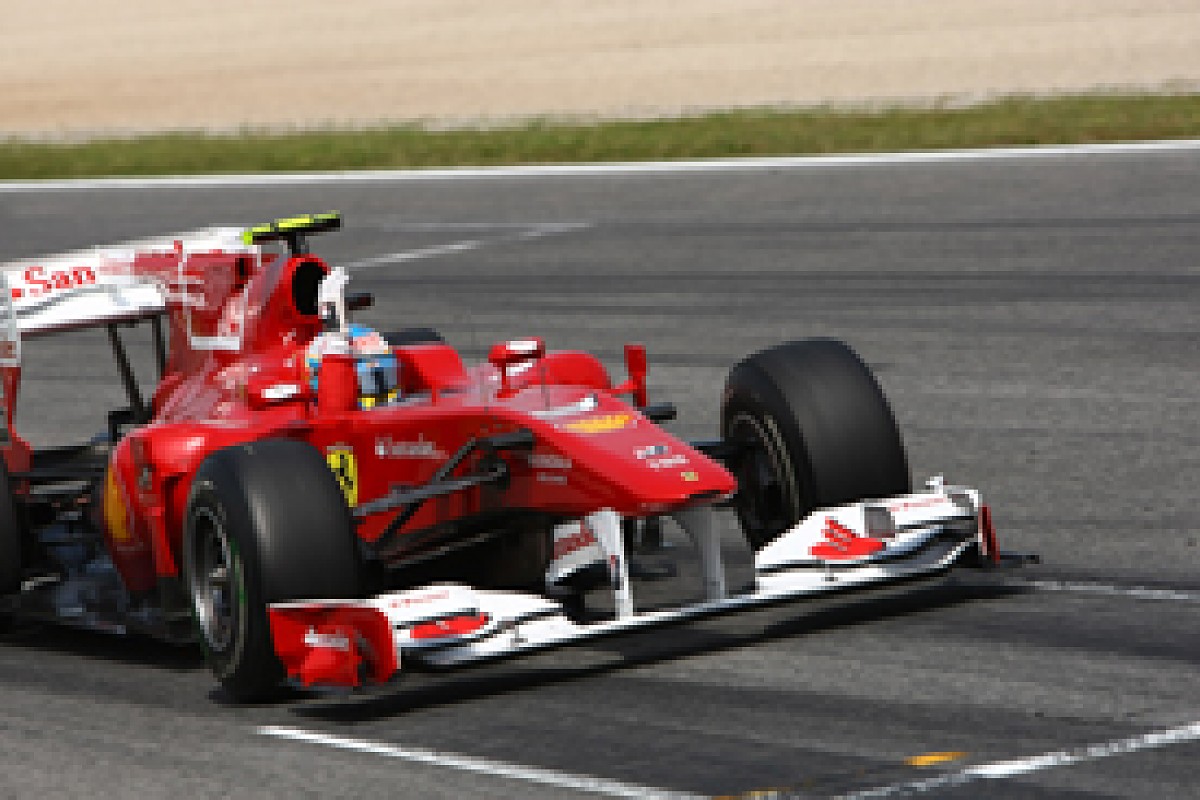 Alonso has taken Barcelona podiums for Ferrari, but no wins yet © XPB
• Ferrari is the most successful team in Spain with 11 wins, the most recent victory coming in '08 with Raikkonen (Massa completed the Scuderia one-two). Since then, Ferrari has only had two podium finishes - courtesy of Alonso (second in '10 and '12).
• McLaren has scored eight wins in the Spanish GP, the most recent in '05 with Raikkonen. The team's most recent podium finish came two years ago, with Hamilton second and Button third. The Woking cars have struggled in qualifying at this track recently, the last pole coming '05 and the last front-row start in '07.
OTHER
• A front-row grid spot has proved to be decisive at Barcelona for many years: in the past 16 years the car on pole has won 14 times, the second-fastest twice.
• In the past three Spanish GPs only Renault-powered cars have posted poles or victories here.
• The 2013 race will feature seven Spanish GP winners: Raikkonen, Alonso, Massa, Button, Webber, Vettel and Pastor Maldonado. No other track on the 2013 calendar can count so many previous winners.