So, can Lewis Hamilton come out of McLaren's shadow and lead the Mercedes team to grand prix glory? That's one of the big Formula 1 questions of 2013.
Hamilton's move away from the Woking squad is more about breaking out of the 'family' he was part of for over a decade than it is about finding a more competitive package. Recent history has shown that McLaren can normally be relied upon to produce a title-contending car, and only bad luck and unreliability kept Hamilton out of the championship fight last year.
But there was always the feeling that he was a little too subservient there, less willing to make critical calls in the way a Fernando Alonso or a Jenson Button would. Now we'll find out whether that was more a product of McLaren's style or Hamilton's own personality.
The 28-year-old's challenge this year will be to mould a new team around him and help give it direction. It would be a surprise if the Mercedes W04 was capable of challenging for the title, so laying foundations for future success, with Ross Brawn and co around him, will be key.
The last Briton to race - and win - for the works Mercedes F1 team believes Hamilton is up to the challenge. Sir Stirling Moss got his big break in 1955 when he signed for Mercedes as understudy to Juan Manuel Fangio, and he is a Hamilton admirer.
"Lewis is one of the best drivers in the world and is a big talent, but a lot will depend on how they develop the car," says Moss.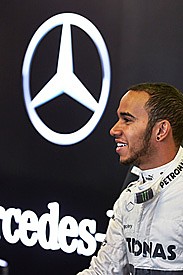 Hamilton, happy at Mercedes so far © LAT
"I believe he can lead the team. He's exceptionally quick and it will be interesting to see whether his talent - and Ross Brawn - will compare to Red Bull and Sebastian Vettel.
"I think I'd have made the same move."
STIRLING'S MERCEDES MOVE
Moss's own switch to Mercedes was for different reasons, and was an easier decision to make. He'd struggled with uncompetitive British cars before buying a Maserati 250F, essentially to show the Stuttgart marque what he could do in a decent car. It worked and the contract duly arrived at the end of 1954.
"There's a tremendous difference between then and now, but Mercedes is Mercedes," adds the 16-time GP winner.
"I tried to stick with English cars, but it wasn't really on. Mercedes was everyone's dream at that time. They looked after you so well and were miles ahead of every other team."
Hamilton is unlikely to have wondered about the nationality of the squad he was moving to - especially as the staff that builds, prepares and runs his car is largely British. It was a bit different for Moss, however, who was joining a more Germanic team so soon after World War Two.
"When I was going to drive the Maser I got the press together and told them there weren't any British cars good enough and I had to go foreign," says the 83-year-old. "They said I'd be better off winning.
"There were certainly people who remembered - the war wasn't long over - but sport is great at getting round things."
Moss had to start his Mercedes racing career a lot earlier in the year than Hamilton too, the Argentinian GP being held on January 16.
The W196s had problems in practice and Froilan Gonzalez qualified on pole for Ferrari, though Fangio soon made his way to the front.
In one of the hottest races in world championship history many exhausted drivers stopped to hand over their cars, but Moss, who qualified down in eighth, was running second when a vapour lock stranded him. He took a rest, only to be bundled into an ambulance until he could find an interpreter to explain that he was fine!
Once back at the pits, he took over the Hans Herrmann/Karl Kling car to come home fourth.
After finishing second on aggregate to Fangio in the Formula Libre Buenos Aires City GP, and taking one of his most famous victories in the Mille Miglia sportscar enduro, Moss headed to the Monaco Grand Prix.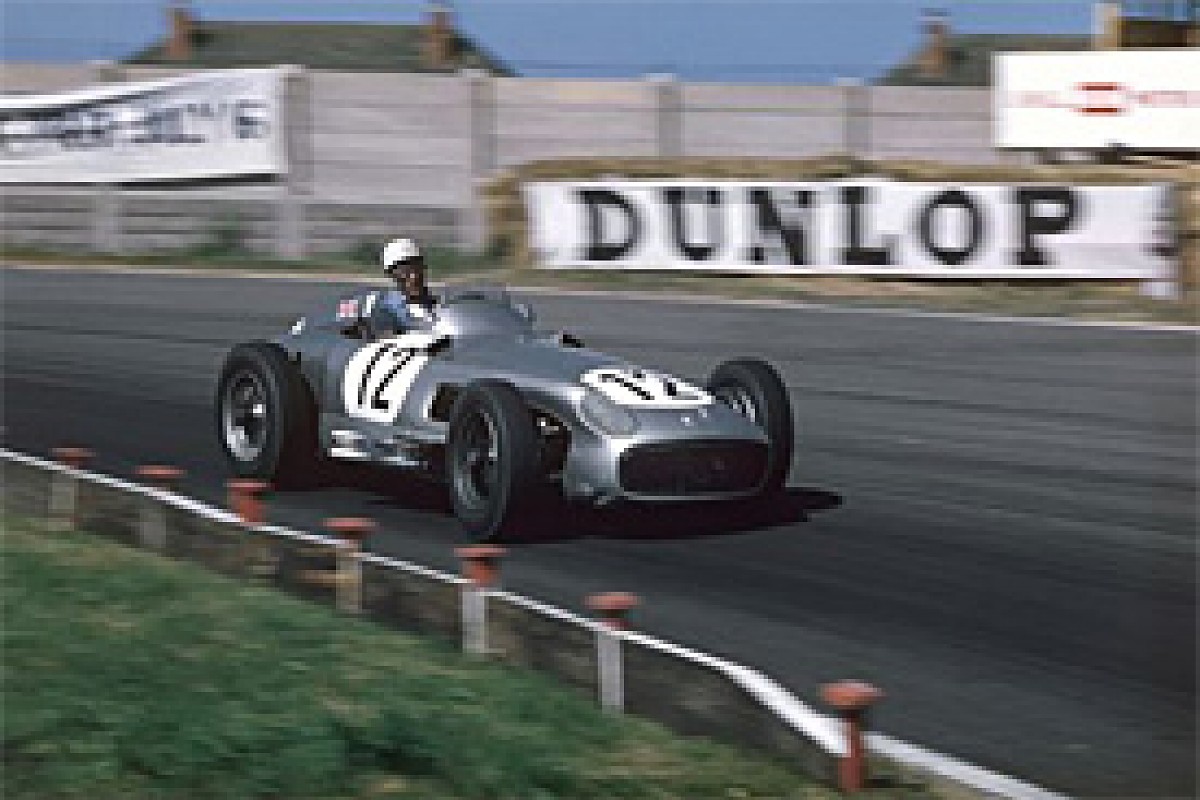 Moss in action for Mercedes during the 1955 British GP © LAT
This time he qualified within a tenth of Fangio and followed the Argentinian - a sight that was to become familiar - until the lead W196 suffered transmission failure. Moss took over and looked set to win by miles until, with 20 laps to go, an oil union fractured and the engine blew. He showed his commitment by pushing the car home to take the flag ninth, but scored no points.
Nevertheless, after the race he was to get an insight into the professionalism that put Mercedes, then run by legendary team boss Alfred Neubauer, so far ahead of its rivals in the mid-1950s.
"At Monaco one of the cars got paper on the grill and overheated," recalls Moss. "At the next race I could pull a lever and it would flick the paper off.
"At another race I had locking brakes. The next time out there were four buttons, each connected to a corner, that would put oil on whichever brake was locking to stop it.
"Anything I wanted I got. The lengths they would go to for the drivers was amazing - Neubauer would visit hotel rooms before the drivers to make sure they were quiet enough."
The organisation and preparation helped Mercedes to dominate even when rivals such as the Lancia D50 or Maserati 250F might have been able to challenge the W196 on pace.
"The nicest car in the era was the 250F," admits Moss. "It was beautifully balanced. The only problem was that it was made by Maserati, not Ferrari, where the engineering was better.
"The Mercedes engine was fantastic. It had Desmodromic valves, which meant no valve bounce, and the W196 became virtually unbreakable.
"The car wasn't as nice to drive as the Masers and you had to be careful in the wet because of the swing axle, but at the end of a race it was still as good as it was at the beginning."
DEVELOPING DOMINATION
The pattern of the 1955 season fully emerged in the Belgian GP at Spa. Although Eugenio Castellotti put his Lancia D50 on pole, Fangio and Moss both beat him away and headed off into the distance. The gap between them after over two and a half hours was just 8.1s, despite Moss being covered in oil after another leak.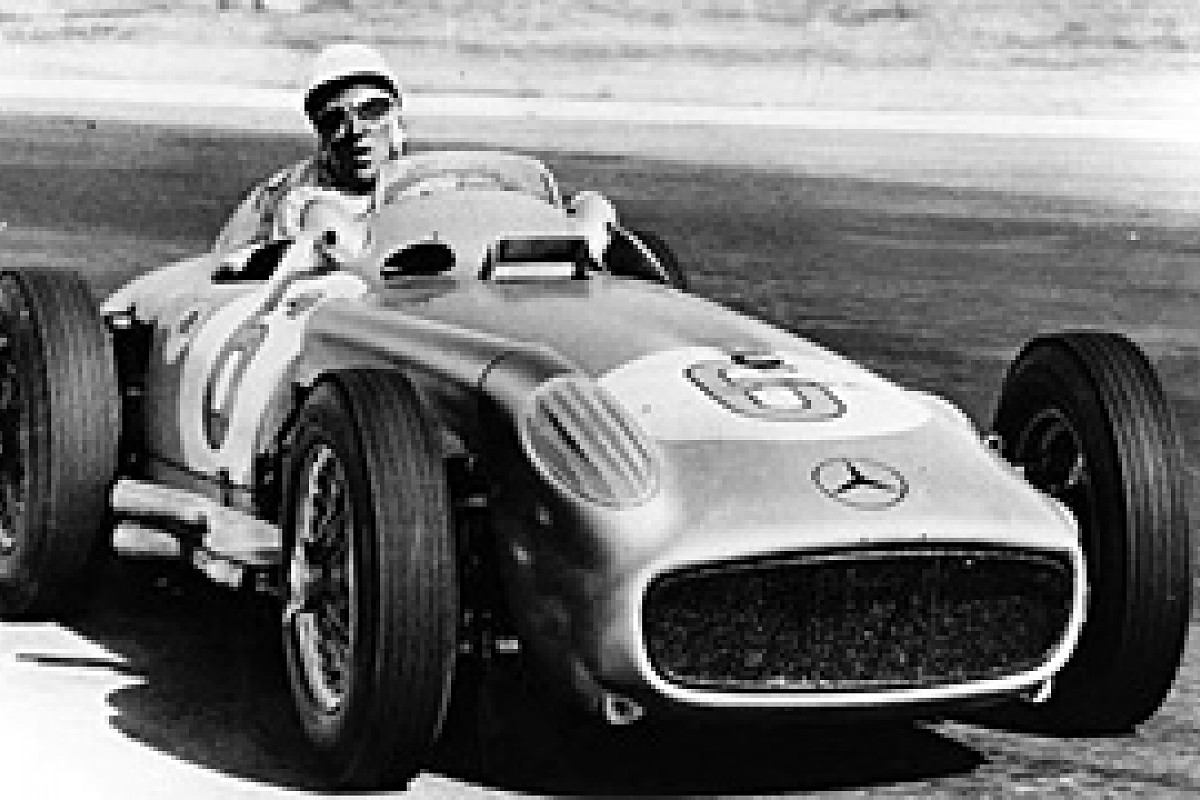 Moss made his debut with Mercedes in Argentina © LAT
The Ferraris in third and fourth were over a minute and a half behind.
At Zandvoort, Moss again ran in Fangio's wheeltracks, finishing just 0.3s adrift. It suggested that Moss could have pushed harder to beat his team leader, as Hamilton did against Fernando Alonso at McLaren in the controversial 2007 season. But Moss was happy to learn from Fangio, who also trusted the Briton and only felt the need to 'win at the slowest possible speed'.
"I signed as number two and it worked well," says Moss. "I was completely happy to sit there [behind Fangio]. It was part of my education. Neubauer said, 'What happens if Fangio goes off?' and I said, 'Fangio never goes off'."
Nevertheless, the two Mercedes stars would have more of a fight at the next GP, the British round at Aintree.
For the first time, Moss beat Fangio to pole (by 0.2s), though he again didn't make the best of starts. He swept by on lap three, before Fangio repassed on lap 18. Along the way the duo almost clashed in traffic, but Moss moved back ahead on lap 26 of 90.
He even pulled away for a while before Fangio closed in towards the end. Moss, who to this day remains unsure if Fangio let him win, finally took the flag by just 0.2s to lead home a crushing 1-2-3-4 for Mercedes and score his first world championship victory.
Thanks to the Le Mans 24 Hours disaster, in which Pierre Levegh's Mercedes went into the crowd and killed over 80 spectators, the only other world championship GP of 1955 was in Italy, on the high-speed banked Monza layout.
Fangio pipped Moss to pole by 0.3s, with Karl Kling third, another 1.5s further back. The fastest non-Mercedes was almost three seconds off pole position...
In the streamlined versions of the W196, Fangio and Moss took their now customary positions at the head of the field, until the Briton was forced to pit with a smashed windscreen. He returned to break the lap record repeatedly, only to retire as Fangio won again to secure his third world title.
Moss was runner-up in the standings, but his Mercedes season was not yet over.
SPORTSCAR SUCCESS
One thing Hamilton won't get this year is a chance to race seriously for Mercedes outside F1, but driver versatility was de rigueur in Moss's era. The World Sports Car Championship was arguably as important as F1, and Moss got to drive the 300SLR in 1955.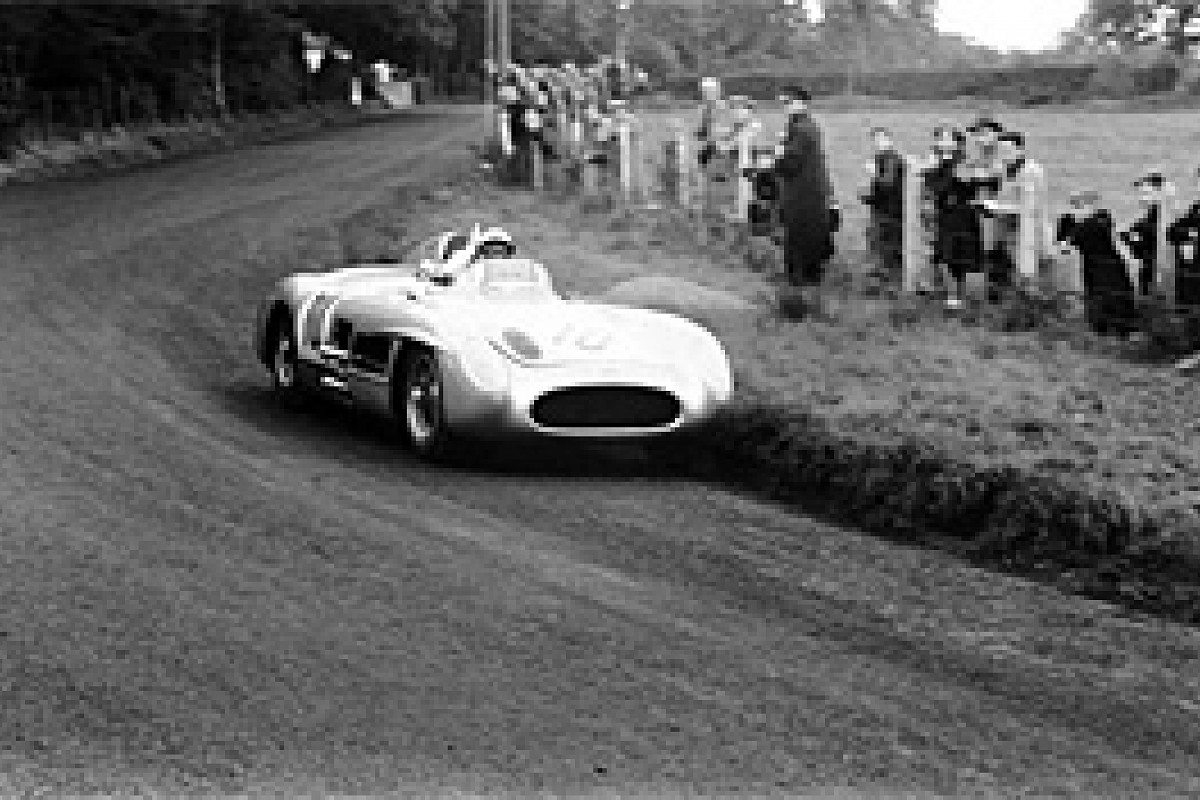 Moss in the Mercedes 300SLR © LAT
Having beaten Fangio in the Mille Miglia, Moss finished 0.1s and 0.3s behind his friend at the Nurburgring's Eifelrennen and the Swedish GP respectively. In between times the duo joined forces - creating surely one of the greatest sportscar line-ups of all time - for Le Mans and were leading when Mercedes withdrew after Levegh's crash.
Thereafter, once the F1 world championship was over, Moss twice beat Fangio into second place. He won the Tourist Trophy on the punishing Dundrod road circuit with John Fitch, and then the Targa Florio with Peter Collins.
In sportscars, the balance of power between Fangio and Moss seemed to swing to the younger man, even though the 300SLR was a similar machine to the W196.
"I asked Fangio why he preferred single-seaters and he said he liked to see the front wheels," recalls Moss. "When I drove I liked to see 300 yards ahead, not three! But that's what he said."
Mercedes left the sport at the end of 1955 and the statistics make for impressive reading even today. The team competed in 12 points-paying F1 events and won nine, along with two drivers' titles for Fangio (the constructors' title did not yet exist).
In four World Sportscar Championship outings, the 300SLRs took two one-twos and a 1-2-3, the only 'defeat' coming after the Le Mans withdrawal, despite the presence of Ferrari and Jaguar's famed D-type.
"If the team had gone on I would have stayed," adds Moss.
His F1 record with Mercedes might 'only' have included one victory, but Moss had proved himself alongside the established top driver in the world. Thereafter he became an undisputed team leader, the sport's benchmark after Fangio's retirement, and arguably should have won the world title several times. All things that Hamilton will be aiming for, particularly as Vettel has been racking up title after title with Red Bull.
DIFFERENT TIMES
Moss concedes the motorsport world is a very different one now to the era in which he competed, but he still takes a keen interest and believes Hamilton can deliver during his stint at Mercedes.
"We were given a dollar to keep the cars clean and I used to pocket the dollar and clean it myself!" he says. "Today the drivers are paid so much.
"The fact that Mercedes hadn't raced for so long is bad. I do think Ross Brawn is extremely competent, though, and I think I'd have made the same move as Lewis, if I'd not been tied up with Ferrari!"
Hamilton's new team-mate Nico Rosberg may be more established within the team - and be a German at Mercedes - but Moss, who beat both Kling and Herrmann in 1955, doesn't think that will count for much if Hamilton can deliver on track.
"I think it depends what lap times they return," he says. "I think Lewis will have Nico covered at Mercedes."