Pirelli entered Formula 1 in 2011 as sole tyre supplier, having departed at the end of 1991 following two marginally successful tenures (1981-86, 1989-91) in the modern era during which the Italian company scored two and one (slightly fortuitous, it must be said) victories respectively.
Upon its return, Pirelli's marketing and technical honchos threw themselves wholeheartedly into the sport, not only committing to massive peripheral spend for the full duration of the three-year contract, but developing tyres with the sort of qualities desired by the sport after years of rock-hard Bridgestone rubber in double-quick time. In short, F1 wished for overtaking-fests created through stops and degradation, and Pirelli certainly delivered, at times overly so.
Having had but six months to prepare as F1's players dilly-dallied every which way after the Japanese brand's exit, before realising that the world's fifth-largest tyre company was by far the best replacement option, it was a massively steep learning curve, yet even in its first year Pirelli's performance was remarkable: zero product failure. Last year was no less impressive.
But this year sees the final season of the supply contract - won, some say, against all odds after FIA president Jean Todt seemingly favoured Michelin's tender submission - and thus Pirelli, which recently told this column in an exclusive interview it was seeking the 'right' deal [to remain], faces uncertainty. It employs a significant number of personnel in its F1 division, yet could be given as little as six months' notice should it be replaced by an alternative supplier.
Pirelli's Paul Hembery © XPB
Pirelli made massive material, manpower and money commitments in order to enter the sport - it has, for example, built a carbon copy of its Izmit F1 facility in case natural disaster hits the Turkish base, with the 'second' base in Slatima, Romania. Last year Izmit delivered 720,000 motorsport covers, so Pirelli would obviously prefer to be awarded an extension rather than face a competitive process.
"[It's] what we have to do as a company to be involved, producing a back-up factory in Romania, which is not a nice-to-have; it's what you do as a professional company," Pirelli motorsport director Paul Hembery exclusively told this column during the AUTOSPORT International show in Birmingham a fortnight ago, reiterating it at the launch of its 2013 F1 tyres in Milan last week.
"If you have a breakdown or a major issue in one factory at least you can keep Formula 1 going. These are things we do when we do our risk assessment as a business of being involved in Formula 1. Nobody asked us to do it, but we did it because we want to be a professional company. So the costs are significant."
More than anything, that is proof of Pirelli's commitment to the sport. Where previous tyre companies spent their F1 budgets on massive testing and development programmes, the absence of a competitor in the sport enables Pirelli to adopt a different tack: it trumpets its involvement widely.
Thus commercial rights holder FOM is more than happy to have Pirelli on board, for the company leverages its official tyre partnership via enormous circuit-perimeter signage spend - which analysts value at minimum $40m (£30m) per year given the going 'bridge-and-boards' rate card - while its Paddock Club spend is among the highest.
Add in merchandising and race-programme advertising, and the total rapidly spirals to over $50m, even before the benefits to F1 of the company's 'power is nothing without control' advertising campaign, which provides F1 with incremental global (and free) exposure, are factored into the equation. A welcome partner, indeed, particularly as the teams collectively stand to net around 40 per cent of that in terms of prevailing commercial agreements with the commercial rights holder (CRH).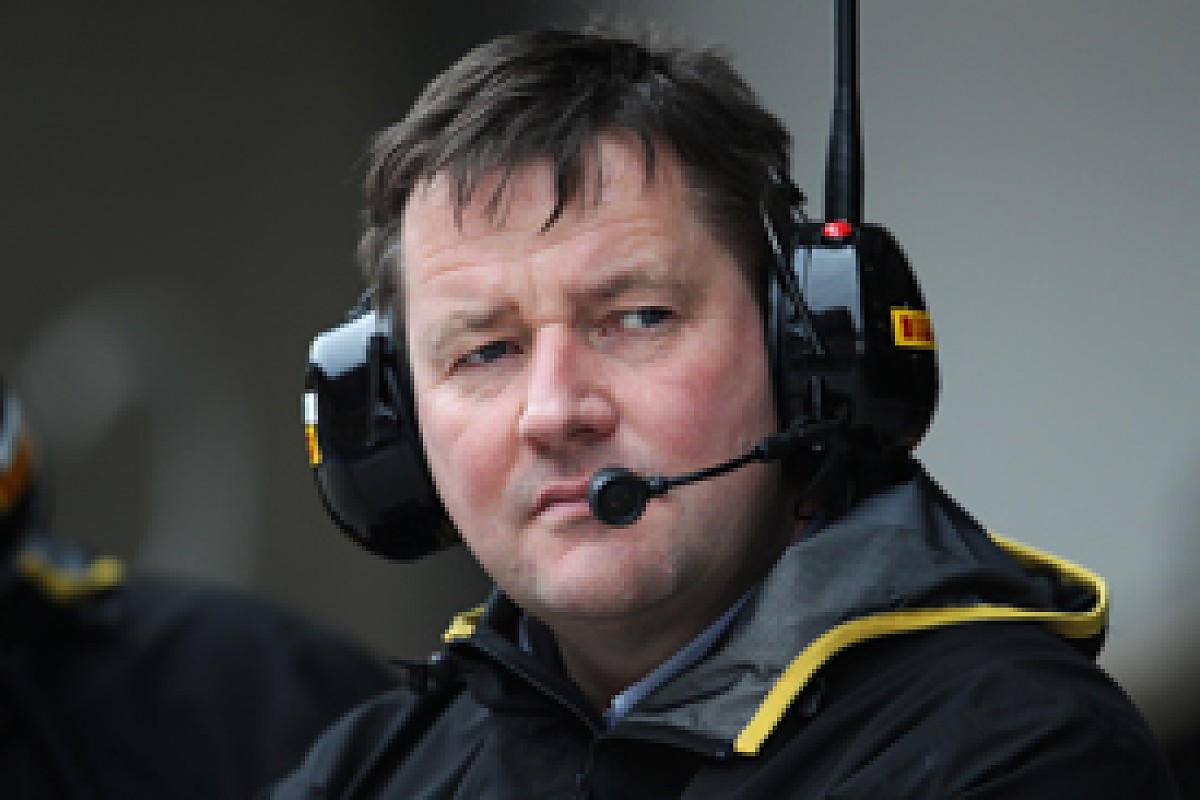 Pirelli has made a huge investment in F1
Why, then, does the sport not simply renew Pirelli's contract for three or even the five years the premium tyre brand desires? The sticking point is Clause 25 (more specifically 25.1) of the FIA Formula 1 Sporting Regulations, which reads:
"25.1 Supply of tyres: A single tyre manufacturer has been chosen by the FIA for the 2011, 2012 and 2013 seasons following an invitation for tenders to supply tyres to all the cars entered in Championship Events for the duration of these seasons.
"A single tyre manufacturer will be chosen by the FIA for subsequent seasons following an invitation for tenders to supply tyres to all the cars entered in Championship Events for the duration of such subsequent seasons."
Essentially this clause forces the governing body to call for tenders or risk being in breach of its own sporting regulations... possibly by way of a complaint or legal challenge from a tyre company wishing to enter the sport; possibly even by its own World Motor Sport Council or Senate.
By the nature of tenders there exists no guarantee that Pirelli will be successful, for who can predict the determination of other companies to be part of F1? Quite conceivably they could offer each team $10m per season plus free rubber, as opposed to the estimated $2m Pirelli charges each team for two cars' worth.
Thus on the one hand we have a CRH anxious to get its hands on hundreds of millions of dollars; on the other a supplier equally anxious to extend its (ultra-successful) partnership with this global sport.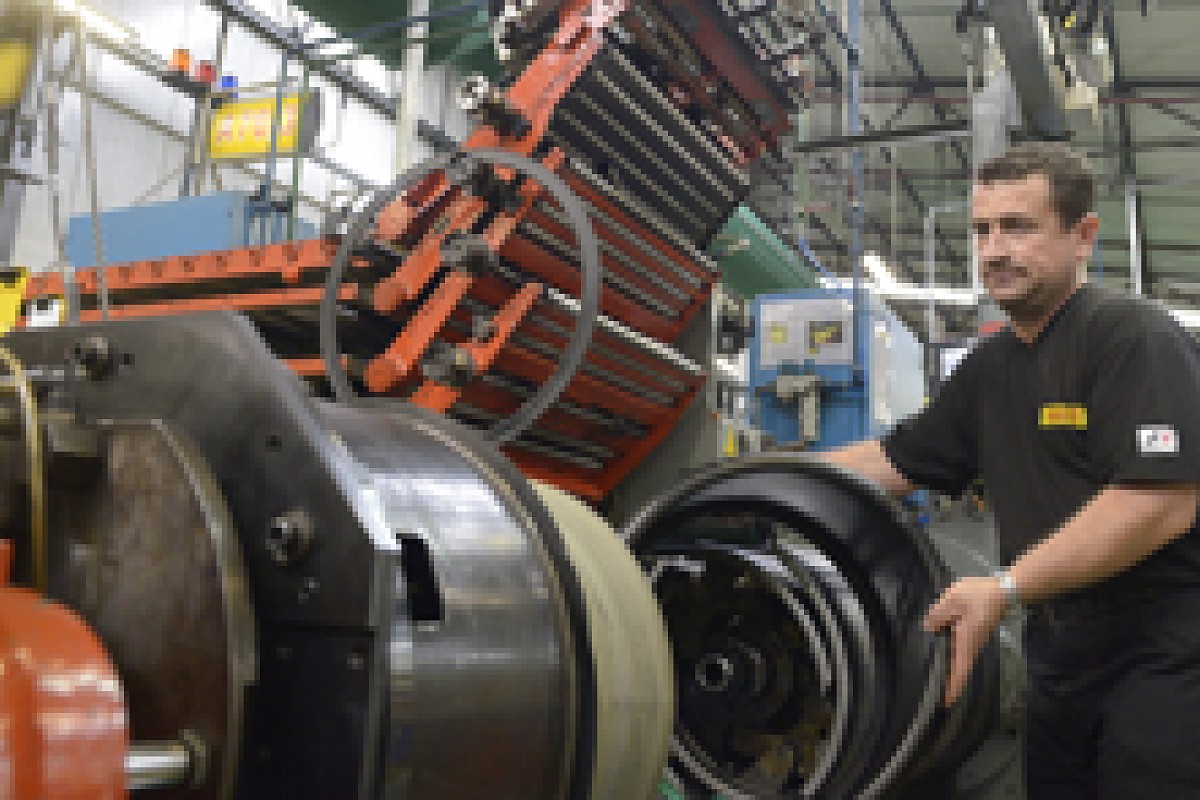 Pirelli signage dominates at many venues © XPB
Stuck in the middle are the FIA's regulations - which may or not even be relevant come 2014, as outlined here. According to sources, an FIA official last week told teams there was no choice but to go out to tender. So, what to do?
The regulations, by their very nature, do not prescribe to whom the CRH may sell signage, nor specify who may purchase such packages; in fact, any company may sign up to boards and bridges and hospitality provided that entity is willing to meet FOM's eye-watering charges. In fact, in terms of the 100-year commercial-lease agreement signed between the FIA and FOM, the FIA may not involve itself in commercial matters.
Thus FOM and Pirelli have taken the bold step of agreeing a long-term signage deal - through to 2018, in fact - that ensures FOM's coffers are filled to the tune of a quarter-billion bucks over the full five-year period, while the tyre company benefits from global circuit exposure and association with F1 during the subsequent 100 grands prix weekends, whether or not it supplies a single tyre to the grid!
"We've been discussing obviously with FOM, the commercial-rights holder, because that's a really important aspect of our deal," said Hembery in Birmingham. "The trackside advertising is where we get a big return from our visibility, and we've had a number of discussions there, and I'm hopeful we can come to a conclusion in the next month."
Although he would not be drawn on the duration of the agreement under discussion, sources in the loop are adamant it is a five-year deal, and that terms have been agreed. In fact, so far down the road are the two parties that Pirelli's board is believed to be have given provisional approval subject only to the numbers adding up.
Given this, which other tyre company in its right mind would enter F1 in the firm knowledge that it could not leverage its involvement trackside or even in hospitality suites without the shadow of Pirelli hanging over its every activity? Thus, even if the FIA goes out to tender, it is likely to receive but a single offer: one writ large under a yellow-and-black header...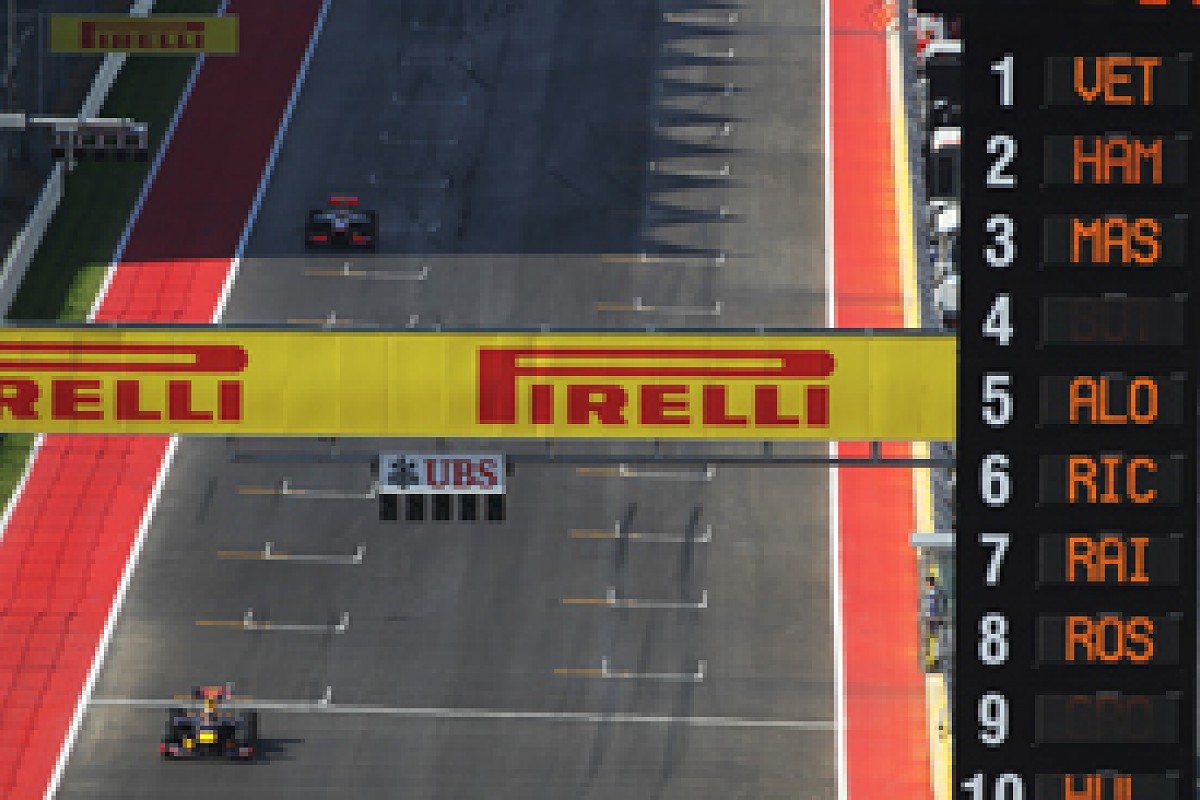 Pirelli is making it clear that it is offering the same deal to everyone on the F1 grid © LAT
To this end, Pirelli on Wednesday distributed apparently identical 2014-18 offers to all teams via an attachment bulk-emailed to all team principals in an effort at transparency (the 'To' field contains all current teams, signifying equal offers for all).
"It's important, because every single team has to have exactly the same [offer] and as far as we're concerned every single team, all 11 teams as they are now, are equal partners and we have to ensure we give them identical levels of support [in F1]," Hembery said.
The cover email makes specific reference to Pirelli's signage programme for the period, from which all teams benefit financially; some, though, more than others through the scaling of individual commercial agreements.
"We'll be lucky if we see one brass bean of the income," said one disgruntled team boss, who would obviously rather have free rubber than pay Pirelli's annual fee in exchange for a potential share of the pot...
Hembery would not be drawn on the cost, but does not deny that teams are invoiced.
"You mentioned there that there's been payments from the teams. It's a contribution, I have to say; it certainly doesn't come close to covering the whole project cost, and that excludes even things like capital investment, which is what we have to do as a company to be involved."
He did, though, concede that some of the bigger teams could effectively have free rubber due to their larger shares of the sport's billion-dollar annual revenues, to which Pirelli's ad spend makes a healthy contribution, and promised that costs to teams would not rise for the 2014-18 period.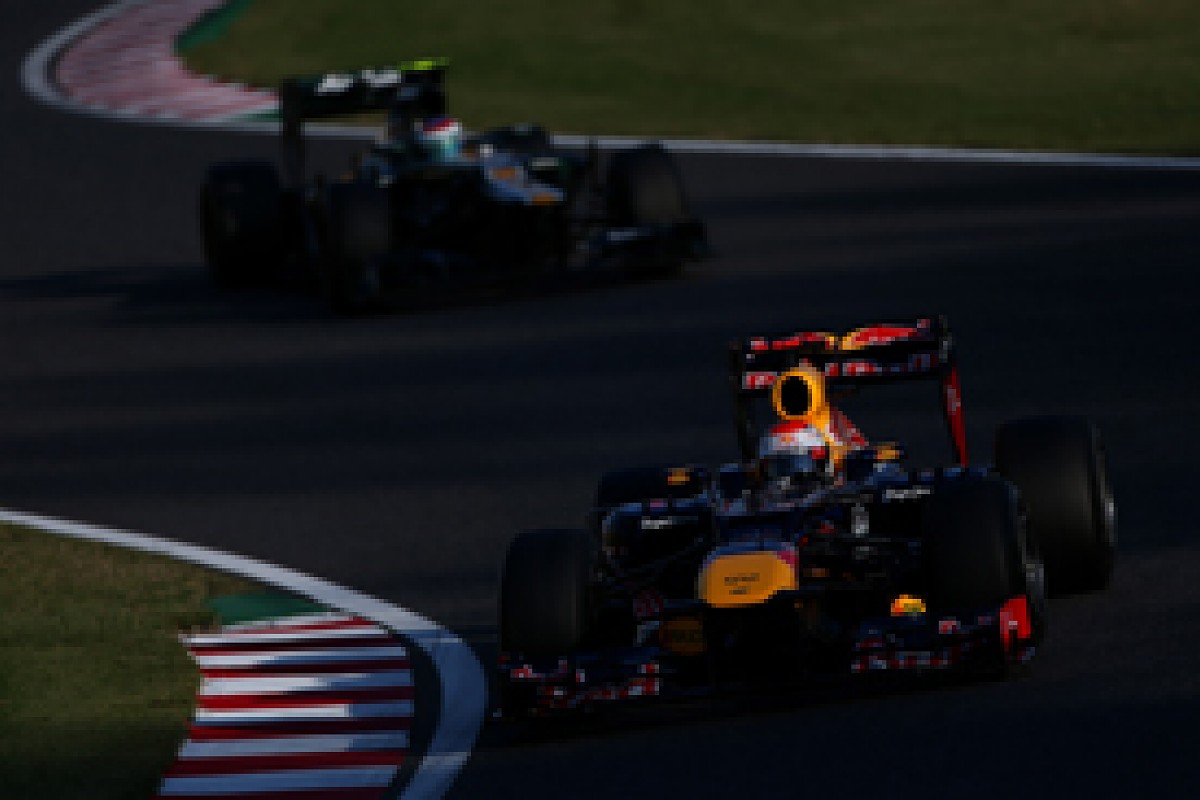 Ferrari rushes into action with some fresh Pirellis in Brazil last year © LAT
"I think the only thing I can guarantee [is] absolutely no increase," he said. "We're one of the few that won't be asking for an increase."
But a number of teams questioned about the 65-page offer (which has a requested return date of the end of February) were far from ecstatic about being drawn into FIA/FOM/Pirelli politics, telling this column they had major reservations about the document, which some perceive as an inducement to break Clause 25.1.
"As part of our 2013 entry we agreed to abide by the FIA regulations, and this document puts us in a precarious position: either we are making it impossible for the FIA to enforce Clause 25.1, or could end up in breach of the Pirelli contract if we signed and the FIA somehow decides to award the tender to another supplier," one team principal stated, a sentiment shared with three others.
Others are said to be concerned that the matter could be referred to EU Commission anti-competition authorities, or be the subject of legal wrangles involving all signatories. "We have enough litigation surrounding Formula 1 at the moment, thank you very much," went one comment.
What does Pirelli say about a potential tender showdown with the FIA?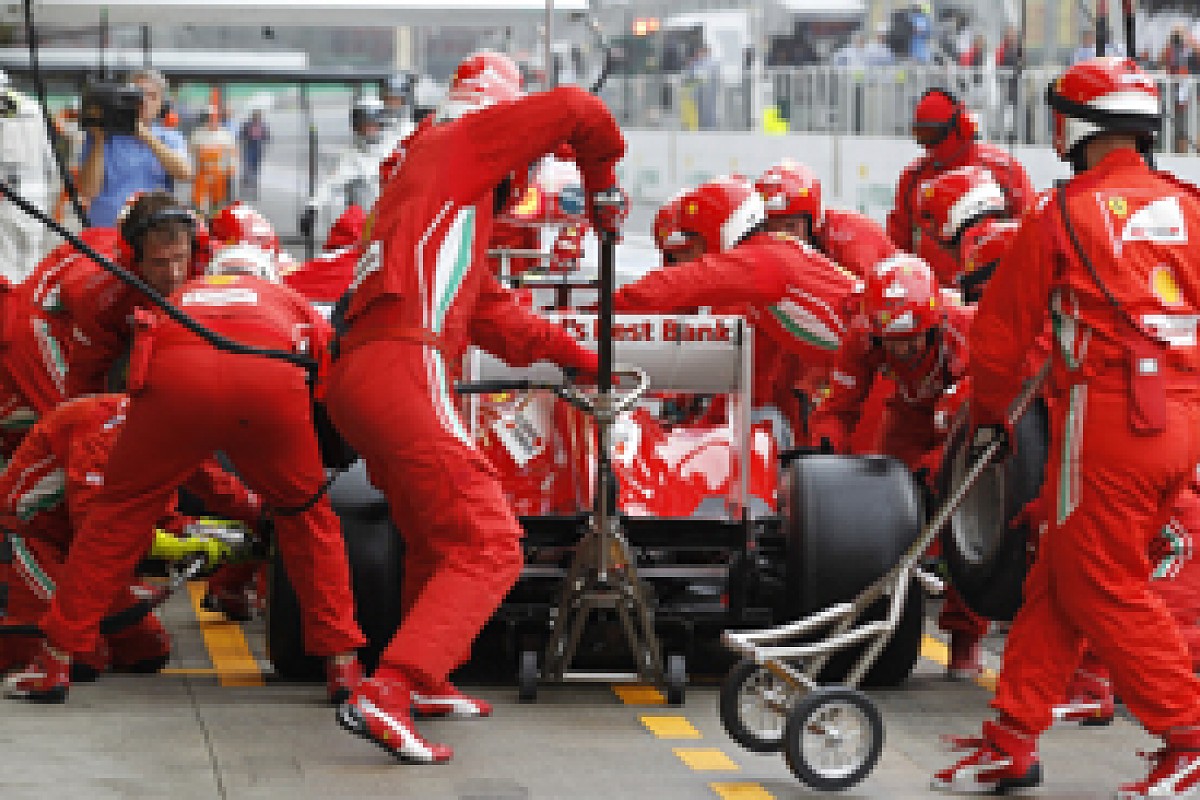 Bridgestone left F1 at the end of 2010 © LAT
"The FIA have been very supportive to us during our two years in Formula 1," said Hembery. "We've an outstanding working relationship with them, as we had through our three years in the World Rally Championship, and we've always been very proud of our working relationship with the FIA.
"They have to ensure, of course, that any supplier to their championships is technically able to supply safe and reliable products and has the technical competence to do so.
"That's the main role of the FIA, and it's a very important role, because you could have somebody that comes along, maybe making quite wild financial promises but without the ability to back up the product on safety.
"Safety is paramount, and the FIA has an outstanding record in managing motorsport safety. Tyres are one part of that. They're very diligent in making sure that their partners are capable of delivering."
In 2010, after Bridgestone provided 14 months' notice of its intention to exit - two months more than the then-statutory period of a year - the sport's players faffed every which way before somewhat reluctantly signing Pirelli. Now they have a willing supplier - one willing to throw 250 million bucks at the sport, at that - yet procedural matters are potentially clogging the process.
A solution to the 2014 dilemma seems unlikely before June this year, particularly if the FIA and teams dig in, as would appear to be their right...