As the chequered flag fell at the end of the United States Grand Prix, one (unidentified) engineer at an (unidentified) team leant across to his colleague with a big grin on his face and said: "Well, after 15 years, 11 tracks and a couple of billion dollars, it looks like Hermann Tilke has finally got it right..."
That might be a slightly unfair assessment about Tilke's efforts elsewhere, but it was a bang-on observation about just how much of a success the new Austin venue proved to be. The circuit - with its iconic Turn 1, high-speed swoops and twisty sections that helped produce plenty of overtaking - was widely perceived as being Tilke's best circuit yet.
In fact, F1 was left roundly patting itself on the back for a weekend that reminded everyone in the paddock about just how good a grand prix 'event' could be. There was a sell-out crowd, a fantastic vibe, celebs galore, a fabulous embracing of the sport, and the thriller of a Sunday afternoon laid out in front of our eyes.
Yet, if F1 thinks the success of Austin means it has cracked the American market it should really think again because Austin does mark not the end of a triumphant comeback on the States. Instead, it should act as only the first exploratory step, with the realisation that there is still one heck of a journey ahead if it thinks it has come anywhere near conquering it.
The event was a hit with the fans © LAT
F1 needs to realise that a sell-out crowd, a great race, a tremendously positive vibe from the F1 regulars and brilliant write-ups from the local media does not mean it is job done in America. For if F1 is really going to make a success of it in the United States, it needs to broaden its horizon and make a push in the rest of the country for months and even years yet.
In theory that job should have started this week, with a big effort to promote all that happened. For example, why wasn't it automatic that the race winner (whoever it had been and especially now it is Lewis Hamilton) got jetted out of Austin and straight into the studios of the Letterman Show and the Tonight Show to help gain traction and broaden the nation's understanding of the brilliant thing that took place in Austin?
It's about - as Austin chairman Bobby Epstein told me at the weekend - not allowing the momentum of success built up this weekend to just fall flat on its face as F1's community checks out of the country's airports and heads down to Sao Paulo.
America is not a simple market to break and there are going to be factors that are not going to be simple to bring to fruition, like more races to spread the love, and even an American driver.
But that is no excuse for F1 not giving more of a push now that the opportunity is there.
In Austin I grabbed a few words with motorsport commercial guru Zak Brown - a man who in his role as head of marketing company JMI has a tremendous knowledge of how both F1 and the American motorsport market works.
He has no doubts that the success of Austin could not be measured on how many people were in the grandstands, or how much the F1 media raved about how great the city was. Instead, it boils down to eyes on screens.
"I think in America, television ratings tell the story of popularity, it really is a television ratings-centric country," he said. "So let's see what TV ratings are like next year, when there has been a second race and a full season on NBC Sports. I think that will be an indication of whether we are going in the right direction."
Brown agrees that F1 needs to make a concerted effort over the next 12 months to keep the Austin buzz going - and not just start thinking about the US again on the Wednesday before next year's race.
"What I would like to see is for all the teams to do street demonstrations. Each team is keen on North America and I would like to see them do a demo run once a month in all the major cities.
"I think they will be prepared to do that and that would keep F1 on the radar. This race can't just be annual event.
"We also need to get more drivers on David Letterman - like Sebastian Vettel did - and Jay Leno, because F1 certainly has the personalities, like Lewis Hamilton."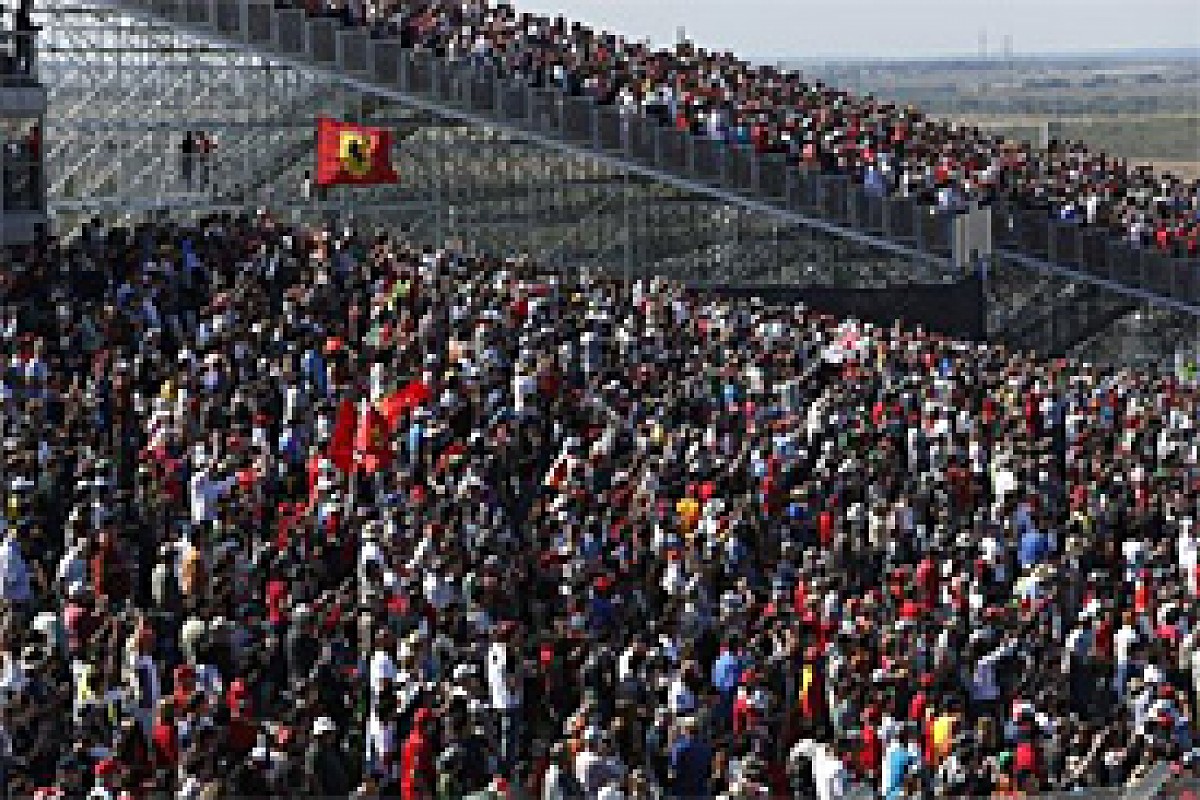 Kimi Raikkonen signs autographs at Austin © LAT
The ultimate dream ticket to break America is of course an American driver, but finding the right one is not the work of the moment. There is also a big dilemma: for a US driver really needs to go to Europe to ply his craft if he is going to have a real chance of a breakthrough - but if he does that then he gets deemed a 'European' rather than the home-grown NASCAR or IndyCar crew.
Brown is not so sure an American star is essential, but is aware that a few of the current big names would generate a lot of coverage.
"I'm not sure it is the silver bullet because America now is so international with its athletes, there's perhaps a little less patriotism and it has such diversity. It may help, but I don't think we have that same level of waving the American flag as, say, baseball.
"The other problem is that it has to have someone who has come from IndyCar who has US awareness: Michael Andretti would have been the perfect story.
"Danica Patrick would have been huge in F1. If you had put Danica in this week it would have been off-the-charts awareness.
"I'm sure she would love to drive an F1 car, but she has got a pretty good gig going on in NASCAR and already has massive awareness in North America.
"One man who has done open-wheel racing and is good is Kurt Busch. The thing about him is, he's such a 'prick' - feel free to print that! - he creates a lot of awareness. And he has tested IndyCars before and is an unbelievable talent."
There should be a lot of food for thought for teams right now. It is clear Austin has done its part: the sport could not really have asked for anything better.
Now it's F1 turn to repay that investment, and give back even more.