In between all the collisions and short-tempered Finnish radio messages in the Abu Dhabi Grand Prix, a fine piece of racing went almost unnoticed.
After several laps of sizing up Jenson Button's McLaren, Sebastian Vettel made a move stick around the outside into Turn 11. No contact, no cars driving across concrete run-off areas. Just two world champions showing their class, and doing it all inside the white lines.
Yet Button came in for criticism for it from some people. Why didn't he straighten up in the corner and run Vettel off the road? After all, that seems to be the done thing in modern racing.
But that doesn't make it right.
This was a piece of wheel-to-wheel action for which Button deserved just as much credit as Vettel. From the outside it was easy to dismiss the 2009 world champion as being too soft in battle. But judging by some of what we saw in the last grand prix, there are a few drivers further down the grid who could learn a thing or two from the way the world champions go about their business at the front.
And while we're at it, perhaps the F1 hopefuls racing on the junior ladder at the moment need to go back to school and remember what clean racing is about.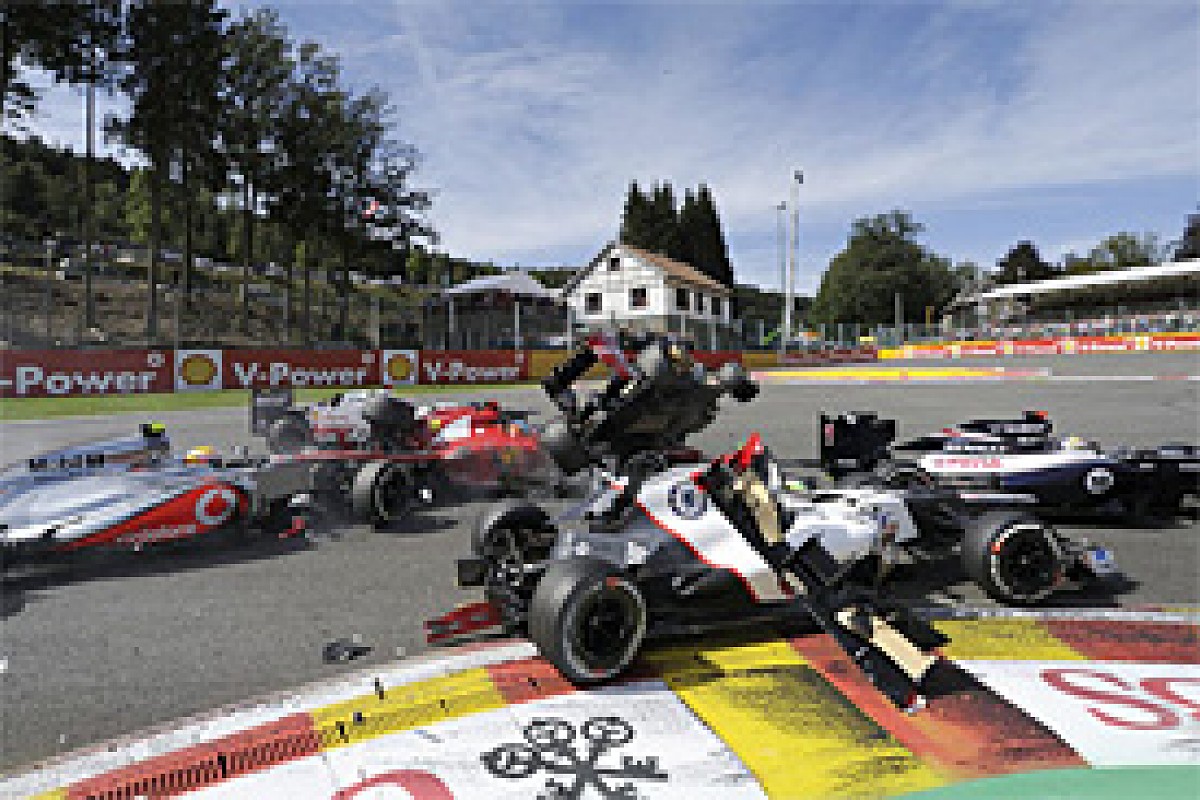 Romain Grosjean's infamous crash at Spa © LAT
The junior series came in for a bit of a hammering after Romain Grosjean's antics at the start of the Belgian Grand Prix. Ferrari team boss Stefano Domenicali claimed driving standards need to be cleaned up below F1, so that drivers arrive at the top table as capable racers in wheel-to-wheel combat.
"You see it too often in the other series that drivers are very aggressive and try to do something almost over what is possible," Domenicali said. "It is important to be strict since they start racing and they will arrive in F1 in better condition for that."
He has a point, but it must also be remembered that these youngsters - and the next generation of hopefuls who are currently cutting their teeth in karting - will be taking their cues from what they see in Formula 1. 'Fire him off' and 'feed him the grass' have long been well-known phrases at kart circuits, and seeing the top drivers take the 'one move' defensive driving rule to the limit at the top of the sport doesn't help.
It's a subject that resonates with former world champions as well. Both Jacques Villeneuve and Damon Hill have expressed their concerns about driving standards to AUTOSPORT this year.
The Canadian believes increased safety in racing has led to the drop in standards, and that the officials have to get stronger with their punishments to compensate for the reduced risk on track.
"For some reason the young drivers of today aren't told when they're wrong," said the 1997 F1 champ. "Everybody says 'amazing driving, great fighting' when guys are putting each other on the grass. But we should not be encouraging this kind of behaviour.
"In the past this sort of stuff didn't happen as much. Sure, you grew up racing with guys like that, but when they did it in the junior formulas they got hurt, and they didn't make it to F1. So that sort of driving didn't go up the ranks like it does now.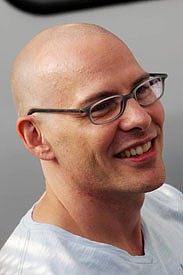 Jacques Villeneuve © XPB
"But this seems to be the modern way of racing. Providing you only make one move it doesn't matter if you push a guy off the track. Racing is still dangerous, and you should always give the opponent a fighting chance.
"There are no judgement calls made from the drivers anymore - including in F1. They don't realise when they should fight and when not to. You have to know when to pick your battle."
That last comment brings us nicely back to the Button/Vettel scrap. In the laps before Vettel's pass, Button had been strategically using his KERS to defend in the DRS zones. But on older tyres than the German, and a slower compound of Pirelli rubber, he knew his hopes of hanging on to a podium finish were minimal.
"By the end it was impossible," said Button afterwards. "It was always going to be difficult to keep him behind, but it was a good battle.
"He did a good move around the outside. I could have run wide and we would have touched, but that's not right really."
Vettel added: "It was very close with Jenson, but I enjoyed the fight a lot. He was very, very fair. You can't do that kind of move with all the drivers on the grid."
It is worth noting that Button was one of the last drivers to get to F1 having come through Formula Ford, a category where the lack of wings (until next year) has always led to close racing.
Hill, who is back on the junior racing beat with his son Josh in Formula Renault 2.0 at the moment, believes the wheel-to-wheel nature of Formula Ford racing served as an excellent training ground for young drivers to learn how to race clean.
"I love Formula Ford because with no aero the drivers get really close," he says. "This is something you miss with the slicks-and-wings categories. If I had my way I'd take the wings off all single-seaters! But we can't seem to get that to happen."
Hill also backs his former Williams team-mate's view that driving standards in junior series need to be tidied up.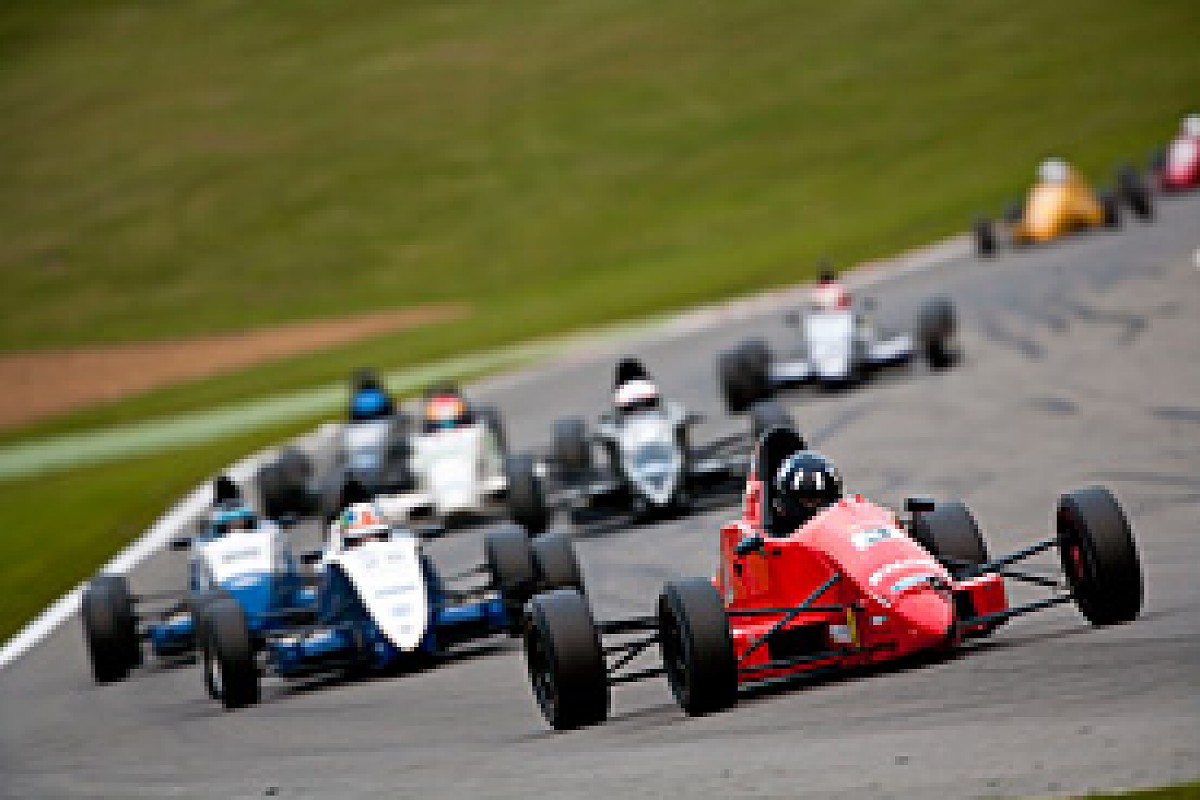 Josh Hill leads a Formula Ford pack © XPB
"The inexperienced guys have got to learn about safety first," he says. "They need to be stronger on discipline in the junior categories, so that they understand this is still a dangerous sport.
"With so many improvements in safety we still have to somehow get drivers to understand that every time you have an accident you have risk of someone getting hurt."
The antics of Romain Grosjean and Pastor Maldonado in particular this year have turned a lot of the attention on junior racing towards the direction of GP2, where both are former champions.
But the standard at the front of the F1 feeder series has always been pretty good, helped by its grand prix support status that means officials have access to the best camera angles and data to clamp down on those who step out of line.
GP2 converts Jules Bianchi and Sam Bird reported a drop in such standards when they switched to Formula Renault 3.5 this year. But the standards in the supporting Formula Renault Eurocup were even more alarming, with more than 30 very young racers desperate to make an impression in a series that can make or break a career.
Driving over the top of each other to get to the front may seem like a necessary evil in the lower categories. Not only is it up to the officials to stamp such behaviour out, but the drivers at the top of the pyramid have to set an example.
And if drivers like Button are going to be lambasted as a soft touch for not having the 'balls' to drive someone off the track rather than admit when it's time to concede a corner, we're not going to get anywhere.