The story of the Korean Grand Prix race took shape last week, back in a Milton Keynes factory where Formula 1's fastest car was made even faster.
The next evolution in the Red Bull RB8's development, following the recent introduction of its double DRS - a new sidepod layout that allows more downforce and more diffuser stall - was completed in time to be shipped to South Korea for the latest skirmish in the development war. It was then all hands to the pumps in the garages, mechanics working until the early hours getting the package of parts grafted on and perfect.

"It's not worth a lot," smiled Red Bull technical chief Adrian Newey when asked about the double DRS. Not in isolation maybe. But, in allowing the rear aerodynamics to be reconfigured the way it had, the car appeared to take a further step forward here, given that both drivers opted for it and that Yeongam isn't a track lending itself quite so spectacularly to the Red Bull's traits as Suzuka. So how much, altogether? "A couple of tenths," allowed Adrian.
The couple of tenths by which it was faster in qualifying than third-fastest Lewis Hamilton's McLaren? Or the couple of tenths per lap it averaged over Fernando Alonso's third-placed Ferrari in the race? Take your pick; either way those two tenths were the vital ones.
All that midnight graft at the factory and in the garages converted into a perfect team result, Sebastian Vettel heading Mark Webber to surge into the lead of the championship with four rounds to go.
Yet Vettel hadn't been sure if he'd liked the new package when he'd first tried it on Friday morning. It gave more rear downforce, but also a more aggressive, edgier feel. His car was converted back to Suzuka spec for the afternoon while Webber stayed with the new package.
Analysis of the numbers overnight confirmed the new system was better, and Vettel's concerns were massaged away with a few set-up tweaks into Saturday, when he became fully at ease with it.
All that rear downforce was particularly important this weekend. The rear stability it brought meant you didn't need to move the brake bias too far forward - which was the curse of many cars here, particularly the McLaren. The track layout and surface combined with a cooler-than-expected temperature to make front locking all too easy and, once you'd flat-spotted these tyres, the wear became alarmingly high.
It had been Hamilton's bugbear through practice and qualifying, Lewis commenting that it was as if the Red Bulls 'had ABS' by comparison. If you didn't have enough rear downforce, the window between braking instability from locking rears and flat-spots from locking fronts was uncomfortably narrow.
Even if you managed to avoid locking up, wear of the right-front was the limitation around this anti-clockwise track and its high-speed middle sector. Blistering of the inner shoulder and graining also featured, but it was the wear that threatened to take you away from the faster two-stop strategy and into a much slower three. The super-soft was good for around 17 laps, the soft for about 24.
The Red Bulls were braking so well it was like they had 'ABS' reckoned Hamilton © XPB
That's how it was poised as Webber lined up in the pole slot, Vettel to his left and back, Hamilton and Alonso a row back and pinning their hopes on piercing that Red Bull shield early in the lap, before things had settled down. From there, they could find out if the promising form shown by McLaren and Ferrari on Friday afternoon - when they appeared to be Red Bull-fast over a stint - was genuine.
But it didn't happen like that.
As the lights went out, Red Bull's preferred order from a championship perspective fell almost immediately into place as Webber was slower away than Vettel and stayed right for a fraction longer than might have been expected, Seb down the inside and into the lead. "We were chasing the clutch settings quite a bit after the first launch on the formation lap," explained Mark, "and coming back to the grid the boys were still asking me to change the setting, so the initial launch wasn't good. The first bite just kicked to wheelspin."
Behind, Hamilton tried to sweep around to the right of Webber, but without enough extra momentum to do so, and this allowed Alonso down his inside, slipping past into third between the two early left-handers of Turns 1 and 2 that feed the cars onto the longest straight on the calendar.
As ever, the Red Bulls were geared for speed off the turns rather than at the end of them - particularly valuable with the cars all heavy with fuel - and as they hit that straight Vettel and Webber initially pulled away from the ducking-and-diving pack.
Webber stayed tight in his team-mate's slipstream, then dived out around three-quarters of the way down. "We were in seventh gear and I could hear his engine right alongside me," said Vettel. But this was at just the point where the cars hit an aerodynamic brick wall, and they sat there, two Red Bulls side-by-side at 193mph, but with Vettel on the inside for the tight right of Turn 3.
Slipstreaming them and catching fast towards the end of the straight were Alonso, Hamilton and Kimi Raikkonen's Lotus. They were fanned out across the straight, Felipe Massa's Ferrari being sucked into their wake even faster, with Felipe then diving for the outside to make it four-abreast just behind the Red Bulls. But now they were so busy with each other that Vettel and Webber were able to get cleanly through and out of T3.
As Webber fended off Alonso up to Turn 4, so Vettel was set free. Hamilton, Raikkonen and Massa duked it out through the switchbacks of Turns 4/5/6, with Massa finally grinding ahead of the Lotus as Lewis hung Kimi out to dry over the exit of T6, just before they all entered the impossible-to-pass zones - the fast sweeps of Turns 7/8/9 and the stop/start flicks of the final sector. The day was overcast, the track cool, the cars understeering more than expected, putting extra strain on those vulnerable front Pirellis.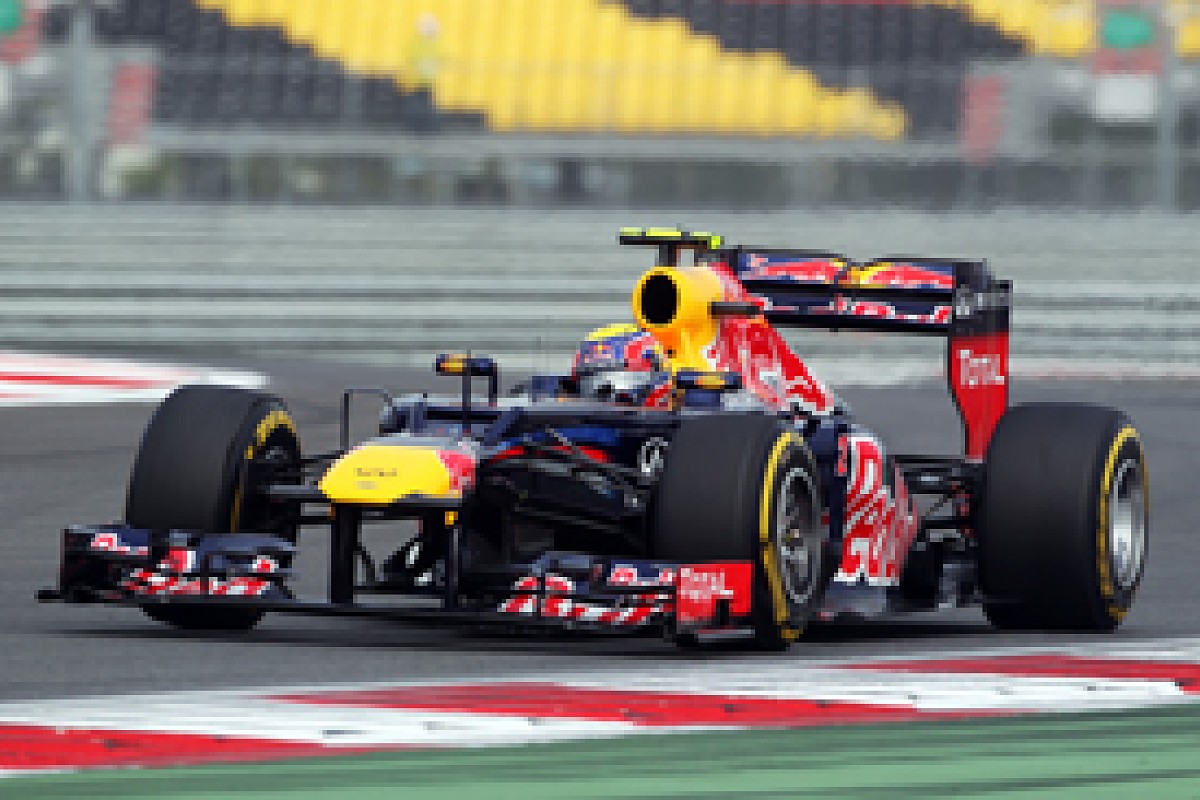 Vettel outguns Webber for the lead on lap one © LAT
Vettel pushed only as hard as he needed to and hadn't even got out of Webber's DRS reach by the time the facility was enabled at the end of the second lap. But there would be no DRS action on that back straight for some time - because yellow flags were being waved as marshals struggled to move Nico Rosberg's abandoned Mercedes behind the wall.
Rosberg had been a victim of an opening-lap collision, in which Kamui Kobayashi rubbed wheels with the Merc and then tank-slapped into the side of Jenson Button's McLaren as they filed into Turn 3. Jenson was out with destroyed front-right suspension, while Rosberg pulled off over a lap later with leaking radiators from the impact.
Kobayashi trailed to the pits with a punctured tyre that would destroy the floor of his Sauber, causing the team to later retire him for safety reasons. Button - who had been one of just a handful of drivers starting on the harder tyre and planning to run a long opening stint - might have preferred they'd done this before the start!
When DRS was enabled on lap 10, Vettel was around 2s clear of Webber, who in turn had a 3s margin over Alonso.
For the first few laps of the race Hamilton had hung back from the Ferrari, very keen to keep the tyres alive in these heavily-fuelled stages, allowing Fernando to build a gap. But from lap five onwards Lewis was matching Alonso, though pulling along Massa and Raikkonen closely in his wake.
Hamilton initiated the first round of stops, coming in at the end of lap 13, discarding his super-softs and having a new set of prime tyres (softs) fitted, as would almost everyone else. Webber, Raikkonen and Massa were in next time around, followed a lap later by leader Vettel and Alonso. The order remained unchanged, but Vettel's advantage over Webber began to build.
There was some excitement as first Alonso then Hamilton forced their way past the yet-to-stop prime-tyred Sergio Perez, who was attempting an ambitious one-stop, but who would soon have to surrender that hope as the rubber on his Sauber gave out. Alonso nailed a DRS pass on him, while Hamilton did a dramatic around-the-outside move through the right-left of Turns 5-6.
A stop two laps earlier than Alonso's had brought Lewis right onto the Ferrari's tail and got him out of DRS reach of Massa. A tense Alonso/Hamilton struggle looked to be forming until on lap 18, like a switch, Hamilton's car began handling horribly, armfuls of understeer and needing constant steering correction, even on the straights. He immediately began losing 1s per lap. A rear rollbar had broken.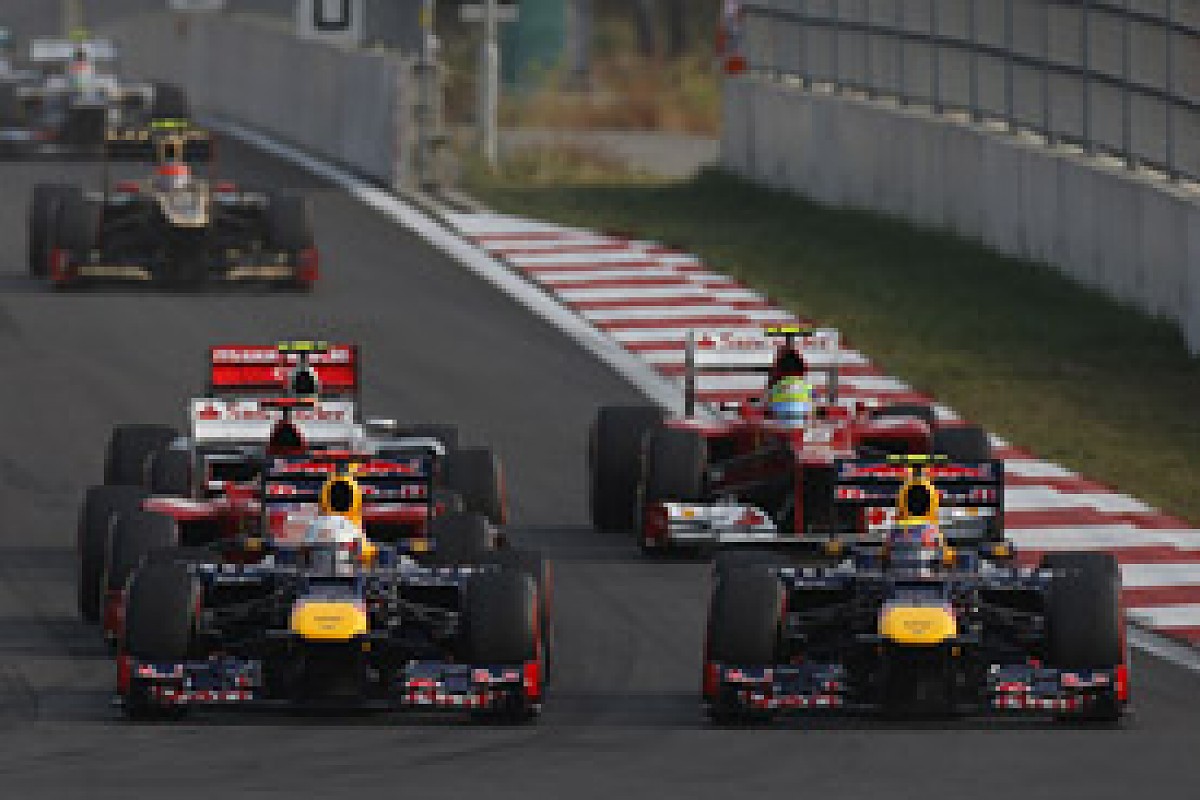 Sergio Perez ran long on his first stop, which eventually cost him a chance of points © LAT
Perez, having just been passed by Massa and Raikkonen, finally came in on the 19th lap as Sauber switched him to a two-stop. A faulty green light in the Sauber pit cost him around 4s, enough to drop him right behind the battling group of Michael Schumacher, Daniel Ricciardo and Paul di Resta. It was the final seal of misfortune on a day that could have delivered more.
Hamilton was spooked by the handling of his car, especially at 190mph down the straights, and was asking the team if it knew what the problem was. McLaren did, but didn't want to broadcast it to the world and told Lewis simply that it was a mechanical balance change and that it was safe to continue. It didn't really feel that way from where he was sitting. Massa was soon all over the back of him and Felipe was able pass in the DRS zone on the 21st lap. In this phase of the race the Brazilian was the fastest man out there as he then took two to three tenths each lap out of Alonso, who was in turn steadily eating into the 3s gap to Webber.
Raikkonen now began to close in on the hobbled Hamilton and tried a DRS pass on the 23rd lap, but the Lotus wasn't as quick up that back straight as the Ferrari had been, the move was more marginal and Lewis was able to fend Kimi off through Turn 3. On the next lap Raikkonen was able to make the pass cleanly. Fifth place now seemed to be his, but that was to reckon without the tenacity of Hamilton, who had saved some of his KERS and now deployed it between Turns 3 and 4 to retake the place.
It was a little detail Hamilton recalled from the way that Vettel had been able to pass him on the first lap last year, getting the other guy to use up all his KERS up the back straight, then retaliating when he was defenceless. "He showed remarkable fighting spirit," marvelled his team boss Martin Whitmarsh. "I was fully expecting that we were going to have to retire the car but he was still able to put up a fight. That's the great racing driver he truly is."
Raikkonen continued with his assault, frustrated at being held back by a car that was now around 2s off the pace, the wayward handling from Hamilton's broken rollbar having destroyed the tyres. Lewis was still ahead of the Lotus when he peeled into the pits at the end of the 26th lap for a fresh set of primes, around 10 laps earlier than planned. More front wing was added in an attempt at minimising his problem and it now seemed unlikely he'd be able to do the remaining 29 laps without having to stop for a third time.
Alonso meanwhile had got to within 1.8s of Webber. Mark then revealed he'd been driving to a delta time all along, trying to preserve that front-right, which he could feel was losing grip, causing him to lock up as it wore down the last few millimetres of rubber on the outer shoulder. But in keeping himself out of DRS reach of the Ferrari he was still able to step up his pace by a full 0.5s. He then just kept himself there until making his second and final stop on lap 32. Alonso was in two laps later, then Vettel, Raikkonen and Massa.
Vettel too had been driving a disciplined race, keeping that right-front alive. But on his in-lap he locked up badly into Turn 3 and lost a full 2s. He rejoined still over 5s in front of Webber but, as the team looked at the tyres that had just come off, Red Bull realised just how marginal it had all been. Vettel would now have 20 laps to do on his fresh primes, the same as the previous stint - though with a lighter fuel load putting less strain on them. Still, the team was concerned. Ferrari, having made similar inspections, was reassured that the wear, though heavy, was not going to be critical.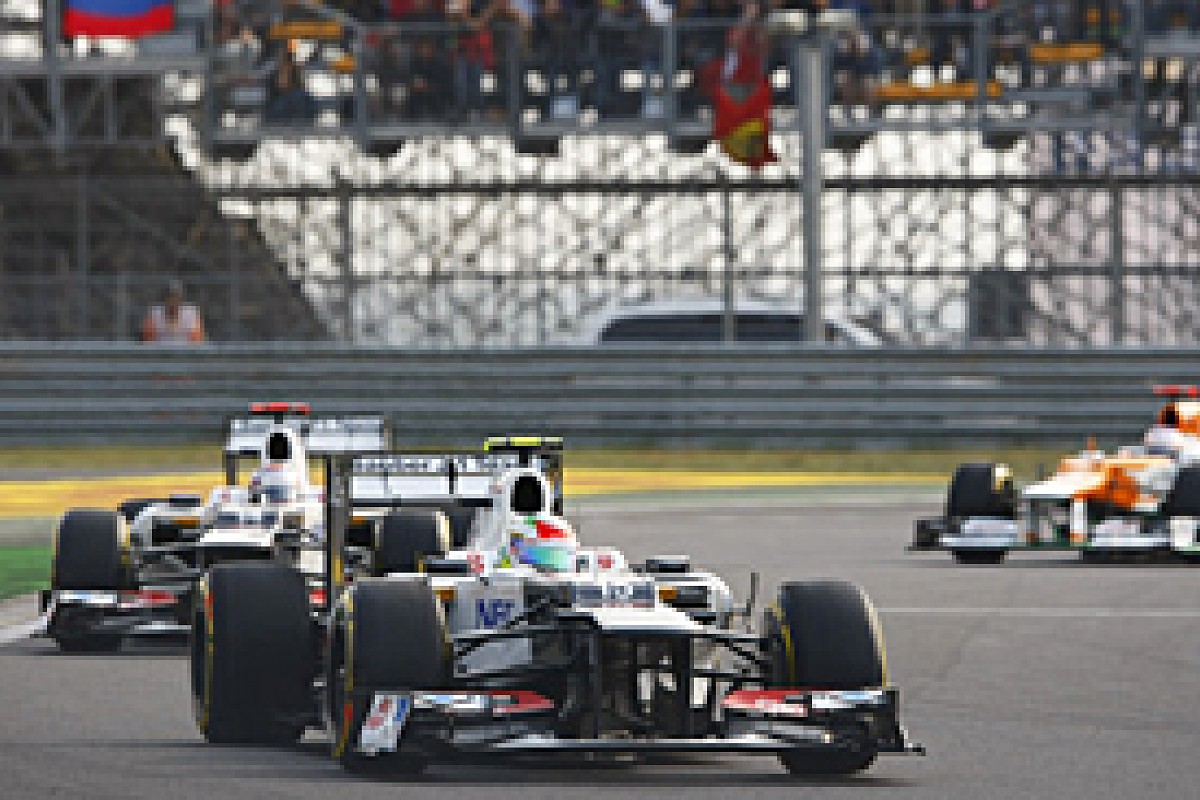 Ferrari found itself in the unusual situation where Massa's race pace was faster than Alonso's © LAT
Alonso had been brought in before Massa (advantageous) and given a pitstop 1s faster than Felipe's would be. Yet still Massa came back at him, his pace simply stronger than Alonso's on this day. He halved the 3s gap between them within two laps, and on the 38th lap came the 'phone call' from Rob Smedley, asking him to back off and not get any closer. At this stage Webber and Alonso were lapping in the low 1m44s, and Massa had just gone round in 1m42.6s, the same as Vettel.
Ferrari began considering the unthinkable - asking Alonso to move aside for Massa. He could then attack and pass Webber, slow the Red Bull into Alonso's reach, then give the place back to Fernando.
It was a nice theory, but carrying it out might have proved a lot more difficult than thinking of it. "It would have been very difficult to manage," said team boss Stefano Domenicali. "If it hadn't worked, we could have found ourselves in a position that cost us points in the championship."
"I think maybe yes, I could have passed Webber for second, looking at the pace we had," answered Massa to the question. But even if his progress had now been brought up short in the interests of Alonso's title bid, Massa was clearly very upbeat afterwards. "My feel for the car is now automatic again and I can be happy once more. Even though it's the best job in the world, I've not been happy in the car, but now it's turned around. I still know how to be quick, and still know how to work with the car."
Raikkonen had comfortably jumped past Hamilton after the stops, such was Lewis's deteriorating pace as the tyres again degraded, but Kimi was now a long way distant from the Ferraris, circulating on his own. Hamilton's compromised pace now brought Romain Grosjean onto his tail. The Lotus driver had been doing everything in his power to stay out of trouble, having jumped onto the Turn 3 run-off area several times rather than fight anyone wheel-to-wheel. He had, however, put a DRS pass on the Force India of Nico Hulkenberg, where his judgement was beautiful.
'Hulk' remained resolutely on his tail, driving a terrific race. Romain came close to losing the car in a big way on the 36th lap, getting onto the grass at the final kink onto the pit straight, in seventh gear at 170mph, but managing to rejoin without damage. But now he was in the awkward situation of being obliged to try to pass the notoriously combative Hamilton, the sort of thing he would normally relish, but not now when he was under so much scrutiny.
On the 39th lap, up the long back straight and into the extended DRS zone, he pressed the button, the rear-wing flap opened, the Lotus gathered momentum, closed quickly on the McLaren and Grosjean jinked to the left as Hamilton defended the inside. In this awkward situation of half-racing, Grosjean was not then prepared to sit it out wheel-to-wheel around the outside of Turn 3, again taking to the run-off area as Hamilton hung on. As they now raced up to T4, both trying for the inside, so Hulkenberg used his cleaner exit from T3 and his KERS to go past them both, hanging on around the outside of T4 and cutting back ahead of them - eighth to sixth in one ballsy move.
Three laps later and Hamilton's tyres were totally shot, and in he came for the third time, for a used set of super-softs. He came out 10th, just behind the dicing Toro Rossos of Ricciardo and Jean-Eric Vergne.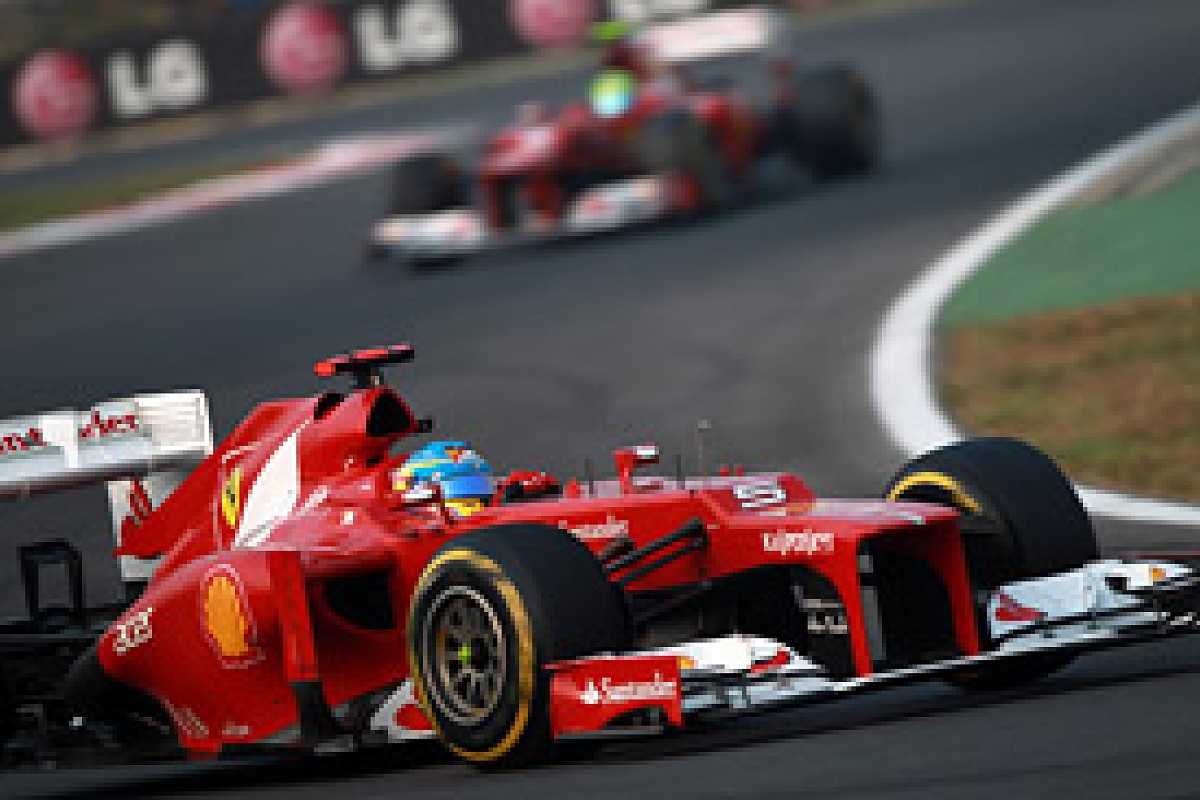 Lewis Hamilton's race was hampered by a broken anti rollbar © LAT
With 10 laps to go, Vettel's advantage over Webber was out to 10s. Mark was holding Alonso at bay, never allowing him a sniff of the DRS zone, adjusting his speed as necessary while trying to look after that right-front. Vettel's engineer 'Rocky' Rocquelin was on the radio, urging him to drop some speed around the faster turns.
They couldn't know for sure the state of Seb's right-front, but they weren't going to risk it. "We all know how fond Seb is of pumping in a fastest lap near the end," said team chief Christian Horner, "and I'd told Rocky he had to be on top of him, he had to be all over him, that he couldn't allow him to do that. Then Mark goes and pops one in!"
The last few laps were tense. When a tyre uses up all the tread and goes through to the core, its performance loss is massive and instant. Vettel was more than aware of this, just kept up his rhythm while minimising steering input, Webber the same.
A few laps from the end the Astroturf on the exit of Turn 13 became dislodged and was collected by Hamilton's car, a great flailing section of it flapping down the McLaren's sidepod and under the floor, trapped by the turning vane at the front. "It meant the diffuser was essentially switched off," explained technical boss Paddy Lowe, "and he was driving with almost no rear aero grip."
As Vergne made a DRS pass on Ricciardo for eighth, Hamilton was unable to join in their battle and for the last two laps had his hands full fending off a resurgent Perez, a job he just managed to accomplish. "That was the hardest-fought point I can recall in all of McLaren's history," said Whitmarsh afterwards.
Similarly, Vettel's win from Webber was perhaps the tensest in Red Bull's history. But it was a great way to pay back all that midnight oil.
Full result of the 2012 Korean Grand Prix