Pirelli tyres and DRS may add some variability to the mix, but as we have seen so often over the past two seasons, there's still no substitute for starting on pole and controlling the race from the front.
Fernando Alonso demonstrated that to perfection at Hockenheim. The world championship leader crossed the line at the end of the first lap 1.3s clear of Sebastian Vettel and, 66 laps later, took the chequered flag with an advantage of 3.7s over the German.
Much happened in between, and for most of the time the gap between first and second was a lot smaller than that. Alonso stayed in front throughout, however, doing just enough to frustrate Vettel and Jenson Button, who took turns in leading the pursuit.
Afterwards, both Alonso and his team boss Stefano Domenicali were keen to point out that the F2012 is not the fastest car on the grid at the moment, and that's certainly the case over one lap in dry conditions. But this sport is all about taking your chances when they come, and Alonso took full advantage of the wet qualifying session to place his car at the front.
Over a grand prix distance the Ferrari had just enough performance to stay ahead, and the rest was down to the Spaniard's supreme race craft as he kept his tyres in good shape while denying his rivals any opportunity to pass.
Ferrari did a perfect job to keep Alonso ahead all race long © LAT
Although there was some dry running in FP2 and FP3, as at Silverstone the teams went into the race very short of information on how the tyres would perform over 67 laps, and both two- and three-stop strategies were very much on the agenda.
Unlike at Silverstone, however, there was no mix at the front in terms of tyre choice for the start. Having taken a punt on the prime tyre last time, Ferrari went for softs, as did everyone else down to Kamui Kobayashi in 12th place. None of the frontrunners were willing to risk losing out at the start on the prime, given how many opportunities there are to pass around the first lap at Hockenheim.
Alonso not only stayed safely in front, he eased out a gap of 1.3s to Vettel on that first lap. The German closed that down to less than a second almost immediately, but could not create a passing opportunity in the opening laps.
Alonso then pulled away again, and he was just over two seconds clear when he pitted on lap 18. Vettel ran two laps longer as Red Bull sought to give him fresher rubber for that middle stint.
"It was important for us to start with the softs," Domenicali explained, "because we wanted to maximise the first laps to make sure that, above all, it was possible to [maintain our] position at the beginning. Then we wanted to maximise the second stint to extend the [gap] to be able to cover what the others were doing."
By then Ferrari and Red Bull also had an eye on Button. He had started only sixth, but had worked his way up to third when he pitted on lap 19, right in between the Alonso and Vettel stops. Button had to do a lot of fighting along the way, and at that stage he was 7.8s behind the leader, but in the middle stint - when all three frontrunners were on the medium tyre - he soon began to close the gap to Vettel.
It was during that stint that the delayed and lapped Lewis Hamilton provided some extra excitement, battling his way back past Vettel. The German made his displeasure clear with a waved fist and also when he met the media afterwards, complaining that it was a stupid move by the McLaren man.
Team boss Christian Horner concealed his own frustration: "I think we probably dropped about a second when Lewis unlapped himself, which was obviously frustrating from our perspective when you're fighting over tenths and hundredths. But that's the way it is. That was enough time to drop behind Jenson as well [at the stops].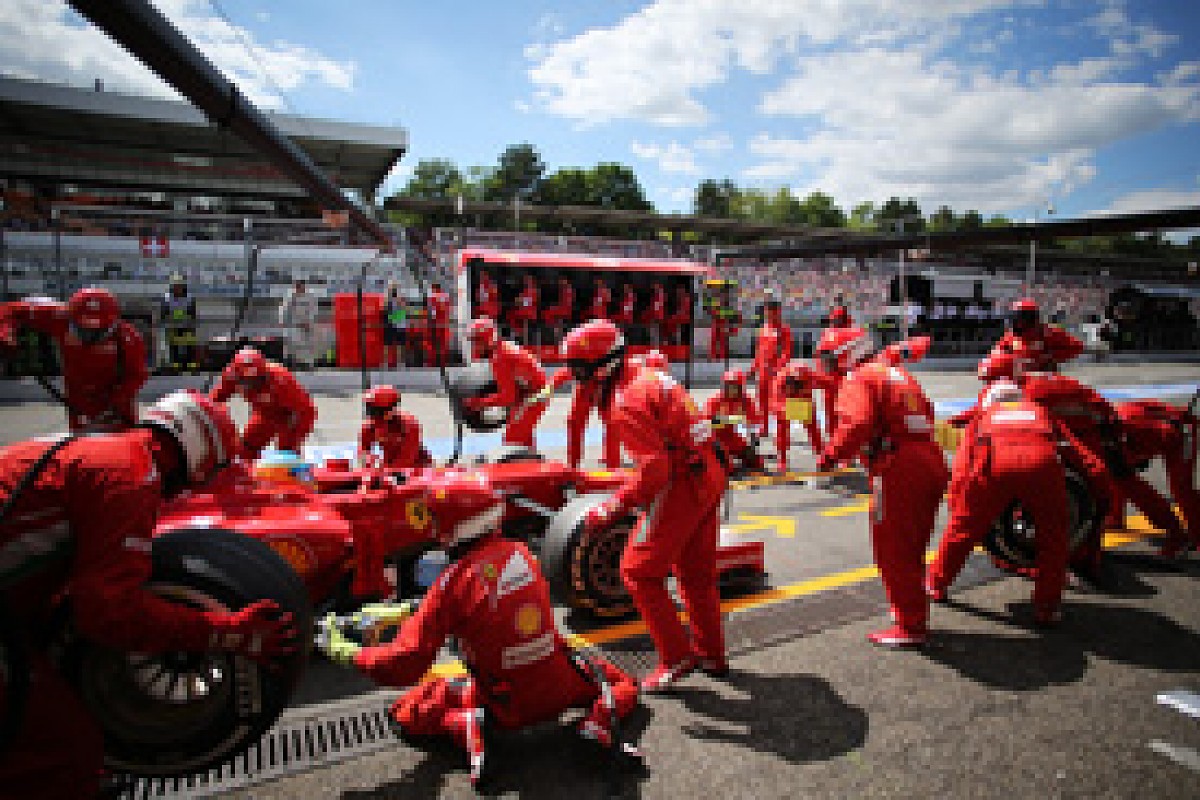 Hamilton's race hopes were over right at the stgart © LAT
"If you look at the rules, I don't think there's anything to say that a car can't unlap itself," continued Horner. "What was frustrating for us was that it cost as a second, and unfortunately he didn't unlap himself from Fernando as well. If he had cost Fernando a second as well, it would have negated the disadvantage of being unlapped. But there's nothing in the rules that says you can't do that.
"He was entitled to do it. It was just frustrating at that stage of the race for us to drop a second when you're fighting over fractions of a second with the lead car."
Hamilton was still stuck between Alonso and Vettel when Button - now less than two seconds behind the Red Bull - triggered the second round of stops on lap 40. It was an awesome turnaround by McLaren, with a 2.3 seconds stationary time and just 16.8s spent in the pitlane.
Alonso and Vettel had no choice but to respond on the next lap. Vettel's pitlane time was 17.8s, exactly a second longer than Button's, and together with a strong out-lap from the McLaren driver that was just enough to put him into second as the Red Bull exited the pits. It was fantastic, on-the-edge stuff.
Button now had 26 laps in which to chase down Alonso and find a way past. It certainly looked like he would do it, and it took him just a handful of laps to trim the margin to 0.7s. Having got there, though, he couldn't quite find a way by. In the end, Button didn't quite have enough to get the job done, and no one is cannier than Alonso when it comes to maintaining position.
"I couldn't quite challenge Fernando in the last stint," said Button. "When you're in the middle of three people, you really have to push, because you have to watch out for the guy behind and you're obviously trying to get past the guy in front.
"So I was probably pushing more than [the other] two in the early part of the first stint, but I had to in order to try to get past Fernando. When you're in the lead you can cruise it in the places where you can't get overtaken and obviously you have good tyres for the exit before DRS. So it was a tricky situation, but we thought it was best to go aggressive, which we did, but it was just one or two laps really."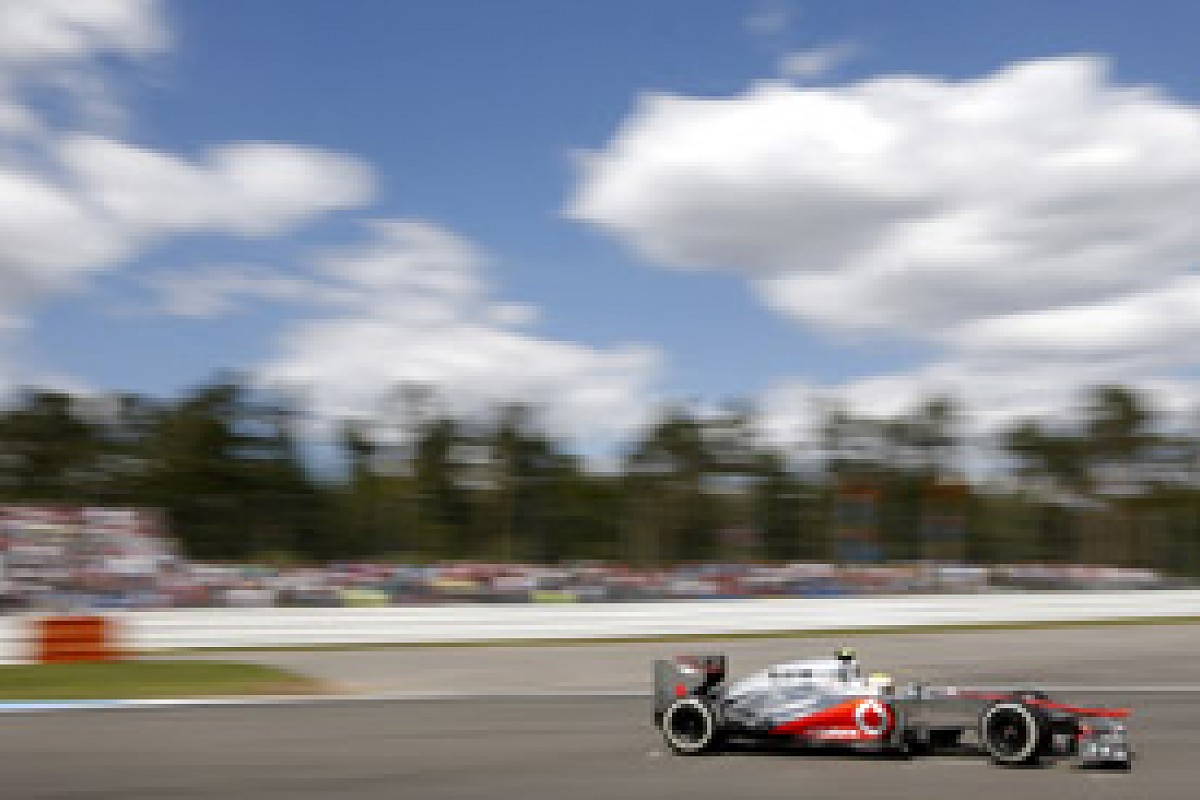 Button chased Alonso hard but could not keep up in the end © LAT
In effect, Button had shot his bolt, using up a little too much rubber as he reeled in and then pushed the Ferrari, and his tyres faded before Alonso's.
"At least today it was good to see that our predictions were correct in terms of tyre wear, in terms of degradation," said Domenicali. "We need to do this exercise every race because we are learning day by day, or race by race, how everything will behave."
Ferrari made all the right calls, especially the one in qualifying that put Alonso out on new wets, and helped him record not one but two laps good enough for pole, but the man himself did the rest. It was an awesome performance.
"Fernando's at the peak of his personal performance, no doubt about it," said Domenicali. "He has a great momentum. We need to try to keep this momentum as long as possible - I would say up to the end of November. On the first of December he can do whatever he wants..."
Meanwhile, as Button's tyres lost their edge, Vettel was handed a chance to fight his way by with a couple of laps to go. However, as the stewards later decreed, he used a little too much of the run-off area when so doing.
"I think, classically, you're meant to overtake with at least some wheels on the circuit," Martin Whitmarsh noted drily.
We'll never know whether Vettel could have found a 'legal' way past over those last couple of laps. Nevertheless, there's no doubt that Button's second place was well deserved, given that he'd been as far as 7.8s off the lead earlier on, and had to really push to get up there. With a dry qualifying session making the most of McLaren's new aero package, things could have turned out even better.
"It was a great drive," said Whitmarsh. "Halfway through the first stint Sebastian and Fernando were well down the road, so you had to hunt them down. The car had good pace, Jenson drove well and the team made a fantastic pit stop - 2.3s - to get in front of Sebastian. It was a really great drive for Jenson, a good afternoon for him.
"I think the car is bit quicker, the tyres were working and he was capable of being as quick as anyone this afternoon. At the end of it, his tyres were fairly worn, because he'd pushed quite hard. It's encouraging. I think he's probably silenced a few of his critics, and I'm sure he'll be focused on the coming races."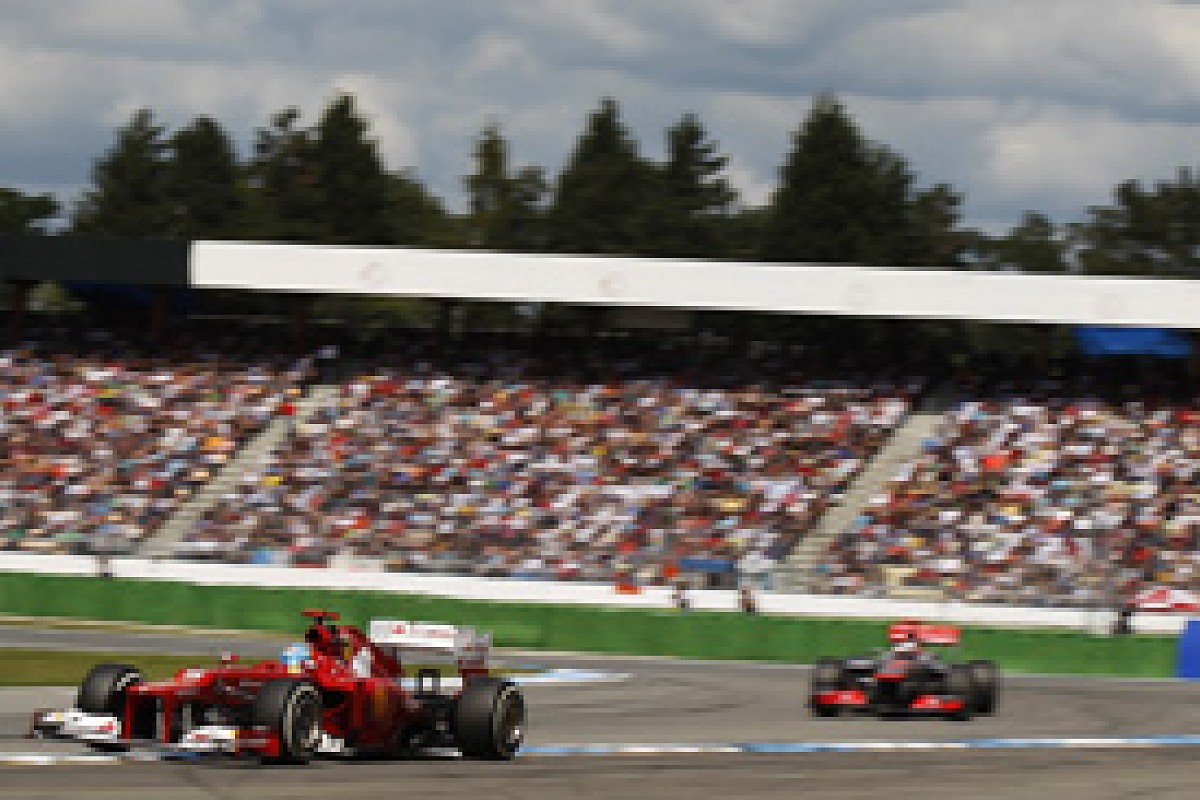 Button returned to form after a series of difficult races © LAT
Vettel paid a heavy price for his off-track overtaking manoeuvre when his penalty dropped him back to fifth, but he and the team were well aware that the FIA has clamped down on such moves in recent times. It was so close to the end that there was little time to discuss dropping back behind Button with the pitwall, and afterwards Seb himself clearly didn't think there was an issue. The lost points could be costly.
Once again, however, the Red Bull was right up there, and perhaps with a dry qualifying session it would have been Vettel controlling things from the front, and finally recording a home win. Asked what made the difference between the Ferrari and Red Bull, Christian Horner had no doubts.
"I think track position, to be honest," he said. "It was nip and tuck between the three guys. Fernando, Jenson and Seb were all evenly matched. Different cars at different times showed flashes of pace. It was very, very close. I think track position was critical today, and Fernando made that work. He didn't make any mistakes, he drove very well and it was a well-executed race."
A third consecutive wet qualifying session in Hungary seems unlikely, so for the first time since Valencia we should get a true measure of everyone's pace over one lap. But then, as Alonso has proved, all that really matters is where you finish on Sunday.
"He's doing a great job and he's a really strong competitor," said Whitmarsh of the Spaniard. "It's difficult, as we found today. We can catch him, which hurt our tyres, but couldn't get past him. We were a reasonable bit quicker.
"But if you put someone like Fernando at the front of a race, you're going to have difficulty catching him and getting past him. He's a tough competitor, but that's what makes it exciting."
"I don't think you can write off anybody in this championship," said Horner. "People were saying Jenson's had a bad run, but he drove a great race today. I think it would be unwise to write off any of the top six guys at the moment, because things can change, and change rapidly. It only takes a couple of DNFs for Fernando or any of the front guys, and the picture can change very quickly if you string together a bit of form."