I can still recall where I was when Gilles Villeneuve was killed: Safeway car park. I was eight years old, and my dad and I were listening to the news on the car radio while mum was doing the shopping. The announcer said that Villeneuve had suffered 'grave injuries' in an accident during qualifying for the Belgian Grand Prix at Zolder.
Dad, fearful that he might lose control of this situation, told me that it didn't necessarily mean the worst and there was still hope. I held a vigil in front of the television that afternoon, driving the rest of the household mad with my incessant use of the Ceefax button on the remote until, finally, bedtime came, and I was sent upstairs none the wiser.
Early the next morning, before anyone else was up I hit the Ceefax button again...
I'm told I must have gone back to bed and was not seen until late afternoon, having apparently refused to watch the grand prix - a first in my short life. I'd experienced loss in an F1 context for the first time.
Other drivers had died, and I'd been genuinely sad when Alan Jones announced his retirement at the end of 1981, but this was quite different.
Villeneuve split opinion among fans and observers, and 30 years later he still does, but the fact that he is still talked about at all is a comforting reassurance that his legend remains intact.
The debate about him centres not on his outright speed, for most of his contemporaries were under no illusion that he was the fastest, or at least more prepared to be fastest. But the crux of the contention was how he achieved it. Was it the product of rock-ape-induced wild-and-over-the-limit driving? Or was this stunning ability blended to calculated risk-taking, the likes of which had not been seen in the fast-evolving downforce era of the sport?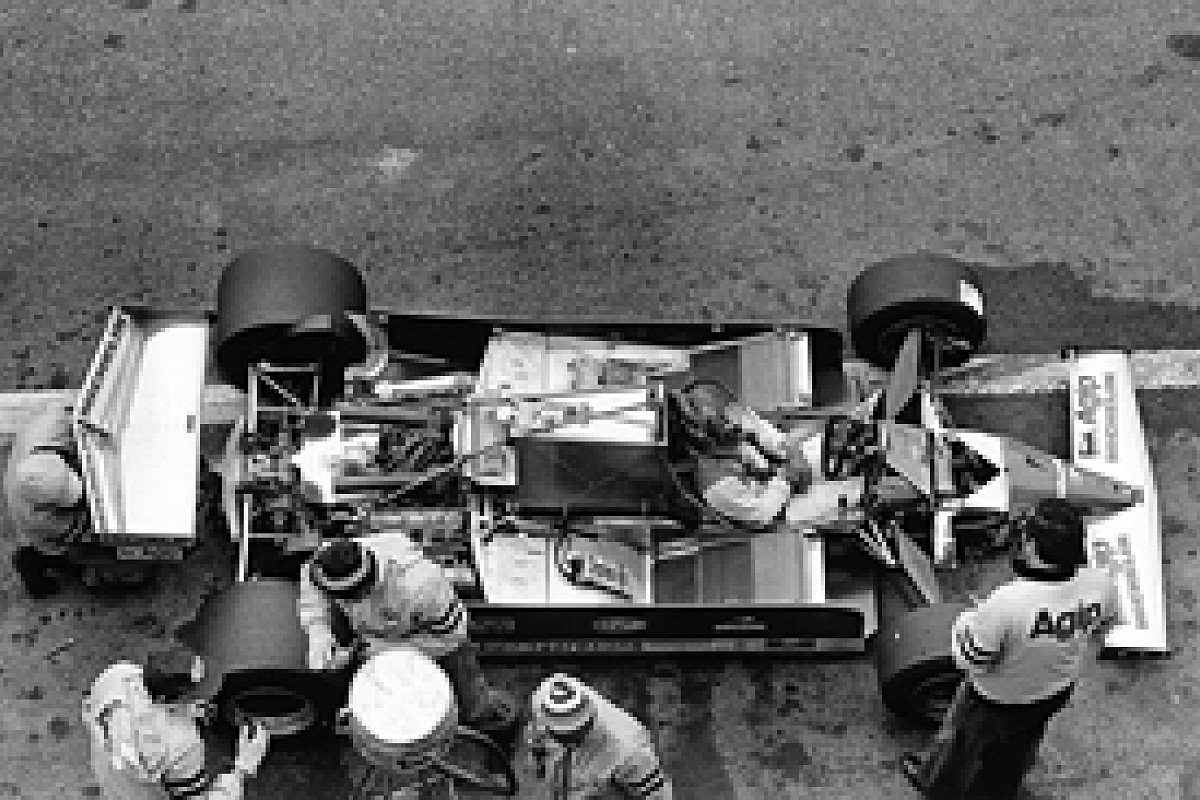 Ferrari works on its troubled 1980 car in testing at Paul Ricard © LAT
The answer is probably somewhere in between. As Nelson Piquet once put it: "He's somewhat crazy, but surely a phenomenon."
Of course Villeneuve knew the risks he was taking. He understood where his limit was, and what it could cost him, though he refused to contemplate it at length because he also knew what that might do to his edge.
And when he didn't know where his limit was, putting up that psychological barrier made him more prepared than some of his rivals to find out where it was in a trial by fire, at a time when that could easily mean death or serious injury.
In contrary to some modern theories, Villeneuve wasn't fearless, or crazy, but he was abnormally brave. And just like everyone, he had his own belief structure that influenced his decision-making process. It's just that it was blended perfectly for the kind of balls-out driving for which he became famous. And he had the skill, if not always the car, to carry it off. He lived in a bubble of conviction inflated by his absolute confidence that he could save any situation - which often caused problems for passengers in his road cars.
But Villeneuve wasn't immune to fear. His accident on the sixth lap of the 1980 Italian Grand Prix at Imola, for example, when he went in head-on at the right kink before Tosa following a right-rear tyre failure, left the French-Canadian blind for 30 seconds or so. It shook him up. It temporarily knocked down that wall behind which the fear was barricaded. His courage was human.
It's one of the key reasons why it was so easy to love him as a fan. That and his fantastic car control. Here was a man who, from the very moment he burst onto F1 the scene, seemed to arrive at a corner rear wheels first. Nothing, it seemed, was going to stop him except a barrier, and then only sometimes... He drove cars the way people love to see them driven, and he could do it naturally. He used spins as a method of information delivery. He wasn't embarrassed by them, they were instead a message that he couldn't brake here, or use a kerb there. He wasn't brash, and he wasn't flash, he was just expressing himself. The stuff of boyhood heroes.
Villeneuve was in love with the sport and his will to win was overriding, pure. As his Ferrari team-mate Jody Scheckter said, Gilles wanted to be the fastest on every single lap, but he wanted to win too, and on his better days he could tell the difference between those two things.
By the time Villeneuve had matured into an F1 superstar, people looked upon him as the sensational one. This was before Ayrton Senna. Before the digital-media era of mass fan hysteria.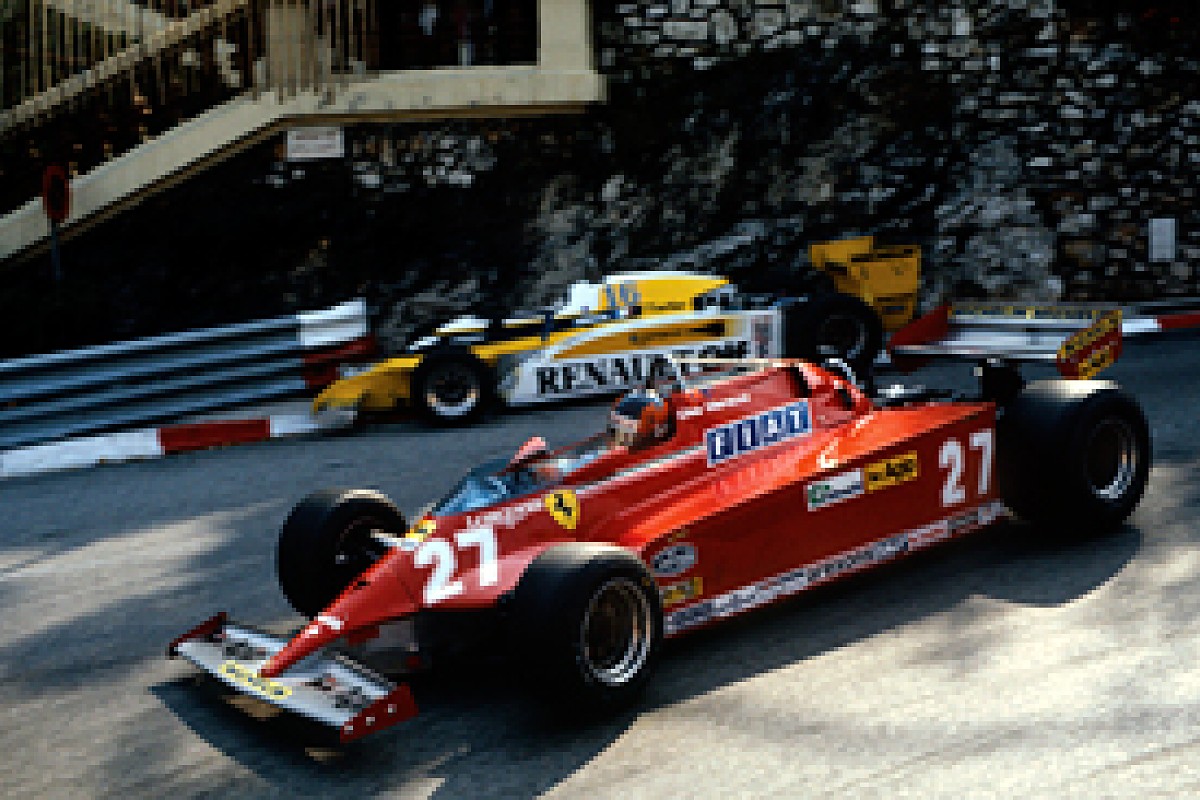 Monaco 1981 was one of his finest victories © LAT
Twice I remember standing at Paddock Hill Bend at Brands Hatch, in 1979 for the Race of Champions and again in 1980 for the British Grand Prix, listening to the adults around me talk about Villeneuve in gasps. There were the knowing nods that if only this guy had the car he'd be the business. This was obviously someone to watch, I registered. I still remember their excitement at the opposite lock on display, and as I grew up the pieces came together in my head. He really was the business.
There were lots of crashes, there's no denying that. Six out of the first seven races he competed in for Ferrari ended with him delivering the team twisted metal. But not all of these crashes were his fault, and Villeneuve was on a fast learning curve.
His first full season in F1 was also the 27th year of his life. Even then that was late for an F1 newcomer. He was the same age as Jody Scheckter, who was considered the old hand when they teamed up for 1979. But even in that year, Villeneuve's grand prix experience was far less than any of his contemporary rivals, save Piquet and Didier Pironi, both of whom had the benefit of the European junior ladder.
Without telemetry, without vast reams of testing data, the acquisition of knowledge was done through feel; trial and error. So while Villeneuve's beginnings could be considered inauspicious - the perception was of a rookie with a propensity for crashing - it was necessary, and vital to his rapid succession to Ferrari hope, fan idol and future world champion. Of course it wasn't planned that way; had he been more cautious Villeneuve may also have been slower, and subsequently dropped in place of Eddie Cheever or Riccardo Patrese.
The accidents endeared him to Enzo Ferrari. The problem was that they also tagged him with a wild man image he never shook off. But by the time Villeneuve took his first grand prix win, in Montreal in 1978, they were receding in frequency, and by 1979 there were fewer still.
Drivers were forgiven more mistakes in those days than now. It wasn't so surprising to see frontrunners in the catch-fencing. Piquet and Jones both crashed out of the lead on multiple occasions in 1981, for example. Simply put, the cars were harder to drive. They were not subject to the same build quality as now and would even change in terms of feel from race to race. Ground-effect didn't give drivers enough feedback. Braking and suspension technology has taken a 30-year jump, and even the track surfaces were nowhere near as good. Drivers too were less tuned to the physical demands. Mistakes were made, and they were accepted.
But still many think Villeneuve was simply too wayward to have ever become a true great. And over the years the hard statistics stand as a matter of record. In this time of advanced technology and incredible reliability, results are unwisely used as an ever-more-objective barometer of ability. But in this context, six wins, two poles in 67 races is not so impressive as to suggest greatness - though it's still a 1:10 ratio...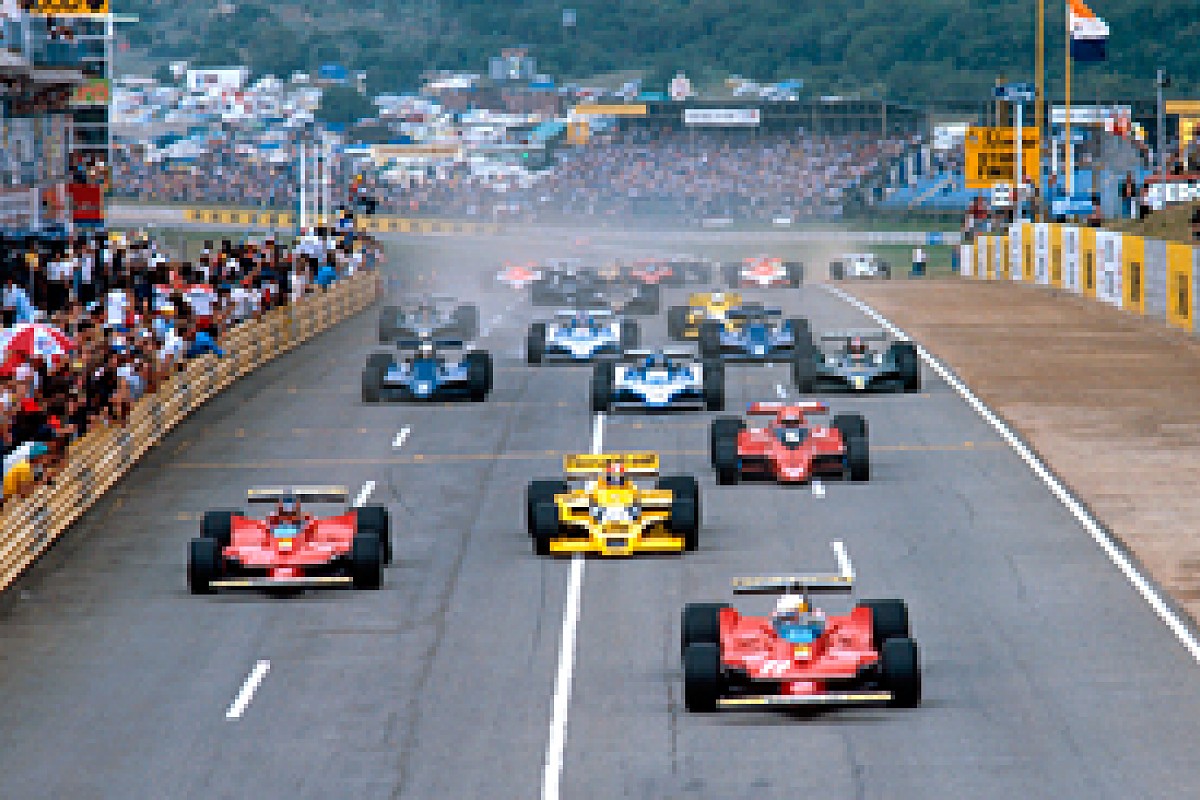 Villeneuve's 1979 Kyalami triumph was earned through intelligence and racing nous © LAT
To look at Villeneuve's achievements through modern eyes, where telemetry, sensor readings and engine mapping have made F1 infinitely more measurable, only serves to swirl the deepening mists of time into a dense fog that makes it harder to objectively reflect on the past. You have to look much deeper than that.
Here was a guy who went from Formula Atlantic (not the traditional route) to GP Ferrari hope in a few months, the Old Man having plucked him out of near-obscurity after a bet with himself that he could make a winner out of Villeneuve. He'd also taken advice from his former driver Chris Amon, who had witnessed Villeneuve's magic in Can-Am.
"I've only known one driver in the world who had car control Villeneuve has," said Amon in Gerald Donaldson's 'Villeneuve: the Life of the Legendary Racing Driver', "a guy who knew where he was no matter what; Jim Clark."
There is no way, for example, that Villeneuve could have conducted such an intelligent drive as Kyalami 1979 if he was mad. He'd restarted a rain-stopped race on grooved slicks, which allowed him to take the lead while others (including team-mate Scheckter) opted for slicks in anticipation of the fast-drying track. Villeneuve then pitted for slicks on lap 15, dropped behind Scheckter and managed his tyres as the South African's older Michelins began to fade. The result of this strategic approach gave Villeneuve a 3s advantage over his team-mate at the flag, and his second career victory.
The third win came immediately after at Long Beach, and it was perhaps his most accomplished. Having taken the first of only two F1 pole positions in his career, he dominated the race with a beautiful blend of precision and throttle-steering while managing a set of Michelins one compound softer than that of Scheckter.
This was Villeneuve's purple patch, and he followed it up with an easy win in the non-championship Race of Champions at Brands.
His famous starts, beating rivals off the line race after race - Alain Prost called them 'a trick' - were also the product of deliberate thought. He'd blast away on the warm-up lap leaving reams of smoke in his wake - 'crazy Villeneuve' - only to enjoy a perfect contact patch of rubber with which to launch on the start proper. Everyone does that these days.
He still needed work in 1979 though. While he lost the championship to Scheckter because of the South African's own speed and brilliance as much as Villeneuve's misfortune, Gilles led more races and more laps. Where he let himself down was in mechanical sympathy and experience, which Jody had in spades. We'll never know whether Villeneuve would have matured to that extent. Fate didn't allow for it.
At Monaco, Villeneuve suffered transmission failure after driving too hard over the bumps on a track he loved. Scheckter lifted, and won. They both got tangled in a shunt with Clay Regazzoni in Zolder, but only Gilles needed to pit. His resultant fightback through the order meant he used too much fuel. All those lost points would have won him the title. But he learned from those. In just 34 races he was already a four-time winner and world title contender. In 34 races, Sebastian Vettel - a modern-day phenomenon - had three victories to his name.
Villeneuve won twice with the 1981 Ferrari, but couldn't achieve miracles everywhere © LAT
And then of course it all went wrong. 1980 was a disaster, and 1981, short of those two wonderful drives at Jarama and in Monaco, wasn't that much better. The race in Monte Carlo is still breathtaking, when you consider the fact that he let Jones go and nursed his brakes, only to come back at the Williams later on when it ran into problems. All the while Villeneuve was managing chronic turbo-lag and 8000 gearchanges. Again, beyond the ability of a rock ape.
Those two Ferraris were not worthy of Villeneuve, and it's tragic that, when he finally got a car capable of winning the championship, he would die in a crash of his own making. He'd been deeply involved in the development of the 1.5-litre turbo engine Ferrari would come to master in the early 1980s. It's a telling fact that the 126 C2 suffered just one turbo failure through 1982 - the car became the class of the field.
Villeneuve died the way he lived, flat-out. Whether he died because team-mate Didier Pironi upset him in the San Marino Grand Prix, two weeks before Zolder, I don't know. I wonder honestly whether the decision he made to pass Jochen Mass where he did, which resulted in his car catapulting into oblivion, would have been any different had the Imola dramas not occurred. That's the way he was, pushing on, never giving up. Relentless.
So when people remind me that Villeneuve only won six races, or that he crashed too often to be a champion, I don't much care. Those cold, hard realities mean nothing to me, because Villeneuve spent his adult life defying those kinds of limits. He lived somewhere in between all that, and that's where he lives on for me.