Once the pitstops had shaken out during last week's Chinese Grand Prix, a remarkable situation emerged. Nico Rosberg, who was 22 seconds up the road, aside, the frontrunning group was covered by next to nothing.
At that stage, Kimi Raikkonen held second place. Behind him was a train over cars that ran down to 11th and was covered by just 7s. That pack included machinery from Lotus, McLaren, Red Bull, Williams, Ferrari and Sauber. Even the lead Force India was just 10s off P2 and of the recognised midfield; only Toro Rosso was truly cast adrift.
Just pause to think about that for a second. This was in a race that was almost one-and-a-quarter hours old without a single safety car interruption. After 42 laps, it was that close. The question is, why? And, by extension, can we expect such racing to become a hallmark of the 2012 season?
Inevitably there is no single, easy answer. But there are a few clear reasons as to why, the stragglers aside, F1 is so close this year - and why we can expect the racing to be as close not only in Bahrain but for the season too.
1. Rules Stability
For all the changes over f-ducts, double diffusers and exhaust gasses harnessed for aerodynamic effect, the current rules package is fundamentally in its fourth season. With stability, gaps generally close as teams zero in on the ideal concepts and the leading teams start to enter the realm of diminishing returns as they approach the glass ceiling.
As Adrian Newey explained earlier in the year, this year's Red Bull RB8 is very much a direct descendant of the RB5, the car that earned the Milton Keynes outfit its first victories in 2009. This process of "Swiss watch making," as it has been described, is all about extracting every tiny advantage in order to obtain the best car. It's no surprise, therefore, to see the performance spread closing up.
Seven seconds covered second to 11th in China © XPB
2. Quality of teams
F1 teams, as a collective, are extremely accomplished. Even HRT, which inevitably comes in for a lot of stick,is far more of a coherent, together unit than some of the bizarre operations than you would have found on the grid 25 years ago. Most are now well-staffed, well-resourced engineering groups capable of producing extremely good machinery through rigorous research and development and manufacturing programmes. This inevitably means that the quality of the cars throughout the grid is of a pretty high standard.
3. Quality of drivers
Despite the criticism of the pay drivers, it's difficult to make a compelling argument as to why any of the current 24 drivers on the grid are not worthy. All have CVs that are at least extremely good and the overall standard is impressive. It's difficult to isolate a time in grand prix history when the overall spread was so good. Partly this is down to the competitiveness of the lower formulae during the era that produced the current top guns. Prior to the recent drop of interest in manufacturer programmes, junior schemes abounded and, with only a few exceptions, the cream was able to rise.
As the competitive spread has closed up, so the lesser drivers have been cruelly exposed. If you're a second off your team-mate nowadays, you're going to be history very quickly. Two decades ago, it wouldn't make such a dramatic difference. While this factor is a reason for the field closing up, it is perhaps more effect than cause.
4. Tyres
Bridgestone's durable, low-degradation tyres, which were used during the first single-tyre era up until the end of 2010, allowed the fastest cars to show their speed throughout a race. You could abuse them, attack them and they would rarely let you down. The high-degradation Pirellis are a different kettle of fish. There is a finite level of energy that you can put through them and inevitably stints are tyre-limited, meaning that the drivers tend to have to pace themselves in the race.
This means that if you're 0.5s faster than the pack in qualifying, you might struggle to express that advantage because you will use up your tyres too quickly. The fact that the Pirelli tyres are particularly temperature-critical has played a part in the ebb and flow this season.
5. No testing
Time was when teams could pound round and round and round, taking the ultimate empirical approach to development. While not necessarily the most efficient way to do it in terms of outright cost, it was extremely effective and led to definitive results. Now, teams are limited to three pre-season tests of four days each, plus the three-day test at Mugello at the start of May and the young driver test.
With more testing, the top teams could press home their advantage more dramatically, just as Ferrari did during the early part of the 2000s, when its cars seemed to lap Fiorano continuously. While the better-resourced teams inevitably have an advantage in terms of the scope and the power of their 'dry testing' simulation technology, the cutting of testing has mitigated against those who used to run relentlessly when they weren't racing.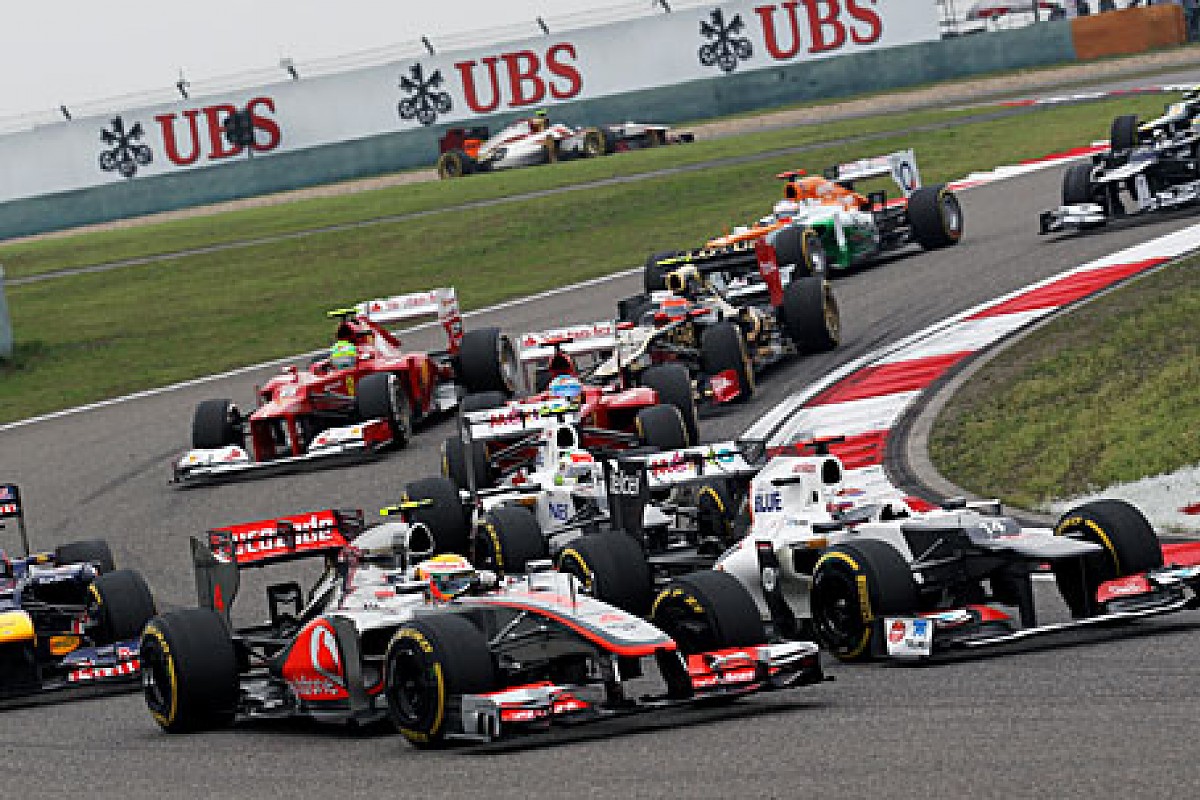 So, was China a flash in the pan, a freak result where a range of different tyre and fuel strategies combined in such a way as to provide a sensational, and sensationally close, grand prix? Well, yes - but it also shouldn't be expected to prove the exception. It might seem that every year is billed as a classic season, but it's hard to deny the ingredients are there for 2012; three different winners, six different visitors to the podium, and as yet no victory for the defending world champion after the opening three races. Bahrain might just prove that 2012 really is set to be a classic...
Strategy
Where to start? Traditionally Bahrain is a two-stop race, and with several teams using that stratgey to good avail in China it would seem to be the defualt option this weekend. With temperatures expected to be in their 30s however, tyre degradation will be an issue. Bahrain has also traditionally been a tough place to pass, even with the use of DRS, so track position - and qualifying - could therefore be crucial.
Weather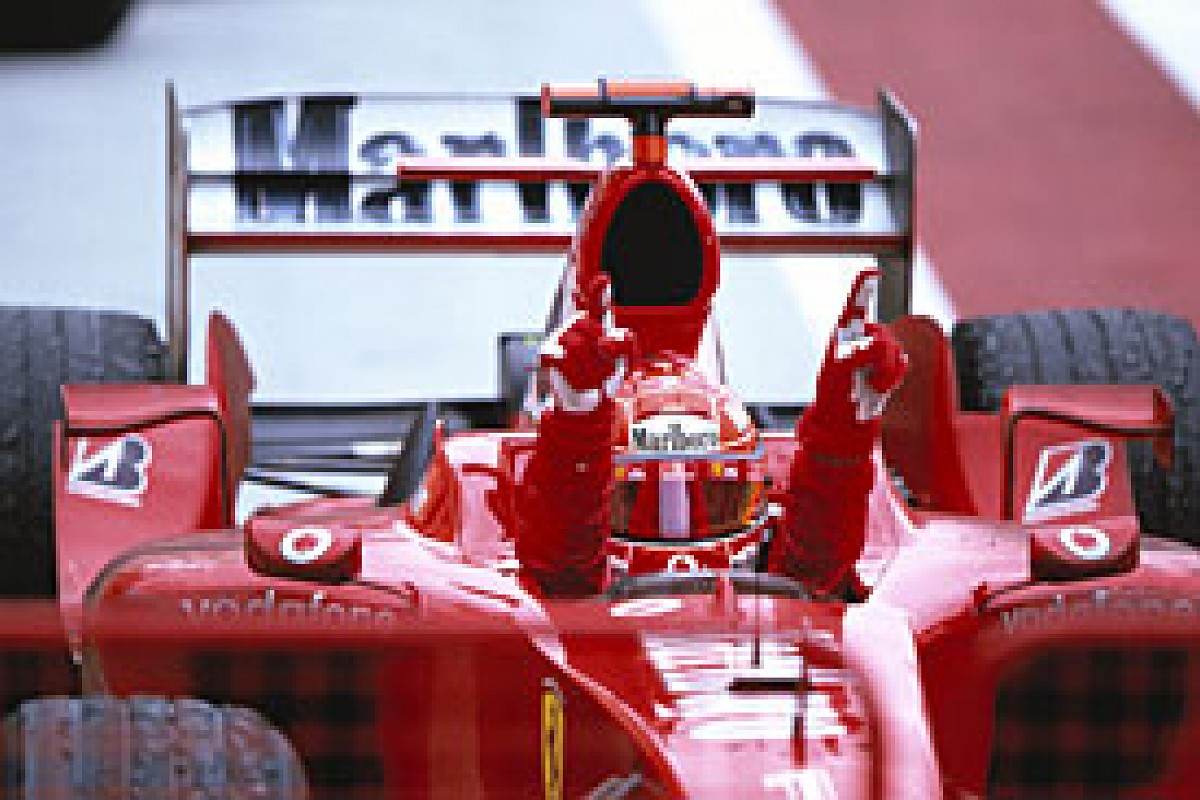 Key Stats
• In the last 20 years all the eventual world champions have scored a win within the first three races, with only one exception: Michael Schumacher won at the fourth attempt en route to his 2003 title, although his cause was aided by a controversial rule change regarding tyres. Sebastian Vettel, for so many the pre-season favourite, is yet to win, and the German has had little luck: out after four turns in '08, in '09 he had the pace to win but got stuck in traffic and finished second, and in '10 he was set for a commanding win when a spark plug failed and he fell to fourth.
• Mark Webber scored his best results in Bahrain in his Williams years ('05 and '06), when he was sixth twice. He goes into the fourth race of the championship 3-0 up against Vettel in qualifying, having never beaten the German four times in a row since they started racing together 58 grands prix ago.
• Lewis Hamilton has always qualified in the top five in Bahrain, but he has never been able to deliver a pole or a win. His best result was in his debut year: second in qualifying and the race. He has always beaten his team-mates in qualifying here (4-0).
• With three wins ('05, '06, '10) from seven races in Bahrain, Fernando Alonso is the undisputed king of the event. He has only scored only one pole however, back in 2005.
• Felipe Massa meanwhile scored a hat-trick of pole, win and fastest lap in Bahrain in 2007. He also won in '08, meaning Ferrari's current driver pairing accounts for 70 per cent of Bahrain grand prix wins. Massa's '10 front row start is his last to date however, and he is the only driver among the established top teams not to have scored a point this year.
• Nico Rosberg has qualified inside the top 10 here every year since 2007, and has improved his grid position year on season, culminating with fifth in '10. In '06 he posted here his maiden fastest lap in his debut race: the youngest in history to do so at 20 years and eight months, a record which remains unbeaten.
• Curiously, Kimi Raikkonen has always been beaten by his team-mates in qualifying (0-6) in Bahrain.
• Red Bull has scored only one podium in Bahrain, coming when Vettel finished second in '09. In the previous two seasons F1 never experienced four straight races without a Red Bull win: the count is currently at three...
• McLaren has never won or set pole at Bahrain.
• Sauber climbed on the podium in Bahrain in 2008 when Robert Kubica finished third. Nick Heidfeld came close, finishing fourth in 2007.
Famous Five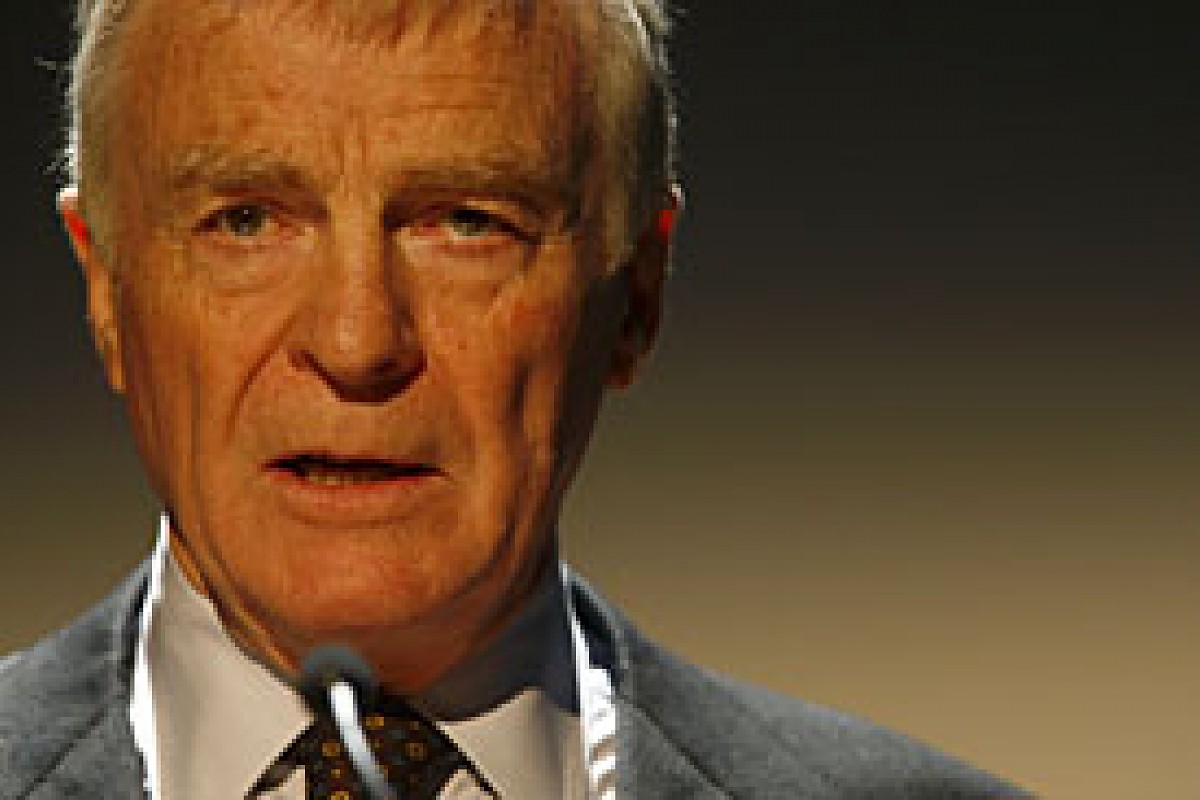 Schumacher triumphed in the inaugural Bahrain Grand Prix in 2004 © LAT
2004
Michael Schumacher equalled his best start to a F1 season which an assured victory in the inaugural Bahrain GP. The German had qualified on pole and led for 50 of the 57 laps, while his team-mate Rubens Barrichello followed him home to complete a dominant Ferrari one-two. Jenson Button, the only man other than the Ferrari drivers to have led a lap, scored only his second ever F1 podium in third.
Strong winds had threatened to whip up sand storms and disrupt the start of the race, while overcast skies added an extra element of drama as spots of rain fell and temperatures fell below 30. Neither had any effect on Schumacher however, who wrapped up his third win from the opening three races to seal a world championship stranglehold he would never surrender.
As he remained serene out front, there was drama on lap eight when the rear of Raikkonen's McLaren erupted in flames, a premature end to what had been a miserable weekend for the Finn. Takuma Sato was also in the wars, clashing with Ralf Schumacher early on and then running wide and over the kerbs when under pressure from Button. The Briton had moved up into fourth as the race headed into its final stage, but profited when Juan-Pablo Montoya's Williams hit trouble, passing the ailing Columbian and sealing a second podium of the year late on.
2006
Fernando Alonso got his title defence off to the perfect start by claiming victory in the third Bahrain GP back in '06. The Spaniard and his Renault team had started fourth - which Michael Schumacher on pole from Ferrari debutant Massa - but executed perfectly during the race, coming home just 1.2s ahead of the seven-time world champion.
Schumacher had led the 22-car field into the first corner, while Alonso was soon up to second, passing the slow-starting Button away from the line and Massa soon after. He made little impact on Schumacher in the early stages - in fact the German eased away comfortably - but began closing as the pitstops cycled. The crucial moment came on lap 39, when Alonso - who had made his final stop three laps after Schumacher - emerged alongside the German and outmuscled him to move into the lead.
The gap remained close for the remainder of the race, but Alonso held on to open his 2006 account with victory. Behind, Massa had made an ignoble start to his Ferrari career by spinning early on, and third became a tight battle between Button's Honda and the two McLarens of Montoya and Raikkonen. The Finn, who had started from the back of the grid after a qualifying crash, elected to stop just once and did just enough to seal third ahead of Button, with Montoya fading slightly as the race wore on.
2007
Massa atoned for a poor start to the 2007 season with a storming performance in Bahrain, completing a hat-trick of pole position, victory and fastest lap. The Brazilian retained his lead at the start of the race and then withstood a closing Hamilton in the final stages to seal victory from the Briton, who made history by becoming the first F1 driver to score three podiums in his first three races. Hamilton also took a share of the championship lead - tied on points with Raikkonen and Alonso - with Massa five points further back.
The tone of the race was set from the start, as Massa led from Hamilton. Raikkonen tried to pass the Briton into the first turn, but lost momentum and was picked off by Alonso, dropping him to fourth. Massa and Hamilton then pulled away from the rest of the field, with Alonso appearing to hold up Raikkonen and Nick Heidfeld in the opening stages. McLaren had decided to put its drivers on a long middle stint and the tactic failed to pay dividends, with Hamilton quickly dropping away from Massa after the first round of stops. Alonso meanwhile lost out to Raikkonen in the stops and then fell to fifth when Heidfeld drove around the outside of him at Turn 4.
Raikkonen closed rapidly on Hamilton, but the Briton's longer stint helped him to stay in second and, following the final stops, he was able to ease away and in turn gain on Massa. Alonso meanwhile could not recapture fourth and finished behind Heidfeld. David Coulthard meanwhile was unlucky to miss out on the points for Red Bull. The Scot had come through from the back of the grid and was on course for seventh until a driveshaft failure on lap 36. His team-mate Webber inherited the position, but also retired just five laps later.
Max Mosley was mired in scandal as the 2008 season got underway © LAT
2008
Max Mosley's infamous videotape made him the centre of attention as F1 headed for Bahrain in 2008 - even if he was not actually present, having been asked not to attend by the crown prince. Against that backdrop it was inevitable that the race would be slightly overshadowed, but events on track conspired to redress the balance as Massa led a Ferrari one-two, BMW led the constructors' championship for the first time in its history and Hamilton made a horrendous start and then hit his former team-mate Alonso on his way to a miserable 13th.
BMW's Robert Kubica took his first, and to date only, pole in qualifying, but lost out to Massa on the run down to the first corner. Hamilton meanwhile dropped from third to 10th, with third contested by compatriots Kimi Raikkonen and Heikki Kovalainen - the former eventually winning out. Raikkonen rapidly caught Kubica and passed the poleman on the outside of Turn 1 on the third lap. Kovalainen also lost a place on the same lap, while Hamilton - attempting to pass Alonso for ninth - hit the Spaniard, becoming briefly airborne and losing his front wing - and any aspiration of points - in the process.
Their tangle was one of several early incidents during a chaotic opening, which served as a direct contrast to the front where Massa had stretched into a five second lead. Raikkonen kept him in check but the Brazilian eventually came home 3s ahead, with Kubica little more than one second in arrears in third. His BMW team-mate Heidfeld repeated his 2007 result by finishing fourth, helping BMW into the lead of the constructors' standings for the first time in its short history.
2010
Alonso made a dream start to his Ferrari career by taking victory in the 2010 Bahrain Grand Prix, while Vettel captured his first pole of the season. The German had looked set for victory before fading as he lost power late on, handing Ferrari a deceptively comfortable one-two finish.
It was Vettel who had looked comfortable for most of the race, pulling out a five second advantage in the early stages. Alonso managed to chip away and, with Massa in tow, pulled the lead down to around two seconds, but even then Vettel looked to have enough to keep the Ferraris in hand. His race was undone however on lap 34 when a power problem - later diagnosed as an exhaust fault - hobbled his speed and allowed Alonso, Massa and then Hamilton to blast past.
With Massa close behind Alonso, the Spaniard reeled off a succession of fastest laps to secure victory on his maiden race for the Scuderia, eventually eking out a 16s gap as the chequered flag fell. Hamilton followed Massa home, while Vettel did just enough to hang onto fourth ahead of the Mercedes of Rosberg and Michael Schumacher. There was a victory of sorts too for Lotus, which managed to get both its cars home. Fellow 'newcomers' Hispania and Virgin were less successful, neither team managing to make it past the 18th lap.
From the forum
All I can say is that I was pretty much confident that the race was going to be called off, and I'm really surprised that it wasn't. Now I just don't even know what to think as all the things about F1 are so absolutely meaningless compared to the stakes at play in Bahrain. I just hope everyone, locals and teams, will be safe.
Wingwalker
It pains me to miss a race (Bahrain will be the first race I have missed since Italy 2001 - I was stuck in Canada following 9/11), but I don't want to be a hypocrite, so I won't be watching. Just visiting Autosport, Digitial Spy, BBC F1, Sky Sports F1 and Twitter to make sure that nothing bad has happened. I hope beyond hope that the race is still called off tomorrow or Friday.
RC127
I think, for most of the people here, once the cars hit the track for FP1, barring any incidents by protestors at the track then it will be business as usual and will be the same as any other Grand Prix weekend. Time will only tell, but I can't for the life of me see how there won't be a protest at, or on, the track itself - the fact its in the middle of nowhere and closely guarded means nothing if they rush the place.
Bartel
*Key stats supplied by FORIX collaborator Michele Merlino.