The phoney war is over. Or is it? While Saturday morning's P3 was the first fully dry session on which to attempt to interpret 2012's competitive order, the fine detail is still missing.
There was confirmation of winter testing performances from Red Bull, McLaren and Mercedes as potential race winners, Lotus as pacey enough to pick off any under-performers of that trio - and Ferrari as in genuine competitive doldrums.
The fine detail that will only be revealed in qualifying later today concerns relative fuel levels. Habitually last year Red Bull would run the low fuel part of the practices with around 20kg more fuel than the others. If they were doing so today, then it would likely be an RB8 pole by a couple of tenths. But this being an all-purpose session in which to cram in all the work that would normally be done in the Friday sessions, the teams appeared to be concentrating on 5-6 lap runs that would give them at least some relevant data for both qualifying and the race - in which case the usual patterns of fuel strategy for each team might not apply.
If Red Bull, McLaren and Mercedes were indeed fuelled near-equally, then pole could be an incredibly closely-fought affair between the six drivers of those teams. With the controversial Mercedes rear wing contributing to impressive straight line speed, the car was consistently super-quick. But that DRS system also seemed to contribute to making the car a little difficult, with Michael Schumacher and Nico Rosberg regularly off the circuit - and Schumacher eventually terminally beached in the gravel. The team is confident that it is only a matter of adjustment to make its operation less aggressive, without losing the extra performance.
Vettel's session ended prematurely when he beached in the gravel at T6 © XPB
The other proviso about the Mercedes is that it did not seem to find quite as much time from the soft tyre as the others. It should be around 0.5s quicker than the medium but the Mercedes appeared to find only around 0.3s - something that could prove costly to grid position.
Sebastian Vettel was another beached world champion, his accident coming as he pressed very hard on what was to have been the final lap of a run on the medium tyre before a planned switch to the soft. His 1m 26.2s on those tyres suggests that a fresh set of softs could perhaps have given him a mid 1m 25s, which would have made him fastest by a tenth or two over Lewis Hamilton's McLaren. The McLaren appeared reluctant to surrender the last tenth of lap time and it was only a very aggressive effort by Hamilton that yielded the session's quickest lap.
Romain Grosjean's Lotus turned heads with a time less than a tenth behind the McLaren but it is believed that the car was running slightly lighter, to the tune of around 0.2s. Even so, that would have left him vying with Mark Webber's Red Bull, Jenson Button's McLaren and Nico Rosberg's Mercedes.
The McLaren's straightline speeds are a close match for those of Mercedes - and significantly faster than Red Bull's, which potentially makes the RB8 vulnerable, especially if it does not start from pole. Its continued use of a mini-KERS makes it slower out of the corners, while its engine/aero combination ensures it is slower at the end of them too. Just as last year, its lap time comes from its performance through the corners and that's a very unraceable combination from anywhere other than pole.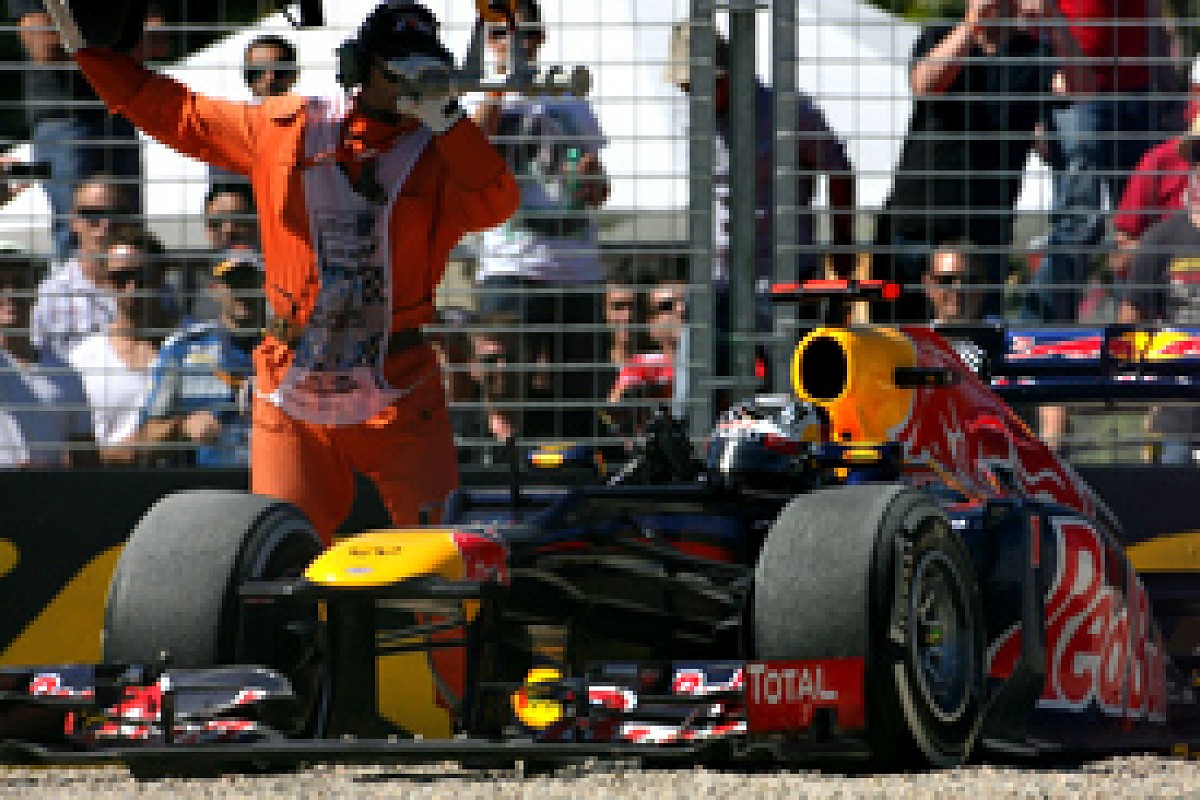 Ferrari's pre-season struggles continued in practice © XPB
Mark Webber doesn't appear to be giving much, if anything, away to Vettel in his basic underlying pace but much as Webber would desperately love to deliver a victory at home, trying to wrest pole from Vettel - not to mention McLarens and Mercedes - is no small ask.
On this form Ferrari will be doing well to make Q3. The F2012 appears ponderous in direction change, lacking front end grip on corner entry and rear end grip on exit. Competing with Red Bull, Mercedes and McLaren is but a distant dream and it seems more likely its initial competition will be with Force India, Williams and Sauber.