Gabriele Tarquini may have turned 50 last week, but he's reticent to dwell on it. At the opening round of the World Touring Car Championship at Monza, the 2009 WTCC champion is focused only on extracting the utmost from his privately funded SEAT Leon.
Tarquini will be compelled to operate at his best in order to stand a fighting chance of a strong result at his home race - especially with initial testing on Thursday alluding to the Leon's factory Chevrolet opposition being resiliently dominant.
"Yeah, we had a big party," is as much as the genial Italian will divulge of achieving his recent milestone. Donned in a red woollen hat and stood beside the raised tailgate of his Lukoil Sunred team's transporter, Tarquini swiftly changes the theme of conversation back to that of nearly every SEAT runner in the pitlane: engines.
An acknowledged relative weak point of the Leon package in 2011, much hope for the impending season has been pinned on a new 1.6 Turbo engine, the development of which has been taken in-house by SEAT Sport. Since finishing runner-up in the 2010 WTCC, Tarquini's form has predictability suffered in the wake of SEAT's withdrawal as a factory entity from the championship. No one within Sunred has yet been bold enough to suggest the new engine will instigate a prompt end to Chevrolet eminence, but reducing the deficit to the blue and white Cruzes is the openly declared aspiration.
Initial testing of the unit, born out of French motorsport emporium ORECA's project for Skoda's Intercontinental Rally Challenge team, has been positive. The engine features an improved power band, although fine-tuning work of the electronic management remains ongoing.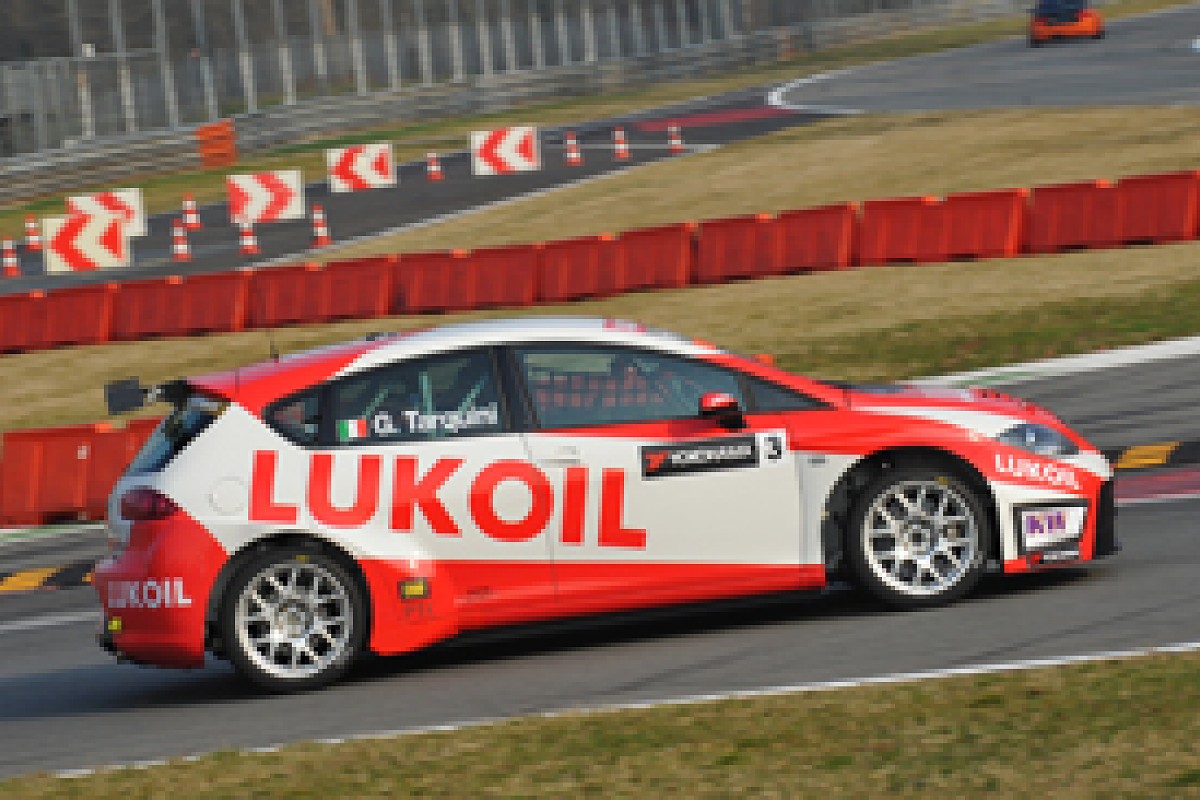 Gabriele Tarquini embarks upon his seventh straight WTCC season with SEAT in 2012
"I'd like to think there is more to come," says Tarquini cautiously. "The Leon is very old. This car was built in 2006, so compared to other WTCC cars like the Chevy we are a step behind. But the engine is quite new. It has been prepared by ORECA for the Skoda rally car, but the project was stopped last year, so they never ran this engine in the car.
"For sure, the specification was for a rally engine. So SEAT took this engine from ORECA and developed this engine within SEAT Sport. We have worked hard on setting up the engine in the car and things like that. The problem is the project started quite late at the end of last season. The agreement was done at the end of November and beginning of December, so SEAT then had to start to build new cars and also begin work on the engine."
The late nature of the project has impacted on those SEAT runners who were recent signings to this year's series. Tuenti Motorsport's Tiago Monteiro has dispensation to run with an old TDI engine in his Leon at Monza, while Special Tuning's Tom Boardman's will stand down from the Italian round. However, Tarquini is optimistic that he can enjoy an upturn over 2011 when he took a solitary, battling, victory at Zolder.
"I hope this season will be a little bit better," he asserts. "Given the thinking that Chevrolet didn't improve a lot during the winter, I mean, because the Chevy was a new car last year, while our base performance and potential should be better than in 2011. So, for this reason, I hope to be closer to Chevrolet's pace. There are some tracks that could suit us better than Monza, and with rain or in some different or strange situations I could be up there."
If Tarquini appears preoccupied about engine development, it is partly because Sunred has reached a plateau in development of other areas of the Leon.
"The car is exactly the same as two years ago," explains Tarquini. "We couldn't improve the set-up in the last two seasons, because Sunred just uses the cars we had spare from SEAT Sport. The car is more or less the same."
Reliability of the 2012 engine has been a resounding success. The motor ran on a dyno for two days, before being installed in a test car to be evaluated at Valencia. Two further days of testing at Estoril, and two in Portimao, were completed without issue.
A note of caution to keep expectations in check is offered by Tarquini, who points to the differing resources of the privately funded Lukoil Sunred team and his manufacturer-backed rivals.
"The characteristic of the engine is this: the reliability is very good," states Tarquini. "We must improve in some areas. The power we can improve a little bit, as with this driveability we can use more power. But personally I don't know how much more there is to come because this is a private plan, with private budget. The money comes from Lukoil, the car is only run by SEAT Sport."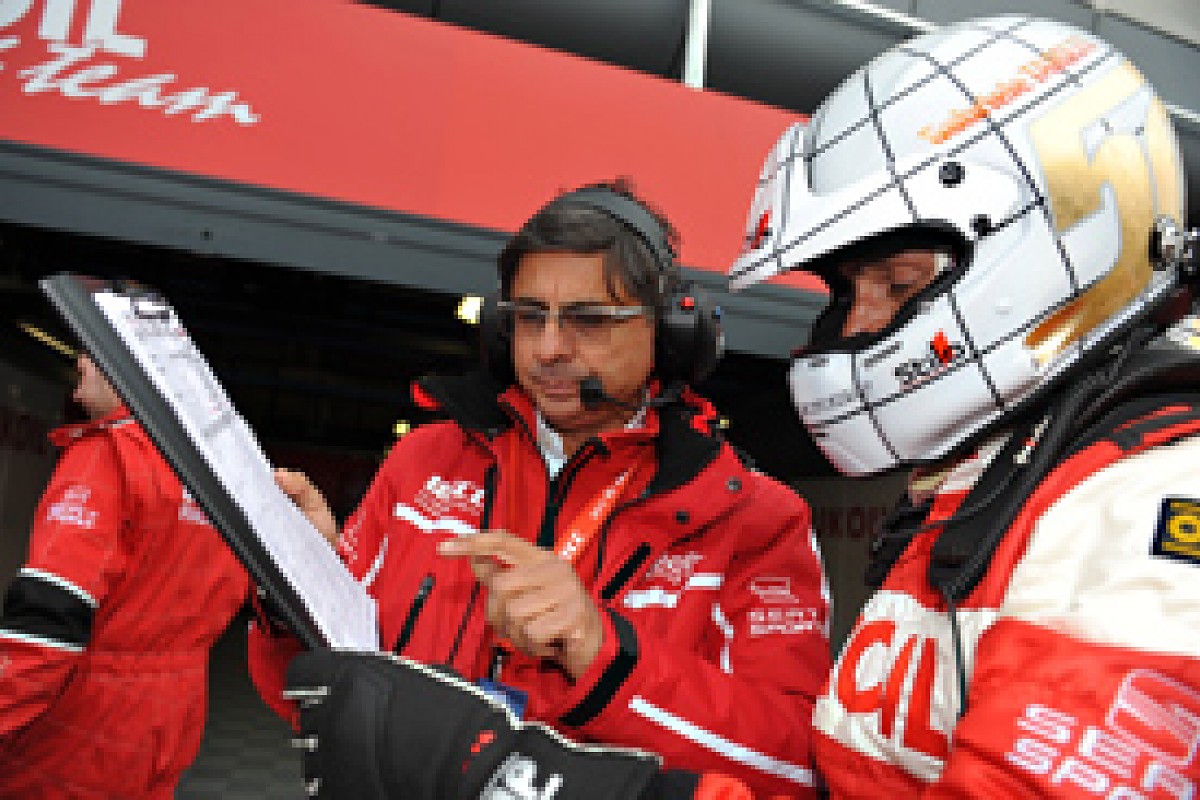 Tarquini's passion remains undimmed even after turning 50 © XPB
If rumours are to be believed, the potential carrot at the end of the season for Tarquini's continued endeavours is the return of SEAT factory support in 2013. Honda has already confirmed its commitment to the WTCC next year, and AUTOSPORT understands Tarquini will be high up the Honda wish list, having raced for the marque and JAS in the late 1990s. Should the decision be taken by SEAT to recommit to the WTCC however, Tarquini confirms his desire is to remain involved with the Spanish marque.
"Our hope - mine and SEAT Sport's - is to start among the factory teams in 2013 like it was in the past," says Tarquini. "It would be good to have maybe more cars, three or four, and run with the right budget and a new car to fight Chevrolet and fight for the title. This is our goal."
Should his loyalty and consistently strong performances be rewarded with a contract extension, Tarquini is unconcerned about any growing attention to his elder statesmanship - particularly as he is the same age as BMW Independent Franz Engstler and only two years older than fellow frontrunner Alain Menu (RML Chevrolet). However, the man who competed in select rounds of the inaugural World Touring Car Championship in 1987 welcomes witnessing the arrival of new blood in this year's series.
"Well, for the first time in a while this year we have new faces, and I think it is good," asserts Tarquini. "Personally, I think this championship can restart very strong, because of the boost we had with the Honda news, the Lada news and Ford news. It can be good for everybody, especially the championship. I think the championship can have a much better future."
Eurosport's motorsport business manager Francois Ribeiro realised how much he has his work cut out, and what a strong job the WTCC has done in the current economic climate, following a recent visit to this year's Geneva Motorshow.
"It was amazing, and a bit worrying, to see how much motorsport was pushed to the side at Geneva," commented Ribeiro. "The big focus was on electric cars, although Chevrolet made a good presence for its WTCC car and Audi also displayed their motorsport activities.
"I think one of the reason why the WTCC is proving increasingly attractive to manufacturers, and why we got Honda, is because of our calendar. Also, I think Chevrolet gets an excellent return on its investment. Without divulging the exact numbers, I would estimate their expenditure in WTCC is comparable to what Honda spends on its domestic market promotions alone in around two months. So it is a good return."
This year, the series will visit the United States and Slovakia for the first time. A race at the Jaypee circuit in India has also been rumoured in the not too distant future. One area where Tarquini's experience manifests itself is in his approach to the new venues.
"I don't use simulators, I am not of this young generation!" jokes Tarquini. "I am old school. Just one day before I'll go and see these new circuits and try and learn them as soon as possible. It's clear, though, that the strategy of this championship has changed, to create more appeal for manufacturers. I think the US is very important, Slovakia for Lukoil is important. These Eastern countries are very important for some brands. I think in two or three years time we must race in India or in Russia, just to cover all the countries for the manufacturers."
It would seem that Tarquini's lengthy globetrotting years are not just set to continue, but will capture even broader horizons.