The eyes of the motor-racing world were focused on Barcelona last week as we tried to get a handle on who is really in good shape heading into the season-opening Australian Grand Prix. Inevitably one of the big question marks surrounds Ferrari. Will the F2012, a radical departure that has had the team struggling in early testing, be any good?
Twenty years ago the Scuderia undertook a similar gamble with the F92A, which really was a radical car compared with what we perceive today as being different from the norm. Alas, it turned out to be something of a disaster - and Ferrari experienced what still stands as its worst season of the past three decades. So what went wrong - and how could the team have designed such a bad car?
The roots of Ferrari's downturn go back to when technical director John Barnard departed the team before the 1990 season. He left behind him a car that had some reliability issues but was still good enough for new recruit Alain Prost to challenge Ayrton Senna for the world championship.
In 1991, with Barnard's influence having faded, Ferrari slipped back again. The team failed to register a victory for the first time since the dire 1980 season, and it finished a distant third in the constructors' table. Team boss Cesare Fiorio was ousted in June and then even before the end of the season Prost was sacked after he famously likened the car to a truck.
Heading into the winter there were huge changes at Ferrari. In November 1991 former boss Luca di Montezemolo was brought back to run the team. He recruited his old pal Niki Lauda as advisor and moved sporting director Claudio Lombardi - a former Lancia man with very little F1 background - to the role of technical director. Later Montezemolo brought back Harvey Postlethwaite as chief designer in what was in effect a straight swap with Steve Nichols, who replaced Postlethwaite at the fledgling Sauber team.
The F92A was genuinely radical © LAT
While all of this activity was going on the F92A was already being built. With distinctive oval sidepod intakes, the car looked like nothing else around. And it was different under the skin too - French aerodynamicist Jean-Claude Migeot had come up with a unique twin-floor concept. Unfortunately, it didn't work...
Nichols didn't stay around to see the F92A race, but he was there for its gestation and initial testing. The car was created amid the usual chaos that characterised Ferrari at that time.
"It was a fantastic experience," says Nichols of his spell in Italy. "Drivers always talk about it being their dream, but for me as an engineer it was not like Ferrari would be the ultimate. I just wanted to go where you had proper resources and support behind you. It did hit me though, when you walked down the hall and they'd got all these sepia prints going back to Froilan Gonzalez and all these legendary drivers - you feel the weight of it.
"But in the end it felt to me like it was the dream and the nightmare at the same time. There were lots of problems, lots of thrilling victories, and a load of emotions. And inevitably it was very chaotic.
"People used to talk about biorhythms - you had to have your three biorhythms lined up and then you'd have a good day or week. I used to liken Ferrari to that, but instead of three biorhythms there were about 15, and they changed very quickly. If they all came into alignment for a day or a week or a month you might win a couple of races, and then they'd go all out of phase and there would be total chaos. It was really a struggle to keep it all together..."
The distinctive look of the F92A was the responsibility of French aerodynamicist Jean-Claude Migeot, who had recently made something of a name for himself at Tyrrell.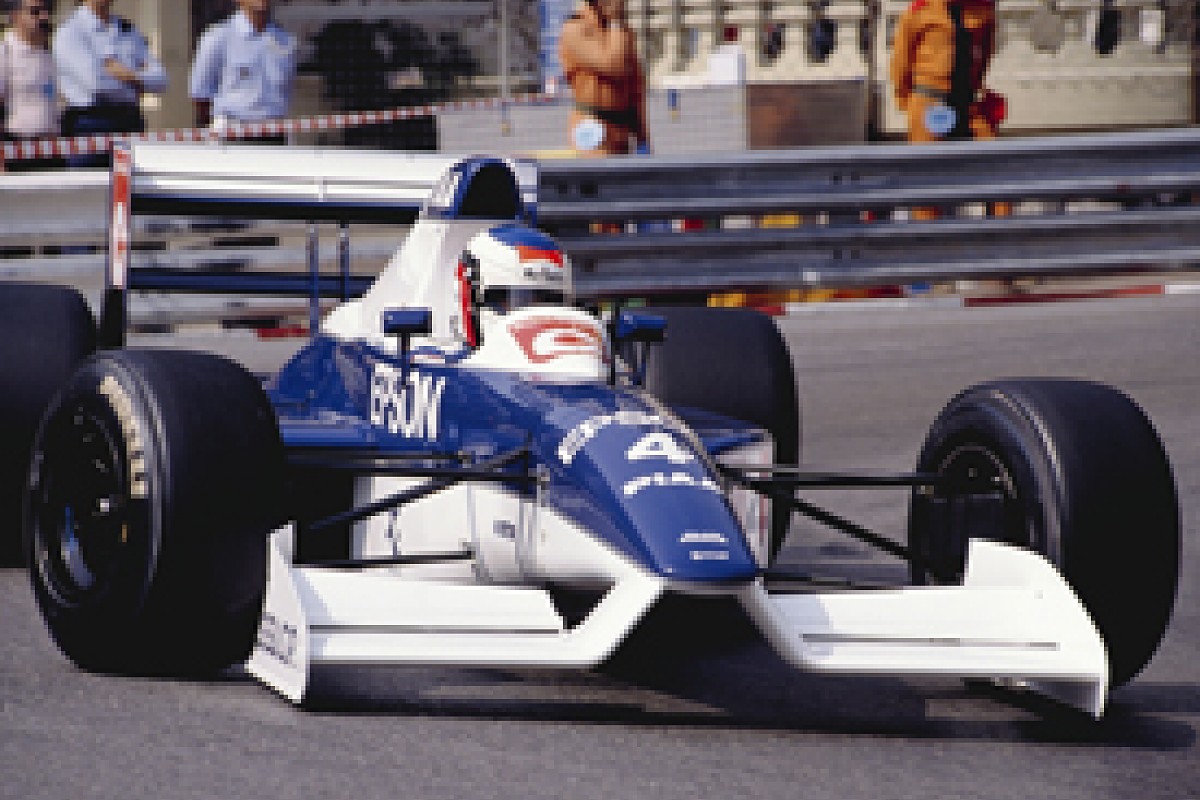 Migeot had helped make Tyrrell fly in the early 1990s © LAT
"He's a great guy, a brilliant aerodynamicist," says Nichols. "Ferrari took the view that aerodynamics was the most important thing, and we had to do whatever Migeot said.
"However, very often aerodynamicists are much more theoretical, and in car aerodynamics there's a certain level of practicality. There's the ground effects of other cars, and all the bouncing around on the road that you don't get on a plane!
"We had active ride in those days, and Migeot had this idea that you could assume that the car was going to remain totally immobile, so you didn't have to pay any attention to pitch sensitivity. You could just concentrate solely on lift/drag and efficiency, because the active ride would take care of it, and you wouldn't have to rely on sympathetic mechanical set-ups to correlate the aero and provide you with a decent platform.
"I told him, 'active ride is good but it's not that good - it's not perfect. You're talking about theoretical perfection, which we haven't achieved yet, and probably never will with the active ride. It's fine to go a little bit in that direction, but you can't just totally ignore pitch sensitivity.
"He didn't agree with that, but my view was you needed to have some room to manoeuvre. The aerodynamics that we got were very, very sensitive to front rideheight and very, very sensitive to rear rideheight. If the chassis moved at all or pitched... If it lowered the front a little bit you got a vast increase in front downforce and a vast decrease in rear downforce.
"If you put the throttle on, the opposite would happen. And inevitably the active ride wasn't good enough to cope with that level of pitch sensitivity. It was impossible to get a mechanical set-up to cope with it. But that was just one of the major problems..."
Nichols admits that he helped to sow the seeds of the twin-floor concept: "I didn't try to do the aerodynamics, but I would try to make sure the mechanical aspects were sympathetic, so I would talk to the guys about problems that they had, and things that we could perhaps do to help them with their problems.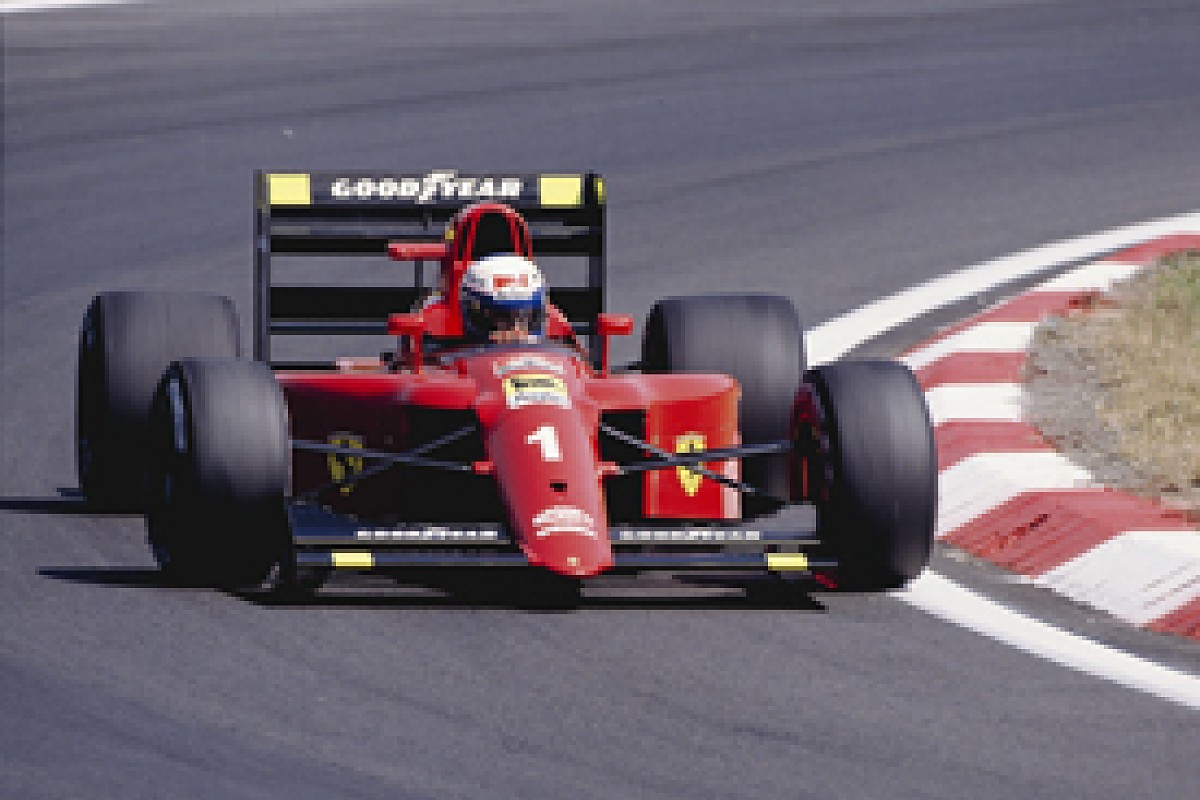 Ferrari had fought for the title in 1990 with the Barnard-inspired car © LAT
"With Barnard's car we had long sidepods and tall, rectangular air inlets. What was good about those was that they were quite skinny, so it left the gap for the air to make a natural path to go around the front tyre and around the bulge where the radiator was.
"The aerodynamicists told me that it was better for that spillage to go around the car than under the car, so the tall, skinny radiators meant that the greater spillage went around, and that was the reason why that layout was quite successful in those Barnard cars.
"Post-Barnard, we were developing the direction of going away from the small radiator inlets to one that was more triangular shaped, that had less area at the bottom and more at the top - 20 years later you see that same principle where you're getting away from having a radiator down on the ground.
"I suggested to Migeot that if it was bad to have that spillage go under the car, why didn't we just raise the whole radiator inlet and put maybe a 3-4in channel or groove under the radiator and around the edge of the sidepod so that it ducts the air out and around and down the side of the car?
"At the same time there was a draftsman there who had done this weird and wonderful sketch where he had a radiator that was almost horizontal, up about the height of the cockpit side, and a great big gap underneath it and a shadow-plate floor.
"With the combination of me saying what about a channel underneath the radiator inlet, and then the little fanciful drawing with this horizontal radiator, Migeot decided to do a compromise between the two. He said we won't have the horizontal radiator but a typical one at 45 degrees, but will raise the whole thing up by around 100mm, and we'll run this channel not around the outside edge but we'll run it right underneath the radiator and out the back. Thus was born the F92A twin-floor thing...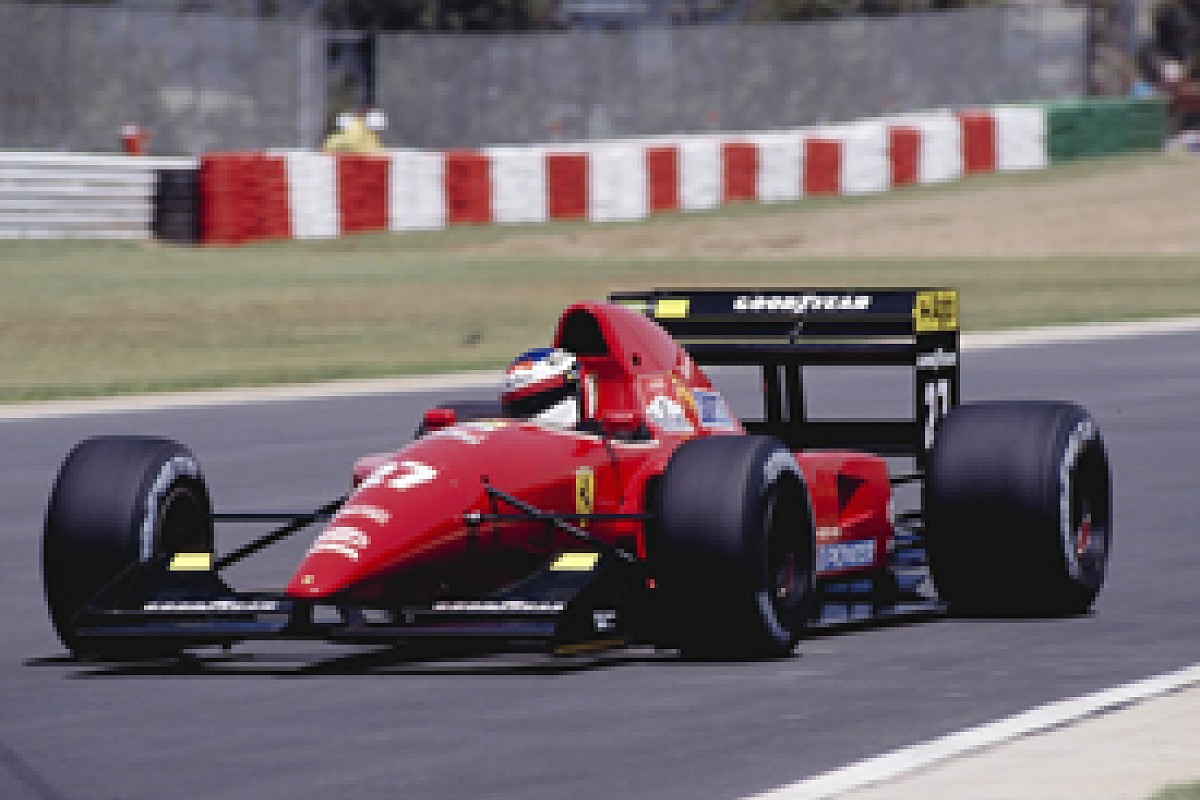 Alesi did his best with the unwieldy car © LAT
"It was great from an aerodynamic point of view and the numbers all looked good, but it wasn't for free. It was a helluva lot of extra bodywork, a lot of extra weight, a lot of extra joints with a lot of extra drag that doesn't necessarily show up in the windtunnel numbers.
"So then you had three things that were a problem with that car. Horrendous pitch sensitivity, excess weight, and finally a high centre of gravity, with the radiator full of water up high. Later when I went back to McLaren I realised how important centre of gravity really is - when I saw the numbers it was hugely more important than anybody had realised at the time.
"It was a triple whammy that made it not so brilliant. It looked great, though..."
The men entrusted with driving the F92A were Jean Alesi and team newcomer Ivan Capelli.
"I drove the '91 car first," Ivan recalls. "The first time that I tested at Fiorano, when I started from the pits with the little black horse in the middle of my steering wheel, I couldn't believe it. On your skin you have a feeling that is fantastic, you can't really find the words to describe it. The car was not so bad compared with my Leyton House, especially the engine. And then we went straight into the '92 project...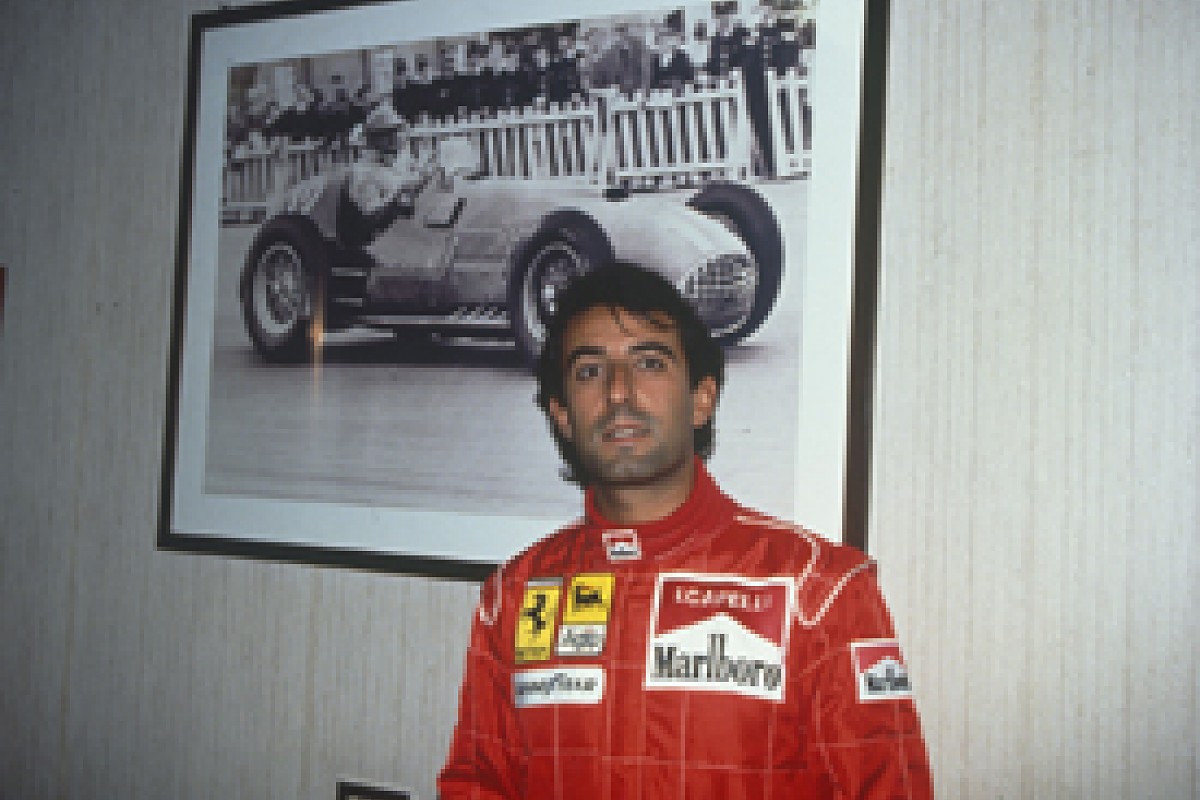 Ferrari was supposed to be Capelli's dream chance... © LAT
"Every driver in the world can immediately understand after one lap whether a car is good or not. You can feel it in your mind and in your body. When I did my first lap with the F92A at Estoril I realised that in comparison with the '91 car, it wasn't a very good step, especially concerning grip and the feeling from the car. It was a very funny concept, which didn't work at all.
"Immediately I said to Migeot that I had some doubts that the car would work. And as soon as I said that the car was not so good the Ferrari engineers started to follow Alesi a little bit more. He was saying, 'This car is the best car that I ever drove...'"
Ivan qualified ninth on the F92A's first outing in South Africa, retiring when the engine expired. In Mexico engines seemed to fail every four laps through practice and qualifying, and he started a lowly 20th.
In Brazil things began to look up as he finished fifth, and then in Spain he hauled the thing into fifth place in qualifying. After that everything began to get worse, and Alesi - who to some extent could drive round the problems - gained the upper hand.
"During the season I had the opportunity to test Alesi's car. He could drive it with a different style, with a bit more wing at the front, being more brutal with the steering wheel when turning in. Maybe that suited the car a little bit more. My driving style was a little bit cleaner, and it didn't work at all.
"I wanted to do everything at the maximum, and put a lot of pressure on my driving. But I couldn't. As soon as you were pushing, the car was not going anywhere."
Even the latest version of the V12 was a letdown: "At the beginning of the year we were revving to 13,500, and during the year we actually had to reduce the revs because the engine couldn't last the race. The technical situation was funny. For example, at the start of the season we had just two transverse gearboxes for Alesi. I was running until Barcelona with a longitudinal. For Ferrari it's incredible not to have enough gearboxes for the two cars..."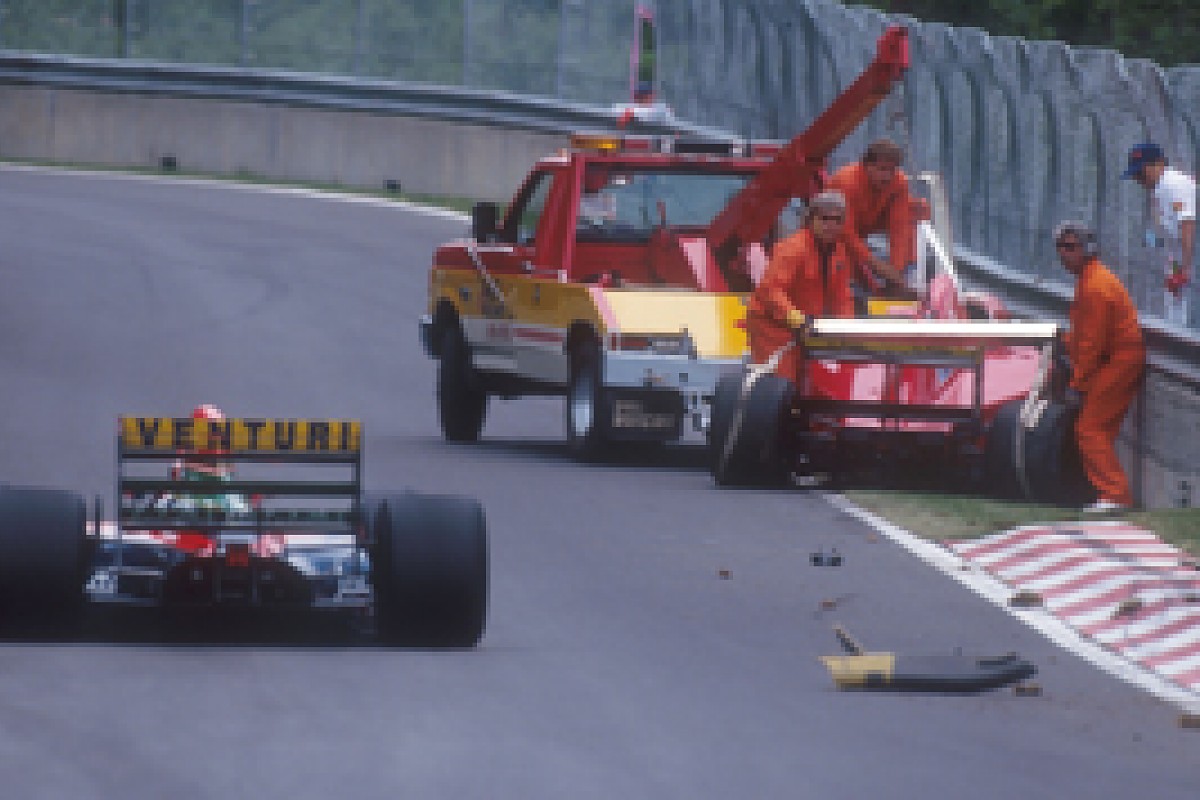 Marshals clear up after Capelli's Montreal shunt © LAT
Ivan crashed in Monaco and again in Montreal, although the Canadian shunt was not down to him: "In Canada we had a failure of a front wishbone, but to keep the team together, and for political reasons, they didn't want to say anything. I really worked for the team during that year, saying it's my fault instead of being the team's fault.
"It was hard mentally being an Italian in an Italian team and being treated like that. Obviously it was difficult to accept."
Capelli had just one more points finish - sixth in Hungary. Alesi somehow conjured up third places in Spain and Canada, although the Montreal race in particular was one of high attrition. Before the end of the year Ivan was booted out, to be replaced by Nicola Larini.
The 1993 car was a marginal improvement, with Alesi and Maranello returnee Gerhard Berger scraping together 28 points as opposed to the 21 of its predecessor. Alesi even managed a second place at Monza.
However, the significant development that season was the arrival in the summer of Jean Todt. Over the next few years the Frenchman would put all the pieces in place for a revival of fortunes at Maranello. The team that ultimately became the one to beat included many folk who were around for the low of 1992.
"They were so impatient and wanting instant success," says Nichols. "In the end what they needed to do was what finally happened, when they got Ross Brawn, Rory Byrne and Michael Schumacher, and Todt to establish a firewall so those people could do exactly what I'd been telling them to do - develop a team that could work together, and which would take a few years."