Vitaly Petrov could very easily have slid out of Formula 1 for good this year. Few outside of Russia would have taken much notice if he had.
While that might sound harsh, it's the reality of life at the top level of international sport. Deliver, or get out.
During his first two years in F1 with Renault, Petrov did show flashes of quality, but the bottom line was that he didn't do enough.
So it came as a surprise to nobody when Lotus opted to dispense with his services despite having confirmed him as a driver for two more seasons when it signed him up for 2011.
That's not to say he's a failure. For while he could easily have vanished from the F1 landscape and not left much of a hole, he's not unworthy of a place on the grid and there is some potential there. The question is, can it be harnessed consistently?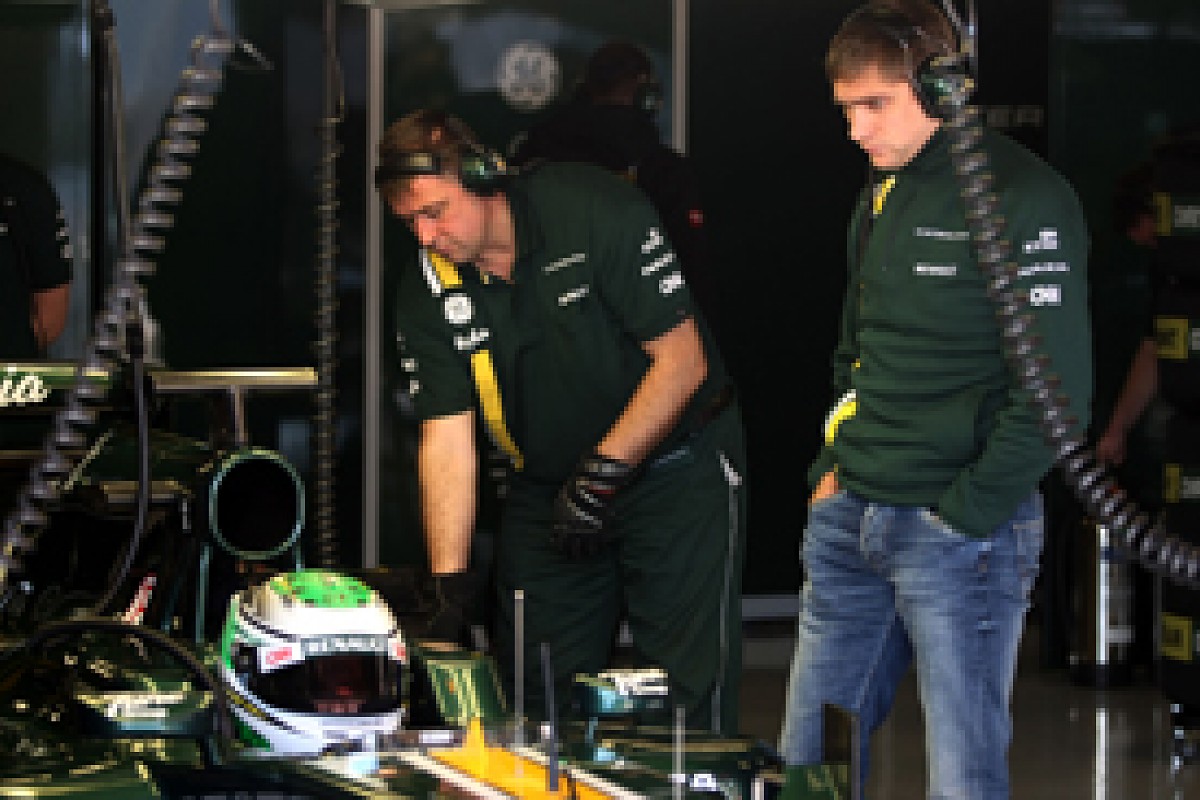 Petrov gets settled in © XPB
His late deal with Caterham was agreed just days before the first Barcelona test, held last week, and yesterday was only his third day in the cockpit for the team.
While he's playing catch-up after missing Jerez, where previous incumbent Jarno Trulli drove before Petrov's budget-assisted signing was completed, right now a sense of elation at being in the game at all is the dominant emotion.
"It was a difficult winter because we really didn't know where we were going to be," says Petrov over dinner in the Caterham motorhome. "It was a difficult situation and my manager [Oksana Kosachenko] did a good job to find a seat for me.
"We started talking with this team quite early, but it took a long time and we missed one of the tests.
"When you love doing something very much and you are faced with the possibility of finishing in F1, it is worrying. So I'm happy that I can still be part of this world."
Had he no longer been, the breakdown of his relationship with Renault would have played a big part. From the team's point of view, Petrov wasn't improving rapidly enough and there were still too many errors.
While the mistakes were not as big as they once were, they were still happening and all too often were costing points.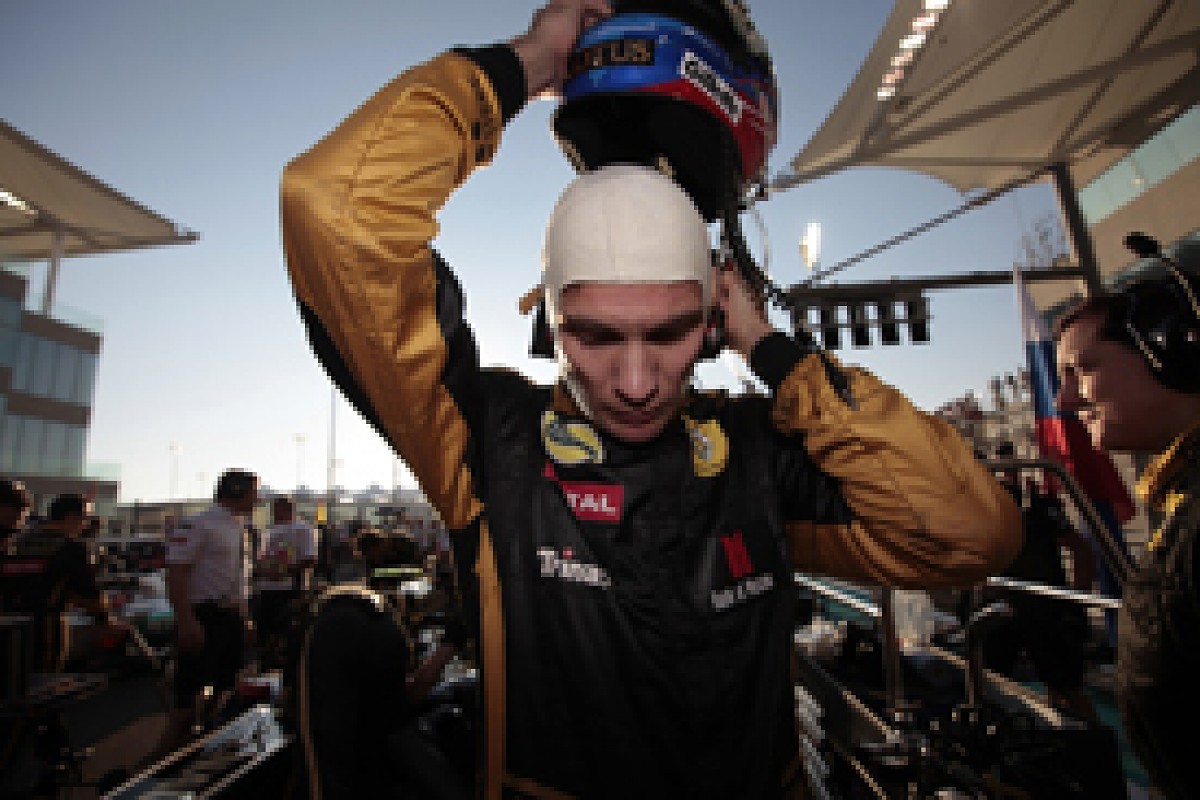 An Abu Dhabi rant sealed Petrov's fate at Renault © LAT
Paddock gossip had it that Petrov's place was not as secure as some said, and when the Russian was critical of the team's strategy in the Abu Dhabi Grand Prix, that put the final nail in the coffin.
Petrov doesn't feel that the team dealt with him fairly and reckoned that the clear improvement between his 2010 performances and what happened in 2011 should have carried more weight.
"We had the feeling that the situation between us and the team was becoming unclear," says Petrov of whether the Renault [now Lotus] team's decision to drop him came as a surprise.
"We were a little bit worried, but I still thought that I could be part of the team because, come on, the season was not only difficult for me.
"I'm still learning and I think I had a good year in 2011. Of course, there were some mistakes; different mistakes, but not like the mistakes I made in 2010. That was a really difficult year. If I had continued to do that in 2011 then the team would have replaced me after half a season and it would have been fair.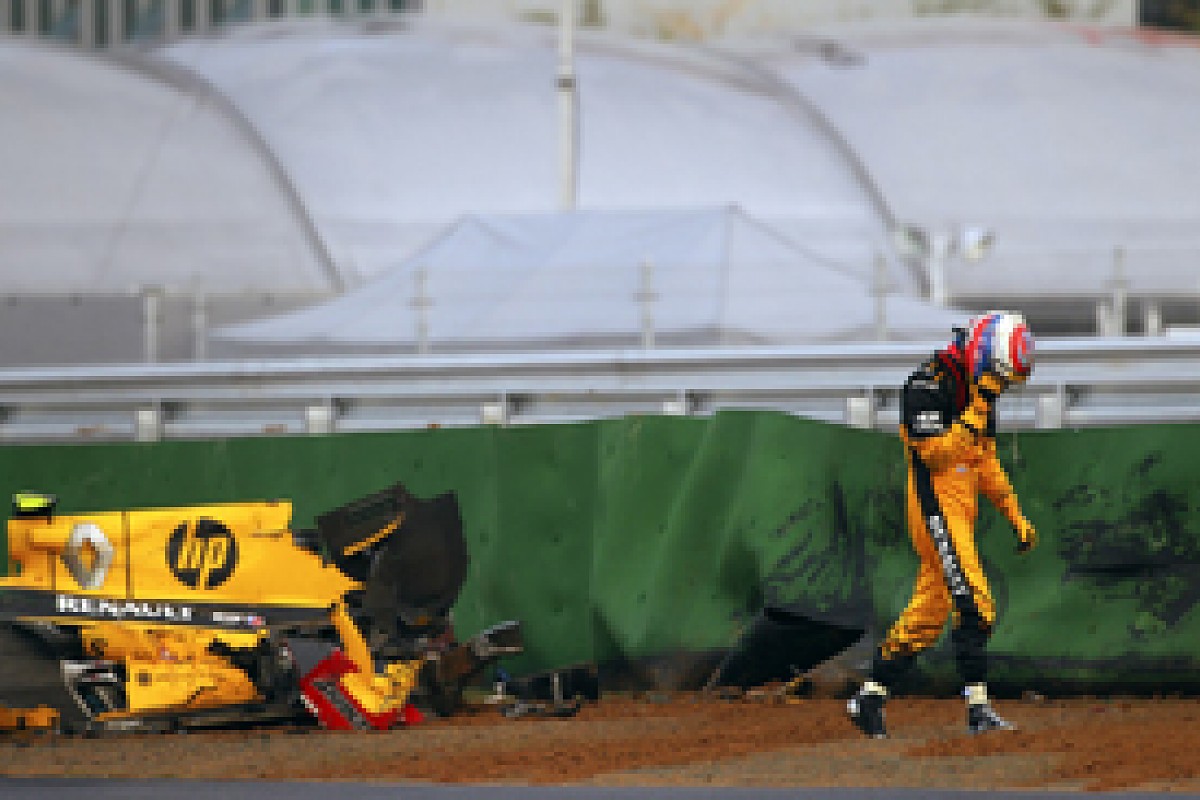 Petrov's rookie year was sometimes memorable for destructive reasons © LAT
"But there were situations like the front exhausts and the other problems that made them decide to finish with the drivers. That was unfair.
"If they didn't like something, they could still talk to me about it and I could change. I'm not someone with a big head. In my third year, I can make a big step like I did from 2010 to 2011."
He's still expecting to make that big step, even though it's unlikely to be reflected in outright results. In moving from a team with realistic aspirations of re-emerging as a race-winning force to a third-year operation whose ambitions stretch only to joining the lower midfield pack this year, he has had to re-evaluate his targets.
Inevitably, there is a culture shock in such a move. Not only is the team smaller and new to him, but also the way that it has to approach F1 requires a switch in mindset.
"Yes, I'll lose performance because of the performance of the car," says Petrov. "The Enstone team is bigger, they have a lot of engineers, a windtunnel... but here you sometimes have to be a bit more clever with the problems that you have.
"Here, sometimes you have to work around a problem, so from a driver's point of view I will definitely learn something.
"I'm trying to learn straight away. In my room, I have a piece of paper with the names of all the people in the team. It's complicated when you come to a new team, you need to understand the guys and build a relationship. You need to understand how to talk to them and how they will use your information to develop the set-up.
"Different engineers understand a driver saying they have understeer in a different way. So sometimes I just try to show with my hands and the movement of my body [said holding an imaginary steering wheel] rather than just writing 'oversteer' on a piece of paper and expecting them to fix it.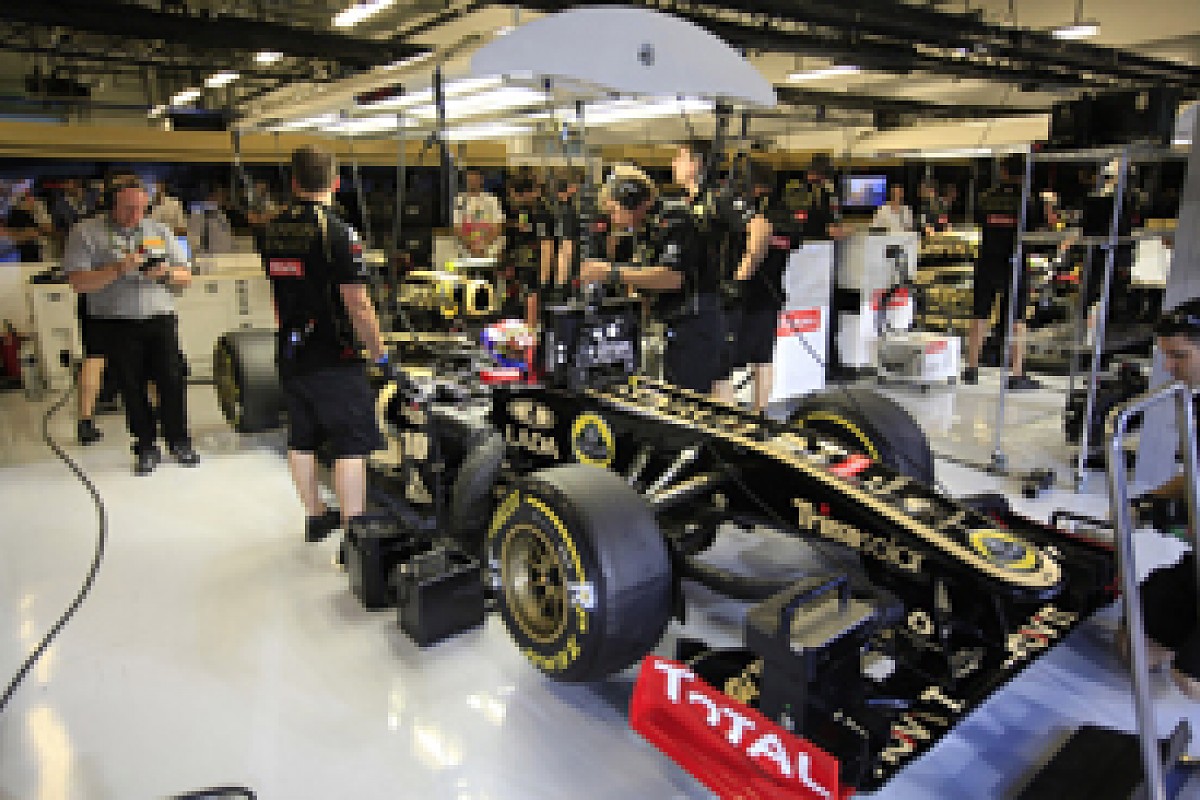 Petrov didn't always see eye to eye with those around him at Renault © LAT
"It takes time to understand each other, particularly with the race engineer. This is an important relationship. In 2010, I had some problems with my team, fighting with Mark Slade. He's a very clever engineer, but it was not a good relationship.
"They put him up high because he had 20 years of experience and you are the child. If he told you to jump through a window, you must jump through a window.
"I respected him and listened to him all the time and jumped when he said. But I did the wrong thing. I had my feelings and I should have been more aggressive, but I was afraid I would say something wrong.
"I had a bad start to the season, crashing a bit and they decided to change the relationship. In 2011, it was completely different. I had a new engineer [Ayao Komatsu], who was like a friend. Sometimes, I would look at him after getting out of the car and didn't need to say anything because he understood."
In 2012, his race engineer will be Gianluca Pisanello. The Italian worked with Petrov for the first time at last week's test and both are going through the early stages of building a relationship.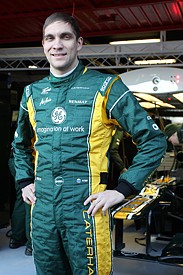 Petrov gets ready to start work with Caterham © XPB
While for Petrov it's his third race engineer in three years, it's a very different story for Pisanello who worked with Trulli for the previous seven years.
"We need time to get close to know each other and understand each other," says Petrov. "That's normal. It's all new.
"I'm Russian, so maybe sometimes I can sound aggressive, or he can because he's Italian. We just need to get to know each other."
There's also the small matter of getting used to a very different car. Relatively speaking, the Caterham CT01 will be the least competitive car that Petrov has ever raced in F1, save perhaps for the Renault R31 in Singapore last year, and that requires him to adjust.
But it's something he must do, for as a driver with a lot to prove in F1 he needs to take a leaf out of team-mate Heikki Kovalainen's book and use his place at Caterham as a foundation for rebuilding his reputation.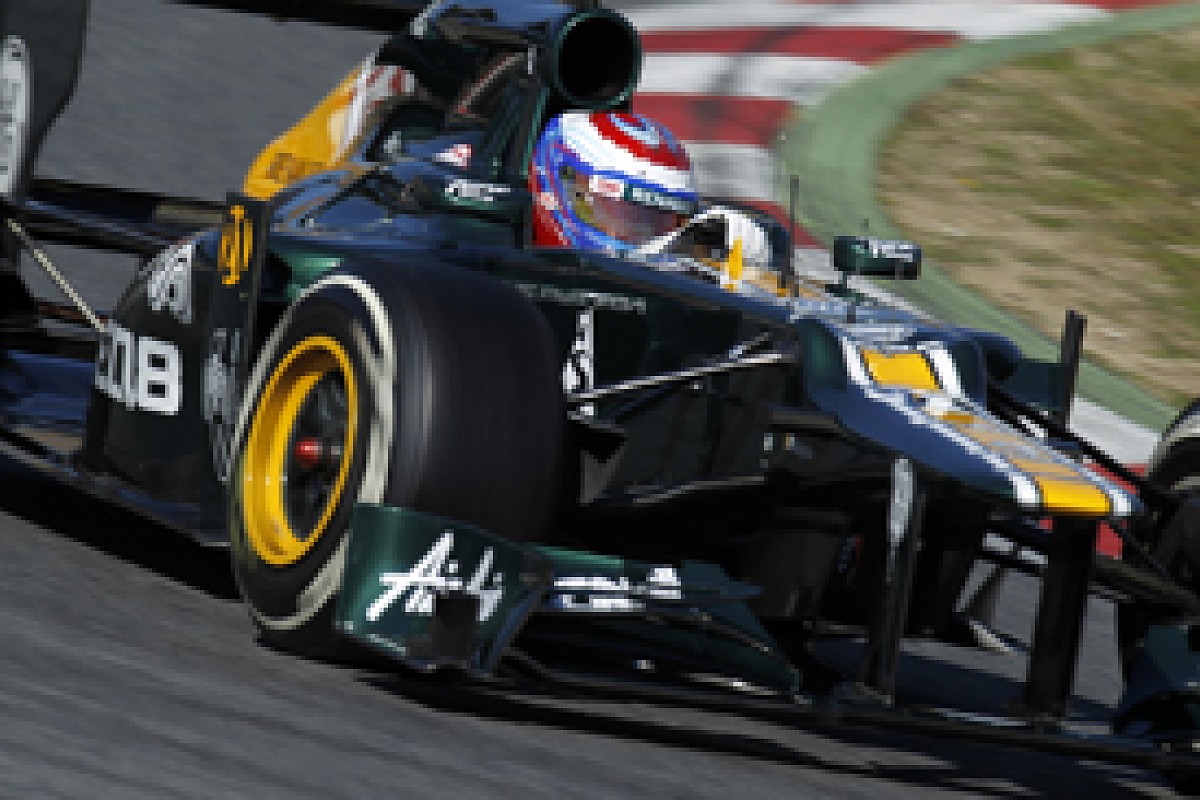 Getting up to speed in the CT01 © LAT
"The car does feel different - it's a question of downforce," says Petrov. "Can you imagine the difference if you go three or four seconds quicker? So of course I feel that lack of downforce.
"But this is a completely different team. Red Bull was not the quickest at first, but they started to work their way up. If this team wants to be in the top 10 - and this is what they want - then it takes work. But they don't have Ferrari or Red Bull money, so it will take time.
"First of all, the team needs to be happy with what I'm doing. I can't tell the press that I'm doing a fantastic job or they will just laugh and say go away!
"If you want respect, you need to work hard and then this team will speak about you positively or negatively.
"When Heikki came here, he was at a low point because it was a new team after driving for the biggest team in the paddock. Over the last two years, he has done things correctly, adapted to the car - which has not been easy to drive - and now he looks very strong."
This is what Petrov must emulate if he's ever to convince a team to take him on merit rather than merely because he's an acceptable driver with a lot of financial backing.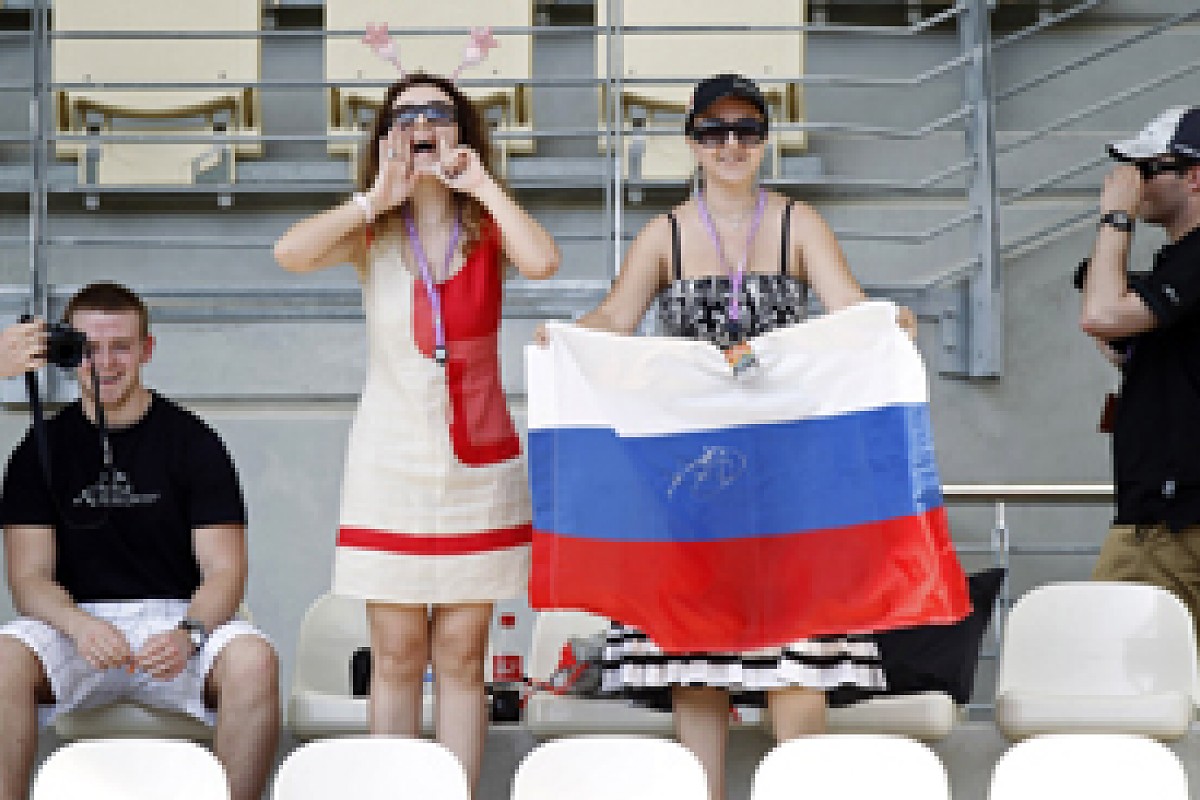 Russia wants Petrov to succeed © LAT
And while, inevitably, having the hopes of a nation resting on his shoulders has helped him secure his place on the grid (although it should be said that his junior career is respectable and includes wins in Formula Renault, Formula 3000 and GP2 machinery in Europe), it brings with it pressure.
In his native country, he is the embodiment of F1. As is often the case for drivers from what are termed 'emerging' international motorsport nations, it's vital to keep expectations realistic.
"It's always difficult to explain to people in general what F1 is," says Petrov. "I know F1, but I didn't know it at all before I came into the paddock. I knew nothing. The people who know something about F1 will understand and the people in the paddock will.
"But when I'm talking with [Russian] journalists, I always try to explain what F1 is, what we are doing, why are we so slow, why we cannot win. I will do the same this year, explain where we are now and what we need to get good results.
"A lot of Russian fans are happy that I can continue in F1. I just need to explain to them that it won't be possible to finish third like I did in Australia last year."
It's going to be a long, hard season for Petrov, who will have to turn in more consistent performances if he's to score points in a car that won't be a shoo-in for the top 10. After two difficult seasons, Caterham will likely be the making or the breaking of him in F1.