While Sebastian Vettel stands on the brink of drawing level with some more season records in Abu Dhabi this weekend, the man who led the points coming into this event last year - Fernando Alonso - will be keen to create some new and brighter memories of Yas Marina for himself and his Ferrari team.
Beating the rapid Red Bulls to victory in the 2010 Abu Dhabi race was always going to be a tall order for Alonso, but he hoped that he could still do enough to claim the drivers' crown nevertheless. Those hopes were dashed when the strategies played out in a manner that left the Ferrari trapped behind Vitaly Petrov's Renault in seventh, while Vettel romped to the crown.
Coming a year after Ferrari had failed to even reach the top 10 in Abu Dhabi's inaugural Formula 1 race, it made the track an even more unhappy venue for Italian team.
Yas Marina driver notes
• Sebastian Vettel is unbeaten in Abu Dhabi: he has not only won twice, but dominated to such an extent that he has led for 79 of the 110 laps run here (72 per cent) and never fell below second place at any time during the races. Last year's race marked also the first time Vettel had led the championship... and he has never been deposed since then. He can equal the record tally of 17 podiums in a single season in Abu Dhabi, set by Michael Schumacher in 2002, and he can also equal the famous record of 14 poles set by Nigel Mansell in 1992.
• Mark Webber lost his championship chances in the season finale last year, finishing only eighth, while two years ago he was second to Vettel for a Red Bull one-two Unlike his team-mate, he never led a single lap here.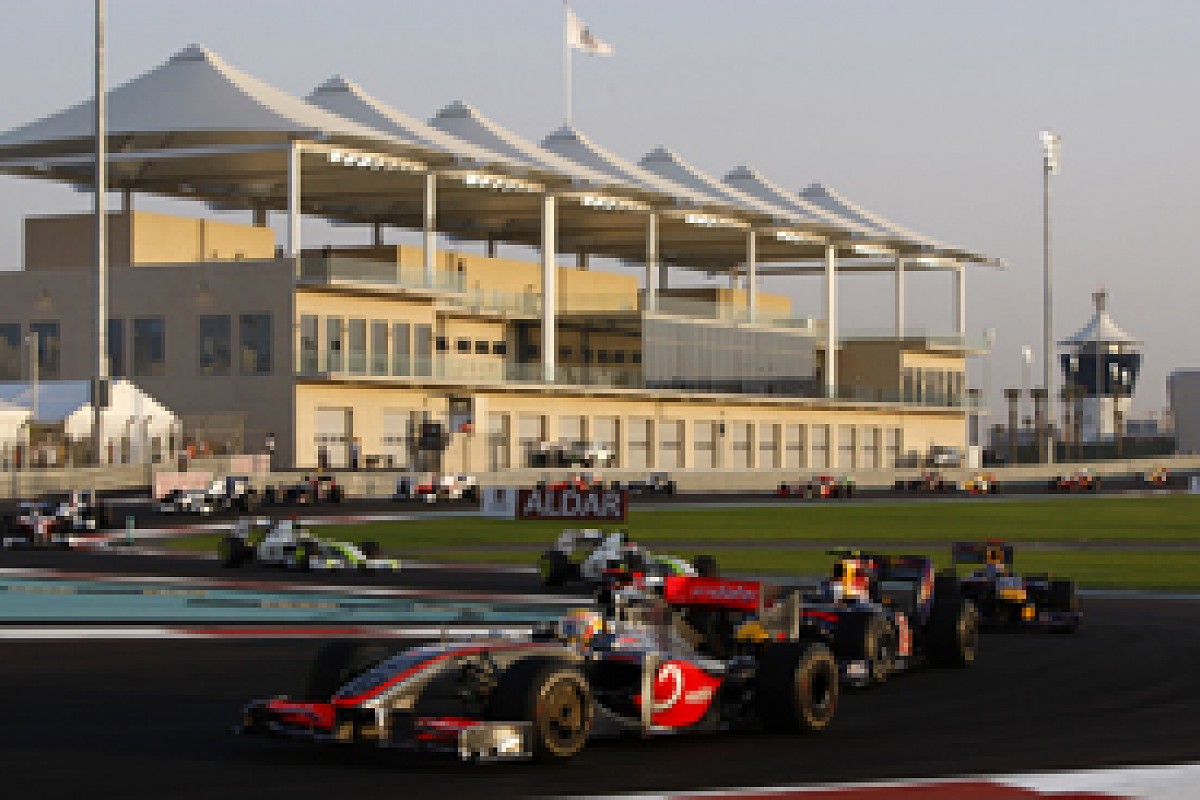 Lewis Hamilton leads the field away in Abu Dhabi in 2009 © LAT
• Lewis Hamilton was on pole two years ago, but in the race he suffered his first F1 career retirement with a mechanical failure. Remarkably Hamilton has suffered only three mechanical failures in his 88 grands prix so far. He finished second last year.
• Jenson Button climbed on the lower step of the podium in both Abu Dhabi races. At present he looks like the best-placed man in the runner-up chase as in the last four races he finished ahead of Webber three times, and in the last seven races he always fared better than Fernando Alonso.
• Yas Marina is a bitter circuit for Alonso: he lost the championship here last year and two years ago he was only 13th. Excluding the Buddh circuit, where he has raced only once, two weeks ago, Abu Dhabi is the only track on the current schedule where Alonso has not been able to finish either first or second in all his career.
• Felipe Massa has the first of two crunch races in Abu Dhabi. He hasn't scored a podium this year, and he has two races to post one, otherwise he will become the first Ferrari driver without a podium in a season since Ivan Capelli back in 1992 (excluding the stand-in drivers Luca Badoer and Giancarlo Fisichella in 2009 and Nicola Larini in 1992).
• One race here, zero laps completed for Michael Schumacher, rammed by Tonio Liuzzi halfway round the opening lap last year.
• Nico Rosberg was twice ninth in qualifying in Abu Dhabi. In 2009 he finished the race in the same place, while last year he was one of the drivers taking advantage of the early pitstop under the safety car and climbed up to fourth at the finish.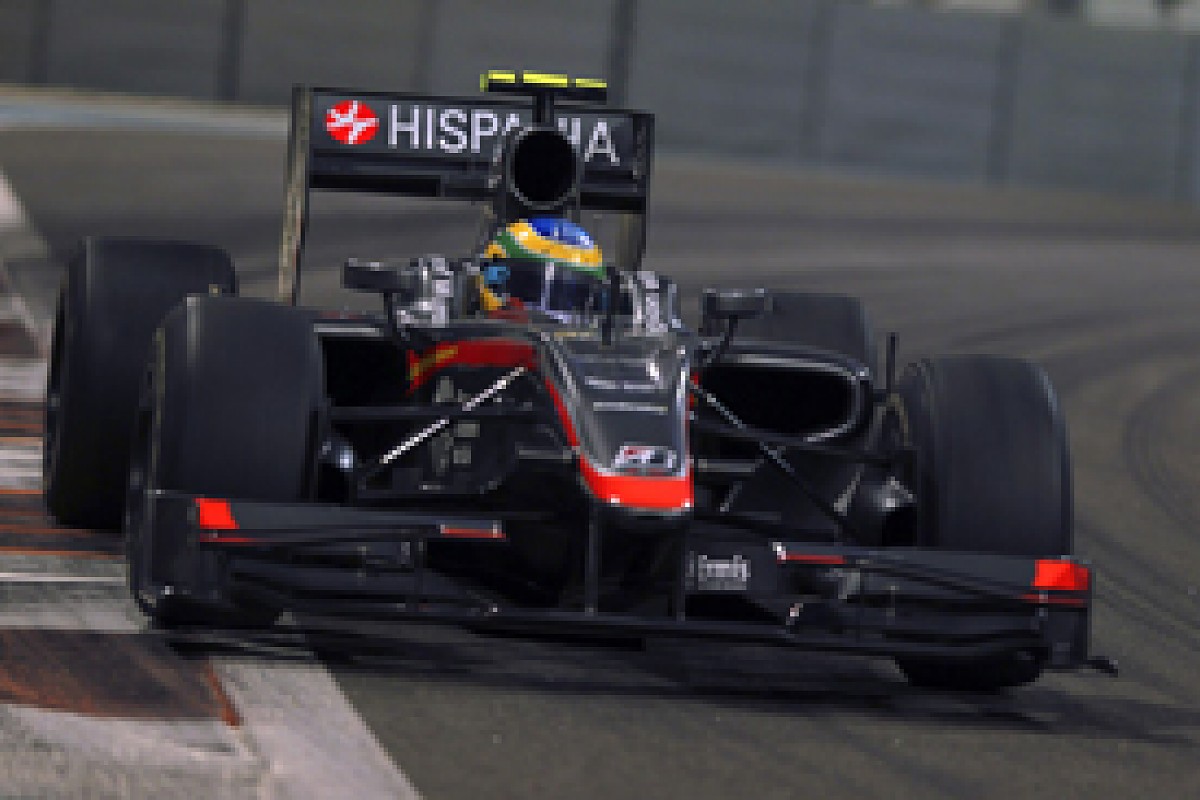 Senna felt Abu Dhabi was one of his strongest performances for HRT in his rookie year © LAT
• Bruno Senna was second-to-last both in qualifying and in the race last year, in both cases in front of his HRT team-mate Christian Klien.
• Vitaly Petrov was a title-deciding factor last year when he pitted early and then was able to keep Alonso at bay for 40 laps, ending the Spaniard's championship chances as he could only finish seventh while rival Vettel won the race.
• An encouraging fact for Rubens Barrichello is that he has always started from the top 10 here. This year he is still looking for his first Q3 appearance.
• Adrian Sutil has never experienced a top-10 finish or a top-10 qualifying spot here. His best results were 13th places on the grid and in the race last year.
• Kamui Kobayashi was sixth two years ago with Toyota from the 12th grid spot, in only his second grand prix. Thanks to different pitstop strategies, he also had chance to overtake over the then-new world champion Button.
• Last year's Abu Dhabi race was one of the four of the season where Sebastien Buemi was able to score points.
• Jaime Alguersuari was able to finish ninth from 17th on the grid last year, but he is remembered for his gaffe in 2009: he stopped for gearbox problems... in the Red Bull pits. He was frantically waved past as the crew were waiting for Vettel and had to rejoin the track, where his gearbox finally seized.
Yas Marina team notes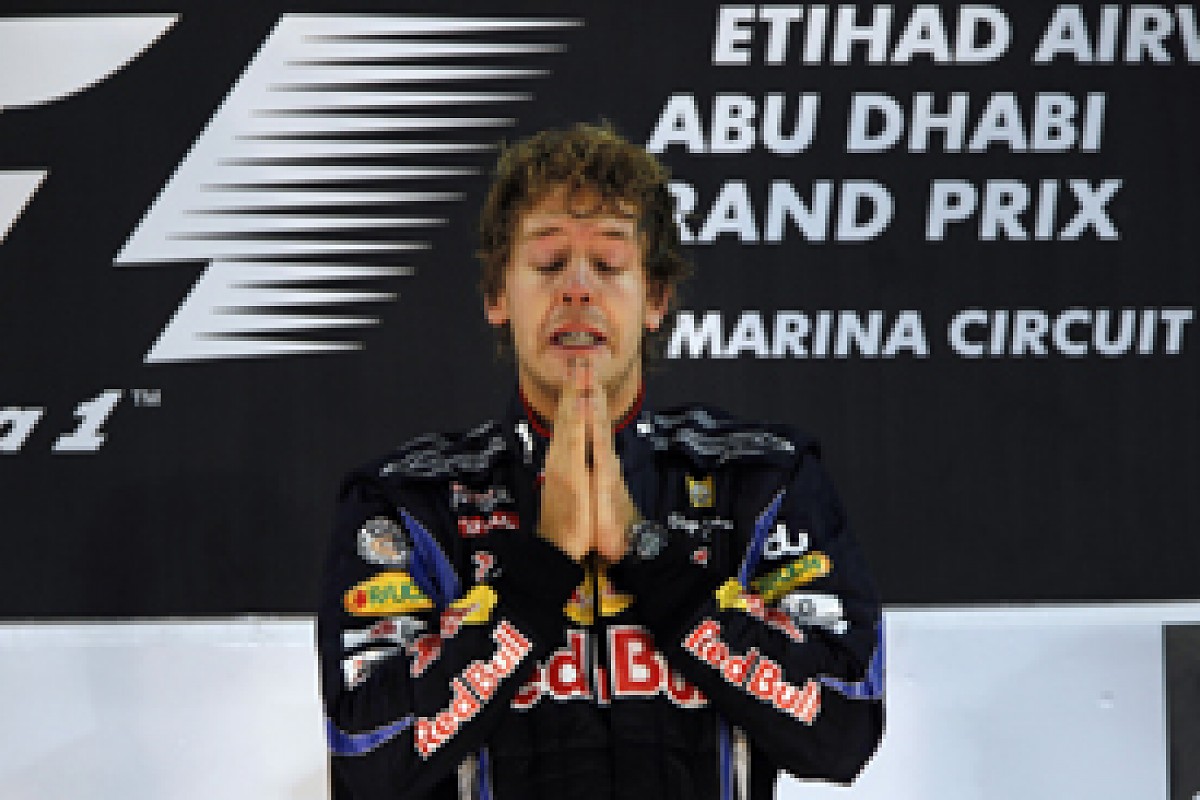 Vettel and Red Bull have been unstoppable in Abu Dhabi so far - and last year that form brought the world championship title © LAT
• Red Bull topped the charts in both Abu Dhabi Grands Prix, missing out only on the fastest lap last year and the pole two years ago, scored in both cases by Hamilton's McLaren.
• Hamilton has carried the McLaren flag in Abu Dhabi: he scored pole in the first edition of the race and finished second to Vettel last year.
• The figures explain why this is a cursed track for Ferrari: it finished only 12th two years ago with Kimi Raikkonen and last year it lost the drivers' title, with Alonso only seventh, having started from the third grid spot.
• On the other hand, fellow Italian squad Toro Rosso could be quite satisfied at its performances here. It was able to score points in both edtitions of the Abu Dhabi race a feat that current main rival Force India has never managed.