After Monaco and Canada it was always going to be tough for the European GP to live up to expectations, but no one could have predicted the total lack of drama that we saw on Sunday.
You have to feel a little sorry for Narain Karthikeyan, who drove his heart out all afternoon, permanently trying to keep out of everyone's way, and crossed the line to see 'P24' still on his pit board. Scant reward for a day's work...

Not only did all the cars finish, but we didn't have a single spin, yellow flag or penalty. The sole on-track incident was Michael Schumacher's nudge on Vitaly Petrov, which also led to the only unscheduled stop made by any driver, and the only real pit stop glitch, involving Felipe Massa, was a minor one.
Given that background we would have needed to see the lead change every other lap for anyone to come away saying it was a truly memorable race. Unfortunately that didn't happen, and despite the presence of the DRS, Valencia maintained its reputation for being one of the least overtaking friendly circuits on the calendar.
There was at least some DRS-inspired passing, a lot of it when cars were on tyres at different stages of their life cycles, but nothing like what we've seen in the recent past. The consensus among drivers was that first DRS zone wasn't long enough, and the second, preceded by a third gear kink, was pretty much a waste of time.
And on top of everything else, there was the anti-climax of the qualifying engine mapping change. Optimists in the paddock hoped to see Red Bull reined in when unable to go full blast - no pun intended - on Saturday afternoon. But while the margin was perhaps smaller than at some events this year, Sebastian Vettel was still at the front.
Having said all that there was still much of interest, and the victory was not as easily earned as Vettel made it look. Fernando Alonso showed that at least one of the Red Bulls was beatable in a straight fight, and his battle with Mark Webber was worth the price of admission for Spanish fans.
Indeed there have been seasons where a race that saw second place change three times - admittedly only once on the track - would have been a highlight.
Karthikeyan, the first driver to finish in 24th © sutton-images.com
It would be unfair to blame Vettel and Red Bull for creating a dull afternoon. Better perhaps to point the finger at McLaren for failing to give its drivers a quick enough package, for had Lewis Hamilton and Jenson Button been able to show the sort of Sunday form we've seen in other recent races, we could have had a fabulous afternoon. At least we had Alonso up there, taking the fight to RBR.
As so often this year Vettel used his pole position to ease into the lead and control the race, going as fast as he needed to while preserving the tyres, and stopping in response to what those behind were doing.
"It was a really fascinating race where it was really between our guys and Fernando," said Christian Horner. "The start for both went well. Fernando was able to stay within the DRS zone of Mark, and the three of them went away.
"You've got that first dilemma of where do you make your first stop, and the easiest thing in the world is not to be able to get it right with both of them. It's very easy to get it right with one, but to get it right with both is very, very difficult.
"Then on the option tyres in the second stint we were going OK, pulling away at the front and just watching how the tyres wear, and so on. Through the next stop was fine, and again Sebastian going that little bit longer and just stopping when he needed to, the most important thing was to drop the guys into clear air at that stage."
Vettel maintained a gap of only a few seconds for much of the race, so wary was he of overdoing it and perhaps triggering a sudden drop-off in tyre performance. What did change was the identity of his pursuer. Alonso passed Webber with a great DRS move on lap 20, only to lose the place when the Aussie switched to fresher rubber a lap earlier. It was just enough to get reverse the order.
"We elected to stop Mark first just after he'd been passed by Fernando," said Horner, "which gave him the undercut to be able to get back ahead.
"In the third stint of the race Mark just started to lose grip, and of course we were exposed to an undercut from Fernando. So Mark confirmed that he wanted to come in, and we decided to box him."
The critical thing was the third and final stop. At the earlier stops it was a no brainer to pit ahead of your immediate rival, and emerge on fresher and faster options. The big question mark was what would happen if you came in first for the switch to the primes. Would the new mediums (in their first race remember) be quicker than worn options for those one or two crucial laps?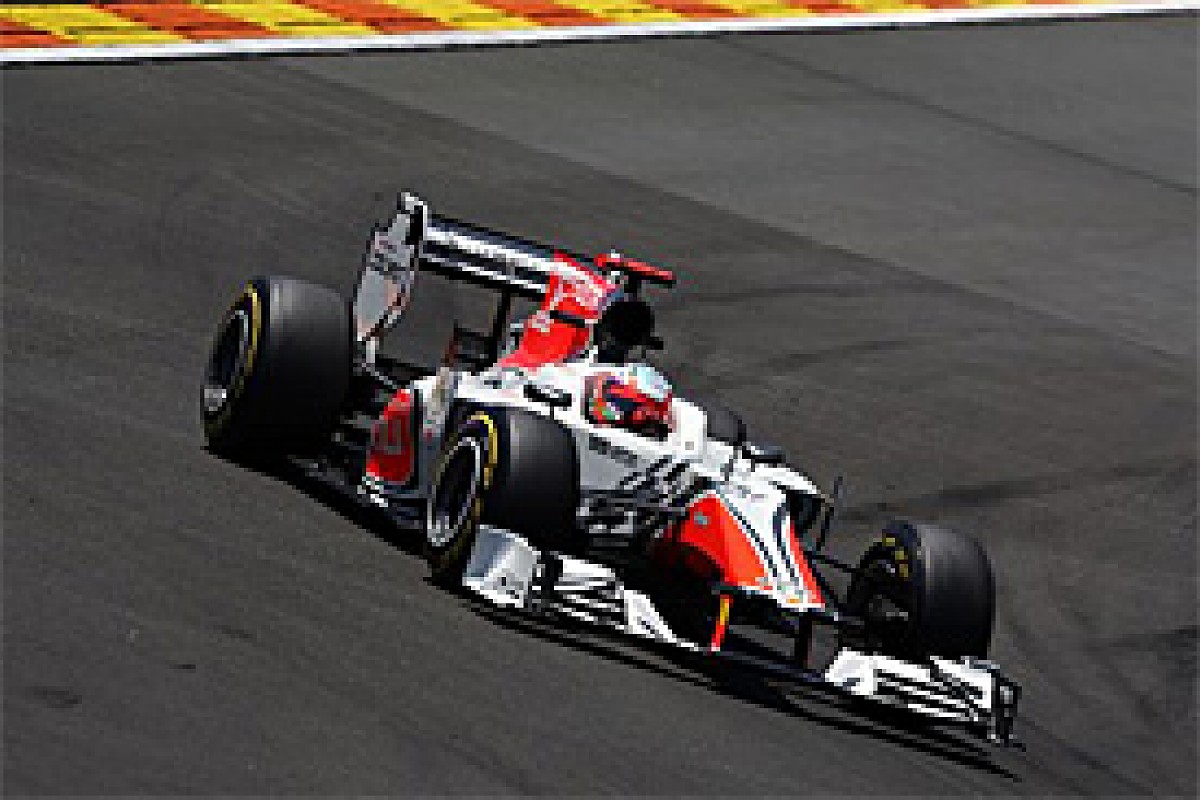 This time it was Alonso chasing Vettel © LAT
As Horner says it was Webber's call to take the gamble and come in, although he made life difficult for himself when he ran a bit wide at the pit entry. Then when he got out on track he had some slower cars to negotiate.
"Unfortunately he lost a little bit of time on the way into the pitlane and picked up a little bit of traffic. And the prime tyre didn't quite have the out lap performance that we were hoping for, it was if anything as good as, but not a step better. That allowed Fernando to sneak ahead."
Intriguingly Webber himself didn't blame the traffic, but said the prime simply wasn't fast enough at the start of its life. It's easy to suggest that Webber and RBR made a bad call, but Horner insists that it was a nothing to lose situation, in that had he stayed out, Alonso would have jumped him.
"The options were finished anyway by that stage, Alonso's were still going OK, so we needed to pit. We had nothing to lose, it was the only chance of beating Fernando."
We'll never know what would have happened if Webber had stuck it out and waited for Alonso to pit, bearing in mind that the Ferrari was not happy on the medium tyre.
That was very much evident in the final stint. With the pitstops behind him done, Vettel switched to the mediums for a short 10-lap run to the flag. With low fuel and tyre he could push as hard as he wanted and have some fun, opening up a gap on Alonso and scaring the pit wall with a fastest lap just four laps from home.
"I think he knew at that point he could abuse the tyres. Suddenly you start to see the timing board go purple, and that's when I start to get nervous. That's when his engineer just reminded him! The key with these tyres is that the operating window is just so narrow that if you fall out of it then you see the tyres go away from you very, very quickly. He seems to have a fantastic ability to gauge where that performance is."
After his last lap disappointment in Montreal, and the frustration of the engine mapping clampdown that he presumably felt was targeted at him, Vettel responded in style.
"He was keen to have a perfect weekend," said Horner. "And I think he's come back and done just that. He's bounced back after Montreal. He never ceases to surprise us. At one point we hadn't told him we'd put the prime tyres on Mark, because we didn't want him to push any harder, and he came on the radio and said, 'What time is Mark doing on the primes?'
"We looked at ourselves and said, 'Who told him?' Of course he was watching the big TV screen as he was going round, and he's got the capacity to take that in. He's always thinking, which is one of his major strengths.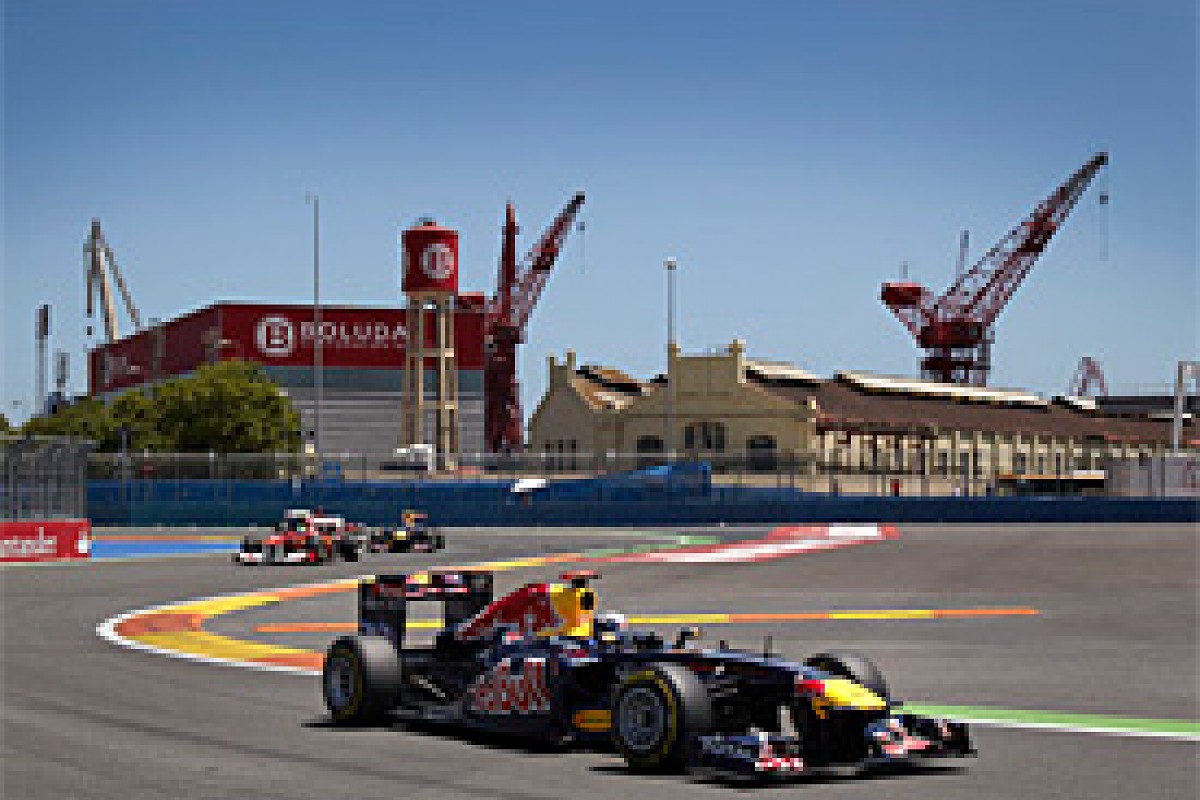 Webber believed he should have been second © sutton-images.com
"None of the races have been walkaways this year, but then you don't need to win the race by a lap. Today we beat Ferrari by 10 seconds and McLaren were another 35 down the road. You've got to go fast enough to win the race with these tyres, you haven't got to lap the field."
The good news for RBR, and not for the opposition, is that the RB7's Achilles Heel has been addressed.
"KERS was trouble-free today, so there was much less talk on the pit wall this afternoon than there has been at other races! I think we've made good progress. I think it's such a complicated technology that there are still issues. We're understanding with every event better and better, and that's two races now, because in the race in Montreal there wasn't an issue either, that it's worked as it should."
There were some technical concerns however, as Webber had to take care of his gearbox in the closing laps, and there was no prospect of an attack on Alonso.
"In the last five laps we just decided that it didn't look possible to pass Fernando that we could see the temperature had crept up on Mark's gearbox, and bearing in mind it was only half way through its cycle we just asked him to look after the gearbox by short shifting in some of the lower gears. It looks as if it was fine, it was just not worth taking a risk in overstressing it."
The final margin to Alonso and his team mate didn't fully reflect a solid performance from Webber. If he can just find a way to qualify ahead of Vettel - or pass him on the first lap as he did last year on occasion - we could yet have some excitement within the RBR camp.
"I hope that he keeps up the momentum that he's built this weekend, because he's made no secret of the fact that he's struggled more on these tyres than Sebastian. But I think he's understanding them better now. You've only got to look at the time difference between the guys during the race, he was never more than 4-5 seconds away for 90% of the race, which is the best that we've seen all year. So hopefully he'll take a lot of confidence out of the weekend."
As noted earlier McLaren let us down last weekend, and it was thus the perfect time for Ferrari and especially Alonso to step up their game. Otherwise it might really have been a dull afternoon. We can be thankful too that he got ahead of Hamilton at the start (OK, not everyone might agree!), and was thus able to take the fight to Webber.
"I think that Fernando's race was really good," said Stefano Domenicali. "It was a great race, pushing lap by lap, a lot of backmarkers in the middle, so that was not really an easy job for anyone, unfortunately also for him too.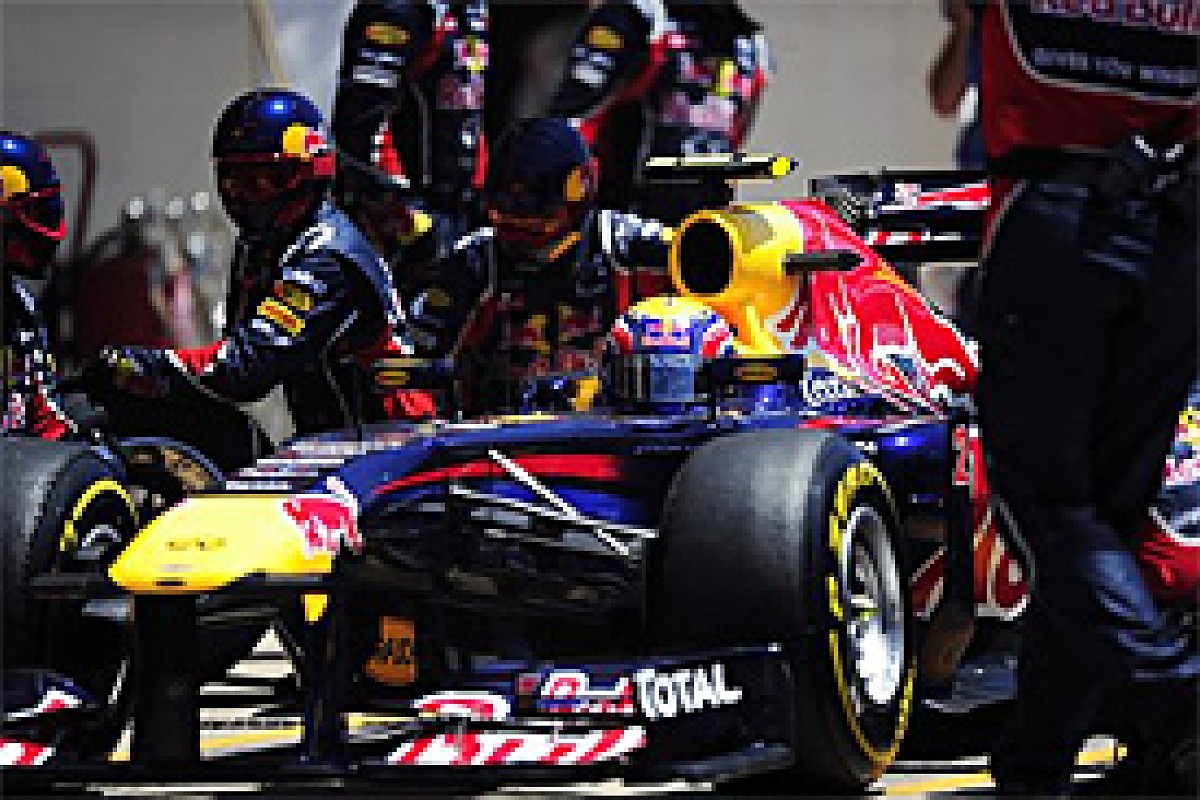 Alonso was very strong all weekend © LAT
"I'm very pleased, because we saw that on race pace we were there. We beat one of the two Red Bulls on the track. The strategy applied was the right one to jump Mark on the track. So really, a positive outcome of the day."
One of the stories of Ferrari's season has been its struggle to get the most out of the harder tyres, which explains why the red cars were so competitive on the supersoft/soft range used in Monaco and Montreal. In Valencia the soft worked fine again, but the team suffered more than most on the mediums, although the gap closed in the race.
"I think it was a little bit better than I expected," said Felipe Massa of the medium's race performance. "We expected to be in a difficult condition with the medium. If you at yesterday in the qualifying, Red Bull improved 2s from the medium to the soft, McLaren improved 1.8s, medium to the soft, and we improved 2.5-2.6s from the medium to the soft.
"So even looking at that we expected to be in a difficult condition today on the medium. I think looking at this difference it was a bit better than what we expected."
Ferrari's form will in theory continue to see-saw with Pirelli's tyre choices, as Massa conceded: "I'm optimistic with the new parts we're bringing to Silverstone, but I'm not so optimistic with which tyres we're going to have there, because I heard maybe we're going to have medium and hard. If we have medium and hard, it can be a problem for us. Not just for us, but most of the teams, maybe taking away Red Bull or maybe even McLaren."
Outside the top three, not too many people left Valencia very happy. Hamilton said before the race that he wanted to hold onto his grid position, but he failed to do so. Massa was unable to match his team mate, and nor was Jenson Button. And Nico Rosberg had to be content once again with being best of the rest.
But one guy who most definitely was happy was Jaime Alguersuari, who went from 18th on the grid to eighth at the flag on a day when most drivers finished one or two places from where they started. And he did that by running a two-stop strategy when all of those who finished ahead and most of those who finished behind ran three stops, shadowing each other in and out of the pits like a bunch of lemmings.
Certainly a few drivers and engineers were left scratching their heads and wondering how Toro Rosso did it. The bottom line - and not for the first time this year - was that Alguersuari was able to use brand new tyres all the way through, because he didn't make it out of Q1. An ultra long and consistently fast middle stint made all the difference.
Clearly when running options from qualifying on Sunday it's not just a simple question of subtracting three laps from their useful life, as the equation is a bit more complicated than that. Expect to see even more tyre saving going on in future races...