With every passing year, Valencia's once-lofty aspiration to become a second Monaco Grand Prix in Europe becomes that bit more laughable. So it has a harbour with a few boats moored in it (with the emphasis on a few) but that does little to offset the fact that it is a charmless, scruffy venue that does little credit to the city.
While it's unfair to say that F1 isn't happy to be here, it's safe to say that Valencia has established itself as one of the least popular grand prix venues with teams, drivers and fans alike.
Fortunately, despite its streak of producing relatively mundane races since it first joined the calendar in 2008, with only the tense, but far from explosive, scrap for victory between Rubens Barrichello and Lewis Hamilton two years ago, there are reasons to be more upbeat this year.
With two cracks of the DRS whip available on Sunday, there is every reason to expect tradition to be dispensed with and passing to be a feature of Sunday's grand prix. It's going to be dusty offline, so it's going to be tough to make a move stick under braking, but Valencia must no longer be considered a safe bet for a procession.
For all of the negatives, there is one overwhelming positive to Spain's second F1 race. It's a reminder of the sport's tremendous growth in a country, not to mention the fact that for F1 to take a firm hold in emerging markets, it needs the odd home hero. Ten years ago, this was bike racing country, but that has all been changed by a man named Fernando Alonso.
The home hero has had little good fortune at this track, with a sixth place in 2009 his best showing. But there's no question that were it not for him, Spain wouldn't have got anywhere near having a second grand prix.
"When I was a kid, Formula 1 was not important at all, or was not a sport we followed," said Alonso. "I never saw a race on TV in my life until I was 17 or 18. We didn't know any of the names that were racing. Now it's quite popular in Spain."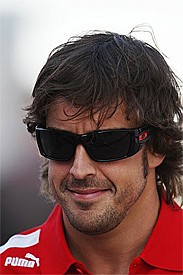 Fernando Alonso © sutton-images.com
But while Alonso played down the role he has played in all of this, Mark Webber chipped in to point out just how much that "he is being modest because he changed the sport in this country."
Talking of changing the sport, the big question on everyone's lips in the paddock today is whether the imminent rule changes will make any difference to the competitive order. There are two changes to consider. Firstly, the ban on changes to the engine map between qualifying and the race, which Nick Heidfeld has flagged up some unwanted consequences of; Secondly, the restrictions on the off-throttle blowing of the diffuser that will kick in at Silverstone and that Mark Webber says don't worry him.
Ranged against that, you have Rubens Barrichello. His Williams team has barely scratched the surface of the potential of such technology, and he hopes that it will allow those in the midfield to close up to the front.
If only there were some kind of sporting contest to allow this claims and counter claims to be tested? Whatever happens, there's no way that it's going to help those who are using the technology. But those betting the farm on it stopping Red Bull's qualifying dominance could find themselves in for a rude awakening...
Thursdays also give the massed ranks of the media the chance to quiz drivers and teams on the goings on since the last race. One such question was put to Michael Schumacher by AUTOSPORT, relating to doubts raised by his old team-mate Eddie Irvine over his once stellar talent.
Predictably, Schumacher did not rise to the bait, although he was doubtless delighted to hear another of his old rivals taking pot shots from the sidelines!