Webber's moment
Sebastian Vettel's KERS problem played a part in Mark Webber taking his first pole position of the year, but considering the problems that the Australian has had with it himself this year, he can't be blamed for having a little good fortune. Webber won here last year from pole, leading every lap, so the stage is set for a repeat of last year's victory, which laid the foundation stone for his title challenge.
So what can go wrong? Well, Webber's record when leading from the front is good, so his main rivals are unreliability and Vettel himself. On race pace, both look like they will be evenly matched, so it will come down to three key points. Firstly, can Webber get away cleanly? Secondly, will Vettel try an alternative tyre strategy to in an attempt to get ahead. Thirdly, if Vettel is a close second, will he attempt a DRS-assisted move on the start finish straight?
Hard question
Pirelli has introduced a new hard compound tyre for this weekend, designed to be more durable than its predecessor. As a consequence of that, that disparity between the soft option compound and the prime in qualifying conditions was just over two seconds. This pattern will not hold true on longer runs, but once the initial edge has been taken off, the degradation means that the normal laptime during a stint on hards is still only halved.
So whereas in previous races the laptime difference was in the region of half-a-second per lap, this time it's likely to be around the one-second mark in tomorrow's race. That means that a 10-lap stint on hard rubber is going to cost you the thick end of a normal pitstop time. Most reckon that Sunday's race will be a three or four pitstop affair (with most starting out with the four-stopper as Plan B), so the question is, when do you run the hards?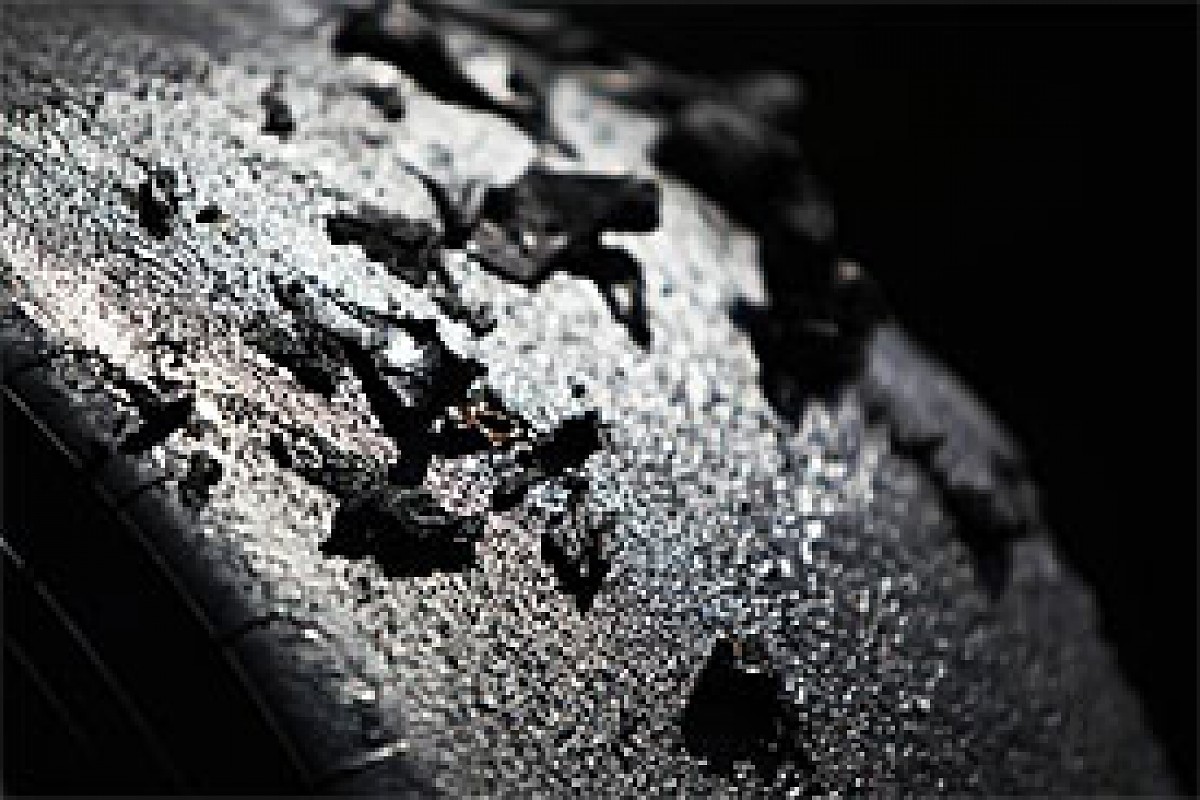 The new hard compound makes its race debut on Sunday © sutton-images.com
Traditionally, drivers liked to use the slower tyre for a longer stint at the end of the race during the Bridgestone era, but in the DRS era, that could leave them very vulnerable to those finishing on options. Whatever you do, you're going to take a hit. And if you get lucky, and hit a safety car period that mitigates your losses on the slower rubber, you could be quids in.
Strategically, this also means that teams would prefer a three-stopper if possible, allowing them to use three sets of option and only one hard. That sounds good, but once the option rubber degrades beyond the 'tipping point', you will once again be shipping time.
Protest potential
FIA technical delegate Charlie Whiting described a protest against teams running so-called hot-blowing diffusers as unlikely, but not out of the question yesterday. But the fact remains that there many who believe such a system is in contravention of several regulations.
Given that there's a good chance that the hot-blowing diffusers (i.e. systems that continue to blow the diffuser with hot exhaust gases on overrun) will be outlawed a few races down the line, most might choose not to rock the boat, but in a political minefield like the F1 paddock it is not out the question.
So who would it be? It would most likely come from the back of the grid, with the likes of Virgin and HRT reckoning their systems to be legal. Vastly more likely is that nothing will happen, but never rule anything out in Formula 1.
Schumacher revival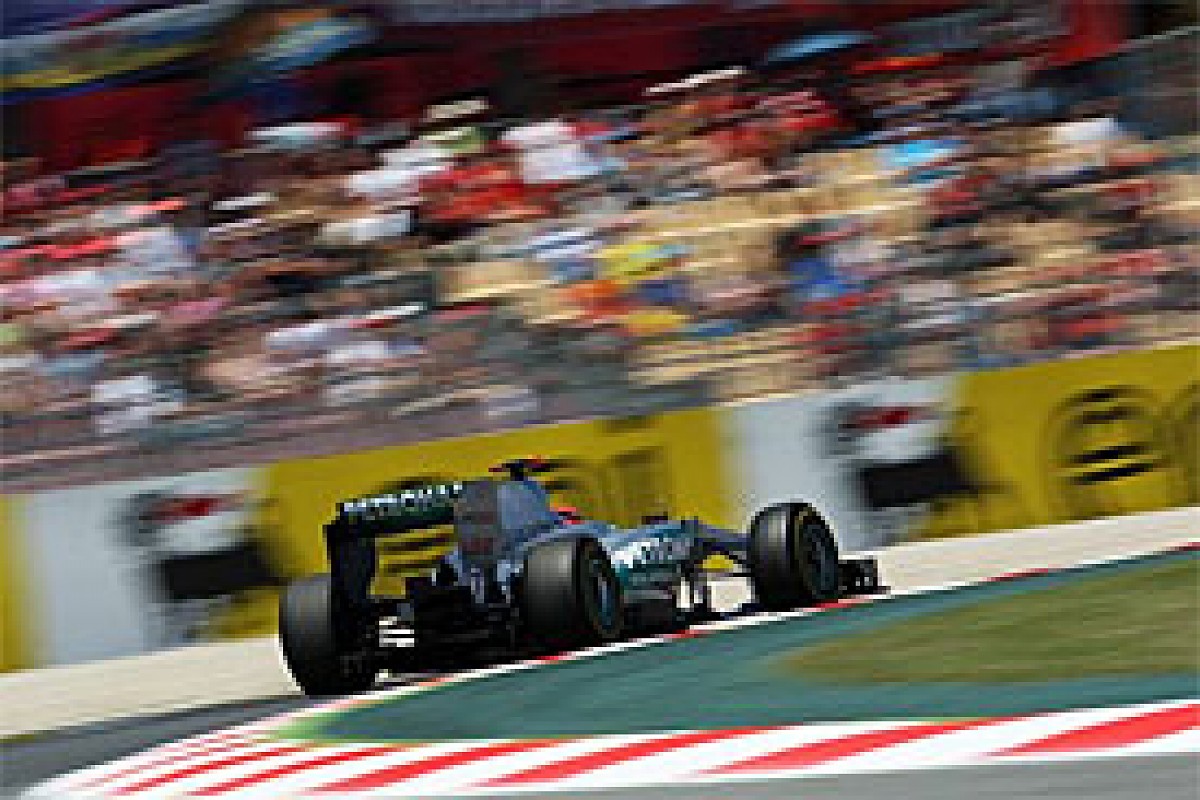 Michael Schumacher, Mercedes © sutton-images.com
Once again, Michael Schumacher's qualifying position is unflattering on paper. However, the seven-times world champion has been on good form this weekend at a track where he got his comeback on something approximating the right track last year with fourth place.
He is the only driver in the top 10 who can start on the harder prime tyre, which could put him out of sync strategically compared to the other top teams.
Running on hards early on could expose his frailty in a wheel-to-wheel fight, but if he can get through that, it could put him in a position to cash in later in the race when others around him are on the slower hards.
Having lost KERS ahead of Q3, he only went on track on the hard rubber during Q3 in case he felt he could pick up a few places from those on the same tyre (but there are none of those), perhaps he can turn a disadvantage into a trump card? First generation-specification Schumacher certainly would have...
There's a Williams in the top 10...
...but it's not who you think. While team-mate Rubens Barrichello's Saturday afternoon was ruined by a gearbox problem, rookie team-mate Pastor Maldonado made it into Q3. And relatively comfortably, as well, with Williams showing hitherto unseen qualifying speed. Although Maldonado's cause was helped by Nick Heidfeld not running following his FP3 fire, and Barrichello's problems, he would still have been within reach of the top 10.
The big challenge will come in tomorrow's race, with the likes of Scuderia Toro Rosso and Sauber all set for a battle for the last point or two. Watch out for Barrichello joining that fight as well. Although he is 19th on the grid, he has five brand new sets of tyres (three of them option rubber) to play with and the experienced to make the most of them.