Roaming the paddock after the Chinese Grand Prix, it was hard to find anyone who hadn't enjoyed the race, although the folk at Ferrari were looking a little downbeat. But just as in Malaysia, everywhere else people were bubbling about what they just witnessed.
Both Charlie Whiting and Martin Brundle agreed that it was one of the best all-dry races they'd seen in years. Martin is thoroughly enjoying his new partnership with David Coulthard in the BBC commentary box, and the timing could not have been better in terms of the show they now have to talk about.
He may be an impartial official but Whiting is a racer at heart, and he had enjoyed the day as much as anyone. He could also take some pride in the fact that the 2011 F1 package is doing what it was supposed to do - he played a key role in putting it together.
Just three races into the season Lewis Hamilton and McLaren had found a way to unseat the seemingly unstoppable Sebastian Vettel. And while in the end it was pretty close - and Seb did after all go home with 18 points - China suggests that there will be plenty of opportunities for Red Bull to not quite get things right on Sunday, despite having the fastest car on Saturday.

So how did McLaren do it? Although ultimately it wouldn't play a particularly important role in the race, Hamilton showed some forward thinking in qualifying. Last week I emphasised how he had gone into the Malaysian GP with just five sets of serviceable tyres, all of which he ended up using. After that wake-up call, he clearly doesn't want to be caught out again.
Alone of the top drivers who made it to Q3 with two soft sets of tyres to spare, Hamilton was able to save a set simply by waiting in the garage when Sebastian Vettel and Jenson Button did their first runs. He thus went out for his single attempt with just a little bit less track and balance information than they had, and that may well have cost him second place to his team-mate, so slender was the margin between them.


Hamilton saved a set of soft tyres for Sunday © LAT
Vettel and Button both used up their final sets as they had to go out by way of response, and while both aborted and did not finish their flying laps, those sets were definitely given some use. By keeping a brand new set, Hamilton gave himself maximum flexibility for Sunday.
"We knew that having new tyres, as in any race, was going to be a benefit," says McLaren's principal race engineer Phil Prew. "You start qualifying with three new sets of options and three new sets of prime, and they have to last until the end of the race. It's just how we chose to manage them.
"It's a trade that we're going to have to be making all the way through the year. Whether it's the right trade... I'm sure he'll say it was perfect this time! Another race, maybe not. We have to spend them carefully, the tyres wear out, and we have to look after them."
If Hamilton was feeling confident thanks to that ace up his sleeve, he was to get a fright before the start when the car failed to fire in the garage. It took a mega effort from the crew to get him to the end of the pitlane just seconds before the red light that would have forced him to start the race from the pits. The repair job was finished on the grid, after Lewis drove around with the rear part of his engine cover missing.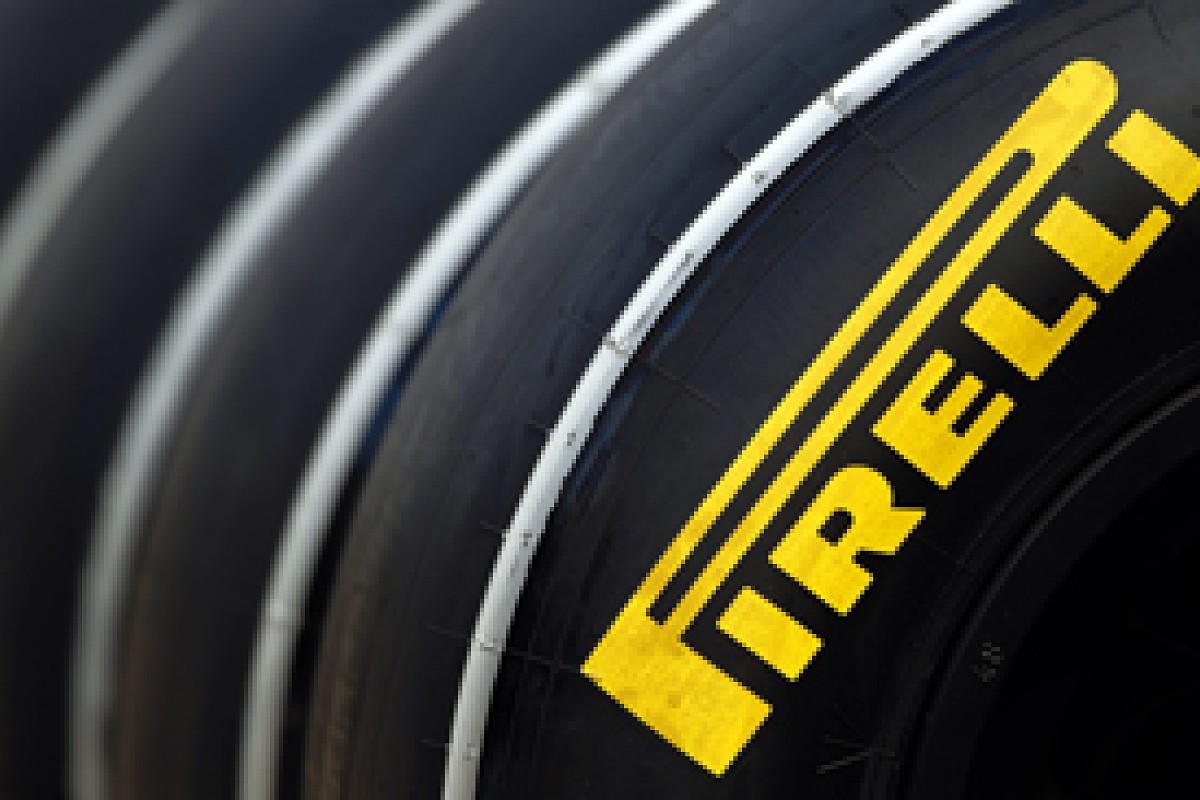 McLaren avoided starting with minutes to spare © LAT
"It's very easy to panic in those situations," says Martin Whitmarsh. "The cars are complicated, and to get into a car like that to repair it, was a fantastic team effort.
"The car started four or five minutes previously no problem, when we went to start to pull out of the garage, it wouldn't, and it became flooded. And once it's flooded, you can't do anything, you just can't start the car. The more you turn it over, the more you're pouring fuel in to something that's not firing and not consuming it, so the tray was full of fuel, and we had to get in there and get the fuel out, and when you've got only a few minutes it's very easy not to get that done.
"Once we were established that we were taking the car apart, you have to be worried. We got out with seconds to spare, and it was very easy not to have done so, and therefore started from the pitlane. It was not the only worrying moment of the afternoon..."
Things were to get better, and very quickly, for both Hamilton and McLaren. Having failed to take advantage of the KERS-less RB7s in Australia, both drivers charged past Vettel to guarantee that we had a real race on our hands. But there was no time to enjoy the moment.
"There was an awful lot going on," admits Prew. "And a great deal was changing through the race, depending on tyre choice and how the different cars used their tyres and how the drivers used the tyres as well.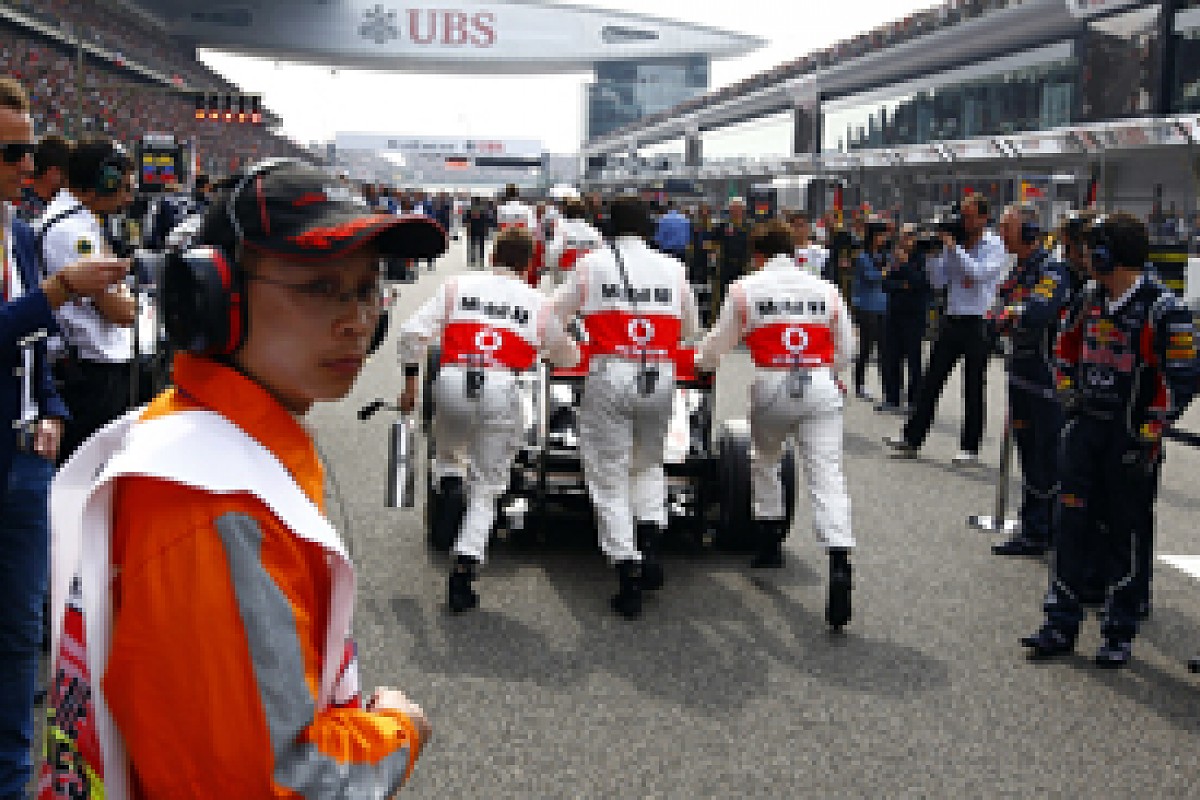 Hamilton managed his tyres throughout the race © LAT
"We were working out how the tyres were going to behave, and how long they were going to last, once we'd established that, once the drivers were giving us feedback about tyre performance, that dictated very much our strategy, and that's when we adopted the three-stop.
"We went into the race truly not knowing what we were going to do. If the tyres had kept going, then the two-stop might well have been the fastest strategy. But for us we made the decision that it wasn't, and we adopted the three-stop."
Basically it was tyre performance that dictated the McLaren strategy, and pointed the team towards three stops. While Prew says the plans were fluid, Whitmarsh insists that the Plan A was for two: "Overall we went into it with a clear two-stop intention, which I think a lot of people did. We adapted to three stops just in time, because we could see tyre degradation was going to be significant, we didn't think we could safely do two stops, just looking at what other cars were doing."
Then a slightly bizarre thing happened. Somehow Button failed to get the message and went sailing past the pits at the end of lap 13, instead of coming in. And by bizarre co-incidence, radio problems meant that Vettel - himself due in on lap 13 - also failed to show up in the pitlane. As everyone saw, when Button did come he tried to stop at RBR, distracted he said later because he was looking at his dash.
"It's difficult to understand what these guys are going through when they come into a pit stop," says Prew. "Jenson will be as upset as anybody to have made that error, and certainly it would have hurt his race."
It had a knock-on effect for Hamilton. He was supposed to come in on lap 14, but because Button had to take his slot, Lewis had to wait for one more lap.
"Jenson was called in the pit, the crew came out as you saw, he went past, and we were a bit surprised!," says Whitmarsh. "So we waited, and he came in the following lap, and that was the lap we would have stopped Lewis on. And then he stopped at Red Bull, and probably surprised them a little bit!"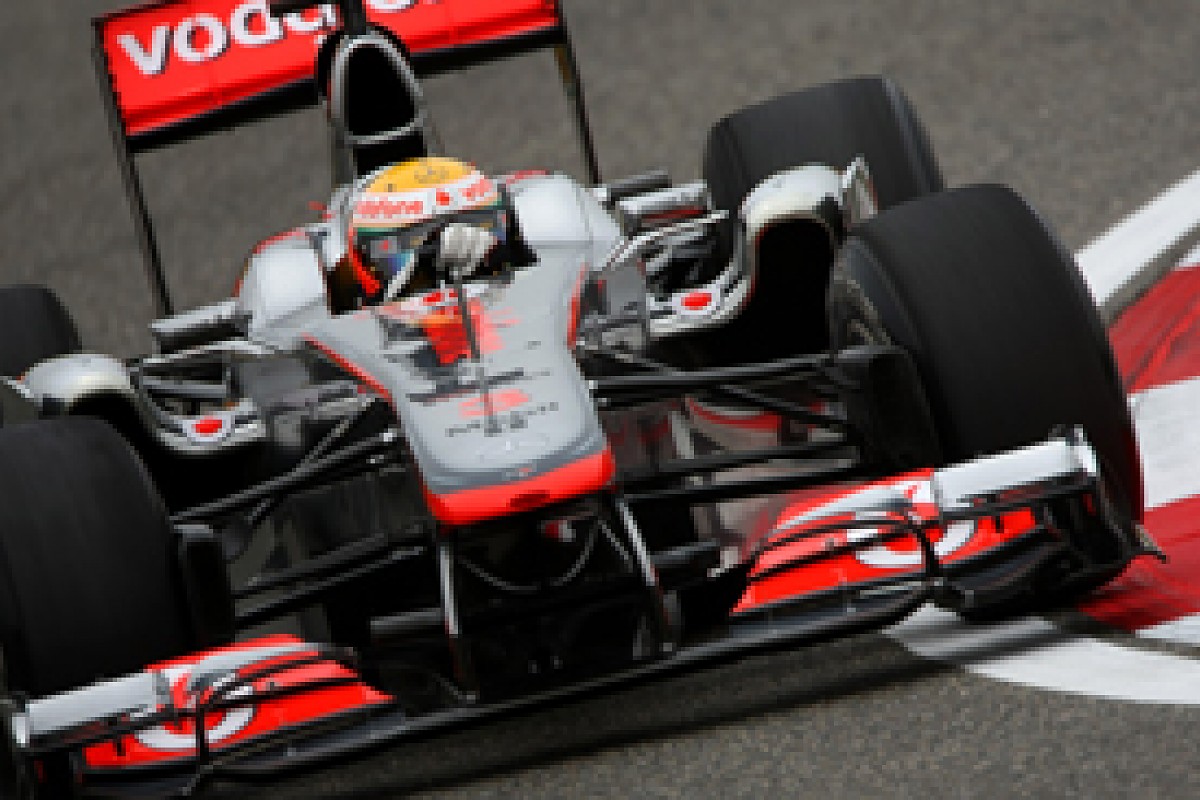 Button accidentally driving into Red Bull Racing's pitlane © LAT
It proved to be a double whammy for the team. Driving through the RBR pits cost Jenson precious time, and allowed Vettel to jump him. But pushing Hamilton's stop back a lap was just as damaging, because it was a lap too far for the set of tyres that Lewis had worked so hard in qualifying.
The performance fell over the edge, and he was passed by Felipe Massa. After the stops he was also behind Rosberg and Vettel, as well as the yet-to-stop Alonso and Petrov. Like Lewis, Jenson also lost a little lap time by taking his tyres further than they were intended to go.
"The tyres do drop off, they do degrade, and then it's difficult to maintain lap time," says Prew. "That's what we manage throughout the race. We probably took that first set to the limit."
"It cost Jenson position and it cost him time," says Whitmarsh of the pit mishap. "Within the stop itself it cost over 2secs and it cost a position, the fact that he stopped a lap later than he should have done as well cost him time, and it cost Lewis time and it cost Lewis track position as well, in that last lap was when Massa got by and he should have stopped by then.
"It was pretty calamitous, simple way of looking at it, we were first and second and we were whatever fifth and sixth [actually seventh] after the first stops, so at that point we knew we had to do something different. That partly prompted the view that we had to change strategy. In the end, that would be the right way to go."
That decision was not confirmed until after the first stops played out. In fact Hamilton had taken on his 'magic' new set for the simple reason that the team anticipated a long second stint and two stops. New tyres last longer; it's as simple as that.
"It's really about life," says Prew. "He had the opportunity to take an extra couple of laps, as it was the strategy didn't make full use of those tyres at this race, but if we'd adopted a two-stop, it would have been different. It gave us more options in the race, which is what we needed. As I said, we didn't know what we wanted to do."
"We were still at stage thinking of a two-stop strategy," confirms Whitmarsh. "And part way into that second stint we decided to change, and I think that was an important decision, and it was the right decision, decisive in winning."
That decision did however mean that Lewis didn't get full use out of his 'magic' tyre set, simply because he didn't need to use their longevity after all.
"As it turned out, it wasn't as crucial here," Whitmarsh agrees. "I think it was the right thing to do, but in fact he used that set on the second stint, and in a sense we didn't fully exploit them, because at that point we were changing strategy from two to three, so it was the shortest stint - so his best tyres were used for the shortest stint. So we didn't really properly exploit them given that we changed our strategy."
Next time, however, he might just have the chance to reap the benefit.
Button came in on lap 24 and Hamilton on lap 25, both men having run just 10 laps on their second sets of tyres. Meanwhile RBR had responded to the stops for Jenson and Lewis by leaving Vettel out on a two-stopper, on the basis that the team felt a) doing something different was the way to beat McLaren and b) the RB7's tyre wear is much improved since Australia, and Seb could deal with long stints on his second and third sets.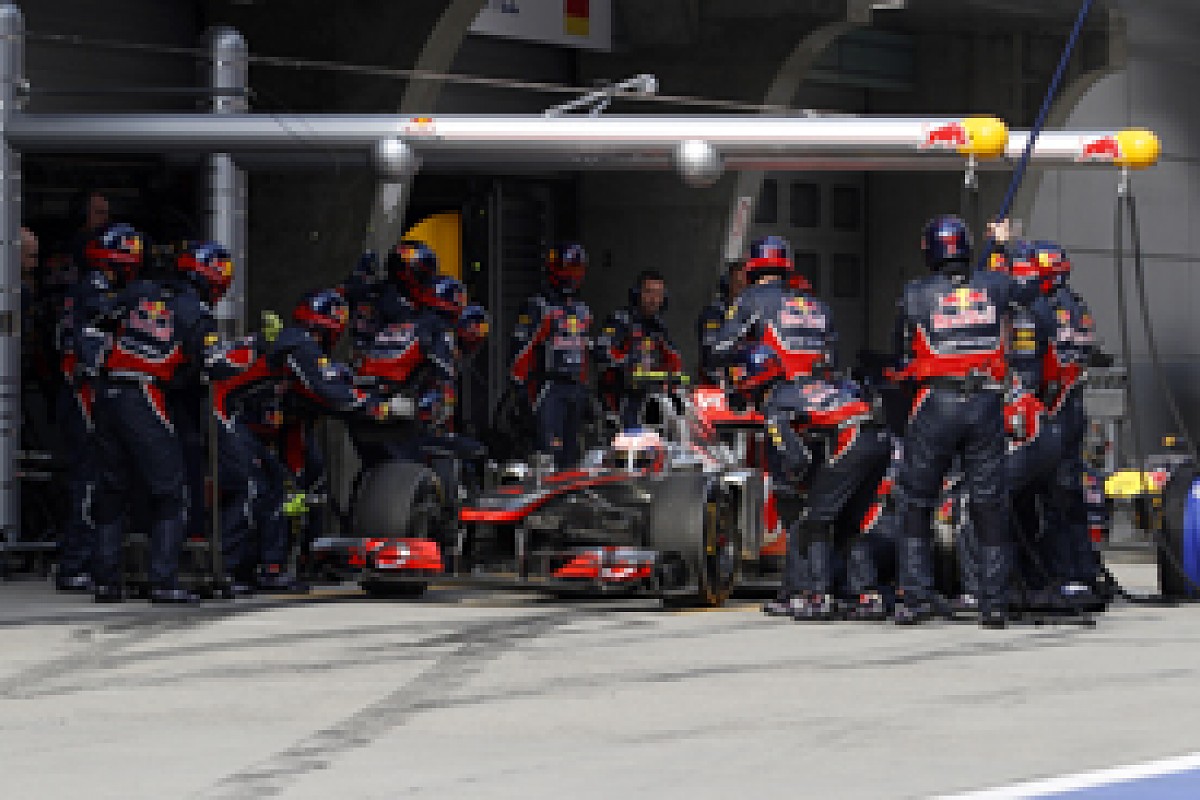 Button and Hamilton had a brief battle during the race © LAT
When Vettel didn't pit in response, McLaren knew straight away that he was on a two-stop, and the true picture of the race emerged. Button and Hamilton had to make full use of their shorter stints, go as hard as possible, and pass anyone they came up against as soon as they could.
And it was during that third stint that the McLaren boys had their own little fight, Lewis getting through on lap 34 - without any DRS help of course - in a decisive move at Turn One. He relied on his team-mate leaving him space, however.
"I don't enjoy those moments, personally," Whitmarsh admits. "But it's very clear that's how we run our team. Jenson was pretty robust as well. He certainly wasn't trying to let him by. I'm always relieved when the two cars separate in one piece after such manoeuvres, but it was good, I'm sure it was great for TV, and if anyone needed to be convinced that our drivers are racing each other, then they got that."
Getting past Button was a crucial move, much like Vettel's pass on Jenson in Australia. Although Lewis was now in front, Jenson still had the first pit stop, because now the advantage was to stop later rather than earlier. They came in on laps 37 and 38 respectively, both having done 13 laps on those tyres.
They were now on the hards for the run to the flag. Jenson had to run 18 laps, and Lewis 17. Having pitted on lap 31, Vettel had to make his tyres last for 25 laps, and that of course was where the race was won and lost.
On his first flying lap after that stop, Hamilton was 5.8s behind Vettel. But Rosberg and Massa were in between, so it was far from clear cut that he would be able to catch and attack Vettel. But this is the sort of thing Lewis was born to do. He was soon past the Mercedes, hampered by having to run in fuel conservation mode, and by lap 44 he took Massa's Ferrari too.
With 12 laps to go, he was 4.6secs behind Vettel. It certainly looked like he could do it, but the chase proved even easier than anyone expected. As Vettel's tyres approached the end of their useful life, he was powerless to stop the McLaren, and DRS played no role in the pass. For the last five laps, Hamilton was at the head of the field. It was a truly impressive performance.
"It was a guy who had to keep calm when his car was in bits, pulling out of the garage with seconds to go," says Whitmarsh. "A guy who then had to make a great start, a guy who then had to recover from leading the race to being fifth or sixth after the first stop. I think you've got to keep calm, and you've got to look after your tyres. He had to be aggressive, but still make his tyres last, and when you're attacking other cars and looking after delicate tyres, that's a real challenge.
"So I think a fantastic drive. In the end he knew he had to attack to get past the cars that were in front, from Rosberg to Massa to Vettel, and none of them were going to make it easy for him, so it was a great drive."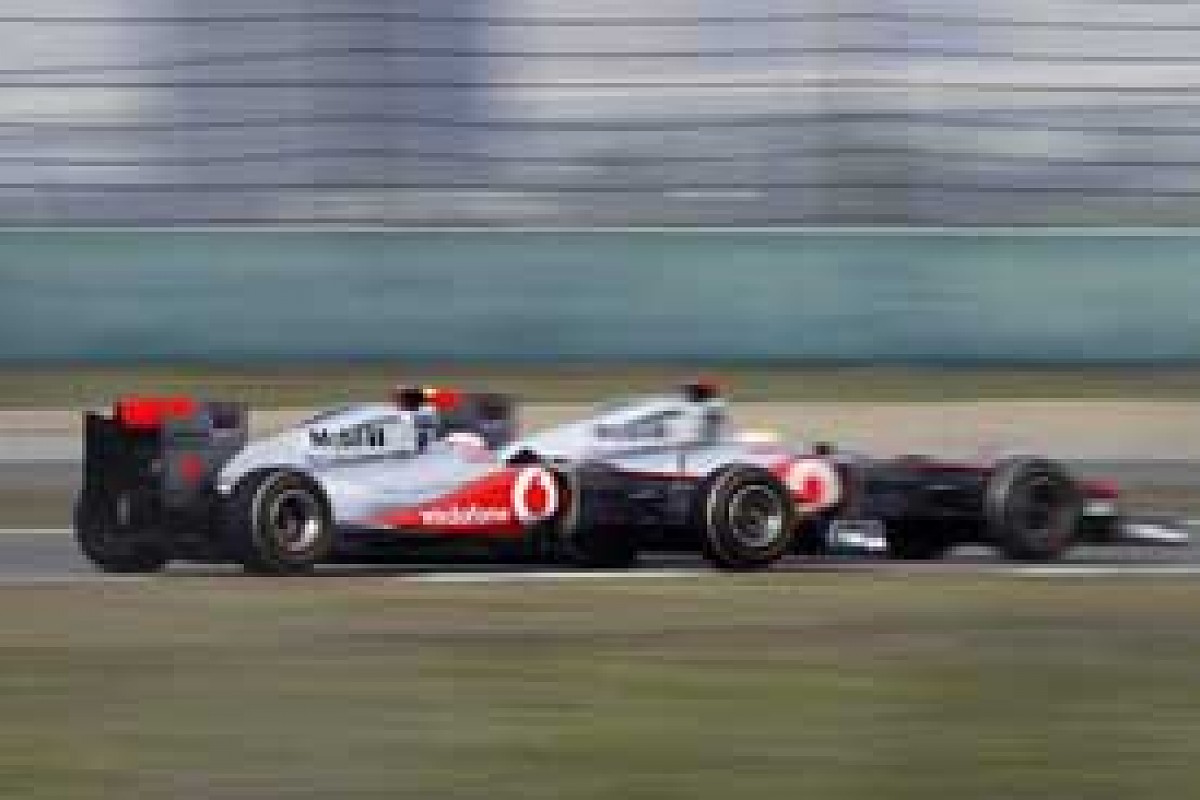 Webber battled through the field to finish third in the race © LAT
Struggling more than Hamilton with his rear tyres in the closing laps, Button got by Massa and Rosberg, but then himself fell prey to the flying Webber, and had to settle for fourth.
It raised questions about the assumption that Jenson does a better job than Lewis at preserving tyres, but the story is much more complicated than that.
"I'm not quite sure what changed in Jenson's race," says Prew. "He had a strong race, just very disappointing to lose out right at the end there to Webber. Webber went into the race with three new sets of options, and showed you what could be done there. Certainly with a fast car out of position, that made more sense.
"The balance on the two tyres is a little bit different, and they were making adjustments to the car all the way through the race. Maybe we didn't get that quite right for Jenson, and the situation improved with Lewis or he found some performance."
Whitmarsh concurs that it's hard to get everything just so: "With these tyres you're using some fresh tyres, you're using some used tyres, and you've got to try and second guess where the balance is going. You can see in the last race he got onto those prime tyres, ran them on a very difficult circuit, and was fantastic.
"On each stop you're changing the front wing and anticipating the balance that you're going to have, it depends where the pressures come in, the temperatures come in. These tyres are very sensitive to the way they've been used, the number of thermal cycles, the amount of use.
"Sometimes you make a good judgement and get it right, other times you get it wrong, and I think if you do, you're really going to struggle for a whole stint on that set of tyres."
It all sounds pretty straightforward in hindsight, but the fact is that while the team made the right calls, Hamilton still had to get the job done. It's not as easy as it looks.
"It's one thing knowing or believing you've got the right strategy," says Whitmarsh. "It's another thing doing the overtaking that's necessary to make that strategy work. At the moment I've got to say that both drivers had some great overtaking, of each other, and other cars during the afternoon. They really contributed to a fantastic result for Lewis and a solid result for Jenson."