PRACTICE
Practice one
Everyone was chasing Vettel on Friday © LAT
A change of venue brought no change in the status quo as Sebastian Vettel's Red Bull was comfortably fastest in the opening practice session in China. In fact, if you went by the times alone, his advantage appeared to have increased as the world champion was more than 2s faster than anyone not driving an RB7. But you shouldn't just go by the times...
Mark Webber was second fastest in the sister drinks company mobile ahead of the two McLarens of Lewis Hamilton and Jenson Button.
Nick Heidfeld was fifth fastest, but the German had a particularly torrid time in the smoggy Shanghai conditions, admitting later that the damage he did to the front of his Renault when he ran over the kerbs and into a wall was entirely his own fault.
The track was dirty though and times were some six seconds off what they would diminish to, so little information was gained about degradation rates or even proper pace.
Practice two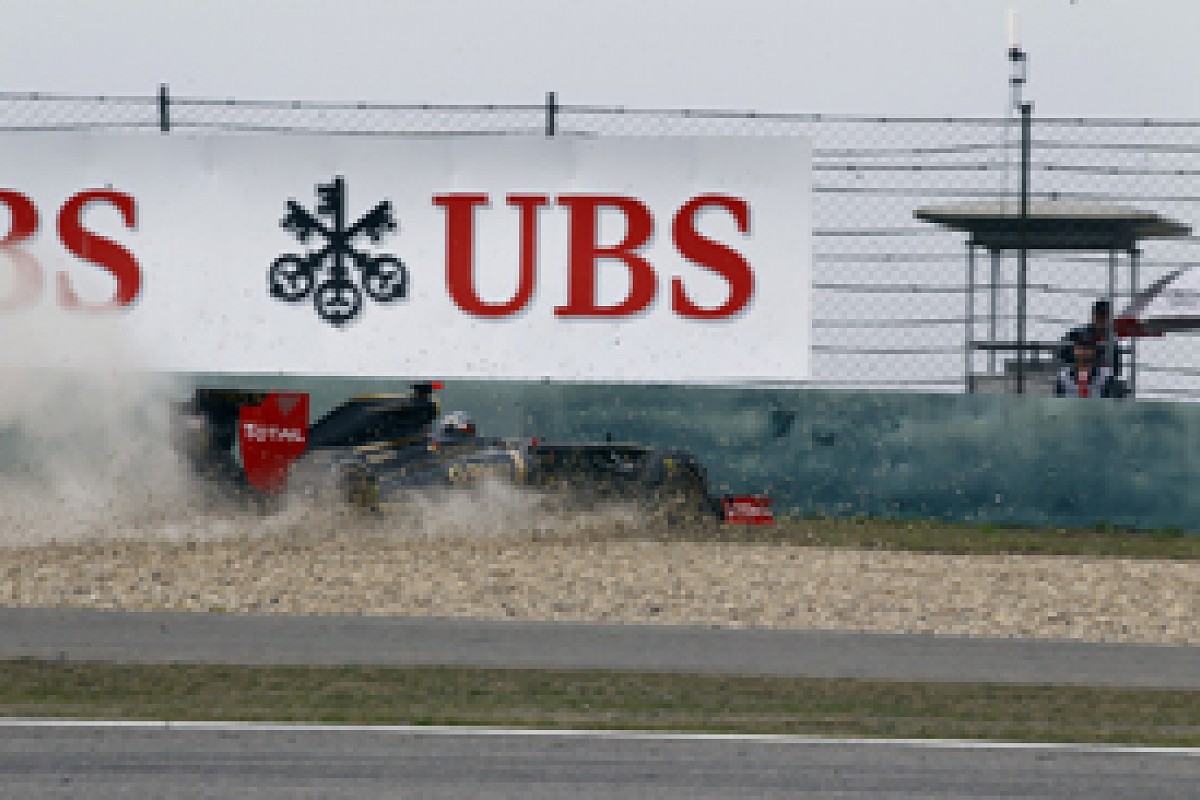 It was a wild Friday for Heidfeld © LAT
By the beginning of the second 90 minute session though there was already a ribbon of clean asphalt surface threading its way through two curtains of discarded Pirelli debris. Marbles were much in discussion over the weekend, as drivers evaluated the merits of being met in the visor by chunks of Italian rubber with a closing speed of more than 100mph.
None of this particularly bothered Vettel, who merrily embedded himself at the top of the times for the second occasion over the weekend. This time Webber was only 10th fastest and the two McLarens, led by Hamilton, were significantly closer but still no cause for alarm to the world champion - at this stage anyway.
Nico Rosberg and Michael Schumacher illuminated onlookers to the potential of Mercedes' race pace - and there would certainly be more of that over the weekend.
There was also more of Heidfeld breaking Renaults. This time the spin was low speed and seemed hardly worth the broken new front wing it caused. The German was so desperate to get back to the pits and out on the track again that he insisted on joining track officials in pushing the car.
Someone else who wanted to get out and push was Timo Glock whose exasperation with the Virgin reached new limits - the former podium-finisher slowest of all and more than seven seconds off the pace.
Practice three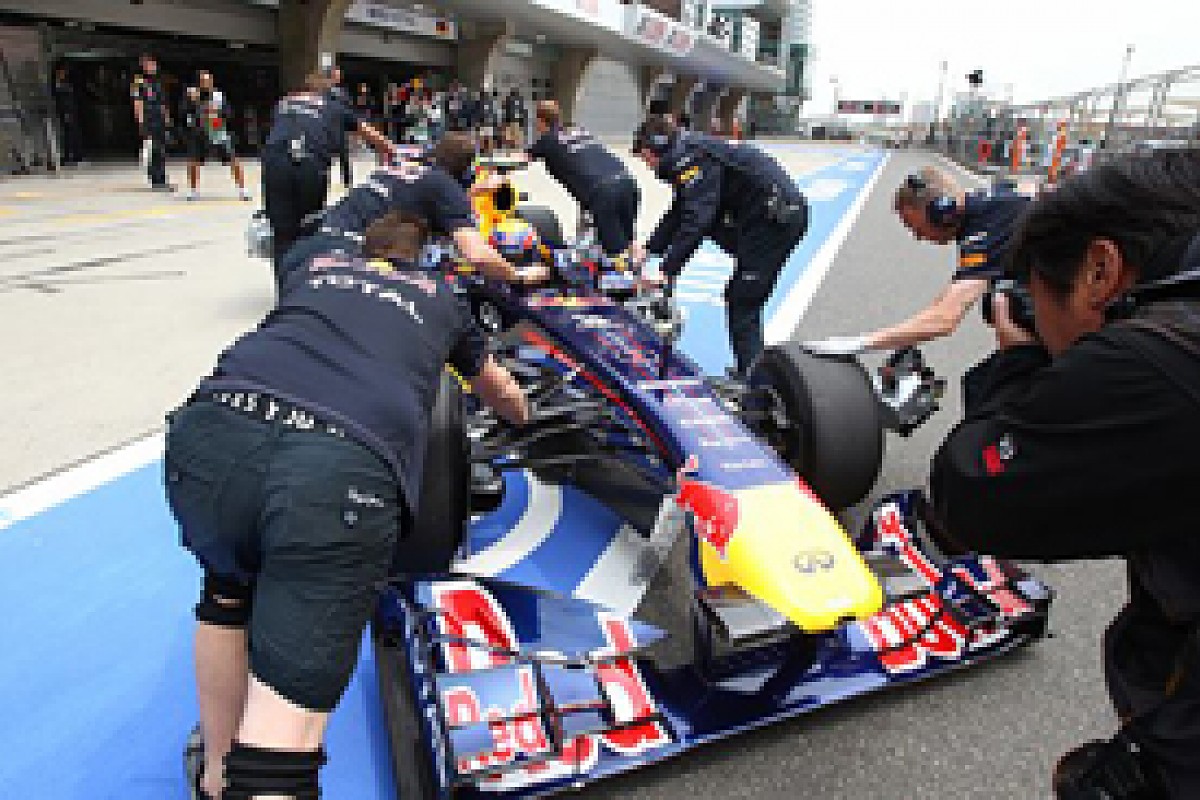 Saturday would be a day to forget for Webber © sutton-images.com
Vettel made it three-from-three by topping the final practice session, becoming the only man to break into the 1m34s bracket in the process. Quickest every time he went on track, everything was going oh so smoothly.
Vettel's serenity seemed amplified by the disasters going on to the right of him in the Red Bull garage. Webber, whose experience of KERS this season has been so exasperating that he seems to spit the word every time he's forced to talk about it, was anchored to his station for much of the session, with yes, you guessed it, an electrical problem in the wiring loom that had a negative affect on his KERS.
His one flying lap, unassisted by pooled kinetic energy, would net him 15th fastest. His day would get progressively worse from there on in.
Behind Vettel, and covered by a second, were five men who would all play a significant part in Sunday's race: Button; Hamilton; Rosberg; Felipe Massa and Fernando Alonso.
QUALIFYING
1. Sebastian Vettel, Red Bull
Team-mate qualifying battle 3-0
The news would have been Vettel not being on pole, but the German finishing atop the times again was pretty much what was expected. This time he managed it by a massive seven tenths from his closest rival, probably proving right those who believe the Red Bull has plenty of pace in store for when needed.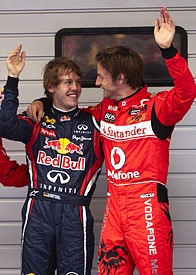 Button hoped he might have a shot at Vettel in Q3 - but the German was untouchable © LAT
2. Jenson Button, McLaren
Team-mate qualifying battle 1-2
After posting the quickest time in Q2, the Briton admitted he thought he could go for pole, but little did he know about how much Vettel had in store. In the end, Button had to concede Vettel's pace was just too much, even though a front-row start was very positive news for him.
3. Lewis Hamilton, McLaren
Team-mate qualifying battle 2-1
After a somewhat difficult Friday, Hamilton was much more encouraged by the handling of his car on Saturday. Even though he missed out on a spot on the front row, the McLaren driver could be happy with his day, especially as he was one of the few drivers to save a set of soft tyres for the race.
4. Nico Rosberg, Mercedes
Team-mate qualifying battle 3-0
In the first two races, Mercedes talked up its chances and underperformed. Rosberg played them down on Thursday and the team found the performance it needed to mix it near the front. It was an ironic and encouraging showing by the German, who was delighted with his effort.
5. Fernando Alonso, Ferrari
Team-mate qualifying battle 3-0
For the third time in three races, Alonso qualified in fifth position, which is what the Spaniard expected given his Ferrari's pace. Webber wasn't there to beat him, but Rosberg was, leaving Alonso where he had predicted he would be and, thus, satisfied.
6. Felipe Massa, Ferrari
Team-mate qualifying battle 0-3
Like Alonso, Massa could not have expected for a much better position, and the good news for the Brazilian was that he was capable of matching the pace of his team-mate. He was the only driver to have clean air ahead of him when Q3 was resumed, and Massa made good use of the circumstances to improve his time.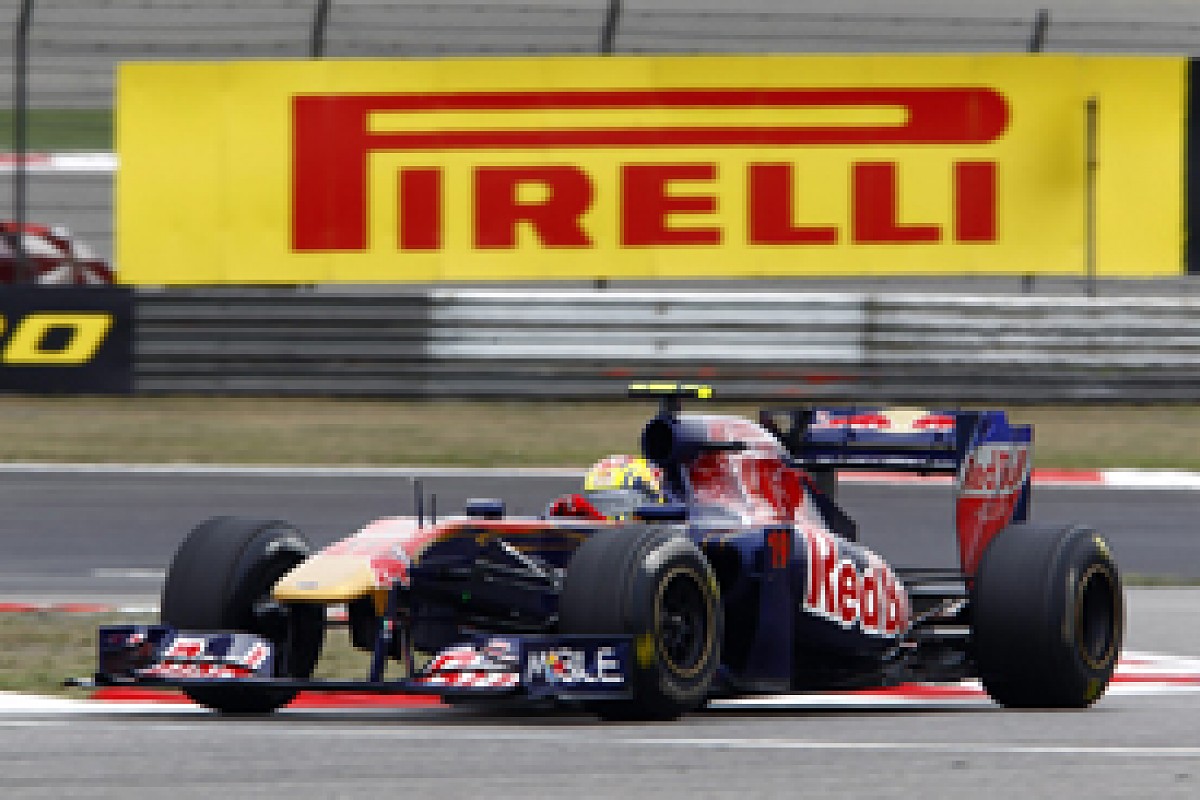 It was a great day for Alguersuari © LAT
7. Jaime Alguersuari, Toro Rosso
Team-mate qualifying battle 1-2
After posting his best ever qualifying result in Formula 1, the Spaniard was a delighted man, and with good reason too. Alguersuari admitted he was surprised to be so high up the grid and also conceded that he didn't expect to be able to keep his position in the race.
8. Paul di Resta, Force India
Team-mate qualifying battle 3-0
Another superb effort from di Resta, who not only managed to outqualify his team-mate for the third time in a row, but also made it into the top 10 for the first time. The Scot was understandably happy with his performance.
9. Sebastien Buemi, Toro Rosso
Team-mate qualifying battle 2-1
Buemi completed a fantastic day for Toro Rosso, although the Swiss driver was not as happy as his team-mate and felt he could have placed further up the grid, with less than a tenth separating him from Alguersuari. Still, a solid effort from Buemi, who was targeting a points finish again.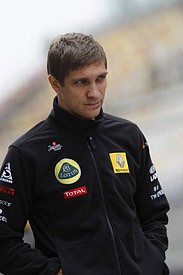 Petrov's problems caused a headache for most of the midfield © LAT
10. Vitaly Petrov, Renault
Team-mate qualifying battle 2-1
Another strong outing for the Russian, who made it into Q3 quite easily, setting the fourth fastest time in Q2. Of course, his cause in the second qualifying segment was aided by his car's problems, although that meant he was unable to complete a lap in Q3, thus missing the chance to end up higher.
11. Adrian Sutil, Force India
Team-mate qualifying battle 0-3
Eleventh was a position to be happy about for Sutil, but the joy was somewhat overshadowed by his rookie team-mate outqualifying him again. The German missed his final flying lap due to the last-minute rush, when he attempted to overtake Barrichello and spoiled both their runs.
12. Sergio Perez, Sauber
Team-mate qualifying battle 1-2
Perez was the first man in line after the session was restarted following Petrov's stoppage, which should have given him an advantage. However, the long wait for the light to turn green cooled down his tyres too much and his final run was not good. Still, 12th, and in front of his team-mate, was a good effort.
13. Kamui Kobayashi, Sauber
Team-mate qualifying battle 2-1
The Japanese was disappointed after failing to reach Q3 for the first time this season. He came close to being knocked out in Q1, and in Q2 he had a problem with his first set of tyres and then was unable to get them working for his second run because of the traffic issues.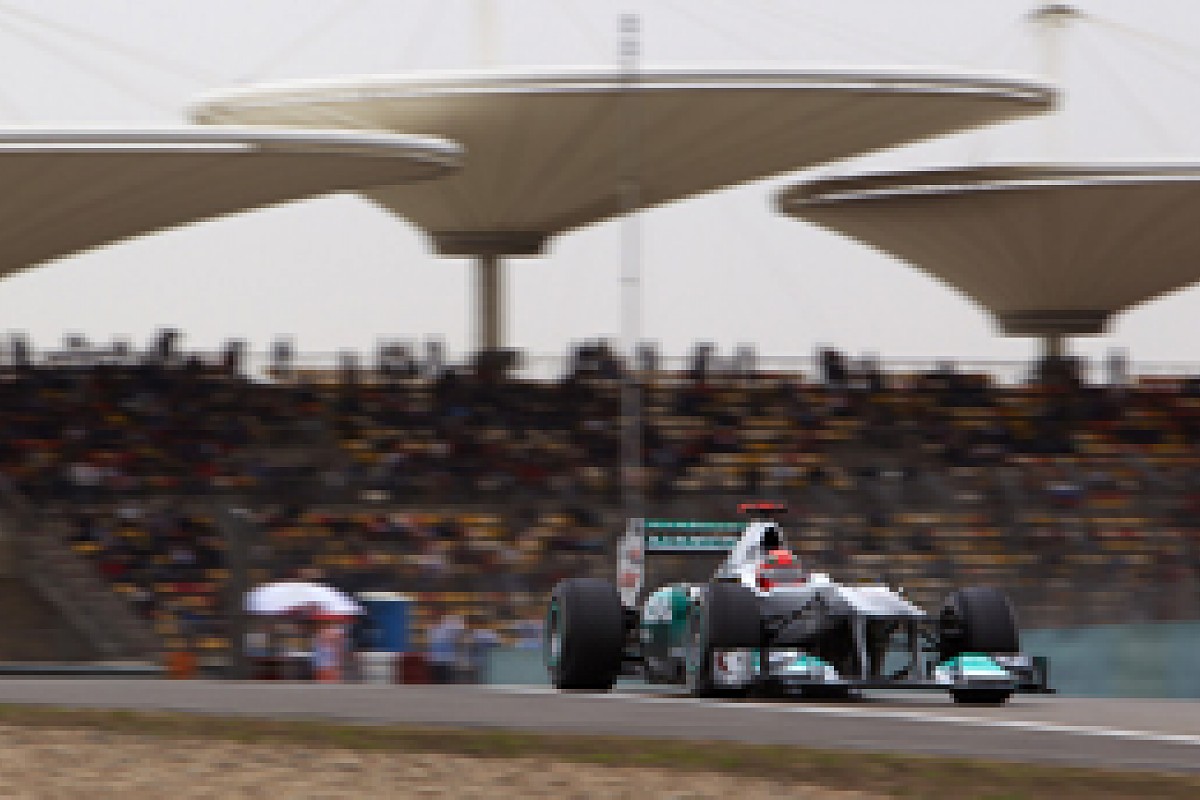 Schumacher's DRS misbehaved again © LAT
14. Michael Schumacher, Mercedes
Team-mate qualifying battle 0-3
Schumacher, like many others, could not get a proper lap during the final two minutes of the second session. The German was also hit by a problem with his DRS, which meant he overshot Turn 14, losing all chance of matching team-mate Rosberg's time.
15. Rubens Barrichello, Williams
Team-mate qualifying battle 2-1
Another man affected by the "rush hour", Barrichello was unable to extract the maximum from his Williams. The Brazilian said Sutil tried to overtake him during the two-minute thrash at the end of Q2, ruining both their chances of a better result.
16. Nick Heidfeld, Renault
Team-mate qualifying battle 1-2
A Friday that was little short of disastrous left Heidfeld on the back foot for Saturday, although the German was still upbeat about his Renault's pace. He decided to do just one run on soft tyres in Q2 and, just as he was about to start it, his team-mate stopped on track. In the mad rush at the end he failed to set a competitive time.
17. Pastor Maldonado, Williams
Team-mate qualifying battle 1-2
Maldonado said after qualifying that he felt Williams had the pace to fight for the top 10, but Petrov's red flag ruined all chances of achieving that goal. It was another low-key session for Williams, but the Venezuelan believed the team was starting to make progress towards the front.
18. Mark Webber, Red Bull
Team-mate qualifying battle 0-3
There were expressions of disbelief all around the paddock when Maldonado crossed the finish line to knock Webber out of Q2. The Australian did not have an easy weekend, and his qualifying showing was a reflection of it. He had no KERS, which cost him around four tenths, and then ran out of time to warm up his prime tyres to complete the lap he needed.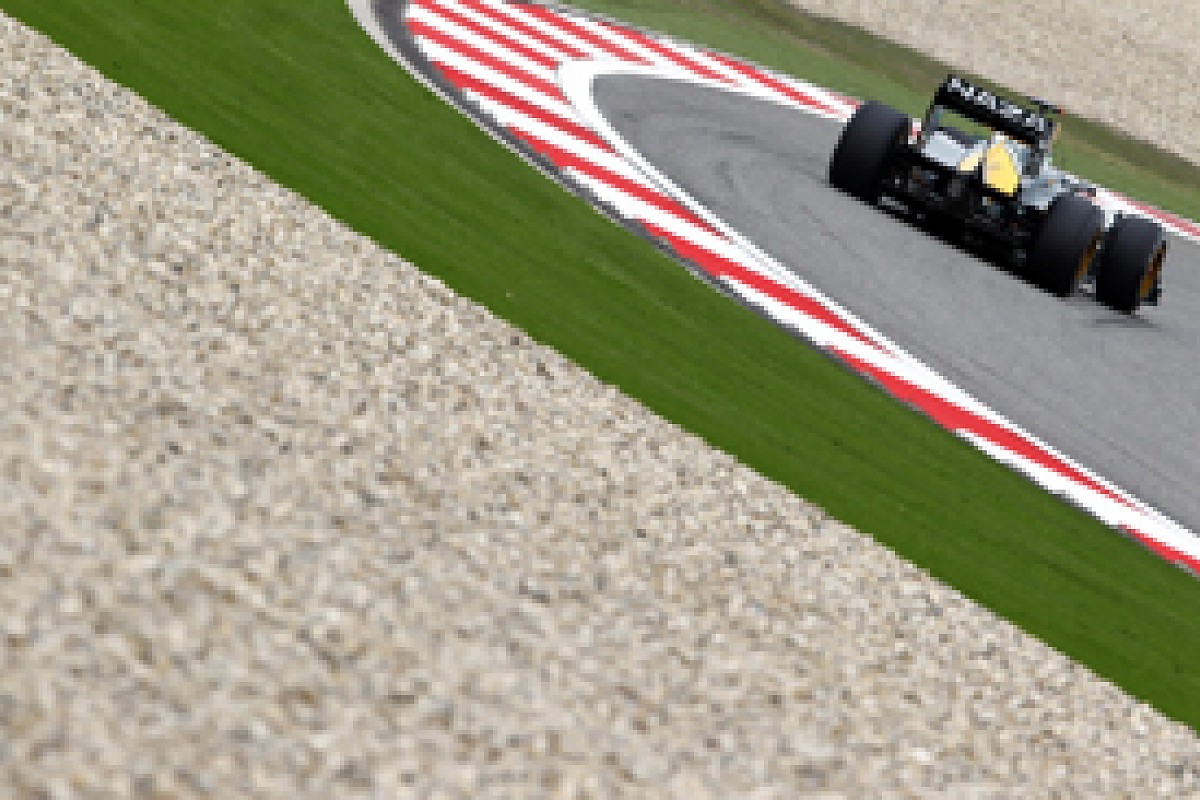 Lotus couldn't get as high as it had hoped © LAT
19. Heikki Kovalainen, Lotus
Team-mate qualifying battle 3-0
Kovalainen was once again the best of the 'newcomers', which at the moment is the maximum Lotus can aim for. The Finn put on a good performance to outpace Trulli, although the team admitted it was disappointed with its gap to the front.
20. Jarno Trulli, Lotus
Team-mate qualifying battle 0-3
Like Kovalainen, Trulli was very happy with his showing, despite finishing some four tenths behind his team-mate. The Italian, however, felt he is beginning to understand the car better and thus extracting better performance from it.
21. Jerome D'Ambrosio, Virgin
Team-mate qualifying battle 1-2
Although his team was still somewhat in no man's land, D'Ambrosio had reasons to be happy with his performance, finishing eight tenths behind Trulli and, most importantly, ahead of team-mate Glock. The Belgian admitted he was pleased with his progress.
22. Timo Glock, Virgin
Team-mate qualifying battle 2-1
Another tough weekend for Glock, who completed almost no running on Friday. Things were better on Saturday practice, but some set-up changes for qualifying seemed to backfire and the German was unable to extract the best from his car.
23. Tonio Liuzzi, Hispania
Team-mate qualifying battle 3-0
The Italian continued to make progress with the Hispania car which, in its second proper outing, showed enough pace to be close to the Virgins, which Liuzzi believes is now the goal. He reckoned he could have achieved a better time if not for the strange handling of his car when on his second set of tyres.
24. Narain Karthikeyan, Hispania
Team-mate qualifying battle 0-3
Like team-mate Liuzzi, Karthikeyan reckoned the 107 per cent rule should not be a problem for the team anymore, and that the goal was not Virgin. The Indian admitted he could have extracted something more from his car, but had reasons to be pleased after reducing the gap to Liuzzi to just two tenths.
QUALIFYING RESULTS
Pos  Driver                Team                 Time           Gap   
 1.  Sebastian Vettel      Red Bull-Renault     1m33.706s
 2.  Jenson Button         McLaren-Mercedes     1m34.421s  + 0.715
 3.  Lewis Hamilton        McLaren-Mercedes     1m34.463s  + 0.757
 4.  Nico Rosberg          Mercedes             1m34.670s  + 0.964
 5.  Fernando Alonso       Ferrari              1m35.119s  + 1.413
 6.  Felipe Massa          Ferrari              1m35.145s  + 1.439
 7.  Jaime Alguersuari     Toro Rosso-Ferrari   1m36.158s  + 2.452
 8.  Paul di Resta         Force India-Mercedes 1m36.190s  + 2.484
 9.  Sebastien Buemi       Toro Rosso-Ferrari   1m36.203s  + 2.497
10.  Vitaly Petrov         Renault              No time
Q3 cut-off time: 1m35.858s                                   Gap **
11.  Adrian Sutil          Force India-Mercedes 1m35.874s  + 1.388
12.  Sergio Perez          Sauber-Ferrari       1m36.053s  + 1.567
13.  Kamui Kobayashi       Sauber-Ferrari       1m36.236s  + 1.750
14.  Michael Schumacher    Mercedes             1m36.457s  + 1.971
15.  Rubens Barrichello    Williams-Cosworth    1m36.465s  + 1.979
16.  Nick Heidfeld         Renault              1m36.611s  + 2.125
17.  Pastor Maldonado      Williams-Cosworth    1m36.956s  + 2.470
Q3 cut-off time: 1m36.147s                                    Gap *
18. Mark Webber            Red Bull-Renault     1m36.468s  + 1.196
19. Heikki Kovalainen      Lotus-Renault        1m37.894s  + 2.622
20. Jarno Trulli           Lotus-Renault        1m38.318s  + 3.046
21. Jerome D'Ambrosio      Virgin-Cosworth      1m39.119s  + 3.847
22. Timo Glock             Virgin-Cosworth      1m39.708s  + 4.436
23. Tonio Liuzzi           HRT-Cosworth         1m40.212s  + 4.940
24. Narain Karthikeyan     HRT-Cosworth         1m40.445s  + 5.173

107% time: 1m41.941s

THE RACE
It all looked so routine for Sebastian Vettel as the grid formed up. He hadn't lost a grand prix since last October, he hadn't been beaten in a single practice session in China, his pole was his easiest of the year so far, his team-mate was 17 places behind in the starting line-up, and one of his other main rivals only just made it to the grid after a pre-race panic over the fuel system flooding in Lewis Hamilton's McLaren.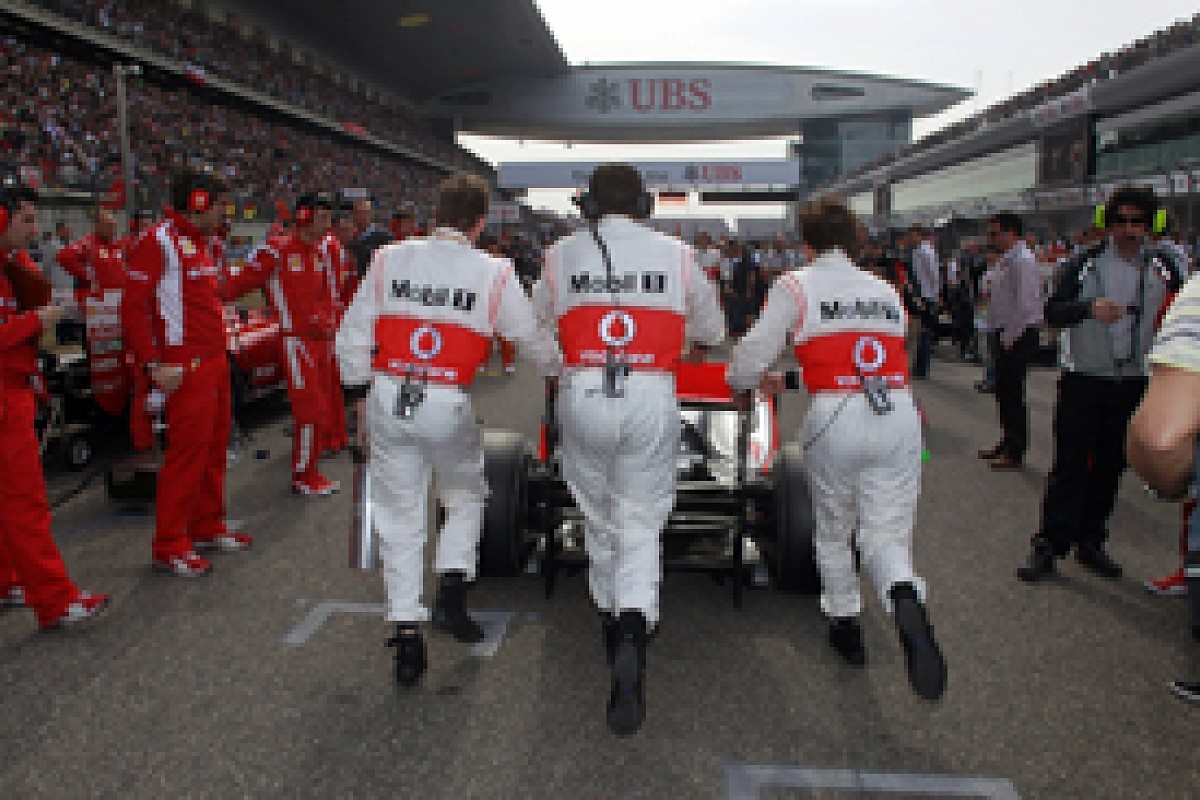 Hamilton only just made it to the grid on time © LAT
But as soon as the lights went out, it was Vettel who was on the back foot. A "not 100 per cent good" start by the world champion allowed Jenson Button to take a clear lead off the line, and by Turn 1 Vettel had Hamilton slipping down his inside as well, and Nico Rosberg keen to push him even further back.
The McLarens couldn't pull away from Vettel through the opening stint, but neither could Vettel do a great deal about them, as Button, Hamilton and Vettel ran in a loose queue, generally covered by two seconds.
Rosberg was not far away, staying within 4s of the back of the lead train as he fended off the Ferraris of Felipe Massa and Fernando Alonso, who had yet again swapped places off the line.
When it came to the first pitstops, McLaren appeared to be handing the race to Vettel, who managed to get ahead of both the silver cars in a bizarre half-lap. First as Hamilton's soft tyres began to wear, Vettel was able to breeze past in a DRS-based move into the hairpin on lap 14. The Red Bull then immediately came in for its first pitstop, as did Button just ahead - but the McLaren pulled into Vettel's pit space rather than its own!
"I was actually looking down when I came into the pits and went into the wrong pit spot," said a sheepish Button.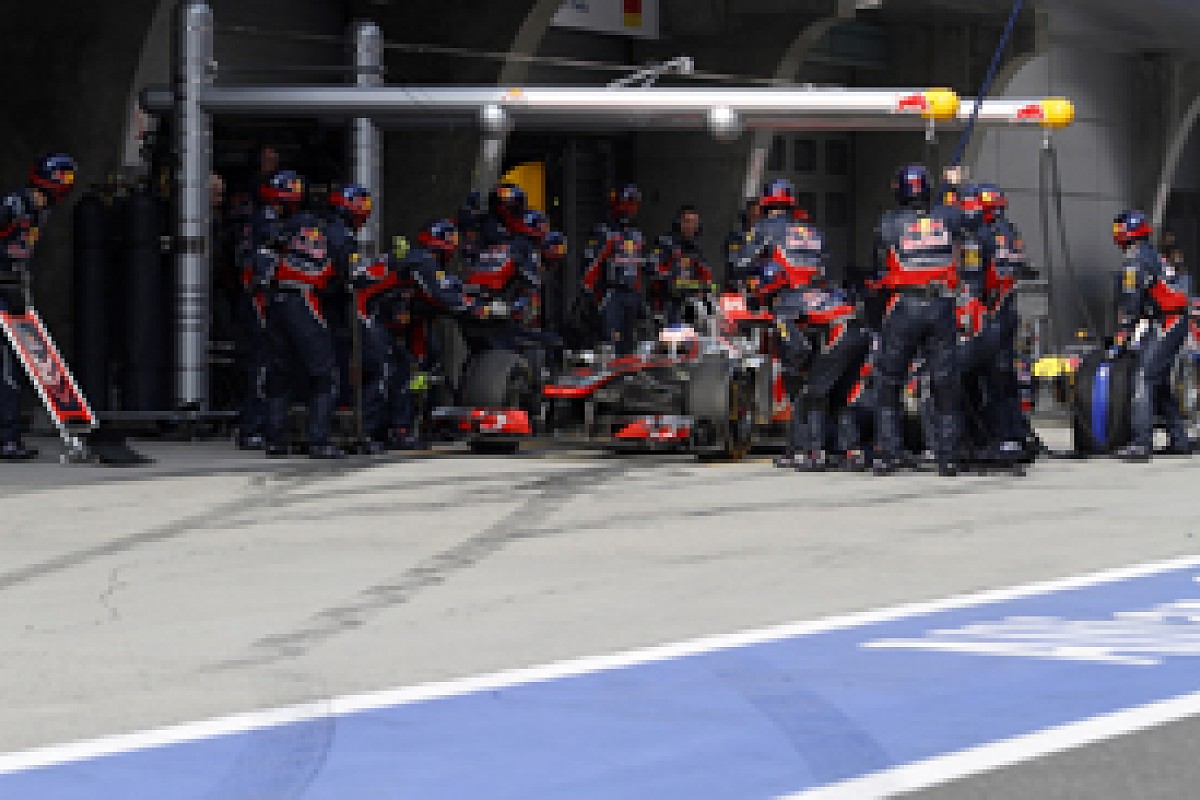 Button gave the Red Bull pit crew a surprise © LAT
The surprised Vettel backed off in the hope that Button would realise or be redirected, and was relieved that his pit crew didn't go onto autopilot and instinctively change the McLaren's tyre.
"Imagine if they've changed the tyres," mused Vettel. "Then it's a big mess and I have to go one spot further to McLaren and ask them..."
Red Bull reacted quickly enough that Vettel got out ahead of Button, though the whole shuffle had cost both cars a couple of seconds. And that was part of the reason why they found themselves behind a surprise new leader in the next stint, for Rosberg was now leading in China for the second straight year. Pitting two laps earlier then blasting in some very strong out-laps while Vettel and Button were tripping over each other worked wonders for Mercedes, giving Rosberg a 5s lead by the time everyone else had got through the yet-to-pit traffic - and the German looked very comfortable in that position.
"I saw a Red Bull in my mirrors and it wasn't coming closer," said Rosberg. "It was staying the same size, and I thought, 'what is going on?'"
His lead lasted until lap 25, when he made the second of two pitstops, a strategy shared by the McLarens, while Vettel and Massa - who had joined the lead group with some great speed just before his first pitstop - were going to change tyres just twice.
So as the race passed half-distance, all the frontrunners had one tyre stop to make, and Vettel led Massa by 4s, Rosberg by 16s, Button by 18s and Hamilton by 20s. And in the old days, that was probably how it would have stayed, especially as the three-stoppers' pace didn't suggest they had any real chance of pulling out a sufficient gap over Vettel in the time between his second stop and their third.
But in the Pirelli era, nothing - thankfully - is that predictable. For one thing, Vettel and Massa were asking their final set of hard tyres to do 25 and 23 laps respectively. Perhaps more significantly, Hamilton's race was coming alive.
First in his sights was team-mate Button, who was dismissed with a bold dive down the inside into Turn 1 shortly before their final pitstops. Then once all were on fresh tyres, Hamilton quickly caught Rosberg as well, slicing past into Turn 6 on lap 42.
Just two laps later he was past Massa and into second place, which put Hamilton 4.6s behind Vettel with 12 laps to go - and lapping up to a second faster.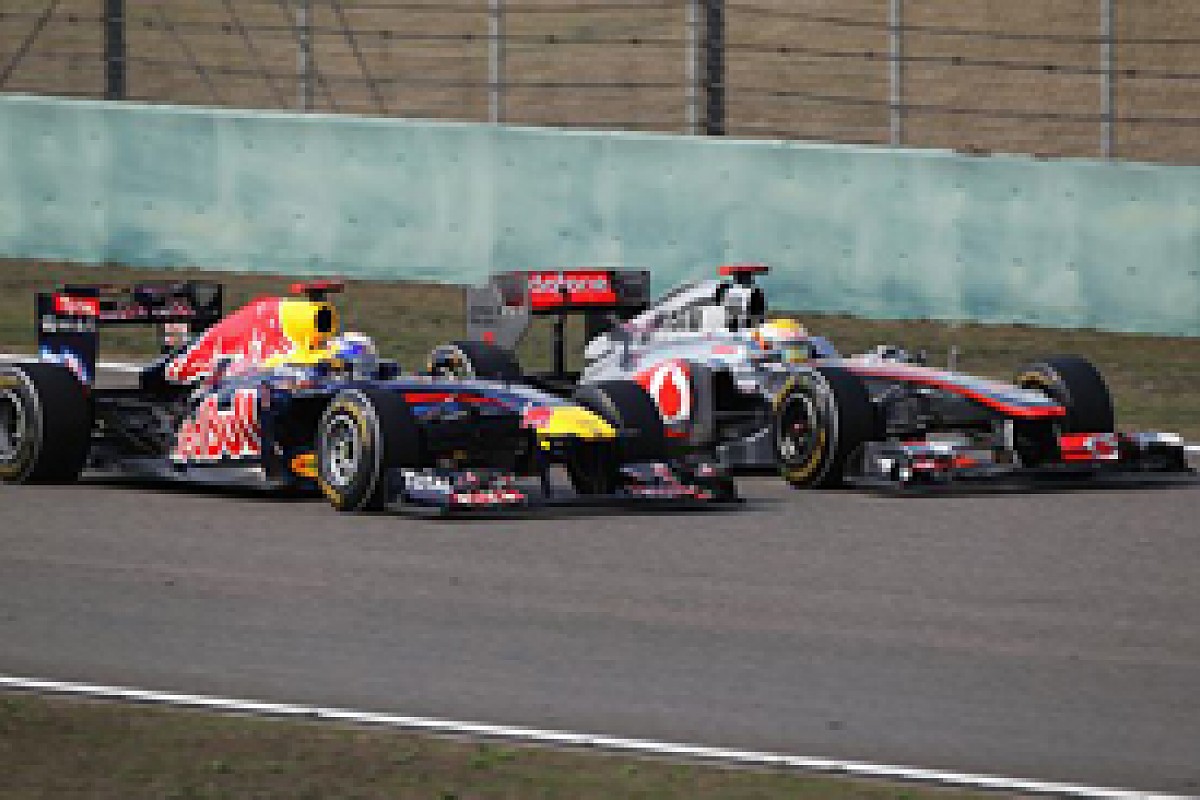 Hamilton attacks Vettel for the lead © sutton-images.com
Vettel wasn't going to let Hamilton steal this too easily. Twice the McLaren charged down on the Red Bull using the DRS on the back straight, and twice Vettel grabbed the inside and parked his car on the hairpin apex to make sure Hamilton couldn't complete the move.
But improvisational overtaking has always been a Hamilton strong point, and on lap 52 of 56 the McLaren got a better exit from Turn 6 and swept into the lead into the fast Turn 7. Vettel's victory run was over, and a car that had looked like it might not even take the start had charged to victory.
"I'm still struggling for words - that really was one of my best races," said Hamilton. "It's rare to have battles like the ones we saw today; you really had to think about the situation, and I loved that challenge, but having to overtake people made things so much sweeter.
"I feel so proud: this race is in my top three of race wins, it's up there with Silverstone and Monaco in 2008."
Vettel was gallant in his first defeat in a while.
"Congratulations to them," he said. "I think we have given it our best and I don't see second today as a disappointment."
Even after the lead fight was settled, there was still a charge even more spectacular than Hamilton's in progress, as Mark Webber made his way through the field. When he was trundling around in the midfield on hard tyres early on - making little progress and even being re-passed by Saubers - it looked like his depressing weekend was only going to get more miserable. Instead his race would turn around spectacularly and possibly become a springboard for a much stronger run from here on.
In much the same way as he had in Malaysia with his four-stop plan, Webber was able to use a three-stop strategy with early pit visits to keep putting himself in clear air, where he could pump in new fastest laps and leapfrog those pitting after him.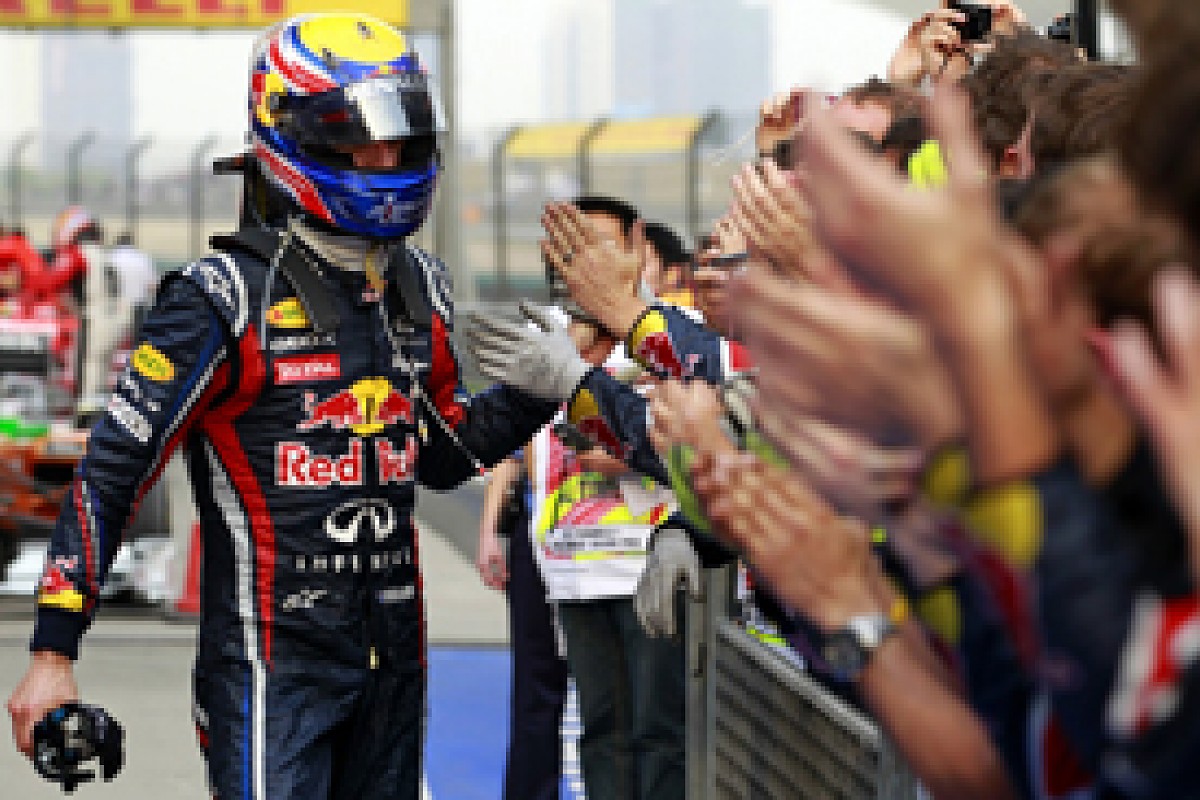 Webber receives the plaudits for an amazing drive © LAT
By the time his final stop was complete on lap 42, that scheme had brought him up to seventh - and he had saved a set of the much faster soft tyres for the stint when everyone else would be on hards. At times Webber was up to 3s quicker than those around him as he scorched past Alonso, Massa, Rosberg and finally Button on the penultimate lap to grab an incredible podium that had looked totally unfeasible at two-thirds distance.
"We decided to get rid of the hard tyre in the first stint because we knew we were going to be in a bit of traffic," he explained. "That worked out well. I was struggling with the tyre and I thought 'my God, this day is getting difficult' so I just kept my head down and focused on the next corner to give it everything.
"I was looking for more yellow flags, a few more retirements, a couple of Vodafone cars pulled over but nothing, no yellow flags, I had to pass everybody. I really earned it today, I think."
Button had passed Rosberg when the Mercedes ran wide trying to get around Massa, who soon fell behind the whole queue of cars as he grappled with his fading tyres. While Button rued a slight lack of speed and excess of tyre wear that had prevented him staying right at the front, Rosberg was caught between ruing a win that got away, and being thrilled that Mercedes was anywhere near that position after its poor start to the season.
Massa was in a similar mood - despite not being able to hang on to a podium, he had shown great pace and totally overshadowed Alonso, who was notably slower on the same strategy and only just beat Michael Schumacher to seventh.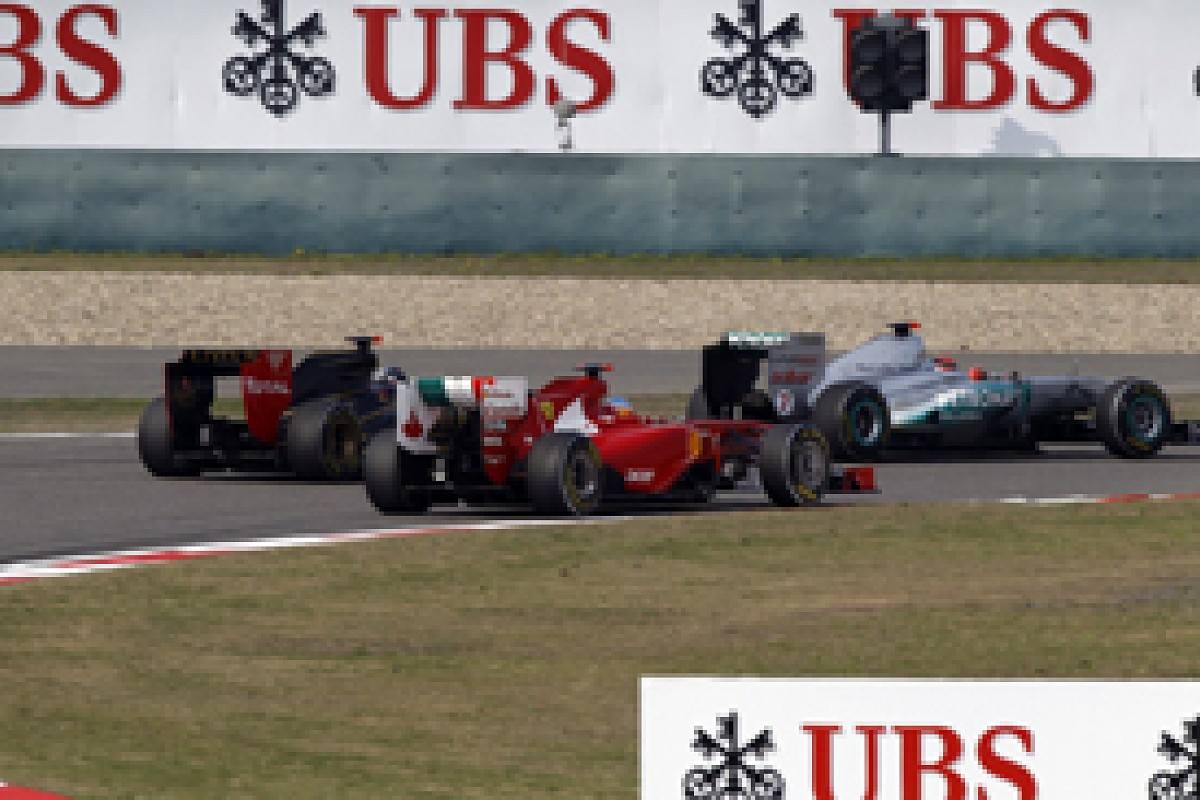 Alonso was involved in a lot of close racing without ever really getting anywhere © LAT
"We just weren't fast at any point during the race and we kept on losing positions little by little," said Alonso.
Schumacher recovered from his qualifying issues by making a very early first pitstop, which meant he at least jumping the upper midfield group and finished eighth, ahead of Vitaly Petrov on an underwhelming day for Renault, and Kamui Kobayashi's Sauber - battered from an early clash with Adrian Sutil.
Toro Rosso and Force India's great qualifying results did not translate into points, though Paul di Resta looked set for the top 10 until his tyres faded at the end and he fell back to 11th, with a last-lap clash with 12th-placed Nick Heidfeld along the way. Sutil had a collision with Sergio Perez that left the Force India with a broken wing and the Sauber receiving a penalty, dropping them to 15th and 17th.
STR fared even worse, its drivers swiftly losing ground. An extra stop for a new front wing after some handling oddities left Sebastien Buemi 14th, while Jaime Algueruari was the race's only retirement after his car shed an incorrectly-attached wheel after its first pitstop.
Hamilton and Webber aside, the happiest faces in the paddock had to belong to Lotus, which got even further among the midfield crowd. Heikki Kovalainen beat the delayed Perez to 16th, but even more satisfying was that Pastor Maldonado's Williams was 8s behind the Lotus in 18th after a totally trouble-free run. That said a lot about Williams's current plight, and Rubens Barrichello could only finish 13th. Jarno Trulli was not far behind Maldonado in the other Lotus.
The Virgins could only fight among themselves, and Jerome D'Ambrosio came out on top as the increasingly frustrated Timo Glock had a slow final pitstop. The Hispanias were last but both finished, to their delight.
RACE RESULTS

The Chinese Grand Prix
Shanghai International Circuit, China;
56 laps; 305.066km;
Weather: Sunny.

Classified:

Pos  Driver        Team                       Time

 1.  Hamilton      McLaren-Mercedes           1h36:58.226
 2.  Vettel        Red Bull-Renault           +     5.198
 3.  Webber        Red Bull-Renault           +     7.555
 4.  Button        McLaren-Mercedes           +    10.000
 5.  Rosberg       Mercedes                   +    13.448
 6.  Massa         Ferrari                    +    15.840
 7.  Alonso        Ferrari                    +    30.622
 8.  Schumacher    Mercedes                   +    31.206
 9.  Petrov        Renault                    +    57.404
10.  Kobayashi     Sauber-Ferrari             +  1:03.273
11.  Di Resta      Force India-Mercedes       +  1:08.757
12.  Heidfeld      Renault                    +  1:12.739
13.  Barrichello   Williams-Cosworth          +  1:30.189
14.  Buemi         Toro Rosso-Ferrari         +  1:30.671
15.  Sutil         Force India-Mercedes       +     1 lap
16.  Kovalainen    Lotus-Renault              +     1 lap
17.  Perez         Sauber-Ferrari             +     1 lap
18.  Maldonado     Williams-Cosworth          +     1 lap
19.  Trulli        Lotus-Renault              +     1 lap
20.  D'Ambrosio    Virgin-Cosworth            +    2 laps
21.  Glock         Virgin-Cosworth            +    2 laps
22.  Karthikeyan   HRT-Cosworth               +    2 laps
23.  Liuzzi        HRT-Cosworth               +    2 laps

Fastest lap: Webber, 1:38.993

Not classified/retirements:

Driver        Team                         On lap
Alguersuari   Toro Rosso-Ferrari           12


World Championship standings, round 3:                

Drivers:                    Constructors:             
 1.  Vettel        68        1.  Red Bull-Renault          105
 2.  Hamilton      47        2.  McLaren-Mercedes           85
 3.  Button        38        3.  Ferrari                    50
 4.  Webber        37        4.  Renault                    32
 5.  Alonso        26        5.  Mercedes                   16
 6.  Massa         24        6.  Sauber-Ferrari              7
 7.  Petrov        17        7.  Toro Rosso-Ferrari          4
 8.  Heidfeld      15        8.  Force India-Mercedes        4
 9.  Rosberg       10       
10.  Kobayashi      7       
11.  Schumacher     6       
12.  Buemi          4       
13.  Di Resta       2       
14.  Sutil          2   

Lap-by-lap as it happened on AUTOSPORT Live
TEAM BY TEAM
Red Bull
Vettel dominated every practice session and qualifying, but fell to third behind the McLarens at the start. He repassed both in a confusing first pit sequence, then found himself behind early-stopper Rosberg. With the Mercedes and both McLarens pitting three times, two-stopper Vettel reclaimed the lead, only to be caught and passed by Hamilton and his fresher tyres.
KERS glitches ruined final practice for Webber and contributed to a disastrous 18th place on the grid. He made a low-key start to his comeback drive, but an early-stopping three-stop plan with the soft tyres saved for the end was a masterstroke. Up to seventh by the final stint, he surged past the Ferraris, Rosberg and Button to claim an outstanding third place.
McLaren
Red Bull's closest challenger again, but McLaren didn't seem like a realistic victory threat when Vettel beat second and third-placed Button and Hamilton by 0.7s in Q3.
They jumped him off the line, though, and led until the first pitstops, when heavy wear for Hamilton and a bizarre accidental visit to the Red Bull pit for Button saw them both lose a little ground.
In the second half of the race, Hamilton started flying, passing Button, Rosberg, Massa and finally Vettel to steal a remarkable win.
Early leader Button didn't quite have the pace to do that. Late moves on Massa and Rosberg seemed to have earned him third, until Webber grabbed it from him with a lap to go.
Ferrari
More frustrating for Alonso, but encouragement for Massa. There was little between them as they qualified fifth and sixth, but while Alonso lost ground at the start, kept getting stuck in traffic, and ended up only just beating Schumacher to seventh, Massa made the same two-stop plan work so well that he held second for a long while.
He couldn't hold off the three-stoppers at the end though and fell to sixth.
Mercedes
Mercedes focused more on race preparations in practice and it paid off, although a qualifying resurgence played a big part too, as Rosberg grabbed fourth on the grid, very close to the McLarens. Another DRS malfunction left Schumacher 14th.
Great pace immediately after an early first pitstop vaulted Rosberg into the lead for a while, but he was later passed by the McLarens and Webber, and didn't have the pace to catch Vettel, so was left with a still encouraging fifth.
Schumacher jumped clear of the traffic by pitting early and finished on Alonso's tail in eighth.
Renault
Heidfeld was embarrassed to twice crash on Friday, wrecking the only copy of the team's latest wing in the process. There were more problems in qualifying, where Petrov's car suddenly lost power and ground to a halt on-track and caused a Q2 red flag. The subsequent traffic jam in the two minutes after the restart ensured no one could knock Petrov out of the top 10 (though he was inevitably heading for 10th) but also that Heidfeld couldn't do better than 16th.
Neither made much ground in the race, despite being involved in various aggressive battles. Two stop strategies did not work, leaving the tyre-troubled Renaults as sitting ducks to be easily overtaken by three-stoppers on fresh rubber whenever they got into a good position. Petrov at least salvaged ninth, Heidfeld was 12th after a last-lap tangle with di Resta.
Williams
A dreadful weekend for Williams, which was simply never on the pace at any stage. Barrichello started 15th, Maldonado 17th. They finished 13th and 18th respectively. And there was little else to say about the struggling team.
Force India
Sutil was very pleased to be seventh on Friday, feeling a breakthrough was on the cards, but di Resta was concerned that he would be at a major disadvantage for qualifying as he missed practice two with a fuel pressure problem too complex to sort within the session.
However di Resta certainly didn't look in trouble as he stormed to eighth on the grid, while Sutil was 11th.
Their race was slightly disappointing. Di Resta fell from ninth to 11th as his tyres faded - which he felt might not have happened had he managed enough practice mileage to better understand high-fuel tyre wear - and Sutil was left in 15th after being collected by a sliding Perez and forced to change his front wing.
Sauber
No top 10 start for Sauber this time, as both Perez and Kobayashi were unable to get a clear lap in the late Q2 post-red flag rush. That left them 12th and 13th.
A typically combative but kind-on-tyres race performance by Kobayashi took him up to 10th, while Perez was penalised for colliding with Sutil and finished back in 17th.
Toro Rosso
Superb qualifying form saw Alguersuari take a career-best seventh and Buemi ninth.
But in the race that speed swiftly vanished. Alguersuari retired - and the team picked up a fine - when he was released from his first pitstop with a rear wheel not properly attached. It soon fell off, and dragging the car back on three wheels proved unfeasible.
Buemi had a disappointing race to 14th, stymied by an extra pitstop for a new front wing after handling troubles.
Lotus
Lotus looked like it had fallen away from the teams ahead again in qualifying, when Kovalainen beat Trulli to 19th. But in the race they were firmly on midfield pace, with Kovalainen delighted to beat Perez and Maldonado to 16th. Trulli's race wasn't quite so heroic and he finished 19th, slightly more troubled by tyre degradation.
Hispania
A hydraulic problem for Liuzzi aside, Hispania had a fairly serene and encouraging weekend. Both cars qualified with ease, and were not too far off Virgin's pace, although beating the red and black cars was not viable.
Liuzzi recovered from a jump-start penalty to take 22nd ahead of Karthikeyan, just a second apart and 20s behind Glock.
Virgin
D'Ambrosio was pleased to outqualify Glock and then beat him to 20th in the race. But Glock was far less happy, deeply frustrated at the team's lack of progress and continued reliability issues. He fought with D'Ambrosio all races but ended up behind after a troubled final pitstop.
RACE DATA