Last year the technical agenda was dominated by F-ducts and exhaust-blown diffusers, as most teams scrambled their technical resources to follow these concepts, which had been pioneered by McLaren and Red Bull.
Ultimately it was those two teams who ended the season first and second in the Constructors' Championship, but the development war was ferocious throughout the field. What, then, will be the technical battlegrounds in 2011?
Exhaust-blown diffusers remain a focus of interest. McLaren owes its Melbourne resurgence in part to abandoning its innovative but troubled 'octopus' system in favour of one more like Red Bull's. But it's far from the only hot topic that you will read about during the coming year.
Although the current Formula 1 regulations are rooted in the rules reboot of 2009, with its skinny aero promises and hopes of vastly improving the racing, the raft of ideas and rules tweaks since then have kept design teams on their toes.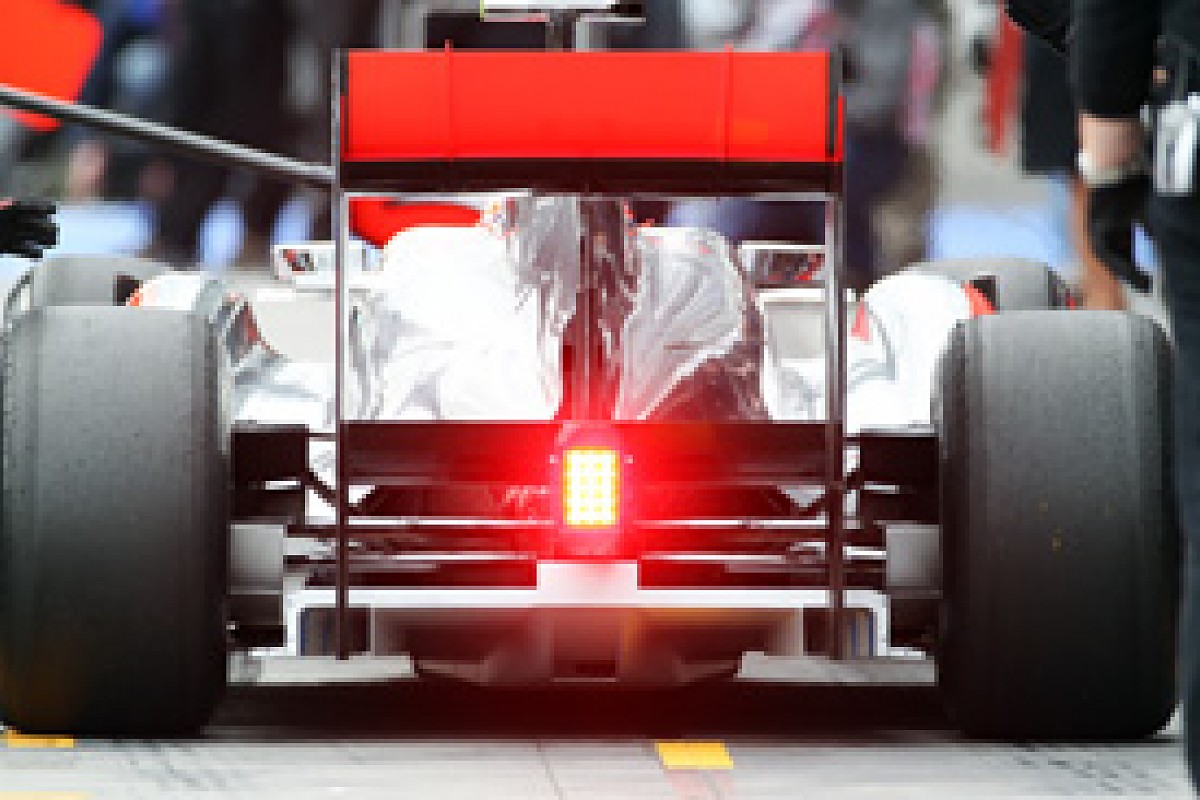 McLaren used a simpler exhaust in Melbourne © sutton-images.com
James Allison, technical director at Renault and one of the key architects of the team's return to form over the past 18 months, believes that far from settling into a process of what is dubbed 'Swiss watchmaking' - fine tuning existing concepts to eke out every last hundredth of a second - teams have had plenty of room for innovation thanks to the regular changes between the start of 2009 and now.
"We're not really in the third year of the rules because it has changed a lot," says Allison. "We aren't in the real polishing phase now because there are still big hefty changes to be had.
"The double diffuser coming in 2009 was a massive change and everyone had to re-invent their car layout for that - and with it going we have had to do so again. If you look around the back of the cars, they have changed a lot since early 2009.
"I like it - it's more fun when there is lots of opportunity in the rules then when there is none."
The frequent rule changes are sure to continue through 2012 - ahead of a major change in 2013 with the all-new 1600cc turbo engines and radically changed chassis regulations - and Allison highlights one area that will make not only a major engineering and design difference, but will also be a big visual change.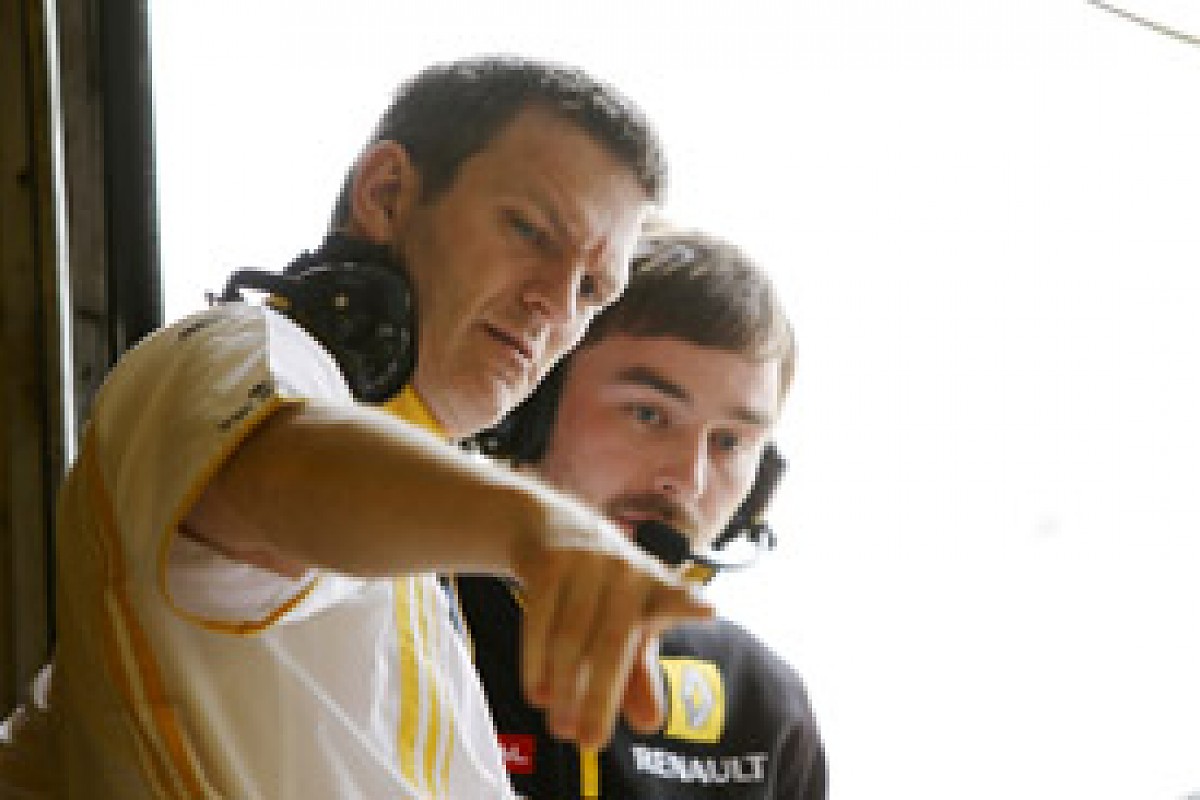 James Allison © LAT
"We already know one big thing changing for next year," explains Allison. "It doesn't sound like a big thing but the chassis bulkhead is coming down quite a lot in height, so you couldn't have any of the cars currently on the grid. "Everyone is going to have to completely re-invent their front suspension next year. There will still be an aerodynamic imperative to keeping the nose high, but the front bulkhead has to be much lower than it is now. That already means that there will be a lot of repackaging for next year. The rules aren't published yet, but it was agreed by majority."
But back to 2011. The much-vaunted drag reduction system made its race debut in Melbourne last Sunday, and this has added another facet to rear wing development which is already being exploited by teams. In Melbourne, the top speed benefit of the DRS ranged from under 10km/h up to around 20km/h, with Mercedes reckoned to be one of the strongest in terms of drag reduction, albeit possibly at the expense of making the rear wing too aerodynamically critical when in its normal state.
"The rear wing is quite tricky," says Allison. "You want it to shuffle off as much drag as possible, but not really so that it can be good for overtaking. Its main reason for being there is to make the sporting side of the race more exciting, but because its use is free in qualifying, anything you can lose in terms of drag equals better laptime. The thing that drives you towards wanting that drag loss in qualifying is also beneficial for the race, so the two things align nicely.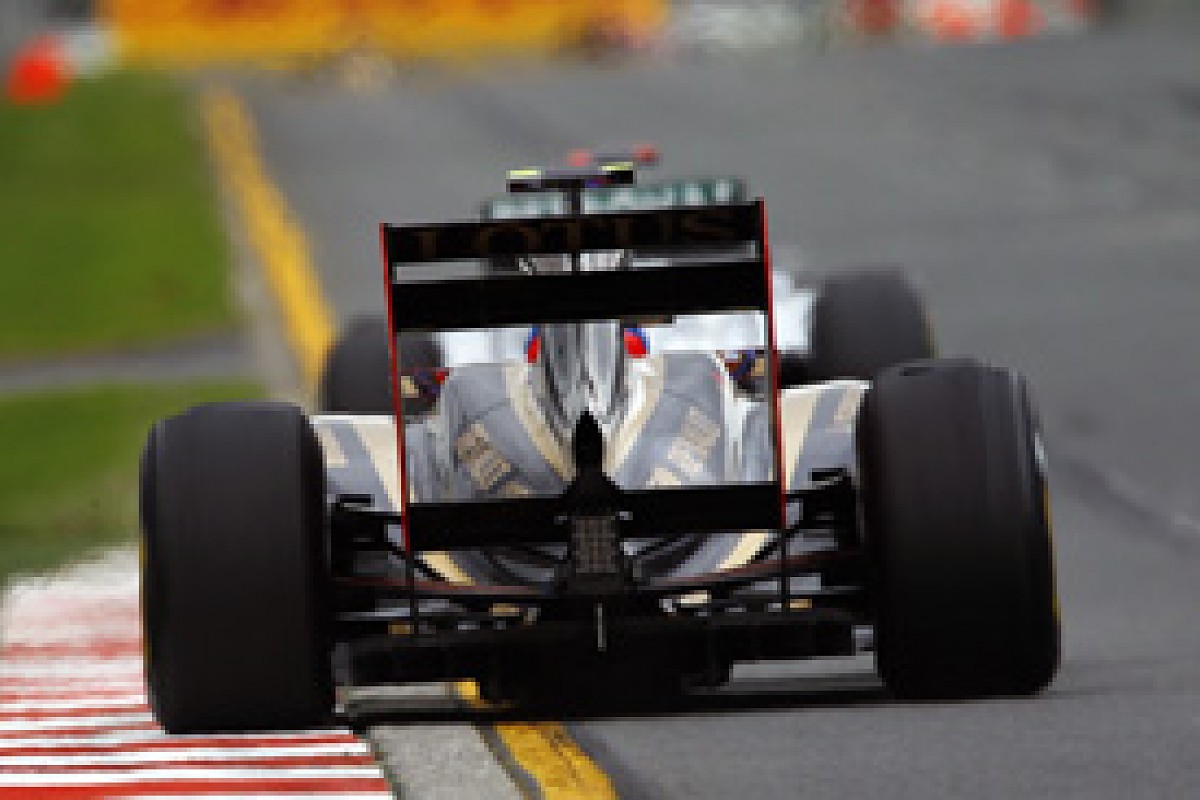 The DRS can only be used on the main straight of the track © LAT
"You want an adjustment that has the biggest effect possible, all the way to making the whole thing stall if possible. That tends to mean that you would have a wing that is running reasonably close to the stall, so that when you then flip up the top section it stalls. The difficulty there is that you need not to push it too far. You don't want a wing that is so near the stall that it is stalling in corners.
"In that respect, it's rather like the F-duct switch last year. It was a rather weak switch, so in order to make it powerfully cause airflow separation on the wing, the wing had to be willing to go anyway. This is a similar thing - you need to develop a wing on which the airflow is attached, but not desperately slow. Everyone's will be stalling, it's just a question of how much."
Since most teams did not run the DRS in earnest until pre-season testing started in February, they are still learning about its behaviour. Allison admits that Renault is already planning its own upgrades, which should yield a greater drag reduction, as are most teams up and down the grid.
"Like with most aero stuff, the CFD and the wind tunnel sets it up and the track confirms whether you have got it right or not," says Allison. "I can't speak for anyone else, but we have made two rear wings so far and we have another one coming for Malaysia.
"I would imagine that we will make another three as a minimum because there will be one for Canada, one for Monza and maybe a specific one for Monaco and then some general development - so maybe four more. But in a normal year there would still have been at least two. So it's not a sea change, but it's definitely a development area."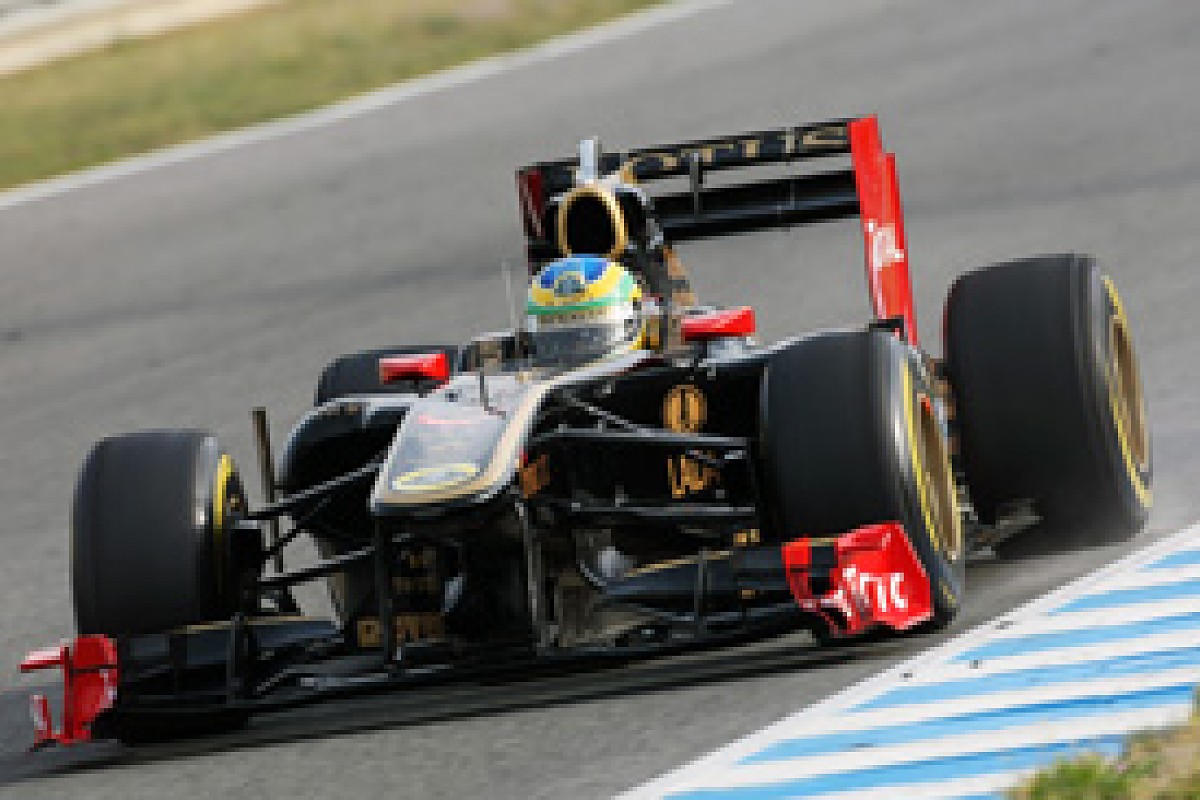 Bruno Senna running the DRS in testing © sutton-images.com
As Allison points out, the free use of the DRS in qualifying means that all gains in this area will translate to lap time. Even a small drag reduction advantage could easily add up to a margin that would show up on the qualifying timesheets.
The diffuser continues to be a prominent focus for development. Despite returning to the single diffuser, teams are still going through a process of extracting the maximum downforce out of what remains a very powerful part of the car. Although the likes of Red Bull seem to have lost no downforce compared with last year, there is still more to come for most teams.
"We're still seeing a lot of development in that area," says Allison. "Diffusers never go away. They produce 40 per cent of the downforce on the car. In particular, the tyres are very important aerodynamically. Most of the front wing is designed to cope with the front tyres, and the rear tyre is also exquisitely sensitive.
"Everyone has wind tunnel tyres that mimic the full size tyres, but no-one has perfect wind tunnel tyres. We will all discover at some level that there is an offset between what our tunnel says and what our track-based experiments tell us. We just have to find out what those differences are and apply them."
But while all teams are chasing much the same thing with the DRS and the diffuser, when it comes to harnessing exhaust gases for aerodynamic benefit, there are all sorts of solutions on the grid. Renault caught the eye with its exhaust exits at the front of the sidepods, while the Red Bull design of blowing the diffuser from the side has been adopted by McLaren.
Allison believes that such trick exhaust systems can be hugely beneficial, although because of the challenges involved he does not expect many cars to go through wholesale changes.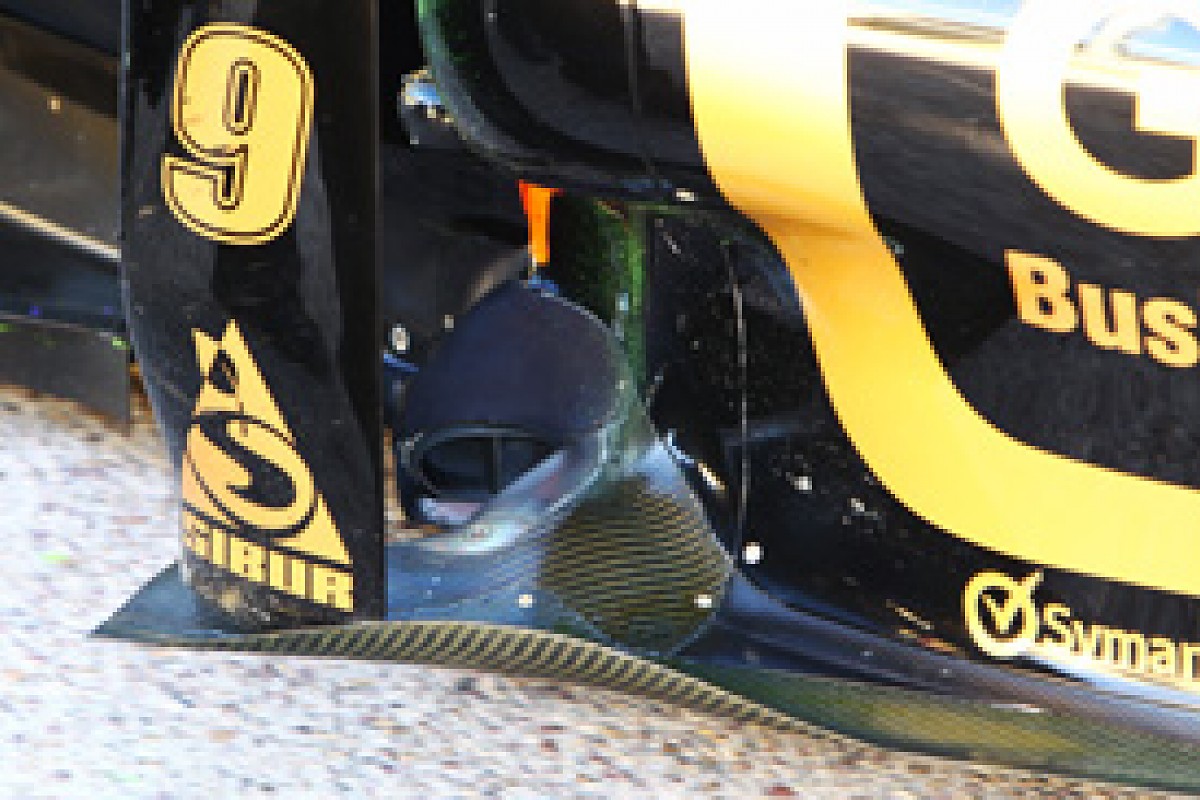 Renault's front exit exhaust has caused interest in the paddock © sutton-images.com
"Teams will be playing with this quite a bit, but I doubt that they will fundamentally reinvent what they have done and go for a totally different solution," he says. "But they will definitely be tweaking the angle and position of the exhausts all year, I would have thought. We certainly will be.
"It would be tricky to completely change direction. Let's say everyone decided our exhaust is the way forward - and I'm not suggesting that they will - it would be spectacularly hard to do that mid-season because there's an awful lot of reinventing the car to be done. I suspect that it would be more profitable for them just to persist with their own design and work with developing the package that they have.
"By and large, that's true of most cars. It's nearly always better to keep plugging away with what you've got than to reinvent it from nothing. It just takes a lot of time, and with the time that you spent doing it you may have got more benefit from doing five or six easier things.
"Even if you have loads of track testing, if you are going to do things like that you've got to put it in the wind tunnel - and every time you do that, there's an opportunity lost because you are not testing something else."
Perhaps this is indicative of the pace of development in F1, which becomes ever more frenzied and demands tangible performance gains pretty much from race-to-race even to stand still. Spending a few months on one concept is simply not an option.
Allison's theory is that the ever-increasing development demands stem from just how good the teams in F1 have now become. "I've been trying to work it out," says Allison.
"Talk to any team and they will tell you how steep the slope has been. In 2009, that was partly because the rules were new and we were learning about them, but the ongoing steepness is because the teams are getting better at aerodynamics.
"CFD in particular is coming of age among all of the teams. Where an aero department may have been really empirical in the past, just trying so many different ideas and varying bit by bit the car geometry to find what's good and what's bad, that has been taken over by more concepts being worked through in CFD first.
"That improves the success rate of your ideas. Instead of having, say, one good idea in 20 you are now having three. That contributes to finding performance at a higher rate and that translates into needing to have a higher update rate on the track."
With no sign of the development pace abating, the 2011 season is likely to be won or lost by what the teams do technically during the season as much as what they have achieved up to now. To those who complain about F1 regulations being too restrictive, you need only look at the tweaks and new parts that get thrown at most of the cars on the grid from race to race to know that there is still significant scope for engineering excellence in F1.