It's not unusual for a journalist, or anyone else who works in motorsport for that matter, to be told that such-and-such a driver is the next big thing. But when you get one person, then another, then another dropping the same name into conversations, you start to take notice. The name Sebastian Vettel kept cropping up during his early days in car racing to anyone with connections in German motorsport.
At that stage, he was regarded by the wider world as just another young driver with a good karting CV (and there are plenty of those), but as he racked up five victories in his rookie season in the German Formula BMW Championship in 2003, a picture began to form of a potential superstar.
Former Targa Florio runner-up Helmut Marko, head of Red Bull's young driver programme, had already decided that he was a star of the future and brought him into the fold. During that first season in Formula BMW, Vettel finished runner-up to Maxi Gotz - a handy driver whose career stalled around F3 level and who had finished second to Nico Rosberg a year earlier.
It was a good start, but it was 2004 that convinced those who were paying attention that Vettel was on the road to the top. Statistics can be misleading, but Vettel's numbers from that season were unbelievable.
Yes, he was driving for top team Mucke Motorsport and no expense was spared, but in 20 races he won 18 times. In a one-make category, in a competitive field including some good drivers - including a rookie Sebastien Buemi, that is an amazing record.
He also took 14 wins on the trot, showing an ability to deliver the relentless speed lap-after-lap that served him so well during the run-in to the 2010 world championship.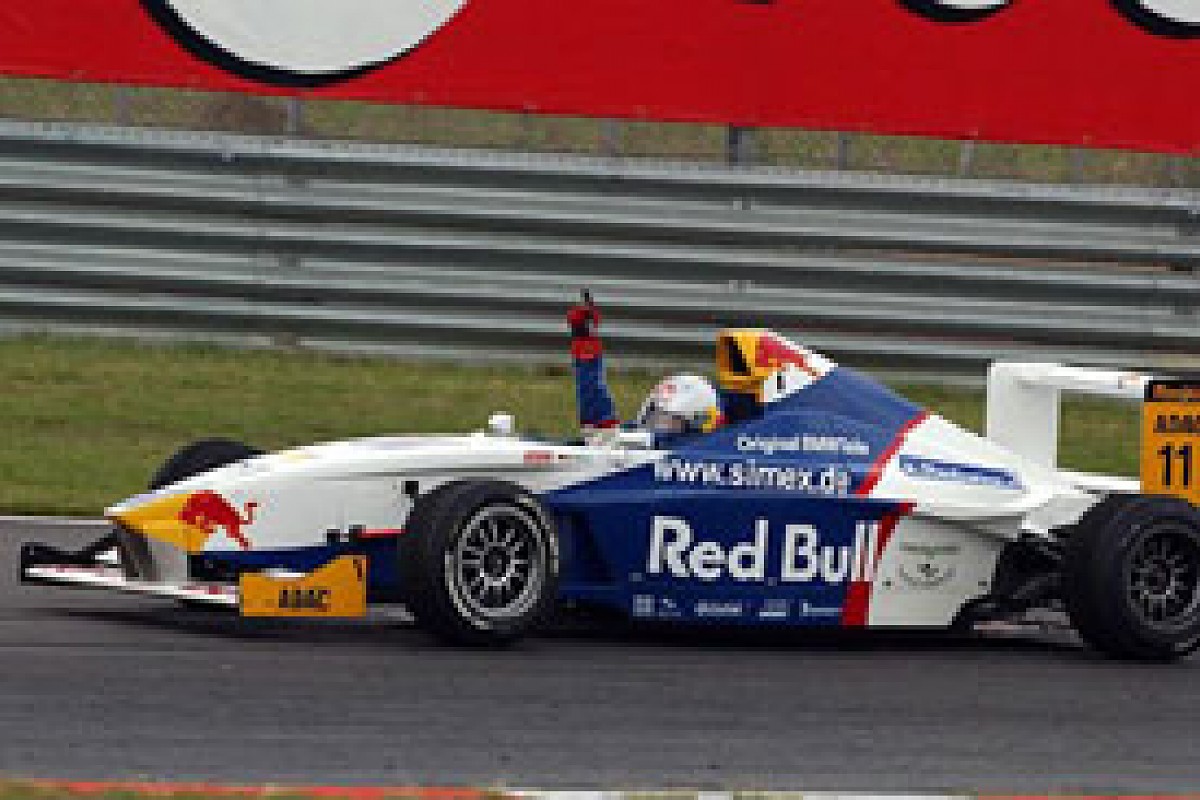 Vettel's debut Formula BMW season in 2003 © Sutton
Buemi, who shared the podium with Vettel 10 times that season, finishing third in the championship and picking up support from Red Bull along the way, could see how good his rival was.
"Vettel was immediately really good," says Buemi. "He had his objective and he gave everything. After that, he was always lucky, but he worked for his luck. You could not say then that he was going to be world champion in 2010, but he had the right profile and was doing the right things to be competitive."
One of Vettel's team-mates that season (alongside the long-forgotten younger brother of Juan Pablo Montoya, Federico) was Dominik Jackson, one of the few drivers to have denied Vettel a pole position in 2004. He, too, was impressed with Vettel.
"Sebastian on a personal basis is a great guy," says Jackson. "We got on very well and he certainly has a fantastic sense of humour. It's absolutely on a British level - he's always been into Monty Python!
"From a professional point of view, Seb was a tough challenge. He has three key ingredients. 1) He's a very talented driver and has the ability to find the pace very quickly. He's not afraid to try different approaches to driving a circuit. 2) He's always been very analytical, but more importantly he's 100 per cent there with effort, whether it's in the gym or in the evenings with the engineers. 3) He's always had the commercial backing and enthusiasm of important individuals who are 100 per cent behind him. Having a set of people around you, be it an engineer or a sponsor, who also makes you number one priority."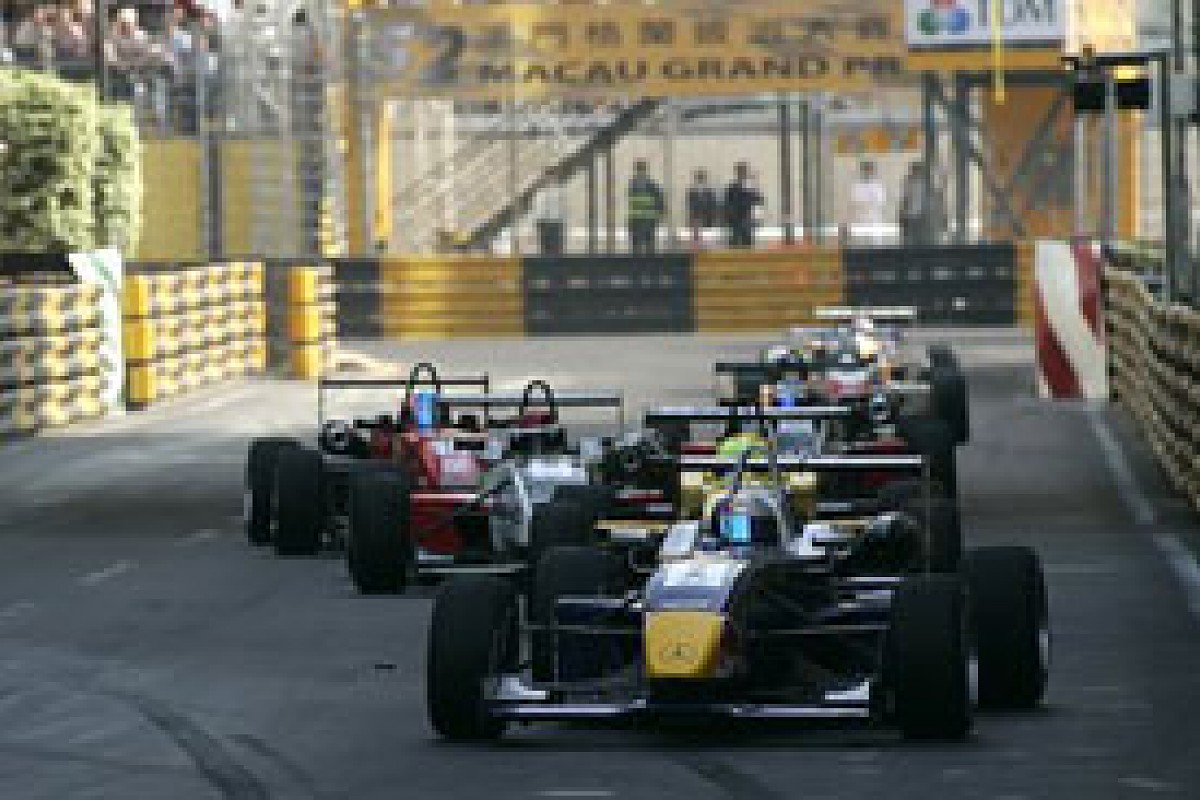 Vettel finished third at Macau in 2005 © LAT
The last point is interesting. Jackson is referring to Red Bull's influence, which ensured that Vettel was the number one driver in the four-man Mucke Motorsport line-up that year. Even from the early days, it's clear that Red Bull and Marko saw Vettel as their great hope. Jackson likens the process to McLaren's patronage of Lewis Hamilton.
"Our pre-season test for 2004 was at Hockenheim and I was consistently faster than Seb," says Jackson. "During the test, I felt a lot of weight was being put behind Seb and the general feeling in the team was negative, even though one of their teams was fastest.
"Before leaving I recorded my engine and chassis numbers, and when we arrived at the first round two weeks later, they had swapped our chassis!
"The second thing was at the European Grand Prix support race. I got pole and Seb was so pissed off that he ignored the chequered flag and tried again. He got a fine from the ADAC for that. When I got back to the paddock, pretty much the whole team stopped talking to me. It was a very uncomfortable situation. I qualify on pole, yet there is a negative vibe.
"Seb was always very close to Helmut Marko and clearly evolved into his protege.
"The key here is that Seb's investors were also his management. A team can ignore a corporate sponsor who arrives from the city to view the odd race, but it's a whole different game when they're actively involved. Seb and Helmut/Red Bull are the closest example to the Lewis and McLaren relationship."
It's a situation that Mark Webber might have some sympathy with - although if you're tempted to write off what Jackson says as sour grapes, take into account that he makes no bones about the fact that Vettel is an outstanding driver. Plus, remember that Marko is not known for being generous to the drivers in the revolving-door Red Bull programme and Vettel had to justify the company's faith year after year.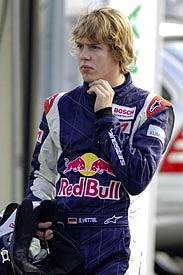 © LAT
In exchange he got the best support possible across the board. And made quite brilliant use of it. But Vettel remained in the Red Bull fold, primarily because he continued to deliver on his promise.
Vettel graduated to the F3 Euro Series in 2005, staying on with Mucke Motorsport. That year was one of utter dominance from Lewis Hamilton, but Vettel caught the eye with consistently good performances for Mucke, at that time one of a gaggle of teams struggling to keep up with the ASM team's F3 bar-raising exercise.
But after being crowned rookie champion that season - and surviving a brief scare when Red Bull did wonder whether he was as good as believed and considered dropping him - he stepped up to ASM as the anointed champion-in-waiting in 2006. With a year of experience, the best team in F3 on his side and Red Bull backing, what could go wrong?
Come the end of the season, he had been beaten to the championship by Paul di Resta - a title fight that could one day be repeated in Formula 1 should the Scot get into a car worthy of his prodigious talents. Ultimately, Vettel lost the title to a driver who had the beating of him, but the distractions of Formula 1 test outings for BMW Sauber and a couple of race-winning appearances in Renault World Series didn't help his equilibrium.
The following season, Vettel stepped up to World Series full-time, impressing Carlin Motorsport and he was on course for the title until F1 came calling - at the time he was leading eventual champion Alvaro Parente by 23 points after seven races.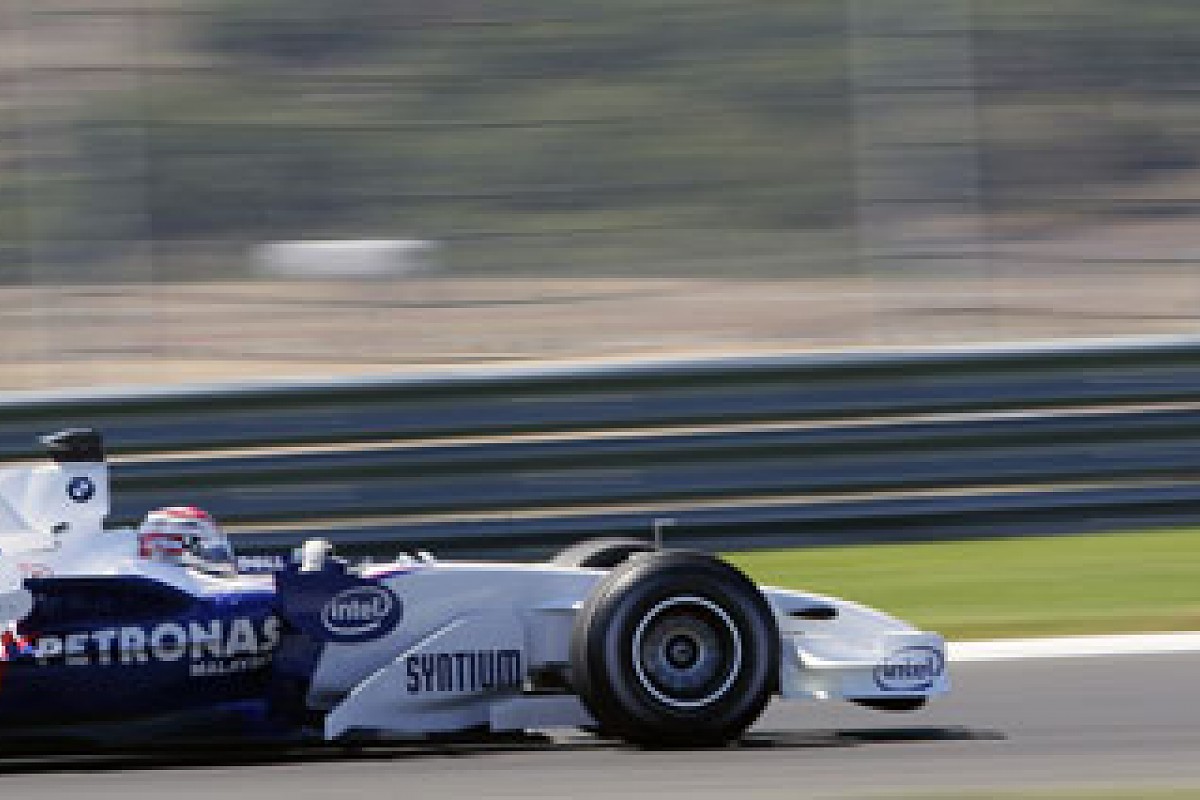 After filling in for the injured Robert Kubica in the 2007 United States Grand Prix - scoring a point - Red Bull dropped American Scott Speed from its Scuderia Toro Rosso line-up. In the 2007 Hungarian Grand Prix, four-and-a-half years into his car racing career, Vettel was a full-time F1 driver.
He had a tricky start, struggling to match team-mate Vitantonio Liuzzi initially and wiping out Red Bull stable-mate Mark Webber at Fuji while running under the safety car. A morale-boosting fourth place in China meant that his maiden half-season in F1 finished on a strong note, but in a year when Hamilton had set new standards for rookie achievement, his quiet start failed to grab the attention.
"When he was at Toro Rosso in the beginning he didn't impress me much in the seven races we did together," says Liuzzi. "He had some good results at the end with good strategy and scored some good points, but speed-wise he was never an issue. But now he is world champion, so good for him!"
It wasn't until the middle of 2008 that Vettel, who had already established himself as a popular figure in the paddock for his enthusiasm and sense of humour, started to show what he was capable of after a difficult start to the season. The 2008 Toro Rosso didn't make its debut until Monaco, but despite Vettel finishing fifth there it wasn't until Valencia in August that things really started to come together.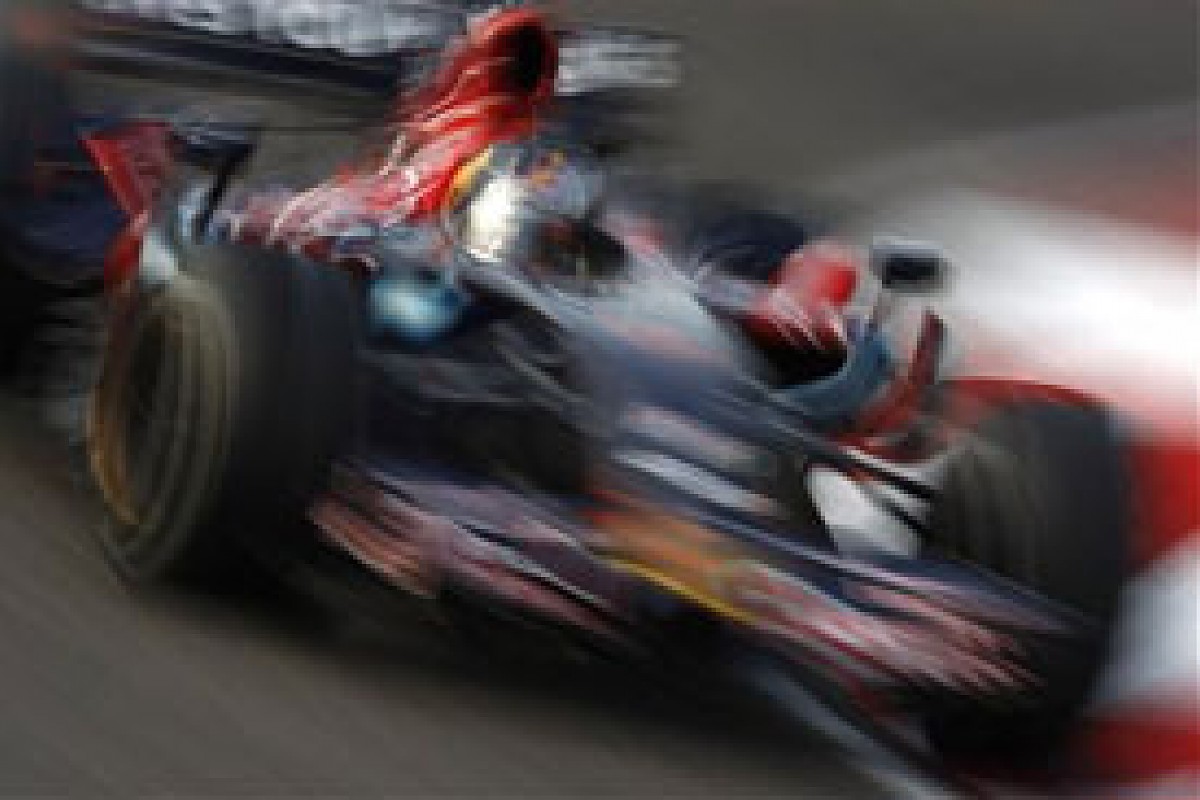 © LAT
His sixth place in the Spanish track's first grand prix was the start of an impressive end to the season.
Included in Vettel's run of six points finishes from seven races was his famous victory in the Italian Grand Prix. In wet qualifying, he took pole position and went onto control the race with a close to perfect performance (save for one moment at the first chicane). Just over a year after his F1 debut, he had finally shown the world that he was a future champion.
"No driver comes into F1 and is immediately at the front," says Scuderia Toro Rosso team principal Franz Tost. "Aside from that, the Toro Rosso wasn't a car with which you could win a race [in Vettel's first races in F1]. He came in, he learned race-by-race and his learning curve was steep.
"I was always confident that Sebastian could become world champion because he has extraordinary skills, he is motivated, he has everything that a champion needs and in Abu Dhabi he showed it to everyone."
Inevitably, he was promoted to Red Bull's 'A-Team' for 2009, although the squad had taken the decision mid-season even before Vettel had really hit his stride. In his first test with the team, he surprised his crew by demonstrating his famous British sense of humour over the radio while on track and this proved to be an instant hit.
"From the junior days, we could see that Sebastian was a special talent," says Red Bull team principal Christian Horner. "His performances in the Toro Rosso in 2008 stood out as something special. From his first test, it was clear that the boy was a bit good - even though he had a strange sense of humour!
"He has grown and grown, he gets stronger with each season and he's still only 23. He has great maturity and is a strong team player."
At Red Bull, he claimed the team's first pole position and victory in China 2009 and came close to getting into the running for the world championship last year.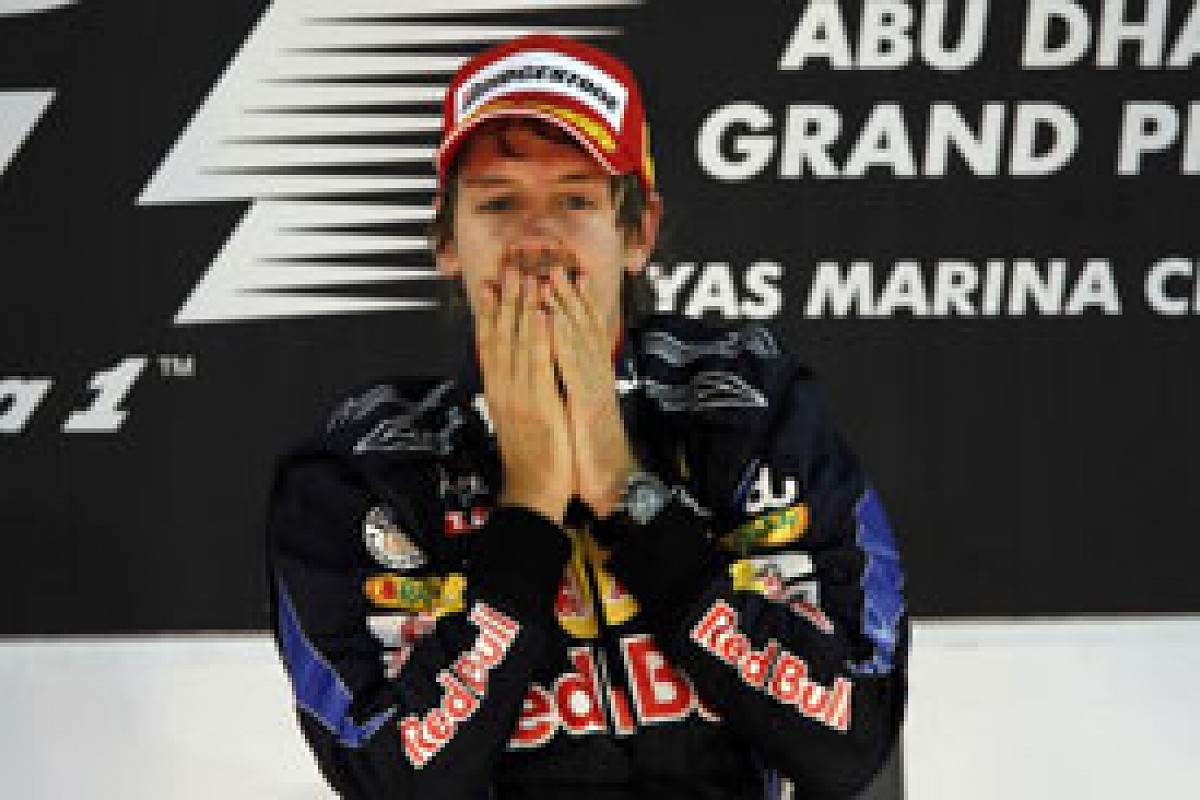 © LAT
The story of 2010 has been well-told elsewhere, but his 10 pole positions and the way that he bounced back from some high-profile blunders in Turkey and Belgium mid-season has been remarkable."
After seven years of being Red Bull's favoured son, the trajectory plotted for him by Marko back in the Formula BMW days was completed in Abu Dhabi. The bad news for the other drivers on the grid is that he reckons his protege will be even better next year.
"I think that he will be more mature and more relaxed," says Marko. "So we are really looking forward to next season."
His Formula BMW dominance was the start of his journey from mere F1 aspirant to world champion. What happened in Abu Dhabu on Sunday might be the start of a whole new journey, from title winner to genuine legend.