Pedro de la Rosa was dropped by Sauber shortly before the Singapore Grand Prix and had to watch in frustration from his home in Switzerland as Nick Heidfeld drive his car.
The Spaniard bounces back this week as test driver for Pirelli, having neatly taken over the Toyota seat vacated by Heidfeld. He will have his first experience of the car and tyres at Valencia on Tuesday and Wednesday of this week.
The news of de la Rosa's involvement has been welcomed by the F1 teams, because whoever does the Pirelli work in the coming weeks will play a huge role in determining the direction that the Italian company takes in the build-up to next year.
With due to respect to Romain Grosjean, de la Rosa was always going to be a more popular choice than a guy with half an F1 season behind him - and no knowledge of 2010 Bridgestones.
In some ways de la Rosa has landed on his feet, although obviously he'd much rather be out there racing and he's hoping he can return somewhere in 2011.
On paper, this year might not look great, especially when Kamui Kobayashi's points are tallied up. But he endured something of a nightmare season, with poor reliability and assaults from other drivers making it almost impossible for him to make much of an impact.
No doubt looking to next year amid negotiations with sponsors and investors, Peter Sauber clearly felt he had to do something to give the team some momentum, and Pedro paid the price - finding himself dropped with five races to go.
It was on the Sunday evening at Monza that rumours first began to suggest Heidfeld was coming in. De la Rosa says that was the first he knew that something was up.
"To be honest, I was shocked," he says. "I had no indication that they would replace me. It was quite a sad decision from the team, from Peter basically. I was deeply surprised because there were five races to go, we were all pushing hard and we had a new aero package for Singapore.
"We had worked very hard to get there. Okay, Monza was bad, but we knew that this type of low downforce track would be always bad for us. The car had been a lot better in the last two or three races and we knew that we could do it. From my side it was a strange decision, but life goes on and I'll move on."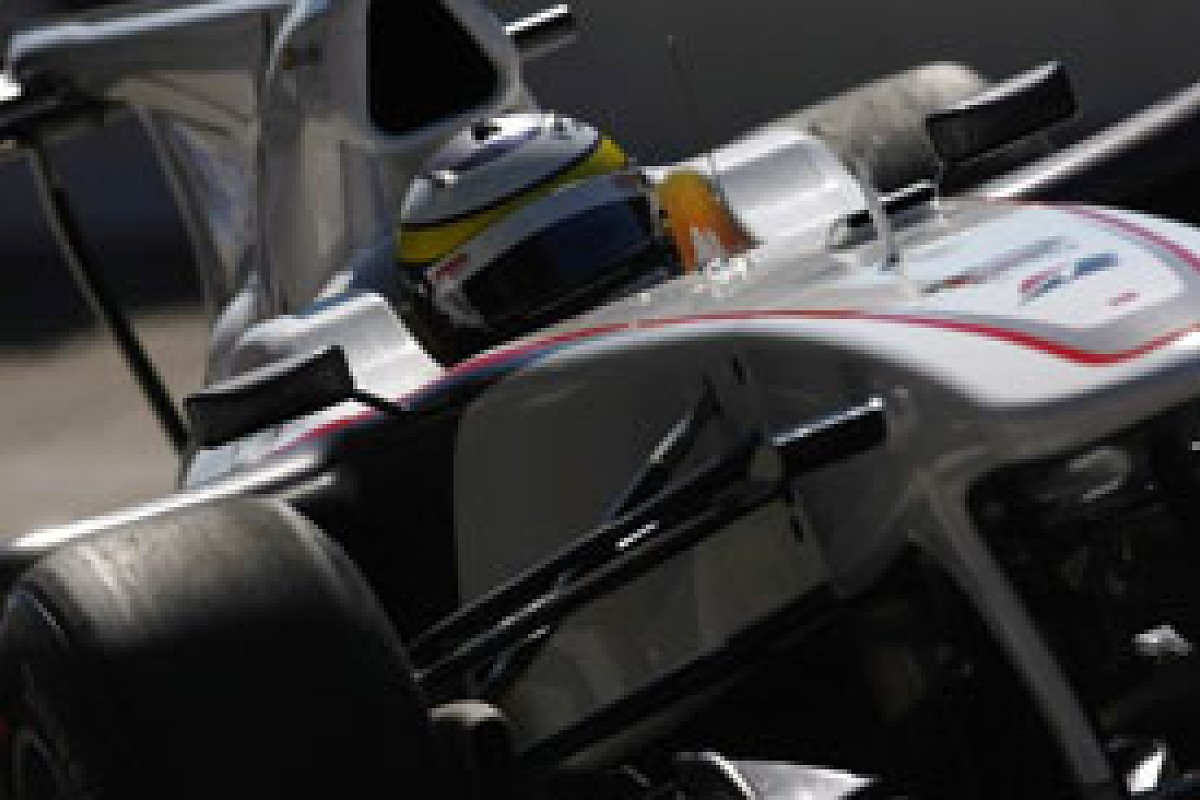 © LAT
Having waited so long to get a full-time drive, this year promised so much for de la Rosa. It's easy to forget now that during the winter Sauber set some quick times, but by the time the season started that form had proved to be an illusion.
"We were quite confident. The problem was that we had been testing with a lot less fuel than other people. Already at Barcelona, the last test before Bahrain, we saw signs that we were not quick enough. We had too much drag and therefore were very slow on the straights. It was obviously a wake-up call that there was something wrong. Our worries were confirmed in Bahrain.
"The only explanation really was that we were slower than expected mainly because we'd been testing with less fuel than other people, and that when we arrived at circuits with longer straights, our drag penalty was increased and so was our gap in laptime to the leading teams. That was basically it. Also, we should not underestimate the rate of development of the top teams, which was extremely high. From their launch car spec until the Bahrain car they made big steps at every test which we could not match."
Performance was one thing, but the real problem was reliability. In the first eight races he had three engine problems - one even before the start in Malaysia - and two hydraulic failures.
"We were very unreliable initially, for reasons that had not shown in testing. We had several engine failures, which was completely unexpected and to an extent are still under investigation. It was not normal. We also had several hydraulic problems which we didn't have in testing. I would say the first third of the year was missed with reliability issues which cost us valuable points.
"China was good. It started raining and we decided to stay out with slicks. There was a point when I got up to fourth and it was a very good call from the team to stay out. And on lap six the engine failed and that was that. I was fighting for fourth. Another points finish that slipped through our fingers.
"In Monaco our race pace was extremely competitive, we had a very good strategy and I had a hydraulic problem. Then at Barcelona we were very competitive all weekend until I was hit by a Toro Rosso at the start.
"There were points where we did a very good job as a team, considering our level of performance, but we never managed to materialise the opportunities for one reason or another. And in Formula 1 you always know that when you have a limited budget the first five or six races are the ones where you have to take your opportunities because after that the top teams will just take off in development and open the gap."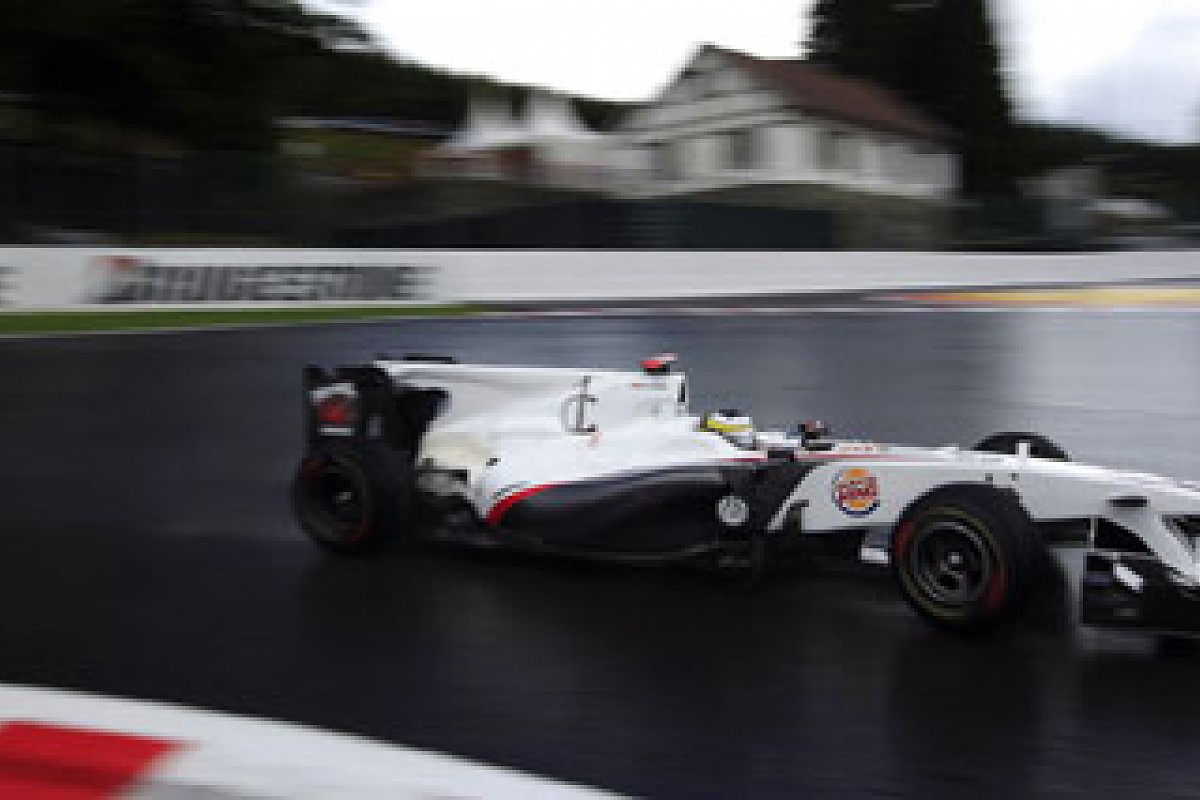 It wasn't just reliability. As mentioned, he suffered a puncture when hit by Sebastien Buemi in Spain. He was hit by the spinning Vitaly Petrov in Canada, which led to a stop for a new nose, and he had to retire after an assault from Adrian Sutil at Silverstone.
Valencia somehow typified de la Rosa's run of bad luck. He finished 10th on the road and finally had a result. Then half the field received five-second time penalties for going too fast on the way into the pits after the safety car came out. Pedro dropped to 12th, while nobody else lost points.
"Let's say that I haven't been very lucky this year and this is a clear example. When everyone gets a penalty, or nearly all the drivers, and nothing changes except for me... I lose two positions and drop out of the points. But fair enough, I made a mistake. I should have kept within the delta time. I didn't make many during the year, but this was one."
In the second half of the year things began looking up. He qualified ninth at both Silverstone and Hungary.
"Qualifying at Silverstone was one of the highlights, together with Hungary. Making it into Q3 was not easy this year, the level of competition we were facing was extremely high. It's not only the top four teams, but also you have Renault, Force India and Williams. When the teams introduced the blown diffuser they made big steps.
"So to qualify ninth a couple of times was the highlight of my year, without forgetting the points in Hungary for finishing seventh - again on a track with no straights. We were mostly competitive on high-speed corners, that's why we were strong at Silverstone, and our weak point was mainly our high drag levels. The circuits where we were least competitive were Canada and Monza, the low downforce tracks with long straights.
"At Silverstone I had a puncture and a broken rear diffuser when Sutil hit me. In fact he also hit me at Monza in my last race, but this time he damaged his nose. I would have preferred to have had no damage at Silverstone where I was in the points when I had to retire, instead of Monza where we were very uncompetitive.
"At Spa I made a big mistake in qualifying, I went off. I was 22nd as I didn't do a lap. Then we decided to change the engine as well. We were already in the eighth engine by Spa, so we took a ninth and I had to take a 10-place penalty so I started last."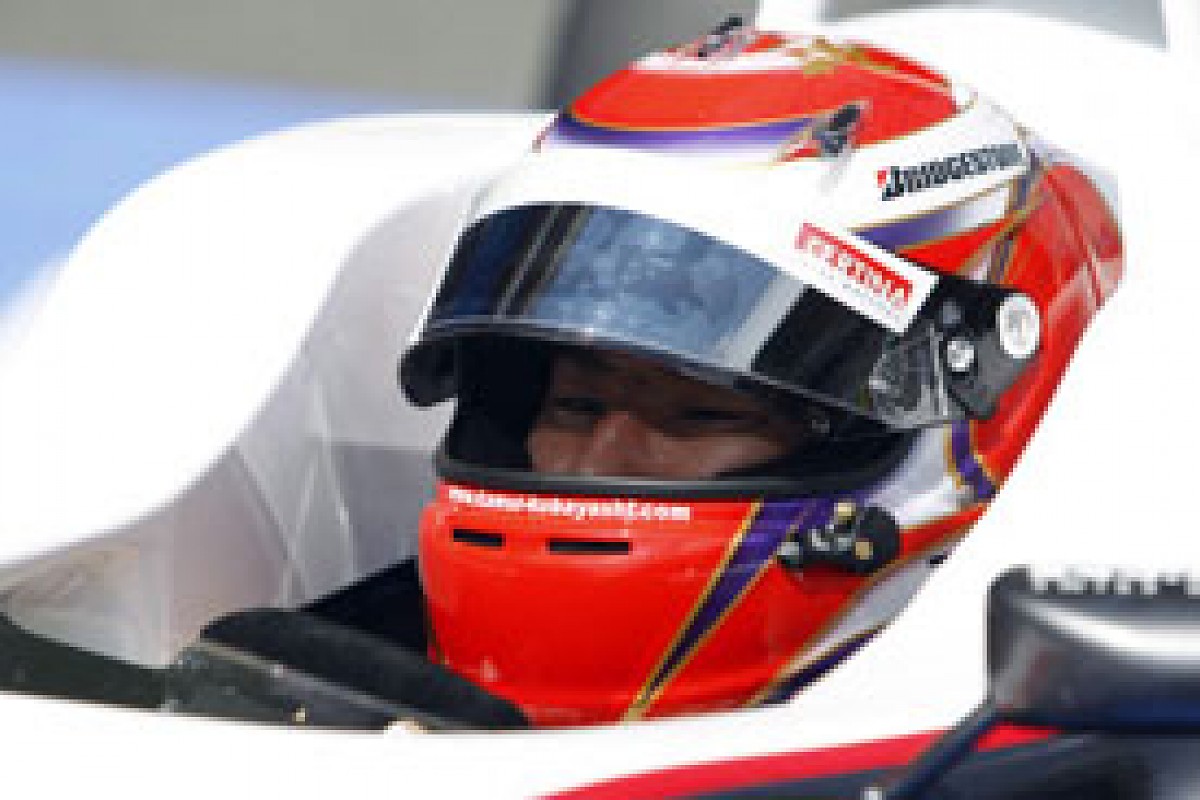 Kobayashi out-scored de la Rosa 21 to 6 © LAT
Of course everything in F1 is about the comparison with your team mate. While Kobayashi had also suffered misfortune in the early races, in Valencia and beyond everything began to fall into place for the Japanese driver, and some spirited performances earned him a string of points finishes.
"Kamui is generally a very under-rated driver. Having said that the races that he was up there, or the car was competitive, he could finish every time and obviously he didn't make any mistakes as well.
At the end of the day everyone always looks at the points table. It's always the same, you have to score the goals when you have the chance otherwise your opponents will. But if you look into it on detail we qualified 7-7, which is normal in F1."
That however was not good enough for Sauber. It seems the team felt that as the more experienced driver, de la Rosa should have been ahead all the time. And while Robert Kubica has clearly done that at Renault, it's worth noting that Nico Hulkenberg had outpaced Rubens Barrichello five times.
"Personally, I think I drove well. Some people say he's very experienced, but they forgot about one main thing. There were many races where I hadn't raced since 2002, like Spa or Monaco. Valencia was a new track for me. Going to Monaco was like learning a new track again, eight years without racing there. The others which were fresher I still hadn't been to since 2006. I was learning most of the tracks.
"But you know, I didn't feel rusty at all. I just felt some tracks I dedicated Friday to get back into it more than being able to improve the car. There were other tracks where I was fresher, like Silverstone or Hungary and I was pretty fast straight away."
De la Rosa says he has no regrets about this season: "I came back and I did a solid job. I met some really good people with another approach, another way of working. Generally I would do it tomorrow again - it was a very good experience. How it ended was not right, especially with five races to go, but on the other hand I had an interesting time and I did not stop learning. I can only say thank you for the opportunity, even if we should have stayed together pushing until the end of the season."
He hasn't stayed on the sidelines long, however. From the moment of the Sauber announcement it seemed logical he would slip into the Pirelli role.
"I don't think it was that straightforward. Everyone was talking about it, but actually nothing had been discussed between us when everyone was already assuming that it would happen. That's why I was a little bit surprised that people were ahead of what was really going on. Finally it happened and I'm very pleased, but it was not as straightforward as it looked.
"I would say it will be a very interesting experience for me, because it's working with a top tyre manufacturer, and it will give me the opportunity to understand the tyres and keep testing in F1. That's very important for any driver. When you work with a tyre company you just have to be consistent and give very good feedback, and I've always enjoyed doing this in the Michelin days - or even when I was back racing in Japan, with Bridgestone or Yokohama."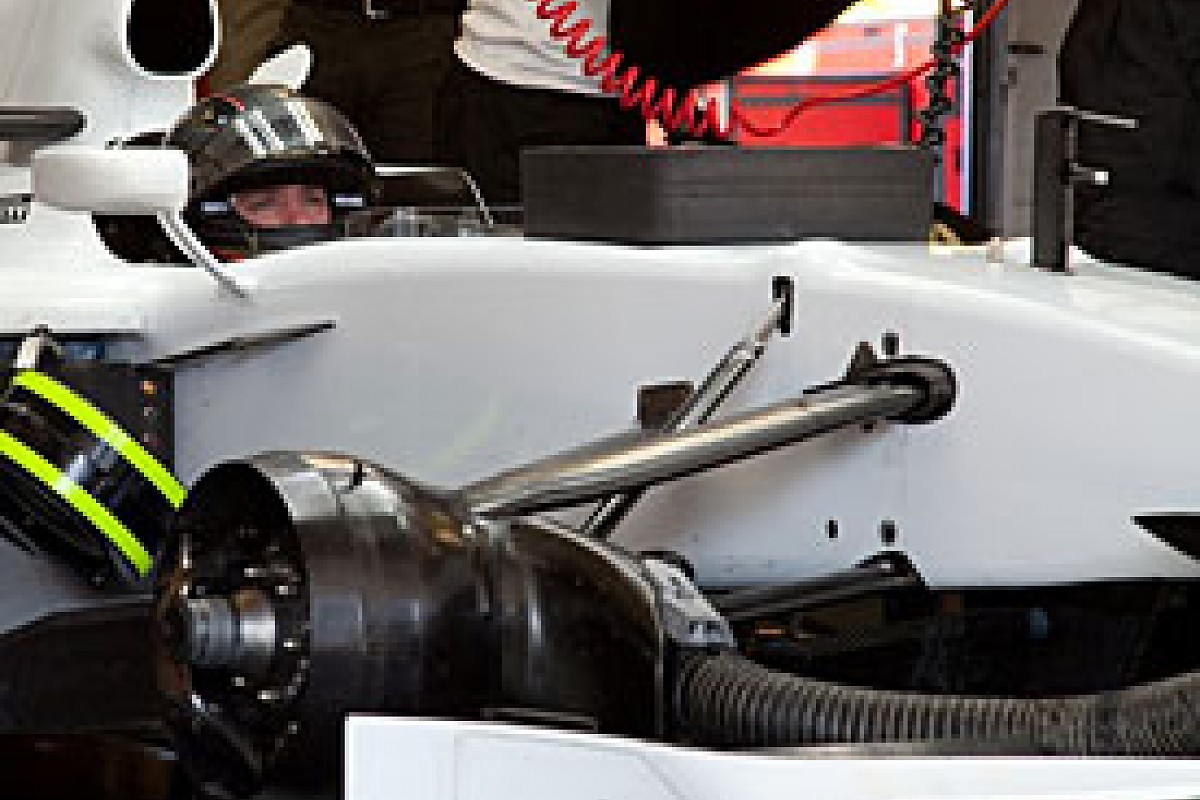 De le Rosa will take over Pirelli testing from Heidfeld © LAT
The teams will get to try the tyres for the first time at Abu Dhabi after the last race and at the moment it's not clear what Pedro's role will be beyond that.
"It very much depends how the tyre development goes at the next few tests, to define the test programme after that. I think that we have to be very open minded and know where we are. Pirelli's plan now is to focus on compounds and there's a lot of work to be done.
"Until now it's been about constructions. We will see where we are, basically. Nothing is defined. We will test and see how many more tests we will need to fine tune the compounds."
Heidfeld's gameplan was to use Pirelli to get himself back into a race seat, and naturally de la Rosa thinks the same way,
"I will learn, but also it could potentially make me more attractive for next year. Look, it will be difficult, but I'm going to give it 100 per cent again. I don't know which teams will have a seat available or not, but I'm working on it already.
"At the moment, it's better just to have a little bit of perspective of the situation. If I have any meetings to work on for next year and I have to be at any race, then I will, but not just hanging in there doing nothing, it doesn't make sense. I've recovered from worse than this."
At the moment he's got no intention of looking outside F1: "The moment you put one foot out of it, you're never back at my age. So I just keep pushing in the same direction. You never have the wrong age for DTM, WTCC or Le Mans, you know."
He brings up the subject of age and there's no escaping the fact that he has a big birthday coming in February.
"I'll be 40, and it's not an asset at the moment. But physically... When I finish races I'm not tired. I've been sacked, but it's been a good year. Considering the performance level of the team it's been probably my best year in F1. That is why I am so surprised, but also so relaxed."