In the fastest race ever run on a European road circuit (145.74mph), Dan Gurney brought his lone V12 Eagle-Weslake to victory in last Sunday's Grand Prix of Belgium. Not only that, but the popular Californian set a new Spa-Francorchamps lap record of 3m31.9s (148.85mph).
Jim Clark (Lotus-Ford 49) was the only driver to exceed 150mph in practice, but after leading the race for the first dozen laps he had to stop when an electrode blew out of a sparking plug. This occurred again, but by that time the flying Scotsman was out of the running; he did however, squeeze a championship point for sixth place.
Into second place came Jackie Stewart (H16 BRM), after a gallant drive when he had to hold the gear lever to prevent it from jumping out. Stewart held his lead for eight laps, but finally had to concede to Dan in the flying Eagle. Third place went to Chris Amon (Ferrari), after a race-long battle with Pedro Rodriguez and Jochen Rindt in the Cooper-Maseratis. The unlucky Rodriguez abandoned three laps from the end with piston failure, and team-mate Rindt snatched fourth place. Next up was Mike Spence in his H16 BRM, followed by Clark.
Only 10 cars were classified, including four out of the five Cooper-Maseratis entered. Both Brabhams packed up with scavenge-pump problems, and Graham Hill's Lotus-Ford fell victim to gearbox failure.
Louis Stanley's Grand Prix Medical Service sprang into action when Mike Parkes had a spectacular crash at Blanchimont with his Ferrari. After a quick look over, Parkes was rushed to l'Hopital de Baviere at Liege, where he was detained with a compound leg fracture, several other injuries, and concussion.
In the tyre war Goodyear followed up with their Le Mans win with Gurney's victory. Champion turned the tables on Autolite (Zandvoort and Le Mans) with a 1-2-3-4-5 success.
Entry
The only really new car at Spa was Jack Brabham's Brabham-Repco BT24. This machine is a logical extension of the 1967 Formula 2 and 3 designs, the geometry of the suspension being calculated to make the best use of the latest tyres. Thus a lower rollcentre has been chosen, with greater swing arm lengths, the space frame and the magnesium being entirely new. Spoilers are fitted front and rear to keep the car from flying or becoming light at maximum speed.
It is, as Ron Tauranac says, difficult to discover the exact weight of a car, for weighing machines seem to vary, but the new Brabham is certainly down to the minimum weight for all practical purposes. Among the full 3-litre cars only the Lotus shares this advantage, the other 12 and 16-cylinder machines all being considerably overweight. The engine of the Brabham is the latest Repco, with all the inlet and exhaust ports on the same cylinder head faces, inside the vee. Denny Hulme had the new engine in the old chassis.
The Lotuses for Clark and Hill were of course the new V8 Ford-Cosworth engined 49s. This is a superb design, so utterly neat and functional, the ventilated brake discs just clear of the tyre for cooling - engineers now realise that any brake, whether disc of drum, must be able to dispose of its heat. The tyres for which this car was designed are not yet available, owing to a strike at Firestone's American factory, one hears. These tyres will fit the same rims, but the tread width will be a little greater, giving better traction on bumpy surfaces. The ignition has an automatic cut-out that keeps the engine revs down to 9000, the unit being safe at 9300rpm. It comes in very suddenly at 6700rpm, as tuned at present.
The Ferraris all used the latest version of the three-valve engine, with air intakes between the camshafts and exhausts in the centre of the vee. Amon and Ludovico Scarfotti had the 1967 chassis, but the car of Parkes was his '66 long wheelbase model, brought up to date as regards suspension geometry. The removal of the exhaust manifolds from the outside of the engine has permitted the bonnet sides to extend right up to the inlet camshaft covers, giving a much neater finish to the body.
The Eagle was unchanged, except that the former chromium-plated exhausts had been replaced by matt-finished ones - a great improvement in appearance and functional too. As always, the car was beautifully prepared. The Coopers had the traditional Maserati engines, with 12 separate barrel throttles. As the new Heron-head version lacks sustained power output at present. Stewart and Spence had the old H16 BRMs, the lighter version seen at Zandvoort still being too new to race. Chris Irwin drove the little V8 Tasman BRM to make up the team. John Surtees arrived with two Hondas, which showed no external changes.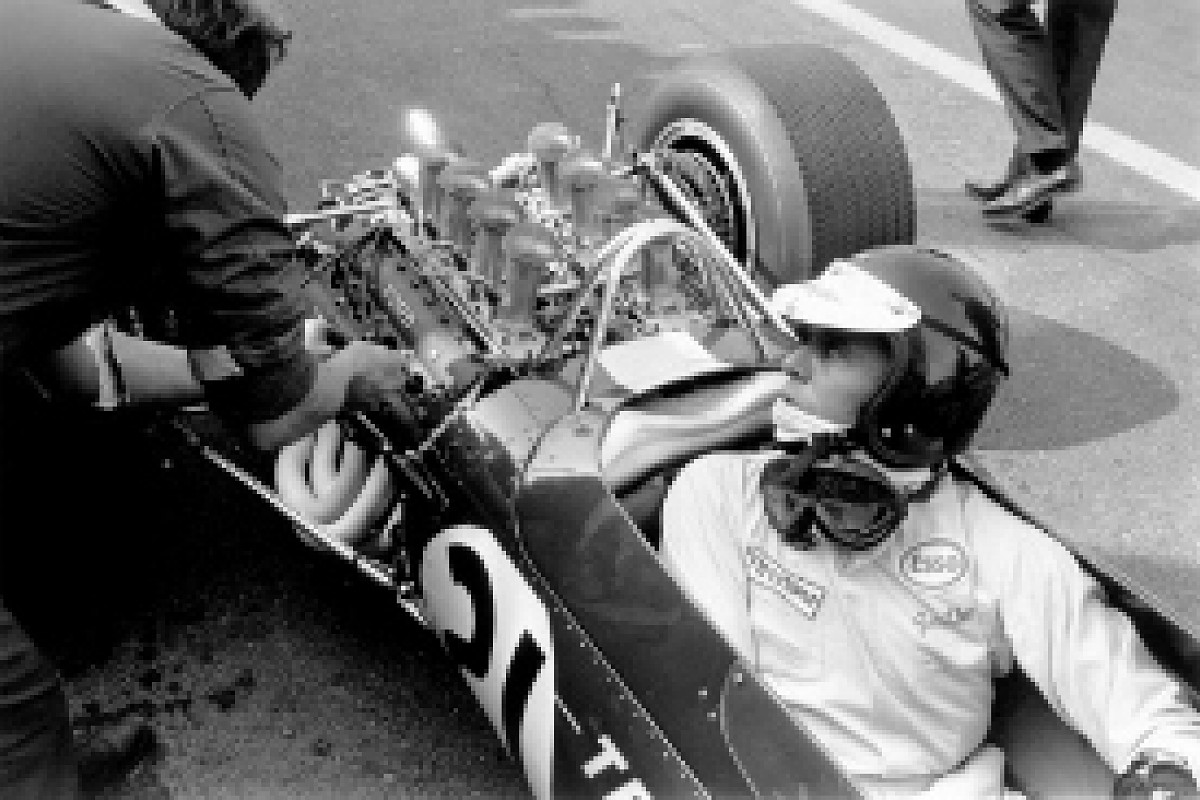 Jim Clark took pole on Saturday © LAT
Practice
Both days at Spa took place on dry roads, though there was some wind on Friday. Clark went around in 3m29.0s on the first day, besting a 150mph average for his incredible fastest lap. He was touching 190mph on the straight, compared with 187mph for the Ferraris. Gurney did a splendid 3m31.2s, ahead of Hill in the other Lotus at 3m32.9s. Next in order were Stewart with the H16 BRM and Parkes and Amon with the Ferraris. Hulme had an engine blow up in his Brabham.
Saturday's practice was dominated by a stupendous lap time of 3m28.1s, the author being Clark, of course. Gurney could not beat his earlier time, but Rindt did a spot of Ferrari slipstreaming and achieved a resounding 3m34.3s with the Cooper-Maserati that was equaled by Amon. Brabham recorded 3m35.0s but was forced to dismantle his engine in search of missing oil pressure. The circuit was very bumpy, with disconcerting waves in the surface here and there. Gurney tried different springs and roll bars to keep the H16 on the road. Hulme was unhappy in Brabham's old car, which did not suit his driving.
The practice periods did not show the expected superiority for multi-cylinder engines on the exceptionally fast circuit. On the other hand, the heavier machines, which tend to be outclassed on the tighter circuits, had a chance to be competitive.
Race
On such a tremendously fast course, tyres were all-important. Stewart and Spence elected to run on Goodyears with their H16 BRMs, and Irwin had Dunlops on the 2-litre V8 BRM. The Brabhams and the Eagle were on Goodyears, the remainder favouring Firestone. Bruce Mclaren decided that two litres of BRM engine was not a competitive project at Spa, and AJ Foyt's NASCAR commitments prevented him from driving the second Eagle.
After a dull, cold morning, with plenty of Ardennes mist, the sun broke through by midday for the preliminary Formula Vee race. By the time the grand prix machines were rolled on to the grid it was a beautiful day, with no sign of the dirty black clouds of 1966. A truly enormous crowd had turned up, and even as zero hour approached there were long lines of cars waiting to get into the circuit. The grid lined up with Clark, Gurney, Hill, Rindt and Amon heading Stewart and the rest.
This year (recalling the sudden rainstorm of '66), each did an exploratory lap before coming to the dummy grid. This was disastrous for Hill, who was not in the line-up due to a clutch that refused to free. Down went the flag and still no Hill! Gurney stood still with madly spinning wheels and bags of blue smoke as Clark seized the lead into Eau Rouge, followed by Rindt, Stewart and Amon. Mechanics worked frantically on Hill's Lotus as the PA crackled with the positions at Malmedy and Stavelot. Both Stewart and Amon had burst past Rindt. Then Hill took off, over a minute and a quarter adrift.
In an incredibly short space of time the crackle of exhausts was heard as the leaders changed down for La Source. Down past the pits they hurtled, with Clark just ahead of Stewart, followed by Rindt, Amon, Gurney, Rodriguez and Brabham. Then came the others headed by Spence and Scarfiotti. After Bob Anderson and Guy Ligier there was a long gap until Hill appeared, but Surtees, Irwin and Parkes were all missing.
Speedily came news that Parkes had left the road near Blanchimont, and the Ferrari was totally wrecked. He was transported to the medical transporter, and thence by helicopter to hospital in Liege. Surtees coasted in, with immense damage to the engine of the Honda. The crankcase appeared to have become divided. Irwin was the next coaster with a broken camshaft in the 2-litre BRM V8 engine.
Clark's standing lap had taken just 3m38.3s, and next time round he had pulled out five seconds from fellow-Scot Stewart, while Gurney had taken third place from Amon. Into the pits came Hill with more clutch problems and missing fourth gear. Clark was now down to 3m35.5s. Lap three and Clark led Stewart by 6s, as Surtees' Honda was pushed to the dead car park along with Irwin's BRM. Jim was in complete command, although Jackie was grimly hanging on, and Gurney headed Brabham, Rodriguez and Amon.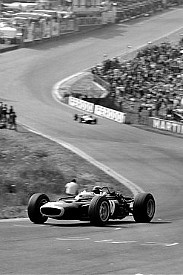 Jackie Stewart © LAT
Clark turned his fourth tour in 3m33.8s, the order of the first half-dozen remaining unchanged. Next lap and Clark was down to 3m33.3s and had stretched his lead over Stewart to 13.5s. In came Hill again, reporting that the car was jumping out of fifth gear. After a consultation it was decided to retire the car rather than risk bursting the engine. Ligier stopped to investigate his clutch, which wouldn't free, restarting nearly a lap in arrears.

By lap eight Clark had increased his lead to 19s, lapping Ligier in the process. Behind him Brabham, Amon, Rodriguez and Rindt were having a real get-stuffed match. However, the meteoric progress of Gurney caused plenty of excitement. By lap nine he had closed to within 2.5s of Stewart, just as Clark doubled Anderson. Lap 10, and Rodriguez had stormed ahead of Amon and Rindt. Jo Bonnier came into retire with fuel feed trouble. Next time round Clark came through like a train, with Gurney snapping at the boots of Stewart's BRM. Up the hill from Eau Rouge Dan was trying all he knew to overtake the 16-cylinder machine.
Came real drama as 12 laps came up on the board. Into the pits went Clark with the electrode blown out of a sparking plug. Then Gurney made a 9s halt to complain of fluctuating fuel pressure. Team manager Bill Dunne merely shouted "Git!" and off shot Dan, still in second spot. The Lotus mechanics worked frantically on Clark's car, with Hill looking on. Over two minutes passed before Clark re-entered the fray, having dropped to eighth place.
Stewart came haring through to complete his 13th lap, some 16s ahead of Gurney; Brabham and Rodriguez were having a set-to, and behind Amon and Rindt, Clark was dicing with Scarfiotti.
Half distance and Clark was really tigering, getting down to 3m33.0s, with Scarfiotti in his sights. Alas, he came in again with more plug trouble, just as Hulme halted to report falling oil pressure. Lap 15 and Stewart led Gurney by 12s, with a tremendous battle going on featuring Rodriguez, Amon and Rindt. Now Brabham stopped with the same symptoms as had befallen Hulme, while back into the fray again went Clark.
Stewart led Gurney by 13s on lap 16; still the furious Rodgriguez-Amon-Rindt struggle went on unabated, and further back Spence was in Scarfiotti's slipstream. Seven cars were on the same lap, and Gurney was overhauling Stewart at some 2s a lap. Jackie had gearbox problems, having to hold gear lever firmly to prevent it jumping out of gear. On lap 20, Scarfiotti stopped with a broken pipeline to the inboard rear brakes. Both Brabhams were solemnly removed to behind the pits, having used their permissible quota of oil.
Meanwhile Gurney had been having a bash at the records, his 18th lap being accomplished in 3m32.8s. On lap 21 he whistled past Stewart right in front of the pits, while Amon had got well away from Rodriguez and Rindt.
Gurney had done 3m31.9s - a new lap record - and with Stewart's gearbox problems becoming more and more noticeable, the gap between them widened. With Amon firmly in third place, Rodriguez and Rindt were left to scramble for fourth spot.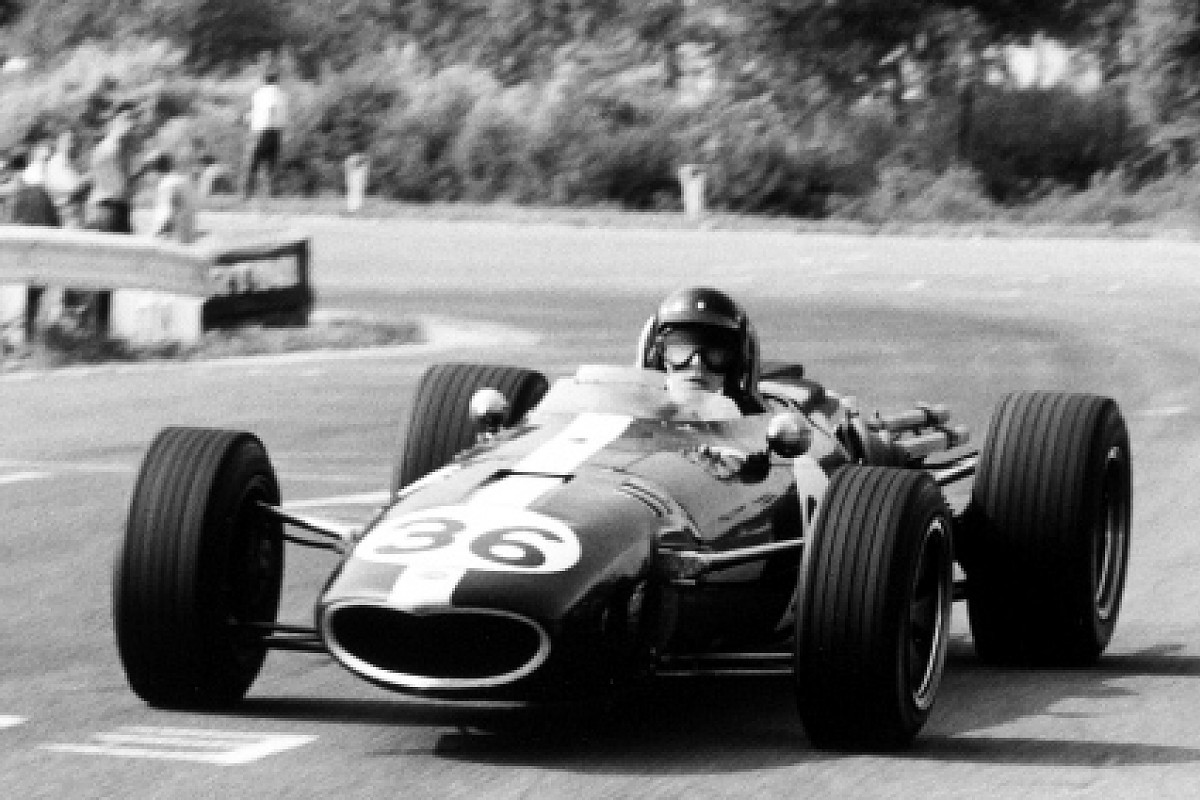 With 25 laps gone Dan Gurney had an 18.3s lead over Stewart, whose gearbox problems were now acute - a great pity as the H16 BRM engine sounded glorious. Into the pits came Rodriguez to retire with a broken piston, just as Gurney lapped Spence. Clark moved up to sixth place as a result of the exit of Rodriguez, followed by Siffert, Anderson, Ligier and Scarfiotti, who had rejoined the race after a long delay.
Fingers were crossed for Gurney, whose lone effort had captured the imagination of the vast crowd. Stewart plugged on, still having to hold the gear-lever in and struggle to control the car with one hand. On lap 26 Dan went through the pits area 30s in front of the BRM. Amon, after a really magnificent drive, was firmly in third place over 60s behind Stewart. Fourth placed was Rindt, and this quartet was a full lap ahead of Spence and Clark. Then Dan was on his final lap, with no change in the order. At Malmedy and Stavelot and on to La Source, the Eagle's progress was described on the PA. Down the slope came the trim blue and white car, and Gurney had won the fastest road race ever run.
Scenes at the finish were indescribable. A huge multitude invaded the finish area as Dan was brought to the RACB's gallery and the stars and stripes was broken at the masthead. He was joined by Stewart and Amon, and the trio were cheered to the echo. It had been a memorable Belgian GP, and Spa-Francorchamps can once again be acclaimed as the world's fastest road circuit. Scarfiotti was running at the end, but just failed to complete the necessary qualifying distance.
The result means that four different makes have won the four Grands Eprueves so far staged - Cooper-Maserati, Lotus-Ford, Brabham-Repco and Eagle-Weslake - so the world championships are wide open.