The Canadian GP provided us with a timely reminder of how much interest and intrigue tyres can bring to grand prix racing. It would be tempting to imagine how exciting a Michelin vs Pirelli contest could be in 2011, but we know that a tyre war is unlikely to happen in F1 for the foreseeable future.
Nevertheless the imminent arrival of the Italian company as sole supplier will in itself stir things up. As one leading team figure said last weekend, Pirelli does not exactly conjure up a conservative, green image. It prides itself not just on its calendars, but on producing racy road tyres, so we can expect it to be willing to take a few risks with its F1 products next year, something that will inevitably happen anyway given its lack of knowledge.
the start of the Canadian GP © Sutton
It's interesting too that Bridgestone said this week that, in the light of Montreal, it would henceforth like to run the supersoft wherever possible. It's the old story - there's no such thing as bad publicity, and if people are talking about tyres, even in a negative way in terms of graining and so on, then at least Bridgestone is in the news.
The tyre situation certainly shook things up a bit in Canada, and with the fuel element now missing it was good to have top teams trying different strategies, not just for the start, but as the race went on. It was fun also to have multiple stops adding an element that has been absent up to now this year.
Before the race there was much intrigue as to who had got it right. In the end McLaren's decision to qualify on the option tyre - as shared by fellow Q3 teams Ferrari, Force India and Mercedes (with Rosberg) - proved to be the more effective than the opposite choice made by Red Bull and Renault (with Kubica).
"I think it was a great team victory," Martin Whitmarsh said after the flag. "I think the drivers did a fantastic job, and the team made the right calls in preparing the strategy and implementing it during the race. We had a lot of debate about what tyres we should qualify on, and Lewis was quite quick on the prime, but the mathematicians and the statisticians said this is the way to do it."
Meanwhile, down at Red Bull Christian Horner had no regrets: "No, I don't think so, based on the information that we had. We just weren't able to do the damage when we had clean air. I think we were right to give it a go, the only way to beat McLaren was to do something different here. We tried it, it didn't work, but the end result is probably about the same."
To be fair to RBR, matters weren't helped when Mark Webber dropped back from second to seventh with a gearbox change. We'll never know how much better he might have done from his rightful place, but the team knew it would pay a price when tests suggested that his gearbox - on the fourth race of a racing life that included Monaco - had a problem.
At McLaren, things could hardly have gone any better. From pole, Hamilton had to stay in front and keep anyone on prime tyres behind him, and he did. And the decision to start on the options played out perfectly when Button was able to stop as early as lap 6, and Hamilton on lap 7, and yet not get caught up in traffic. While Hamilton was jumped in the pitlane by Alonso, both men were able to run quickly after their stops, and both gained on Vettel.
While a team can plan around finding a gap, it also took some sheer good luck that handy spaces opened up for both Hamilton and Button.
"We hoped for it, and we saw it on the timing screens," explained Whitmarsh. "And we just went for the gaps. That meant the drivers could just push at their pace throughout the whole race. I think the team got it right that way, and so did the drivers.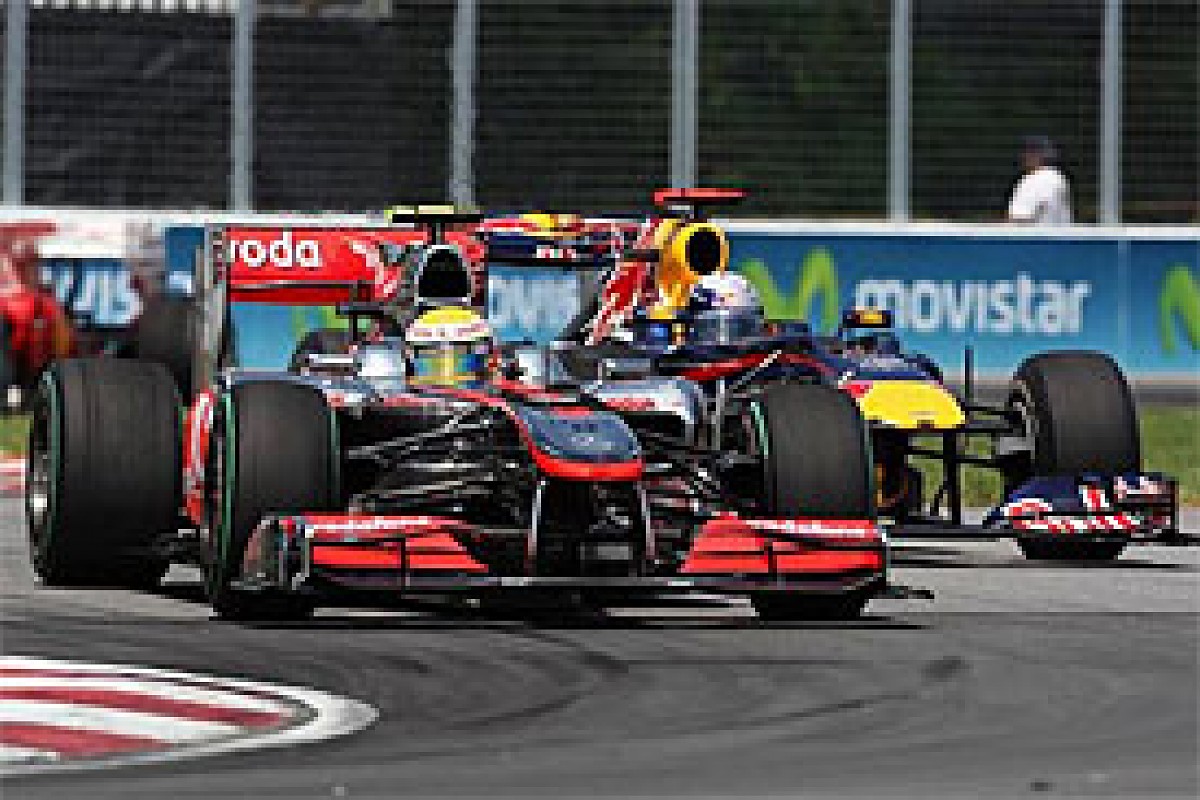 Lewis Hamilton leads Sebastian Vettel © Sutton
"With a safety car it would have been easy, frankly. That didn't happen, so we then to wait and stop as quick as we could when we were able to see a free space, and we were able to do that."
When the Option runners ahead of him stopped, Vettel sailed into the lead. But he was never able to build up the margin that the team had hoped for. Kubica's unexpectedly early stop on lap 9 showed that, with a race fuel load and a relatively green track, the primes were as big a risk as the options. Webber went to lap 13, and Vettel to lap 14, but it wasn't as far as planned.
"As we saw, the option fell away very quickly," said Horner. "And we were able to get into first and second position. Unfortunately once we got into clear air, the prime tyre didn't quite have the advantage we were expecting to see. That started to degrade, and we were quite surprised to see Kubica pit so early. It opened up for all the guys on the option, because they weren't going to come out behind anybody."
When Vettel came out, he was in fourth as Alonso, Hamilton and Button had all got past. Initially he wasn't sure what the deal was, and there was some interesting team radio chat as he discovered that he was indeed racing the cars in front.
"To be honest I was lost in the beginning," said the German. "Because you come in first and then you come out behind cars that should be behind you, per plan. That was a surprise, and obviously you don't know where you are exactly, and how many times you have to stop.
"But after a while obviously you can talk to the team and they can tell you, so you know where you are. Obviously when I noticed that I was fourth, and real position fourth, I wasn't too happy. But there's not much you can do by then.
"I think we did the right thing with the tyres, everything happened according to our plan. The others survived very little on the soft tyres at the beginning, as you can see, so they had to stop early, and they should come out in traffic and their race is over. It didn't seem to be the case, I think they were in clean air, and obviously when I came out of the pits, I got stuck behind them."
At this stage of course Vettel was on Options. In a clever move, RBR decided to use the less favoured tyres up sooner rather than later on his car, and he ran a handy 14-lap stint on them, helped by the fact that the car was lighter and there was more rubber down. When he pitted and went back to primes, he was for the first time on the exact same strategy as the three cars ahead.
From the outside none of us could be sure what the top guys were up to, but radio traffic soon indicated that they were indeed going to run to the flag. That meant a marathon 44 laps for Hamilton, 43 for Button and Vettel, and 42 for Alonso.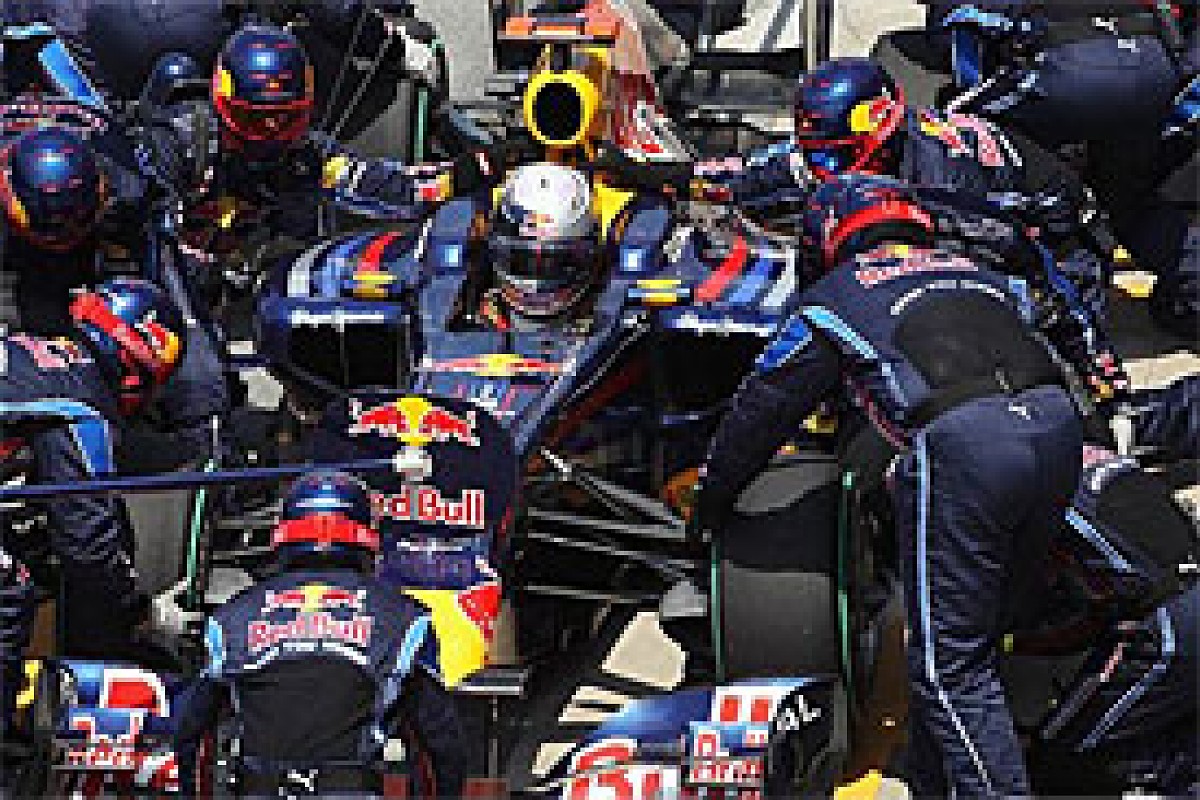 Sebastian Vettel during a pitstop in Canada © Sutton
Whitmarsh admitted that the team was concerned about the length of that stint: "Yes, we were, and as you probably heard we were telling Lewis, these tyres have got to last you! He did a fantastic job to keep them going. I think we realised that fuel loads were coming off, the track would improve, and we could go longer towards the end. But we really didn't want to go much more than 30 laps!
"I think it was a question that if you could get track position, even if your tyres were going off, you would be able to defend. As it happened, the durability of the tyres greatly improved as the race went on, so that worked quite well."
Webber in contrast ran a long middle stint on primes. We saw him benefit several times from such a schedule last year, under different rules of course, but this time it didn't really achieve much.
"Sebastian on the option in the second stint was very quick," said Horner. "He managed to make that work really well for him. We did the opposite with Mark, we put him onto the hard, just because strategically it was better to split them at that point. At the beginning of his middle stint he was looking good on the prime tyre, and then they started to drop away also."
The Aussie managed to build up a handy lead, and at one stage it looked like he might do enough to at least drop in somewhere amongst the top three when he pitted, but instead the gap came back down.
"We thought it was going to come back to us," said Whitmarsh. "His tyres were older, and we also knew that he either had to stop twice more, or he was going to have to run the option and/or the tyres he was on for a long time.
"To be honest we didn't push so hard then, we knew that if we pressed hard to close the gap quickly, which we probably could have done, you'd have risked damaging those tyres. I think the pace we set for Lewis and the way he drove was absolutely spot on."
As the laps ticked away, RBR waited for what seemed an agonisingly long time before finally pitting Webber for primes, just as Hamilton finally passed him. He had to run the final 20 laps on the options.
"We made the decision to wait until Lewis is right there or even passes him and then we'll box him," Horner explained. "Then you're hoping for a safety car at that stage to close them up, and then mark's on much better tyres, that was really the only chance that we had at the end of the race."
Once Webber was out of the picture, Hamilton still had to keep an eye on Alonso, and he wasn't really able to relax. Even when Button moved into second place, he still had to keep up a good pace. After Turkey he wasn't going to give his team mate even a sniff of an overtaking opportunity.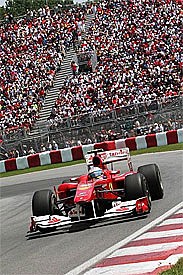 Fernando Alonso, Ferrari, Canadian GP © Sutton
In the end it all played out perfectly for the pair of them. McLaren's decision to go with the Option worked as intended largely because of the lack of performance of the prime.
"There were signs of that on Friday in truth," said Whitmarsh. "There was a lot of focus on the durability of the option, but the prime could easily go off and obviously did. But if the prime tyre had been more durable at the beginning, we'd have been in trouble. If we'd have had a safety car, which we often do here at the beginning, we'd have walked it frankly. There was a degree of risk in it, but we still believe that even without a safety car it was the right thing to do, and indeed there wasn't one."
Hamilton rightly got the plaudits, but Button was also impressive. Some 2.5s behind Hamilton on the first lap, he wasn't much further behind through the final stint, and this in a race with no safety cars. He also had the huge satisfaction of passing Alonso.
"I think it was a stonking job by Jenson," enthused Whitmarsh. "I think one of the great things was we got on the radio and said, 'Traffic ahead, opportunity.' Thirty seconds later, he passed Alonso. I didn't think he was going to do it quite so straightforwardly as that! But he did an outstanding job today. Lewis has been very, very quick here, he was pushing as hard as he could, and at the end there was 2-3 seconds between them. Both of them really did fantastic races."
In the last part of the race Red Bull backed off to an extraordinary degree, saving tyres, engines and gearboxes. There was a hilarious moment when Vettel asked the team who had fastest lap, and was told in no uncertain terms, 'don't even think about it...'
"I think halfway, or after the first stint more or less, we had to slow down," said Vettel. "We had a gearbox issue. So especially in the end I saved the car to bring it home.
"Half way as well I had a lapped car which didn't want to move, which lost me six seconds, then I lost the connection to Fernando and Jenson, and I wasn't able to drive for the podium any more.
"In the end I was just interested in what was going on with the fastest lap, obviously with the problem we had it was not able to push for that, so I had to slow down and bring the car home. That was the most important thing..."
Horner believed that fourth and fifth represented good damage limitation: "Just before half distance we started to have an issue with the gearbox on Sebastian's car, and just needed to manage that to the end of the race. Then we had to obviously wind everything down, just with the way he was changing gear and engine revs and so on. He wasn't fully aware of what the issue was.
"We just weren't able to do the damage in clean air on the prime tyre to really make it work, in actual fact fourth and fifth are still very valuable points at a track which was always going to favour the F-Duct and the McLarens."
Vettel echoed those sentiments, and was surprisingly upbeat afterwards, if a still little bemused about how his strategy had unfolded.
Jenson Button, McLaren, Canadian GP © Sutton
"I was looking forward to the race and hoping to win it," he admitted. "It didn't happen. I think there is a lot we need to look into and understand for strategy. To be fair everything we expected happened, the options fell apart after five or six laps, and we were all over them. Then we pitted, and as I said you pit first and you come out fourth, so I need to understand exactly why that happened.
"People said that we would not have any chance here, so it's good. We were as quick as the leaders today. Unfortunately for the given circumstances, we were not able to show it. In the end it's always easier to say you should have done this, you should have done that. But in the end we got a lot of points, and that's what it's all about."
One concern for RBR is that both cars had gearbox issues, Webber before and Vettel during the race, albeit ones that were dealt with in precautionary mode and didn't actually stop the cars.
"They've been under pressure now for the last two races, and I think that's told," said Whitmarsh. "They're a strong and resourceful team. It's going to be a tough championship and they can bounce back. Hopefully we can go to Valencia and get another good job done. We're going to keep improving our car, and make sure we're more competitive for the second half of the season.
"We knew we were going to keep pushing, but I couldn't have predicted two one-twos on the trot like this, frankly! You've got to take it one race at a time. We've got the job done here, and we're delighted, and in two weeks time we've got to do it again in Valencia. I hope we can be reasonably competitive there, I think everyone knew these two circuits would be similar in characteristics."
"We knew that both types of tracks are not our favourites," said Vettel. "But still we are surprised. Our pace is very good. Unfortunately for some reasons we couldn't show it today, but I think we were as quick as the leaders, and able to win. For strategy and many reasons it didn't happen, but we still took fourth and fifth, and need to look forward to the next race."
Nevertheless, RBR can't be too happy that Alonso got between the dark blue cars and McLaren. He didn't just take points away from Webber and Vettel, he also kept himself in the title hunt. If Maranello's Valencia package is good, things could get even more interesting...