Since last November folk within the Formula 1 paddock have waited with bated breath for the sport to resolve its tyre supply issue. Seven months later (and a similar period to the first 2011 tests) F1 is no closer to a solution, with matters becoming even more convoluted just when a sensible decision seemed imminent.
The developing crisis has been boiling away since Bridgestone announced its exit from the sport on November 2, 2009, giving a statutory season's notice. And make no mistake crisis is precisely what it is unless bespoke, round black objects are found to fit to each corner of every one of the 24 cars (26 should a 13th team be up and running by Round 1 of next year's series) aiming to enter the 2011 FIA Formula 1 World Championship
At the time it seemed unthinkable that Bridgestone would 'walk'. The company had won every round since becoming sole supplier to F1 in 2007 (upon Michelin's departure, a season ahead of Bridgestone's appointment as contracted supplier for 2008-2010). But therein lay the rub: victories were hollow and contained no 'bragging' rights, for the brand simply managed to beat itself into second place on a fortnightly basis.
This, coupled with environmental issues during a global credit crisis, prompted Bridgestone's main board to take a decision from which there seems no way back, certainly not in the foreseeable future.
So, how did the sport's governing body react to the bombshell at the time? Forty-eight hours after Bridgestone's announcement the FIA issued the following statement, primarily, though, in reaction to Toyota's (simultaneous) departure from F1:
Bridgestone tyres won't be seen in F1 much longer © LAT
"The announcements this week by Toyota and Bridgestone of their withdrawal from Formula 1 are of concern to the FIA. (However) Bridgestone has given almost 18 months' notice of its intentions, thereby allowing the necessary arrangements to be made for the future supply of tyres to the championship."
Seven months later none of 'the necessary arrangements to be made for the future supply of tyres to the championship' have come to pass despite as many as three tyre companies - Michelin, Pirelli and Cooper Avon - indicating their interest in supplying tyres to the championship, albeit under vastly differing conditions.
Note, too, the suitably vague wording of the FIA's statement: at no point does it state '...necessary arrangements to be made ... by the FIA/FOM/FOTA/the individual teams (delete as necessary) ... for the future supply ...', and thus confusion reigned from that moment onwards. It was further compounded by a lack of direct action on the part of the governing body despite it being public knowledge that the trio of tyre companies were in intensive discussions with the FIA, the teams and Formula One Management. In fact, many believed the teams would by now have announced their chosen supplier/s.
Throughout this the teams had been adamant they should have input into the decision due to the inherent technical and commercial ramifications, with Frank Williams even telling this column in Spain that the decision was a commercial one, and therefore outside the FIA's deal with the European Commission, which decreed the governing body should refrain from involving itself in commercial issues.
Thus, it seemed, the decision would be, at the very least, a tripartite one, particularly as various impeccable sources had consistently indicated all three offers had price tags attached to them (as opposed to Bridgestone's supply, which was effectively gratis to the teams, and thus deemed 'commercial').
A team boss put it succinctly in Monaco: "If we are expected to pay the piper we should certainly be allowed to decide the genre of music he plays...". And that was certainly the widespread assumption within the paddock, particularly after Michelin met with FOTA and F1 ringmaster Bernie Ecclestone in Istanbul.
Until, that is, this Monday past, when a number of teams were alerted by a prospective tyre supplier (believed to be Pirelli) that the FIA intended announcing a tender process to select a sole tyre supplier for the next three-year block.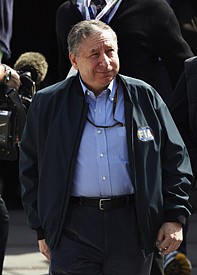 Jean Todt © LAT
This was confirmed by FIA president Jean Todt the following day. Speaking to Paris daily newspaper Le Parisien, the Frenchman said, "It [the FIA] will soon launch a tender, with the commercial promoter of the championship, Bernie Ecclestone. FOTA may suggest that it decides, but the strong man is not he who speaks the loudest."
While the governing body is, in terms of Regulation 25.1 of F1's 2010 Sporting Regulations, fully entitled to 'launch' a tender process (see below), suggestions that the commercial rights' holder would be included in the very process which excluded (paying) customers of said commodity was greeted with bewilderment by F1 personnel.
"Why now, and how long will this tender process take?" asked one after requesting anonymity for fear of reopening wounds which festered under the previous presidency, while another was less succinct: "We don't mind if they [FIA/FOM] launch a tender process as long as we get suitable, good quality tyres in sufficient numbers in time for the 2011 season - that includes tyres for racing, testing and windtunnel work. Free-of-charge. Any deviation from the above, and we would expect to be consulted."
Pointed inclusion of the CRH in the tender process is intriguing, for 25.1 makes no reference to said rights' holder.
Rumours originally published by this column that Ecclestone was considering branding (Cooper Avon?) tyres with 'F1' logos as precursor to a range of F1-branded road tyres have gained traction recently. This, in turn, provides a further twist just as the original 13-year deal struck between the FIA/FOM expires, to be replaced by a further 100-year agreement.
For clarification: The commercial rights for the 1998-2010 period are vested in Formula One Administration, while the concession for 2011-2110 is held, as per statements in FOA's accounts as filed with Companies House, by SLEC Holdings Limited, 'a fellow subsidiary of (CVC Capital Partners wholly owned) Delta Topco Group'.
Sources indicate the FIA is facing increasing budgetary shortfalls - primarily due to F1's revenues accruing to the CRH, which in turn pays a fixed annual 'operating' fee (termed SLEC Contract) in terms of deals done during (FIA past president) Max Mosley's reign, while the FIA's costs are constantly increasing. Hence recent decisions to up driver super licence fees by around 350 per cent; and charges to teams for services such as weather forecasting, GPS/flagging systems and communication networks - previously provided free-of-charge.
Further research suggests that under the new-for-2011 100-year agreement the FIA stands to lose a portion of this annual stipend (paid to the FIA by the CRH, and presently around £6m, or £300,000 per grand prix) for reasons best known to Ecclestone and the governing body, and thus any earner accruing through tyre-licensing deals certainly benefits both parties. Over and above this amount the FIA receives calendar inscription fees of approximately £130,000 per event, plus, of course, entry fees and super licence plus other fees as detailed above.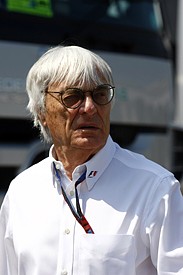 Bernie Ecclestone © LAT
By including Ecclestone in the tender process the FIA could legitimately claim to not involving itself in commercial issues while simultaneously benefitting via a portion of any such income on a shared basis.
Thus the sport could do well to prepare itself for rubber products (likely of Cooper Avon manufacture) bearing 'F1' branding on their sidewalls, and sold to teams by a company still owned by Ecclestone - having been registered by him in the early 1980s - namely International Race Tyre Services...
The sweetener for teams would be, of course, that they benefit from any licensing deals under the terms of the current Concorde Agreement, which allows for a 50/50 split of underlying revenues.
Thus a win/win/win situation benefitting all three primary parties, while enabling fans to purchase F1-branded rubber for their road cars. After all, imagine the kudos attached to bolting a set of 165/70 SR tyres - bearing the logo displayed by every grand prix winner during the current season, and visible on trackside hoardings across the world - on a Fiat Panda.
An elegant solution it certainly is - subject to the teams' quality/quantity caveats - and one which ticks all the boxes, from governance through commercial to sporting, and could certainly be in place by 1 February next year, when 2011 testing kicks in. Just a pity it has thus far taken seven months to NOT happen...