By the end of his McLaren career, Heikki Kovalainen was so deeply shrouded in Lewis Hamilton's shadow that he periodically flirted with invisibility. Understandably so, for during two campaigns as the 2008 world champion's wingman, he managed only fractionally over half of the points (75 versus 147) and a single win to his team-mate's seven. The chance of a lifetime had gone begging and with interest only from middle or lower-ranked teams, Kovalainen was cast into the murky gloom of the depths of the driver market.
This year, after walking the plank of the good ship McLaren, he washed up at Lotus. Off the back of two years during which he all-too-often looked not so much number two to Hamilton as number three, in 2010 he is a man reborn.
Now, Jarno Trulli isn't Lewis Hamilton but in a world where no one, not even Fernando Alonso, has ever outqualified the Italian in the same machinery around the streets of Monte Carlo since his first appearance there in Formula 3 back in 1996, that's a hell of an achievement. It brings back memories of the days at McLaren when he did excel. Days like in Turkey two years ago when his pace while recovering from a first-lap puncture was good enough to win the race, but for that early mishap; days like the 2008 British Grand Prix where he denied Hamilton pole position; days like China 2009 where he outdid his team-mate in sodden conditions; days where he looked anything but a second-rater.
But the Kovalainen that we saw with increasing regularity as his McLaren stint wore on had fewer moments like those. By his own admission, the change of scene came at the right time. It's easy to say that, as he would grasped the chance of a third season at Woking in a flash had it been on offer, but the blessing in disguise argument is more than a mere positive spin on a resoundingly negative turn of events.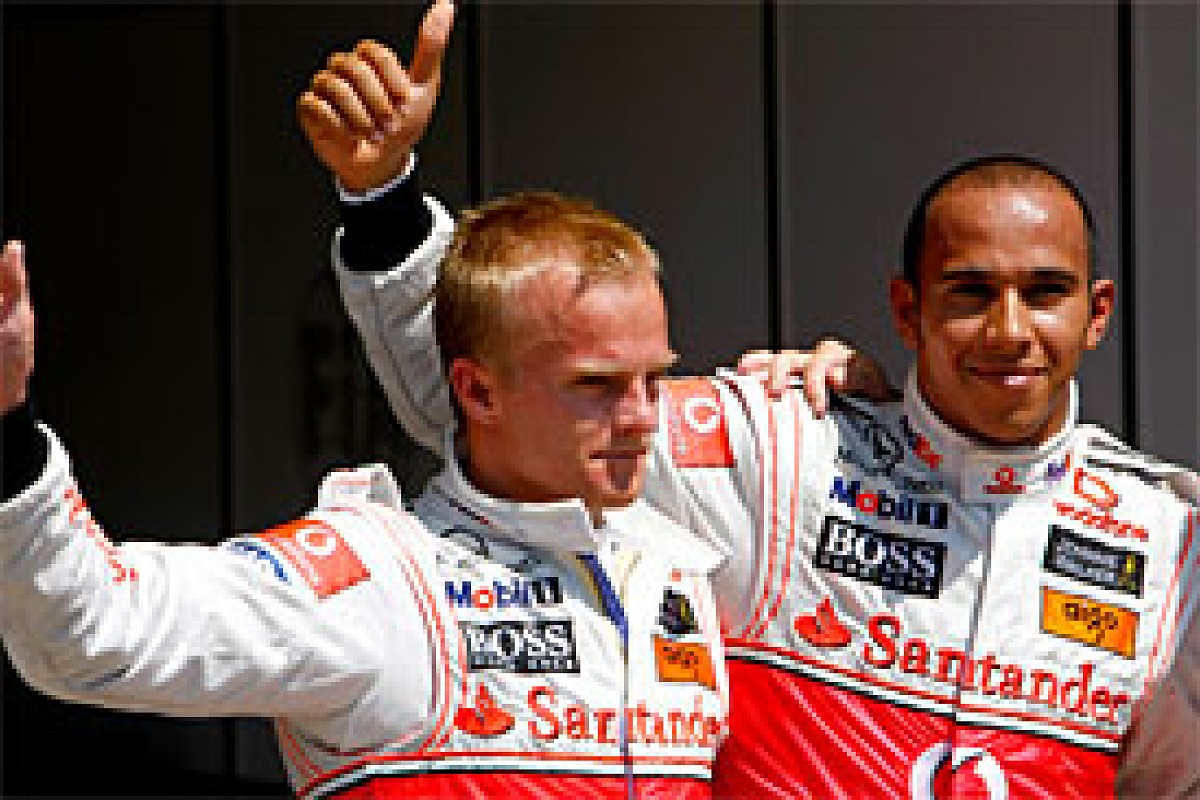 Life at McLaren wasn't that easy for Kovalainen © LAT
"I wouldn't say I'm restarting my F1 career, but it wasn't so hard to leave McLaren and go to a small team," says Kovalainen. "It was a change that I needed. During last year, the results were not what I was hoping for and it was time to try something else. This was the correct move for me and I honestly think that my best performances are still ahead of me.
"Of course, things are different here but I am using the experience of the good things at McLaren. I don't dwell on the past, about what might have happened or what should have happened, but I would do things very differently if I went there again. The last two years didn't work out in terms of results, but I learned a lot in those two years and things are now working very well for me at Lotus.
"I didn't find McLaren a more difficult team to work in. I got on very well with people there and still do. But for some reason, it was more difficult than I anticipated. Here, I feel much more in control and I am 100 per cent confident of the way that I should go with the setup and the way I work. Maybe that is the key to why it seems to be working better here."
Much more in control... interesting. Several times in the dying days of last season, Kovalainen gave a clear impression that he had been given a raw deal at times at McLaren. He stops well short of levelling such accusations at the team, but hints that he perhaps felt like something of a spare part at times. McLaren famously runs an "equal number one" policy and continued to do so during his time there. But if you are consistently outperformed by your team-mate, you become de facto number two. And he was number two, not so much by design but because the die had been cast relatively early in his McLaren career.
With development focused on Hamilton, and understandably so, there were occasions when Kovalainen didn't have the full upgrade package while McLaren was transforming its MP4-24 last year. That's not the willful scuppering of one driver - it's pragmatism. What's more, the team was keen to keep the well-liked Kovalainen on if he could string together the kind of grand prix weekend that the regular glimpses of speed he showed promised. It wasn't to be - his Q3 lap in Valencia when he was on the verge of beating Hamilton to pole before a moment in the final corner suggests that the dividing line between success and failure at the top level is a tiny one.
There are several interpretations to what happened to Kovalainen. One is that he couldn't take the pressure of a top team; but a more compelling reading was that here was a very good grand prix driver being made to look ordinary by a great one. He wouldn't be the first, and he won't be the last, to suffer that fate. Step forward Rubens Barrichello, Gerhard Berger, Riccardo Patrese and their ilk. Few are great, and plenty of drivers in the "very good" drawer have been able to win races and occasionally world championships. That's reason enough to re-evaluate the Finn's performances now he is at Lotus and wonder what part his environment played in his underachievement.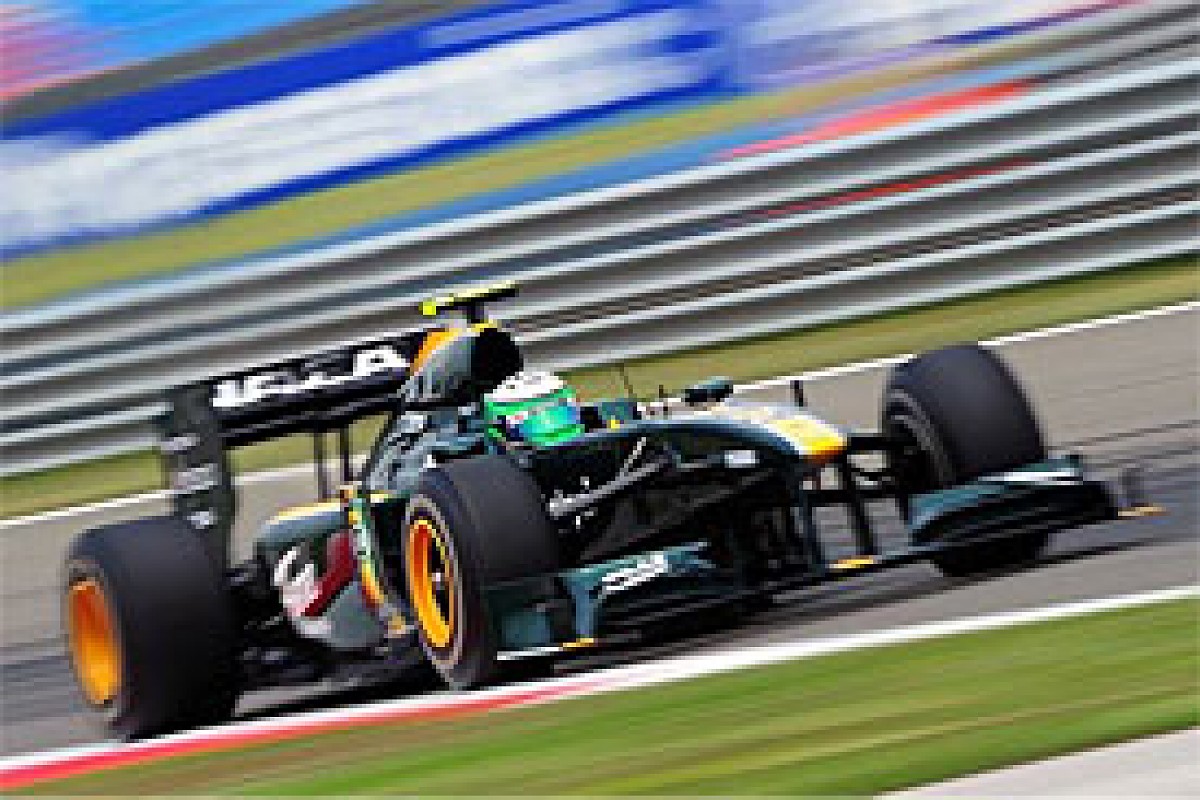 Kovalainen is showing well in the Lotus © Sutton
"It's not the case that I couldn't cope with the pressure," says Kovalainen. "Nobody ever put me under pressure at McLaren and people here don't put me under pressure any more than is normal in F1. The biggest pressure is from myself because I want to perform to the maximum and I am not happy if I don't get the maximum out of myself and the car.
"I have never felt that pressure has affected me. In fact, my best performances have been i difficult situations. One of my best at Renault was in the wet at Fuji. I see that as a positive thing."
It's a positive in some circumstances. A classic example of Kovalainen's often-baffling McLaren form came over two weeks in Belgium and Italy last year. At Spa, the McLaren was something of a shed in the high-speed sweeps of Spa, and both he and Hamilton were mired in the midfield.
Kovalainen drove an immaculate one-stopper and was rewarded with an impressive sixth place. At Monza, he was the best-placed one-stop qualifier in fourth on the grid and had the car and the strategy to win. On lap one, Rubens Barrichello and Jenson Button passed him on their way to a one-two for Brawn (on the same strategy as the Finn), as did Vitantonio Liuzzi, leaving him seventh and on his way to a disappointing fifth place.
"It's not anything I see as a concern," he says when asked what conclusions can be drawn from two very different performances in such vastly different circumstances. "I thought a lot about why things didn't work out as they should have done when the car was competitive. In my mind, I think I know the reasons why but there is no point in going down that line because it is in the past. Today, it is all about Lotus and getting the car into the position to show
people that I am fully able to deliver results.
"Maybe I am driving slightly differently to last year. This year, the technique and setting up the car is better even though it is sliding more than last year's car. I'm controlling it better so that's a positive. I don't know what it is, it doesn't seem easier, but I have better control than last year."
That control word again. Certainly, Kovalainen seems like a man more in control of his own destiny. There seems little doubt that he will remain with Lotus next season, having done a good job in trying circumstances this year, and by showing well against Trulli he has shown beyond doubt that he deserves his place on the F1 grid.
"You always want to beat your team-mate, but I am not stressing about it," he says. "I am quite confident in my own ability anyway. Jarno is a good benchmark, but all my career I have had good, quick team-mates and it doesn't really bother me too much. Monaco was probably one of the best performance of my whole career; okay, the result wasn't the podium but it was good in term of getting the best out of the car."
Kovalainen appears to be one of those drivers who excels when the car is less than perfect. Early in 2009, when his run of early-race retirements grabbed the attention, a glance at practice showed that he was often as quick as and sometimes quicker than Hamilton. Call it Giancarlo Fisichella syndrome - good enough to damn-near win a grand prix in a Force India but pummeled for two years by Fernando Alonso at Renault.
Whether we will get - or even should get - the chance to see Kovalainen in a front-running team in F1 again is up for debate - and perhaps his best chance is to hang in with Lotus and work towards making the team more competitive. That's where he sees his future right now, and with his stock edging up and recovering from the McLaren years he surely still has a long grand prix career ahead of him.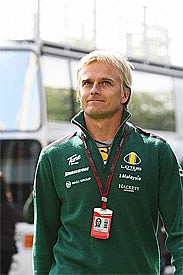 Kovalainen is enjoying life at Lotus © Sutton
He is adamant that he isn't just in F1 for the ride, and those that suspect he took the Lotus option out of desperation are wide of the mark. He has bought into the Lotus dream and wants to be there to reap the rewards.
"It definitely wasn't just to get in F1 and stay there," he says. "I had offers from established teams as potential places to go, but I saw the best chance for the future at Lotus because I need to be in a position where I can get 100 per cent out of the team one day and show that I can push the development. I thought that the best place was to start from zero, build a relationship with the team and be involved from the beginning. That was the biggest motivation."
His McLaren days are behind him, Kovalainen is going to have to climb every rung of the competitive ladder to get into the position to repeat his win in the 2008 Hungarian Grand Prix. It's something of a cliche, but he has emerged from the dream-turned-sour of McLaren to re-establish himself as a very capable grand prix driver. Where many would have been broken by his McLaren stint he emerged, to use a phrase beloved of Lewis Hamilton every time something has gone wrong, 'stronger' for the experience.
Kovalainen may be no superstar in the Hamilton ilk, but neither is he a mere journeyman. If he keeps showing well against Trulli for the rest of the year, expect a few teams to re-assess his merits. There's plenty of life in Formula 1's sole remaining Finn yet.