Scuderia Ferrari scored a most unexpected victory last Sunday when Maurice Trintignant won the Grand Prix of Europe, which was also the 13th Monaco GP. At one time Juan Manuel Fangio and Stirling Moss looked like achieving a runaway win, both Mercedes-Benz drivers outpacing Alberto Ascari (Lancia). Then at half-distance (50 laps), Fangio went out with a broken gearbox, leaving Moss with a big lead over Ascari. For 30 laps the brilliant British driver led the grand prix, when, almost on the point of lapping Ascari, an oil union fractured and the engine blew up.
More drama; just as Moss pulled into his pit with a smoking engine, Ascari came tearing out of the tunnel, streaked along the Quai des Etats-Unis, failed to negotiate the chicane and plunged into the harbour. The Lancia disappeared in a great cloud of steam, and Ascari was rescued by frogmen, stationed in boats at that point in case such an unlikely thing happened. The Italian driver escaped with a severe shaking and a cracked bone in his nose.
This put Trintignant into the lead. The Frenchman was challenged by Ascari's team-mate Eugenio Castellotti, but the young Italian spoiled his chance by overshooting the gasometer hairpin when within 11 seconds of the Ferrari. Jean Behra, who had changed cars with Cesare Perdisa, revolved at the Casino and went out with clutch failure, but 22-year-old Perdisa took third place with Behra's original car. Mike Hawthorn (Vanwall) abandoned after 24 laps when a ball joint dropped out of the throttle linkage.
Trintignant's winning speed of 65.8mph was over 2.4mph faster than Manfred von Brauchitsch's 1937 record with the big supercharged Mercedes. The lap record (1m46.5s) was smashed several times, Fangio eventually getting it down to 1m42.4s (68.7mph) after Moss had returned 1m42.6s.
Only nine cars finished this remarkable race, Moss enterprisingly pushing his crippled Mercedes over the line.
Entry
Of the 24 drivers invited to take part in the Grand Prix d'Europe, only the injured Ken Wharton (Vanwall) failed to report for the verification. The remaining Vanwall, fitted with the engine from Wharton's wrecked machine, was late in arriving after being delayed by storms in the English Channel. Moss's Maserati had a brand new engine installed, which Lance Macklin had more or less to run in during practice.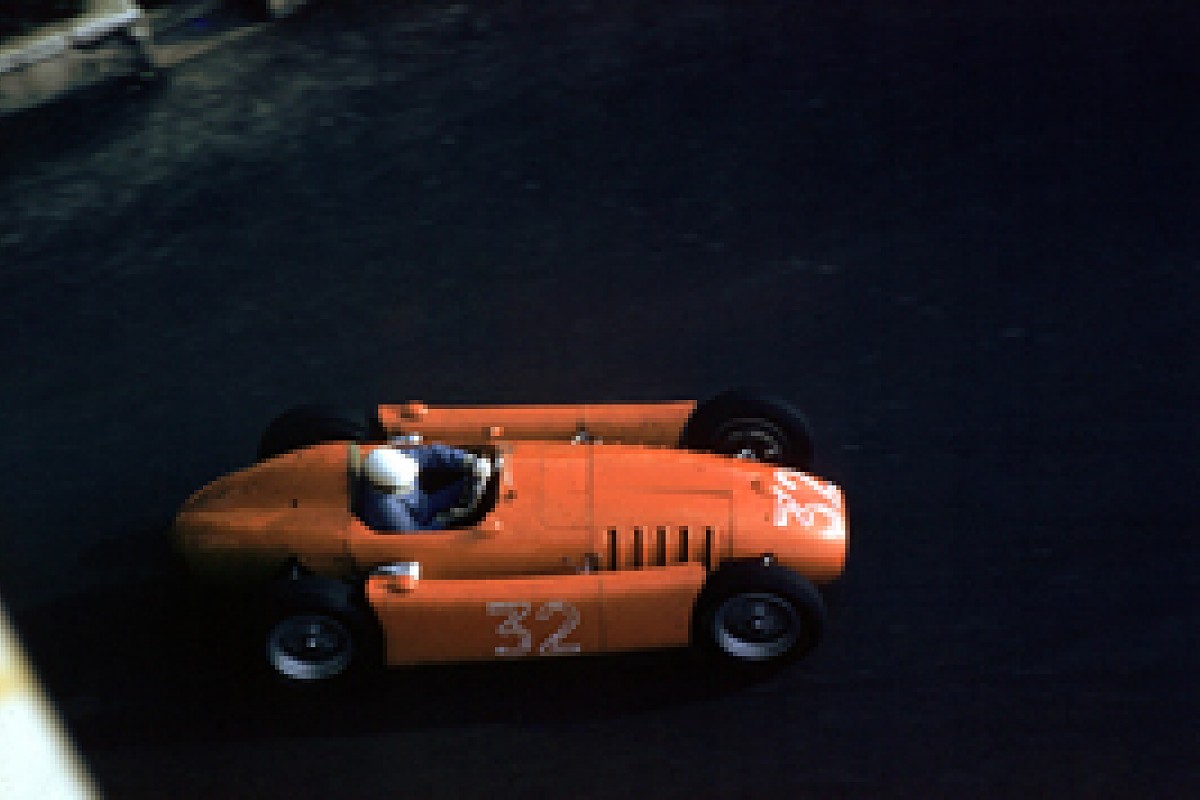 Louis Chiron's Lancia, Monaco 1955 © LAT
Mercedes-Benz arrived with four cars, two of them being the latest short-chassis type developed for the Monaco 1.9 mile-circuit with its 10 corners per lap. Aurelio Lampredi's much-discussed due-cilindre Ferrari was left in the garage, Giuseppe Farina, Trintignant and Piero Taruffi having the older "Squalo" machines, while Harry Schell was entrusted with the "Super-Squalo". A strong Maserati team comprised Behra, Luigi Musso, Roberto Mieres and Perdisa. Lancia was represented by Ascari, Luigi Villoresi, Castellotti and Louis Chiron; Gordini by Robert Manzon, Jacques Pollet and Elie Bayol; and the remaining independent entries were Louis Rosier (Maserati), Andre Simon (Maserati) and Ted Whiteaway (HWM), in addition to Macklin.
Fangio fastest
Thursday's first training session was dominated by Fangio, who went round in the fantastic time of 1m41.1s, completely shattering Rudolph Caracciola's 18-year-old record, 'Caratsch' being there to watch it. That the threat from Lancia was real was proved by Ascari's 1m42s. Moss did 1m43.4s, Castellotti (Lancia) and Behra (Maserati) 1m43.4s, while Trintignant returned 1m44.4s and Musso 1m44.9s. Mercedes-Benz received a blow when Hans Herrmann left the road approaching the Casino turn and partly demolished a concrete wall. He was fortunate in that the car did not tumble down several feet. The young German was taken to hospital with broken ribs and a suspected punctured lung.
During the afternoon Mercedes-Benz hunted for a replacement. Eventually Alfred Neubauer tracked down Simon at his hotel and offered the little Frenchman the spare car. Just like the plot of many motor-racing novels, Simon jumped at the chance. However, there was a snag - Daimler-Benz were on Esso fuel and Castrol oil, and Simon had signed up with BP-Energol. However, the last named concern readily waived contract clauses, leaving Simon free to drive for Mercedes.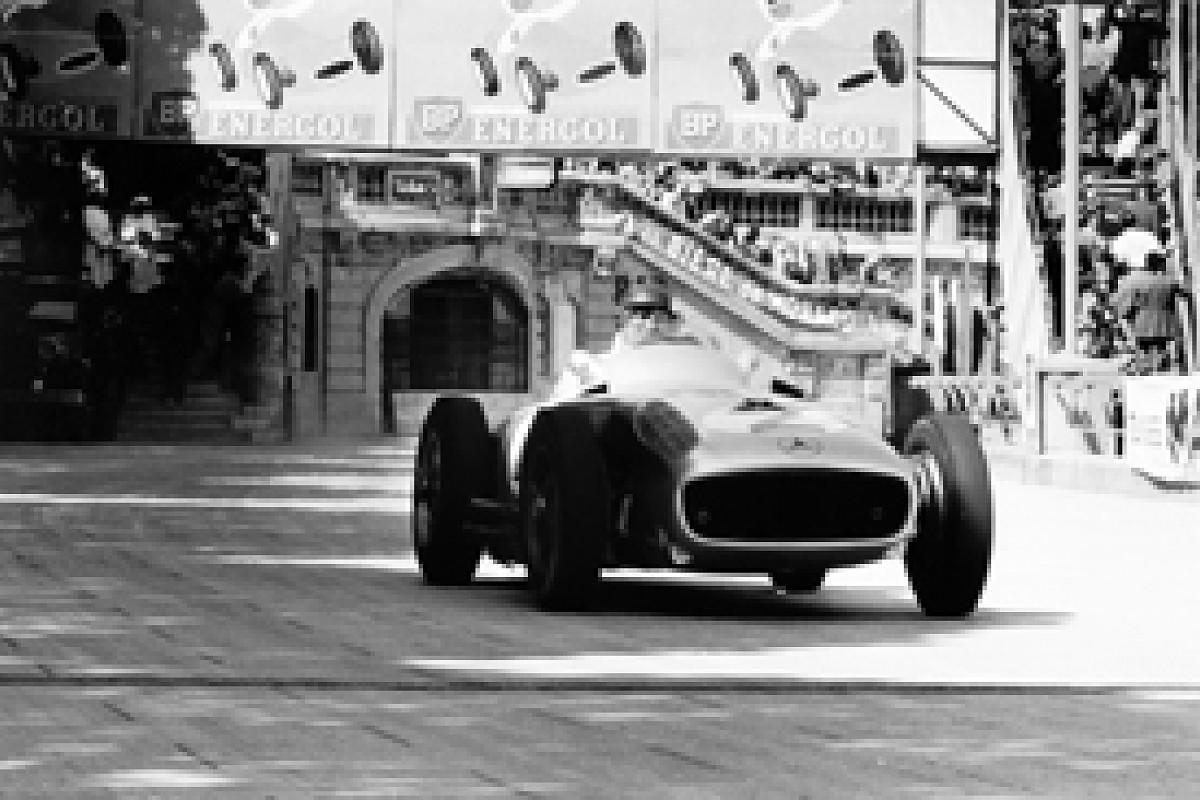 Juan Manuel Fangio, Monaco 1955 © LAT
Fangio was credited with the fastest of the second practice period with 1m41.2s, but this was actually achieved by Moss. Simon made a fine impression by returning 1m45.9s in the spare Mercedes. Hawthorn spent the session learning the circuit, Macklin continued to run in the Maserati with Mercedes technician Rudolf Uhlenhaut also trundling round in the green car.
Held again in perfect weather, the final training had an unfortunate start. Macklin burst an oil pipe on the way to the pits and flooded the road with lubricant. After a long delay, a couple of characters arrived with a peculiar-looking three-wheeler, rather like a tradesman's trike, and leisurely covered up the oil with sand. Meanwhile Neubauer and co, who had been in position since 5am, almost blew off their tops, the portly Alfred telling the officials in no uncertain terms exactly what he thought of the organisation.
14 drivers under record
Anyway, after a delay of about 90 minutes, practice got under way. No less than 14 drivers were under the existing lap record; Ascari heading the list with 1m41.1s to equal Fangio's time achieved on Thursday. The world champion returned 1m41.2s, and the astonishing Castellotti tore round in 1m42s.
Lance Macklin took it easy again - rather too easy as it later turned out, and Whiteaway's HWM was not being hurried. Hawthorn turned in 1m45.6s, the Vanwall sounding extremely healthy. Both Taruffi and Paul Frere took out the fourth Ferrari, the former doing 1m46.4s, 0.3s slower than Farina.
The regulations stated that only 20 cars would be permitted to start. Both Pollet (Gordini) and Macklin had done 1m49.4s, but as the Frenchman had recorded this in an earlier session than Macklin, he was given a place on the grid instead of the Englishman. Whiteaway was also dropped, so the Vanwall was the sole green machine.
Meanwhile visiting pressmen found that the organisation was a bit haywire. Well-known journalists discovered that they had not been allocated seats in the "Tribune de Presse," while several dead-heads had managed to achieve them. The press-stand was a disgrace, consisting of a few crowded rows of chairs with no desks. It was impossible to see anything other than the back of other people's heads. The scoreboard was a pathetic object, being placed behind the Royal Box, and only having space to show the first three places - and this was the Grand Prix of Europe!
Going from the foolish to the ridiculous, Count Maggi and Signor Castagneto of Mille Miglia fame were unable to obtain the proper tickets, and decided to watch the race from their hotel bedroom. Even Caracciola was refused facilities, as was Dunlop's representative, Roy Barlow. At any rate the hotels overlooking the circuit made a good thing out of the race, guests finding a surcharge on their bills of anything up to 10,000 francs for the privilege of having a balcony view. Yes indeed, grand prix was a fitting name for the event!
Well then, practice times having been checked, the cars were lined up on the quay side of the circuit. Although the start was in front of the Royal Box, cars were not timed until they had crossed the timing strip placed near the gasometer turn. This meant that it was more or less a rolling start, decided on acceleration.
Race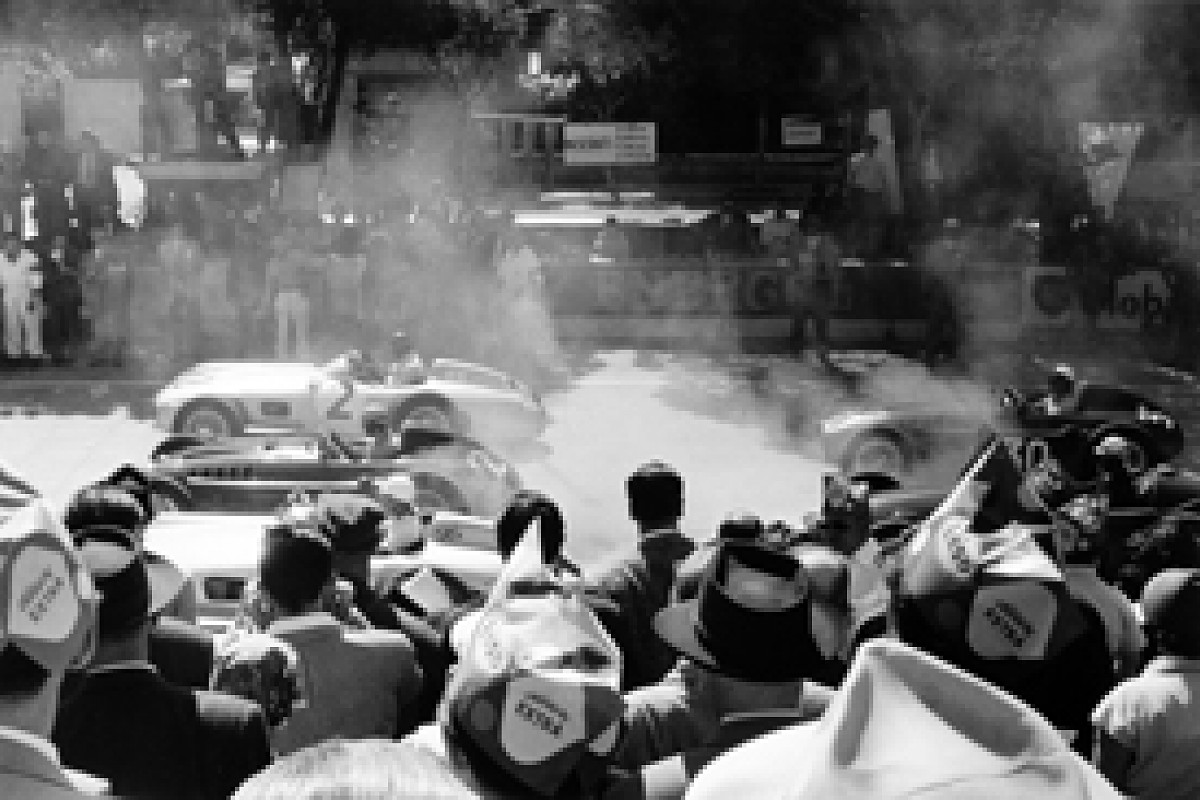 The 1955 Monaco GP gets underway © LAT
The Principality was invaded for race-day, the crowds being greater than for any event in Monaco's history. Scores of extra gendarmes were either created or imported, all having fine views of the race. HRH Prince Rainier arrived with his entourage, and was presented to the drivers. Heralded by the firing of Esso maroons, the 20 cars burst into life ready for the depart, In compliment to the race, all ships in the harbour were fully dressed, the myriad coloured pennants standing out in the bright sunshine against a cloudless blue sky.
As was expected, there was a slight kerfuffle at the gasometer hairpin. Fangio, Ascari, Moss and Castellotti arrived together, Moss was nearly pushed out altogether by the young Lancia driver, but cut in ahead of him as the jostling field fled down the back straight and up to the Casino. There were shunts right, left and centre on that first hectic lap. Somebody dented Farina's Ferrari, and he came in for a brief look-see. Rosier spun round on the Quai des Etats-Unis and bounced off the tobacconist's shop with the Maserati's tail, carrying on with plenty of tin-ware trailing behind him.
In what seemed to be next to no time, the combatants screamed past the pits to start lap two. It was Fangio, Castellotti, Moss, Ascari, Behra, Mieres, Perdisa, Manzon, Villoresi, Trintignant as they flashed towards the gasometer with Hawthorn in 14th place, behind Schell and Simon.
Fangio kept out in front, whilst Castellotti, Moss and Ascari battled behind, with Behra at their tails. With five laps gone, Moss surged past Castellotti, and Rosier dropped the tail of his Maserati and stopped out on the circuit. Gradually the two Mercedes drew away from the milling red cars, and both Schell and Hawthorn overtook Simon, whose Mercedes didn't sound nearly as healthy as its team-mates. On lap eight, Musso came into the pits with his Maserati making horrible grinding noises. Mechanics jacked up the rear, but the accompanying clicks sounded ominous and the car was pushed away with what was apparently a broken final drive.
Meanwhile, Behra had joined in with the two Lancias behind Fangio and Moss, while Mieres led Perdisa and Villoresi, with Trintignant in ninth place ahead of Schell and Hawthorn, who were dicing merrily, passing and re-passing on every part of the course. With 10 laps behind them, Fangio and Moss (playing follow-my-leader) had already lapped Pollet. Taruffi, who had been stationary for some time sorting out gears, set off five laps in arrears.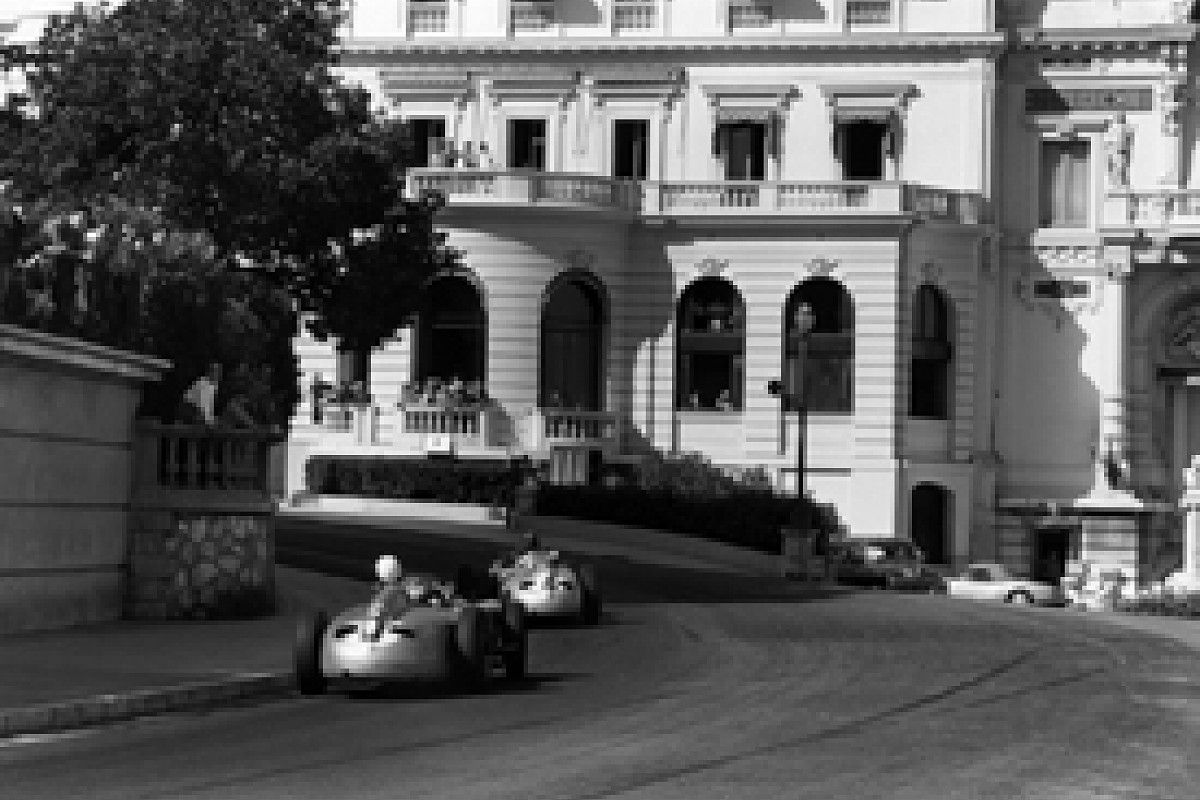 The two Mercedes pull away © LAT
Behra was giving the Lancias no peace, while Mieres was holding off Perdisa, Trintignant and Villoresi. Chiron was evidently out of his class, the new school of drivers scuttling past him when and as they liked. Simon looked most unhappy in the Mercedes, which already sounded rather out of puff. On lap 17 Fangio lapped the Frenchman. Behra had managed to take Ascari, who had been passed by Castellotti, and then hurtled past the younger Lancia driver into third place. Behind Mieres, Villoresi, Perdisa and Trintignant were at it hammer-and-tongs, Taruffi almost dropping to 0mph to let them through before the gasometer turn.
Moss was now following the Mercedes plan to move up close to Fangio, and turned in a new lap record of 1m42.6s, more than a second faster than Fangio's best. With 23 laps gone, Hawthorn came to a halt at the Casino with his throttle linkage disconnected, a ball joint having fallen out. He coasted downhill, and eventually managed to make the pits where he retired. A couple of laps later, Simon glided silently into the pits with a fractured oil union and the car was pushed to the side of the road.
Closer and closer came Moss to Fangio. Soon the two Mercs were circulating in close company, and Behra was definitely getting well away from Ascari and Castellotti. On lap 36 the last-named stopped at the pits, changed the offside front wheel, took on some fuel and was off again one lap in arrears. By the 40th tour, Fangio and Moss had lapped Villoresi; only seven cars were on the same number of laps covered, with the two leaders bidding fair to lap the entire field before very long.
On lap 42 Behra stopped and mechanics did something to the engine. By the time he got going again he had dropped a couple of laps, and was behind Schell. Ascari sat securely in third place, but Mieres was having a real go at taking Trintignant, who has never driven a calmer race. Fangio set up a new record lap of 1m42.4s and the two Mercs were now seldom less than a length apart.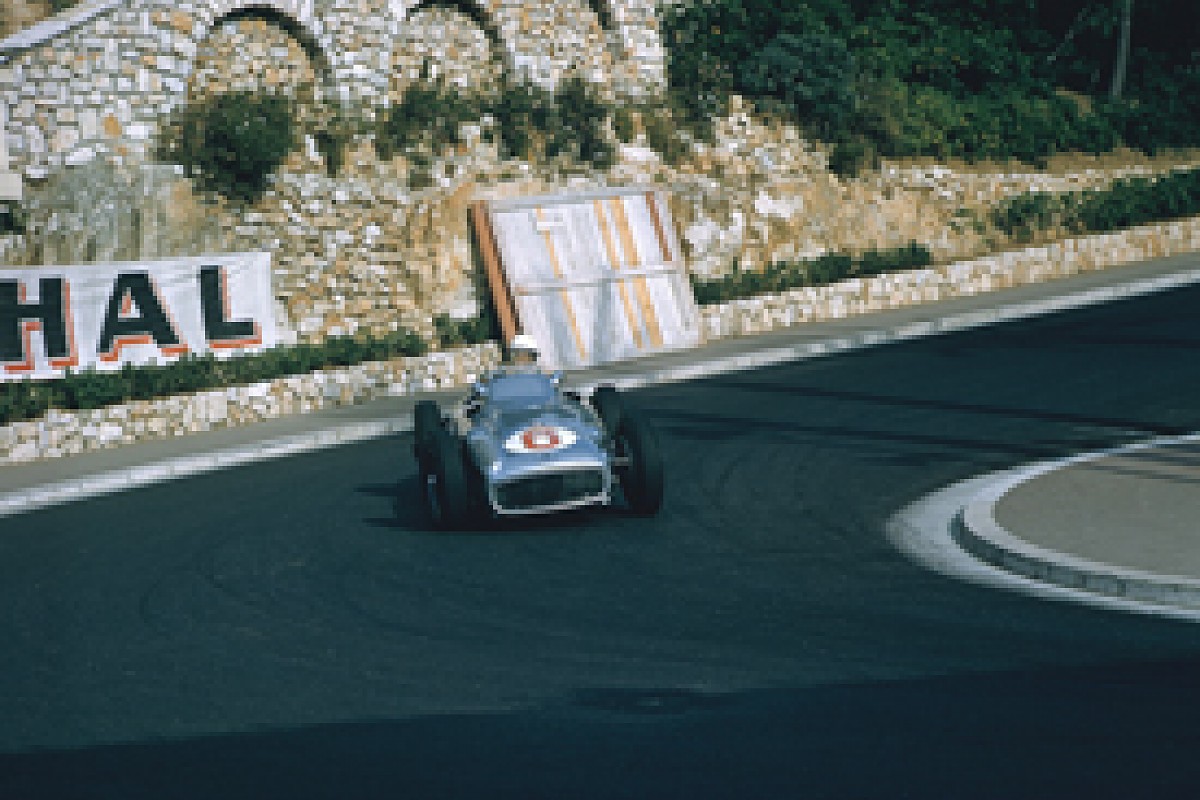 Moss led after Fangio's retirement © LAT
Suddenly the entire picture altered. Moss came through on his 50th lap on his own. Fangio's transmission had packed up at the station. A rev counter tell-tale needle stuck at over 10,000rpm told its own story. Incidentally, when the world champion abandoned, Moss narrowly missed shunting him as he swung his car over for the station hairpin.
Moss had over a minute lead from Ascari, but with only a single Mercedes running, a quick alteration in team tactics was necessary. Behra, a lap behind Perdisa, made a quick changeover with the younger driver, and thus moved up to fifth place.
Mieres was Maserati's main hope, but Trintignant was now travelling faster than before with his Ferrari. Both cars were not, however, on the same lap as Moss and Ascari. Castellotti passed Villoresi to take fifth place; thus Lancia had all four cars still running in second, fifth, sixth and 12th positions. Ferrari's quartet was also intact, although Taruffi, after several pitstops, was 12 laps in arrears. Just after half-distance he handed over to Frere.
Maurice Trintignant's consistency must have been pleasing to Lampredi. No one would have given a Monaco 100 franc piece for Ferrari chances in this race, but here was the French driver holding third place - more than a lap ahead of his team-mates Farina and Schell. On lap 60, Moss was actually 1m25.8s in front of Ascari. As the Lancia swept past the pits, the Mercedes was coming through the chicane.
Mieres now made his effort. On the 65th tour he edged his Maserati in front of Trintignant's Ferrari - but it was to no avail. One lap later the Argentinian stopped at his pit, the rear wheels were jacked up, and it was the old, old story - a broken rear axle. This put Castellotti into third place, followed by Villoresi and Behra. Cesare Perdisa was proving to be a real discovery. Although displaying at times the recklessness of extreme youth, the dapper little Italian had earlier led the experienced Villoresi. Castellotti was justifying Lancia's faith in him, and also the many months of rigid training under Ascari and Villoresi.
Moss's driving was absolutely brilliant, and it was becoming more and more apparent that he would eventually lap Ascari. This was also evident to Lancia, and Alberto was given the 'faster' signal. In my opinion, at this stage of the race, both Mercedes-Benz and Lancia made tactical errors. With 70 laps covered, Stirling was 1m38.6s ahead of Ascari, and could see the Lancia going into the gasometer turn as the Mercedes swerved out of the Quai des Etats Unis. Moss could quite easily have been slowed down, as had occurred earlier when he and Fangio were running together. On the other hand, with 30 laps still to go, it would have scarcely affected Lancia's prestige even if Moss had lapped the Turin car. On two separate occasions Villoresi had revolved. The first time was at the Massenet. He repeated the manoeuvre a few laps later near Mirabeau and almost ended up inside the station. As he passed the pits he made signs that his brakes were troublesome. Castellotti was also having trouble decelerating, so it should have been a warning to Lancia that the much faster Ascari might also be suffering from disappearing anchors. The near-exhausted Chiron, three laps behind, was not going quick enough to use his brakes so much.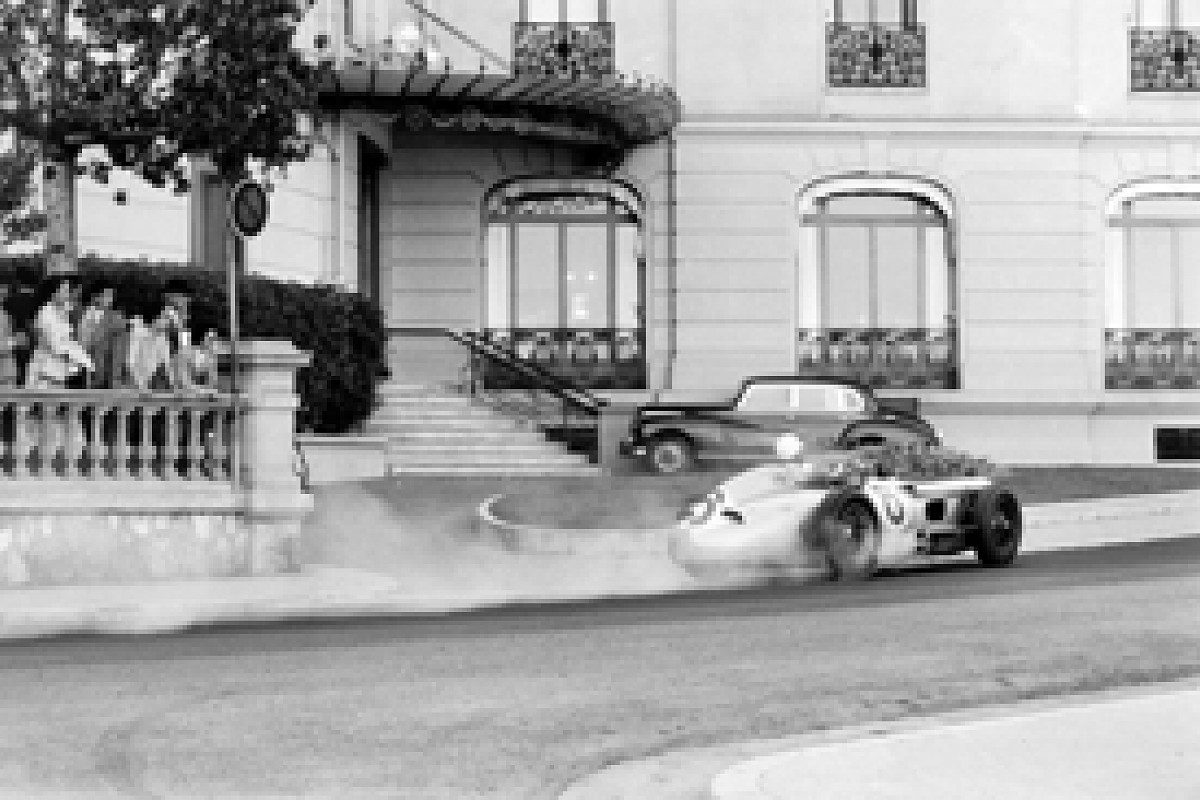 Moss drops out of the lead © LAT
Schell, running behind Farina, had a classic blow-up in the Super Squalo coming out of the gasometer hairpin. Vast clouds of smoke billowed from the car and Schell, quick to sense the danger to others from dropped oil, drove in the gutter and smartly turned the car up a side-street, almost colliding with a wooden barricade. Bayol, whose Gordini had been missing for several laps, appeared on the quay-side pushing the car. It was the Paris concern's bete noire again, rear axle.
Moss was still over a minute and a half ahead of Ascari, who was driving desperately to avoid being lapped. Then came real drama. The Mercedes came out of the tunnel with smoke pouring from the cockpit, Moss toured slowly towards his pit, leaving behind a trail of smoke and steam. Mercedes mechanics lifted the bonnet, and hastily closed it again. The car was pushed to the side of the road, and with it went the hopes of Unterturkheim.
Ascari, of course, had no knowledge of this. He was still hurtling round, trying to keep the Mercedes from lapping him. He came through the tunnel faster than ever, placed the car for the chicane as he had done on 80 occasions, and to the horror of onlookers suddenly swerved sideways into the hay-bales, bounced off a stone bollard, and the Lancia toppled into the water narrowly missing an anchored yacht.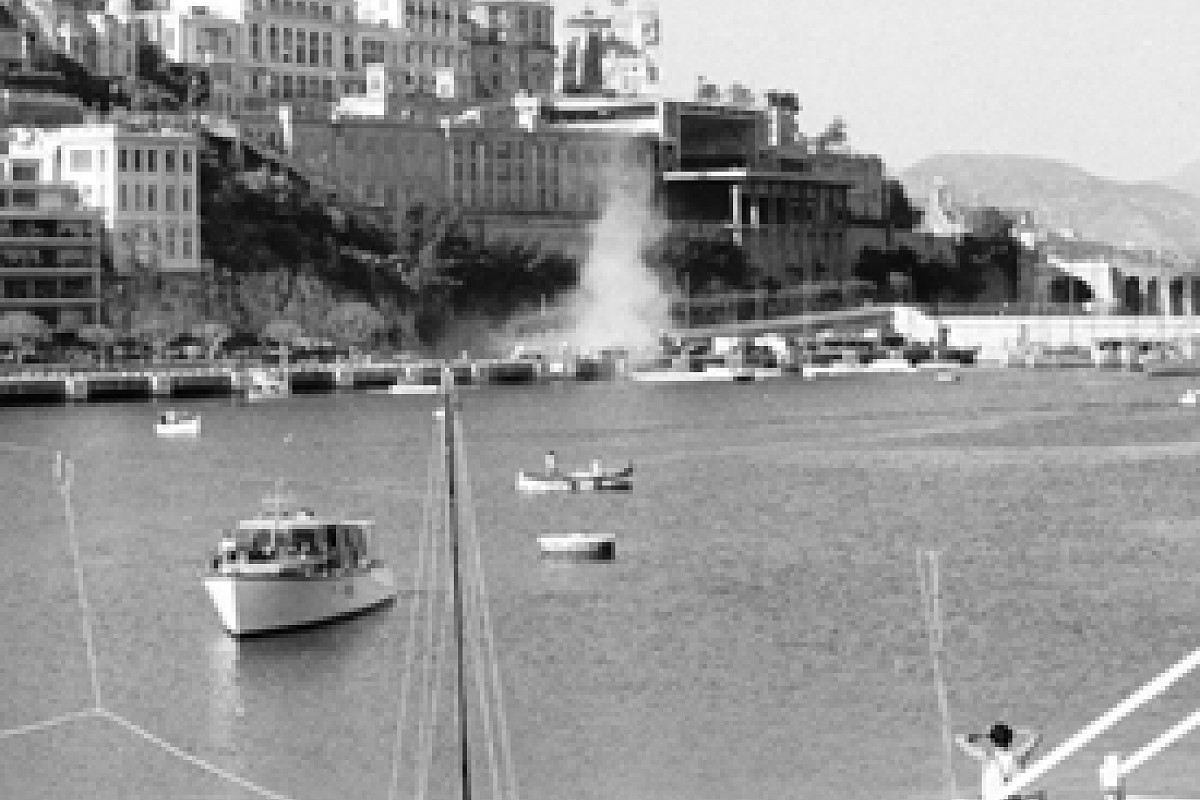 A distant splash heralds Ascari's landing in the harbour © LAT
The car disappeared in a cloud of spray and steam, and with it went Ascari. To the relief of spectators, a blue helmet popped above the water and the Italian was seen to be tearing it off and striking out with a strong overarm stroke. Frogmen rushed to his rescue, and the dazed driver was pulled aboard a boat. After first-aid treatment, he was taken to hospital suffering from shock and a nose injury - fortunate to be alive at all.
During all this excitement, Trintignant had swept unobtrusively into the lead, with Castellotti in hot pursuit. It was some time before the Lancia pit staff recovered from the Ascari shock, and realised that they still had a chance of victory. With 84 laps covered, the Lancia was about 18s behind the Ferrari. Castellotti began to creep nearer and nearer. At 90 laps he was within 13.6s, and one lap later, 11s. But Trintignant refused to be flurried. Each lap he acknowledged Ugolini's signals, and waved to Lampredi as he passed the pit area. Aurelio was sitting on the pit counter, swinging his legs and wearing a delighted grin.
Castellotti went even faster, but his brakes were dodgy and the Lancia overshot the gasometer turn, losing about 10s before regaining the circuit. It was now Trintignant's race, but, with the fluctuating fortunes of this astonishing grand prix, anything could happen - and the Ferrari folk kept their fingers crossed. Behra overdid things at the Casino, spun round twice, and then found that the clutch was solid. Meanwhile his original car was being conducted round behind Castellotti's Lancia in third place by the resourceful Perdisa, with Farina making every effort to overtake him.
Castellotti had shot his bolt. With uncertain brakes it would have been suicidal to attempt the impossible, and he steadied up to make sure of second place. Trintignant crossed the line amid scenes of tremendous excitement. The little Frenchman is extremely popular, and it was his calm driving which was responsible for the very unexpected Ferrari victory. Lampredi fell off his perch in his excitement, and danced a jig. Farina just failed to catch Perdisa for third place, after making up nearly a lap in just over 10 laps.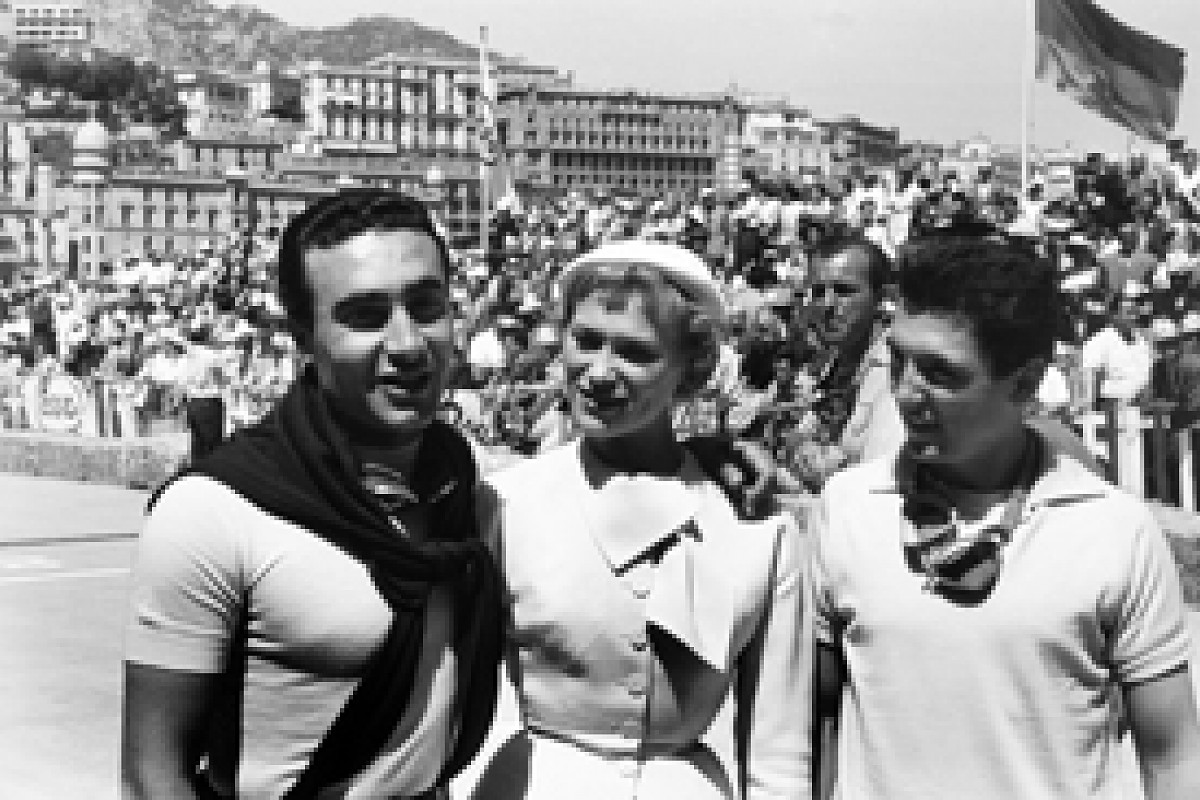 Castelloti and Perdisa celebrate their podium finishes © LAT
Castellotti had a grand reception, and wrote his name on the records of the top-line GP drivers. Farina, looking very tired, managed to grin happily. Behra, hiding his own disappointment, was the first to greet Perdisa, who had certainly kept his end up in his first really important race. Chiron, absolutely all-in, was obviously delighted to feature as a finisher, but I am afraid that this will prove to be the great Monegasque's last grand prix. Villoresi's first concern was for his friend Ascari, and he looked terribly upset. Meanwhile Moss quietly pushed his Mercedes over the line to cover 81 laps and rank as a finisher.
It was a great day for Ferrari. Trintignant had taken full advantage of the misfortunes of Mercedes-Benz, Lancia and Maserati, to drive an immaculate race. Moss, under orders to stay behind Fangio, had the chance to score his first full-scale GP victory, but was let down by his car - or possibly by Mercedes-Benz tactics. Lancia's blunder was in giving Ascari the 'faster' signal. Although there are stories that a) the Lancia's transmission locked up solid; and b) a steering drop-arm fractured; I feel quite sure that he overdid it coming into the chicane, and with brakes taxed to the limit by fierce use for over 800 corners, just couldn't get through.
After all, the Monaco circuit is a tremendous test of machinery. Maurice Trintignant calculated that he did 1,400 gear changes, or 14 per lap. Moss calculated that the five-speed Mercedes required 16 per lap, and estimated that his speed into the chicane exceeded 115mph. Fangio was hand-timed to go through the tunnel at an average of 90mph. Moss's tachometer tell-tale needle was at just over 9000rpm - about 1000 under that of Fangio. Hawthorn's Vanwall, with rpm safety limits of 7000, rocketed up to 7900 when the throttle ball-joint fell off, but remained in one piece.
Trintignant at one time believed that his car would pack up. The oil pressure gauge continually zeroed during braking, but the temperature gauge remained constant. He kept his revs down to 6500rpm, only exceeding 7000rpm at the start. Transmission snatch also worried him, but this disappeared about half-distance. At the end of the race, the oil-tank was more than half-full, so it must have been a faulty gauge. His car was equipped with the latest type of Englebert racing tyres, which had plenty of tread left on them. All Lancias appeared to suffer from failing brakes towards the end, and Castellotti's had a locking front wheel.
The engine failures of Moss and Simon's cars puzzled the Mercedes-Benz technicians, and there will be plenty of midnight oil burned at Unterturkheim before the next round at Spa Francorchamps. Maserati, like Lancia, also experienced brake bothers, both Musso and Mieres having rear axle failure possibly due to overstressing the transmission as the brakes began to lose their effectiveness.