In Monaco on Thursday it was the turn of Ferrari to grab a little glory as Fernando Alonso topped the times in both sessions. But Sebastian Vettel and Red Bull weren't far behind, despite the unique nature of the venue giving the opposition a chance to shake things up. Nevertheless Vettel felt he still had to find some speed. Meanwhile Mark Webber was surprisingly chirpy, despite being down in 10th.
Monaco may be a lottery, but one thing already seems certain - even if the team takes another pole, Red Bull won't have the sort of margin of superiority that we saw in qualifying in Barcelona, where it had nearly a second on the opposition.
Mark Webber celebrates victory in Spain © Sutton
Last Sunday saw a crushing performance by Webber, who put his earlier disappointments behind him and left his team-mate behind. It was a massive morale booster for the Aussie, who hasn't had a lot of luck this year. It was a fillip too for his race engineer, Ciaron Pilbeam.
"It's great when you have a weekend like this, for Mark especially," Pilbeam said after the team had finished its champagne drenched celebrations. "It's not very often when you have a weekend that goes almost without a hitch, and to be quickest in qualifying and the race is special. It looks easy, but it's not."
"It was a great performance by Mark today," added his team boss Christian Horner. "It was a very commanding race by him. He's looked very comfortable out there all weekend, and it was a very quiet afternoon for him. But quite the opposite for Sebastian..."
Webber did half the job in qualifying by outpacing Vettel in a straight fight, having already done it - in great style - with his bold tyre choice in the wet in Malaysia. This time it was about pure speed.
"I don't think there was anything between the set-ups," said Pilbeam. "There was almost nothing between them all the way through qualifying, just a tenth here and there. It looks like it was in the last sector most of the time. Nothing else to it I think, it was just Mark's day."
As for the start, the intriguing thing was that the pair had swapped places before Turn One in both the previous races, and this time there was the added complication of a very eager Lewis Hamilton in third.
Mark got things just right, as Pilbeam explained: "Same as Malaysia actually. The two times Mark has qualified on pole are the two longest runs to the first corner! It means anyone behind can get a good tow. We saw Sebastian move straight into Mark's tow off the start, and Lewis was trying to do the same. By the time they got to the first corner, there was one on each side of him!
"He did quite a good job to defend himself. He was more aware of it this time than in Malaysia. The fact that the mirrors have moved has helped. In Malaysia there was a problem, and he just didn't know where Sebastian was. He was right in the middle behind him. Mark looked left and right and couldn't see him!"
"They got pretty close into the first corner," said a relieved Horner of Barreling. "And they both did what they were asked, which was to give each other enough room to play with. And they obviously managed to keep Hamilton from coming through."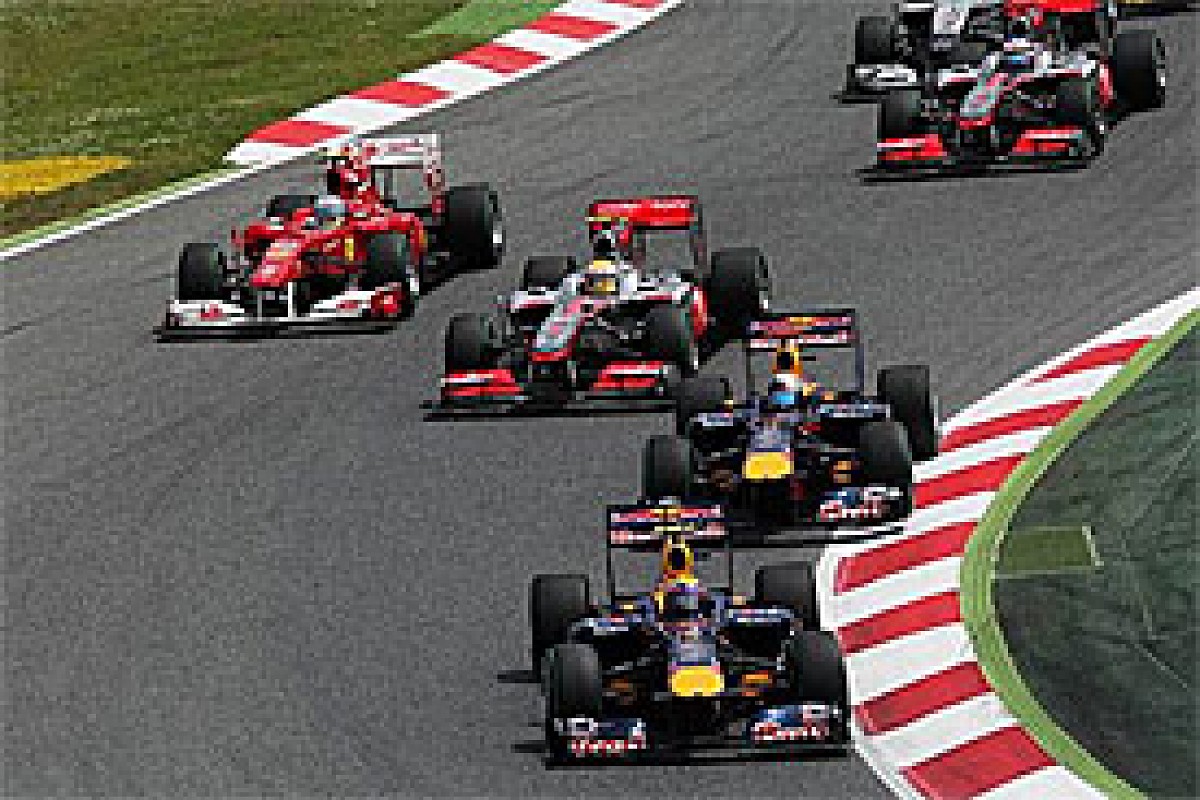 The start of the Spanish GP © Sutton
One interesting aspect of the way the race played out was that Vettel - as the man in second - was given the first pitstop. Webber has suffered previously this year, notably in Australia, by having to cede the first go to race leader Vettel.
But there was nothing sinister about things being swapped this time. Vettel went first simply because he was under threat from third-placed Hamilton, and in terms of the big picture it was obvious that he should stop at the optimum time.
"Sebastian's race was Hamilton was close," said Pilbeam. "It's more important that we get first and second..."
Unfortunately for Vettel, it all went wrong when the crew had a problem.
"We had an issue at the pit stop with the right front," Horner explained. "We stopped Seb at exactly the right time to make sure we didn't get undercut by Lewis, but unfortunately the stop was too long, we had to hold the car for a Ferrari, and another car.
"Despite him going purple on his out lap - and Lewis having his own problems at his stop with the right rear - we lost time at that stop, which was just enough to put him behind Lewis. And then obviously overtaking round here is very difficult.
"He couldn't get close enough to have a proper go, and with the F-Duct that they have, the straightline advantage, there was never going to be an overtaking manoeuvre."
After the identity of his pursuer changed, it was pretty much plain sailing for Webber, because Hamilton - even though he was fast - was never going to be as big a threat as his own team mate.
That doesn't mean it wasn't stressful for Mark, or indeed Pilbeam: "When you come out of the first pit stop a few seconds up the road it looks like a long time to the finish - 49 laps to go. It's a long time just to watch the car going round, but it's never quite that simple."
Indeed Webber could well have suffered the sort of problem that tripped up Vettel late in the race, when the German hit a totally unexpected brake disc drama, co-incidentally again with the right front.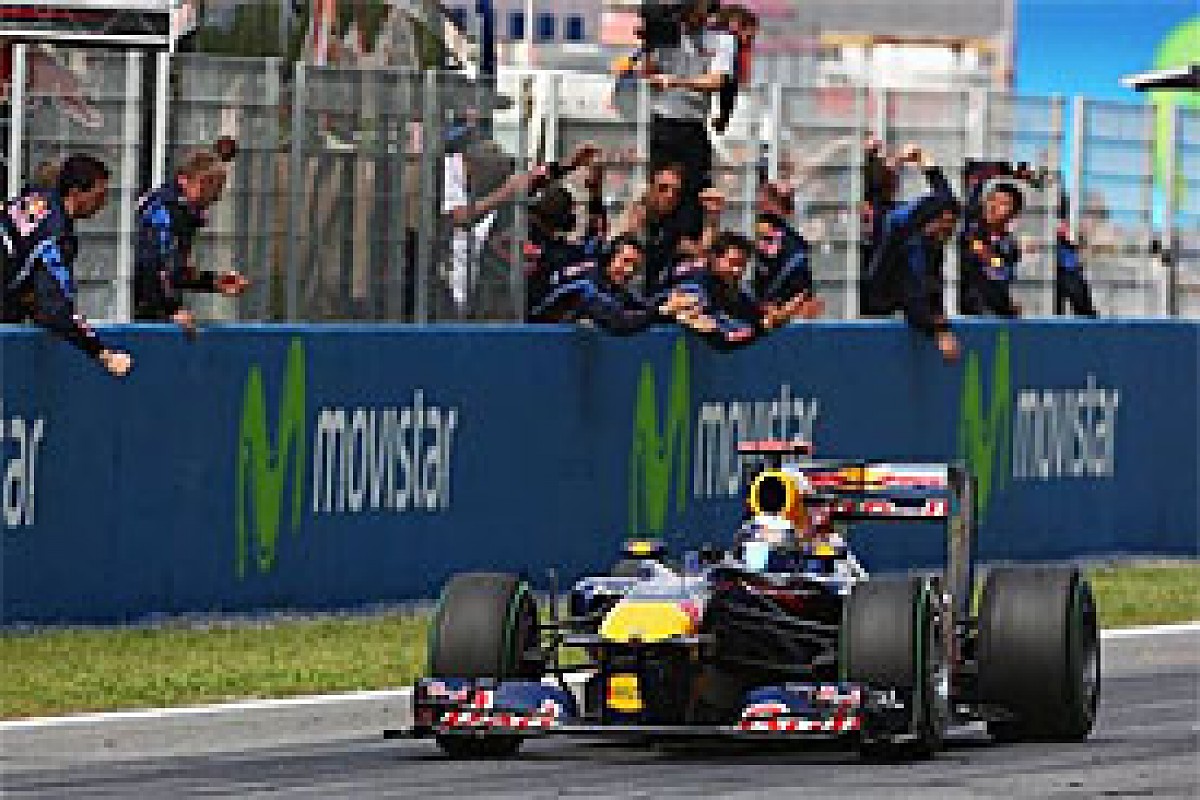 Sebastian Vettel limped home in third © Sutton
"We had to manage to a brake problem with about 15 laps to go, which caused him to run wide," said Horner. "So we boxed him immediately. We could see that the disc was still there, but the carbon was damaged. No warning at all, and the brake temperatures weren't high, so it was quite strange.
"I think it was exactly the same issue with exactly the same brake manufacturer that Lewis Hamilton had in Abu Dhabi last year. We don't make brakes... But it's wrong to blame the supplier, they've done a very good job. We use their product because it is a very good product, we just have to understand the failure, because it's not a hard track on brakes around here. Before blaming the brake disc we need to see if there's any other factor.
"We put some new tyres on it and then he went purple on his out lap in the middle sector! So we knew brakes must still be there. Then it was just a matter of managing that problem, which he did very well, until the end of the race."
Those last few laps were touch and go. Vettel was encouraged to slow, and informed that the situation was becoming critical. At one point he was even told that it was all over, and yet he still kept going, while putting in respectable times. He was of course helped by the fact that he had brand new soft tyres, which basically flattered his lap times.
"It was then a matter of building in enough of a margin," said Horner. "We struggled to slow him down enough, because whilst he was putting massive margins into his braking distance, his corner speeds were obviously very high on his soft set of tyres, so that made the lap time still competitive with Michael [Schumacher, his pursuer]."
In Monaco on Wednesday Vettel gave an insight into how things were from where he was sitting. He insisted that even if his lap times scared his engineers, he was running well below his potential.
"I had fresh tyres, and if I would been at full pace I should have been in the 1m21s or something like that. Obviously when I was doing 1m25s, 1m26s, I went massively slower. From the pit wall it's a bit more difficult to judge how fast you go or not, you tend probably to underestimate compared to the others how quick your car or driver is going.
"Obviously you need to consider as I said a fresh set of tyres which allows me to go much quicker in the corners and on acceleration, but surely the last 10 laps I wasn't pushing at all, and the last five laps, I didn't use any brakes at all. Even before I was backing off massively early and downshifting early in order to slow the car down for the corners."
It was a great drive, the sort of salvage job that a Schumacher or Alonso would have been proud of.
"A very mature drive by him," said Horner. "He managed the problem well, and those were important points for him this weekend."
The boost for Red Bull in Barcelona was that the team seemingly extended its advantage, even though the opposition arrived with updates that were supposed to close the gap. Monaco is obviously something of a one-off, so perhaps we'll know a bit more about the true status quo in Turkey.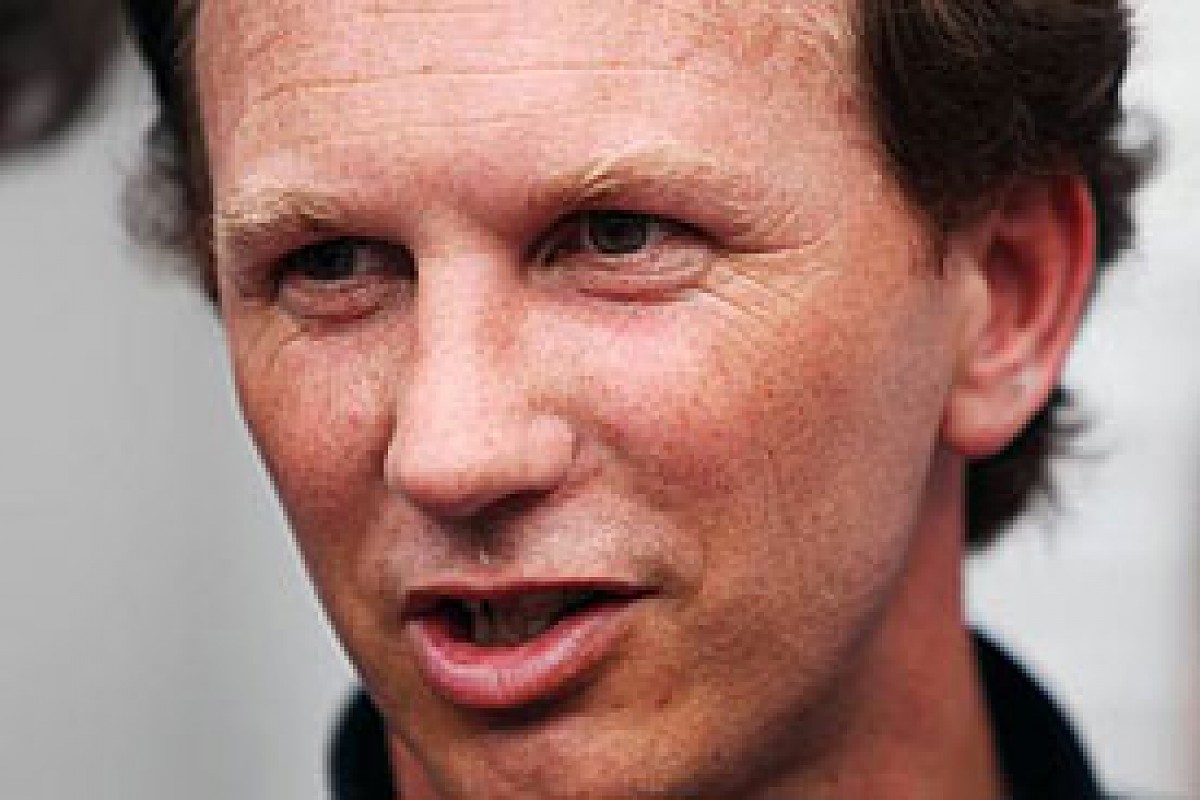 Christian Horner, Red Bull, 2010 © Sutton
But on Sunday in Spain Horner made it clear that RBR is bringing new stuff through as fast as anybody: "This time last week the floor that's on Mark Webber's car was on a roll of carbon. So that's testimony to how hard the guys are working, and the timing of getting components from the drawing board to the car at the moment, the whole team is pushing very, very hard."
But he knows it won't be easy: "The regulations, albeit we're in the second year, are still relatively immature, so teams are still finding reasonable steps and reasonable gains. I expect that we'll see that ebb and flow throughout the rest of the year.
"We're not at the top of either championship. I don't believe that there's any favourite at this stage of the season, there's still a long, long way to go."
A few potential wins have gone adrift this year, but Vettel made it clear in Monaco this week that he's not looking back.
"Would, could, should is not happening. We can't change the races we had. But surely another race like last week, it was the key to get maximum points out of it. Third place or a podium is not a disaster, it could have been much worse if you look back. I think it's good, unlike last year when we had a worse start to the season, we're not massively behind.
"Ten points sounds maybe a lot, but obviously we have a new points system as well, so its' not that much. Surely it shows if you look at the evolution of the championship, and the points, how important it is to finish races. Jenson has won two races and the other races he has been fifth and sixth or something like that. It shows how important it is to finish every single GP."
A lesson learned. Last year Vettel lost crucial points in Monaco when he crashed out, distracted perhaps after his strategy went awry and he lost places. This time he has to see the chequered flag...