PRACTICE
Practice 1 - Friday AM
Perhaps it wasn't a massive shock to see the McLarens at the top of the times, given the straightline speed advantage the team's F-duct system gave the MP4-25 on Shanghai's vast blast down to the Turn 14 hairpin, but it was a little more surprising to see Nico Rosberg splitting Jenson Button and Lewis Hamilton at the end of the 90 minutes.
But that's not what the session will be remembered for. It won't be for the fact that the Ferrari engine being used by Fernando Alonso expired before the Bahrain Grand Prix winner could complete a timed lap either.
Mark Webber, Red Bull © Sutton
What will be recalled forever is the extraordinary sight of Sebastian Buemi's Scuderia Toro Rosso dispossessing both its front wheels under hard braking for the hairpin - as the Swiss slowed from in excess of 200mph - in one of Formula 1's most bizarre accidents.
The uninjured Buemi became a passenger as his STR's new specification front right upright failed, transferred all of its energy to the already loaded left side, which then obliterated. Left without its fronts the machine then careered harmlessly into the gravel. It didn't stop Sebastien applying plenty of opposite lock - though clearly that didn't do any good.
The session was red-flagged and STR subsequently spent the last 10 minutes of that session and most of the next retro-fitting Alguersuari's car with the previous spec uprights.
Practice 2 - Friday PM
The second 90 minutes of practice in China proved significantly duller, and there were no more runaway wheels either, but it was still McLaren and Mercedes dominating the top spots.
This time it was Lewis Hamilton that set the pace, the 2008 world champion setting his time halfway through the session having switched to the option tyres, which generally proved to be the faster of the two alternative Bridgestone offerings.
Once again Nico Rosberg proved to be the interloper ahead of Jenson Button. Intriguingly, Michael Schumacher, on a track which has never been particularly kind to him, was closer to his Mercedes team-mate than at any time this season, just 0.15s splitting the pair.
The Red Bulls, F-Ductless but superbly balanced, skulked ominously in fifth (Sebastian Vettel) and sixth (Mark Webber).
Saturday Practice
It was a quiet final practice for most drivers in Shanghai, as Red Bull began to show its cards following a discreet Friday.
Webber, the last man to jump onto the track, ended the session on top of the times, even if he was still a tenth off Hamilton's best from Friday. The Briton followed the Australian driver, with Vettel in third and Button in fourth as the McLaren-Red Bull fight seemed to intensify ahead of qualifying.
Down at Ferrari, Alonso was a distant fifth while Felipe Massa finished down in ninth as he had problems getting his car going for his final run. The duo were able to complete just two runs.
The session was interrupted by a red flag caused by Vitaly Petrov, who lost control of his Renault at the final corner, crashing against the tyre barriers. With the clock not stopping, drivers lost seven minutes of running due to the accident.
QUALIFYING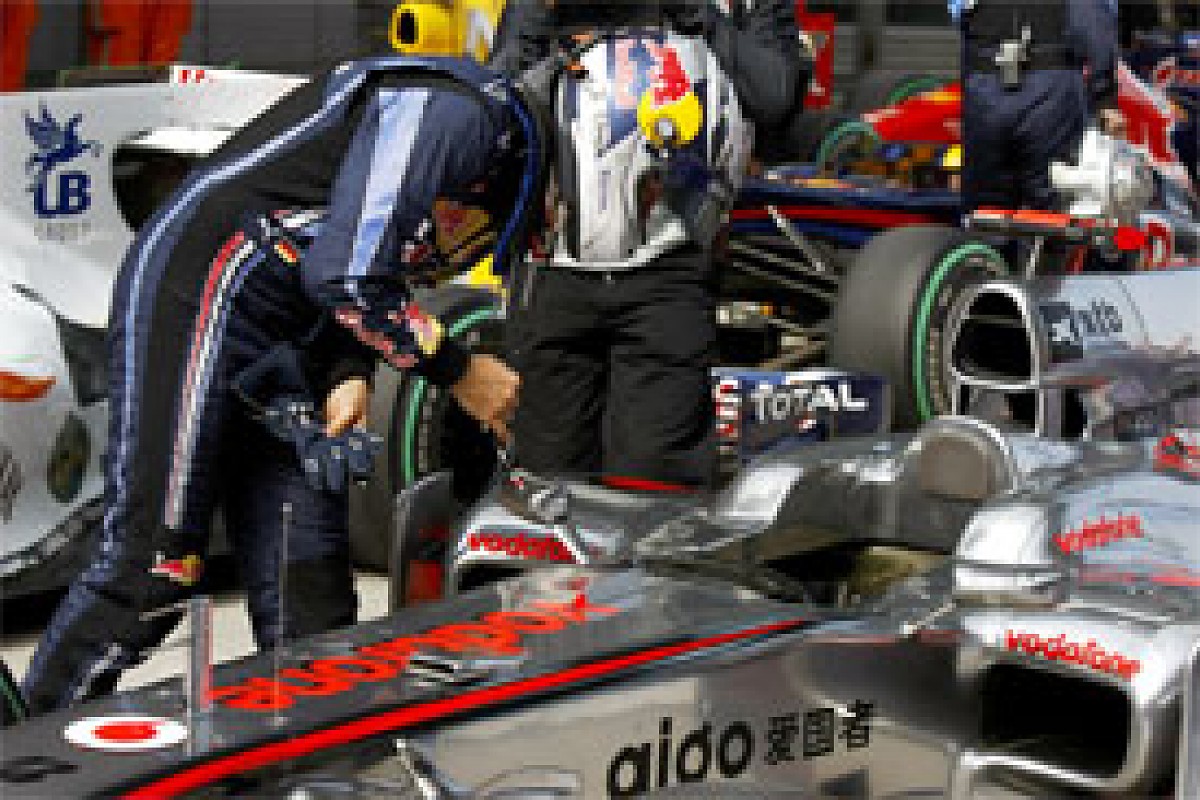 Polesitter Sebastian Vettel inspects the McLaren © LAT
1. Sebastian Vettel, Red Bull
Team-mate qualifying battle 3-1
Having struggled with his set-up in practice, Vettel managed to turn things around when it mattered to secure his third pole in four races. His final run was superb by all accounts, and the German finished nearly three tenths ahead of team-mate Webber.
2. Mark Webber, Red Bull
Team-mate qualifying battle 1-3
There was little Webber could say other than that he was pleased with his front row slot, the Australian clearly unable to match Vettel's lap time.
3. Fernando Alonso, Ferrari
Team-mate qualifying battle 3-1
Alonso conceded third was the maximum he could have achieved given his car's qualifying pace, but the Spaniard was still confident he would be able to raise his game on Sunday. All things considered, and another engine change included, it was a good day for him.
4. Nico Rosberg, Mercedes
Team-mate qualifying battle 4-0
From the start of the weekend, Rosberg insisted Mercedes had taken a step forward, and he confirmed that with another strong showing on Saturday. The German was just slower than Alonso, ahead of both the McLarens and a massive seventh tenths quicker than Schumacher.
5. Jenson Button, McLaren
Team-mate qualifying battle 3-1
Strong from the start of the weekend, McLaren could just not find the pace in qualifying, where Button was unable to get his tyres working properly for a full lap. It was still a good effort from the world champion, though, especially after outqualifying his team-mate.
6. Lewis Hamilton, McLaren
Team-mate qualifying battle 1-3
After looking like one of the main favourites for pole following his practice performance, Hamilton found himself at a loss to explain his lack of pace in Q3 - especially as he had topped both Q1 and Q2. The Briton felt his McLaren was bottoming a lot more in final qualifying and the end result was being outqualified by Button by the third time in four races.
7. Felipe Massa, Ferrari
Team-mate qualifying battle 1-3
Massa believed he would have finished inside the top five if it hadn't been for a mistake during his final run in Q3. As it was, however, the Brazilian had to settle for a place on the fourth row, four places behind Alonso.
8. Robert Kubica, Renault
Team-mate qualifying battle 4-0
Another strong showing from the Pole, who reckoned he had put on his best performance of the season so far in a qualifying session. After a slow start in practice, Kubica admitted he did not expect to be able to qualify so well.
9. Michael Schumacher, Mercedes
Team-mate qualifying battle 0-4
Not a happy day for the seven-time champion, who not only didn't manage to outqualify Rosberg but also saw the gap to his younger team-mate increase to over 0.7 seconds. Schumacher could not get it right in qualifying and the result was a disappointing ninth.
10. Adrian Sutil, Force India
Team-mate qualifying battle 4-0
Sutil was pleased after making it to Q3 for the third time in four races, even if the German admitted he couldn't push his car to the limit because it was missing grip in the middle sector. Nonetheless, it was another good chance to score solid points.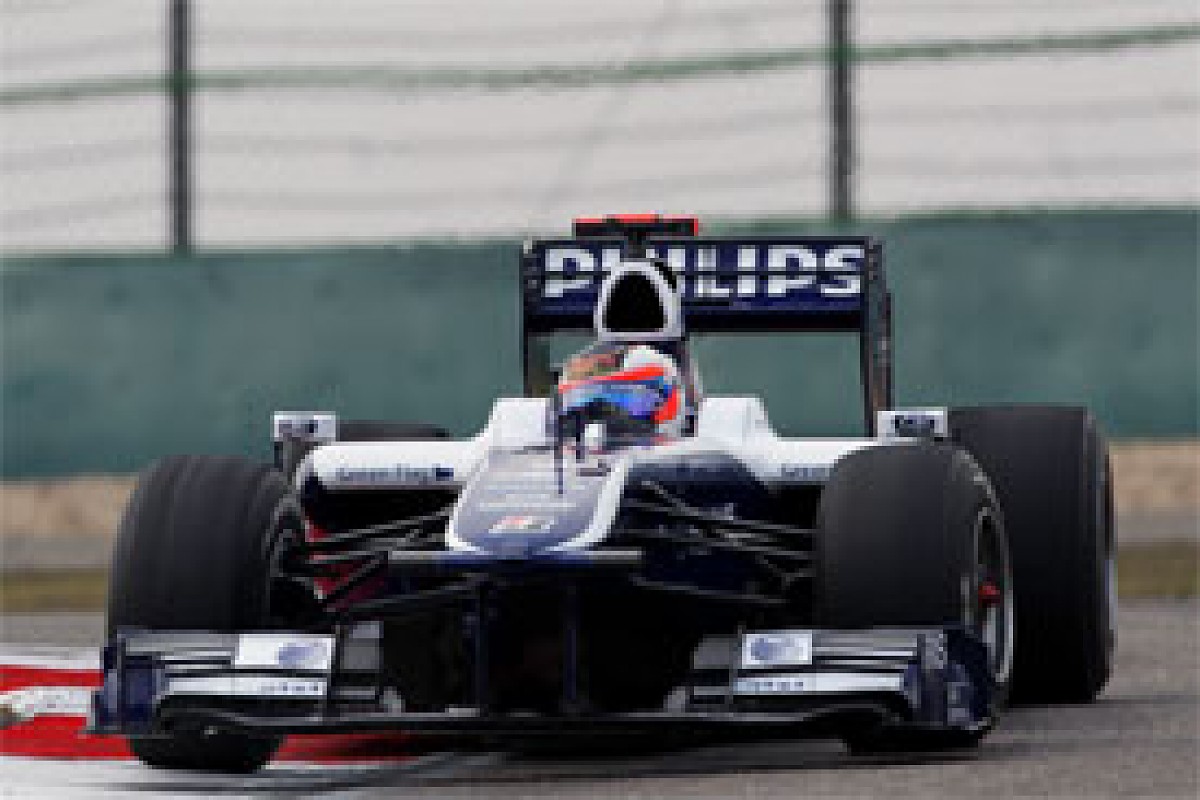 Rubens Barrichello, Williams © Sutton
11. Rubens Barrichello, Williams
Team-mate qualifying battle 3-1
It was a very good qualifying for Barrichello, whose Williams team had not looked too strong during the weekend. The Brazilian, who tested an experimental stall wing on Saturday, had to have his engine cover replaced following problems with the new parts in final practice.
12. Jaime Alguersuari, Toro Rosso
Team-mate qualifying battle 1-3
Still boosted by his maiden point-scoring finish in Malaysia, the young Spaniard enjoyed his strongest qualifying of the year, getting very close to Q3. Perhaps more importantly he outqualified team-mate Buemi for the first time.
13. Sebastien Buemi, Toro Rosso
Team-mate qualifying battle 3-1
Not an easy start to the weekend for the Swiss driver, whose bizarre accident on Friday put him on the back foot, with hardly any running. He managed some laps on Saturday but was not happy with his car's handling.
14. Vitaly Petrov, Renault
Team-mate qualifying battle 0-4
A good recovery from the Russian rookie saw him enjoy a strong qualifying session after damaging his car in his final practice crash. It was Petrov's best Saturday performance in the dry, although still quite a way off Kubica's pace.
15. Kamui Kobayashi, Sauber
Team-mate qualifying battle 2-2
Fifteenth was possibly the best result Kobayashi could have hoped for given his Sauber car's competitiveness, and the Japanese driver was happy with the result, especially as he finished two places ahead of team-mate de la Rosa.
16. Nico Hulkenberg, Williams
Team-mate qualifying battle 1-3
Hulkenberg struggled for pace all weekend, despite running a new front wing on Friday that the German thought produced positive results. In qualifying, the rookie also made a mistake on his final flyer, a mistake that saw him finish nearly a second behind Barrichello.
17. Pedro de la Rosa, Sauber
Team-mate qualifying battle 2-2
Although Sauber struggled for pace around Shanghai, de la Rosa admitted it was his own fault not to get a better result after a mistake on his final run. The Spaniard was forced to remove the F-duct from his car for qualifying, something that hindered him in comparison with Kobayashi.
18. Vitantonio Liuzzi, Force India
Team-mate qualifying battle 0-4
Few would have guessed that it would be a Force India joining the new teams in going out in Q1, but Liuzzi was again very unlucky with traffic, which made it impossible for the Italian to get a clear run in the dying moments of the session.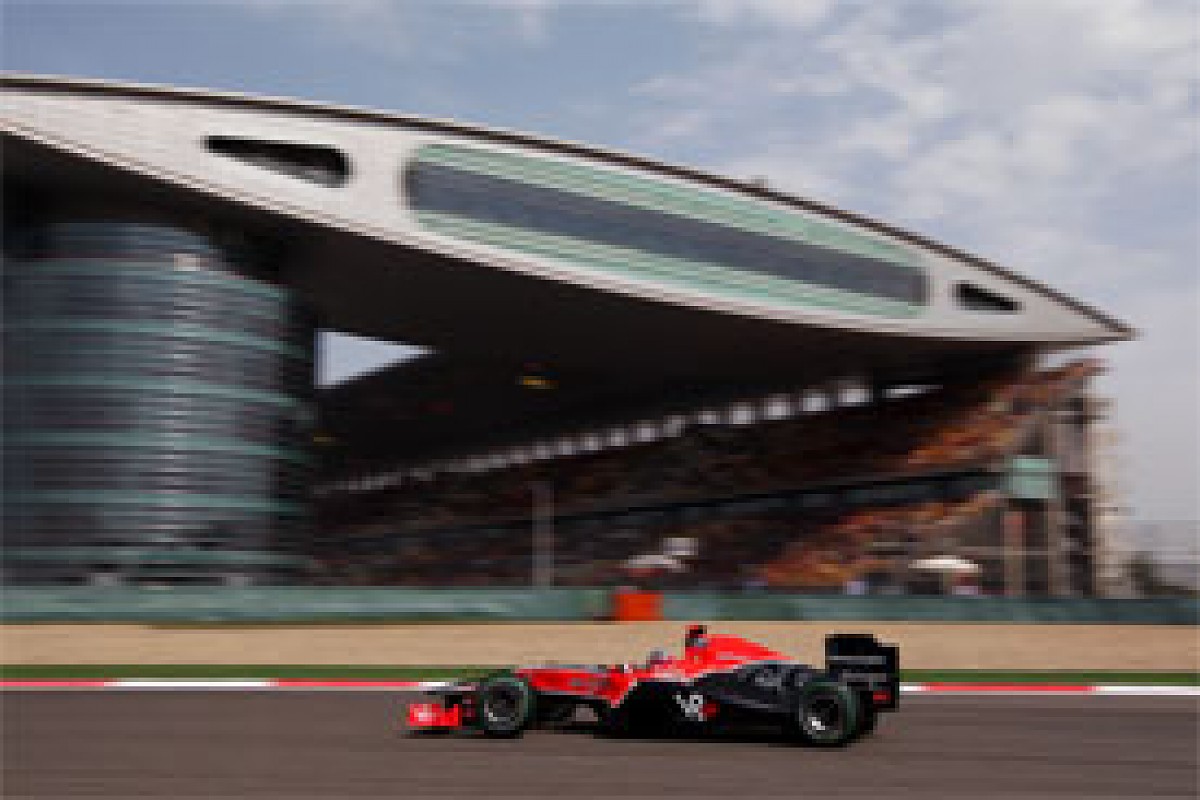 Timo Glock, Virgin © Sutton
19. Timo Glock, Virgin
Team-mate qualifying battle 4-0
With over 60 laps covered before the grid-deciding session, Glock faced qualifying better prepared than in any other race this season. That showed, as the German put the Virgin car ahead of all its direct rivals, beating the quickest Lotus by over a tenth despite carrying more fuel on board.
20. Jarno Trulli, Lotus
Team-mate qualifying battle 2-2
Hampered by the strong gusts of wind, the Italian felt a better result was possible after a largely trouble-free weekend with the Lotus. Even so, Trulli finished just a tenth off Glock, who occupied the best possible position for a new team.
21. Heikki Kovalainen, Lotus
Team-mate qualifying battle 2-2
Kovalainen also felt he had been hindered by the wind, but his main problem was not managing to get the third sector right, the Finn believing he was losing about three tenths in the section ahead of the back straight.
22. Lucas di Grassi, Virgin
Team-mate qualifying battle 0-4
Di Grassi probably enjoyed his most productive practice sessions to date after nearly managing a race distance on Friday and another 13 laps on Saturday morning, so he arrived in qualifying well prepared. However, he was still around half a second off Glock's pace and only ahead of the Hispania cars.
23. Bruno Senna, HRT
Team-mate qualifying battle 3-1
With HRT still not quite in the same league as the rest of the new teams, there was not much for Senna to do except enjoy a trouble-free run and finish ahead of his team-mate. He managed both, so the Brazilian could be pleased with his day.
24. Karun Chandhok, HRT
Team-mate qualifying battle 1-3
Hit by a five-place grid penalty before the session for opening up his gearbox, qualifying was going to make little difference for Chandhok. He was just a tenth off his team-mate which, given Hispania's pace, is all that mattered.
Qualifying results:
Pos  Driver         Team                  Q1        Q2        Q3
 1.  Vettel         Red Bull-Renault      1:36.317  1:35.280  1:34.558
 2.  Webber         Red Bull-Renault      1:35.978  1:35.100  1:34.806
 3.  Alonso         Ferrari               1:35.987  1:35.235  1:34.913
 4.  Rosberg        Mercedes              1:35.952  1:35.134  1:34.923
 5.  Button         McLaren-Mercedes      1:36.122  1:35.443  1:34.979
 6.  Hamilton       McLaren-Mercedes      1:35.641  1:34.928  1:35.034
 7.  Massa          Ferrari               1:36.076  1:35.290  1:35.180
 8.  Kubica         Renault               1:36.348  1:35.550  1:35.364
 9.  Schumacher     Mercedes              1:36.484  1:35.715  1:35.646
10.  Sutil          Force India-Mercedes  1:36.671  1:35.665  1:35.963
11.  Barrichello    Williams-Cosworth     1:36.664  1:35.748
12.  Alguersuari    Toro Rosso-Ferrari    1:36.618  1:36.047
13.  Buemi          Toro Rosso-Ferrari    1:36.793  1:36.149
14.  Petrov         Renault               1:37.031  1:36.311
15.  Kobayashi      Sauber-Ferrari        1:37.044  1:36.422
16.  Hulkenberg     Williams-Cosworth     1:37.049  1:36.647
17.  de la Rosa     Sauber-Ferrari        1:37.050  1:37.020
18.  Liuzzi         Force India-Mercedes  1:37.161
19.  Glock          Virgin-Cosworth       1:39.278
20.  Trulli         Lotus-Cosworth        1:39.399
21.  Kovalainen     Lotus-Cosworth        1:39.520
22.  di Grassi      Virgin-Cosworth       1:39.783
23.  Senna          HRT-Cosworth          1:40.469
24.  Chandhok       HRT-Cosworth          1:40.578

THE RACE
With sun overhead, radars suggesting the rain threat lessening, and two awesomely fast Red Bulls on the front row, the prospects of an eventful race at Shanghai seemed slender as the teams prepared on race day morning, with only McLaren's desire to recover from its Q3 slump looking like it might provide some interest.
But then the clouds darkened, the drizzle started, and the 2010 Chinese Grand Prix was thrown wide open. What followed was a story of one McLaren driver getting it absolutely right, and another getting it wrong but making up for it with sheer determination - and all the other title contenders letting opportunities tumble through their fingers.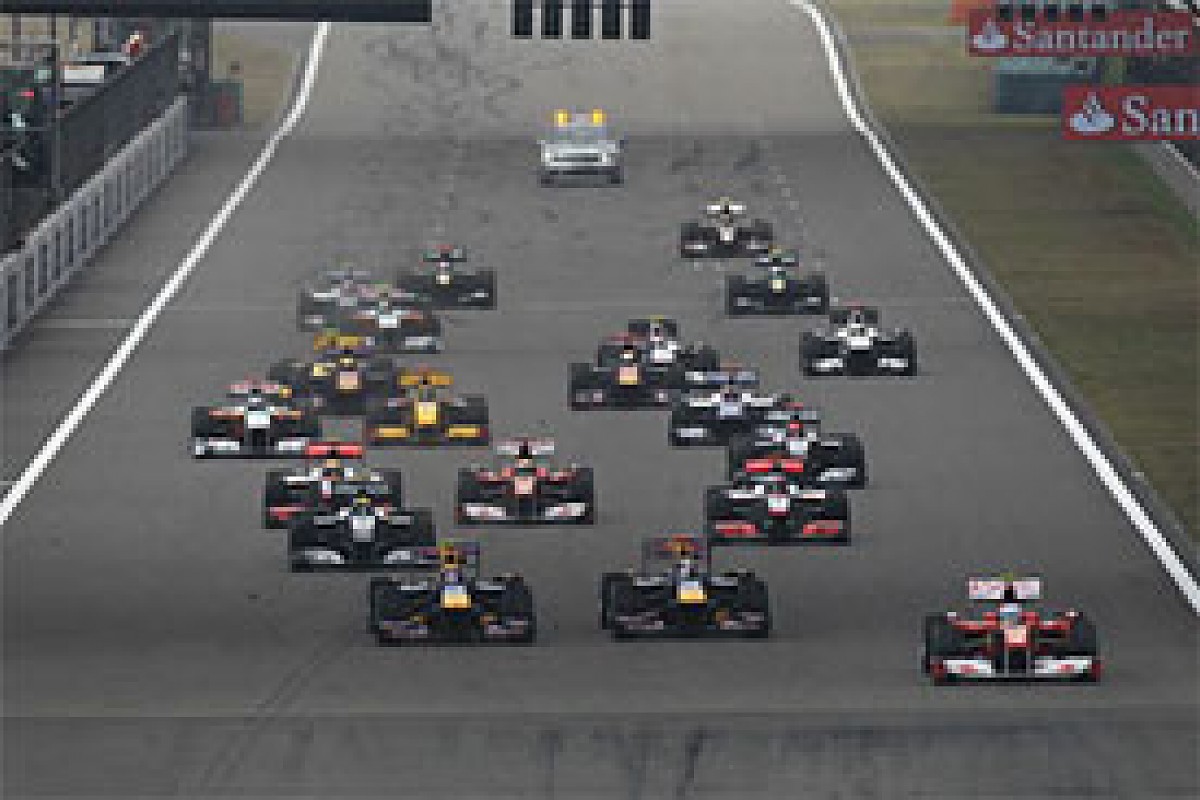 Fernando Alonso jumps the start and leads into the first turn © LAT
Everyone started the race on slicks - Fernando Alonso slightly sooner than most as he jumped the start and blasted from third on the grid into a clear lead by Turn 1. "My reflexes let me down," he confessed, well aware that a penalty was inevitable. His premature getaway looked even more blatent because polesitter Sebastian Vettel's start had been quite average, allowing team-mate Mark Webber to breeze past him, before dissuading Vettel's attempted re-pass further round the lap.
Tonio Liuzzi then demonstrated just how slippery the track was getting by snapping into a spin under braking for Turn 6 and bowling backwards into Kamui Kobayashi's Sauber and Sebastien Buemi's Toro Rosso. It was karmic retribution for Kobayashi, given that he had caused a similar incident in Melbourne, but pretty miserable deja vu for Buemi - who had also been one of Kobayashi's victims in Australia.
That prompted a safety car, and Adrian Sutil, Jaime Alguersuari and Rubens Barrichello (who had already fallen to the back as he had to take a lengthy detour as the Turn 6 carnage unfolded in his path) immediately dived in for intermediates. With the rain increasing a little, most of the field followed their example next time around - Lewis Hamilton somewhat belatedly, turning sharp right as he rounded Turn 16 and driving over the run-off to access the pit entry, the team's radio instruction having arrived a moment too late.
But not everyone was feeling so cautious. Nico Rosberg, Jenson Button, the Renaults, Pedro de la Rosa and Heikki Kovalainen all stayed out and found themselves at the front of the field - albeit on a treacherous track, and with a host of intermediate-shod drivers queuing up behind them.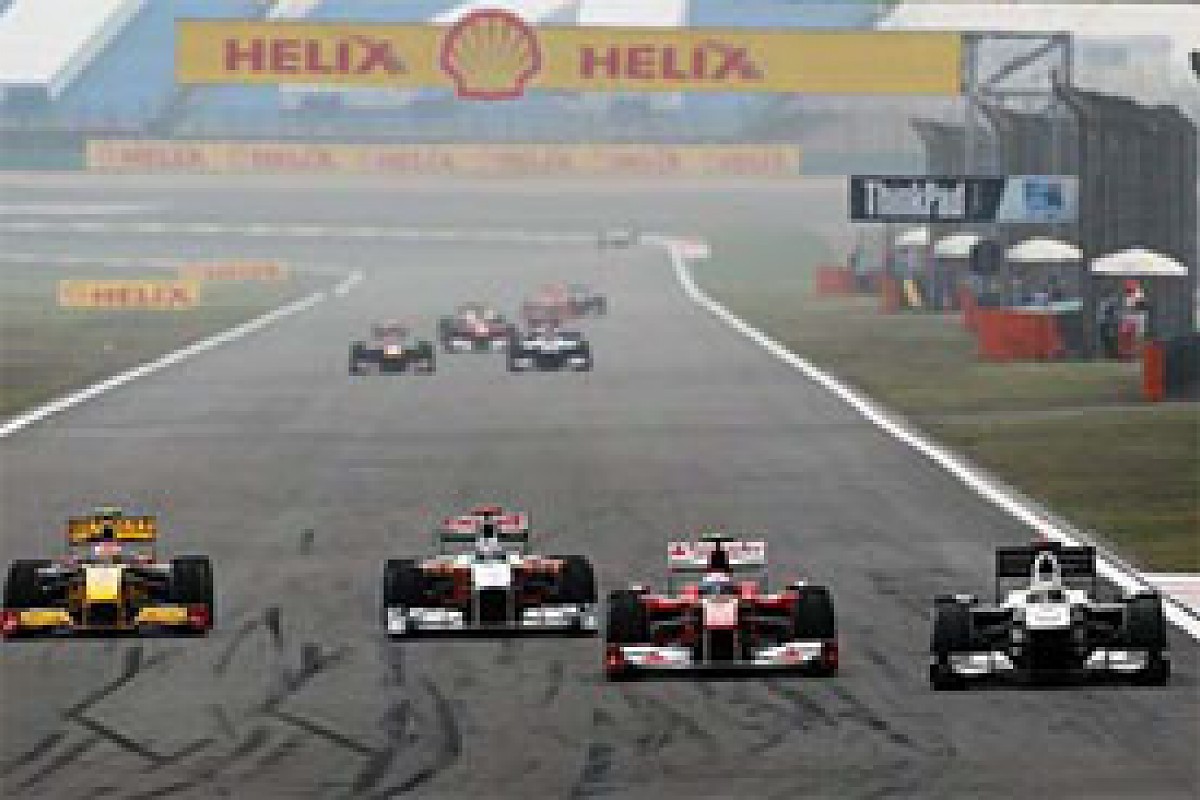 Early tyre changes jumbled the field © Sutton
The second half of the 'slick pack' was soon being gobbled up by leading intermediate runners Alonso and Sutil when the race went green - but their advantage was very shortlived, as the rain halted almost immediately and the track became too dry for the inters within moments, to new leader Rosberg's relief.
"You are saying 'please stop raining, please stop raining' and it is just so on the edge," he recalled. "If it rains a little bit more it is the wrong call. If it rains a little bit less it is fine and that went really well."
His team-mate Michael Schumacher was first to spot that taking intermediates had been a blunder, and pitted for slicks at the end of the first lap of green flag racing. Everyone else had to follow suit within the next few laps - with Hamilton and Vettel taking their on-track dice into the pitlane. Already wheel to wheel under braking for Turn 16, they continued side by side into the pit entry, where Hamilton just squeezed ahead. They were then released side by side too, causing Hamilton to twitch alarmingly sideways in front of the garages, before eventually filtering back into line behind Vettel - all of which prompted raised eyebrows from the stewards, but nothing worse than a reprimand in the end.
"As far as I am concerned I think it was okay," said Hamilton. "I think the team waited for quite some time and they released me when they thought it was the right time but I got quite a lot of wheelspin, so I struggled to get out the actual box. As I came out I noticed Sebastian was there and he was pushing me a little bit to the right. We touched wheels but otherwise I think it was fair."
Vettel felt that any blame should be directed at Hamilton: "I don't know why he was keen to touch me."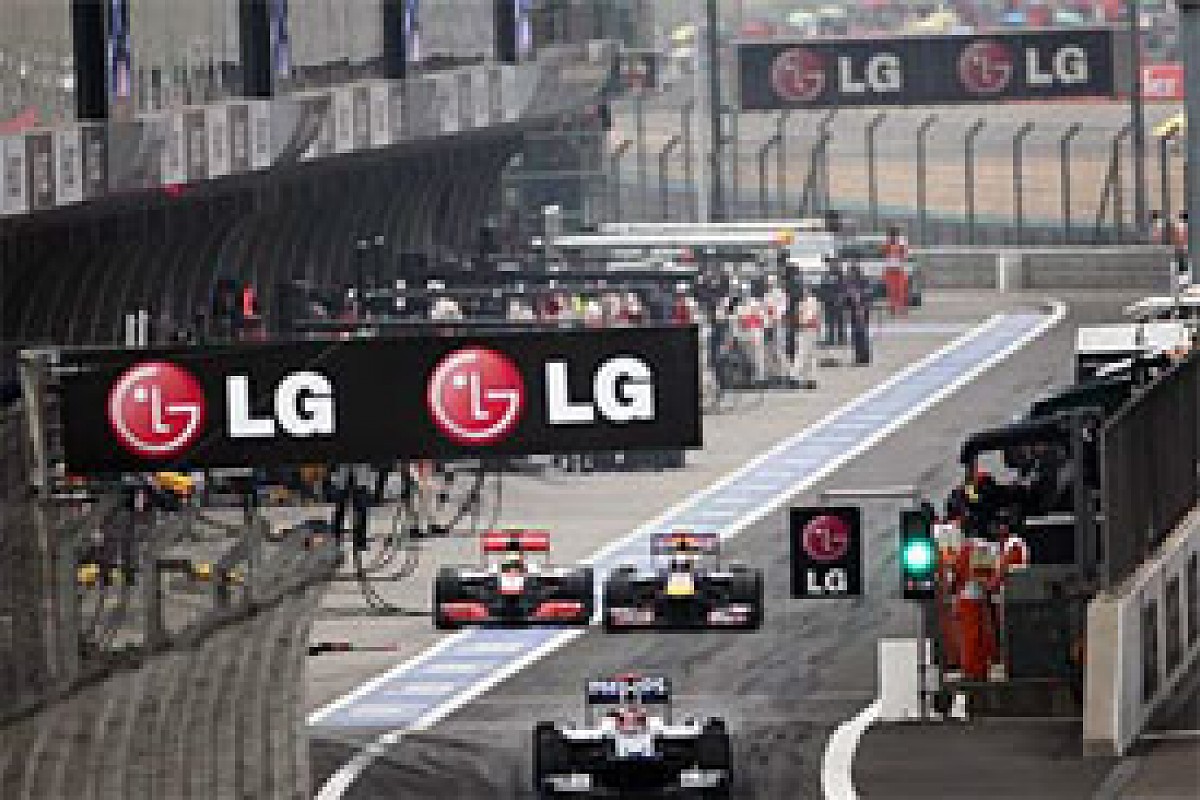 Sebastian Vettel and Lewis Hamilton race down the pitlane © Sutton
A large group of displaced runners dumped into the midfield on slicks on a cold and still slippery track was clearly going to be a recipe for entertainment - the wild dicing that followed typified by Vettel going three-abreast with Jarno Trulli and Barrichello around the long Turn 13 on his out-lap.
Webber, Vettel, and Hamilton soon found themselves in ninth through 11th places. Ferrari had fared worse: Alonso's penalty drivethrough leaving him 14th and yet again tucked up behind slower team-mate Felipe Massa, whose two trips off the road (one of them in the pit entry) had dropped him out of touch with the Red Bull/Hamilton group.
Schumacher's quick decision to jettison intermediates meant he was up to fifth, ahead of Sutil, whose pit work had also been prompt, but the two Germans were over 40s behind adrift of the lead, with those who hadn't been lured into dabbling with intermediates sitting pretty at the front.
Rosberg looked very comfortable in the lead, keeping a 2s advantage over Button and 5s over Robert Kubica, as the latter's rookie team-mate Vitaly Petrov understandably drifted away into a lonely fourth. De la Rosa should have been somewhere among them, but an "engine related" smoke trail signalled yet another early Sauber retirement on lap seven.
Not that anyone was looking at the leaders now, given the progress Vettel and Hamilton were making back up the order. Both quickly passed Webber, with all three despatching Kovalainen soon after.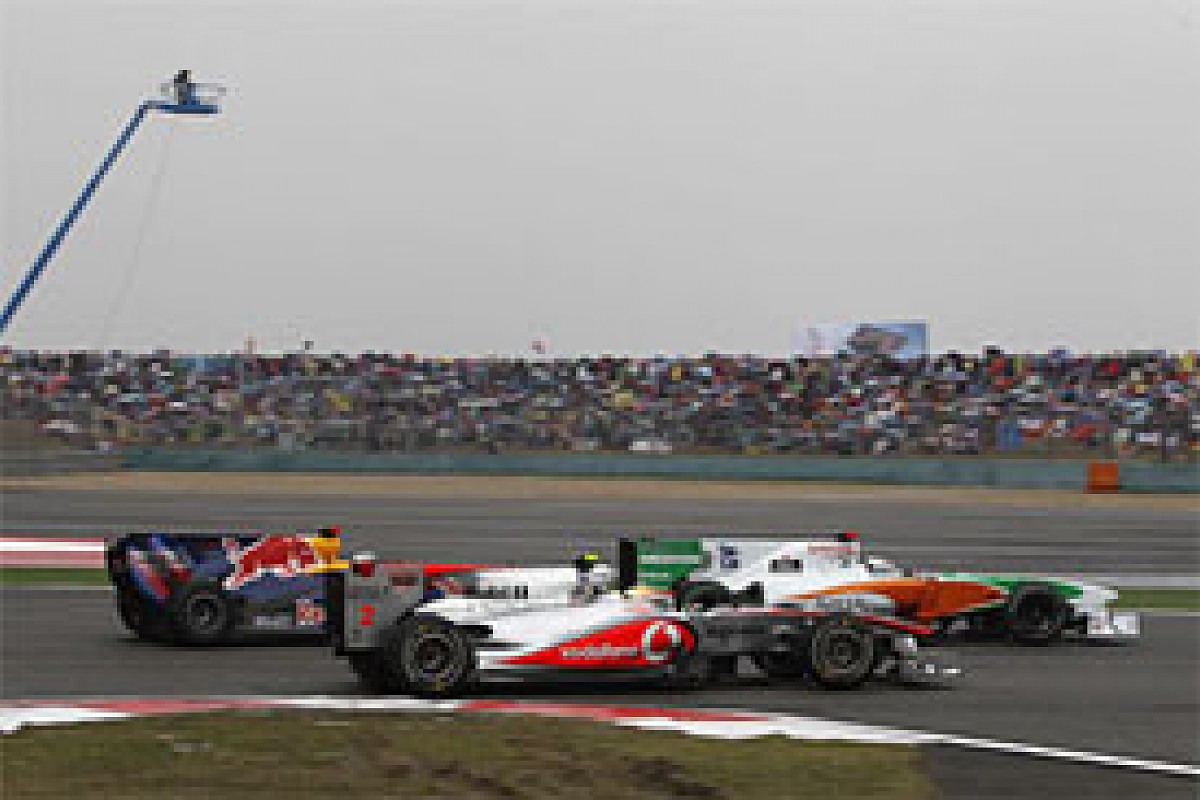 Lewis Hamilton battles with Adrian Sutil and Sebastian Vettel in the hairpin © LAT
Sutil was their next target, and as the Force India held the attacking Vettel out wide at the Turn 14 hairpin on lap 12, Hamilton neatly slipped past both of them.
Once in clear air, Hamilton's pace was astounding - a second quicker than anyone else, and 3s faster than next man up the road Schumacher.
During Schumacher's three-year absence, Hamilton had openly pondered what racing the great man would have been like. Tough, was the answer he was about to get. Schumacher's pace may have been mediocre, but there were no cobwebs on his racing nous, as time and again he eased Hamilton to the outside at the passing spots and clung on to his fifth place.
Even when Hamilton was finally able to draft past on lap 17, Schumacher hopped back in the slipstream and outbraked him again into the hairpin, although he ran too wide to make the move stick and Hamilton was free once more. Just in time too, as the Red Bulls had both overtaken Sutil a lap after Hamilton's two-at-once pass, and were almost back on his tail. Indeed Vettel overtook Schumacher - with far less drama - just a lap later.
Things then got more complicated still, thanks to first more rain, and second another safety car.
The renewed shower - a little heavier and much longer lasting - was a disaster for Rosberg. His lead over Button was up to a healthy 4.5s, until he found Turn 11 wetter than he expected and went straight on over the run-off. By the time Rosberg was back on course, Button was on his tail and breezing past into the lead on the backstraight.
This time there was no doubt that intermediates had to be the right way to go, with everyone pitting over the next few laps. They were then handily bunched up again by the safety car, which was prompted when Jaime Alguersuari clipped Bruno Senna's Hispania and deposited chunks of front wing debris both on-track and in the pit entry.
New leader Button was far from thrilled that the likes of Hamilton and the Red Bulls were now just a few cars down the safety car queue, rather than over 40s behind.
"I had my heart in my mouth when that happened as I just did not know what was going to happen," he said. "We had built up such a good gap and then, unfortunately, everyone else caught up, so it made it very tricky."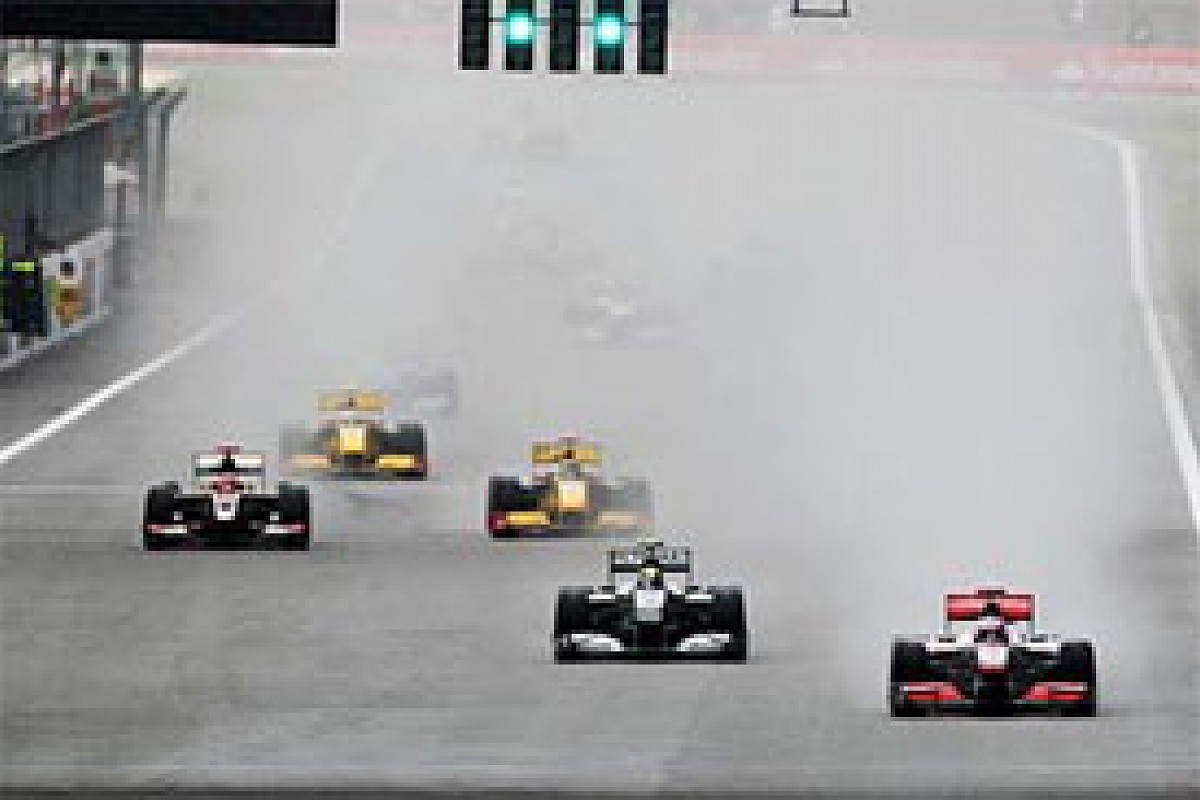 Jenson Button leads a mid-race restart © Sutton
Keen to make a quick break, he slowed the pack right down at the hairpin just before the restart, causing a messy traffic jam and sending Hamilton onto the grass. Eager to get back into position, Hamilton then went into the final corner three abreast with the Red Bulls, leading to a furious Webber skittering over the run-off and dropping into the midfield.
Schumacher and Webber had both vaulted their race-long rivals by returning to intermediates a lap sooner than most when the rain returned, which meant Schumacher had reclaimed fifth by the restart. He didn't stay there long, though - Hamilton passing him with a beautiful move that started on the outside line of the fast Turn 8 and finished under braking down the inside into the tight Turn 9.
It worked so well, he repeated it on Petrov a lap later, although when overtaking Kubica shortly afterwards Hamilton preferred a more traditional backstretch slipsteam, before outbraking the Renault on the outside into the hairpin.
Having come from seventh to third within five laps, Hamilton suddenly looked like a contender for victory. Rosberg proved tougher to separate from second, however - even slipping back past after Hamilton pulled the outside Turn 8/inside Turn 9 flick.
In the end, the Briton had to make this pass in the pits. The intermediate tyres were not coping well with the track conditions, which were far too slippery for slicks but not quite damp enough to keep the inters happy over a long stint. The seething Webber made an early stop for fresh rubber largely in the hope of enticing others into doing likewise and throwing him a bit of a lifeline - and soon all the leaders were following his example, not that the Australian gained many places as it happened.
But it worked out well for Hamilton, as by taking on new intermediates two laps sooner than Rosberg, he was finally able to vault the Mercedes as it pitted.
Now it was McLaren versus McLaren for the win, but heading into the closing stages both drivers were clinging on for dear life. Their latest sets of intermediates were also wilting, and the rain had intensified again - giving them the nightmare combination of wrecked intermediates on an increasingly wet circuit. Button proved how hard it was by skittering over the hairpin run-off with five laps to go, although Hamilton's regular lurid slides showed he was in a similarly desperate position, and too far back to pounce.
Button admitted that it all got "really scary", but he has able to coax his slithering car to the chequered flag in the right direction, beating Hamilton by 1.8s and moving into a ten-point championship lead. Four races down in 2010 and the McLaren new boy has won half of them. His team-mate - the man everyone thought was unbeatable within McLaren - hasn't won since last September... Is anyone still calling F1 2010 predictable...?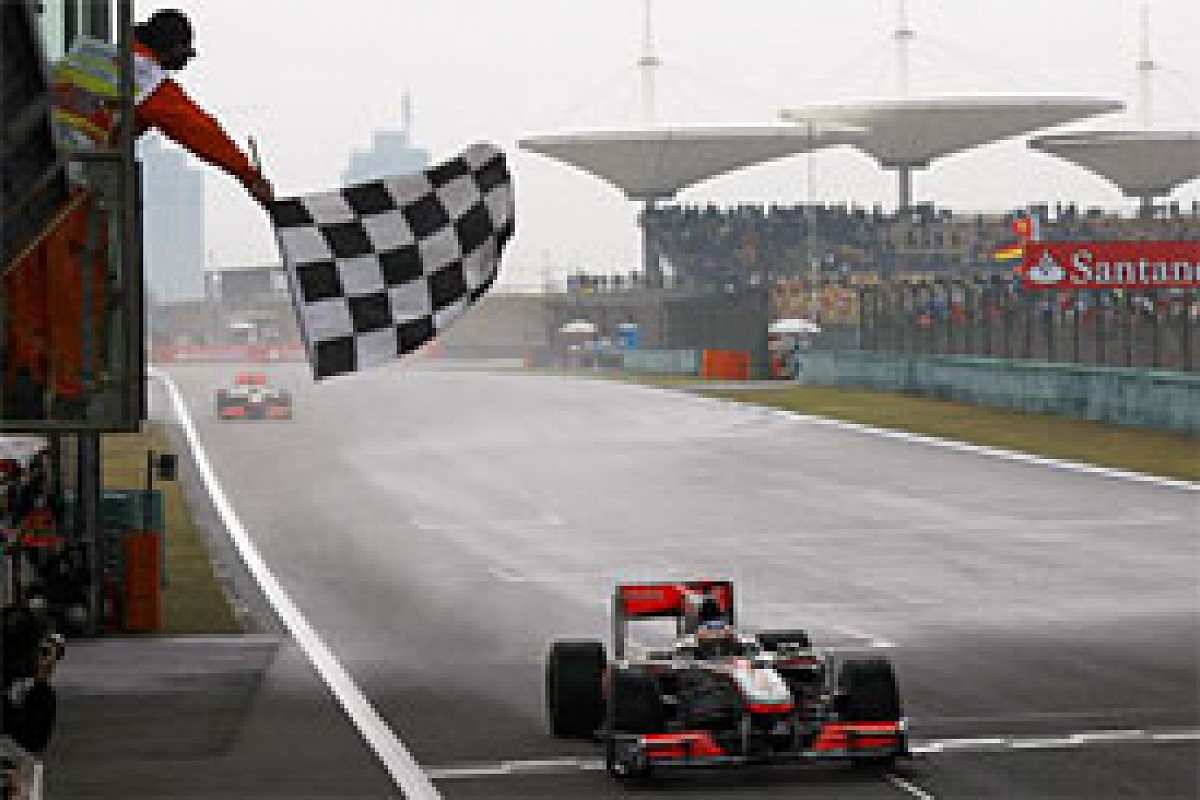 Jenson Button leads Lewis Hamilton to a McLaren 1-2 © LAT
Rosberg put a very positive face on third, even though he had looked a likely winner early on, and with his tyres in shreds by the end, he was mostly relieved to have fended off the rapidly-closing Alonso, whose charge in the second half of the race had been almost as swashbuckling as Hamilton's. Alonso had laid the foundations by muscling past Massa under braking for the tight left-hander in the pit entry as they came in for intermediates in the second shower. He had been very polite when trapped behind his team-mate in the previous two races, but clearly felt enough was enough - although he played down the significance of the pass to the intra-team power balance.
"If he was not my team-mate, there wouldn't be so much talk about it," shrugged Alonso. "For me it was a normal move."
Had he not got ahead of Massa, it could've been a really gloomy afternoon for the double champion. Massa was nowhere near his team-mate's pace thereafter, getting stuck in the traffic Alonso had forged through, and eventually finishing 46s down on the other Ferrari in ninth.
Renault's knack for judging a race and Kubica's relentless brilliance in race conditions combined to achieve fifth, which would have almost certainly been a podium had the safety car not eradicated his big cushion back to the pack.
In the end he was still comfortably ahead of a muted Vettel, who admitted that ultimately the Red Bull just wasn't that quick in the wet this year. He still tried to be happy about having salvaged points, although Webber's assessment was more blunt: "we got blown away."
The Australian's annoyance was certainly not helped by Petrov grabbing seventh from him at the eleventh hour. Pitting sooner than most meant Webber's last set of intermediates gave up sooner too, and while he was unhappily powersliding around the outside of Turn 13, Petrov was able to slip through. It was a brilliant drive by the Russian rookie, who lost several places with a mid-race spin but showed outstanding late pace on worn tyres.
He even overtook Schumacher, although an awful lot of drivers could claim that honour in China, as the seven times champion found it hard to achieve anything on the 2010 intermediate tyre.
"These intermediates are slightly different to what I know from before," he explained. "You have really to pace yourself dramatically in order to keep them alive for long enough."
He didn't manage to, as he underlined by losing ninth to Massa at the final corner of the penultimate lap and then shooting off over the run-off. Schumacher got back on just in time to fend off Sutil, who lost a lot of places at the last stops, and Barrichello, whose Williams never had the pace to hold position today even when good strategies got him into the points at times. With Rosberg on the podium again (and 50s ahead of the sister Mercedes), is it time for the Schumacher fans to panic yet?
Not far behind this queue was Alguersuari. This week the young Spaniard's fighting spirit went unrewarded. As high as fifth thanks to staying out a long time on intermediates after the initial rain, he surged back into the points even after his later brush with Senna - only to burn up his tyres too soon. Being passed by Petrov, Massa, Sutil and Barrichello in just over a lap convinced him to give up and pit, and there was no time to get back into the points after that.
In the parallel race for newcomers, Kovalainen deservedly emerged on top. He even beat a Williams too, as Nico Hulkenberg's costly decision to try slicks after the second safety car left him 9s down on the Lotus in 15th at the end. Jarno Trulli retired with hydraulic issues again, while both Hispanias made the flag, Senna ahead of Chandhok.
It was back to the bad old unreliable days for Virgin, though. An air leak meant Timo Glock failed to start at all, and Lucas di Grassi joined the race seven laps late after last minute clutch attention, which turned out to have been unsuccessful.
Race results:

The Chinese Grand Prix
Shanghai International Circuit, China;
56 laps; 305.066km;
Weather: Mixed conditions.

Classified:

Pos  Driver        Team                       Time

 1.  Button        McLaren-Mercedes           1h44:42.163
 2.  Hamilton      McLaren-Mercedes           +     1.530
 3.  Rosberg       Mercedes                   +     9.484
 4.  Alonso        Ferrari                    +    11.869
 5.  Kubica        Renault                    +    22.213
 6.  Vettel        Red Bull-Renault           +    33.310
 7.  Petrov        Renault                    +    47.600
 8.  Webber        Red Bull-Renault           +    52.172
 9.  Massa         Ferrari                    +    57.796
10.  Schumacher    Mercedes                   +  1:01.749
11.  Sutil         Force India-Mercedes       +  1:02.874
12.  Barrichello   Williams-Cosworth          +  1:03.665
13.  Alguersuari   Toro Rosso-Ferrari         +  1:11.416
14.  Kovalainen    Lotus-Cosworth             +     1 lap
15.  Hulkenberg    Williams-Cosworth          +     1 lap
16.  Senna         HRT-Cosworth               +    2 laps
17.  Chandhok      HRT-Cosworth               +    4 laps

Fastest lap: Hamilton, 1:42.061

Not classified/retirements:

Driver        Team                         On lap
Trulli        Lotus-Cosworth               27
Di Grassi     Virgin-Cosworth              9
De la Rosa    Sauber-Ferrari               8
Buemi         Toro Rosso-Ferrari           1
Kobayashi     Sauber-Ferrari               1
Liuzzi        Force India-Mercedes         1
Glock         Virgin-Cosworth              1


World Championship standings, round 4:                

Drivers:                    Constructors:             
 1.  Button        60        1.  McLaren-Mercedes          109
 2.  Rosberg       50        2.  Ferrari                    90
 3.  Alonso        49        3.  Red Bull-Renault           73
 4.  Hamilton      49        4.  Mercedes                   60
 5.  Vettel        45        5.  Renault                    46
 6.  Massa         41        6.  Force India-Mercedes       18
 7.  Kubica        40        7.  Williams-Cosworth           6
 8.  Webber        28        8.  Toro Rosso-Ferrari          2
 9.  Sutil         10       
10.  Schumacher    10       
11.  Liuzzi         8       
12.  Petrov         6       
13.  Barrichello    5       
14.  Alguersuari    2       
15.  Hulkenberg     1    

Lap-by-lap as it happened on AUTOSPORT Live
TEAM BY TEAM
McLaren
Stuck to 2010 form throughout Friday and Saturday, flattering with its pace in practice and then failing to repeat it in qualifying conditions. Fifth and sixth was a reasonable enough return, given the pace of Red Bull, Fernando Alonso and Nico Rosberg in single-lap trim, but this time the McLaren pair had seemed to believe they would be in the hunt for pole.
Once again McLaren split its drivers with Jenson Button staying on slicks and Lewis Hamilton gambling on intermediates in the early rain. Again, Button made the right choice and Hamilton had an eventful day of charging through the field. But, with both cars, the team proved that the race pace is there and looked particularly emphatic disposing of Red Bulls on the straights, as Button pounced on Rosberg to earn another victory, and Hamilton overtook pretty much everyone and finished a close second.
Mercedes
Performances were poles apart for the drivers with Rosberg flying high again while Michael Schumacher struggled. Rosberg's fourth on the grid indicated the car's potential, while Schumacher scraped into Q3 and then only outqualified Adrian Sutil's Force India.
This pattern continued on Sunday as Rosberg stayed out on slicks and inherited the race lead, while Schumacher came in for inters and plummeted. Aside from Rosberg's mistake at Turn 11, which allowed Button to take the lead, he was in the hunt throughout, ending up third. Schumacher drove well when in battles and wise calls kept him at the sharp end, but he was a sitting duck whenever the race calmed down and getting passed in the final stint by Petrov, Webber and Massa won't be a fond memory.
Red Bull
Fell back into pre-Malaysia form and didn't make the most of its speed. Another dominant display in qualifying came to nothing on race day. The rain hurt Red Bull more than the others as it looked the team to beat in the dry but struggled in the wet and was easy meat for the McLarens without its dry performance.
Vettel put in a determined performance but might wonder why he was sixth when Hamilton was second on the same strategy, while Webber was too easily picked off - by Vettel among others - and lost out when Vettel and Hamilton combined to shove him off at the crucial safety car restart, ending up eighth.
Ferrari
Alonso suffered another engine failure on Friday, costing him all of first practice, but still managed to bounce back and qualify third - four places ahead of Massa.
A jumpstart put Alonso straight into the lead, but the penalty for that plus the incorrect decision to pit for intermediates in the early rain left him way down the order, and once again trapped behind Massa - who had made the same pit call and been off the road twice. Alonso eventually barged his team-mate aside in the pit entry and then gallantly charged to fourth, while Massa had less success and took ninth.
Williams
If anything, Williams seems to be losing ground at the moment. Barrichello only just missed out on Q3 and was among the points scoring position on many occasions in the race, but never had the pace to stay there. Hulkenberg was only 16th on the grid and only 15th - behind Kovalainen's Lotus - in the race, an ill-judged switch to slicks mid-race proving particularly costly.
Renault
Kubica reckoned eighth on the grid was perhaps his finest performance of the year so far, as he suspected Renault's Shanghai pace wasn't great. Sticking with slicks through the first shower got him up to third, and although the safety car brought Hamilton and Alonso close enough to eventually overtake him, fifth remained a brilliant result.
Petrov impressed nearly as much. He followed the same strategy and found himself running fourth having started 14th. A spin mid-race cost him ground, but he fought back with some excellent late passes and eventually claimed seventh from Webber.
Force India
Sutil squeezed into Q3 again and took 10th, but Liuzzi was furious to get delayed in traffic again and was only 18th on the grid. Hurrying to recover, he spun into Buemi and Kobayashi on the first lap, eliminating all three.
Sutil ran as high as fifth thanks to some well-timed tyre calls, but lost a lot of places at his final pitstop and didn't have the race pace to pull off a result this time. He finished right on Schumacher's tail in 11th.
Toro Rosso
An awful weekend for Buemi started with his front wheels simultaneously flying off after a suspension problem caused one of F1's weirdest crashes. He still managed 13th on the grid, but was taken out by Liuzzi on lap one.
Alguersuari fared better, and having qualified 12th, he played the tyre strategy well to run fifth for a while. A broken front wing and worn tyres saw him lose ground later and eventually he had to make a late extra pitstop, so dropped to 13th.
Lotus
Lotus began the Chinese weekend as best of the new teams, Jarno Trulli and Heikki Kovalainen steadily improving through Friday so that by the end of the day the duo were just 4s from the pace. Once into qualifying trim however neither man could match Timo Glock's Virgin and went to the grid with Trulli 20th and Kovalainen 21st after the Finn had a spin in Q1.
In the race Kovalainen made the call to stay on slicks early-on, just as race-winner Jenson Button had, which elevated him to as high as sixth position before he pitted. This strategy give him track position to battle with a bunch of title contenders, and he even beat a Williams in the end, taking 14th ahead of Hulkenberg. Trulli was forced to withdraw with hydraulic problems before half-distance.
Hispania
Both Karun Chandhok and Bruno Senna completed plenty of running on Friday in the Dallaras and the Indian even managed to split the two Virgins to end the day 21st. By qualifying, they were back at the rear of the grid, Senna bemoaning a mistake on his fast lap and Chandhok ruing problems he encountered during quali prep in final practice. Both drivers were delighted to finish a tricky race, Senna in 16th ahead of his team-mate who started from pits following a hydraulic system repair.
Sauber
More misery for Sauber: lowly 15th and 17th places on the grid for Kobayashi and de la Rosa, and early exits for both in the race again. Kobayashi was taken out by Liuzzi's spinning Force India on lap one, while de la Rosa called the conditions perfectly and rose to fourth on his slicks, only for engine problems to hit on lap seven.
Virgin
Having initially miscalculated the required ride-hide needed for Shanghai, resulting in a new front wing for Timo Glock, Virgin ran an otherwise trouble-free practice programme. The improved reliability and laps on the board assisted the German in his successful attempt to become fastest qualifier of all the new team entries in 19th. Lucas di Grassi was 22nd after making a mistake on his best lap.
That was as good as it got for Richard Branson's boys however as Glock failed to get away from the dummy grid with a loss of engine valve system air pressure, while di Grassi was forced to retire with a clutch problem that had already forced him to start the race several laps adrift.