One of the footnotes to a busy Malaysian Grand Prix weekend was the fact that Virgin Racing finally got a car to the flag, a feat that fellow rookies Lotus and HRT had already achieved.
It may seem strange to celebrate one finish in six starts, especially in an era when many teams have demonstrated bulletproof reliability season after a season, but the problems suffered by the newcomers have demonstrated just how hard it is to create a car from scratch and get everything right.
The double retirements for Virgin in the first two races were a bitter blow for a crew that had worked its collective socks off in the preceding months, so when Lucas di Grassi crossed the line at Sepang it was a huge boost for everyone in the camp.
Finally there was light at the end of the tunnel.
"It was a major, major step forward for us," says team principal John Booth. "We were absolutely thrilled. Bahrain was disastrous for us, from the moment we got there, working three straight days. We made quite a big breakthrough in Melbourne.

"The team was very calm, and they'd come on a tremendous amount since Bahrain. Would you believe it, Timo had a suspension problem in Melbourne after all the hydraulics and gearbox problems we had. But we had hope for Malaysia.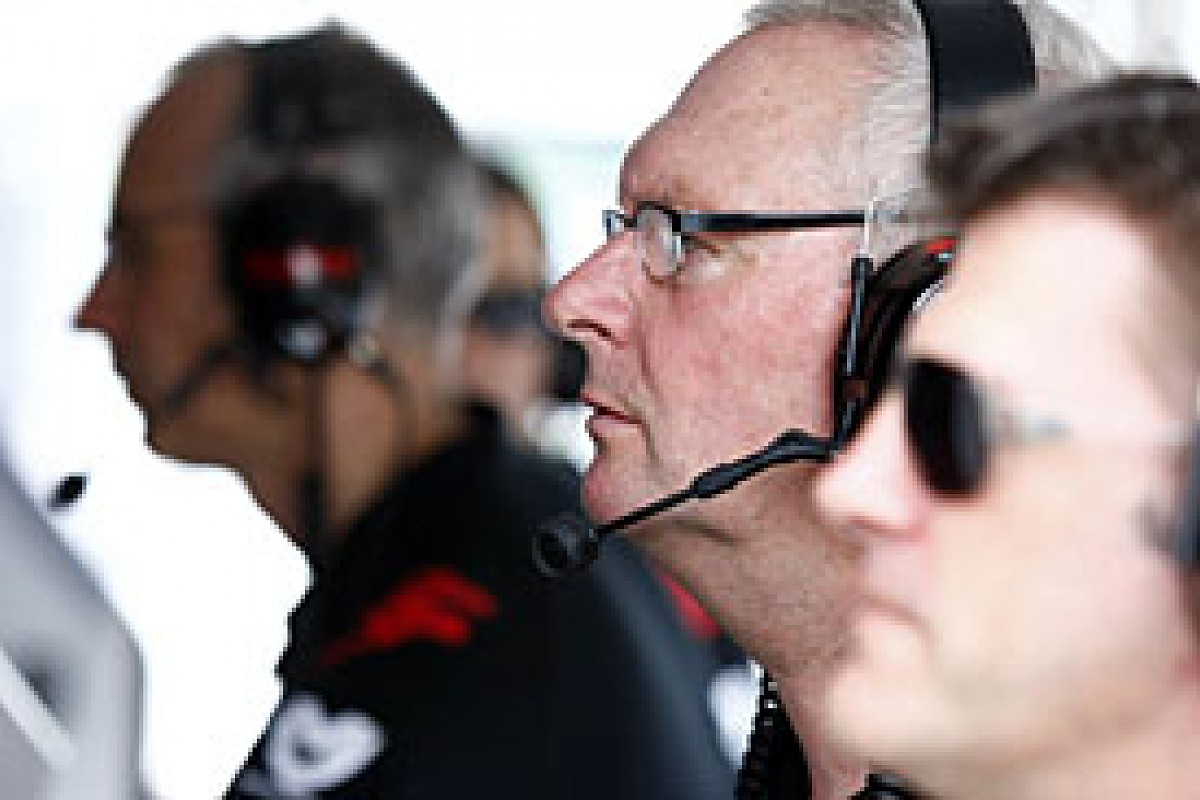 Virgin's team principal John Booth © LAT
"We do have a bit of an issue with fuel pick-up, we can't run qualifying levels. But our pace in the race showed we've got the legs on the other teams. We weren't that tight on fuel in the end. I think if we'd needed to we'd have pushed harder and longer, but as it happened we didn't. We thought [Karun] Chandhok would be a threat at one stage, but suddenly he dropped right off the pace, so we didn't have to think about him in the end."
Getting a car to the finish was certainly a huge relief for Nick Wirth, the man ultimately responsible for designing and building the Virgin car. He's had a tough couple of months, with a difficult testing programme followed by the mad rush to get through the first three races.
On top of that came the saga of the car's fuel capacity, a story which was leaped upon by the tabloid media. How could any team design a car with an undersized fuel tank?
Virgin was an easy target.
Despite all the hassles and frustrations, Wirth is pleased with the way things are going.
"We've been making steady progress," he says. "It's really been a continuation of the winter testing. We certainly didn't finish testing with anywhere near the mileage we needed on the cars and anywhere near the knowledge we needed. So really Bahrain was a further test for us.
"I guess the satisfying thing in one respect from Bahrain, and I guess it's been the story of the programme since its beginning, is we pride ourselves on fault fixing, and being absolutely relentless in that approach. And we have not seen a recurrence of faults. It's not necessary for us to go into the details of our problems for the public, so when we say we have a hydraulic problem, we're not lying, but there are a million different things involved. And trust me, we've had a lot of failures! But each one has been different, and each one's been tackled."
Wirth says he won't attach any blame to suppliers Xtrac, Cosworth or anyone else for any of the issues the team has suffered.
"At the end of the day Wirth Research provides the cars to Virgin Racing. I can choose whichever suppliers I want, and ultimately it's my responsibility. The moment you start pointing fingers, it's not really the way to go.
"We have had many, many failures, so it's been very satisfying to see an improvement, and I think we've just seen steady progress in terms of getting to a point, having a failure, fixing that, getting to a further point. It's just very annoying that we had such a huge amount of problems in such a short amount of time to really get it fixed in winter testing.
"It was inevitable that Sepang was going to happen, that we were going to get to the end. We would have got to end with Timo in Melbourne had it not been for two nuts coming undone, a silly thing. So it's satisfying."
Wirth says it's impossible to overstate the size of the challenge that the new teams have faced.
"We've been fortunate enough to have a number of months to sort out sportscars in the past. It took us about five months to get the Acura working, and then we went and won everything. It's been a shorter period with this car, although we had more resources.

"We've still got a few gremlins, and the well-publicised one is the fuel tank. That will be sorted by Barcelona. But I've come to Shanghai in an optimistic frame of mind. We've got a couple of little points bugging us recently with the fuel system, I'm quite confident we've managed to make step forward there which allow us to run the car lighter in qualifying, because we haven't been able to pick-up all the fuel. So I'm looking forward to this race."
The team still has to put up with its capacity problem for this weekend. Wirth is adamant that there are good reasons why he got it wrong, and his explanation make for fascinating listening.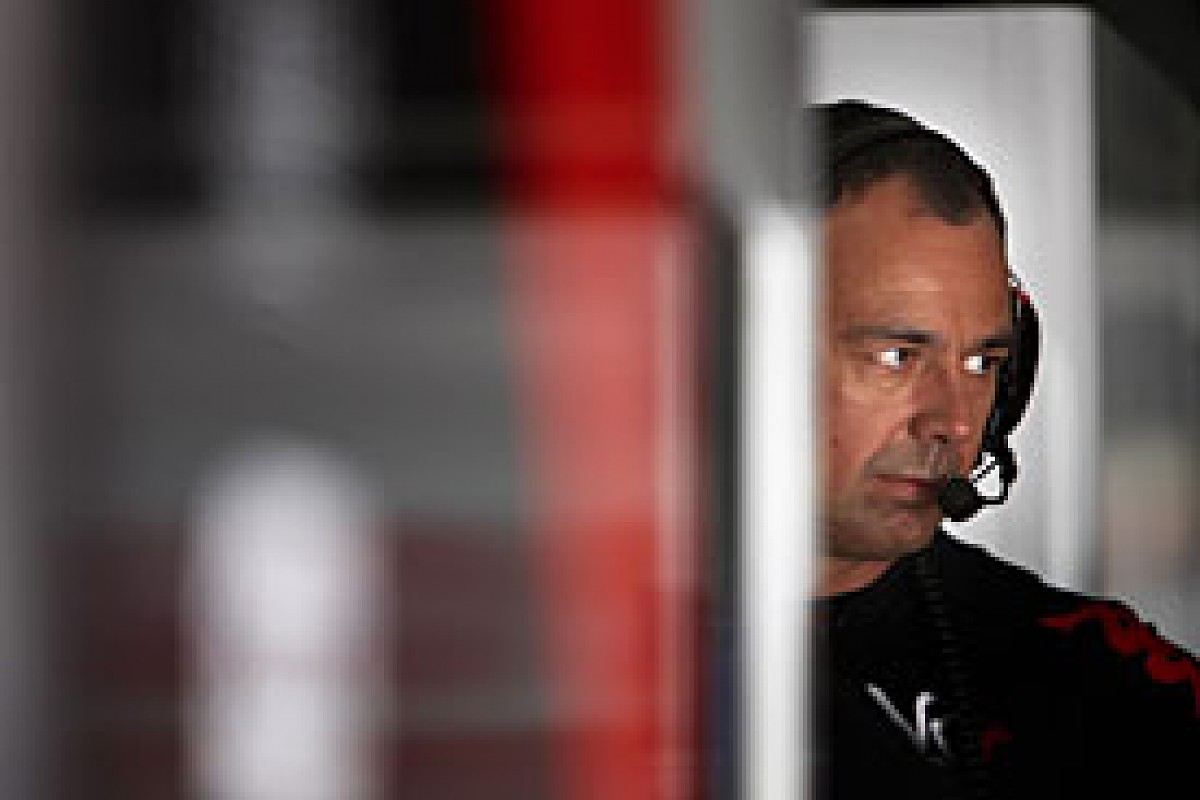 Virgin technical director Nick Wirth © LAT
"Essentially, there are four things that control the size of the fuel tank. There's the technical regulations, the sporting regulations, the fuel density, and the engine consumption. Since we designed the car - we locked the monocoque down on June 22, the day after my anniversary! - all but one of them has changed.
"The one that hasn't changed since the beginning has been Cosworth's numbers. They have been remarkably consistent. They'd been giving us numbers on their race mixtures, and they had also intended to provide a high density fuel, with the engine, as a package. So we took their numbers, and we basically designed the car.
"Because we were a small team, we knew we were going to have to build these cars cheaply. Each of these complete cars that we sell to Virgin Racing is way cheaper than a Bugatti Veyron! This car was designed for the €45m budget cap, and it is cheaper than the Acura sportscar.
"The one parameter we were very concerned with was weight, and therefore [chassis] length. The F1 rules say you can get to a certain width on the fuel tank and you can't go any wider, and practically speaking you get to a certain height and you can't get any higher. So all you can do is go longer.
"I was really worried, having built a long car in the past - the Benetton B199, which wasn't desperately successful - I was not keen to make the car any longer than it should have been.
"Anyway, when we designed the car, we were designing it with high density fuel, a certain set of technical regulations, a certain set of assumed sporting regulations, and an engine consumption. We assumed wrongly, because the sporting regs weren't published at the time, that we would be able to top the car up when we got to the grid. So in our calculations we got that wrong.
"In October the FIA introduced a new crash test with the fuel tank full of water, basically to make sure that the seat back didn't burst with the heavy loads. We had to be sure that there weren't any issues there. We were about three weeks away from our test - in fact I think we were the first people to pass that test of any team. And basically we had to eat a little bit into our fuel volume to make sure we were going to be okay for that test. We couldn't fail it, we couldn't afford to lose a monocoque.
"But the thing that really screwed us was we lost the high density fuel. At the Brazilian GP last year we were told by Cosworth that we were not going to get high density fuel. Again we were three weeks away from the crash test.

"Cosworth at the time were saying we're still working on fuel consumption. So you think, what do we do? We've got people investing in the team, what if we turn round and say we've got the fuel tank wrong? We had to gamble, hoping that Cosworth were going to do better, but they didn't.
"Even with our fuel pick-up problem - it doesn't rain it pours! - we showed we could get to the end in Sepang. Basically with our tank we've been unable to run below 20kgs, so we've been running 20kgs heavy in qualifying the whole time. We did the whole Sepang race from the start to the end on 100 and something kilos - I won't tell you how many - but it was unbelievable. We should have another 20kgs available for this race, so I'm quite excited about that!"
The big question is, if Wirth knew in October or so that there was a problem, why was the fuel tank not properly addressed earlier?
"You just put off the inevitable. We had to get cars ready, we had to get parts ready, we wanted to see what it was like. Were Cosworth going to come up with a better mapping? They were working and working, and if they'd come up with 5% better mapping, who knows?"
It has been addressed now. One of the four chassis has already been modified for Barcelona, essentially with work on the rear bulkhead, and a second will be fixed once it gets back from China.
"The work is not inconsiderable, but the good thing is for Barcelona we were planning to do a reasonable update, like everyone else. The FIA have specified a number of new crash tests that we need to do."
Nevertheless the whole affair has been something of a PR disaster for Virgin, and Richard Branson caused a few raised eyebrows in Australia when he said that 'the supplier' - meaning team co-founder and fellow shareholder Wirth - had agreed to absorb the cost of the mistake. Has the episode been a bit embarrassing for Wirth personally?
"No. I just guess I have no shame! The bottom line is those are the facts. If this had been, 'You had the numbers in June Nick, and you have screwed up. Why didn't you react?' It is what it is. It's a storm in a teacup. I happen to know that there are other people with Cosworth engines who are a bit tight, and I happen to know that there are other people with Cosworth engines who right now are making fuel cells that go up into roll hoops and all sorts of things."
As well as working on the car the car, the past few months have just as much been about developing the team.
"It's coming together," says Wirth. "We've got to improve our engineering side at Wirth Research. The guys and girls there have worked so hard, and the team has worked hard as well. It has been absolutely brutal, the time. I've done 40 hours at a stretch in the winter. You just work around the clock...

"We're conscious of people's capacity, so we try and introduce things which don't create problems. If you go to into a GP weekend doing an all-nighter on Thursday night, you start on the back foot, and then you go backwards, and then wheels fall off and so on. So we're learning. But it's gelling."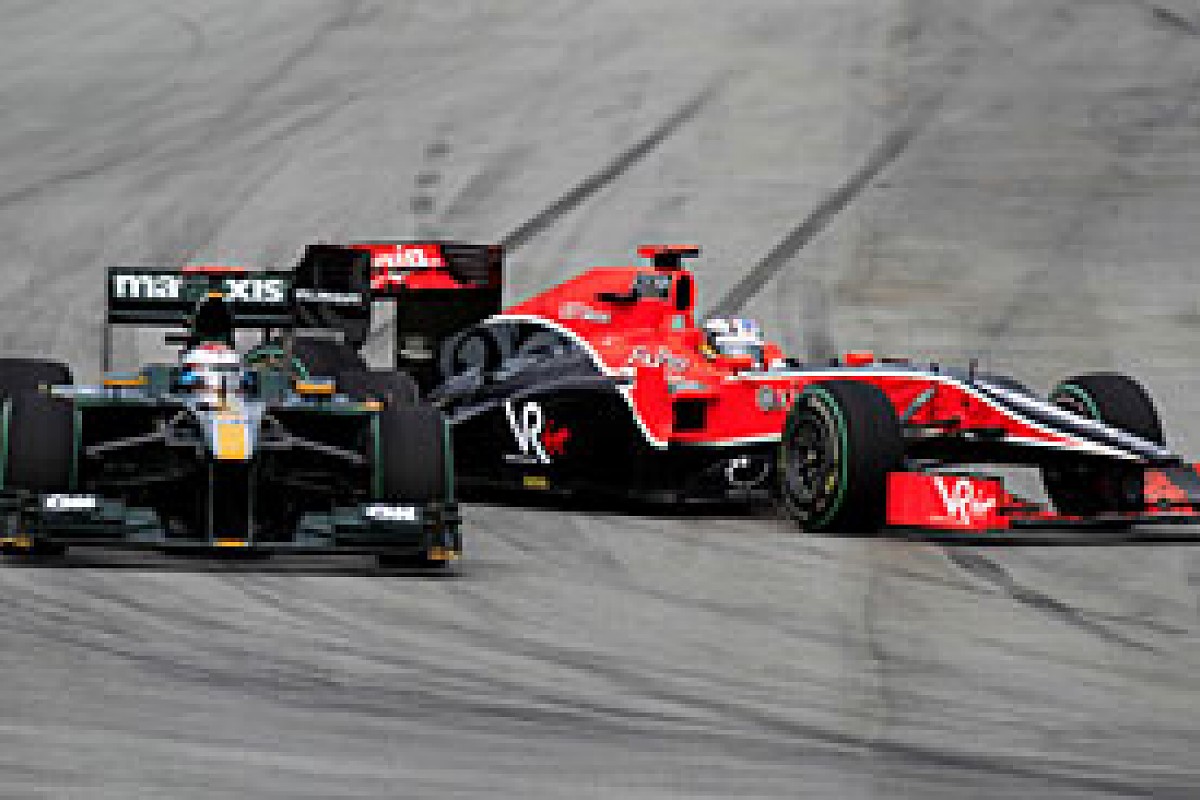 Timo Glock collides with Jarno Trulli © LAT
He's also full of praise for Glock and di Grassi: "The drivers have been magnificent, apart from Timo's little whoopsie at the last race, which was a bit annoying. Considering all the rubbish that we put him through, we can forgive him that. But next time he does it I'll kill him!
"Timo's gone through the most enormous culture shock, having come from the richest team, where everything was perfect, to us. Lucas has been so solid. We've given him very few laps. His drive was so mature, we were asking him to do so much with the fuel, so the radio traffic was quite entertaining!"
All the fire fighting and problem solving has of course detracted from efforts to find performance. The Barcelona package will be the first proper step in that direction.

"We're not here to turn up, we're here to do well, and I push everything to the limit. Our budget is very well publicised. I think we have the smallest budget in F1 by a long way, so just to keep up is going to be quite interesting. I hope that despite our lack of money during the year we can make some progress. All I can ask is that you plot a graph at the end of the year of our performance against the leading cars or whatever, and then just say did they improve?"