We had an extraordinary qualifying session in Malaysia today and we can expect tomorrow's race to be at least as dramatic. Whether the final result bares any relation to the grid remains to be seen, and even all the combined might of all the teams' supercomputers cannot predict what will happen on Sunday.
With impeccable timing, the rain began falling just minutes before the start of the session, just as it appeared in Melbourne when the cars were on the grid. This time it was rather heavier, but the FIA's weather forecasters suggested that it would go away within a few minutes and the track would dry.
That's why seven of the eight drivers from the four top teams chose to stay in their garages while others went out. It was a decision that was to have disastrous consequences for four of them.
One can understand the decision to the extent that A) the rain was supposed to ease and B) there would be little point in putting the cars and drivers at risk when the track was at its wettest. Especially given that only seven cars were to be eliminated from that session and six of them appeared to have their places already booked, rain or shine.
But strategists, like weather forecasters, sometimes don't get it right. As those cars sat in the pits while everyone else pounded round, the rain became more intense until finally everyone realised they had to get out there sharpish.
The only member of this elite group who had gone out early was Sebastian Vettel and it was fully five minutes before anyone else followed suit, the first man to go being Jenson Button.
As you will have seen, it all went wrong for both McLaren and both Ferrari drivers. Quite rightly, the teams have been castigated for those decisions, but there's a bit more to it than meets the eye. Take a look at this table: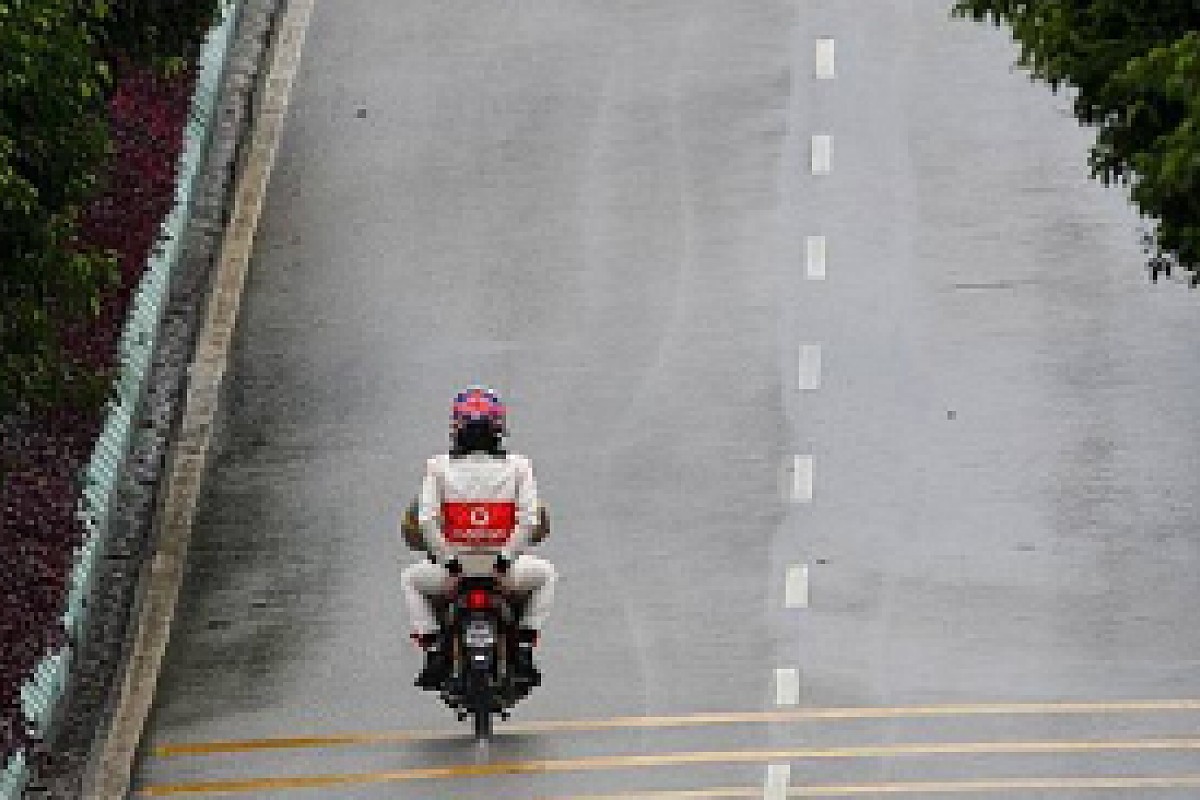 Jenson Button had to hitch a ride back to the pits after spinning off in Q1 © LAT
Q1 start times for the top four teams:
Vettel: 16:03.16
Button: 16:08.35
Schumacher: 16:08.48
Hamilton: 16:08.54
Alonso: 16:09.04
Massa: 16.09.30
Webber: 16:09.35
Rosberg: 16:09.46
Notice something interesting there? The last two drivers to leave the pits in Q1 not only made it through, but they also ended up on the front row in Q3. In other words the timing wasn't everything - driver performance, and to some degree car set-up, played a big part too.
The bottom line is that on their first laps, the Ferraris weren't quick enough to make it through, whereas Webber and Rosberg - running behind them - were, ultimately earning 12th and 16th in that session. So too was Schumacher, who was on track a little earlier, and earned 14th.
"We left the garage a little late with Mark," says Christan Horner. "The forecaster was saying one thing, and looking out the back it was doing another. So we went and told him that he needed to push on that lap. And he delivered exactly what was needed."
In contrast, the McLaren drivers both made mistakes. Hamilton spun on his first critical lap and didn't do a representative time. Jenson did enough to earn 13th but, told by the team to press on, he aquaplaned into the gravel and could take no further part in the session. Unable to record a lap in Q2, he tumbled down to 17th.
So it was still possible to make it through, even allowing for Ferrari and McLaren's timing. The drivers just didn't get the job done. In fact had they all done so, they might have squeezed the two Mercedes drivers out of Q2.
The point is that, given that only one 'established' car was likely to be bumped, staying in the garage was an unnecessary gamble. Sure, the rain was supposed to ease off. But what if it didn't? It was a bit like betting on the exchange rate. Sure it might go up, but it might go down.
In effect those teams put their drivers in a position where they were under so much pressure to get a lap in that mistakes were likely, not to mention any extra dramas caused by traffic or yellow flags.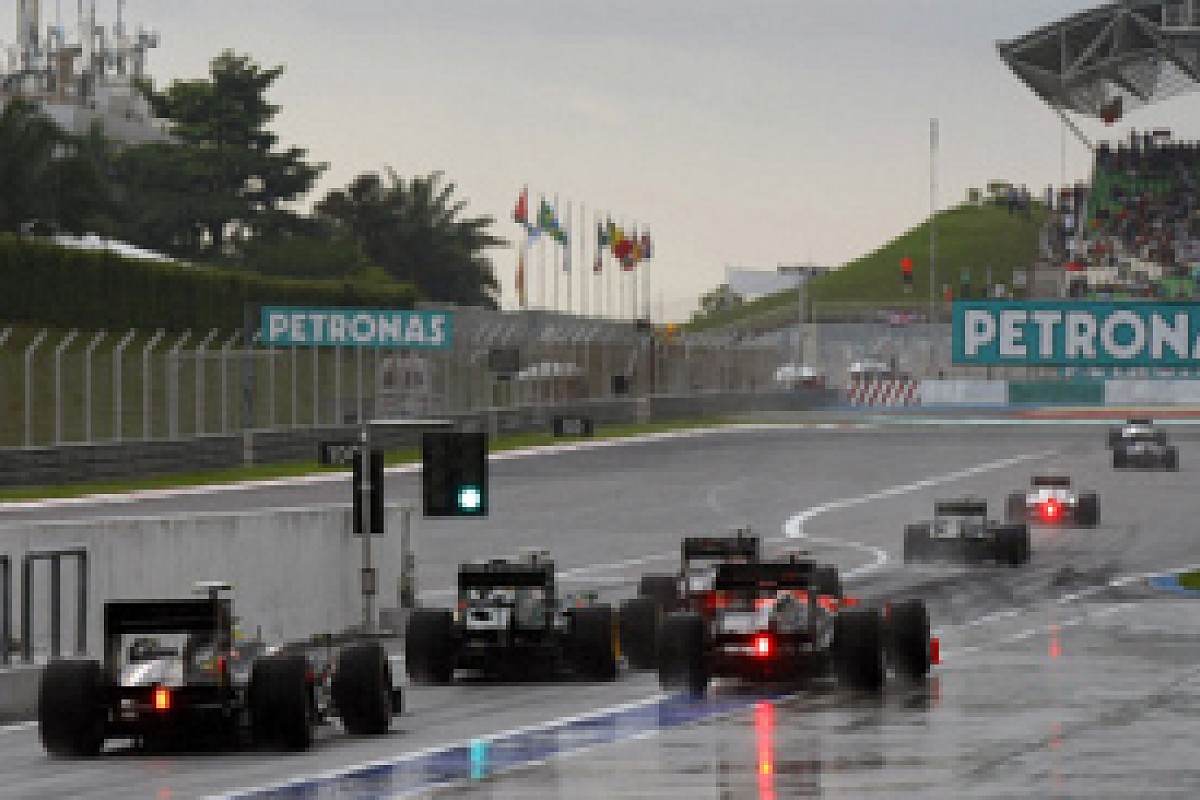 Qualifying, Malaysia 2010 © LAT
"I guess we and a lot of teams were watching the weather radar," says Martin Whitmarsh. "The weather radar showed the shower and had been reliable all weekend. That indicated quite clearly that it would probably stop about five minutes into that session. So the belief was that it was going to progressively dry and based on that we and quite a few others decided let's just wait and see how it runs.
"As it turned out, it got heavier and with the benefit of hindsight, it would have been good to have gone out there. In reality, Jenson did a time that was good enough to go through. Lewis went out before the Ferraris, before Mercedes, before Mark Webber. You had to get it on that first lap, you had to avoid traffic."
The disappearance of Ferrari and McLaren from the battle for pole certainly made life easier for Red Bull and all the others, but that should in no way detract from the brilliant job that Webber did. In Q2 he was a solid seventh, but a massive 1.6s off Vettel, who was top. But in the final session Mark bet on the exchange rate, and won. After the break for the red flag at the start of Q3, he went out for the final three-lap dash on inters, a decision he'd made with his engineer, Ciaron Pilbeam.
His first lap was 1m54.6s, well off what Vettel managed that lap. But the second lap was 1m50.4s, which was good enough to go top. On the third, as others struggled with wets that were past their best, he extended his advantage with a 1m49.3s. It was a great call, but one that could have backfired as badly as those of McLaren and Ferrari.
"It is totally the wrong tyre if it lashes down with rain and totally the right tyre if it holds off for that little bit longer," he said of the decision. "It had already started to spit in sections, but it was definitely the right tyre to be on. In other places it was quite high risk to throw both laps away and lose the car. I wasn't aware I was the only guy on inters."
Given the recent problems at the team, and not least his collision with Hamilton in Melbourne, it was a bold and gutsy performance by the Aussie.
"Mark was keen to give it a crack on inters with his engineer," says Christian Horner. "In marginal conditions like that, I was happy to take the gamble. Mark just got the window with that tyre. The crossover just came right for him and he executed it brilliantly.
"From a team point of view, it's important to get the confidence back. We won the final three grands prix of last year and we should have won the first two of this year."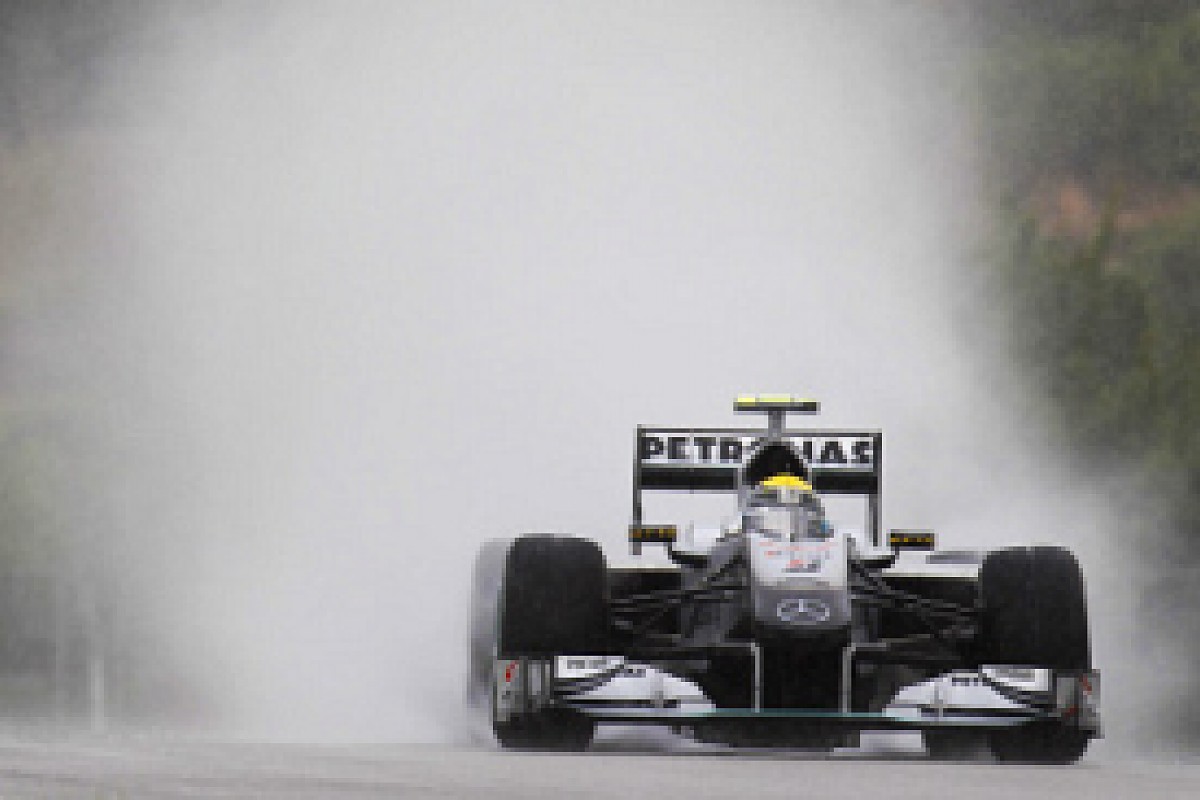 Nico Rosberg © LAT
It was an excellent job too by Rosberg, who was the fastest man on wet tyres as he earned his first ever front row and the first for the rebadged Mercedes team. Inevitably, the fact that his best time was a second faster that Michael Schumacher reflected badly on the former world champion, but Michael was at times the fastest man on the track - just not when it really counted.
"It's been a very difficult circumstance," said Schumacher after the session. "Bit of a shame because any time we were around, pushing for it, we were up front. We were quick enough for pole. Then in my last outing, I knew it was the last run, I thought the first lap I'd take it safe and easy to set a time, and then I'd start to attack. But by the time I wanted to attack, the tyres were already finished.
"Bit of a new experience how quickly the tyres deteriorate in these sorts of conditions. So I know at least for tomorrow, that's the positive aspect. Tomorrow is supposed to be the same conditions, we know we're quick enough in wet conditions, we can compete, so let's see what I can do."
So what's going to happen tomorrow? It really is going to be a lottery, much like last year's race, but we should not forget that there is still a chance that at least part of it will run in the dry.
If that's the start, then drivers have a free choice of tyres and everyone has plenty of new options and primes left over. The option seems to last pretty well and is likely to be the tyre of choice. But it's anyone's guess as to how the rain will affect things.
"I think we know that it's challenging to overtake in F1," says Whitmarsh. "But this is a circuit and an environment which throws up lots of surprises. We've just had one. Let's hope we can have some of those again tomorrow."
One intriguing thing concerns straight-line speeds. In Australia, the dark blue cars were way at the bottom of the speed trap figures - indicating just how much downforce they were running - but here they are in the middle of the table.
"We didn't run any more downforce than others," says Horner. "And if anything we went a little lighter, because if anything if you look at our speed trap here we actually looked more competitive this morning. A couple of others have gone a bit heavier, anticipating this weather."
That means that the Red Bulls will be able to defend themselves pretty well if they come under attack.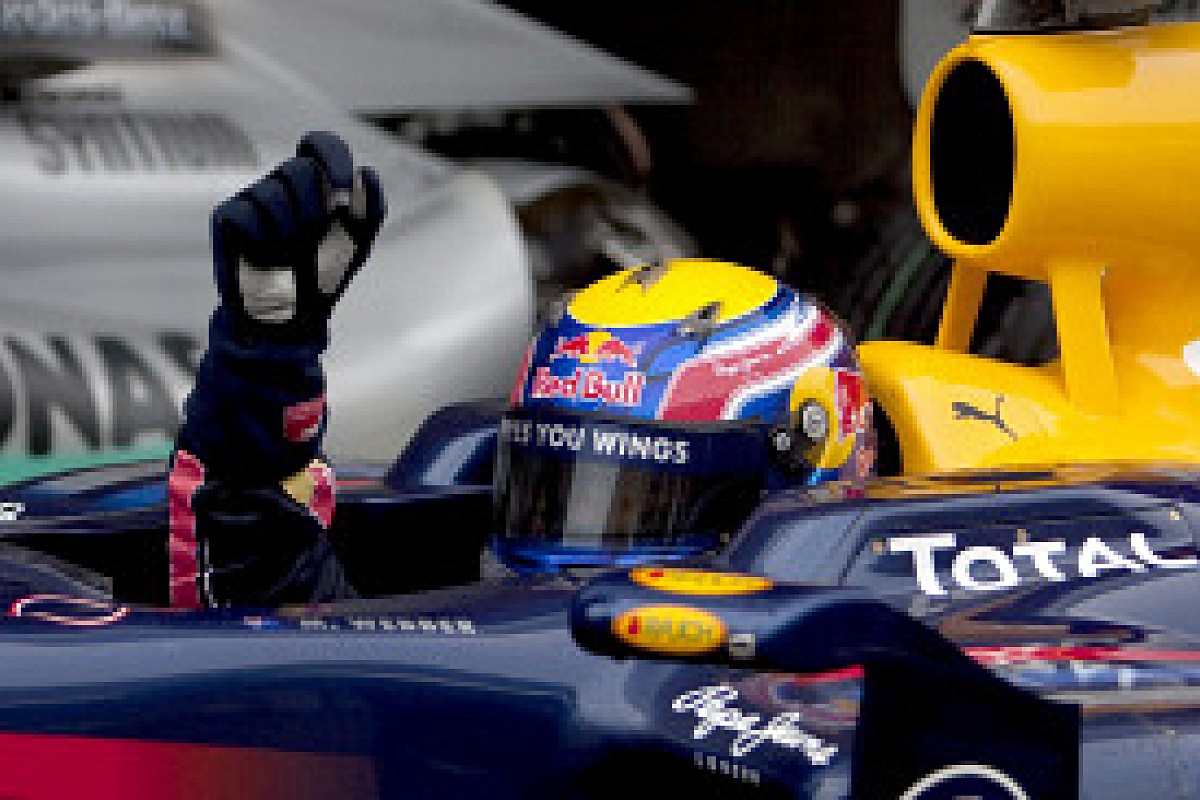 Mark Webber © LAT
Will the McLarens and Ferraris get anywhere near them? It's going to take some pretty random events to make that happen. In reality, only mega strategy calls and bad luck for others is going to propel them towards the front. In a 'normal' race they will have an awful lot of traffic to get through. And don't forget, they will also be racing each other. Turn 1, mixed up with the likes of Jarno Trulli, Timo Glock and Heikki Kovalainen, will be fun.
One more thing to look out for will be what happens in the event of a red flag and resumption. The rules have been tidied up since last year, so now the cars will stop one-by-one on the grid. If there are any lapped cars at the front, before the resumption they will be waved off and will drive round to join the back of the grid. But everyone else will stay in their places - so we could have a resumption that has Webber at the front, followed by the likes of Karun Chandhok, Bruno Senna and Lucas di Grassi, and then Rosberg, Vettel and so on.
Now on a restart, cars can start racing at the first safety car line, which is basically the pit entry, rather than at the start/finish line. Lapped cars in the middle of the pack will immediately be shown blue flags and in theory are obliged to get out of the way on the run down to the first corner.
Given that there is likely to be an awful lot of spray, and quite possibly some misunderstandings about the obligations of the backmarkers, restarts might be quite dramatic.