It's the dream view any young racing driver fantasises about seeing one day. Driving past the pits, everything under control, serenity inside, a crazy blur of colour and noise on the outside. Forty-five of 56 laps done, pitstops completed, car perfect - good grip, balance and grunt. He looks across to the pitboard, the one with 'Kimi' on the top: P1 +28.5s.
Just like the contrast between the inner clam and the outer spectacle, so there is a paradox between the iceman that is very real - almost pervasive - an art of Kimi Raikkonen's persona and the stored emotion of the boy who planted the seed of a dream in his mind years ago. An impossible dream, from the perspective of the wrong side of the tracks in a bleak, icy place.
Today he would tell Finnish journalists that he's lived for this day all his life. "Even if I never win again, I've had this day," he said. There was contrast in the emotive words and their deadpan, monotone, squeaky delivery. The emotion is clearly in there, but used as a driving resource; deep-seated and hellishly powerful, but never allowed into the functional art of the brain, the part making the exquisitely-judged, micro-decisions. Compartmentalising, mind-managing, call it what you will; Raikkonen does it fantastically well.
"With 20 laps to go, they asked me to back off. I took it easy and still they are saying 'slow down.' I was thinking 'How slow do you want me to go'?"
He reeled off the laps, clear daylight and the occasional lapped backmarker in his mirrors, no problems, not even with the tropical heat. So as he took the chequered flag, the list of contrasts was complete. Where he was now from where he'd come. Fifty degrees from sub-zero, a poor kid with a dream to become an F1 hero. McLaren boss Ron Dennis stood on the pit wall and got emotional himself.
Qualifying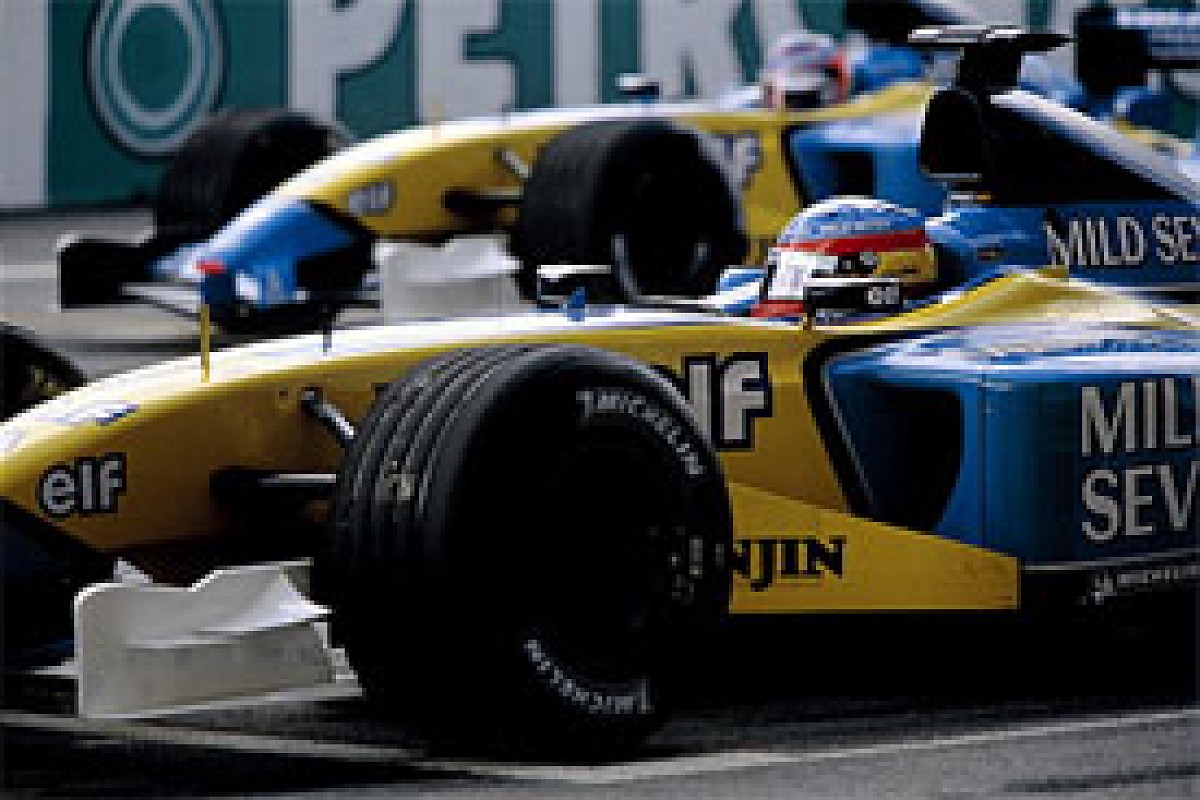 The Renaults of Fernando Alonso and Jarno Trulli © LAT
Oh how they bitched. An all-Renault front row for the first time since the turbo days of the 1980s, the youngest pole position man in F1 history, the first pole for a Spanish driver, all these things were cast aside as meaningless by the others.
But Fernando Alonso didn't care. He'd had to visit F1 doctor Professor Sid Watkins earlier in the day on account of a fever and now here he sat in the centre chair of the qualifying press conference. He admitted he was still dreaming. "My first pole position; I'm 21 years old; this is just my second race for a top team. I feel unbelievable."
"It doesn't mean as much as pole used to," said fourth-placed David Coulthard. "This is because you can run light and get the glory. I mean, a 40-year-old Brummie could get pole in them circumstances." You listening, Nige?
"Tomorrow we will find out how much the frontrunners really have on board," said Ferrari technical chief Ross Brawn after overseeing Michael Schumacher and Rubens Barrichello to third and fifth quickest respectively. The grid positions represent the varying fuel loads," said McLaren boss Ron Dennis. "When you plan your strategies now, you have to incorporate qualifying into the equation. Running light - as I believe Renault have done - you're detracting from your optimum race strategy."
Mercedes motorsport boss Norbert Haug looked on thoughtfully as Ron said this and added: "I don't know if they're not actually quick."
They are. Not yet quicker than a Ferrari or maybe even a McLaren, but stunningly quick for a car believed to be more than 100bhp down on power. We found out at the first pitstops, of course, that the Renault was fairly light, to the tune of 15kg (0.5s here) to McLaren.
Then there was a Williams to consider - or Juan Pablo Montoya's at least. He was eighth quickest with a whopping 80kg of fuel on board. It was fantastic lap in a car still not handling very well and equated to a time similar to Alonso's, which meant there were four teams with the scent of victory. When was the last time that happened?
A criticism of the new two-day style of qualifying has been that it lacks the dramatic crescendo of before, when all the frontrunners used to come out together for a final desperate attempt at perfection. Well, that argument didn't hold water at Sepang because with Alonso being only the 11th man to take to the track (on account of a unremarkable time in Friday qualifying when he'd made a mistake) the drama came at the end of the session as the big-hitters came out to confidently take a pop at Renault's 1m37.044s and all failed to do so.
Michael Schumacher was the last man out, the man who's been 0.7s clear of the field on Friday. In the first sector, from the start-finish line to Langkawi Curve, he was a tenth slower than Alonso, causing a mild stir. Sector two though, from Langkawi to Berjaya, the quickest corners that flow one into another, rewarding Schuey's unique style of 'generating axis change' without much steering lock - is where he's outstanding. Here, surely is where he would take Alonso's time apart. With 32.533s to beat, Michael went fastest - but only just at 32.507s.
Now the tension approached fever pitch, as Schuey had it all to do in the final sector. From Berjaya, through the long tightening right-hander onto the back straight, up and on through the hairpin to the pit straight, holding the car hard to the right-hand side of the track on the final sprint to the line, Schumacher was 0.5s slower than Alonso. An extra 30kg or so of fuel over the Renault had really hurt in the final sector, with its emphasis not on the flowing momentum so much as breaking and accelerating. The reaction was a mix of disbelief and delight. Schumacher had not only failed to match Alonso's pace but also that of Jarno Trulli in the other Renault.
In the press conference, Schuey was magnanimous in defeat but the underlying confidence of his superiority wasn't far from the surface. "I don't know what the Renault guys have done. Obviously they've done a good job and I don't want to take any credit away from them, but at the end of the day, we will wait and find out."
Alonso beamed, Trulli beamed - if anything even wider. So why was Trulli so happy after being out-paced by his junior team-mate? He was on 8kg more fuel than Alonso - around three laps worth, so giving him a potentially better race strategy. That should have made him around 0.3s slower, whereas he trailed him by just 0.173s. "I'm very happy with what I have. Very happy," he said.
Friday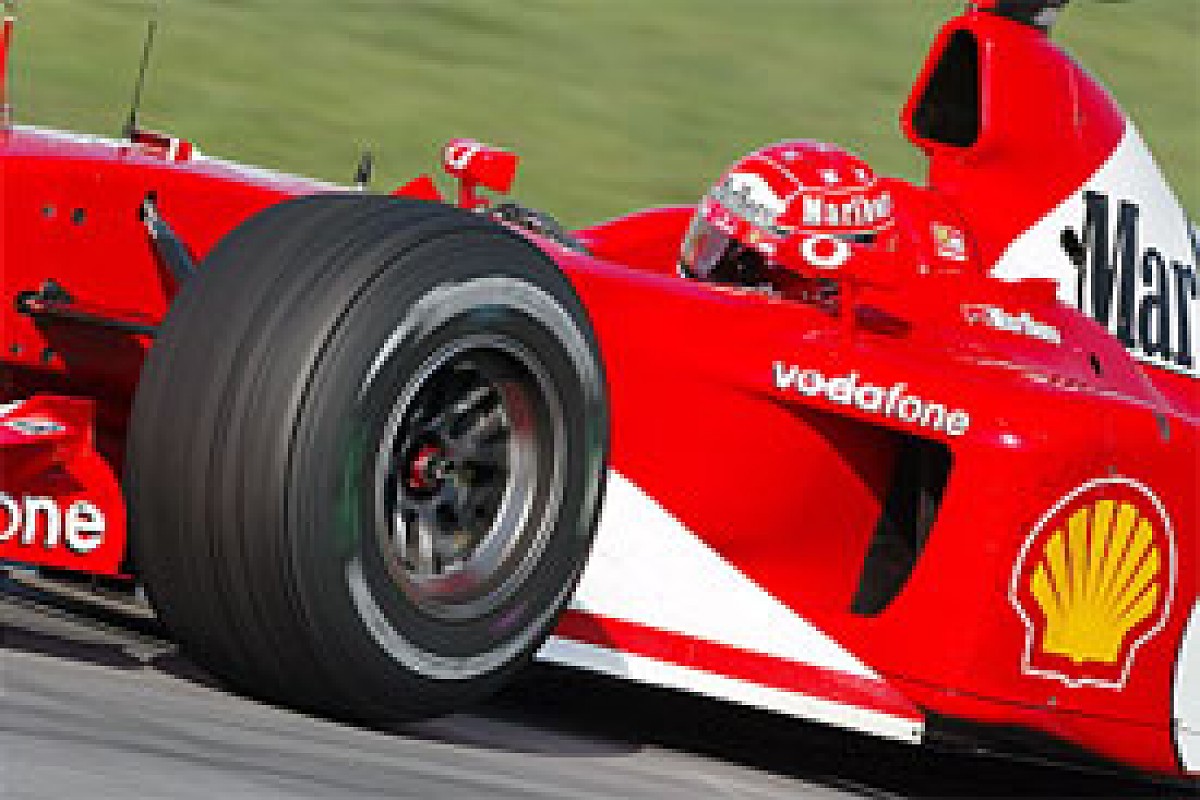 Michael Schumacher, Ferrari 2003GA © LAT
Michael Schumacher was fourth out on the track on Friday, not a great slot. Added to which, it was scorching hot. Barrichello was last one out - theoretically the best slot of all, with the maximum rubber down - plus cloud cover caused track temperatures to fall by seven degrees. Yet Rubens was 0.7s slower. Schumacher, as always here, was spellbinding in the interlinked swoops of sector two.
You got a feeling - and Barrichello's lap seemed to confirm it, that at least half of the 1s advantage Ferrari had on the field came from Michael at what has always been a special track for him. Remember his comeback here in 1999?
Ferrari's one-two was a barometer of where they were on one-lap pace, but doubts remained on getting the necessary levels of consistency from their tyres for a race distance.
Trulli revelled in the Renault's balance to go sixth but Alonso made a couple of mistakes and found he was running a little too much wing. Given their power deficit, the Renaults were running with as little wing as possible and leaving the balance to make up for what they lost in grip.
Race
So how did the final jigsaw pieces of a dream slot together? The first lap laid a great foundation. The new qualifying rules and the pace of the fuel-light Renaults had left Michael Schumacher in unfamiliar territory - fighting in the pack on the first lap rather than controlling things from the front - and he made a basic error of judgement on the second corner, opportunism overtaking feasibility, squeezed out by a rapidly closing door.
It's far from certain that Schumacher could have beaten Raikkonen even if he hadn't clashed with Jarno Trulli - the Ferrari's Bridgestones were not as convincing as the McLaren's Michelins in this heat - but it certainly didn't hurt Kimi's chances. At this point he lay fourth, trying to figure out the way to get past Nick Heidfeld's Sauber. Two laps later, David Coulthard dropped out of second with electrical failure. Add all this to the fact that Juan Pablo Montoya had been effectively taken out of the race - an innocent victim of the Schuey-triggered mayhem - and it meant two laps in, four real threats to Kimi had been sidelined.
Giancarlo Fisichella had made a porridge of his race by lining up in the wrong grid slot (as he did here two years ago) and then manoeuvring his Jordan forwards and backwards into the correct place. A Formula 1 clutch isn't designed for such driving school stuff and it overheated, leaving him stranded when the lights changed. Heinz-Harald Frentzen stalled his Sauber on the grid, but eventually got going.
Jacques Villeneueve didn't start after an electrical glitch on his BAR damaged the gearbox on the grid. In the jungle heat and in his four-layer race suit and helmet, Jacques ran the 500 metres for the T-car, only for team boss David Richards to inform him it was against regulations as he'd already taken up his grid place with the other car and that he'd better run back down to the end of the pitlane to see if it could be fixed. It couldn't.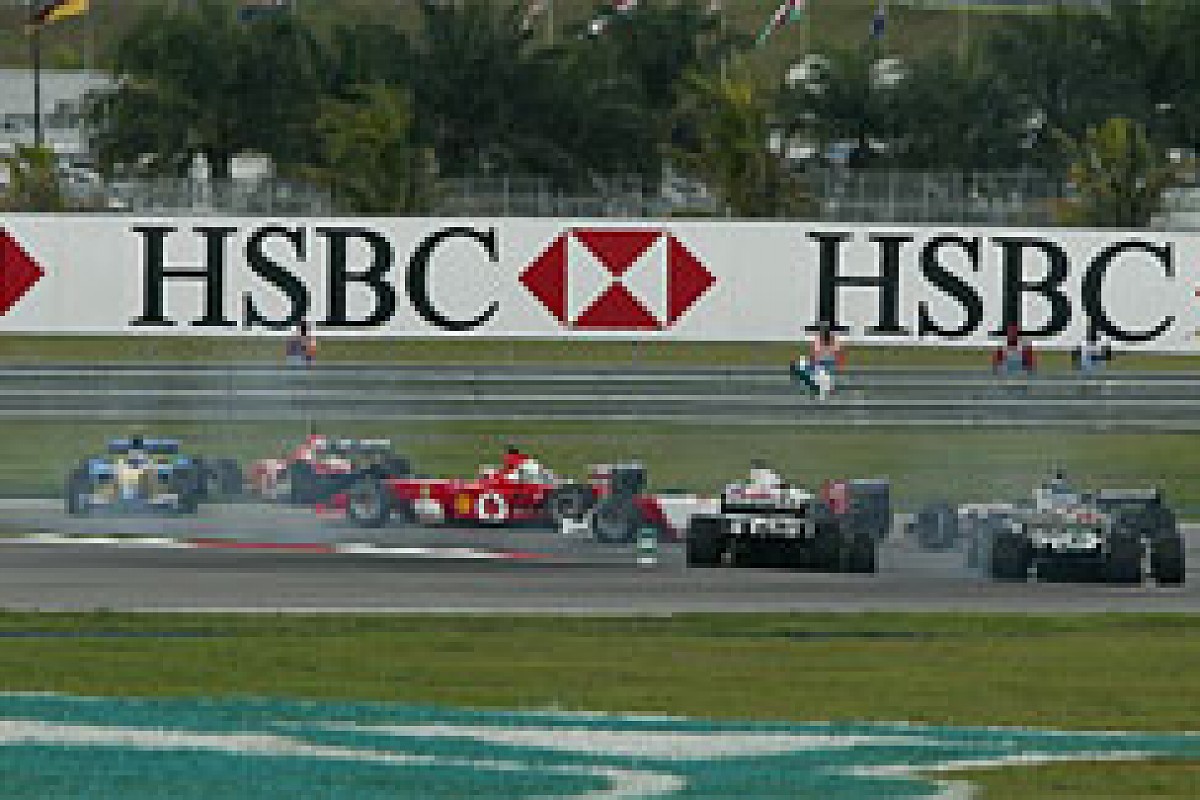 The start of the Malaysian Grand Prix © LAT
Fernando Alonso's Renault had scorched into the lead from pole but the slightly heavier sister car of Trulli wasn't so quick. Coulthard's car made a beauty of a start, enough to get David ahead on the inside as they ran down to Turn 1
On the dusty side of the track though, he didn't feel able to sit it out with Trulli and got on the brakes at his normal place, leaving the Italian to grab the apex and the position. Schumacher came around DC's outside - which forms the inside for Turn 2 - and an accident began to take shape, born of two drivers, Schumacher and Trulli, in unfamiliar circumstances. That was in itself born of the new race-fuel qualifying regs.
Coulthard said: "I read the situation. I knew going into the corner what was going to happen. I went wide into Turn 2 because I couldn't get inside, saw Michael and Trulli and knew this was going to end in tears because Trulli hasn't been there before; he's a bit flappy and a bit Mamma-Mia. I went as wide as I possibly could and saw Trulli come round."
Schumacher responded: "It was stupid. I was too concerned about Coulthard. He was trying to overtake me. I didn't want to get stuck behind him. I braked hard and hit Trulli. I have apologised to him."
Schuey got going some way down the pack before pitting for a new front wing on lap three. He would later be served with a drive-through penalty for causing an avoidable accident. Trulli restarted down in 13th, his car undamaged. But behind, there had been a second wave accident caused by the congestion of the original. Minardi driver Jos Verstappen couldn't avoid the rear of Antonio Pizzonia's Jaguar, which became briefly airborne before assaulting Montoya and taking off the Williams's rear wing. All three were in for repairs at the end of the lap, their races ruined. Montoya lost over two laps before rejoining.
It may well be that electrical failure robbed Coulthard of a second consecutive victory. He felt so: "When I ground to a halt, I thought 'How many times this has happened while I've been in a podium position?' and it has been a lot. And I'm not trying to deflect away from any mess-ups there may have been in the past, but there just seems to be this air of, 'Is DC up for it this weekend?' But the thing is, I haven't been out qualified by Kimi since Italy last year. I would have run in front of him and you've got to presume that I'm not in the habit of making mistakes in the races."
Still the iceman stayed calm. Even before DC had pulled off to the side, Raikkonen had got ahead of Nick Heidfeld, hooking inside of the Sauber as they exited the final turn, holding it over to the disadvantageous side of the pit straight as he passed - wheels inches apart - before claiming the position in the first turn. Clinical. With Coulthard's retirement Kimi was now second - albeit 5.9s behind the flying Alonso at the end of the third lap.
Behind Heidfeld lay Jenson Button's BAR, Rubens Barrichello's Ferrari, which had been delayed avoiding the first lap accident, Olivier Panis' fuel-light Toyota, and in remarkable seventh place - Justin Wilson. Okay, The Minardi was only fuelled for 13 laps but, as at Melbourne, Wilson had displayed a great instinct for where to place his car in the hectic opening miles of the race, scything past many more experienced hands in quicker cars. Behind him was Ralf Schumacher's Williams.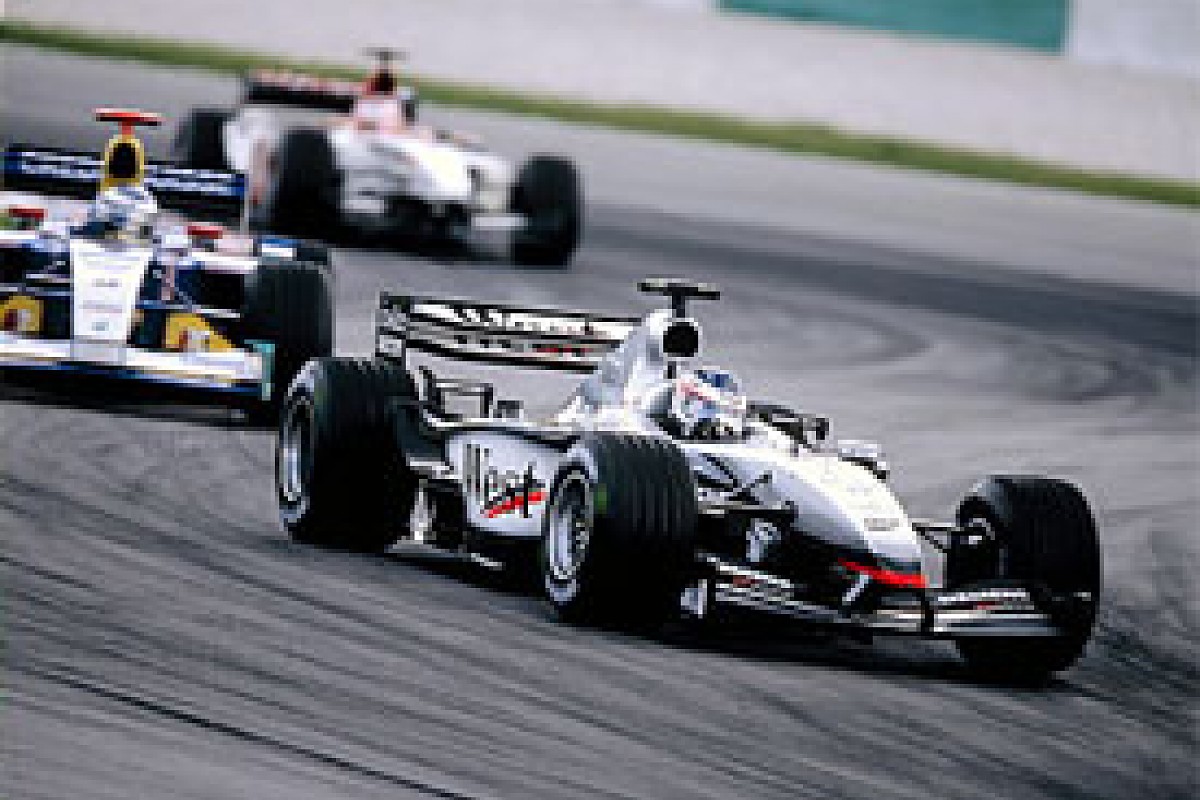 Kimi Raikkonen, McLaren; leads Nick Heidfeld, Sauber; and Jenson Button, BAR © LAT
Alonso drove beautifully at the front, but by the fourth lap it was apparent that Raikkonen was faster - despite being around 15kg heavier - and the gap began to close. "I didn't know for sure what strategy Fernando was on so I pushed really hard," said Kimi. "But some backmarkers prevented me catching up with him."
Button soon fell back from his early position with a chronic lack of grip. It was not entirely unexpected, the team having found in practice that it couldn't make the Bridgestones last for more than 15 laps before they degraded badly. The BAR's traction was iffy, it understeered early in the stint and oversteered wildly towards the end. He had therefore been easy meat for Barrichello and Panis.
Olivier stopped for fuel on lap 13 after hassling Rubens, but then retired almost immediately. The Toyota had suffered a pressure build-up in the tank, fooling the refuelling device into delivering hardly any juice into it. The sister car of Cristiano da Matta - which had started from the pitlane after an electrical glitch - was running with a full tank of fuel, a desperate measure to overcome a fuel-feed problem.
Heidfeld was passed by Barrichello but stayed fourth until his lap 13 stop, at which point fuel vaporisation caused the engine to stall. This condemned him to the midfield for the rest of the race. The Saubers found similar grip problems with their Bridgestones to the BARs.
"The circuit has a very fine, unabrasive surface," said Bridgestone technical manger Hisao Suganuma, " requiring a soft compound to generate grip. But sometimes a soft compound isn't strong enough and you get blisters. With a track temperature of more than 50 degrees Celsius, this makes it very tough. Last year we had degradation and wear issues. This time degradation wasn't too bad but wear was still high."
Ferrari seemed to have less of a problem with the Bridgestones than anyone else, the F2002 being kind to its tyres. But even it had a little cut-out in the lower element of the front wing on the left hand-side of Schuey's car, in order to relieve some of the load on the hard worked left front. "The tyres were good early in a stint," said Ferrari technical director Ross Brawn. "Then they fell away in the middle, then came good again at the end."
Michelin rubber was suffering no such troubles. As ever, its very different construction seemed to produce tyres that were virtually heat-indestructible. Even the soft compounds would have stood up to a heavy one-stop load, it reckoned, though with the qualifying regs as they are, no-one tried.
Alonso's stop came on lap 14, five laps before Raikkonen. Both were on two-stop strategies, together with almost everyone else, though this confirmed that Renault had opted for a short-duration opening stint, to the benefit of its qualifying. Now came the price. In these critical laps between Alonso's stop and Raikkonen's, Kimi was a model of consistency and duly emerged 5s or so ahead of the Renault, with Barrichello leading before his first stop on lap 22.
By now Barrichello realised he had no answer for Raikkonen. "If I really pushed I oculd go as quick as him, but not consistently enough to get close," he said. "Without the delay maybe I could have out pressure on."
At their best, the Ferraris were the fastest cars on track - four of the six best sector times, and first and second fastest laps of the race - but lacked the consistency of the Michelin-shod cars.
"I didn't have such a good balance with my second set of tyres." stated Alonso, explaining why the deficit to Raikkonen grew to 19s before the Renault's second stop on lap 35. His consistency during this time, however, was stunning: from lap 29 his sequence read: 1m38.7s, 1m38.7s, 1m38.5s, 1m38.5s, 1m38.7s (lapping), 1m38.7s (lapping), 1m38.5s, 1m38.5s.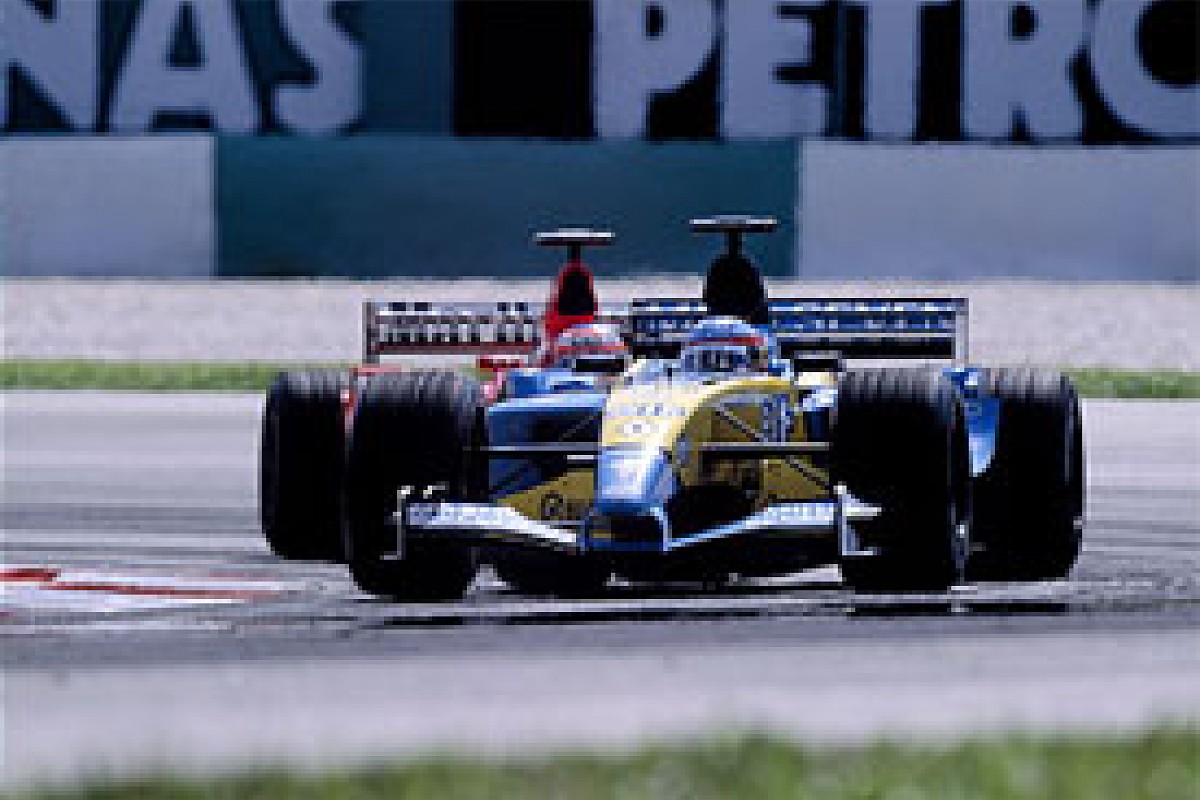 Fernando Alonso, Renault; and Rubens Barrichello, Ferrari © LAT
Barrichello, by this time, was pressuring Alonso and in the three laps he had between the Renault's second stop and his own, he pulled out enough to rejoin in second. Raikkonen made his second stop and rejoined still leading, by 23s. All he had to do now was bring it home and not think of his near miss at Magny-Cours last year. Alonso could no longer offer a threat to Barrichello as his gearbox was playing up. "I started to change manually towards the end," said a far-from-disappointed Fernando. "And then cut the revs too."
Up to fourth, albeit a long way behind Alonso, had glided Ralf Schumacher (from 17th on the grid), aided by the first lap commotion. Behind him was the long-running battle between Button and the earlier delayed Trulli. The Renault was massively faster over a lap, but didn't have the grunt to get past, though to his credit, Jarno never stopped trying.
He spun once in his attempts, but was soon back on the tail of the gripless BAR. The recovering Michael Schumacher - who had now stopped four times - caught them and set the race's fastest lap on tour 45 as he did so. This, however, was, only two laps after his final stop and the Bridgestones were still new. They didn't like being pushed in this way so early and suddenly he was struggling for grip too. Also, he was perhaps reluctant to try another marginal move on Trulli.
Something had to give and it gave on the last corner of the race. Button braked as late as he dared to keep Trulli at bay one last time. It was too much for the worn Bridgestones and Jenson locked a rear and ran wide. As he did so, Trulli nipped by on the inside for fifth and Schuey did the same for sixth. Button's seventh was under no threat from the similarly tyre-troubled Heidfleld.
Button wasn't the only last-lap casualty. Ralph Firman had done a good job in a heavily fuelled Jordan to hold off Frentzen and da Matta for ninth without error. But on the last lap he began to run out of gas and as the car stuttered, Frentzen passed. Da Matta almost caught the Jordan on the line, having been saddled throughout by having to run heavy.
Montoya was three laps down by the end, having lapped quickly just for the hell of it on a single-stop fuel load after his first lap assault, while the similarly delayed Verstappen was last. Neither Jag finished. Pizzonia spun out, suspecting that something at the rear had broken as a result of the hit it took on then opening lap.
Mark Webber was delayed at the start by the Fisichella fiasco in front of him and was later pulled in by the team when the Cosworth showed signs of expiring. He'd got as high as eighth before that, but the fuel load needed to overcome a weekend-long fuel feed problem hindered his pace.
Wilson? The HANS device did it for him after his sparkling early performance and he ended the afternoon in hospital with temporary paralysis of both arms.
Both of Raikkonen's arms were raised in salute of the flag as came home more than half a minute clear of Barrichello, who was a similar distance ahead of Alonso, with Ralf Schumacher rescuing his weekend with a useful fourth.
Cue Ron Dennis: "I was thinking about it on the podium: its very appropriate Kimi keeps his winning trophy [this is landmark stuff for Ron, who famously got very peeved when Alain Prost gave his trophy away at Monza in 1989]. We will keep the copy."
It was a little gesture that just completed the fairy tale of the boy with a dream.
To see the full results from the 2003 Malaysian Grand Prix, click here.