The sun had long gone down and the Albert Park paddock was even more frantic than it had been in the build-up to the Australian Grand Prix - as teams set about packing equipment ready for the quick turnaround before Malaysia.
Standing outside the grass in front of the McLaren team office was an emotional John Button - his faced etched with a grin that had become common place so many times throughout 2009 when he wore his trademark pink shirt.
As he wallowed in the moment, the door to McLaren opened and out walked Jackie Stewart - who made a bee-line for Button Sr. After an emotional hug between the two men, Stewart looked up at Button and said: "John, that was a drive that Jimmy Clark and I would have been proud of..."
He was totally right. Just a fortnight after the critics had written off Button as much as F1 itself, the reigning world champion hit back with a drive of sheer brilliance - although some cynics have suggested that this was a win that owed itself more to luck than genius.
Even the man himself on Sunday night, in the hours after the race, was already fighting off suggestions that this was simply an evening when his lottery numbers had come up.
"You can't call this win lucky," said Button. "Some people will say it is, but you can't be lucky that many times. We made the right call at the right time. I had info from the team so I knew where I was and it was a team effort."
Yet the closer you analysed the events of the afternoon, the more you had to appreciate the role that luck played in turning Button into a McLaren winner at his second attempt.
Here then, playing devil's advocate, are the moments of good fortune that you could argue helped tipped the event his way.
Losing out to Lewis Hamilton early on
Think Markus Winkelhock at the Nurburgring in 2007. It's always easy to take a gamble when you've nothing to lose. Had Button been running away with the Australian Grand Prix at the head of the field then it would have been highly unlikely he would have been the first man to switch rubber.
Instead, his tyres were going off, he'd been overtaken by team-mate Lewis Hamilton and was slipping down the order - so he had nothing to lose. This wasn't the move of a genius - but one born of frustration.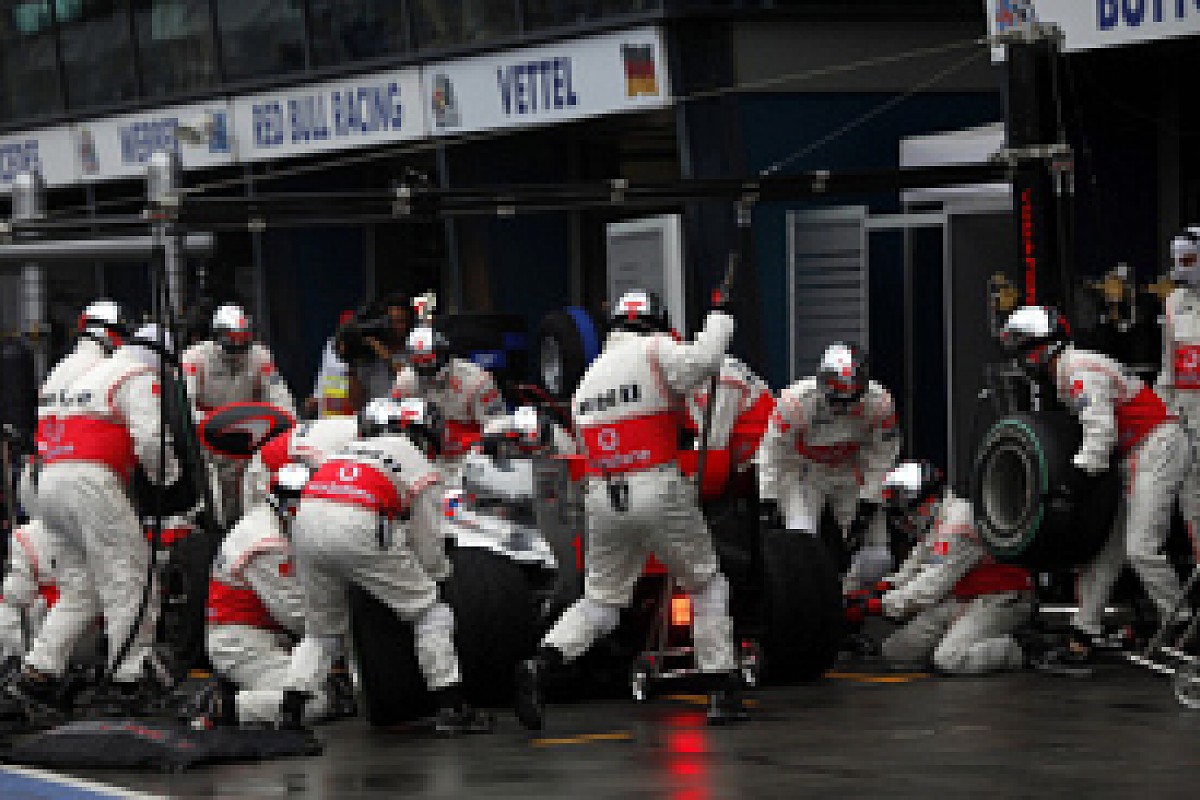 The pitstop that won Jenson Button the 2010 Australian GP © LAT
Going off on his out lap
The first man in for rubber always acts as a guinea pig for the opposition. If he is immediately quicker then the call goes out for the cars ahead of him to stop - negating any advantage made by the stop. So when Button went off early on his out lap, that acted as a sign that perhaps the track wasn't yet ready for dry tyres - even though it clearly was as he quickly proved with purple sector times.
Button's off-track excursion probably served to stall his rivals from making the stop for at least one, if not two, more laps than was necessary. That time proved crucial in moving Button up the order - also helping him get his slicks up to proper working temperature while his opposition lapped cautiously with theirs to start with.
Running on slicks in the wet
Bridgestone chiefs were surprised on Sunday night that Button had been able to make the option tyre last so long. In fact, when he took the tyres on there was no guarantee that the rubber was going to last any more than 30 laps - and if the degradation had been severe, then that genius call to dries would have been for nothing.
One theory that was being bandied out was that by running the slicks in the wet early on, Button had actually 'cured' the rubber to some extent - by giving it a different heat cycle to that normally expected on a dry track. Was this element of good fortune, unknown to team and driver, the real key to the win?
The opposition messing up
The biggest factor in Button being able to take it easy and look after his rubber was that he was under so little pressure for a vast duration of the race. Sebastian Vettel was clear in front before his wheel failure, while behind him Robert Kubica was falling back and keeping stronger cars at bay - providing Button with a comfortable buffer zone.
Those who may have been able to give Button a hard time - Hamilton and Mark Webber - messed up their days with a two-stop for dry tyres. Button didn't win this race, the others simply lost it.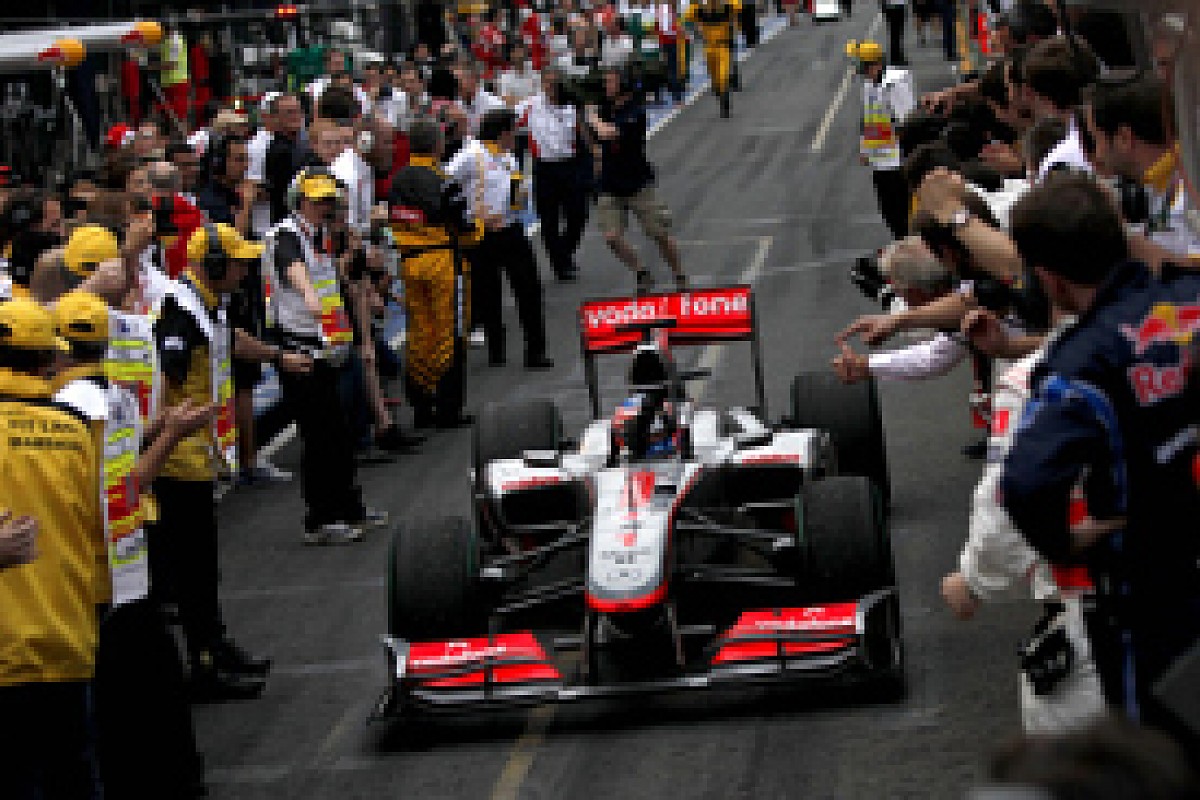 Button celebrates victory returning to the pits © LAT
So was Button's triumph in Australia skill or chance?
The debate between the two variables has raged - and no 'game' has been analysed more for whether it is skill or chance than poker. Books have been written on the subject, but the most convincing arguments turn the whole skill/luck argument on its head.
They argue that forget about winning at poker and consider for a moment, losing. Is it possible to intentionally lose a poker game? Because if so, then it cannot be down to chance.
Could Button have lost the Australian Grand Prix on purpose? Of course he could.
Instead, what he did was brilliant - made the right call, drove at the right speed, stayed out of trouble, looked after his tyres when he needed to (even changing the set-up to be kinder to his rear tyres), and then pushed when he had to.
And that is why Jackie Stewart was spot on. Well done Jenson.