One of the 'hot' topics in Bahrain was how Felipe Massa would fare upon his return from injury. Those who witnessed the effects of the wayward spring off Rubens Barrichello's Brawn which pierced the Brazilian's helmet, causing serious head injuries, were unequivocal in their praise for his qualifying. It was good enough to place his Ferrari on the front row, ahead of 2005/6 world champion Fernando Alonso - driving a car identical in every respect, including fuel load and tyre choice.


Felipe Massa and Dr Stephen Olvey © Dieter Rencken

However, having played a big part in Felipe's treatment, Dr Stephen E. Olvey was far from astonished, for the driver had already surprised the neurosurgeon with his rate of recovery.
"Watching the whole thing develop since his injury, I was not surprised", he said. "But what is important is that in all my experience, this is probably one of the most surprising, if not the fastest, recoveries from a life-threatening head injury I have ever seen."

Olvey puts this down to the entire treatment chain, from trackside care through to Massa's rest and recuperation at home in Brazil. Plus the chirpy Ferrari driver's emotional and mental strength. Although careful to respect doctor/patient confidentiality, he spoke to AUTOSPORT about the recovery.

"I think the reasons are the excellent care he received at the scene, the excellent care he received in Hungary, the follow-up care in Brazil, then his competiveness, physical fitness and energy levels in general, and his desire to get back to being competitive again," he said. "You know, we're talking [here], it's only been barely seven months and he's back at the same level that he was prior to the injury."

The accident was, of course, freakish. This realisation, too, greatly aided the recovery process.

"Massa has no qualms about returning to competition," says Olvey. "That was a freak accident, he considers it a freak accident, and he has not and does not let it bother him since the accident. He didn't dwell on the past, he just looked at the future. I know there are people who thought he wouldn't be able to drive this soon, this season. But I knew early on, I felt that he could easily make it because of the things I spoke about [above].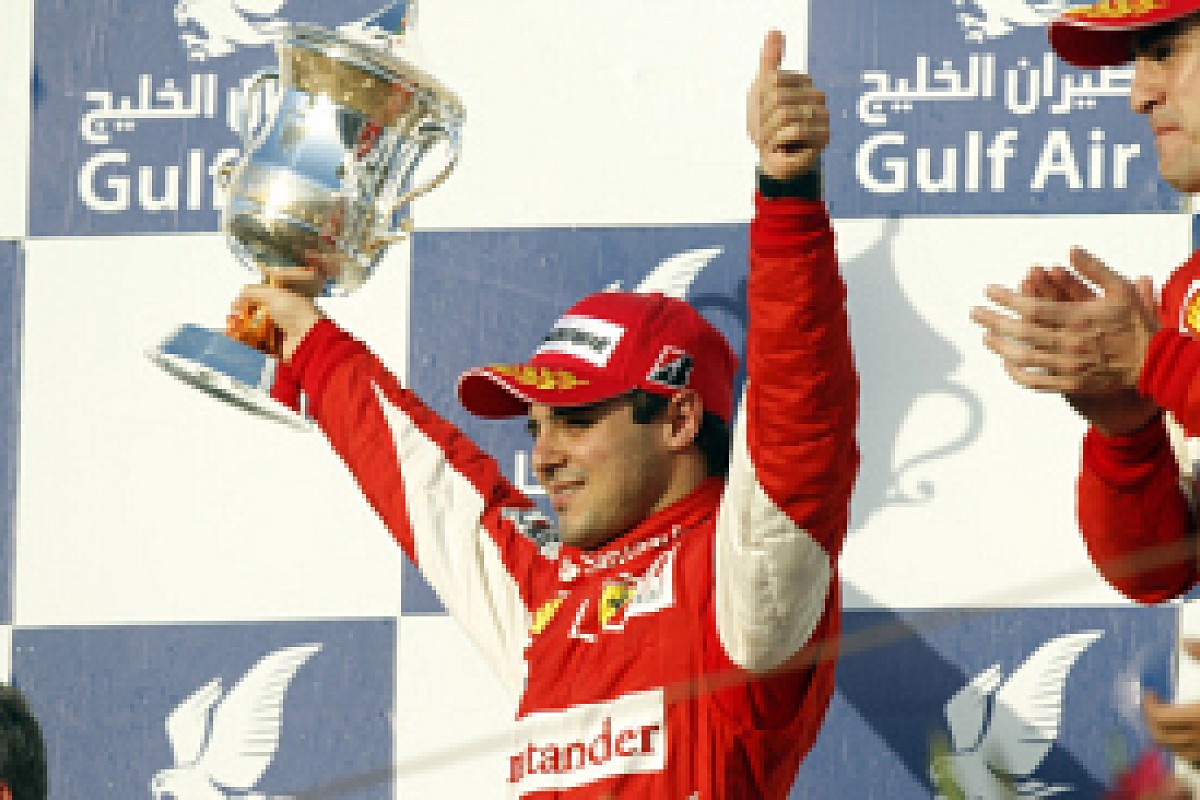 Felipe Massa on the podium in Bahrain, 2010 © LAT
"It's very important, that and the fact that you get taken care of as a racing driver. Drivers get well faster after head injuries and this is down to the medical care getting there so fast that you don't get some of the secondary changes that can occur if there is delay. That played a big role in the fact that he was able to recover so rapidly, but in addition to that it was his motivation and desire, and the fact that he always looks forward, never looks back."
Having saved Alex Zanardi's life in that horrific Champ Car accident at the Lausitzring in 2001, in which the Italian lost both legs, Olvey is best placed to make comparisons.
"It's like Alex Zanardi, you know, they're optimistic and look forward. It's one of the reasons Alex has done so well after his horrible injury and was able to go back and race again"

Olvey is convinced Massa has emotionally "totally overcome" any mental doubts he may have had and has no symptoms referable to the injury. In fact, says the doctor: "He's as physically fit as he has ever been, he's as competitive as he's ever been, and there has been no change in him what-so-ever."

Does Olvey believe the Massa a split second before the freak accident and the Massa who placed his Ferrari on the front row in Bahrain are one and the same guy?
"No question about it," Olvey says succinctly, allowing him a final word before he wanders down to a quiet corner from which to observe the 18 world champions circulating in some delectable machinery in celebration of F1's 60th anniversary.

"Felipe's personal physician [in Brazil] is Dino Waldman. Dino and I together had to convince everybody that Felipe was okay. You know, there were a lot of sceptics, but qualifying settled all that."