The 2010 entry list is enough to get the adrenaline flowing as we head to Bahrain, but aside from the line-ups in the top teams what makes this weekend even more exciting is that no one really knows how the races will pan out.
The ban on refuelling has turned strategy on its head, and ensured that the real pattern of how this year's races will unfold won't emerge until well into the season. And almost as a by-product of that change, we are back to 'pure' qualifying, with speed and not weight the determining factor.
However only last month the FIA threw a little spanner in the works when it was finally confirmed that Q3 runners will have to start the race on exactly the same tyres on which they set their best qualifying time, so it might not always be a straight fight if the top guys make different choices.
Whatever way you look at it, this promises to be a fascinating season.
"I'm quite optimistic," says McLaren's Paddy Lowe. "There were a lot of people saying that racing will be professional, but there are positives. Pit stops will be much more exciting, because it's a proper race for the guys on the tyres. Even the circuit racing has the potential to be more interesting. The drivers are forced to overtake on the track - there's no other way of doing it - which adds its own element of interest. It's a different risk profile to the way drivers approached the race.

"We did see some pretty heroic overtakes in the old days, when that was the only way past. But Schumacher won his championships in an era of refuelling when the clever driver was the one who could keep his pace up even when he wasn't adjacent to his competitor, and effectively play a strategy game very, very strongly and win the race by overtaking in the pits. Now it's a completely different philosophy. If you want to win the race, and you're not leading, you've got to overtake.
"The cars we've been building have effectively been sprint cars that can have a bit of weight added, but it doesn't make a drastic difference to their behaviour. When you add 160kgs it's got a completely different behaviour, so you've got a lot of interesting layers to the race that you haven't had for a while."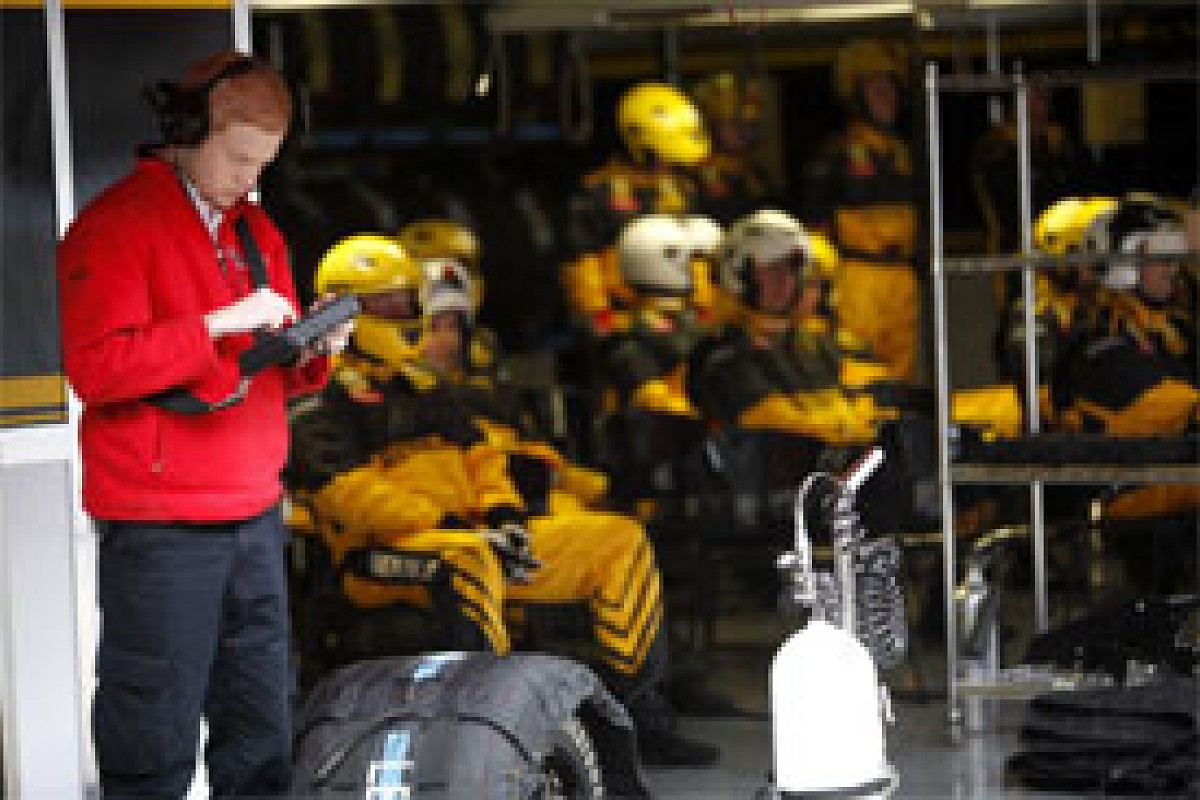 Bridgestone technician in the Renault garage © LAT
Teams will have to adjust the way they approach the whole weekend. The Q3 tyre rule was accompanied by a cut in the Bridgestone allocation from 14 to 11 sets per driver.
They will still be busy on Friday however, because one prime set can only be used in P1 before being handed back, while a further set of primes and a set of options have to be returned after P2, leaving four sets of primes and four options for Saturday and Sunday.
Allowing for engine mileage - and this year eight engines have to last for 19 rather than 17 weekends - there is no reason not to run on Friday. The additional fuel loads of 2010 means that teams need to gain as much knowledge as possible on how the car and tyres behave with heavy loads, so it's safe to assume that Friday will all be about race preparation, with teams carefully splitting the workloads (and presumably weight levels) between each driver.
In Bahrain there's the added element of the extreme heat, which will affect not just the tyres but all operating systems. It's mostly been cold and winter in Spain in February, so everyone will have some homework to do.
Logic suggests that come Saturday morning, the focus will turn to qualifying and minimal fuel loads. And remember, that now applies to everybody. In the past few years the top guys, ie those who were confident that they could get through to Q3, did not need too much - if any - work on ultra low fuel loads.
They knew they the laps that really counted in qualifying would be run with 50kgs or whatever on board, so that's what they worked on - and thus P3 times often looked a bit strange, with midfield guys at or near the top. That should change now, and it will be much more representative, allowing for a bit of sandbagging.
Clearly the top guys want to save options for when they are needed, and the arrival of the new teams has actually made their life easier. Last year the spread amongst the teams was so close that even the fastest drivers often had to use a set of options in Q1 to avoid being stuck in 16th.
The arrival of the new teams means that seven cars are now eliminated in Q1, and with due respect to Lotus, Virgin and HRT, six places of those appear already to have been booked. So only one driver from an established team will get booted out, it's probably safe to assume that it will be a cruise for the top guys.
Q2 will be anything but, of course. Another seven cars will be eliminated, leaving the usual 10 for Q3. You might assume that the eight drivers from Ferrari, McLaren, Red Bull and Mercedes will make it by right, and of course they have to be favourites. But it would be dangerous to underestimate Force India, Williams, Sauber, Renault and even STR. In other words the top guys will have to use a set (or even two) of options to guarantee progress to Q3.
Q3 is of course where the big decision has to be made in terms of your race strategy.
Whereas last year you had to make a call on fuel weight, now it's a question of prime or option. The difference is that while the fuel call had to be made before the session, the final tyre decision can be made in the closing minutes, and might be influenced by circumstances.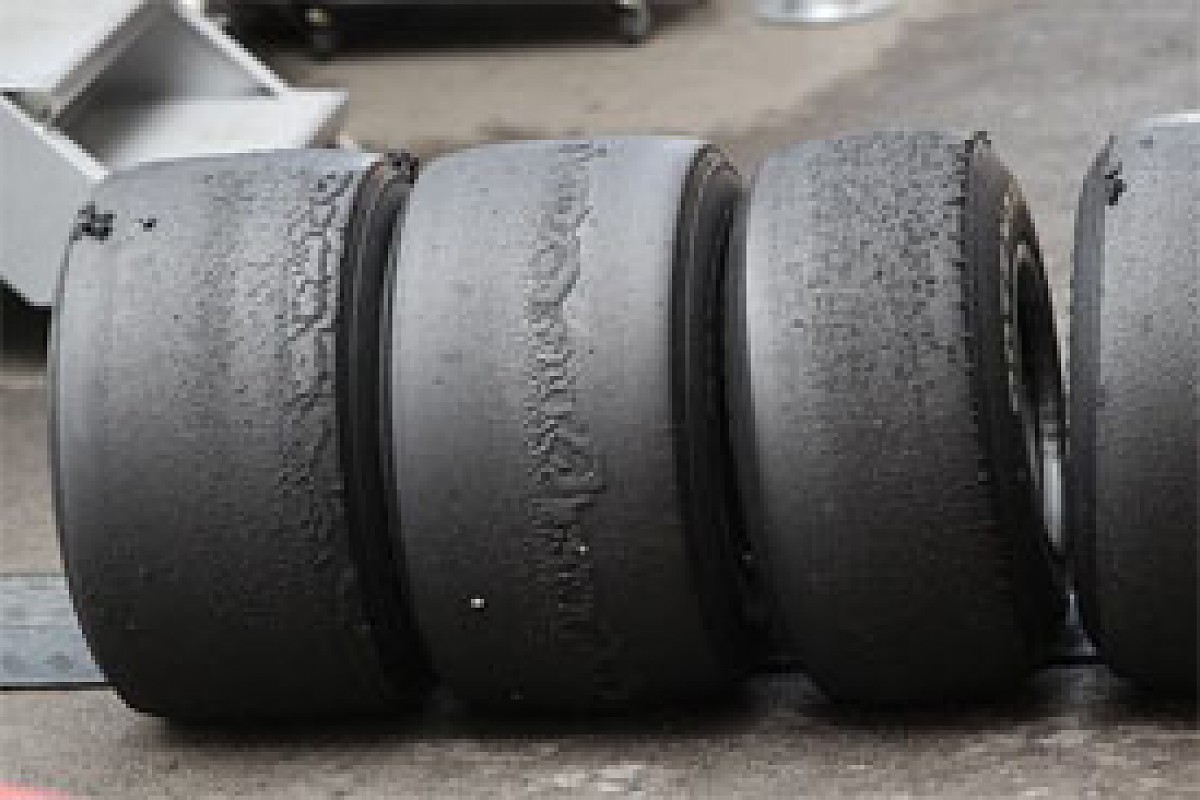 Used Bridgestones © Sutton
The likelihood is that the quickest drivers will take the option, start at the front, and gamble on using it for the early stages of the race, but that is by no means guaranteed.
If the option is expected to become a disaster within 10 laps of the start, it may be better to take the prime and hope that you have enough speed to qualify on the second or third row. If at such races most of the top guys take a conservative prime choice, someone who would normally be a bit further back might gamble on options and jump to the front. There could also be races where one team has such an advantage that its drivers can still qualify on the front row, even with primes.
The guys who only just make it through to Q3 will have an interesting choice. Just as in the past someone who got there by the skin of their teeth often took a heavy fuel load and settled for ninth or 10th, so they can now take the slower prime tyre. In fact, they don't have to go out at all.
If you make Q3, don't leave the pit lane, and in effect settle for 10th on the grid, you are free to start on any tyre you want - and that means new tyres as well. There could be circuits where to start 10th on new primes could be a massively better strategy that starting further ahead on used options.
And of course those in 11th on back have a totally free choice, and can start on new tyres if they have any left.
"I think you have to be very careful what you do with the tyres and what tyres you choose for qualifying," says Sauber's Willy Rampf. "I think it will mix up the top 10 a bit. If you have a very good car it might be useful to qualify, let's say on a hard set, knowing that this will pay out during the race.
"The option leads more to an early stop, but a driver who is careful on the tyres and has a tyre that is lasting much longer still has an advantage. It definitely opens the field for strategy decisions again.
"If you're just in the top 10, then it doesn't make sense to use the option, and you'll choose the best tyre. On some tracks it gives you a good chance that you qualify in a good position, and you just hold up the field behind you. That we will also see. You have to be more careful in your quali strategy, what you do in Q1 and Q2. Maybe you just aim to do Q1 with a slower tyre, Q2 with the option, and then we have to see what tyres you need for a race."
Watch out too for drivers who leave the pits in Q3 and then don't complete a lap, due to a mechanical issue or incident. Even if they don't record a competitive time, they are committed to using those tyres.
There is provision for replacing damaged tyres - the FIA will usually allow that in case of accident - but if someone just pulls off onto the grass the likelihood is that they will have to start the race with those tyres. Of course, that knowledge may encourage a driver in trouble to park on the track rather than risk spoiling their tyres, possibly creating a red flag. The FIA is well aware of that, and is watching...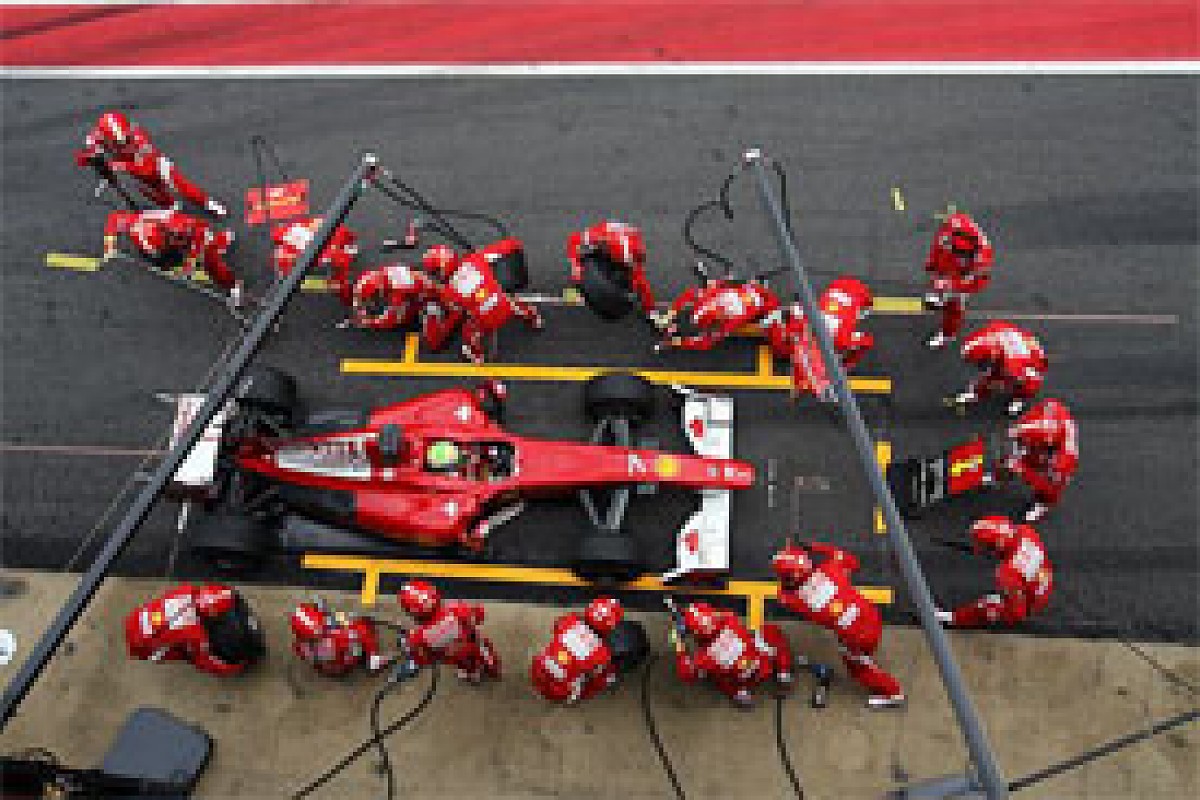 Felipe Massa makes a practice stop © Sutton
Race strategies really are a clean sheet of paper this year. The rule says only that you have to use both types of tyre in the race, so in theory you can make your change at the end of the first lap, or the end of the penultimate lap - or at any stage in between.
When the refuelling ban was first announced, it was widely assumed that we would see races with one stop, but it's become increasingly apparent that two stops will be often be the better strategy. Of course, everything depends on track position and what your rivals are doing.
"I think they will tend to be stopping earlier rather than later," says Lowe. "If you look at GP2, it will be more like that model. What tends to happen is that the people at the back start to stop first, and then it propagates forwards. They tend to be putting their tyres on at about a third distance.
"During every race weekend it will become clear pretty quickly whether you have to do a two-stop, or whether you get away with a one stop," says Sam Michael. "I think one stop will the prime strategy, and it be two stops if the tyres can't handle it. It will be as simple as that. And the pit stops will be fast."
Safety cars will be key this year, and it will be interesting to see what happens in these early races, and especially in Melbourne, where three or four yellows a race are not uncommon. If you are on options and at the front then a safety car after 15-20 laps could be just the ticket. For those further back, a safety car at almost any time could be useful.
"If you're at the back you'll take more risks, because you've got nothing to lose." says Michael. "If there's a safety car, you come in, because you don't have the same penalties as what you used to. Typically if you stayed out, some guy who had stopped would be behind you on new tyres, but with 50-60kgs more fuel. So you'd be at the front and you have 10-12 laps to make up your gap. Now you're going to be on older tyres and the same fuel level, so you'll never, ever make a gap on the guy behind, therefore the default will be to stop for tyres."
If there is a first lap safety car we could see those at the rear, those who qualified well out of position, and those delayed by an incident all streaming into the pits to make the compulsory change. If they are going from option to prime, in theory there may be circuits where - with a little luck - they can get all the way to flag without a further change.
Even those who started on primes can help themselves by doing a double shuffle - stop for options, run them for one lap behind the safety car, and then stop again for primes. They too can then legally run to the flag, if they can make the primes work for 60 plus laps or whatever it is...
"That will be very interesting," says Michael, "Because the guys at the back will have nothing to lose. They can get their tyre stop done, they could even have started on the prime, come in fitted for the soft for one lap, and go back and fitted the prime again. For example if you don't really want to be on the soft tyre, you can do that."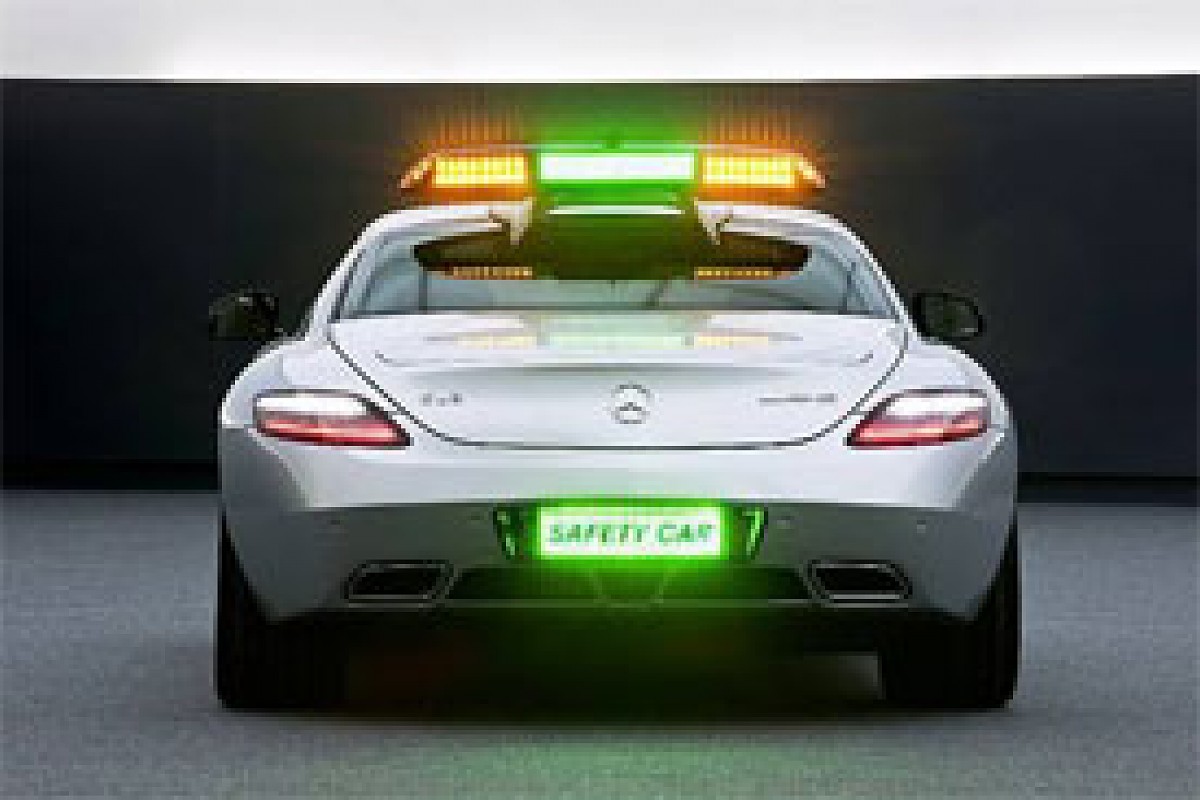 The Mercedes SLS safety car
One thing we are very likely to see during safety cars is both cars coming in together. Remember, with sub 3secs tyre changes - and no awkward fumbling with fuel hoses - you will lose less time than previously by stacking cars.
"To me it's always been a no brainer," says Force India team manager Andy Stevenson. "With safety cars and things like that you have to stack your cars in the pit lane, you can't leave them out for another lap because they lose so much time."
Life is a little easier this year because the midfield teams have more space: "This year it should be better, even though there are more teams in the pitlane the space has now been divided equally so everybody gets the same amount of space. The FIA [as opposed to FOM] has taken control of the pitlane. The teams at the front of the championship used to have another two, three or four metres of extra space, now that's been evened out, mainly for safety reasons. But it's also taken away the advantage of the big teams having more space to operate in."
One interesting aspect is that while in the past teams knew when their drivers were going to come in - give or take a lap - changing circumstances mean that a stop could be called at almost any time, and the crews have to be ready at all times.
"That's not an issue," says Stevenson. "The guys were always on standby the whole race. The thing is it's much easier to get out there just to change tyres, to get out for a late call with fuel was quite difficult. Yes we have to make sure that the tyres are always available, and you often used to see cars come in and the tyres weren't ready. But everyone will be primed and ready to go all the way through the race."
Stevenson admits that with pit stop timing free, the race engineers are really going to have to make the right calls - and make them instantly.
"You've got no time to plan at all, you've really got to be on the ball. We've been training our engineers with the simulator, and throwing in different scenarios. That's the thing they've learned, there's no time to discuss it, you've got to make your decision there and then. The decision is quite an easy one to make, but whereas in the past we'd have half a lap to discuss it, you've got no time, you've got to call it there and then. It's going to be make for much, much better racing.
"We're just going to be looking at everybody, or everybody who is within our pace, I suppose. Until we get to the first race it's going to be difficult to know where people are.
"I think it's going to introduce a whole new strategy that we haven't seen for a long time, and I think it's going to make the racing better. Certainly in the simulations we've done races are going to be a lot, lot closer, which means there's going to be more opportunity for overtaking."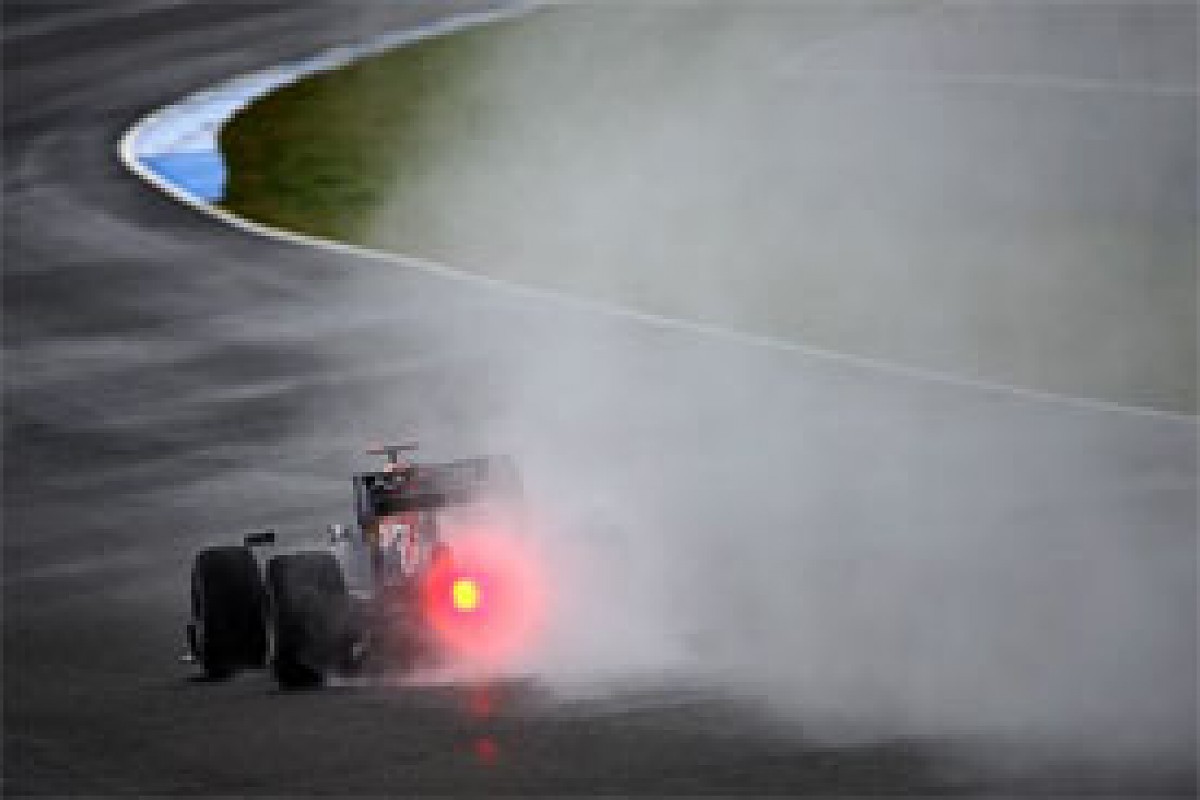 Sebastian Vettel testing at Jerez © Sutton
Of course if it's wet, all bets are off. A wet qualifying and/or a wet start means that the rule about using the same tyres does not apply. And more importantly, neither does the rule that says you must use two types of tyres.
So in wet conditions drivers have the possibility to run the whole distance on a single set of wets or intermediates without stopping, assuming that the tyres are still working. Indeed we've sometimes seen in the past that drivers lost pace when switching to new wets or inters, relative to those on worn tyres.
Don't forget that if it's a safety car start, all cars have to be on full wets, and history shows that drivers will probably be forced onto inters at some stage (although we have had a few recent races where wets were required for the whole distance).
Nevertheless, could someone win a grand prix without a single pit stop in 2010?
"That will happen, but it depends very much on track conditions," says Rampf. "We had races in the past where the intermediates lasted very long, because it's just damp and it always continues to rain a little bit. You just had to stop for fuel. And also in such races, people with a very heavy car clearly had a benefit. In a wet race you will be careful and think about it, if you really come in and change tyres."
We are unlikely to see that theory tested in Bahrain or even Australia. But rain in Malaysia or China could make for an interesting Sunday afternoon...