Before I finally switched to digital a couple of seasons ago I stuck resolutely to using a microcassette recorder for all my interviews. I never re-used a tape, so stashed around my office I have boxes containing hundreds of the things, representing over 20 years of my working life.
Some are neatly labelled with places and dates, while others are less informative, containing just odd words like 'Monza' or 'Damon.' A few offer no written clue at all as to their contents. So much for my filing system...
Last week I found a tape I'd long been searching for. It's labelled 'Michael Schumacher Interview 15/12/93,' and what makes it of particular value today is that it captures the then future, and now returning, multiple world champion on the very cusp of his superstardom.
That week Schumacher accompanied Flavio Briatore to Japan for the launch of the new Mild Seven sponsorship deal. At the time I was living in Tokyo, and having learned that Schumacher was meeting some local journalists in a hotel, I invited myself along.
Some of the interview subsequently appeared in the first Autosport of 1994, although much was cut out, thus a lot of what Schumacher said that day has never been published. As we look ahead to his return in Bahrain next weekend, it seemed as good a time as any to blow the dust off the tape, dig out an obsolete Sony recorder, and transcribe - in full - what he had to say.
There are strong parallels between Schumacher at the end of 1993, and Red Bull's Sebastian Vettel at the end of 2009. Aside from being German, both men had completed two and a half seasons at the top level, although Seb is actually a little ahead in terms of starts, on 43 to Michael's 38. Both had won races, although again Vettel leads by five to the two Schumacher had earned. Michael however had taken 17 podiums, to Vettel's eight.
One major difference is that while the RBR man was a world championship contender last year, Schumacher had not figured in a title campaign by the end of '93. That season had all been about the old generation, Alain Prost and Ayrton Senna, and Benetton played a supporting role.
That was about to change...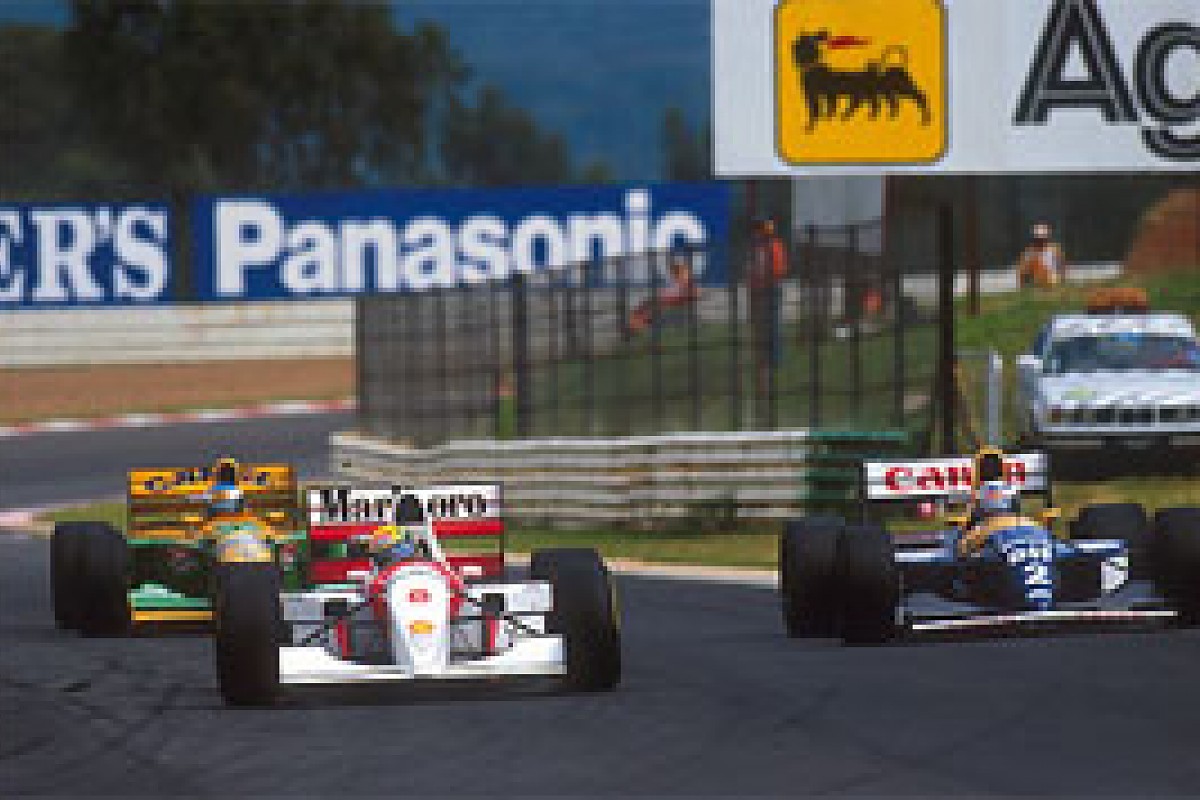 Ayrton Senna, Alain Prost, and Michael Schumacher vie for the lead of the 1993 South African Grand Prix at Kyalami © LAT
Prost had retired after the Australian GP, and Senna was moving from McLaren to Williams. A new era was beginning, and Schumacher was clearly going to play a major role, and would quite possibly be Ayrton's main challenger in 1994.
It was an interesting time in many ways. Driver aids had been banned for 1994, and the Benetton package was set for an upgrade with the introduction of a new Ford engine. The team was also tipped to be moving to Renault in 1995, which would put it on a par with Williams.
Most intriguingly, Schumacher and Willi Weber had recently renegotiated his contract and extracted a substantial pay rise out of Briatore. Michael was newly committed to the team for another three years, in theory taking him to the end of 1996. Yes, you read that right...
Before I sat down alone with him, Schumacher - suffering from a cold and still hurting from a recent knee operation - made a little speech for the assembled media and Japan Tobacco VIPs.
"I'm still 24 years old, getting 25 soon," he said. "And although 1993 was only my second full season in F1, I've had the good fortune to achieve many things with Benetton. My ambition is that of all the young drivers - to be world champion. I believe that as a number one driver at Benetton I am in the right place at the right time. All the ingredients of a world championship package are coming together."
As the interview below suggests, what he really had in mind was 1995. But circumstances decreed that 1994 was to be his year. Word for word, this is how our conversation went that December afternoon.
Q. Last year you were on the podium nine times, and you won in Portugal. Obviously there were some disappointments, like Monaco, and at the end of the year you retired in Japan and Australia. How do you look back on the season?
MS: I always forget the disappointments, I always keep the nice things in my memory. And there were a lot of them - as you said, nine. I think if you take the whole season, even though I finished fourth, one place worse than the year before, I think can be satisfied.
As you said Monaco we could have won, and certainly a couple of other races we would have finished on the podium. For this we could be a lot further in front. I think this season was in one way not a lucky season, it was a bit of an unlucky season, but still I think successful. If we get now in the future the luck on top, then we'd look even better. That's why I'm satisfied with the '93 season.
Q. Did the Portugal win mean more to you than the one in Spa? Because in Spa [in the wet in 1992] there was a certain amount of luck.
MS: There was a certain amount of luck, that's true. I would say a small proportion, certainly compared to Estoril, which was just good strategy, and good pit stops, and some driving! So I think this one was even more of a success, especially after a weekend which was a disaster from Friday to Saturday. Nobody believed... I wouldn't bet any penny on my win, and we just won. I think in this way this counts more. Normally you would say the first one is the best, and the last one. And I just have two!
Alain Prost leads Michael Schumacher at the 1993 Portuguese Grand Prix at Estoril © LAT
Q. Was it frustrating to be up against the two Williams? You were always fighting for third place, until at the end of the year when maybe there was a possibility to get in between them.
MS: That's not true. There were some times, it's true, when we could not do any better job than third. But there were times like Spa, like Monaco, that were earlier or in the middle of the year. Monza we were there. And other races we were quicker. But sometimes the Williams was unbeatable. I can't really say it was frustrating. We knew it, and for us it was a victory if we would finish behind them, because McLaren was our big competitor. And so I had a lot of motivation.
Q. Was it good to be up against Senna with the same engine?
MS: Yes, it was very good.
Q. You enjoyed it? Because if you were quicker than him, obviously you looked good.
MS: I would say we were, most of the time. Unfortunately they had a couple of wins which gave them a lot of points. I mean in the last two races they were very good again. Even I would say in Australia we were quicker, but we couldn't prove it.
Q. What happened then in the last two races? Just bad luck?
MS: I mean, Suzuka was a race that just was unlucky, from the start on. I had to start in second gear. I didn't know this until after the race, I thought I was in first! The car didn't go very good away, and I lost two or three positions. Because of the not really power advantage we had, and we used a good amount of wing as well, I had no chance to pass anybody on the straight. I was quicker in the corners, but no way to pass. So I took the first opportunity I saw [he collided with Damon Hill], and it was the wrong one. So I missed that race. Australia was again a race we could have won. We had done a very good decision on a tyre stop, if I would continue I am sure I would come out in second or third position, and with another tyre stop even further in front, or maybe even without a tyre stop. So there was an opportunity to win this race, and opportunity or not opportunity, we didn't do it, the engine failed. It doesn't happen very often, and I think Cosworth was an unhappy as we were, so there is no way to give anybody any fault. We just do it better next time.
Q. What happened over the winter with your contract? Everyone's been writing that McLaren has been trying to get you, but you had a contract with Benetton which you've now renegotiated. What's your side of the story?
MS: My side of the story is that I really believe in what Benetton is doing. I see since I came in the team the development, and I see what we are able to do. And I established my position in the team by renewing the contract, and I think now both sides are happy. Where before we had a contract which certainly kept one party happy, but not the second one! Flavio realised that he had to do something, and he did this in a very nice way. So we can altogether look forward to these couple of years [he'd actually announced a three-year commitment...]. As Flavio said before, stability is important as well, and I like stability, and that is something we have now.
Q. Basically what happened is when you signed the original contract you'd done four or five races. But now you've won two, you've been on the podium 17 times, so it's a different Michael Schumacher now, and you're worth more.
MS: Yes. It's a different Michael Schumacher, and I think you have to compare yourself against other drivers...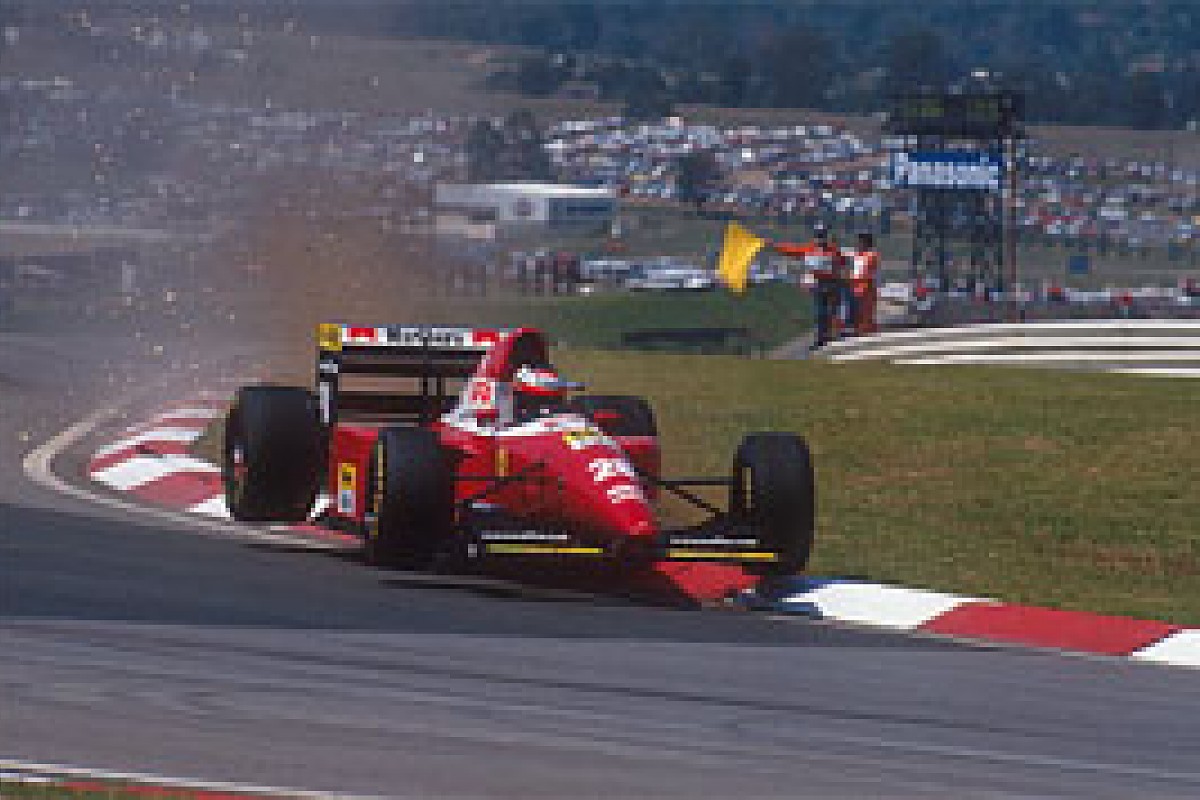 Gerhard Berger gets a corner wrong at Kyalami © LAT
Q. You mean you look at what Gerhard Berger is earning!
MS: As the team has to compare themselves with other teams. If I do this, I think we're looking very good, and I think we're doing changes in the future that will be very good for us as well. And if all this is coming together, we have a really opportunity to be world champion. That is just something that counts for me, I see this with Benetton, and that's why I stay with Benetton.
Q. What sort of conversations did you have with Ron Dennis?
MS: There were certainly conversations, there was certainly... interest from Ron Dennis to have me in his team. I mean for me it's very nice to know that there's interest about my person. But as everybody knows, even before I had a contract until 1995, and I wouldn't be able to go out of the team unless Flavio would accept. I can't really see that Flavio would accept just to let me go.
Q. But it was technically possible, if money changed hands, for you to go to McLaren?
MS: We never discussed this point, because never this point came up.
Q. Did anybody else talk to you about next year?
MS: Yes certainly there were other teams as well. There was not just Ron, there were other questions and interest from the other teams. I'm very pleased to have this interest, this brings my market [value] up, and that's something which I enjoy!
Q. How about the new engine next year? Are you confident that it's going to be good, or at least better than the HB?
MS: Yes. I mean what I heard from Cosworth is that it's a completely new engine, and this engine already has more horsepower, and a good percentage more horsepower, than the old one we finished this year in Australia. If I see this I'm looking forward already for next season, even if I think it will not be a season where we have a realistic chance to be world champion, because there's still the Williams/Renault/Senna package, which has the biggest chance to be the world champion. This we have to see, but we have to work for the rest of the time to beat them. Even in '94 we'll try this. If we get this, I don't know, we'll just have to see.
Q. Are you worried about reliability problems, because it'll be a new engine, and there will be lots of new things, new electronics and so on?
MS: Normally you should be [worried], yes.
Q. Because you've been so lucky with reliability and so on...
MS: That's the point. I've been lucky, but I've been lucky because we have been together with Cosworth, and Cosworth is very conservative, and they do things step-by-step.
Q. So this engine will be as reliable?
MS: Yes, I hope so. I mean, I'm not a technical, how you say, person. But at this moment I trust in Cosworth because of what they've shown in the past to me is what I believe in the future.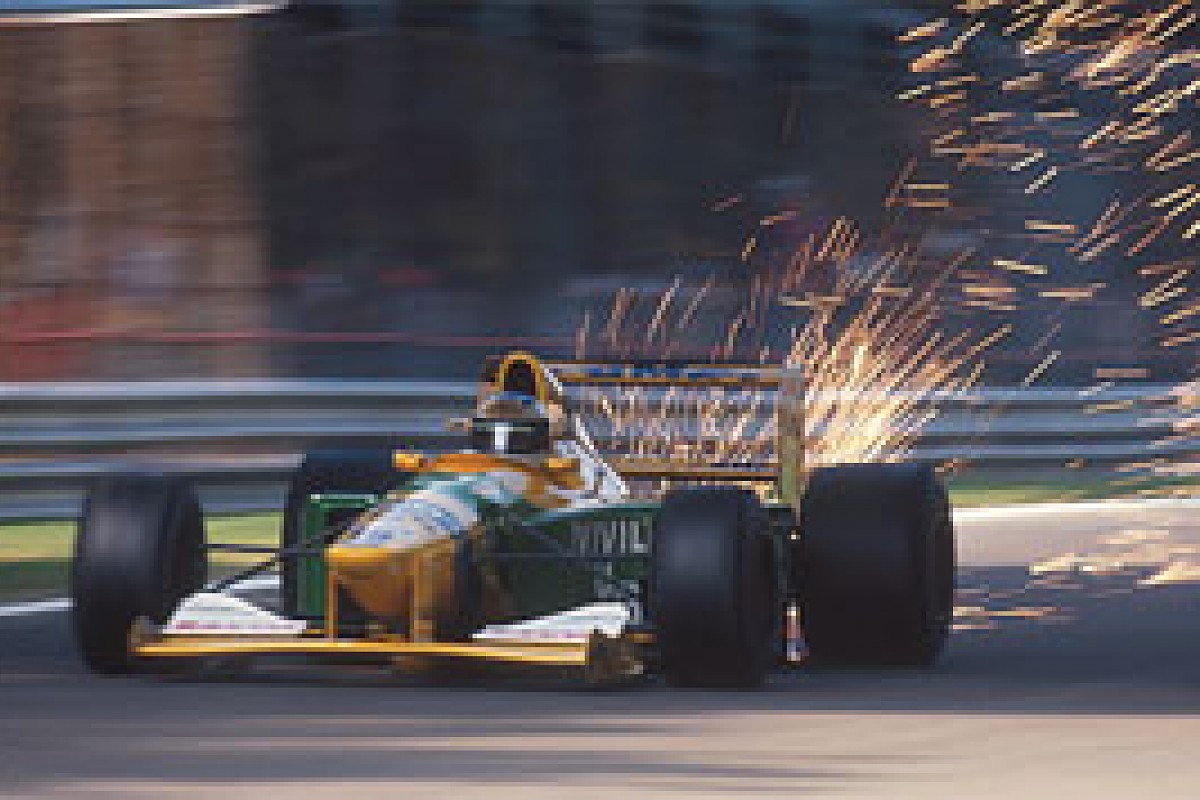 Michael Schumacher failed to finish the 1993 Italian Grand Prix at Monza due to engine failure © LAT
Q. Longer term, there are all the stories about a Renault engine for 1995. Are there things happening in 1995-'96 that you know about that made you sign?
MS: I think we should have an interview together with Flavio, and you should ask him!
Q. But there are things happening that you're looking forward to?
MS: We certainly know that we have a power disadvantage, and that is a major step we have to improve. We're going to improve, and we have to see how far we come.
Q. Next year obviously no one's really sure what's going to happen with technology and active suspension and so on. Are you looking forward to the new type of cars, with less technology, even though we're not sure what the level will be?
MS: We have built a complete car, which is ready for the next test in January. A complete passive car, without all the electronics, and I'm looking forward to it, because I know - or I hope - that everybody else will have this, and I hope the FISA will have a regulation which will not allow anyone to make any ways in between.
Q. Is Williams still going to have an advantage even though all the technology has gone - and where are McLaren going to be with the Peugeot engine? Will there be a change in the hierarchy?
MS: If everyone is the same technically, without active suspension, without traction control and that stuff, I think the major stuff like chassis, engine and driver will become more and more important. And on the engine side we know that Williams are the best, so they should keep the advantage they had last year or over the last couple of years.
Q. Do you think that Senna is basically going to be unbeatable in normal circumstances?
MS: Yes, I think so.
Q. Is that a very depressing thing for you?
MS: Um... No, because I think there are still other teams and drivers we have to fight against, and I think we have to establish ourselves in number two position. Which we tried to do this year already, and we couldn't do, and so we have to do it in the next season. And then looking forward for the year after to make the package that good, so that we have the chance from the first moment on to be in the position to win the races and win the world championship.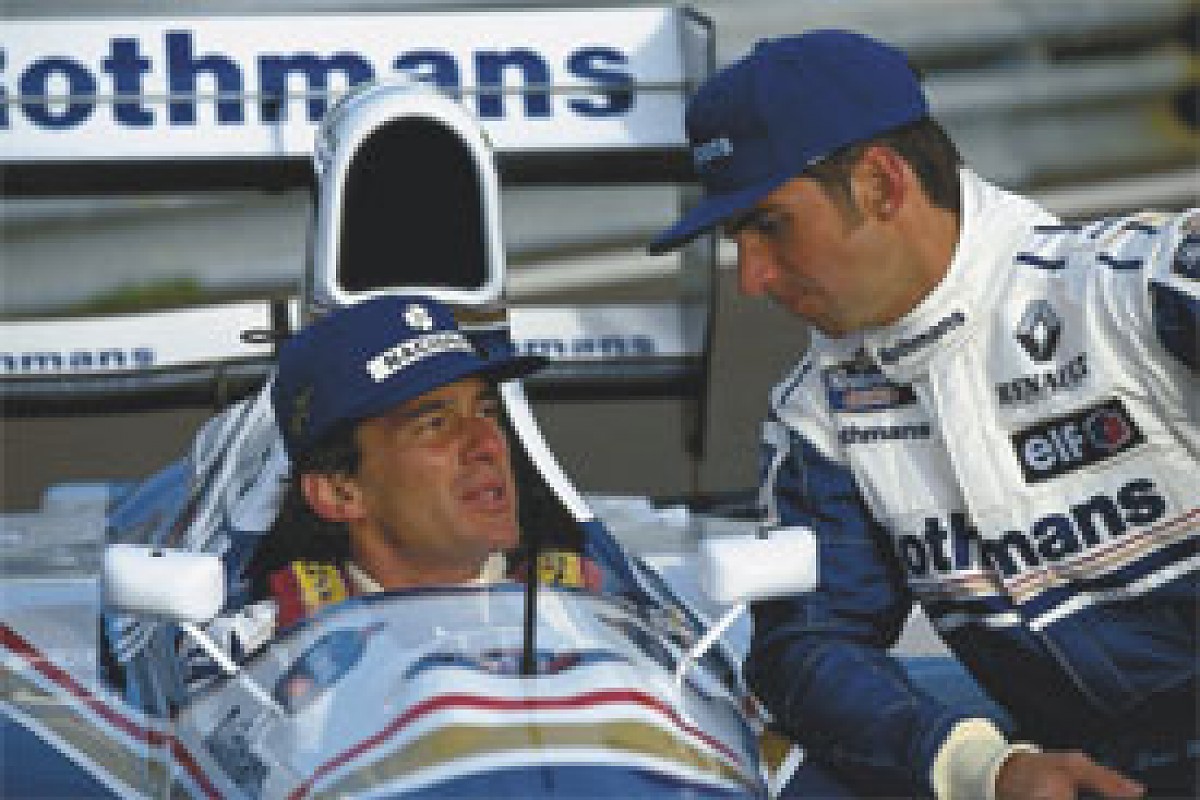 Damon Hill and Ayrton Senna launch the 1994 Williams © LAT
Q. You're confident that, with McLaren now having Peugeot and having lost Senna as well, that you can establish yourself in second?
MS: It's not just McLaren now. Ferrari is there and is quick, Sauber is there and is quick, and maybe Ligier with the Renault engine. So there are a lot of competitors there we have to fight against. I hope we do the job, and as I said we have to establish as number two, and after this we can establish ourselves to number one. At the moment there is an advantage in the package for the Williams, which we have to work on, not to allow this anymore.
Q. Going back to your knee problem, how did that start?
MS: I mean it started really already five years, six years ago. But the big problem started two years ago when I started to do more and more exercises, to be more and more fit. The problem is since I'm born I have the basics to get this problem, and especially if you do hard training, you get it. And that's what happened to me. In the last two years I trained harder, and now I got the bill! And what I have to do is I have to change my training, and we had to make this operation to start from a new base, because it was not possible to go back just by reducing the training, because the damage was there.
Q. So you were actually in pain?
MS: Yes, I had a lot of pain last year. In driving not so much, sometimes when you had hard races like Canada, where you had to brake or stay on the throttle very hard, I got pain in my legs. The biggest pain I got always was when I played football or tennis, or I did my bicycle. I wasn't happy to be at 24 unable to play football or tennis. I'm feeling too young for this, I felt too young to give up my biggest advantage I believe, which is my performance, my fitness. That is something I want to keep, and that's why I've done this operation, to be good for the future.
Q. What was wrong with your training?
MS: It was too hard, too much. Too much, too hard, and as well without some important experience and some person who could maybe advise me to train maybe that hard but around the problem. There were some possibilities, which I have to do now, which I learned just now. It's too late.
Q. It was just one operation?
MS: One operation on both knees, that was it. It's an operation which has happened a lot of times before to football players and skiers. They are people who can have this very quickly, and that happened to me. I just know the German word, which is 'Patellaspitzensyndrome,' but I don't know it in English! It's the end of the knee, which moved in the wrong way, and started to get an inflammation.
Q. You've been told you can't drive until January, or you're not driving just to be safe?
MS: I drove a go-kart race last weekend, but I would be unable to drive an F1 car in Barcelona for 100%, because I still can't make jogging. All these hard stops and things like this, I still hurt myself, and I still have to make therapy. But there's no problem for mid-January to make all the tests, and then continue. Until this point I should be OK with my knees, and then I have take the rest of the time to take up fitness again. I start testing January 17 in Portugal with the new car, with everything new. And that's why we didn't make any hurry. I mean I could have tried in Barcelona, but it's just the old car, there's nothing really important to do there. And they need to try new drivers. So we decided to start testing in middle of January with the new car.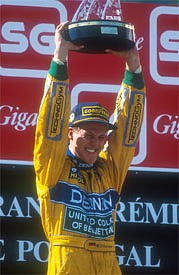 Michael Schumacher celebrates winning at Estoril in 1993 © LAT
Q. How much has life changed for you in the last three years - especially in Germany where there's basically Boris Becker and you and I guess some soccer players who are big stars?
MS: Let's say it hasn't changed very much for me because I'm not very often in Germany. Since I live in Monaco, I get my freedom back, which I had before. I'm quite happy with the way I live. When I'm in Germany, sometimes it's okay, but sometimes it's heavy. The moment it starts getting heavy, I leave. So I would say in the private way, I'm quite happy.
Q. And you are engaged now?
MS: Yes, I'm engaged now with my girlfriend, with Corinna. And I'm quite happy about this. We're two years together now, and I've said a couple of times before, the basics of success are a lot of things, it's the fitness, it's the relaxing time you have at home - you need a private life. That is 100% okay with me and Corinna, so we're looking forward to the future.
Q. Do you know when you are getting married?
MS: No, we have to look at this. We will do this ourselves. We'll see when we do it, I don't know.
Q. Maybe next year?
MS: I have no time set for this, maybe in two, three or four, or maybe next year, I don't know!
Q. Lastly, how do you view the Mercedes junior team four years on?
MS: I'm very satisfied that even Heinz-Harald came now to F1 [Frentzen had recently signed for Sauber]. We all know he's a very quick driver, and it's good to see him, because I think he missed the chance to go into F1 earlier, when he took his wrong decisions. But he came back, and he came back with the team he started with. Sauber is a fantastic team, and he'll be together with [Karl] Wendlinger. It's another German driver now, which takes away pressure. Together with Mercedes, I think it's very good for him, and I'm quite happy for him.
Q. Where do you think you'd be now without Mercedes, if they hadn't taken you at the end of 1989? Do you think you would have still made it to F1, but maybe two years later or something?
MS: I can't say this. I mean I have to thank Mercedes a lot. Where I would have been without them, you just would have known if it wouldn't be. But it was...
As a postscript, at one point in the middle of our discussion we had to make a brief pit stop. Michael was called to meet a group of Japanese journalists, and I tagged along. Inevitably the questions from the local guys were fairly routine, and the need to break for translations made things a little stilted.
But Schumacher warmed up a bit when someone began asking in English, and in retrospect, some of his replies are revealing. When asked if he believed in God, Michael, said he did. The inevitable follow-up was whether that helped him with his driving: "You do the job you have to do, and this way I think I'm pulled out as a race driver to satisfy people, to satisfy myself, to race."
Bizarrely, the guy then asked Michael when he thought he might retire from Formula 1: "I just started, I don't really think about retirement! I started in go-karts because I enjoyed it. I didn't know I would become an F1 driver. Now it happened and I'm very lucky, I still drive because I enjoy it. And if I don't enjoy it any more I have to stop. But this will take a long time!"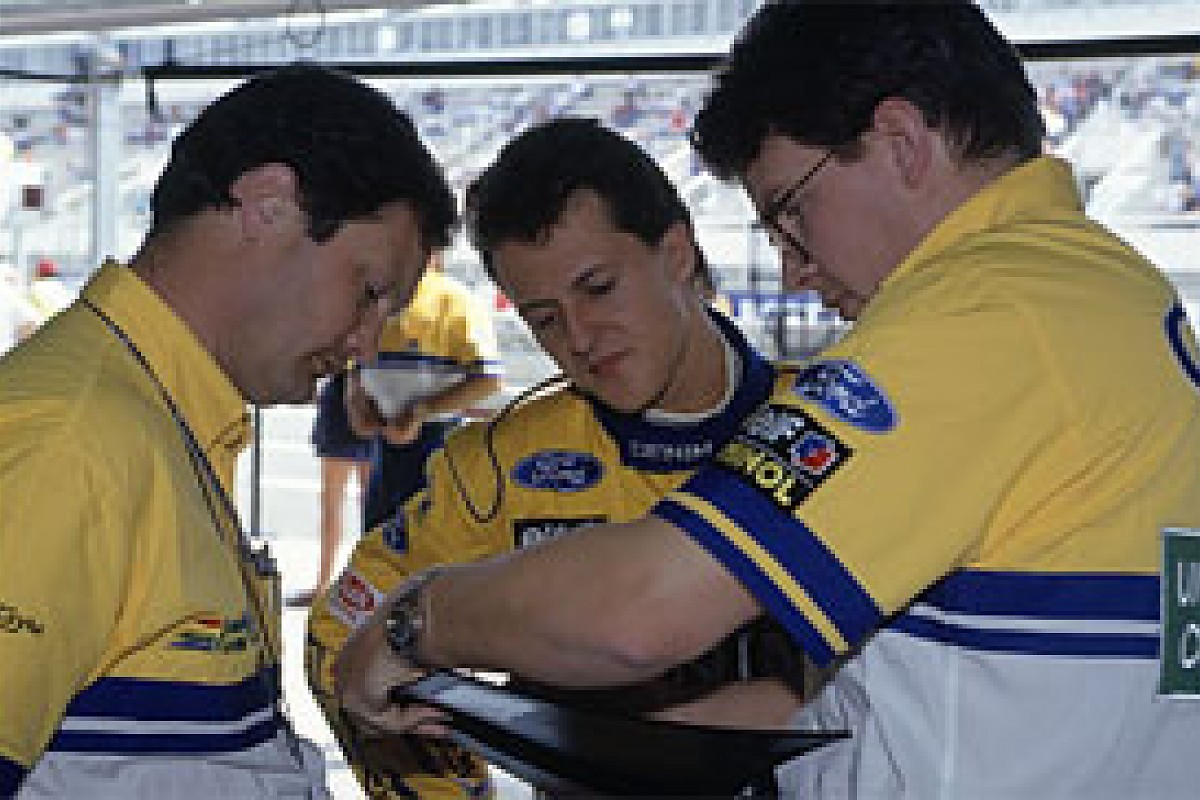 Michael Schumacher with Ross Brawn and Frank Dernie in the Benetton garage © LAT
More interesting was the answer to a question about how Schumacher, as a German, fitted into the multicultural world of F1.
"I was lucky as a child.," he replied. "Since I was 10 I had people around me who gave me the ability to race, because my father was unable to pay. We had no money for this. Since then I had to get used to other people, to live with them, to work with them, and that is something which formed myself, and that is something why I have no problem to work with anybody in F1.
"That's why I believe in relationships, and that's why I work so well together with the team. It's just because I'm a normal person. I don't know how you call this in English, but I don't believe I'm a star. I'm a normal person, and I talk to all persons in a normal way. And I think that is the way to achieve success."
Schumacher then made some interesting observations on the pressures he faced. "In F1 you always come into contact with stress, it will never change," he said. "You always have it around you. I've got used to it, and as more it gets, the more I get used to it. It's difficult, and it's always a learning process for me, but you have to manage it. Now I did it, and I hope I can do the same in the future.
"I have a very good private life, I have a very good family. I just got engaged with a very nice girlfriend, and I have a very nice home in Monaco. That is something which gives me the possibility to relax after all the races, all the functions like this.
"It's not easy just to go for three days to Japan, and go back. I've had my knee operation just now, and there's a lot of things going on in the world. I have to say the winter time now is more busy than the race time during the year. But you have to handle it and get used to it."
He was asked whether he spent much time thinking about races after they'd happened: "If you have races like Donington this year, Brazil, races let's say where I have done mistakes, I think about these mistakes. I have to realise these mistakes, and I have to go through the race to know 100% was what as the mistake, and try not to do the same mistake again.
"That's something which keeps me busy after a race. That's the way I always work. I go always through the job I have done, to see if there was any mistake, or to see if I have done good things, which I can even do better maybe next time. That's the way I keep busy myself with races.
"You always just feel satisfied if you have the feeling that you did a 100% job, you drove the best lap that was possible with the material, with the stuff you have around you. If you have the feeling that you have done the best that is possible then you feel happy."
Then came a slightly off the wall question. Did Michael believe that F1 drivers, of all sportsmen, were the closest to death?
"No! Totally not," he responded. "Because the last death was about eight years ago, and on this point I think F1 is one of the safest sports we have. I think even bicycle racing is more dangerous, motorcycles are more dangerous. There are a lot of more dangerous things. F1 is dangerous if you are not there with your mind, with 100% concentration. Then F1 can be dangerous.
"But we have just professional drivers in F1, and at this moment everybody knows what to do, and that has to do with professionalism. Professionalism has to stay in F1, so that there's no risk at all for other drivers."
By a twist of fate, just four and a half months later came the black weekend of Imola. Grand Prix racing changed forever, and with Ayrton Senna gone, Schumacher suddenly became the sport's star attraction.
Sixteen years on, he still is.
You can read AUTOSPORT's look back on the 1993 season - the last time Formula 1 raced without refuelling - in the current edition of the digital magazine available now