They say that absence makes the heart grow fonder, but there was more than just a three-month break from the sound of screaming V8 engines that made this week's Formula 1 test at Valencia in Spain such a special event.
It had been a long time since the F1 paddock had been together like this - having left the 2009 season behind in Abu Dhabi that Sunday night in November unaware of what an amazing winter we were going to have.
Vitaly Petrov, Renault R30 © Sutton
The host of driver and team changes - including the creation of Mercedes GP and the signing of a certain Michael Schumacher - were always going to ensure that the first test of the 2010 was going to be a special one. Yet, as a remarkable three days of testing unfolded in front of our eyes, there was almost a sense of disbelief about just what a great thing we would witness at the Circuito Ricardo Torme.
In fact, bumping into a veteran photographer at Gatwick Airport late on Wednesday night, having made the quick dash out of Spain once proceedings had wrapped-up, he was in no doubt about how good the week had been.
"Car launches, all the new cars together, Schumacher, new drivers in new teams, a massive crowd," he said. "It was better than mega. That was the best test ever!"
He may well have been right - and if it provided just a taster as to what we are going to experience in 2010 then we are all going to be in for an absolute treat.
So now that the dust has settled on the week, here are the three main things we learned from testing so far.
1. Schumacher's comeback is bigger news than anyone could have imagined
With only seven teams present, and all of them only running one car, there was always going to be plenty of room for the trucks and motor homes to spread themselves out down the full length of the Valencia paddock.
That space should have meant that those who could get into the Valencia paddock would be well spread out too in terms of where the place to 'hang out' was. Well, that is what it almost certainly would have been like if a certain Michael Schumacher had not been in town.
For whenever you took a wander down the long stretch of asphalt behind the pits, there was always one spot where a huge crowd was guaranteed - just outside the Mercedes GP trucks.
And whenever Schumi did venture out from his motor home (which he had rented off his brother Ralf), the scrum around him was intense - and bigger than any you would expect to see at a grand prix.
When Schumacher announced his return to F1, it made the headlines and we knew it was going to make this F1 season a big story. Yet seeing it now close up in the flesh, it is probably going to be bigger than even we imagined at the time.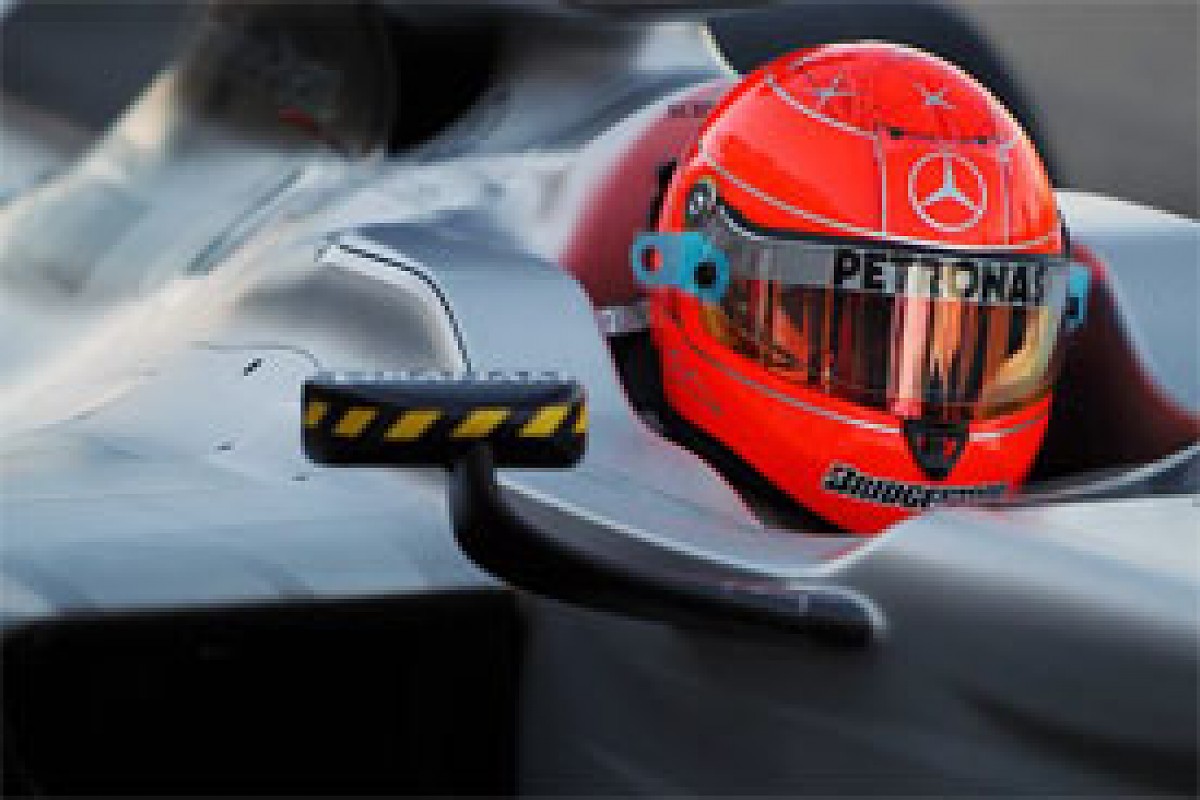 Michael Schumacher © Sutton
I spoke briefly with Schumacher's brilliant media manager/PA Sabine Kehm during the test, and she reckons the requests for interviews and interest in what the seven times champion is up to is larger now than when he was last battling for the world championship. Amazing!
And perhaps the clearest indication about just how much the press is soaking up all that has happened, was the fact the media centre at Valencia was rammed with 300 photographers and journalists over the week. Track officials said that was the biggest attendance that they had ever had - including MotoGP races! That is more than were at some grands prix towards the end of last year too.
Some are already renaming the sport 'Formula Schumi'...
2. Ferrari is currently top, but after that we don't know
The ban on refuelling this year is not just going to change the way that F1 races pan out - because it's also going to make life much more difficult for anyone trying to judge how testing is unfolding.
In the past, the difference in fuel loads in testing was at best around 60kg - so judging by the length of runs it was fairly easy to come to some kind of verdict on how much fuel someone was running. This year, there can be upwards of 150kg of fuel difference between cars on track - which could account for a whopping 4-5 seconds of pace for identical performing machinery.
That variable makes it much harder to judge the merits of the cars out on track - even though it is likely that all of them at some point will do lower fuel runs.
For that reason, Valencia provided just a snapshot of where the teams were at right now - although at this stage anyone who reckons they know for definite where everyone stands is either a) exceptionally intelligent with access to fuel loads, timing data and car set-up sheets for everyone or b) lying.
The word on the street at Valencia though was that Ferrari is the team to beat for now - but only just.
The F10 appeared well suited and vice-free for both Fernando Alonso and Felipe Massa - with their lower-fuel runs in the mornings of each day during the 'golden spell' of low air temperature and high track temperature accounting for their best times.
The BMW Sauber has also looked consistent and quick and, although team sources are adamant it is not show-boating with low fuel to set headline-grabbing times to attract sponsors, it probably was running slightly less fuel than some of the opposition.
Mercedes GP has openly admitted it was not on the pace of Ferrari in the test - but the car was far from in the state that it will be in Bahrain. There were some suggestions that team had miscalculated the weight distribution needed for the new narrower front tyres, and that was causing some warm-up issues. This is something that will be cured for the next test - when its definitive 2010 front wing and double diffuser concept could run for the first time.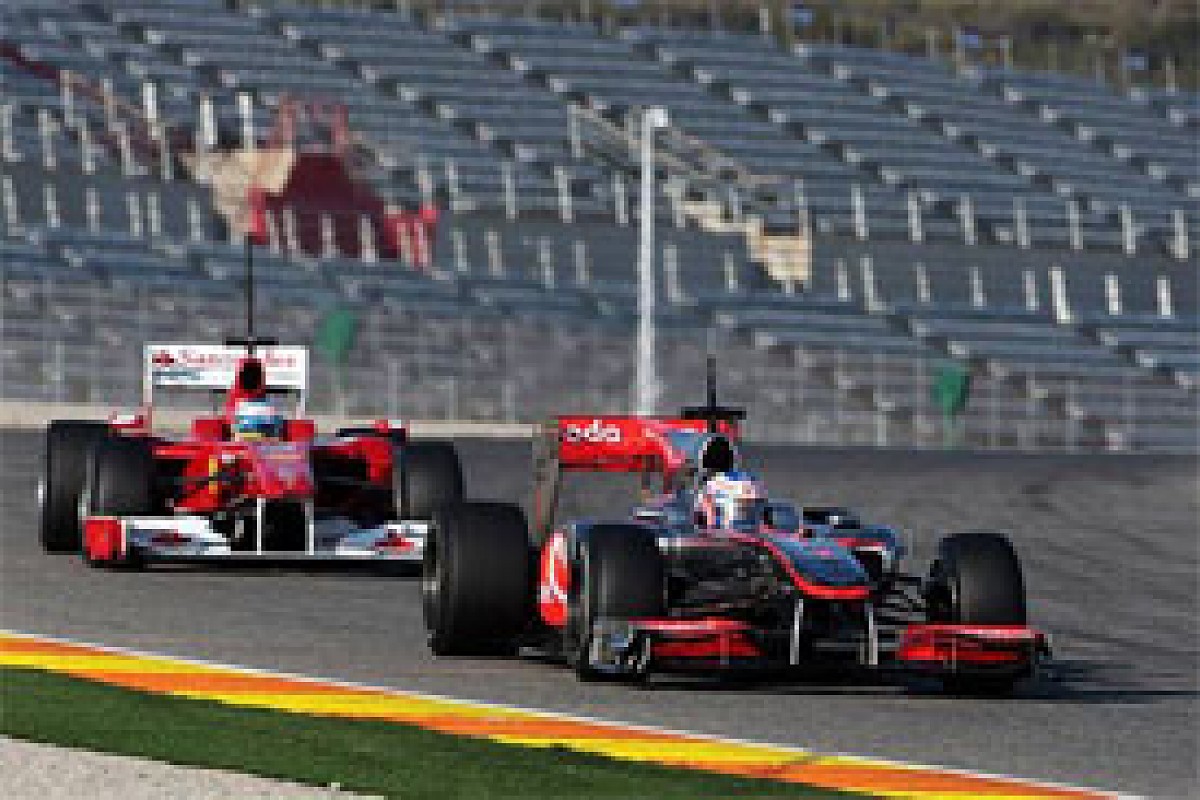 Jenson Button in the McLaren MP4-25, and Fernando Alonso in the Ferrari F10 © Sutton
The new McLaren did not look fantastic, but the smiles from the drivers suggested that fuel loads may well have been much heavier than the opposition - especially when you see how it compared to the Toro Rosso which, as an estimate, should be lapping roughly where last year's Red Bull RB5 was.
Fuel load impact may well explain Renault's form too. Although its car appeared to be struggling, Robert Kubica hinted that he had never run with so much fuel on board. Team insiders reckon the ultimate pace of the car now - prior to its big Barcelona test aero update - was just 4/10ths off Ferrari.
The big unknown is Williams - which was running a conservatively-tuned Cosworth engine for the first time on track. The team has high hopes with its car, but until the Cosworth is run in full 'anger' mode for the first time, we will not know what its potential is.
So all eyes on Jerez next week...
3. F1 reporting has changed forever
One of the biggest surprises from Valencia was the way that the test was reported - and not just because of the numbers of press who were in attendance.
Those of us who report from grands prix have got used over time to the immediacy with which news is now disseminated to the masses.
There was a time up to a decade ago when news would happen at a race and it would probably not get reported for a week until the specialist magazines came out. In more recent times, the growth of the Internet has meant news can be live outside of the paddock in a matter of seconds - and perhaps less.
However, what the Valencia test showed up was how the new 'Twitter' generation of reporting has made even regular internet reporting seems slow at times - and anything less than live is now almost not immediate enough!
With several journalists and team personnel regularly 'tweeting' over the course of the three days of action, it was the most live coverage of a test I have even known. And for fans, that can only be great news.
Pictures of new cars (albeit from blurry camera phones at first) were available literally as they were being unveiled to the world, while updates from the track were being delivered live from either the press centre or actually down in the garages.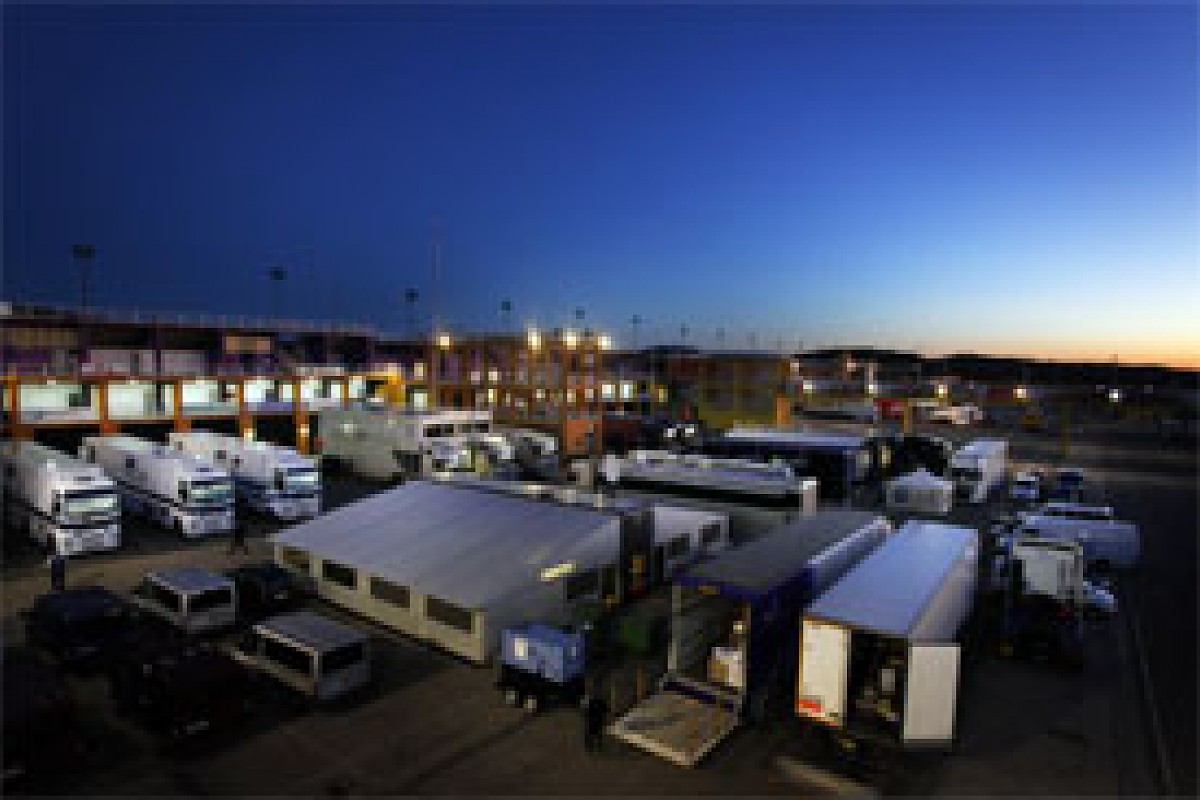 The Valencia paddock © Sutton
And how refreshing it was to see the teams embrace this in a way that pulls it away from the corporate world. Claire Williams (@clairevwilliams) kept up her addiction to tweeting by delivering shots of rival cars and other teams' personnel in the paddock - showing that teams can go beyond simply promoting their own squads to deliver good.
The appetite from fans was certainly great because, thanks to the normal FOM restrictions, there was no TV footage of the test available - or any official live timing. Their only route into the paddock was through the web - or Twitter.
It was little wonder then that AUTOSPORT.com broke all records with its coverage this week - topping 1.74 million page views on the first day of the test before we reckoned there was enough of an appetite to activate our full-on 'LIVE' text reporting.
The coverage of the forthcoming tests could well be a pointer to the kind of season we will be heading to - where fans will get closer to what is going on in the media centre and on track than ever before.
We've already had discussions in the office about the lessons we have learned from the Valencia test - and why everyone's coverage is going to have to shift up a gear at events this year.
This all goes to show how much interest there is ahead of the season. Throw in Schumacher's presence, the battle between four world champions on track, and the way things now get reported, and there is every reason to feel hugely excited about the 2010 season.
I'm really buzzing about it... and you should be too.