The most surprising thing about the 2010 Formula 1 entry list, released by the FIA on Monday, is that there are only a couple of eye-openers and thought-stoppers, no real surprises.
Running through the first 10 entries on the list throws up nothing startling. McLaren is known to be Mercedes-powered even if the pistons have recently dropped out of the British team's corporate relationship with the German car company, and the team had previously announced its all-British, 2008-9 world championship-winning line-up of Lewis Hamilton and Jenson Button.
Lewis Hamilton (McLaren) and Jenson Button (Brawn) at the Nurburgring © XPB
No surprises at Brawn-Mercedes either, notwithstanding the team still going under its 2009 name despite having sold a majority share (75 per cent plus) to its engine supplier and Aabar Investments PJSC, a Mercedes shareholder. FOTA sources indicate a name-change is a mere formality - basically all teams need to agree, plus the FIA needs to approve the request - so expect the team to line up as Mercedes Grand Prix come the 2010 season kick-off in Bahrain on March 14.
Equally, there is nothing startling in the fact that just one driver has been named, for in Nico Rosberg they have a driver who ticks all Mercedes' boxes - German-speaking (even if half-Finnish), a regular podium-challenger awaiting a win, grand prix pedigree (via his own efforts and those of his 1982 championship-winning father Keke), and young, personable and good-looking (known for that reason as 'Britney' within the paddock).
Thus Brawn/Mercedes can afford to delay any decision as to Rosberg's cockpit colleague, and one gets the distinct impression the Michael Schumacher hype is being fanned by Stuttgart for manifold reasons: having the German linked to the company which gave him his sportscar break (and engineered his F1 debut with Jordan back in 1991) is hardly a negative, while headlines created by the speculation have overshadowed arch-rival BMW's launch of its new 5-Series in Germany - both companies' most important European market.
Given the number of drivers still available, Mercedes is milking the situation superbly, and who knows, Michael S and the Mercedes Star may well be a force to reckon with in 2010.
That Red Bull is listed with Renault power comes as no shock, for the French company has supplied RBR since 2007, when the team handed its Ferrari contract to step-sister Toro Rosso. There had been talk that Mercedes was keen on supplying engines to Red Bull (primarily as a means of getting behind Sebastian Vettel), but according to sources within both organisations, McLaren had triggered its veto, effectively landing a knockout.
Now that the McLaren/Mercedes relationship is unravelling, the veto is likely to end, but conventional wisdom indicates that M-Benz is unlikely to fall over itself to get into bed with the very team which ran its Brawn so close in 2009. In any event, sources indicate Vettel's contract is such that he may be available at the end of 2010 despite having recently committed himself to the end of 2011.
That said, as team boss Christian Horner made clear the situation is fluid, with a switch to Cosworth remaining a possibility. Speaking exclusively to this column shortly before the Abu Dhabi Grand Prix, Horner made it clear that Red Bull Racing, as a truly independent team, was not tied to any single engine supplier, and could afford to "look around for the best solution".
At Ferrari, the only question marks surround the working relationship between bubbly team stalwart Felipe Massa (whose entire F1 career has been powered by Ferrari) and the prickly and at times moody Fernando Alonso. Plus, of course, how Massa will fare after his enforced eight-month lay-off. But these matters have not been brought to the fore by the entry list.
Robert Kubica visits the Renault garage during testing at Jerez © XPB
Thus the first (slight) eyebrow-raising entry appears at Renault and Robert Kubica. That the Pole had been signed by the French company was announced back in October, but many observers insist 'Renault' and 'exit' are synonymous terms, and believe the team will withdraw before the year is out. Renault's inclusion on the list would seem to overturn such fears, particularly as the team recently restructured its technical department, with Bob Bell remaining team principal (for now).
However, others suggest Renault remains committed to F1 only on account of its 'crashgate' plea bargain, and is anxiously awaiting the outcome of Flavio Briatore's legal challenge against his lifetime ban from FIA motorsport categories. Should the Paris high court find the ban to be irregular, the entire plea bargain may be ruled null and void. Any wonder then, that no team-mate for Kubica is listed?
Former Toyota star Kamui Kobayashi is linked to the team, possibly with Panasonic support, but given that the Nissan Leaf electric car, soon to be commercially launched by Renault's Japanese sister, is powered by NEC-developed batteries (Panasonic developed the energy storage devices used by Toyota's Prius and the company's other hybrid models), that seems a strange link. But, Panasonic may be after Nissan's business.
If there is a surprising aspect to Force India, it is that the long-suffering team is listed with numbers 14 and 15, but then the Vijay Mallya-controlled outfit put in some sterling performances in 2009 and thoroughly deserves its promotion up the order. In Abu Dhabi there was talk that Giancarlo Fisichella may return to the team after some lacklustre performances as stand-in for Massa at Ferrari, but Adrian Sutil remains (as expected by all those close to the lanky driver), with Tonio Liuzzi, who subbed for Fisi, in as full-time running mate.
Toro Rosso faces (allegedly) its last season with Ferrari power, and no surprise that only Sebastien Buemi is listed on the entry list, for the collective occupancy of the team's second car has hardly set the world alight of late. However, given that team owner Red Bull sponsors the largest pool of young drivers in international motorsport, there can be no shortage of candidates. The trick, though, is for the team to select the right driver after three straight disappointments - Vettel's superb performances with the team notwithstanding.
And so on to the newcomers, headed on the entry list by Malaysian-owned Lotus F1 Racing. Despite talk that 1997 champion Jacques Villeneuve was close to a deal, the team under the technical direction of the extremely capable Mike Gascoyne has two TBAs listed in the driver column. Given that Gascoyne highly rates Jarno Trulli, having worked with him at Jordan, Renault and Toyota - and having been instrumental in attracting the Italian to the Japanese team - the smart money is on the 35-year-old moving to the Norfolk team for at least one year, Jarno's NASCAR aspirations permitting.
Despite the team having indicated its driver strength would be announced in November, no news yet on the other cockpit either, although GP2, A1GP and World Series by Renault exponent Fairuz Fauzy is likely to be nominated as reserve driver. A line-up consisting of Villeneuve, Trulli and the Malaysian could provide the team with the necessary blend of experience, speed and home-grown potential.
Spain's Campos Meta 1, using chassis commissioned from Dallara, last month announced the signing of Bruno da Silva Lalli - better known for his Senna family connections, thus racing with a licence issued under that name - and no surprises there either, for the Brazilian had long been on the nascent team's radar. Veteran McLaren tester Pedro de la Rosa recently indicated the team required a driver with substantial support, preferably Spanish, which presents a major challenge given the state of the country's economy.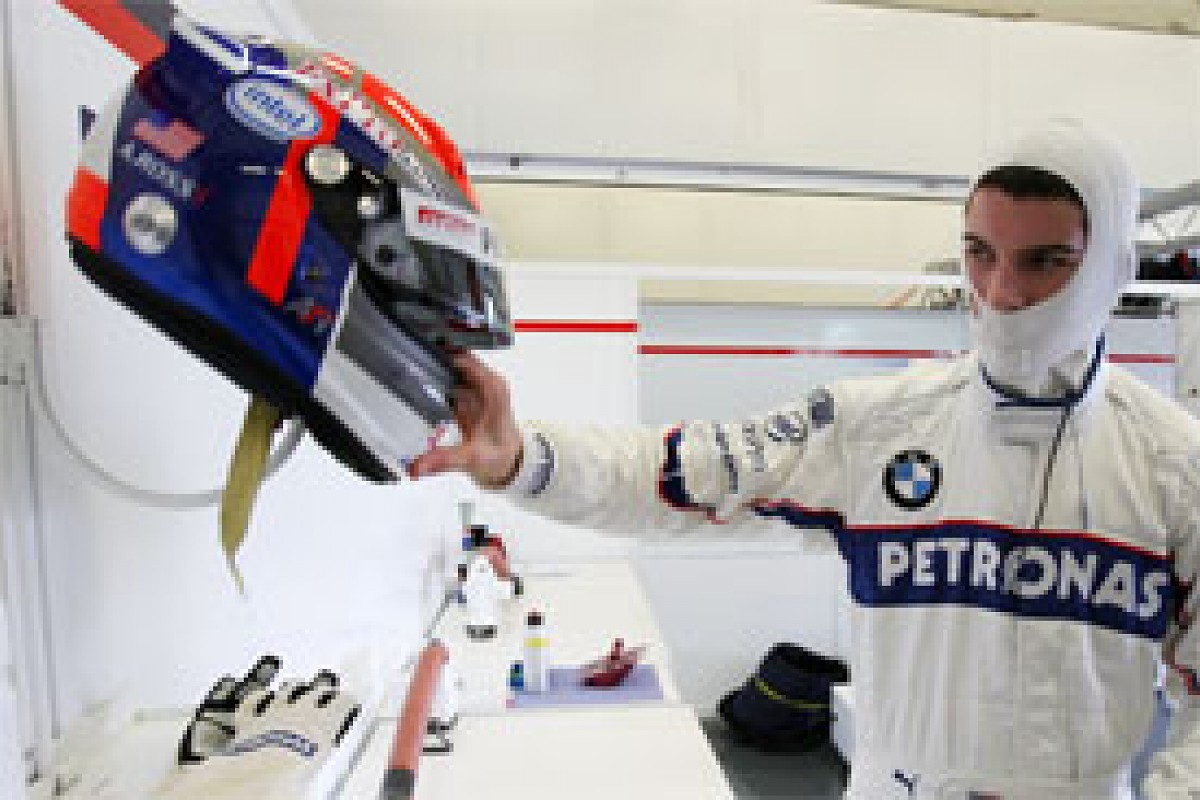 Alexander Rossi prepares to test the BMW Sauber © XPB
Although doomsayers have picked US F1 as their 2010 target, the team fully intends being on the 2010 grid - with or without US talent on its strength. Various drivers (Alex Rossi and Jonathan Summerton are just two possibles) have been linked with the team, but given the performances of some youngsters during F1's kindergarten test session at Jerez this week, there seems to be no shortage of capable, available drivers in the pipeline. Again, the trick is grabbing them.
Virgin Racing (nee Manor GP), about which much has been made in the media of late despite folk known to be working for and with the team having had virgin.com email addresses for some time now - and the tie-up with the team having been rumoured as early as August when Alex Tai, the Virgin Group's go-to man and Virgin Galactic executive, started making more regular paddock appearances.
That the team announced Timo Glock as driver for car 24 is significant, for many had expected at least one Briton to be in the line-up, and, while the other cockpit remains free such an appointment is a possibility, although the chances of it being a compatriot to Button and Hamilton have been reduced by 50 per cent.
Finally, given this column's predictions since Toyota announced its exit from F1, there is absolutely zero surprise in Toyota not being listed and Sauber not being granted an entry slot. Until Toyota formally advises the FIA of its irrevocable intention of not fielding a team in some shape or form, or triggers an event which can be deemed to be a breach of Concorde Agreement conditions (which could be as late as 1700 on the Thursday immediately ahead of the Bahrain Grand Prix, by when all cars need to have been scrutineered), sources advise the team should legally be deemed to be an entrant. In fact, the most surprising aspect of the entry list is that Toyota is not listed in some shape or form.
After all, on January 4 of this year, a month after Honda's announced withdrawal and with future F1 intentions still unknown, the team appeared on the FIA's entry list as:
18 TBA TBA HONDA RACING F1 TEAM HONDA*
19 TBA TBA HONDA RACING F1 TEAM HONDA*
...with a footnote stating "The Honda Motor Company announced their withdrawal from Formula 1 on December 5th, 2008. The Honda Racing team has not withdrawn its entry from the 2009 Formula 1 World Championship. The FIA understands the team is now for sale."
One wonders what Toyota Motorsport GmbH has, or has not, done...