There seems to be no end to the ironies in the various situations Formula 1 currently finds itself in. Take the calendar: although the 19-race fixtures list unveiled by the FIA on 22 September ranks as one of the lengthiest on record (only 2005 had as many events), three events have yet to be confirmed - potentially making the 2010 championship schedule one of the least populated in recent history despite a time span stretching from mid-March to mid-November.
The three shaky legs are, of course, the British Grand Prix, Korea's debut event and the return of F1 to Canada. Even here there are ironies: while former World War II airfield Silverstone seems a shoo-in for the British race subject to a sustainable deal being struck between the circuit and Bernie Ecclestone, he is still said to be considering Donington Park as a potential venue despite the promoting entity last week being liquidated and the place looking like a war zone.
Just this week Donington's Simon Gillett told AUTOSPORT: "Next year is possible, but it wouldn't be all of the construction. You'd end up doing pit garages, race control and the track, the bare essentials to get the track up and running for 2010 and there's still plenty of time for that to happen."
Ironically, when he took the race away from Silverstone, all Ecclestone could really fault in recent times was an ostentatious clubhouse built by circuit owner the British Racing Drivers' Club.
Korea's motor industry has come along in leaps and bounds despite F1 never seriously figuring in the plans of Hyundai, Daewoo (General Motors) and the country's tyre manufacturers, yet the Asian country has a date for a race at a still-to-be-completed circuit situated hours away from civilisation, while the largest car market on earth (the USA) is reduced to a grand prix in a neighbouring country - if a tax deal can be agreed between Canada and the sport's commercial rights holder...
Such irony extends to the 2010 entry list, for on the one side sits the former BMW Sauber team, beavering away at its new car despite being for sale as a going entity, while 600 kilometres or so north of Zurich Toyota has ceased all work on its design. The latter has a full entry for next season and is a signatory to the Concorde Agreement and associated documents such as the Resource Restriction Agreement, but is going nowhere, while the former has every intention of competing in 2010, but has no guaranteed entry slot.
Their individual situations could not be more different, either. On the one hand the ex-Sauber operation is doing everything in its power to retain staff as it fights to remain in F1, while on the other around 500 staff members in Toyota-Allee on the outskirts of Cologne are dreading the arrival of their notice letters.
The word on the streets of the historic German city is that 150-odd staff will be retained as Toyota Motorsport GmbH downsizes from a full F1 operation to a consultancy offering engineering services to industry - motorsport, automotive and other. Thus, where the Resource Restriction Agreement and general cost-cutting once made the largest of all teams a prime target for such consultancies, TMG, with state-of-art dynamometers, full CFD facilities, simulators and two massive windtunnels, aims to transform itself into the best of such service providers!
There is also talk that Toyota's TF110 design is up for sale - complete with engine and gearbox - and that some dark-suited gentlemen believed to be of Serbian descent (Stefan GP anyone?) have been spotted strolling around TMG at rather strange hours. Apparently the deal is that TMG provides a turn-key operation - complete with mechanics, race engineers and management, drivers (if required - including Kamui Kobayashi), and, crucially, 2010 entry and full Concorde benefits - to the highest bidder, who would then run the car from a base of his choosing.
The full intellectual property of the car is up for grabs to ensure compliance with the terms and conditions of the Concorde Agreement, with development of the car to be undertaken by TMG (if required) on a sub-contract basis. Lest there be any doubts as to the legality of the deal, consider the relationship between TMG and customer as being identical to that between Dallara and Campos, where the latter has outsourced its full car build and development programmes to the former.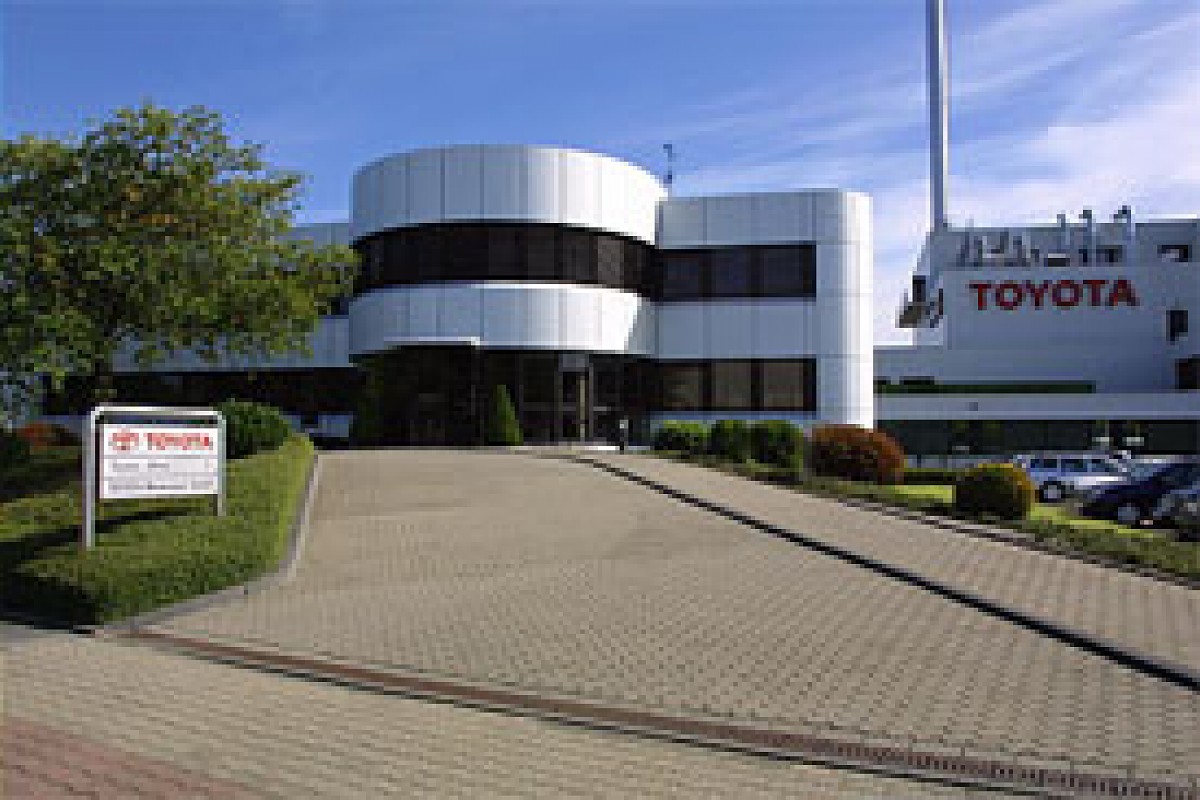 The Toyota F1 factory in Cologne, Germany © LAT
Also apparently lurking about the Allee at strange hours are various IN-registered (as in Ingolstad) cars bearing four intertwined rings on their grilles. Apparently these visits have no motorsport connotations, and are part of an information-gathering exercise by Audi engineers in search of windtunnel time to replace that lost after BMW decreed its Hinwil facility out of bounds for road car competitors.
Whatever the outcome of Audi's investigations, TMG plans to offer consultancy services for the foreseeable future, with members of the Toyota family wishing to compete internationally with group products receiving priority. A precedent exists: in 1996/7, after the company was banned from rallying for cheating with an illegal boost bypass, TMG survived by offering just such engineering services. With the much-mooted Le Mans (hybrid) programme not yet even presented to the board, it is unlikely that Toyota will head for the Circuit de La Sarthe much before 2013.
When all is said and done BMW's ultimate fate lies in the hands of another motor manufacturer, for notwithstanding the antics of would-be buyer Russell King and the mysterious Qadbak consortium, the team is unable to fly unless granted an entry by the FIA, whose hands are in turn tied by a clause in the Concorde Agreement which restricts entries to a maximum of 13 teams on safety grounds. And, unless Toyota officially departs the scene, there are 14 teams, including Sauber.
It will be of little comfort to the Sauber folk in Hinwil that, as things stand at present, Toyota can delay its official withdrawal from F1 until 1700 (Bahraini time) on 11 March, at which point all cars competing in the 2010 FIA Formula 1 World Championship need to have been passed in scrutineering.
All the while the sport is contemplating the pending departure of Bridgestone, a staunch partner and supplier to F1 for the past 14 years. Even the circumstances surrounding its announcement are filled with irony, for when Bridgestone first entered the sport in 1997, it did so very much as David taking on Goodyear.
Bridgestone soon mastered the sport, taking a string of championships. Then, as budgets exploded, Michelin joined the fray and proved another worthy opponent, ultimately taking four world titles via Renault and Fernando Alonso.
Now, though, Bridgestone's (official) sole supplier status means it beats no one bar itself. Ominously, no news yet on who will replace Bridgestone, and already there are rumours tyre supply will be commercialised, with the commercial rights' holder purchasing the operation and making tyres available for a fee. Don't laugh: ironically, Ecclestone and Max Mosley did just that via Avon in the eighties while in dispute with the governing body...
Given the state of play between BMW and Toyota, any wonder that neither team was represented at FOTA's meeting in Geneva on Tuesday - ironically at the time the legal challenge against a lifetime ban in motorsport was brought in Paris's Fifth Chamber by Renault's ex-F1 team boss (and former head of FOTA's commercial working group) Flavio Briatore and also on the day Renault president Carlos Ghosn questioned the overall value of F1 to the motor industry.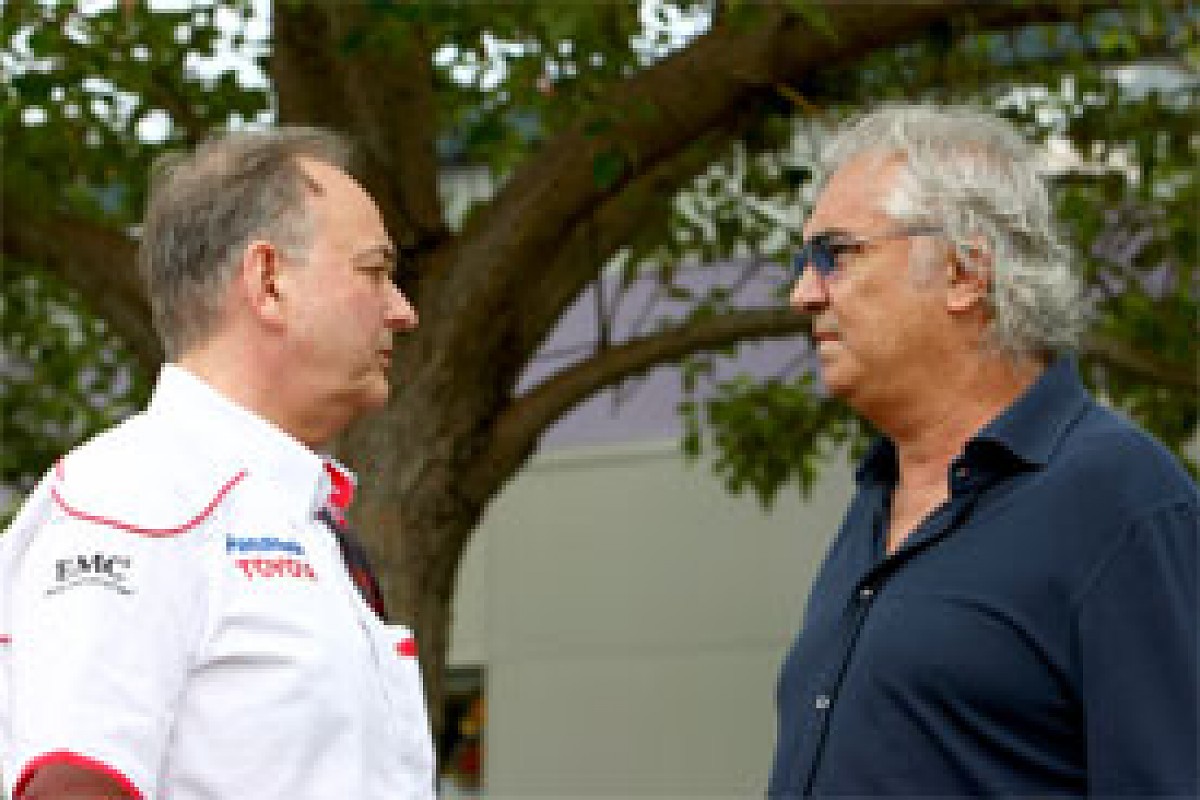 John Howett and Flavio Briatore © LAT
As always with matters FOTA, details are sketchy, but all teams bar the two mentioned above are believed to have been present in the Swiss capital for the four-and-half-hour meeting which kicked off at 1500 local time.
Manor GP and 1 Malaysia Racing Team (aka Lotus) were in attendance for the first time, having earlier in the week applied for (and been granted at the meeting) full membership of the team alliance. Thus all teams are now members, with US F1 and Campos having been accepted as full members at the previous meeting in September.
Interestingly, Ross Brawn (FOTA technical working group head) was not present for Brawn GP/Mercedes, although CEO Nick Fry made the journey, with Robert (Bob) Fernley, Force India's deputy team principal and a board member, substituting for Vijay Mallya. Sir Frank Williams, too, was absent, with his place at the table taken by Adam Parr.
Recent media reports suggested FOTA would be electing a new executive (the constitution demands that office bearers be changed every 12 months), with Ferrari president Luca di Montezemolo standing down as founder chairman of the association. However, according to sources, no elections were held, meaning the Italian continues in the role until the next meeting, scheduled for early 2010.
Briatore and Toyota's John Howett (vice-chairman), too, need to be replaced, and while indications are that Red Bull Racing's Christian Horner will assume the former's role, no news on who will replace the Toyota man. Another position up for election are head of the sporting working group (McLaren's Martin Whitmarsh is the present incumbent).
Under 'other business' the teams discussed the 2010 engine homologation (for which read equalisation) process, plus revised sporting formats for next season and beyond, with additional promotional activities aimed at increasing the spectacle for live and television audiences and, once again, the make-up of this and future calendars.
A further meeting aimed at clarifying various issues (including the rationale behind the Korean Grand Prix) and measures to prevent more teams departing the sport - with Ghosn's comments having done little to appease the situation - has been scheduled for today (Wednesday) with commercial rights holder CVC.