There's little doubt that Felipe Massa's accident at the Hungaroring in July was the low point of the 2009 season. It was a stark reminder that for all the safety improvements that the FIA and the teams had brought in since the nightmare 1994 season, any racing driver is still exposed to danger.
It was truly a chance in a million accident, and while fate decreed that Felipe was in the wrong place at the wrong time, it also gave him a lucky break. He was on an in-lap at the time, and he had his head tilted slightly to the right, looking in his mirrors. Thus the left side of his helmet was struck. In other words, the impact could have been a lot worse.
Although the initial reports were positive, later that Saturday evening there was some uncertainty as to the true nature of Felipe's condition. Thankfully the pessimistic reports proved to be wrong, and we soon knew that he was okay. Even better, as the days passed it became clear that not only was he in good shape, but he was angling for an early return to the cockpit. Just 11 weeks after the crash he was back the wheel of an old F2007 at Fiorano, an occasion that must have been highly charged for everybody.
The test was an important milestone, and it removed any doubts that either Massa or those around him might have about his recovery. Thankfully all involved recognised that there was no point in Felipe rushing back to a race situation. Apart from the obvious concerns about getting second knock so soon after the first, there was little to be gained from driving a car that had dropped off the pace.
However, he came to Brazil and Abu Dhabi in the unaccustomed role of spectator and general hanger-on, something that no driver ever likes to do. The timing could not have been better - a return to the paddock in Interlagos, surrounded by family and friends and with Rubens Barrichello's tilt at the title to add a little interest, was just perfect.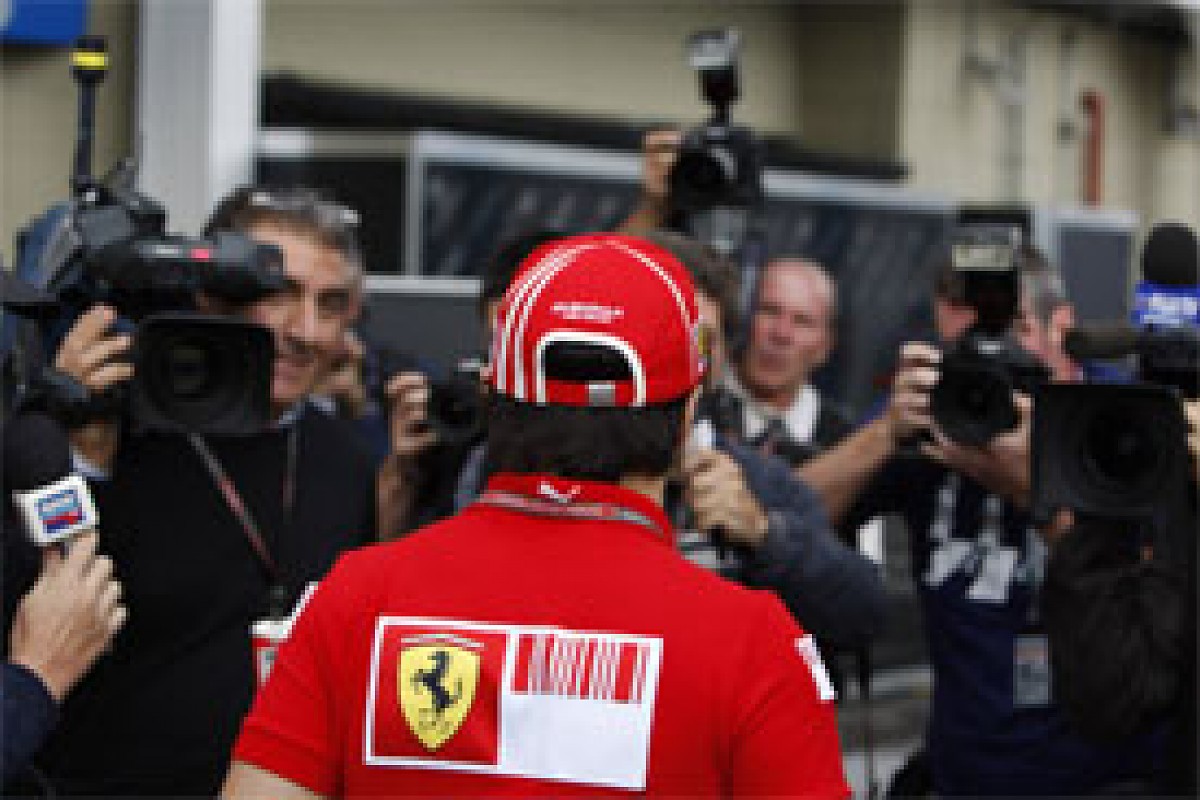 Felipe Massa returns to the paddock at Interlagos © LAT
He looked fit and in good shape as he bounced around the paddock, and it was clear that he was, as he claimed, back to normal.
"When I came here all the weekend I was thinking maybe I will race," he smiled. "The feeling was similar to a normal race weekend, and then when you come here you feel that something is missing. Okay, I am together with the team, trying to push the team, but I want to be in the car. Something's missing, you know. It's not a fantastic feeling! But anyway the most important thing is that I'm fine, I'm good, and the most important thing now I have to prepare very well for the full championship in 2010.
"You come here, you see everybody inside the cars, everybody going out, and you are there without the overalls - it is a little bit of a strange feeling. But we need to think about the good things.
"For me it is fantastic, to be here with my guys, trying to push them. They are not really happy, because they say it's better for us if you were in the car. Unfortunately I cannot be in the car! But it's great to be together with them.
"You always have journalists who write something bad, or write something which is not the truth, and you don't like it. But this time I have to say I had great support from all the media, all the drivers, all the teams, all the people outside. So I'm really, really proud and happy that I'm an important piece inside F1."
He knew he'd done the right thing in biding his time: "Well, my body's fine, my body's saying you can go racing, no problem! I feel 100 per cent fine. That's why for me it's even more difficult not to be racing, because if you feel something's bad, you are the first one to stay behind. But if you feel that you are good, it's always another push forward. But I need to respect everything."
There is one blessing, in that he can't remember the accident.
"Zero! No memory for the accident. I remember the previous run, when I was on the scrubbed set of tyres, but I don't remember the run I crashed. I knew I was 10th and I moved to Q3, but then I was coming back to the pits, and I crashed. I don't remember anything about that run. It's amazing that many things take away the memory just about the accident, but I remember everything before the accident, all my life. So it's really strange.
"It's a good thing, not having the accident on your brain, it's not a perfect memory you know. It's a fantastic thing from God.
"I didn't see the car crashing or the spring hitting my helmet. For sure when I was looking at television, I was saying I can't believe this happened to me! But I was also happy because it could have been much worse. Maybe not having the accident would be even better..."
There were obviously some tough times in the days and weeks after Hungary, despite the huge level of support he received from the team and others in the sport. As is always the case with drivers, his focus was getting back in the cockpit as soon as possible.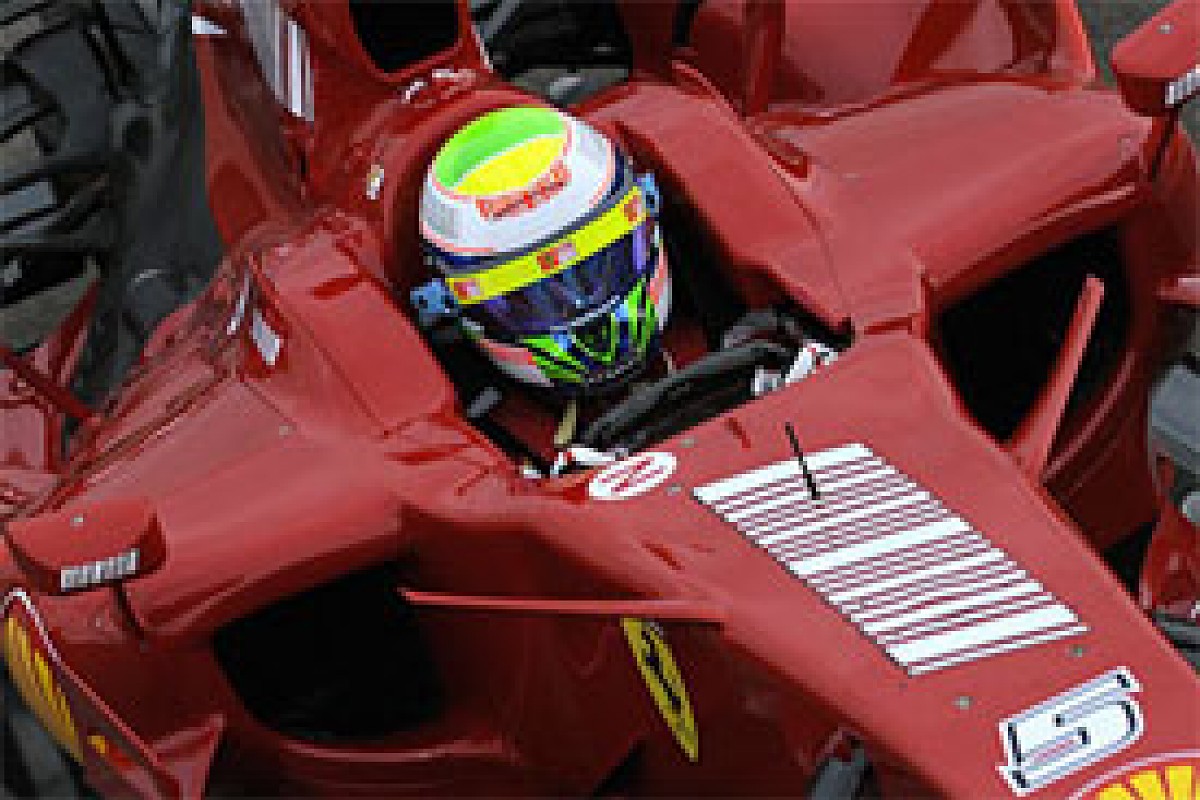 Felipe Massa returns to the cockpit in the F2007 at Fiorano © LAT
"When I came out of the car after the test everybody was shaking hands and was very happy. It was a great feeling, that we are a big family, and everybody likes to work with the other. I felt very emotional.
"This is our job, this is what we love to do, to drive the car at the quickest speeds possible. And that's exactly what I did, pushing hard straight away and trying to do good lap times, consistent lap times, and I have to say everything was great. Even the result was really good. The result on my body was normal, I didn't feel anything strange with the acceleration, braking, vibration. So it was really great.
"I was not nervous, because I felt good. I felt that nothing wrong was going to happen. It was exciting to be back in the car. I was very happy after I drove that everything was normal."
More recently he got back behind the wheel of the F60 at Ferrari's end-of-year celebration at Valencia. It was only a demonstration run, but it was another little step towards next season.
We'll never know what he could have achieved had he completed 2009. Kimi Raikkonen proved at Spa that, with a little luck and the right circumstances, the unloved F60 could win races. True, its form did tail off in the last few events as the brake on development proved costly, but Massa would have been mixing it at the front from time to time.
Certainly after the race in Hungary, where Raikkonen finished second, his engineer Rob Smedley was convinced that Massa would have had the pace to win that weekend. In Brazil I asked Massa how he felt about his truncated year.
"I think in Hungary we were very strong, and I could have fought for the victory or for a podium, definitely. I was very quick.
"I think I did a very good season. Looking at the car we had, how difficult it was, I think the season was really good. We had many good results, but I had some problems at the beginning of the season [in races] which could have been a podium. Definitely I feel that for myself everything was going in the right direction. For sure I had the possibility to keep doing a good job, but the accident changed many things. I hope we can get back 100 per cent strong next year."
So what of next season? By the first race in Bahrain almost eight months will have passed since the accident, so there's every reason to believe that Massa will be back up to speed in every way. But, and it's a big but, he now faces a challenge of a different kind. Fernando Alonso is known for getting his own way, and since the team made such a big effort to get him, he is sure to be indulged.
Massa on the other hand has the advantage of having been immersed in the Ferrari camp since Jean Todt first signed him up in 2001, and loaned him to Sauber for the following season. He's always been more than just another driver, and even without Todt in charge at Maranello, he enjoys a special relationship with the team. And as happened with Mika Hakkinen and McLaren after Adelaide 1995, the accident may have drawn everyone a little closer to him.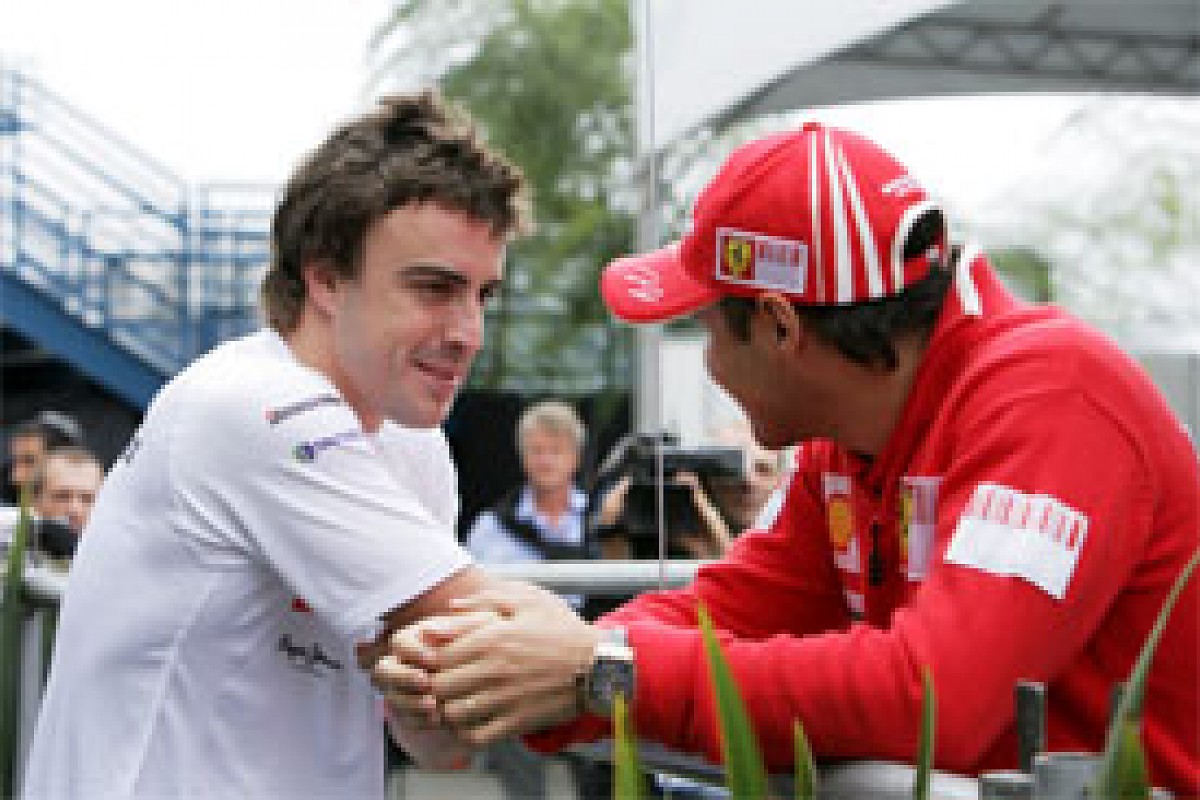 Felipe Massa and Fernando Alonso © LAT
Much has been said about having two drivers with Latin temperaments in the team, and that could make life interesting. But in the end, he was always going to up against somebody exceptional. Just as McLaren now has the 2008 and 2009 world champions, so Ferrari has the 2005-6 winner and the 2008 runner-up. Alonso does not faze him.
"He's a great driver," said Massa. "For sure when you race for Ferrari you always need to expect that the other driver is very good, it's always like this. I hope we can do a fantastic job together to prepare a fantastic car to fight for the championship, to work very good inside the team. Then on the track for sure I want to be in front of him, and he wants to be in front of me. But that's the good thing about the sport, so I hope we can work together very well."
In the end Massa missed seven race weekends, but remember there was no in-season testing, and - back in Brazil for the birth of his first child - he's not missing any track action in November and December, either. The new rules for 2010, with no refuelling and an ultra heavy car on the grid, mean that it's a fresh start for everybody.
Perhaps more than any driver he has been focused on being in the best possible condition for Bahrain, and thus he may even come back fitter than before, and certainly he may well prove to be mentally stronger.
"I feel even more experienced. You learn with bad things. In my life I had many, many bad things. Not like the accident, but many difficult times, like now you don't have money any more, if you don't win the race, you don't race the next race. In Formula Renault it was like this, in go-karts, even in Sauber I was fired after the first year, then I came back slowly. I came back, and did a good job.
"Life is always difficult and you learn much more in a difficult time. I think I learned for sure with this accident, and I hope this can bring me even more experience for next year, with a different car, different rules, and I hope together with Fernando we can build a great professional relationship to have the best car on the track."