1955 British Grand Prix at Aintree
1-2-3-4 for Mercedes: Stirling Moss wins GP from Fangio by one-fifth of a second and sets new Aintree circuit record
Stirling Moss realised the ambition of his life by winning the 10th British Grand Prix last Saturday. The race was a complete and utter triumph for Mercedes-Benz, the four cars finishing 1-2-3-4. Possibly the greatest crowd ever to watch a motor racing meeting in this country flocked to Aintree and caused the biggest traffic hold-up ever experienced in the city of Liverpool. It was estimated that more than 145,000 people were present at the circuit.
It has been said - and reiterated by Moss himself - that Juan Manuel Fangio could have won, but preferred to give his young team-mate the chance to score his first major GP success. This may well be true, but in my opinion Stirling Moss had to drive all he knew to secure his victory. The slightest falling off would have seen the champion of the world in front. Moss certainly had to earn his keep, and on his showing at Aintree is not very far behind Fangio in general driving skill.
Although the grand prix tended to become processional, the sheer virtuosity of the two Mercedes-Benz conductors was something worth seeing, as was also the driving of Peter Collins in the Owen Maserati who, until his retirement, was rapidly overhauling Piero Taruffi in the fourth Mercedes. It was also gratifying to see Karl Kling complete a GP without a single mishap.
Harry Schell in the Vanwall was also a revelation and it was a great pity that a broken accelerator pedal put him out. However, he took over Ken Wharton's car later in the race, and went like a bomb. The green cars of Britain did not show up particularly well. With the exception of the Vanwall, they were completely out-paced. Brabham's little experimental Cooper, although disappointingly slow, kept going longer than most of the other British machines.
Only Maserati could trouble Mercedes, but the early exit of both Jean Behra and Andre Simon weakened their challenge. Roberto Mieres and Luigi Musso drove brilliantly but were worn down by the relentless onslaught of the silver arrows. Ferrari were quite out of the picture, but if the newly-acquired Lancias had been available, it might have been another story altogether.
Quite candidly, the north of England was grand prix mad. The presence of German, British, French and Italian teams excited the local populace as never before. People who scarcely dreamed of going to watch motor racing before suddenly made up their minds to go to Aintree and the brilliant sunshine brought out a vast crowd.
No one expected that Liverpool would have a traffic problem, but the police - used to handling Grand National crowds - could not cope with the largest invasion of vehicles that Merseyside has ever experienced. For hours before the start the tunnel was packed solid with a turgid stream of cars, buses, lorries and motorcycles. Breakdowns were frequent and thousands of spectators missed the two supporting events.
This, of course, was highly gratifying to the organisers, whose visions of attendance figures hardly went into six figures. It certainly compensated Mrs Topham for the shocking weather which wrecked the attendance for last year's International meeting.
Practice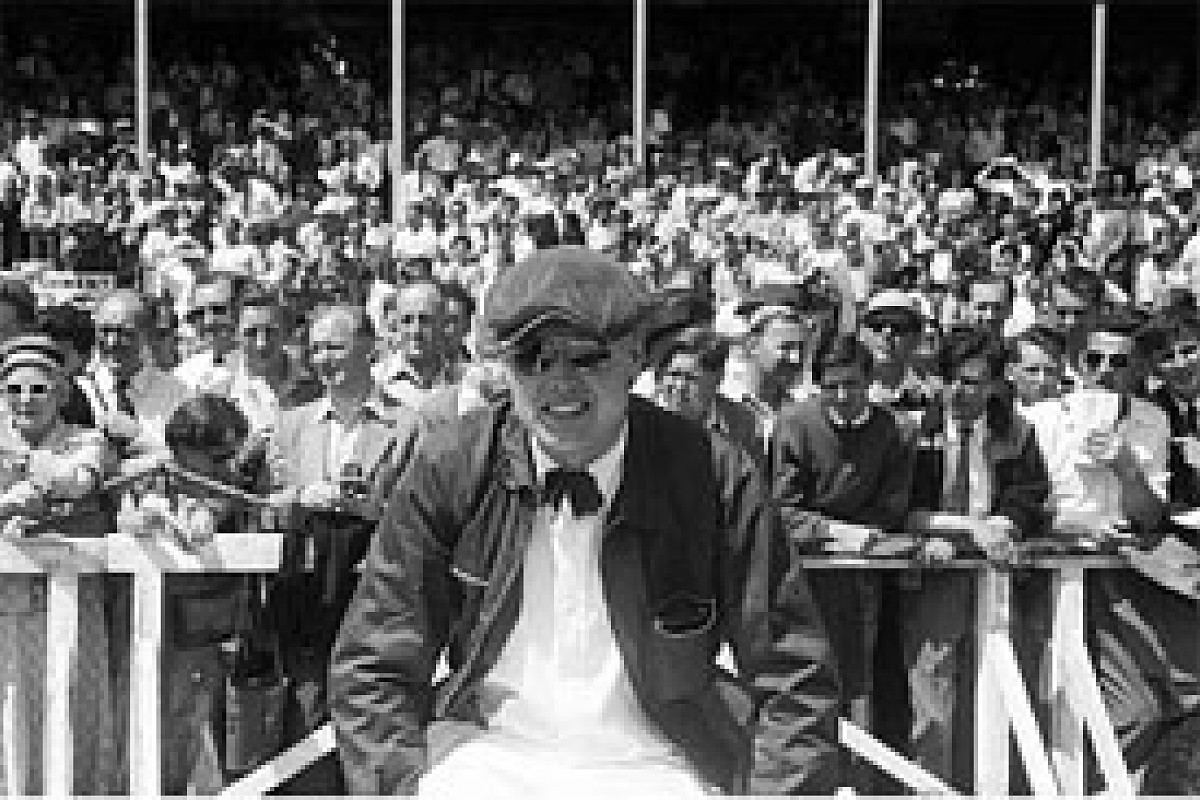 Mike Hawthorn © LAT
Moss was fastest in Thursday's practice session but, strangely enough, could only equal his existing lap record of 2m00.6s - put up with his Maserati last October. Fangio put in a circuit of 2m1.8s and Behra's Maserati was just one second slower. Wharton's 2m08.4s with the Vanwall was best of the British machines.
On Friday, Moss clipped 0.2s off his previous best, and Fangio equalled the record. Behra got down to 2m01.4s. Kling and Taruffi did 2m02s and 2m03s respectively. Harry Schell shook everyone by circulating the Vanwall in 2m03.8s and Peter Walker achieved 2m06.6s in Rob Walker's open Connaught.
Jack Fairman's Connaught did not sound too happy and Wharton's Vanwall was off-colour. Jack Brabham's little Cooper had chronic clutch ailments. All the Ferraris seemed to be slightly out of puff and both Eugenio Castellotti and Mike Hawthorn had to work hard to get down to 2m05s. Roy Salvadori had back axle trouble.
Race
The British Automobile Racing Club had thought up a new version of the traditional continental pre-race parade. Instead of walking down to the start behind their cars, the drivers were taken round the course in a cavalcade of white-painted Austin Healeys, each of which carried the national flags of the occupants. As each conductor was introduced over the PA, he was loudly cheered; Fangio and Moss received a tumultuous reception, as did Hawthorn. Schell's endeavours with the Vanwall were also acknowledged.
Over on the embankment, the tightly-packed thousands had, as a background, scores of fluttering flags. Aintree had succeeded in producing something akin to a genuine grand prix atmosphere. Hot weather dress was the rule everywhere, and practically every woman wore sun-tops, brightly hued skirts and, of course, sun-glasses and plenty of lipstick. Some of the men wore pyjama tops that looked like shirts and others donned shirts that looked like pyjama tops. There was even a Scotsman in the paddock area wearing a kilt, no shirt, and a broad sombrero.
Hundreds of husky men carried crates of beer and lemonade to the bars and, within a few minutes, carried empty ones back again to waiting lorries. Ice cream vendors could hardly keep pace with the demand. In the county stand, all the private sections were occupied by parties determined to watch the grand prix with the maximum of comfort. On the other side of the course, folk soon became as black as sweeps from dust set up by cinders.
The press box was packed to capacity with journalists from all over the world, while at the foot of the stairs press officer Ian Gordon tried to explain to certain late applicants that there just wasn't room. Somehow or other he managed to placate everyone.
Meanwhile, vast crowds continued to pour into the circuit, many cars arriving with boiling radiators - legacies of hours spent in traffic jams. By 2pm cars were being moved onto the starting grid. Officials began clearing the pits area, while shirt-sleeved policemen politely told people who were blocking the view of the stand occupants to move farther back.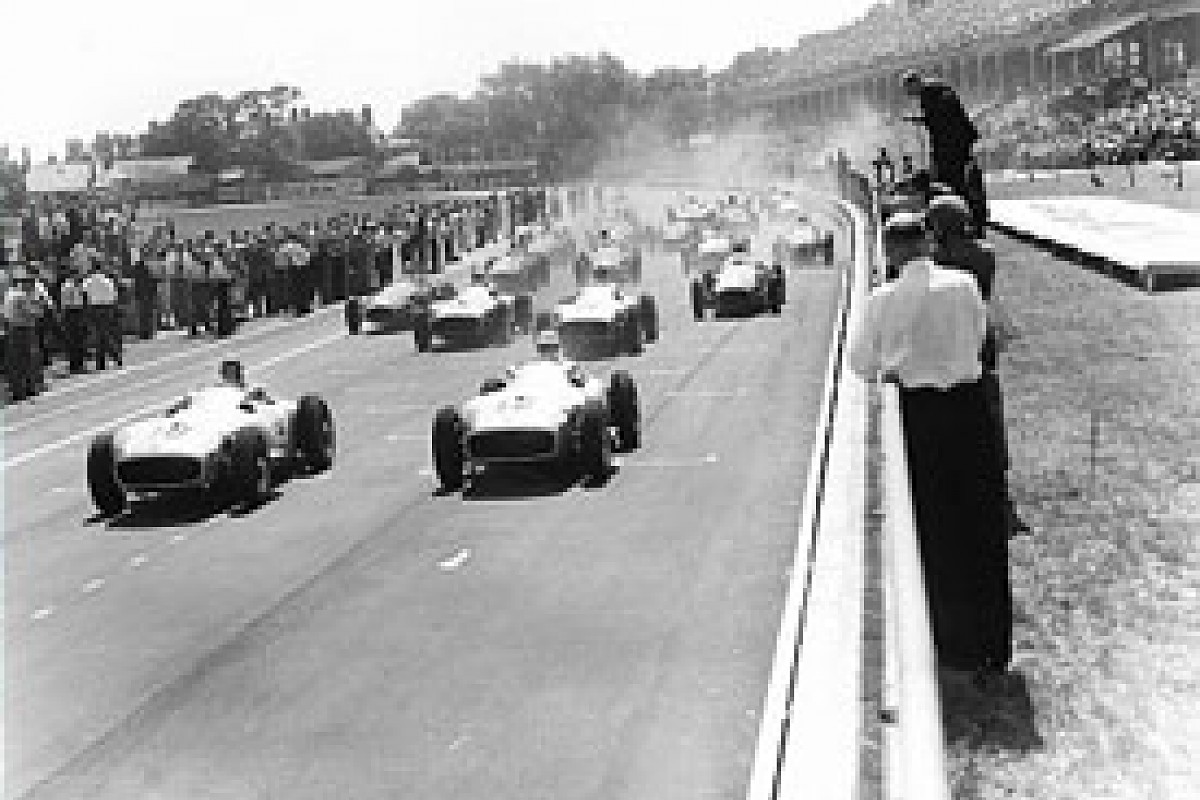 The start of the 1955 British Grand Prix at Aintree © LAT
Promptly at 2:29pm, Ebby raised his flag. Tony Rolt's Connaught was the last car to be started, having to be pushed back twice. Sole absentee was Fairman's Connaught, certain experimental bits and pieces having failed during practice. Lance Macklin's Maserati had the slightest suspicion of green paint on its aluminium body, Moss having apparently decided to try a change of colour to see if it would chase away the gremlins.
Down went the flag and the two-dozen cars surged forward - all except Marr's Connaught and Schell's Vanwall which stalled. Help was speedily forthcoming and off they went. Into Waterway Corner went the tightly-packed mob, led by the silver Mercedes of Fangio, Moss and Kling. But a red car was coming up at a tremendous pace and shot past Kling's car to take third place. It was Behra, chief hope of Maserati.
Sharp right at Anchor Crossing, left at Cottage Corner, left again at Country Corner, right at Village, then down the short Canal Straight across Valentine's Brook to Bechers, and so on to Railway Straight, ending in the difficult Melling Crossing and the tight turn at Tatts to hurtle past the pits. It was Mercedes, Mercedes, Maserati, Mercedes, Mercedes, Maserati, Maserati, Ferrari, Ferrari, Ferrari, Maserati and so on. Fangio, Moss, Behra, Kling, Taruffi, Mieres, Musso, Castellotti, Maurice Trintignant, Hawthorn and Peter Collins. The last-named had passed eight cars from his last place on the starting grid. Fangio's standing lap was accomplished in about 2m18s. Maserati received an early blow to their hopes when Simon's car drew to the pits on the first lap with gear selector troubles - and a bashed tail.
Moss was now on Fangio's tail, watching the master's every move. Behra was dropping back slightly, but Kling was not gaining on the red car. On lap three, to frantic cheers, Moss went into the lead - gained by about two seconds at Bechers alone - and was 2.4s in front as the two silver arrows screamed past the timing box.
After only five laps, the two leaders had already begun to lap the rest, starting with Brabham's little Cooper. Behind Behra, Mieres had overtaken Taruffi and was threatening Kling. Musso sat in front of Hawthorn, and Peter Collins - driving a brilliant race - headed Trintignant. However, Schell was moving up fast and had taken Castellotti's Ferrari for 11th place; fair enough when it is realised that his car was left on the line.
Moss v Fangio
Moss and Fangio seemed to be dicing in earnest, trusting each other not to make a mistake. Behra was losing ground at a rate of two seconds a lap. Rolt, as was expected, led the three Connaughts. At nine laps Behra's race was run. Going into Waterway Corner, a great cloud of smoke appeared, and the Maserati stopped with a broken oil pipe. This must have been a relief to Neubauer who always regards the Frenchman as a possible plans-upsetter.
Castellotti had lost about a couple of minutes changing plugs. Shortly afterwards, Rolt halted to cure a sticking throttle. Mechanics still worked on Simon's Maserati. Robert Manzon's Gordini packed up at Bechers.
Collins was definitely closing on Hawthorn and passed the Ferrari on lap 13. Schell, going great guns, was also threatening Mike, and soon all three cars became involved in an exciting battle. Mieres and Musso were worthily upholding the honour of Maserati, keeping fourth and fifth places behind the three Mercedes, but in front of Taruffi.
Juan Manuel Fangio leads Stirling Moss (Mercedes-Benz W196) and Jean Behra (Maserati 250F) © LAT
At 15 laps, only 12 cars were on the same lap. One lap later, Schell swept past Hawthorn to chase Collins. Both Vanwall and Maserati were steadily gaining on Musso and Taruffi. Around this time, Simon restarted with his Maserati. Fangio was again pushing Moss, and Mieres was sitting right on the tail of Kling's Mercedes. The German was driving extremely well, obviously determined to stay on the road, even at the expense of letting the Argentine through.
Wharton, looking far from well, stopped at the pits with his Vanwall for some minor trouble. Castellotti came to rest again, and his car was pushed away with rear axle failure. Gould's Maserati, which had shown a desire to keep on going at bends, was retired with defective brakes. On the 18th lap, Fangio retook the lead with Moss in his slipstream. There was no faking about this business, both drivers doing all they knew to take and hold first place. In fact, there was nearly an incident at Tatts when Moss tried to pass as Fangio was cutting inside Leslie Marr's Connaught. The latter swung inwards, and Moss braked and swerved at the same time. However, he was soon up in his familiar place once again.
Exit Schell's Vanwall
Schell, just on the point of taking Collins, lost all his revs - the accelerator pedal had come completely adrift. It was difficult to repair and the fastest of all the British cars was out after 20 laps. Marr went off course at Anchor. He reversed neatly into the escape road, restarted, only to pack up at Bechers later with a broken brake pipe - a result of his infield excursion when he struck a hidden stone.
Fangio and Moss lapped Lance Macklin on the 24th tour, thus only eight cars were on the same lap. Collins was closing up fast on Musso and Taruffi, and Mieres was always threatening to overtake Kling. Salvadori's Maserati was the next casualty, going out with a broken gearbox. Simon, after several slow laps, eventually called it a day with only third gear operating. Ken McAlpine's Connaught sounded extremely unhealthy, popping and banging continuously with ignition faults.
On the 26th lap, Moss repassed Fangio to the huge delight of the crowd. Both cars were now about 25s ahead of Kling. Collins had come within 7s of Taruffi and 5s of Musso. Lap 29, and the British-driven Maserati was almost level with Musso, who had again closed right up on Taruffi. Collins made an all-out effort but it was his swansong. The Maserati coasted silently into its pit with that bane of Italian-made cars - clutch trouble. This was after just over one hour of racing.
Moss began to draw away from Fangio. Pete Walker took over Rolt's Connaught. McAlpine packed up with vanished oil pressure and Brabham's little Cooper was pushed away with a bent valve diagnosed. Wharton coasted in with oil pipe union troubles. Mechanics began work on it, but no spare part was forthcoming. However, Mercedes came to the rescue and supplied something approaching the original bits.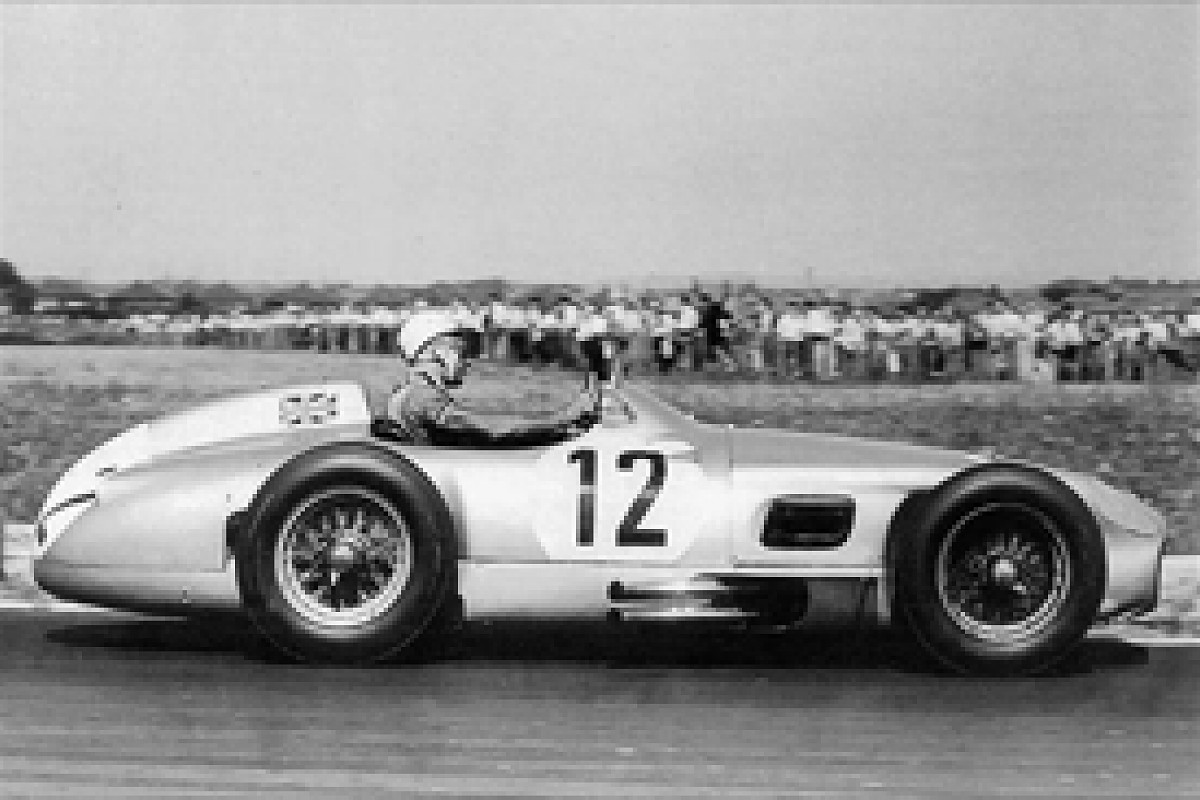 Stirling Moss (Mercedes-Benz W196) © FORIX
At 40 laps, Moss had increased his lead over Fangio to nearly 11s. Mieres many laps behind, he soon started cracking round almost as fast as the leading Mercs. Fangio began picking up slightly on Moss whose driving was absolutely perfect. Every corner - same line - same smooth braking. A master driver indeed.
Apart from the virtuoso conducting of Moss and Fangio, the Musso-Taruffi struggle and the remarkable driving of Schell in the Vanwall, the race had settled down to one of inevitable conclusion. At 54 laps, Taruffi suddenly whipped past Musso to make Mercedes 1-2-3-4. Trintignant retired with piston trouble - second Ferrari casualty. Taruffi and Musso were later lapped by the three leading Mercedes.
Near the end, Fangio unexpectedly turned on the wick and began gaining on Moss. The British driver was being given "PI" signals so this might explain the Argentine's rapid advancement. Anyway, on the last lap both cars were almost wheel-to-wheel and they crossed the line just 0.2s apart for Stirling Moss to become the first British driver to win his country's national grand prix.
They were followed home by Kling, who had given one if his best performances, Taruffi who has not lost his skill, and the gallant Luigi Musso. The Ferrari was three laps in arrears. Mike Sparken brought home the surviving Gordini, Macklin finished with Moss's Maserati and Schell did likewise with the Vanwall to vindicate his choice as driver.