The last four grands prix have been painful indeed for Jenson Button. And after his extraordinary run of success in the opening seven races who could possibly have predicted that the next few starts would bring a sixth, fifth and two sevenths?
Nevertheless that still represents 11 priceless points, or a haul of 2.75 per race, which is better than nothing.
With McLaren now in the mix and all three of his title rivals stumbling on occasion, Button is still out there in front, now by a handy 18 points over team-mate Rubens Barrichello.
His was certainly a lot more chilled on Sunday afternoon in Valencia than after any of those other recent races.
There was frustration that Barrichello was now eight points closer. But the RBR cars failed to score, and it was clear that Brawn is back on the front-running pace, at least in the baking conditions we had in Spain.
Button has always been a bottle half full kind of guy, and he drew on the positives as he assessed the outcome of the race. And there was no doubting the sincerity of his praise for his team-mate.
"Rubens did a great job this weekend, and Rubens deserves this victory," he said. "It's been a long time for him, five years. I'm happy for him. For sure I'd rather be on top of the podium, but I'm not. He did the better job this weekend, and he didn't make any mistakes. He won.
"We did what we came to do in a way, we came to beat the Red Bulls to claw back a couple of points on a circuit that our car suits, but I didn't expect my team-mate to finish so far in front of me, so that's something I've got to solve for the next race. But well done to Rubens, he did a good job, and his car crew as well."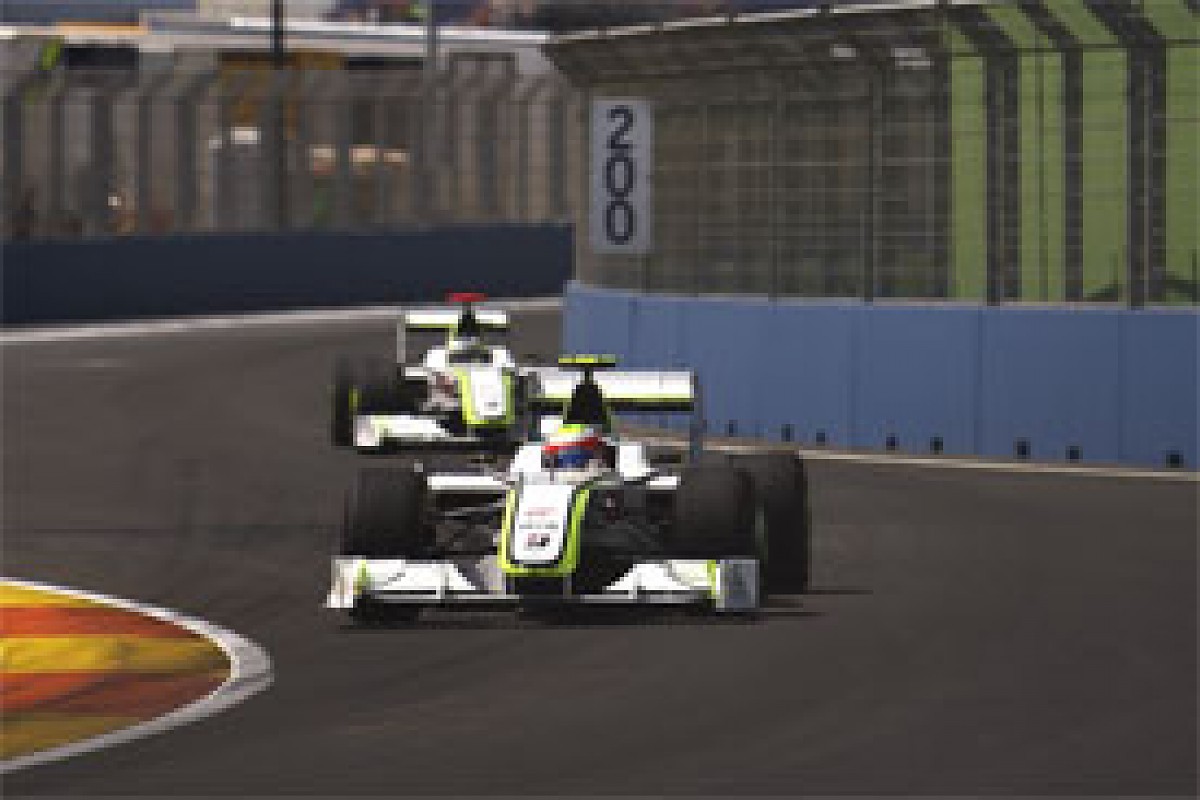 Rubens Barrichello and Jenson Button © LAT
Not for the first time Barrichello had an edge on pace for most of the weekend, and Button was to rue an error in qualifying that stranded him in fifth, behind both his team-mate and Sebastian Vettel.
"In qualifying I screwed up," Button said, "which cost me time. I double shifted out of Turn 5. Hopefully we can rectify the problem, because I did it in the race as well. So starting fifth, I thought we could have a good race."
Both Brawns were heavier than the McLarens ahead, the team having determined that there was no point in fighting them for pole, because they would probably have got by anyway with their KERS advantage. Better to go heavier and try to get ahead on strategy. The fact that Vettel was another early stopper was also encouraging.
Button was determined to get Vettel at the start, not just because the German is one of his title rivals, but because he had to get on terms with Barrichello. Had he done so, he might have been able to follow the Brazilian past the McLarens, although the fact that Barrichello had the later first stop meant that passing him would have been nigh on impossible.
Button was on the clean side of the track, and the RBRs haven't been noted for great starts this year, so he had a good chance. However, on that curving run down to the first 'proper' corner Vettel came across to claim the line. Button was hung out to dry.
"I thought I was going to get past Vettel at the start," he said. "But Rosberg, Kimi, Mark and Alonso came past me as well, so I was back in ninth position. It was a nightmare start. I was up the inside of Vettel into Turn One, I had half a car up the inside, and he just kept coming across and coming across. I had to lift, because we would have hit each other. There's only so far you can go with aggression. He would have wiped my front wing off, so that would have been the end of my race.
"He should have known that I was going to be there, because it's the clean side of the circuit, and I was half way alongside him. That screwed it really, because it put me in a bad position and I didn't have the pace then down to Turn Two. And then Mark was on the on the inside of me into Turn Four - well, he was on the inside of me out of Turn Two and Three. He braked quite late, I braked about the same time and couldn't get round the corner and went straight across the kerbs."
Button clearly wasn't very happy with the Vettel move, although he didn't actually suggest it was worthy of a review by the stewards.
"The most important thing for Vettel is to beat me," he said. "He came across, and I had to lift. It's always a difficult one, because if I didn't lift I would have broken my front wing and damaged his tyre probably, or his sidepod. And as soon as you lift there, everyone's just building speed and you're not, and it's a massive difference in speed. That's why I dropped so much ground there."
Race control did however get involved in the incident later round the lap, and the decision was not in Button's favour. After he straightlined the chicane at Turn 4 Mark Webber was quick to get on the radio and tell his team that he was alongside Button, and felt it was unfair.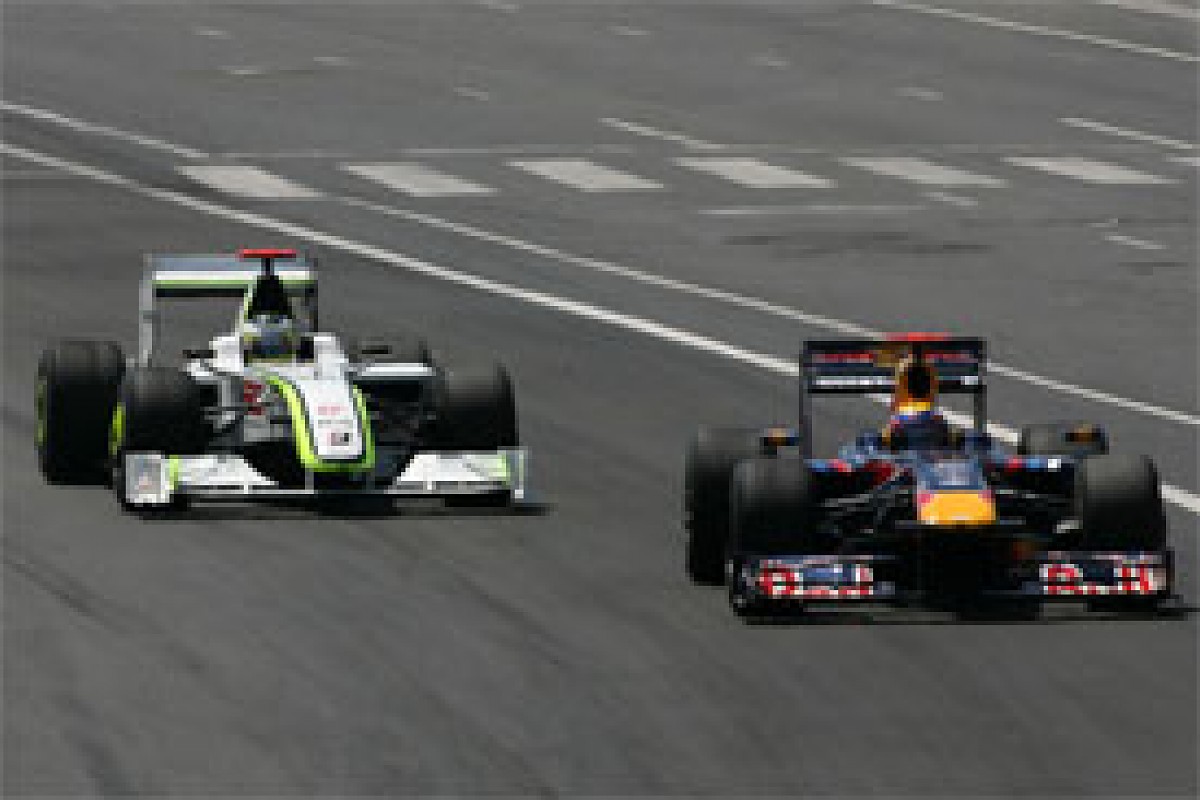 Mark Webber leads Jenson Button during the European Grand Prix © XPB
The comment served two purposes. On the one hand it was to inform the team, and on the other it was to inform the FIA and the rest of the world. A little piece of gamesmanship. Meanwhile Brawn team manager Ron Meadows was quick to react and ask the FIA if Button should concede the place - better to get it sorted now than face a penalty later. The answer took a while, and it was a yes, so Jenson moved over.
He certainly felt the decision a little unfair, although in such cases there's no debate: "The thing is they didn't talk to me about it, and that's the thing. You've got to get both views as well. The stewards, it's down to them for sure, but no one asked me a question.
"I thought I'd picked up a couple [of places] in turn two, but Alonso went wide and came back across in front of me and I had to lift, and then Webber at Turn 4 - I thought it was a bit harsh, them telling me that I had to let Webber past. I went across the chicane but I couldn't actually get round the corner, because he went all the way to the edge of the corner, sideways, and I couldn't get round. So I had to go straight, and that's what cost me quite a few points, because I couldn't challenge the people who were stopping earlier in front of me."
Jenson knew from the fuel weights that Webber would be pitting a lap later, and he knew that his race was now badly compromised as the Aussie just didn't have the pace we've seen in recent races.
His peace of mind was improved when Vettel was delayed, which at least moved him up to eighth, but Webber also gained a point.
The status quo remained after the first stops, and with Webber again fuelled longer, in theory it looked impossible to get by at the second stops. But Button had an ace up his sleeve in the form of a brand new set of supersoft option tyres for the final stint.
A great stop and a mega out lap onto a clear track gave him some momentum just before Webber came in, and a slightly tardy stop for the RBR man did the rest as Button comfortably got past. That represented a swing of two points in his favour relative to Webber, and when Mark also lost out to Kubica, Button gained another relative to his rival.
Shortly after his second stop Button did a lap time that was to stand as the second fastest of the race, behind only Timo Glock (explain that!), and just a tenth quicker than the best by Barrichello. It was further proof that success is all about track position, something that Button got so right so often in the early races.
"When you're stuck behind a car that's slow, on the same sort of strategy as you, it's impossible. When I got past Mark my pace was very good, but I didn't put it to good use early on, because I was stuck. It all comes from a bad qualy lap, a mistake in qualy. But really I just can't do that again."
It also came back to that frantic first lap, and having to back off when Vettel cut across. Although this was an extreme example and he didn't have a lot of choice, I asked whether Button felt that being cautious was costing points.
"It is," he replied. "But in that instance, I would have crashed, I would have lost the front wing. So it's better to be consistent and not crash. But if you're consistently getting two points, it's not enough. I'm going to go to Spa and be more aggressive for sure. Not just with driving, but I think with strategy and with the tyres.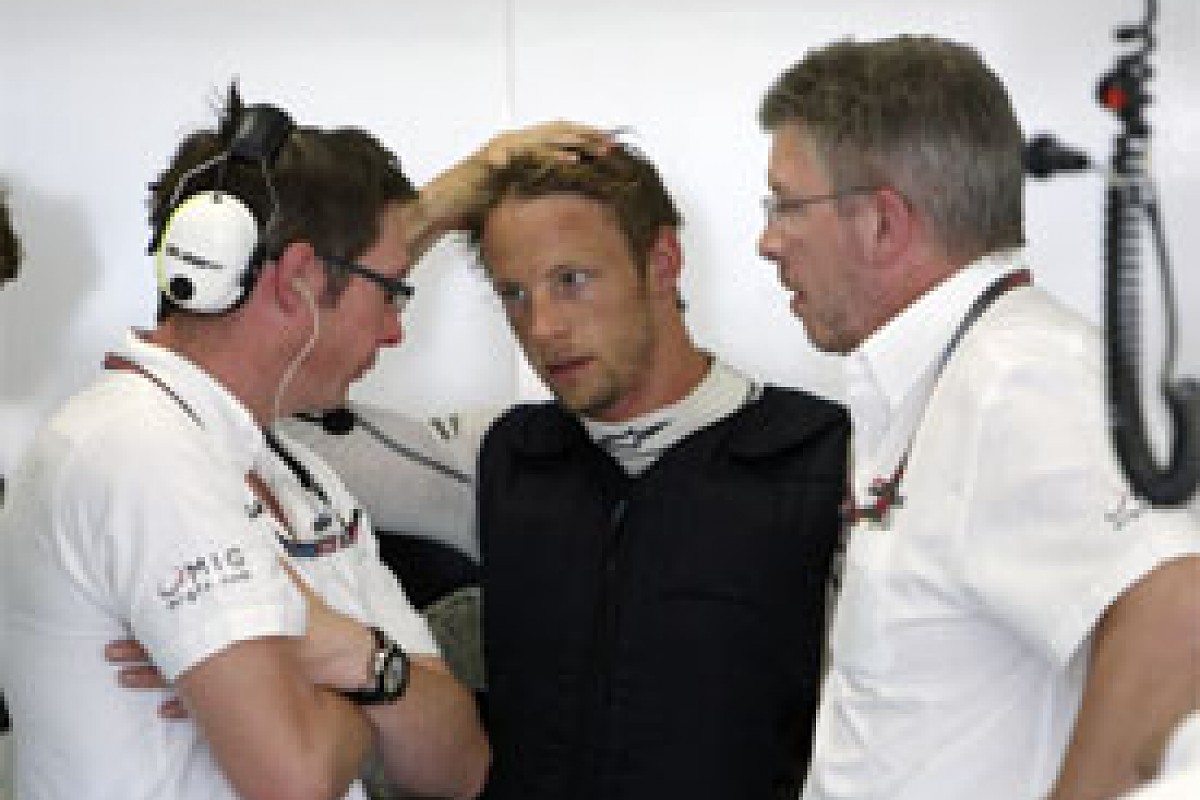 Andrew Shovlin, Jenson Button, and Ross Brawn © LAT
"It's the way we've got to be; otherwise it's going to be slowly eaten away. It's a very difficult season this year because we've had some very poor weekends, and we've had some very strong weekends. This is the first time when we've had a strong car that I haven't been able to get the best out of it, so that's the most frustrating thing. We've got to turn that around.
"I got two points and I was lucky to get those points, because I was down in ninth at one point behind Webber, and with Sebastian up in fifth or something. Neither of them got points, I got two points so it is a positive day. But it was also a day where our car was strong, as my team-mate proved, there were a lot more points on offer, but the race didn't go my way. As soon as you get stuck at the start, you lose momentum, and all hell breaks loose. You can get lucky and you can get unlucky, and it was very unlucky for me.
"The good thing is the team has turned the corner, but I wasn't able to get the best out of it in the race. It's the problem these days, if you get stuck behind someone, you can't do anything. You've got to hope that you're not pitting earlier than them, and I was. So I was stuck behind Webber for two thirds of the race, when I got clear again I got a big gap, just like Silverstone with Trulli."
So what of this weekend? In theory Spa should favour the RBR, but as we've seen in recent weeks, anything can happen.
"The good thing is the Red Bulls are still going to be fighting [each other]. They're going to be quick for sure over the next few races, especially the next one in Spa. I'm not sure the McLarens are going to be as quick as they were here. And I think that we've sorted out a few of our issues, and we've got a few updates also.
"I think Rubens and myself will be quick in Spa. I've just got to hope that I can get a good lap in qualy like I have been doing most of the season. Two and a half tenths can be two places on the grid or even three places on the grid. You need the perfect lap. I enjoy Spa, and I think we can have a good weekend there.
"It's just frustrating that I didn't get the best out of the car today. But the team have proven that we're quick when it's hot, and Spa will be the telltale whether we're quick when it's cold. There are going to be a few cool-ish races still to come. This Friday coming is a very important day for us to see if we have made improvements in cool conditions."
The bottom line for Button is that Barrichello could become his major concern. The veteran has been ahead at several races this year, only for things to fail to come to fruition, which led to his personal meltdown in the Nurburgring. But with that win behind him, he can only be stronger.
"My closest challenger is my team-mate now. He took a lot of points out of me this weekend, and I can't let that happen again.
"He knows that I mean it when I say well done to him and great job this weekend. We've been together for four years as team-mates, and I'm sure he found it very difficult at the start of the season, but now he's got his first win with the team. It's a big step for him. Hopefully the next few days will be big for him, and he won't be on form next weekend!
"I never thought it was going to be easy with Rubens, and he's very competitive, so we'll see what happens. For me it's getting the best out of the car."