At Silverstone Rubens Barrichello finally did what he's been threatening to do all season - he beat his Brawn GP team-mate Jenson Button in both qualifying and the race.
It was an impressive performance, and the fact that it came in front of Button's home crowd made it even sweeter. But there was one major downside for the Brazilian veteran. Having waited all year to trounce Jenson, he did it on a day when the BGP001 was the second best car in the field.
"It's true," he smiled. "But at the end of the day my third place and his sixth place is better than if he was fourth, for example. I hope it's a turnaround in the season. Like I said in the press conference, he birdied the first few holes, I hope he bogeys the next few ones, and I can birdie some of them."
But would this race give him a timely confidence boost?
"Confidence-wise, after all the experience, I think I'm very level on that. I have a lot of confidence in what I can do, with my engineers and so on. It's not that. We just need to work to be able to beat the Red Bulls, and sometimes hope that Jenson can double bogey!
"I've got to take the positives. I was racing on Jenson's home ground, and for me at least when I race in Brazil it plays into my hands, I feel the energy from the public and everything, and to get three points away from him has got to be very positive."
It's clear that beating Button meant a lot to Rubens, and that he still harbours some hopes that should luck turn in his favour, he might be able to do something about that points deficit.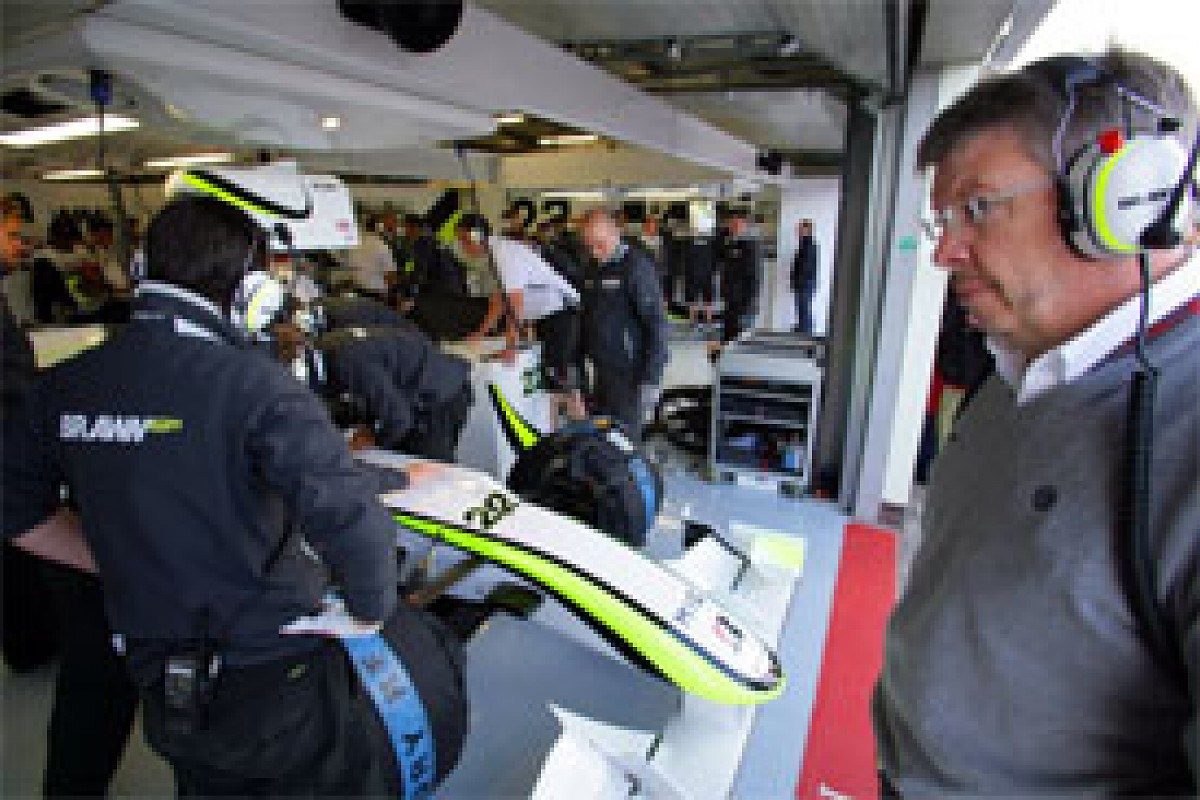 Ross Brawn surveys the garage © LAT
So what went wrong for Brawn at Silverstone? The team blamed its performance on lower ambient temperatures that made it hard for either driver to get his tyres working properly, and there's no reason to suspect that there's much more to it than that. Just as in hotter conditions the car edges towards perfection - Jenson couldn't say enough about how good it felt in Turkey - when the weather is less favourable, the team and drivers can't get into that comfort zone.
Everything is relative, of course. Last year on a bad day Rubens and Jenson were scratching around at the back of the field. This year they can still earn points and even podiums on days when all appears to have gone wrong. And it certainly was a stressful weekend for both men.
"We had some graining issues on Friday and Saturday morning," explained Barrichello. "It's tough, you don't have the grip, so you slide and then you get some temperature, but if you slide wrongly, you get the graining.
"It was a tough day with the car out there, and the choice to go on the harder tyres for the second stint was sort of borderline. The tyres were very similar all weekend, but in the race I had no traction at all with that tyre. I was carrying a lot of fuel as well, and the out lap on that tyre was very difficult. I pushed like hell to keep in front of Mark, but when I got out of Turn One I saw that he was right in front of me.
"I was playing with the diff and the [adjustable front wing] flap during the whole race, it was very, very difficult. It was a tough job with all those laps on the primes, especially with the gusts, it was taking you away from lines sometimes, and the wind did change during the race.
"Copse now during the race, you don't even brake, you just back off and get back on. Sometimes I turned and the car didn't, so you take the marbles, and then it takes two laps [to clean the tyres], so I had to be conservative on that tyre."
Given that apparent tale of woe, Rubens was grateful that he still managed to finish third, and that reflects just how far behind everyone else - bar RBR - is right now. Those who found some performance on Sunday didn't have it in qualifying and started too far back to be a threat, while others faced the reverse situation, and faded come the race.
Barrichello was at least better off than Button, who not only made his life difficult by starting only sixth, but also then lost more places by getting trapped at the start.
"On the hard tyre, I had no temperature," he explained. "You might as well take the wings off, because the car's not working. If you don't get the tyres in their working range, it doesn't matter what car you've got, it just doesn't work. That was my problem here, and Rubens was struggling as well. On the prime tyre I was just skating all over the pace, I couldn't get it working."
And yet at times in the race, he was in that comfort zone of perfection, or at least close to it. But it was too little, too late.
Jenson Button stuck behind Jarno Trulli for the first stint © LAT
"When I was on the soft tyre I had good pace, I don't know what it was like compared to my team-mate, but compared to Nico Rosberg and Felipe Massa, the pace in the last stint was phenomenal, and we had a good car. But on the hard tyre the car just didn't work, plus you can't overtake here, and I got a terrible start. Trulli in front got a really slow getaway as they (Toyota) normally do, and I had nowhere to go. I tried to go to the inside, but that wasn't there, and the outside was full, so everyone just shot by on the outside.
"In the first stint I slowed up a bit behind Trulli just to see what times I could do, and I was eight-tenths or one second quicker than him, but you still can't overtake. I was able to jump Trulli at the pit stop, but Massa got me, because he was going very long, and then I could reel in Rosberg and Massa at the end of the race like they were stood still, but you can't overtake. If you don't get the qualifying right, which I didn't, you're stuck.
"Every time I got close to a car in front I lost all my front aero, so that was it. When I had clear air at the end of the race my pace was good, I was catching the guys in front by a second a lap, but you can't overtake, as I proved at the end of the race. I could get close to Rosberg, but no chance of overtaking."
Not a great advert for the efforts of the FIA and the Overtaking Working Group, alas.

All weekend Jenson's dissatisfaction had been all too evident on team radio transmissions. For some reason his broadcasts always sound like they are coming from the moon, but this time the urgency in his voice suggested that he had a problem that Houston's finest could not solve. It was desperate stuff at times.
In the end he viewed his three points as a useful piece of damage limitation, given that he still has such a big lead. The RBR cars did look ominously fast, and we still have a way to go in the championship. But Button remains confident.
"It's not my title to lose," he says. "I've got a good advantage so in a way it's an easier job for me. But they're obviously very quick. This race hurt quite a lot, it's seven points [lost], but at least I was able to pick up three points when it was all looking very bad at the start of the race."
It shouldn't be overlooked that RBR also had aero updates at Silverstone, and that must account for at least some of the progress that the team made. How much was due to the temperature question is impossible to quantify, and we'll only find out at the upcoming races.
"They've been quick here and Vettel beat Rubens by 45 seconds," said Jenson. "You can say that Rubens backed off towards the end of the race, but I'm guessing Vettel did also. They're very quick and we can't challenge them on this type of circuit with these temperatures. I think their aero package is obviously a good step forward, but I don't think it's the advantage you're seeing here, I think a lot of that is the type of circuit and the weather.
"We don't work in these temperatures, we've seen it before this year, and when the race hots up, we're quick. So going to Nurburgring, if it's a hot race I think we'll be closer. I'm not sure if we'll beat them, but we'll be a lot closer."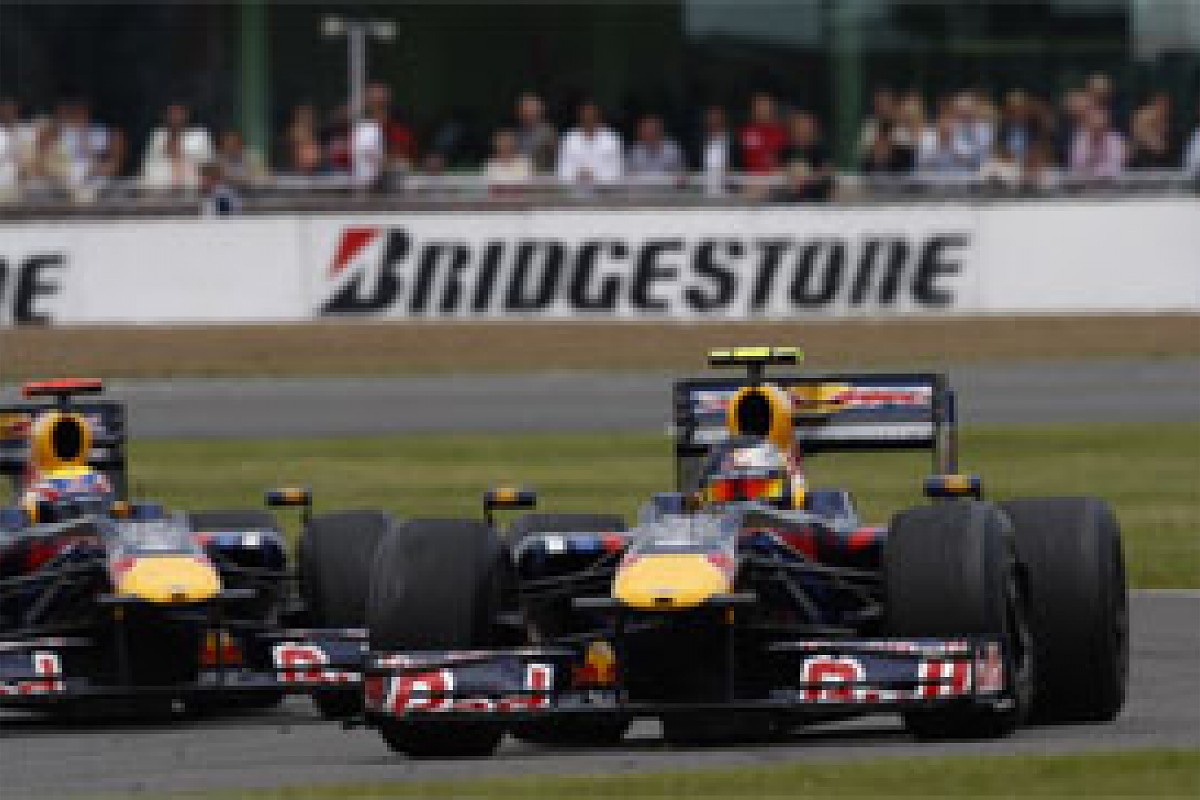 Sebastian Vettel and Mark Webber finish 1-2 at Silverstone © LAT
"Let's put it this way," said Rubens. "Shanghai was the third race, and even though you could say our car was on top of them and we had better performance, there they also used the tyre better than us. I think it is the concept of the car, the way whenever you go somewhere like Bahrain where it's hot, and you depend upon the tyre, then I think we do better. But when it's cold, they do better. Germany, it could be hotter than here, but we know anything can happen there. If it is a little hotter I hope we can have a better feeling with the car."
Nurburgring can indeed be baking hot in July, but it can also be cold and wet, as we saw on our last visit two years ago. Hungary and Valencia, the races that follow, should be more than warm enough for the Brawn guys.
However, by then things may well be a little shaken up by Bridgestone's decision to change its policy on having a two-step gap between tyre compounds. Agreed in conjunction with the FIA, the arrangement has done what it said on the tin - it has spiced up the racing, and got people talking about tyres, which is what Bridgestone likes.
What the company doesn't like is too much negative PR generated by drivers complaining about tyres that don't work. Racing fans understand that these things ebb and flow, but casual F1 watchers probably picked up that message from Jenson a couple of weekends ago at what for them was the biggest race of his season. Imagine Andy Murray blaming his shoes or racquet?
Anyway, for the four races from Hungary onwards (tyres for the last four have yet to be confirmed) we are back to a one-step gap between compounds. This already happened in Monaco, where Bridgestone insisted that the medium would not have worked, so only the supersofts and softs were brought along.
A similar argument has been applied for Hungary and Valencia, and there are also apparently good technical reasons for not having a double gap in Spa and Monza. After that, we don't know, but you can be pretty sure that Singapore at least will feature the two softer compounds.
The bottom line is that life should now be a lot more comfortable for everyone in terms of tyre management over a race weekend, the very thing that Brawn and RBR have excelled at this year. The two types of tyre for a given venue will be less extreme, and thus in theory it will be easier to get the most out of them with a given aero and set-up package. And that might just help others to close the gap to Brawn and RBR.