"It's the first time I've seen a chequered flag without a safety car or red lights in front of me!" Jenson Button joked after the flag in Bahrain. "It was a great race, very tough, a tough weekend because we haven't had the pace that we expected. So to get the win here is just amazing, and going into Europe with 31 points on the board and a 12-point lead, I think it is, I couldn't wish for any more at the moment."
I think we were all wishing for a straightforward, dry race in Bahrain to give us a better understanding of the true status quo among the teams, and we certainly got that. The battle at the front was a game of chess between three teams, a battle that ultimately went Jenson's way, but which just might have gone against him.
Bahrain was certainly a great drive from Button, not least because he won despite starting fourth for the second race in a row -definitely not where he was predicted to be. In the first couple of races, the Brawns were able to run significantly heavier than the opposition and still claim pole. This time life was much harder over one lap.
"We were three-tenths off where we'd like to be," he admitted. "Some of our issue is that we're running so hot with the engine that we're losing power. That's an issue that we have here and we won't have when we get back to Europe. We've put this engine in this car and they've done a fantastic job to make it fit and get it working as one, but the temperatures we're seeing here were probably because we haven't been able to work with it for long enough."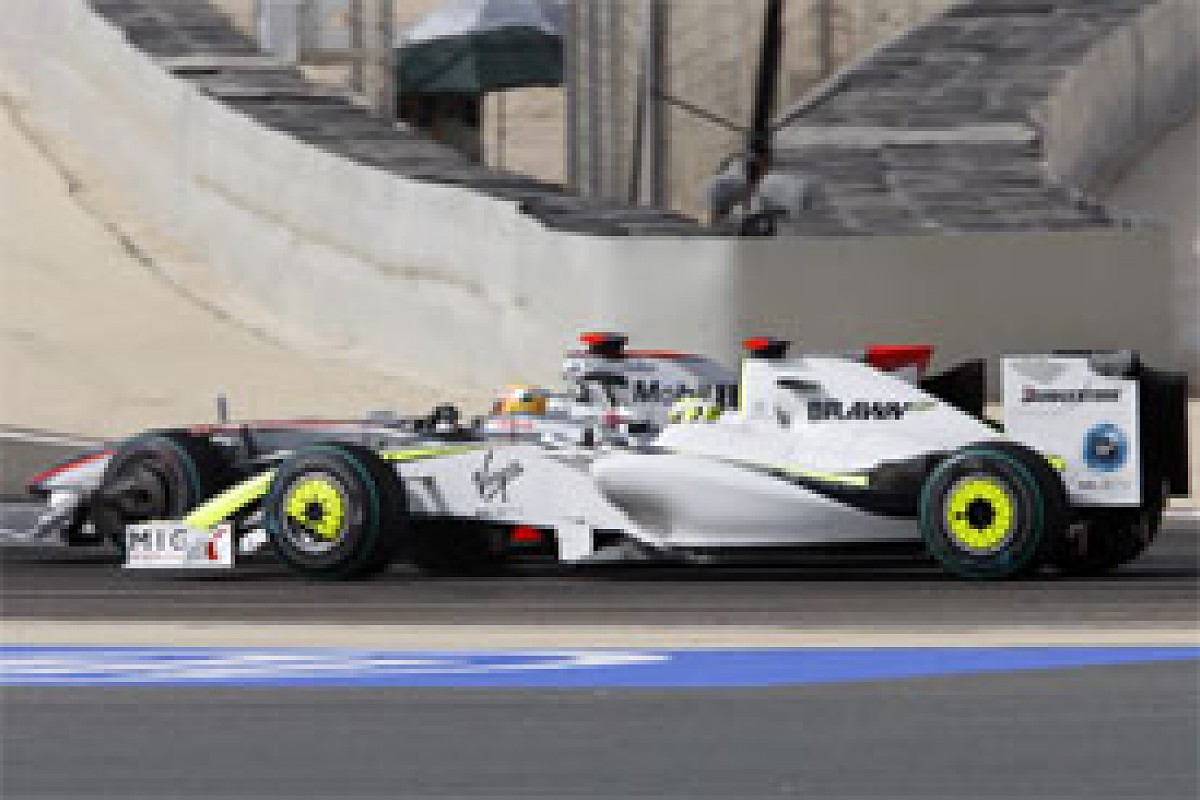 Jenson Button battles with Lewis Hamilton on the opening lap © LAT
From fourth, he knew it was going to be crucial to get away well. But not for the first time this season, he struggled. He didn't blame KERS for Lewis Hamilton's charge past.
"The start was difficult, I had a lot of clutch slip, I was lucky to get away as cleanly as I did. In Turn 1 I knew I had to get past [Sebastian] Vettel and I had looked after my tyres on the way to the grid very well.
"Lewis was already past me before he hit the KERS button and then it was about lining myself up for Turn 1. The outside was clear, so I headed there and braked late. I got round the outside of Sebastian, then I was trying to fight my way past Lewis. I had a couple of goes at it and eventually got him on the home straight into Turn 1."
There was good reason for the urgency. A fascinating aspect of KERS is that if you use it off the start line and then for defence purposes later round the first lap, you will have nothing left for the regular blast out of the last corner. In other words, the end of the first lap is your most vulnerable time at that point on the circuit. You can't have another push until you cross the start/finish line, where you can use up some of your lap two boost. That's exactly what happened to Lewis and Jenson was savvy enough to be prepared to take advantage.
"In a way I had to overtake him on the first lap because the KERS cars use it off the line. They have a little bit in reserve, about 3s, which he used on the back straight when I tried to pass him. And then I knew that he didn't have any more left. We got to the last corner, he ran wide, I got up the inside, was alongside him. But I knew as soon as I got to the line he had a new KERS [allowance], so he hit the button.
"He pulled past me so I pulled in behind and followed him down to Turn 1. Amazing speed that thing's got, when it's got KERS! The front of my car was lifting off the ground... Then I pulled to the inside and did him into Turn 1. A great move, and making it stick was very important to me. It meant that I could chase down the Toyotas and I had a clear track. If I was stuck behind him, we would have struggled with temperatures."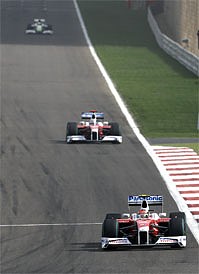 Jenson Button shadows the Toyotas of Timo Glock and Jarno Trulli © LAT
As Button noted, it was important that he didn't get stuck behind someone, so he could control the temperatures. Thus he wasn't too bothered about sitting three seconds back from Timo Glock for the first 11 laps. The four extra laps of fuel he had over the German, and the three over leader Jarno Trulli, were crucial - as was Toyota's ultimately misguided decision to put both cars on the prime tyre, which cost them a lot of time over those critical laps. When Jenson came out after his lap 15 stop, he had comfortably jumped both of them.
"I thought they were going to do a three-stop race because they were struggling, they said, with brake temps and brake wear on Friday and Saturday. I thought maybe they were sticking [the prime] on to do a 12-lap run and then get back onto the option. That wasn't the case. That helped us out enormously because Vettel was stuck behind Trulli. If Vettel had got past him, I don't know what the race outcome would have been, but I think our pace was very, very similar on both tyres.
"When I saw that [Trulli] was eight-tenths slower than me and Vettel was stuck behind, I just thought 'wow, this is what we need.' I pulled away 14-15s on Vettel, but even with that lead you're still wary - you're still not sure exactly the way the race is going to pan out. I was on the radio a lot to my engineers, working out what was going on.
"You can say that half the race was boring for me because I was out in the lead, but the first half of the race was fantastic, very enjoyable. I was in contact with my engineer for a long time, just trying to know what fuel loads people were running, what laps they were stopping, how their tyres looked and how the cars looked in the circuit. It was nice to keep informed. I got a little bit angry on the radio at one point because lapping cars became a nightmare.
"Even when you're in the lead by 10s it's still not easy, it's so easy to make a mistake. And the traffic was pretty difficult out there. The cars that are normally at the front weren't at the front, and we were lapping them. Now they know how it feels. It's a difficult place to be, lapping and being lapped.
"The prime was a very difficult tyre to get used to; they had so much understeer on the first few laps I almost went off the circuit two or three times. You're adjusting the front wing and the diff and the braking to try and help the front locking and after six or seven laps it got better, and you could do reasonable lap times. It was difficult."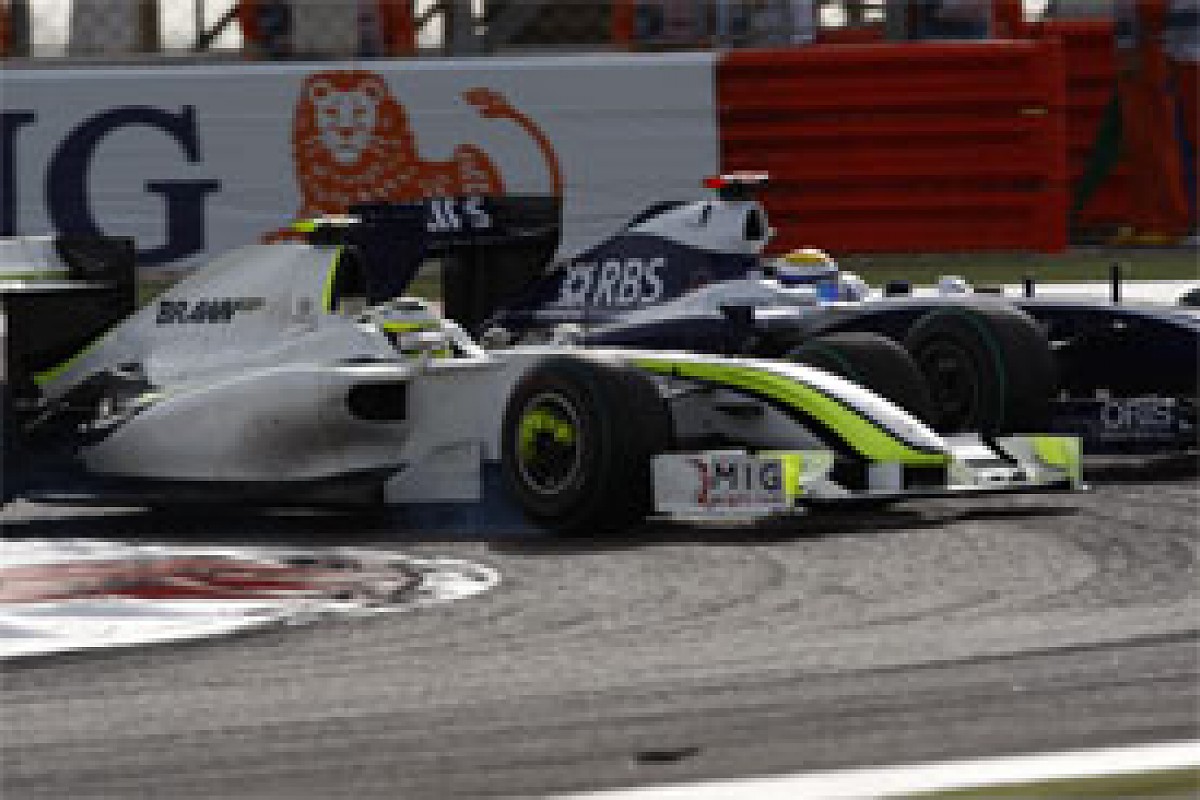 Rubens Barrichello overtakes Nico Rosberg © LAT
He made it look easy but, as he says, it certainly wasn't. Don't forget that Rubens Barrichello had a lighter load in qualifying and yet could only convert that into fifth place, having switched to a three-stopper and then got caught in the wrong place at the wrong time. Jenson seems to have a Midas touch and is getting everything right just now.
"Even at the front I was following the lap times of the guys behind, I knew Vettel was quick. You can say our race pace is much better than qualy, but I don't really know if we are quicker than the Red Bulls. When he was in clear air he was very competitive and I think we would have had a great race if he wasn't held up. These aren't easy cars to drive. Even last year's car for me was similar to drive to this, and that shouldn't be the case, this is a good car now. But it's the way the aerodynamics are, it's very easy to lock up the rears, lock the fronts, and make a mistake."
Everyone else is catching up, but the scary thing for the opposition is that Brawn hasn't even started development yet, and has saved its big push for Spain.
"This point of the season is very tough for us because everything is getting tired. Every part of the car is getting tired. Some bits aren't working, the FFA [front flap adjuster], for example, so it's been really difficult. Getting back to Europe is great for us, we can refresh everything and come to Barcelona with a quicker car than we have now."
Vettel and Red Bull: The speed to win?
Button may have hogged the headlines in Bahrain, but Vettel showed that his first dry weather victory can't be too far away with another superb performance. Fuel corrected, only Trulli was quicker in qualifying and, had Red Bull been a little more aggressive, he could have started on the front row - in which case, he could well have won. Even from third he was well placed to do so, since he was ahead of Button. But he blew it with a mediocre start.
"Going to Turn 1 Lewis was next to me and Jenson was on the outside," he explained. "So I was caught in the middle and I had to give way to both of them, which put me in P5. We lost quite a bit there. Unfortunately then I was not able to pass them immediately. Then you suffer a lot with your tyres, you have quite some degradation."
Thus he spent the first chunk of the race behind Hamilton. Matters weren't helped by his heavier fuel load, which eventually took him four laps further than Hamilton.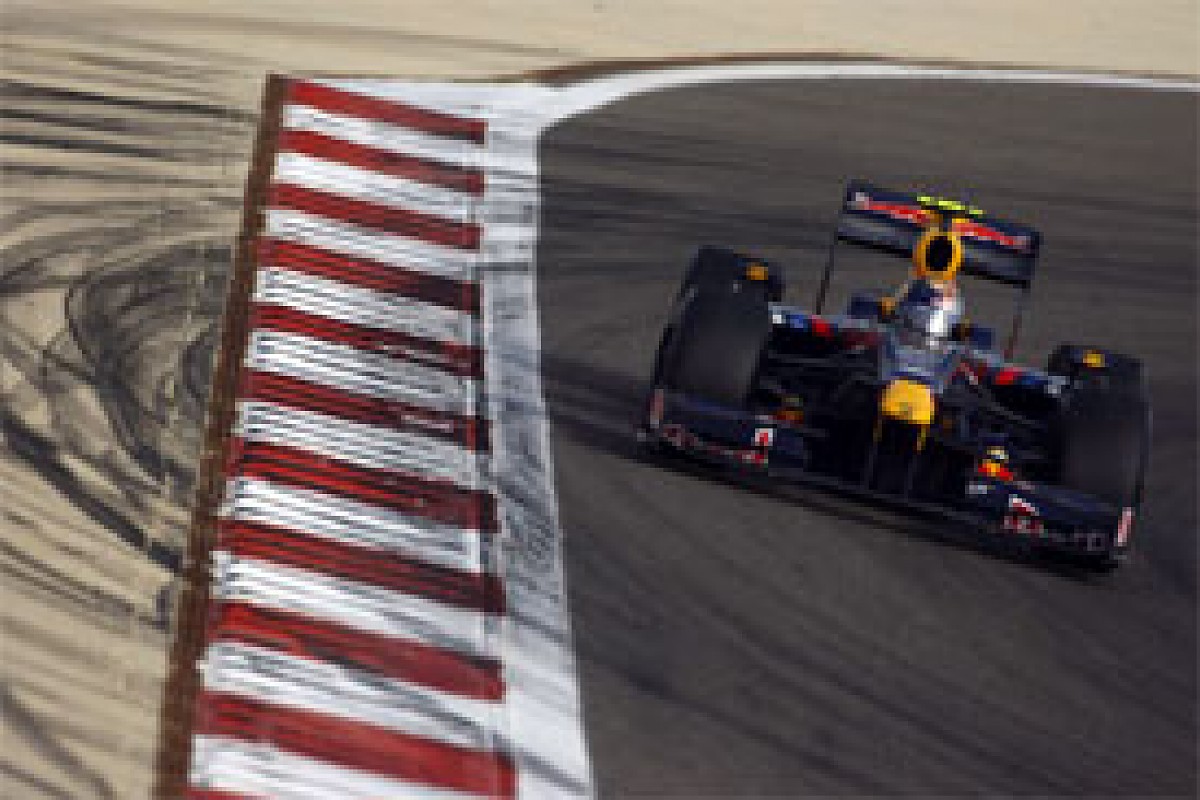 Sebastian Vettel in the Red Bull RB5 © LAT
"For sure if you calculate the difference it's three tenths per lap, so it wasn't easy. The more fuel you have the more you ask of the tyres. I had one good opportunity, but I ended up braking probably a little bit too late, locked the rears in the last corner and lost the momentum to the main straight. So that was the closest I was. After that the tyres started to go off and I was unable to follow really closely. He did a good job, no mistakes."
In fact, Vettel dropped a couple of seconds back from Hamilton. He finally had a clear track ahead when Hamilton pitted on lap 15, but immediately after his own stop on lap 19 he found himself behind Trulli. And since Trulli was struggling on the prime tyre, this time he stayed right with the Toyota. Doing anything about it was another matter.
"It's difficult to describe. Generally compared to last year you are able to follow closer, but then you lose the grip more abruptly. All of a sudden you lose all the downforce, all the grip, from the front axle. So that makes it still difficult to pass someone."
He admitted that an effective front flap adjuster - not a priority at RBR - could have helped.
"Yes, a big difference, because mainly when you follow a car you can catch your balance. As I said there's a huge balance shift running in clean air and running immediately behind someone in traffic, so that would have made a difference. I'm confident that we will get there in the next couple of races.
"The first two stints I was on the option, that was clearly the faster tyre today for us. Both times in traffic though, so it was difficult to use the pace. But both times we were quite heavy on fuel, two or three laps longer than the others, which put us in front, especially in the last stint. Then I had to defend on Jarno which wasn't easy, but we made it."
Trulli and Toyota: So far and yet so near
Being on the option tyre at the end gave Trulli superior performance in theory, but just as Vettel couldn't get by when the tables were turned and they were on different tyres, the Italian couldn't do anything about the Red Bull.
He earned Toyota's third third place of the season, but one couldn't help wondering why the team hadn't achieved a little more. Trulli started from pole with a time that was, even allowing for fuel loads, clearly the fastest. Come the race he also set fastest lap. And yet he ended up third, some way down the road from winner Button. How so?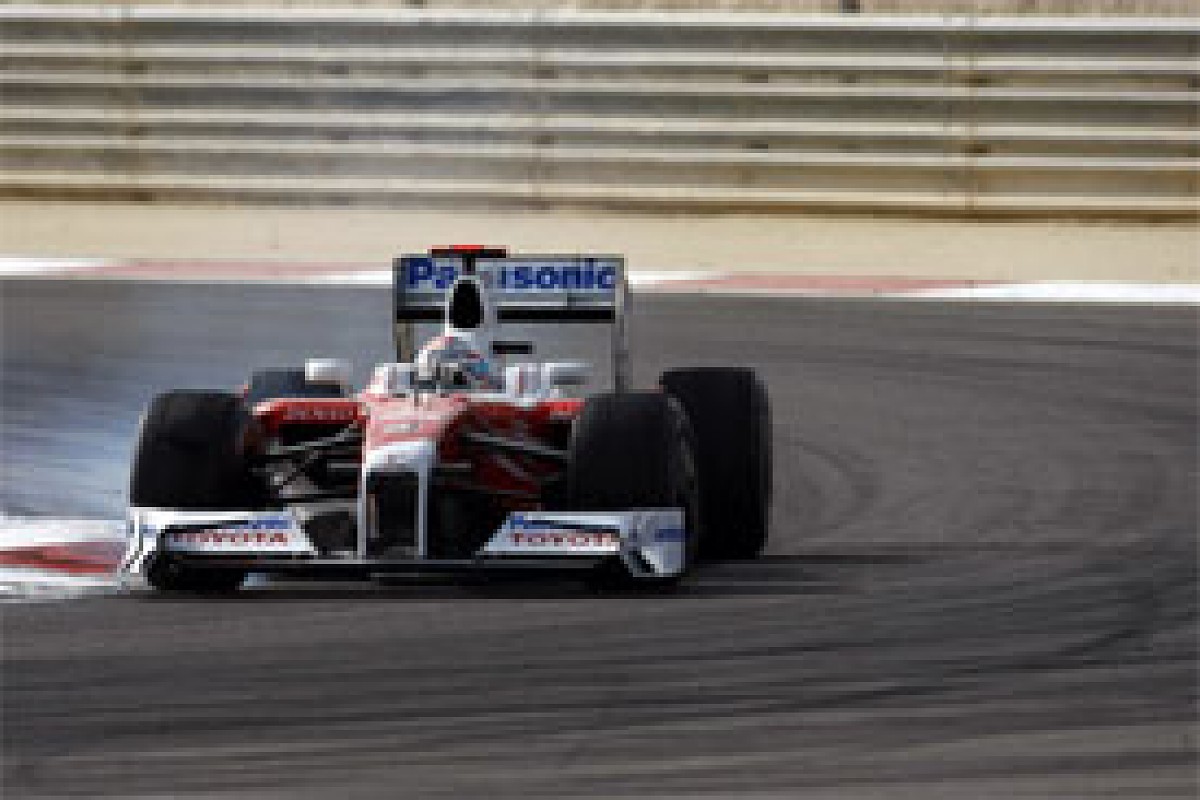 Jarno Trulli in the Toyota TF109 © LAT
As Button speculated, the team had been leaning towards a three-stop strategy, which would have justified the low fuel loads at the start. But last-minute concerns over coming out in traffic caused the team to switch to a more common two-stopper, and as part of the change it was decided to use up the prime tyres in that stint. It didn't work.
"We wanted to open the window for a three-stop and we were very, very close to being able to do it without hitting traffic," said Toyota's technical chief Pascal Vasselon. "It would have been a good strategy. We were very close to being able to follow it. Then, when we saw that we were going to hit traffic, we went to a back-up strategy, which didn't work as expected.
"The prime was much worse than expected in the middle of the race. We expected it to be better in the middle than the end of the race, and the opposite happened. At the moment it's still unclear why Timo was struggling a lot more with the prime compared to Jarno, it's still something to be explained. These little things mean that we ended up on the podium, but not in the position we wanted."
So could things have been done better?
"It's always possible to review the race afterwards. With what developed we could have been fuelled longer, we would still have made the pole, and the race would have been different, that's clear. The strategy on Saturday was absolutely not geared to be on pole, it was geared to use the tyres in a certain way. This went not as expected when we were forced to go out of the three-stops at the beginning.
"The target was to use the tyres in a way that was safe to extract the best possible pace of the car. Three stops would have been three times option, and one time prime. Then it was different because we had to extend the second stint and the prime was the logical choice. Jarno did a very good job. Considering the situation, he did the best he could."
Timo Glock runs wide battling with Rubens Barrichello © XPB
One strange aspect was that the car weights suggested that Jarno would stop two laps later than his team-mate, but in the end he only eked out one extra lap. Even the team didn't understand that one.
"That's one of the things we have to explain. We were expecting Jarno to stop one lap later, so that's one of the things that meant we could not follow the expected strategy. Normally he was expected lap 13.
"It's a struggle to be really positive," Vasselon shrugged. "We should have won this race! We had possibilities to win this race, so we can only be disappointed."
Toyota has shown an improved grasp of strategy over the past couple of seasons and had gained points from difficult situations, but it just goes to show how hard it is to get it right when there are so many variables.