From its humble beginnings the Lewis Hamilton affair exploded over the Malaysian Grand Prix weekend, and the full extent of the fallout has yet to be determined. Absolutely anything might happen when the World Motor Sport Council meets on April 29, and given the recent history of McLaren and its dealings with the FIA, a severe punishment could result.
It's certainly gone way beyond what I envisaged when I inadvertently kick started the thing in Melbourne on Sunday evening. Having heard Lewis explain quite clearly outside parc ferme that he had been asked to let Jarno Trulli past, I couldn't understand why the Italian had been so severely punished. And I felt it appropriate to ask the FIA's top people how such a curious decision could have been arrived at.
At the time it was simply a question of believing that the Toyota driver had been hard done by.
But when it became apparent that Hamilton had told a different story to the stewards to the one I'd heard, and that I had in effect alerted the FIA to that fact, I began to wonder where things might lead.
Over the past 12 days or so there's been a lot of speculation about who said or did what in the stewards' room, and thus it seems logical to ask for the views of one of the men who was close to the centre of the storm. In his role as FIA race director Charlie Whiting was in the hearings in Melbourne and Sepang, along with Hamilton, McLaren sporting director Dave Ryan, the three stewards and their chairman Alan Donnelly.
To understand how the situation developed you have to appreciate that race control was not aware of the original incident until Ryan brought it to their attention.
Trulli's mistake at the penultimate corner and Hamilton's subsequent pass were not shown live at the time, and nor was the 'readjustment' that happened just a few corners later.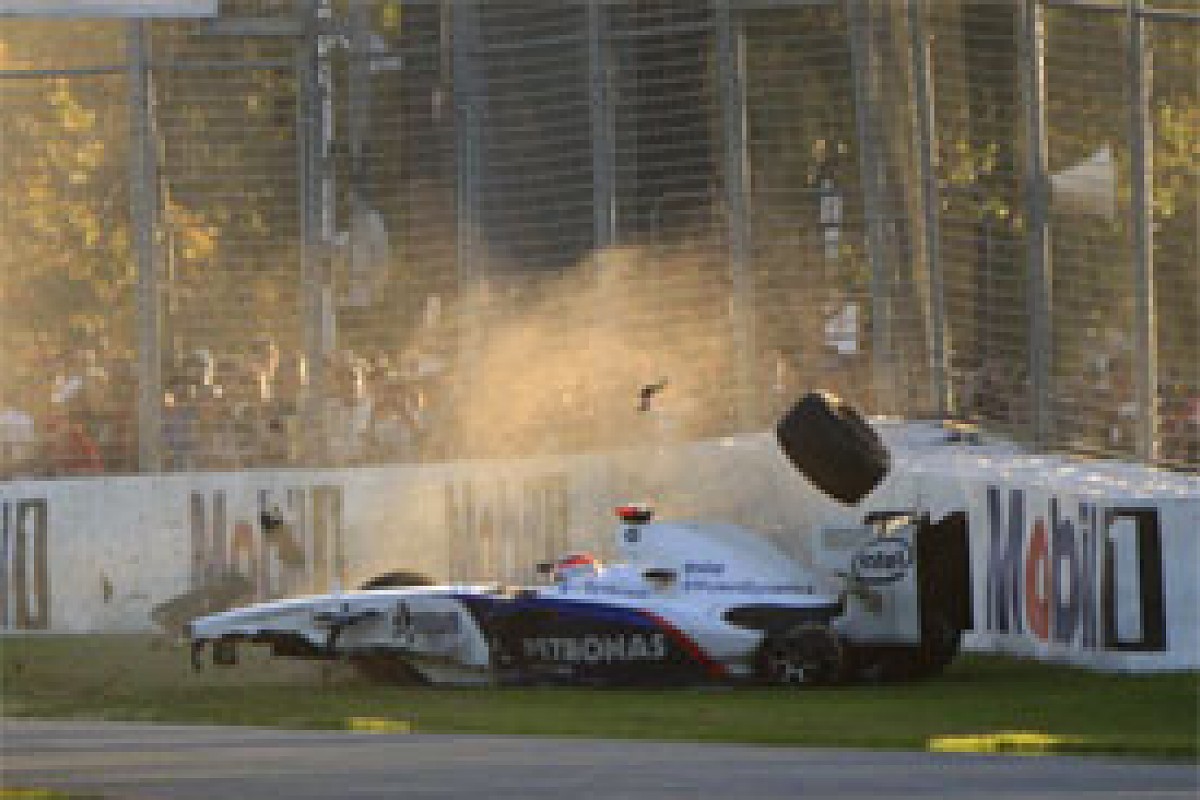 Robert Kubica crashes in the final laps of the Australian Grand Prix © LAT
Not surprisingly Whiting and his colleagues had their hands full, since the Kubica/Vettel incident had just happened. Two cars had been involved in heavy impacts with the wall, and wheels and other debris was thrown onto the track. The safety car was dispatched (bringing with it all the added complications of the new dashboard system which race control had to carefully monitor), and a medical car was sent to the accident scene.
In addition Vettel had crawled away with a front wheel bouncing precariously around, and asking Red Bull Racing to stop him was a priority for the stewards. Just to make matters more complicated, all this was happening on the penultimate lap, and it was clear that we would have a safety car finish, which had to be properly managed.
Given everything that was going on, it's hardly surprising that a kerfuffle over third and fourth places in the safety car queue was not immediately apparent - and there was certainly no reason for McLaren's radio communications to be monitored live.
"We didn't notice what happened at the time," says Whiting. "But Dave Ryan asked us on the intercom whether Lewis had to give the place back. We hadn't actually seen the incident, for obvious reasons, and therefore I was reluctant to get drawn into any conversation, because I simply didn't have any facts."
Race control gets many such enquiries over the course of an event, often from over- zealous team managers who - like Ryan - are under enormous pressure to make the right calls. Whiting can't always provide a definitive answer, especially if other events have priority, and the onus is on the team to know the rules and react accordingly.
Whiting had nevertheless been alerted to a potential issue, and that was backed up by the FIA's own procedures.
"We were involved with other things, but the timekeepers always tell us if there are any overtaking moves under the safety car. Every time a car comes through a loop you can see if there's been any overtaking.
"In pure timekeeping terms, we were informed that Hamilton had passed Trulli, but he'd let him back past. As far as I was concerned, I didn't know under what circumstances Hamilton had passed Trulli. It emerged later on that the pass on Trulli was completely legitimate.
"During the slowing down lap Dave again come on to me, because he was keen to get Lewis onto the podium. I said look, it's impossible. We're looking for it, and it will just have to wait, and we'll go with things as they are."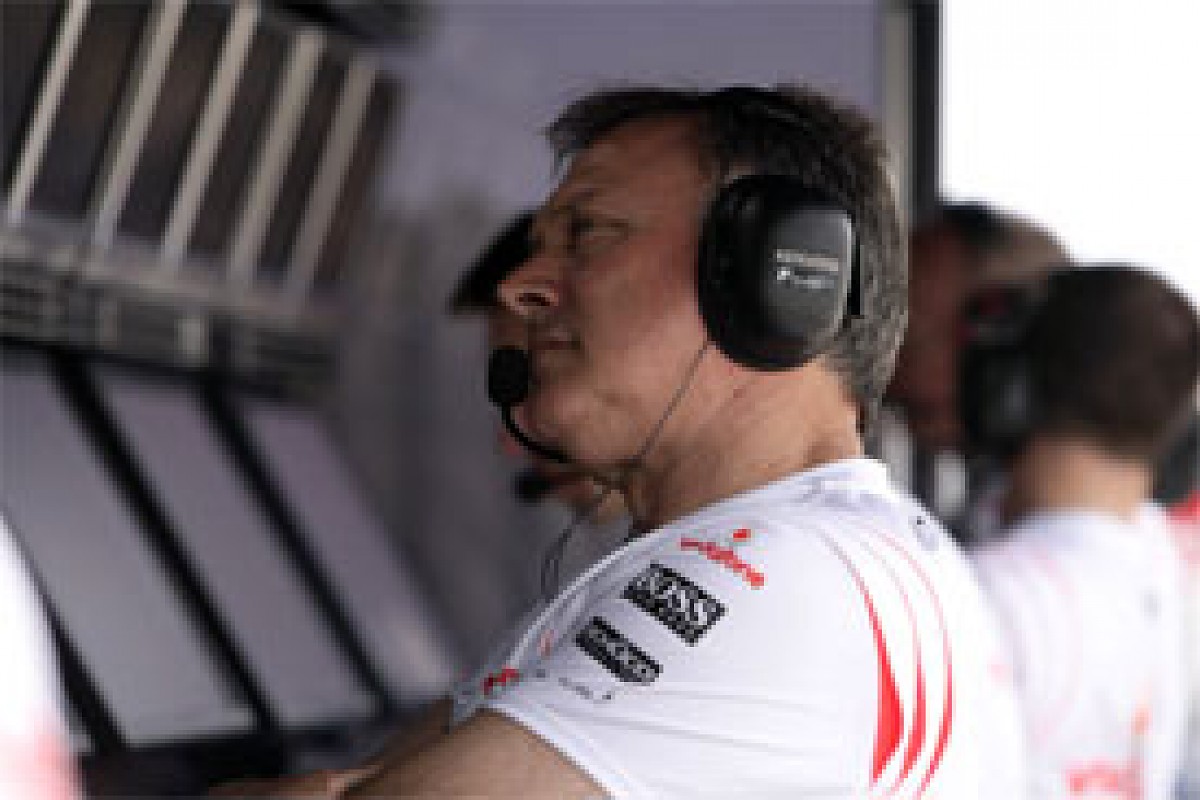 Dave Ryan © LAT
That certainly suggests that Ryan was aware that he - or the team - had made an unnecessary call in asking Lewis to swap places again. Obviously like everyone else he hadn't seen it at the time, and had only Hamilton's brief description of Trulli's grassy excursion to go on. Given the fuss in Spa last year, he was understandably nervous about leaving Hamilton exposed to a penalty.
With the race safely concluded, the Trulli/Hamilton incident was added to the stewards' job list, along with all the regular post-race stuff and the potentially far more controversial examination of the Kubica/Vettel collision.
It was some time before the safety car incident popped up at the top of the list, in part because Trulli was detained by the podium ceremony, the TV unilaterals, the media centre press conference and finally the 'scrum' of TV interviews. It was at least an hour after the flag before he was able to visit the stewards. Hamilton and Ryan, in effect called in as witnesses to a potential transgression by Trulli, waited their turn.
At this stage the stewards saw no reason to look for any radio conversations or examine telemetry, as it appeared to be a pretty straightforward case that could be resolved by interview.
Nor was there any video footage immediately to hand: "The problem was that the camera that was pointing from T5 down towards T4 had been moved around to have a look at Kubica's accident, which had happened after T5. So we didn't have anything."
An on-board view from the Toyota would later emerge. But at the time the only thing that could help Trulli was if there were mitigating circumstances for the pass - in other words did Hamilton have a problem, or had he deliberately slowed to let the Toyota back through? The key element of the F1 Sporting Regulations was Article 40.7: "Overtaking will be permitted under the following circumstances... if any car slows with an obvious problem."
If that was the case, or Hamilton admitted that he'd deliberately allowed the Toyota through, then there was no story. Trulli's pass would have been considered a fair one, and a statement would have been issued to the effect that "no further action will be taken."
Had the pass under yellows been for 15th place there would still have been an investigation. But since this involved third and fourth, and hence a big chunk of points, it was obviously important to get it right. As is normal procedure, the stewards assessed the possible outcomes in a 'pre-discussion' before they met the drivers, and thus knew exactly what to ask them.
"We looked at the incident of Trulli going off," says Whiting. "And thought well, that was legitimate because he was completely off the track.
"Listening to the two drivers, it was clear - from the evidence that we were given at the time - that Trulli had in fact passed Hamilton, and Hamilton had not let him past. That was the story, if you'll forgive the word. That was the evidence that the drivers gave. Hence the stewards made that decision.
"Jarno said that he was absolutely convinced that Lewis was either letting him past, or was slowing with an obvious problem, as the expression in the regulations goes. Therefore he passed him. Rather gingerly, he just sort of looked, is this right is this wrong?
"But he was convinced that the fact Lewis had pulled off line, or way off line according to Jarno, meant it was legitimate. He felt a bit uncomfortable; hence he asked his team whether he'd done the right thing. The team didn't ask us about it, they dealt with it themselves."
Trulli knew the rules. He'd never forgotten being penalised at Hockenheim in 2000 for a safety car transgression involving eventual winner Rubens Barrichello, and in Fuji two years ago he had lost two places when he had an off behind the safety car. He realised that you could not re-pass.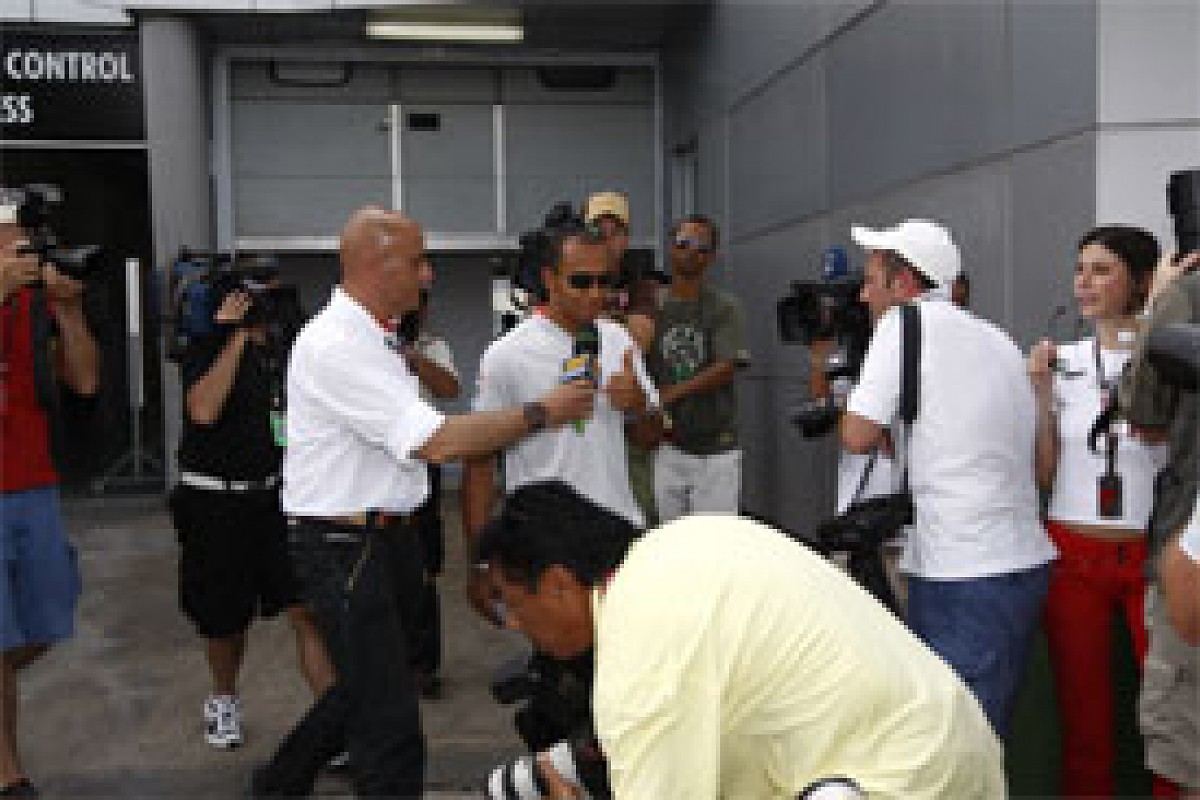 Lewis Hamilton arrives at Sepang © LAT
Hamilton had an explanation for his move off the racing line: "Lewis's account of the story was yes, he pulled off line, or he drove off line, but he was concerned about some debris from the previous accident, or something along those lines. I can't remember the exact expression," explained Whiting.
"He also said something about being distracted by the safety car dash display. I think that was a bit of a red herring. Although it is still operational, the drivers know they don't have to follow it once they've finished the lap during which it's activated. Nevertheless he attempted to say he had other things on his mind at that time, and that was one of them."
The key thing is that Hamilton was asked very specifically whether there had been team instructions related to the pass. The question was put by local Australian steward Steve Chopping - a criminal lawyer incidentally - who even repeated it to make sure Lewis was not mistaken. Whiting then pursued that route further, determining whether Lewis had made his own decision, with or without instructions.
"When asked very clearly did you consciously let him past, did you pull over to let him past, he said 'No.' The question was asked more than once. He was adamant that he hadn't slowed down and hadn't let Trulli past. It was very clear from that evidence that Jarno had taken it upon himself to overtake, rather than be let past.
"I was in the interviews with Trulli and Hamilton, and once the interviewing is done, I leave and the stewards make their decision. In nearly every incident you have two conflicting stories. That's what judges have to do isn't it? Judge which is the right one."
In effect the stewards discounted Trulli's story, and went with Hamilton's version of events.
As another FIA source told me: "Frankly if the world champion comes in, in a situation that wasn't controversial - he was only coming to give supplementary evidence to decide whether Trulli or not would be penalised - why would you not want to believe what he was saying?"
Jarno was given the standard 25s penalty, the equivalent of a stop and go had the incident happened earlier in the race. Given that the field crossed the line under the safety car, he suffered far more than he normally would have, dropping from third to 12th.
It was then that events took a different turn. His work done, chairman of the stewards Alan Donnelly left race control and went to the paddock, which is when I bumped into him. Stunned by the news of the Trulli penalty, I asked him how someone could lose a third place when the driver ahead had let him past, as Hamilton had clearly explained straight after the race. To my surprise, Donnelly confirmed that that was not the story Hamilton had told in the hearing.
Later I heard via Martin Brundle that Martin Whitmarsh had told the BBC that Trulli had passed Hamilton of his own accord, which again seemed curious. Lewis also hosted a private gathering for British newspaper journalists, and my colleagues confirmed that there had been no mention of the incident.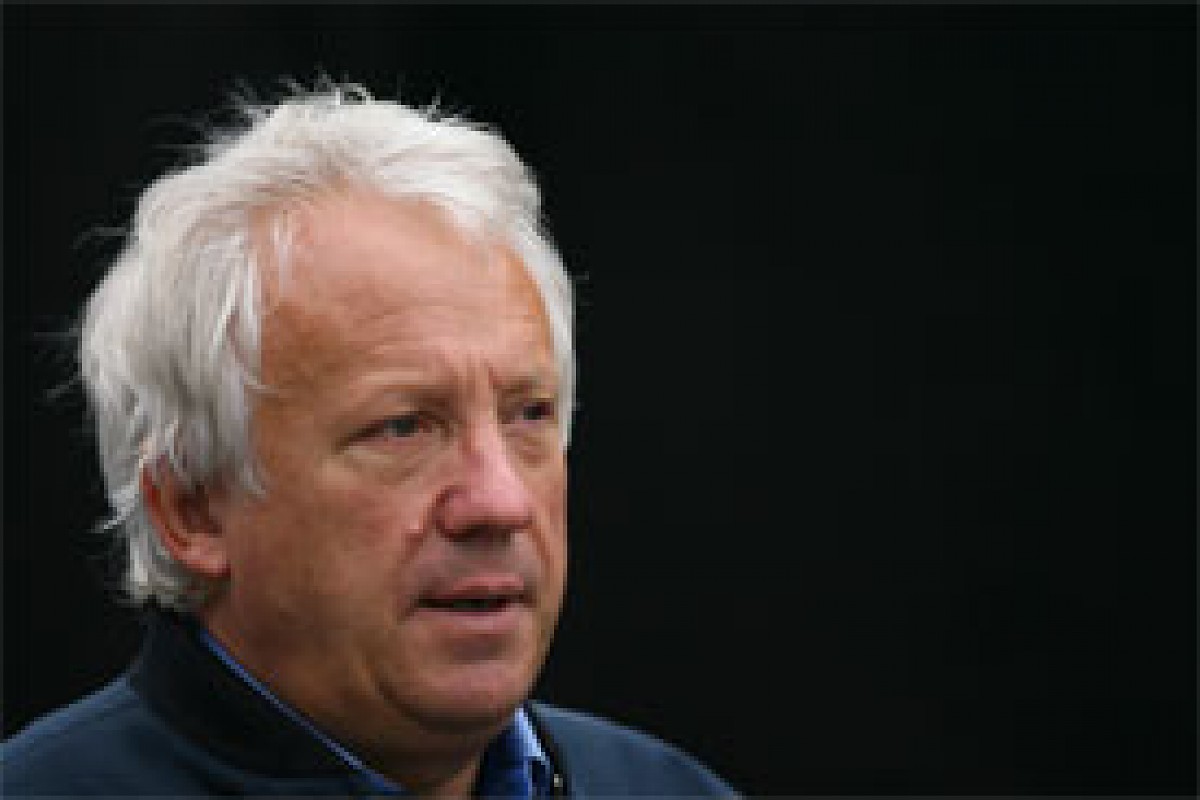 Charlie Whiting © XPB
Clearly something wasn't quite right, so later I went to find Whiting to seek his version of events, as I often do if some unusual aspect of the rules has come into play during a race. When I found him he was on his way from race control to the car park with FIA observer Herbie Blash. After a hard weekend of protests and appeals - and some very late nights at the track - the last thing either man needed was some more controversy. But Whiting listened to what I had to say about Lewis's earlier comments, and he too confirmed that it did not match what the stewards were told by Hamilton.
He now admits that even before our chat his suspicions had been aroused, more by Hamilton's general demeanour than anything else. It was clear that the matter deserved a more detailed examination, and the priority was to find the recording of the McLaren radio conversation.
"We did have a look for it afterwards," says Whiting. "I just felt a bit uncomfortable. I could understand why the stewards made the decision they did based on the evidence they heard, but a gut feeling is not enough for the stewards to make a different decision. Poking around in the files afterwards, it [the conversation] came to light."
Whiting and Donnelly later compared notes and arranged a meeting for around 5pm on Monday in their hotel in downtown Melbourne, where they had a chance to properly reflect on what had occurred.
"I told Alan about it, we felt a little bit uncomfortable, so we met on Monday and decided what we should do," says Whiting. "I felt there was an injustice here, in my opinion. I told Alan exactly what had been said, and he decided that it would be appropriate to reconvene the stewards in Malaysia.
"It was quite fortunate in that it wasn't too difficult for the local steward [Chopping] to fly out from Melbourne to Kuala Lumpur, and one of the FIA stewards [Olafur Gudmundsson] was still in Melbourne and was due to come back that way anyway."
The third steward, Radovan Novak, was not available to make the trip. But under FIA rules a replacement was co-opted in the form of Surinder Thatthi, who was already due to serve in Malaysia.
Reconvening the stewards is unusual, not least because of the logistical problems. But if 'new evidence' emerges, any aspect of a race can be revisited. It happened in Hungary after the first corner incident at the 2003 German GP, in which Ralf Schumacher, Rubens Barrichello and Kimi Raikkonen were caught up.
A time was set for 1pm on Thursday, in essence to get things out of the way before the Sepang event officially clicked into gear at 3pm.
"Alan and I met again on Wednesday in Malaysia," says Whiting. "I gave him the recordings, and we listened to them together, and we had the hearing on Thursday."
Meanwhile there was no communication with the FIA from McLaren. It's clear that if there had been any signal from the camp between Sunday and Thursday, perhaps prompted by regrets voiced by Hamilton himself, then events could have taken a different turn. Even when AUTOSPORT reported on Wednesday night what was transpiring, the team seemingly failed to respond or realise how serious the situation might become.
When the second hearing began replacement steward Thatthi had to be formally brought up to speed on events, which is why Trulli was asked to come along and repeat his story. Jarno wasn't told about the new evidence, but he was aware that something was up.
The radio conversation was the heart of the second hearing. It later emerged that McLaren had assumed that the recording had already been heard by the stewards before the first hearing. That was used by Martin Whitmarsh on Thursday evening as an excuse for the situation the team now found itself in. It seemed a curious piece of logic. Given that the tape detailed a discussion about letting Jarno past, surely the stewards would have used it on Sunday evening to directly challenge the story they were hearing? After the recording was played and discussed, Hamilton and Ryan still stuck to their story.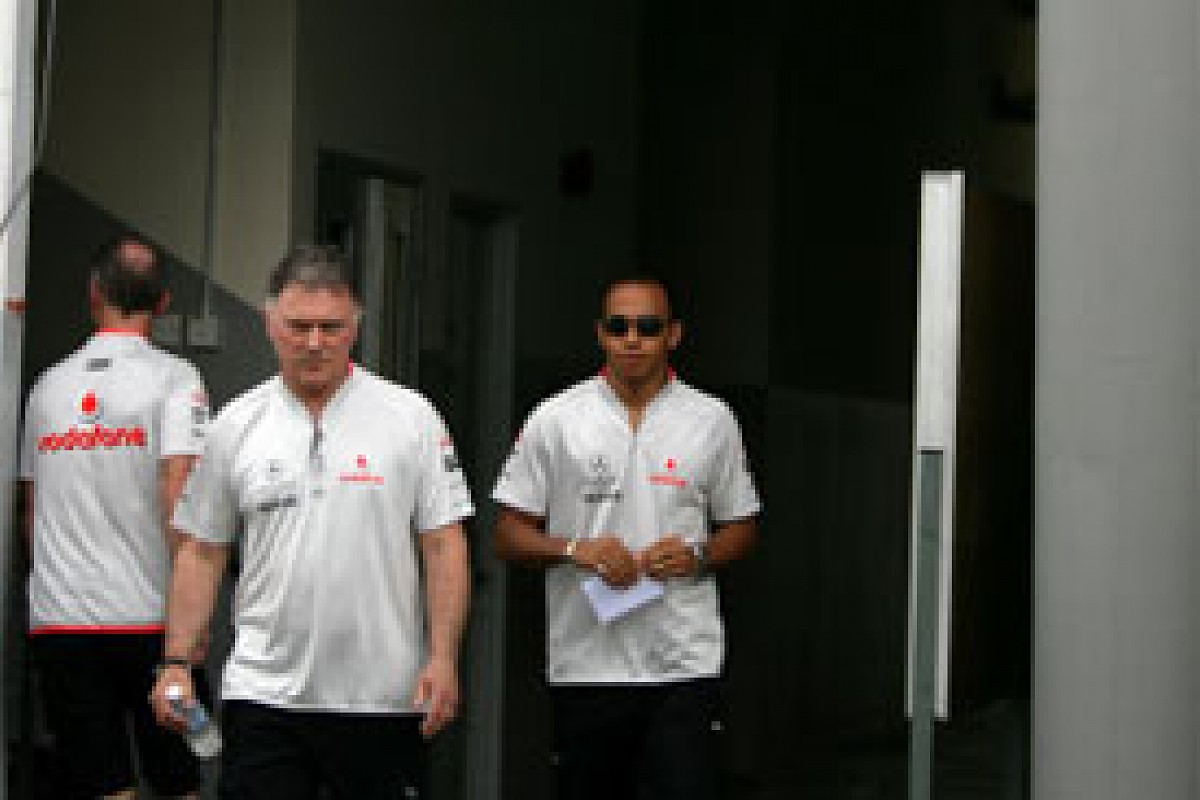 Dave Ryan and Lewis Hamilton leave the stewards meeting at Sepang © LAT
"They obviously know that we listen to radio conversations, and at the time [of the first hearing] assumed that we'd heard them," says Whiting. "As a consequence they didn't think it was necessary to mention it. That was the thrust of it. We got into a little bit more detail of what happened when Trulli passed Lewis. Lewis did his best to fudge it, I would say, without responding completely and directly.
"I reminded him that I had asked him twice in Melbourne did you consciously let him past? And he'd said no, Trulli had just passed him. I then said when the team asked you to let him past, you said 'I've already let him past.' I said to him if you had been surprised by that, surely you would have said, 'he's passed me,' instead of 'I've let him past.'
"Lewis didn't really have an answer for that. They were trying very hard to get off the important bit of the subject, and trying to divert the stewards' attention elsewhere. That's the impression, I got anyway."
Then the interview Lewis had given after the race was played. Hamilton was asked how he could have given the 'team asked me to let him past' statement to the media on first alighting from the car, and yet had later given a different story when asked quite specific questions on the matter in the stewards' room.
As my other FIA source says: "At that point they both got very uncomfortable, but still denied that's what had actually happened. It was a bit surreal, that you had this situation where you had the radio evidence and the interview, and they were putting a completely different interpretation on what the words actually meant. But the words were very, very clear."
One extra piece of evidence from McLaren suggested that Hamilton hadn't slowed down. That was true - but then he hadn't sped up as normal out of the preceding corner.
"They showed us some telemetry that didn't show any negative acceleration," says Whiting. "It showed a very slow and gradual - albeit even - acceleration out of Turn 4. But not anywhere near what you'd expect to see."
Intriguingly Toyota had earlier submitted its own telemetry. It showed that on the lap when the safety car first came out, Trulli had been travelling at around 220km/h at that point. On the lap of the pass, his speed dropped as low as 81km/h. And on the next lap, in the safety car queue, he was doing 120km/h.
Whiting says that the Thursday hearing merely confirmed his earlier suspicions: "I listened to what Dave and Lewis had to say, and reached the same conclusion as I had before. The stewards reached a different conclusion to the one they reached before, and decided that they'd been deceived."
The decision, when it came, was a painful one for McLaren. And things would only get worse over the next 24 hours. On Friday morning Ryan was suspended, and in the afternoon Whitmarsh had to make a dramatic U-turn and admit that a team member had not told the truth. Later Hamilton made his own compelling solo appearance, during which he made it clear that he'd been instructed by Ryan.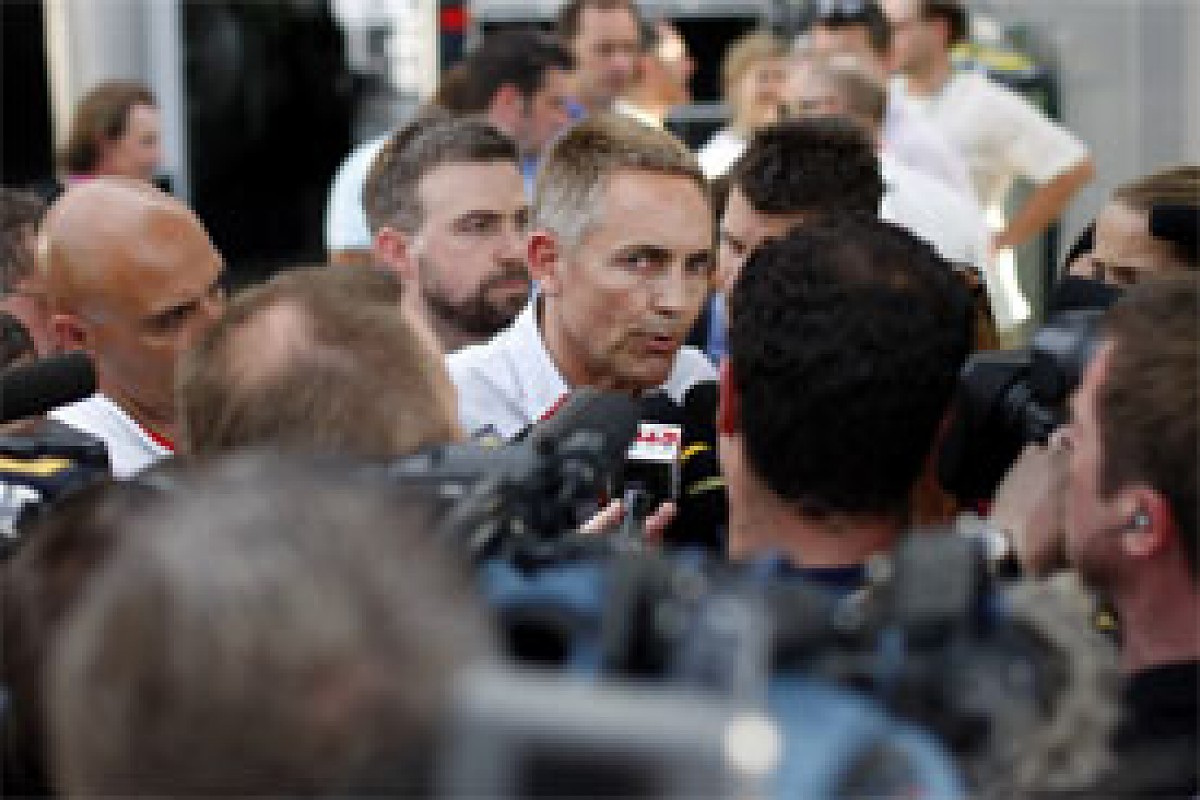 Martin Whitmarsh addresses the media © LAT
Ryan has since left the employ of McLaren, and the fact that he seems to have taken the full blame for the affair is nothing short of a tragedy. He's always been one of the good guys of the sport, someone who kept everything in perspective. He was the longest continuously serving member of any F1 team still travelling to races, having started way back in 1974.
He commanded enormous respect within the paddock, and in his understated way, played a massive role within the organisation. As one insider said, forget Ron Dennis and Martin, the race team was Ryan's, and he ran it his way.
It just doesn't make sense that he would get himself into such a situation of his own volition, and the only conclusion can be that he was attempting to make up for a bad call in the heat of the moment. Everyone makes mistakes, but he seems to have paid an extraordinarily heavy price. Mike Coughlan wasn't the only McLaren employee tarnished by the spy affair, but others are still at Woking.
"I've always found Dave to be very easy guy to deal with," says Whiting, "I've never thought that he was lying to me. There's no reason for me to suppose that he's like that all the time. But I do believe that he attempted to mislead the stewards, I don't think there's any doubt about that in my mind.
"I was distinctly uncomfortable about Lewis's demeanour on Sunday, and on Thursday I would say he was just doing what he was told to do. On Sunday it was completely clear that he was telling lies.
"The fact that he came and apologised to me in Sepang sums it up pretty much. He came to me and wanted to talk to me privately, and just said he wanted to apologise for everything he'd done, and he wouldn't do it again, that sort of thing."
The FIA has made it clear that Hamilton is no longer a 'suspect' - if anything he is now seen as a victim - and the entire focus is now on the team's behaviour. Ryan was McLaren's representative, so the team is responsible for his actions - even if you believe that nobody else was in the loop.
And that's something that the FIA no doubt wants to examine further. It is possible that Ryan and Hamilton didn't tell anyone exactly what had transpired in the Sunday hearing, and that nobody else knew until after the Sepang verdict. But everyone on the pit wall was party to the radio discussions. Is it really possible that nobody asked themselves (or anyone else) the obvious question - how on earth did Trulli get a penalty if we let him by?
I guess that comes back to Whitmarsh's earlier assumption that the stewards had heard those radio conversations. The management may argue that it believed that Trulli was excluded even though the stewards had heard the radio traffic, so there was no need to question Ryan or Hamilton about what exactly was said in the first meeting. The most bizarre thing is that in McLaren's own post race press release Norbert Haug expressly said that Lewis had let Trulli past.
Since Ryan has now gone, he is under no obligation to appear before the WMSC. Thus the team's only witness to what was said in the two meetings is Hamilton, but bringing him back to centre stage will necessarily involve him in the mess once again, and that's something that the FIA may not to want to do. However, he may be keen to come and clarify his story. After all he involved himself in the spy hearings when he did not have to, showing up with his personal lawyer.
One question surely has to be asked - if Hamilton really did feel uncomfortable with what transpired on the Sunday evening, why did he not communicate his thoughts to anybody else in the days that followed? Did he tell his father Anthony what had transpired? Things did move quickly on Sunday night - although as noted earlier there was a time lag between the chequered flag and the hearing - but it seems hard to comprehend that Lewis could go into the second hearing with an unchanged story, without at the very least having sorted things out with Ryan beforehand.
If Lewis does not appear in Paris it will probably leave Whitmarsh and Ron Dennis as the likely key speakers on April 29. Ron was on the pit wall in Australia and was in contact with Whitmarsh through the Malaysian weekend, but he didn't appear in person, and thus far has made no public statements on the subject.
It's understandable that he was keen to let Martin demonstrate that he is now in charge and let him deal with the crisis. But he will almost certainly have some very strong views on an incident that has, without a doubt, already seriously damaged the company.
Trying to duck out of responsibility for a collision is standard practice, but a team member and driver colluding to deprive a rival of a podium finish - apparently to 'correct' an error they themselves made - is clearly something else again.
Nevertheless, I'm sure I'm not alone in thinking that taking this to the WMSC may be overkill on the FIA's part. McLaren's problem is that the spy affair means that the team will forever more be under a form of suspended sentence - and the FIA is bound to take any wrong doing very seriously indeed. The trick of course is to not present them with any such opportunity in the first place...